They Started As Strangers
-- Part 6

They Started As Strangers -- Part 6
Be careful whose advice you buy
- but - be patient with those who supply it.

Advice is a form of nostalgia.
Dispensing it is a way of fishing from the disposal heap of the past, wiping it off, painting over the ugly parts, and recycling it for more than its worth.

But trust me on the sunscreen.
Yang was a fun time last night but she left my room pouting; I wasn't taking her to Phi-Phi Island, and I wouldn't promise that I would BF her again. I've got nothing negative to say about Yang and there was no real reason not to BF her again, except that I felt like it might be time for a little something different. If I go shopping and don't find anything to my liking, I can always cruise by her bar. And if Yang isn't there, her friend didn't seem too bad… Oh, what the hell… It's my last night in town this trip.
A couple years ago, Antman, MikeM, and I visited the Phi-Phi Islands, and the report of that trip can be found here: http://www.jaiguru.net/thailand/tr/nptf_011.html
This part of the report is going to be a little light, so if you would like more information on the Phi-Phi Islands, please read the other report.
The Phi-Phi Island area is one of the most beautiful places on earth. If you're unlucky enough not to have seen it yet, it is still one of the most beautiful places on earth but the way it is overrun with tour companies is a shame.
I understand Phi-Phi Don must be rebuilt due to the damage from the tsunami. With a little luck, maybe the government will control the tour operators as well.
Anyway, that's my humble opinion...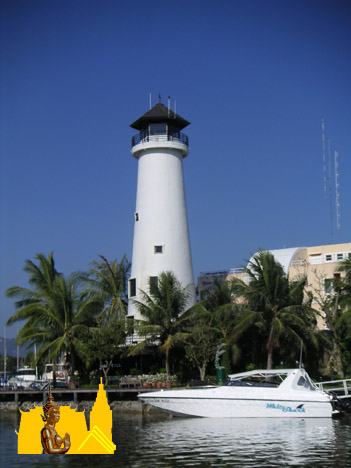 Photo courtesy of Reeb
Phuket Harbor lighthouse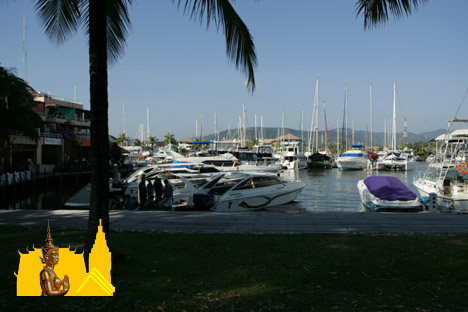 Photo courtesy of Antman
Phuket Harbor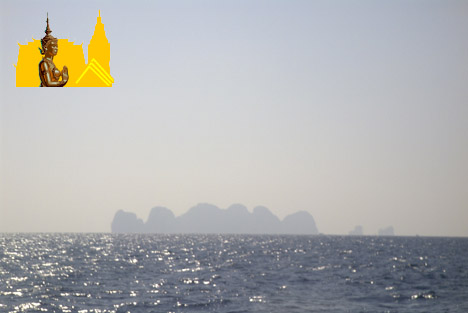 Photo courtesy of Bubbles
Land ho!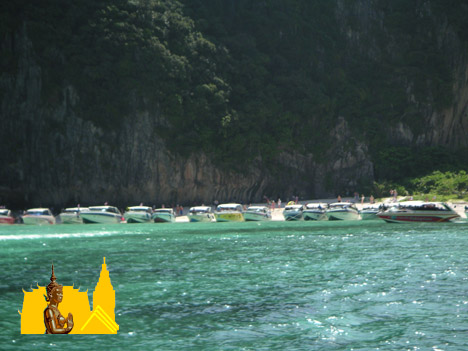 Photo courtesy of Reeb
Maya Beach, Location of the movie 'The Beach'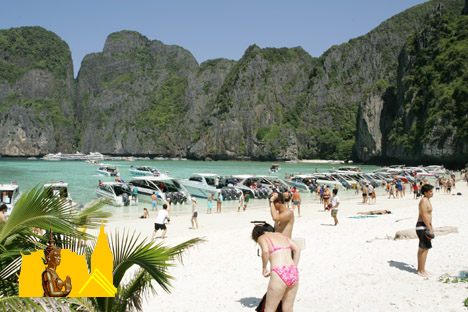 Photo courtesy of Antman
The overcrowding at Maya Beach really is a shame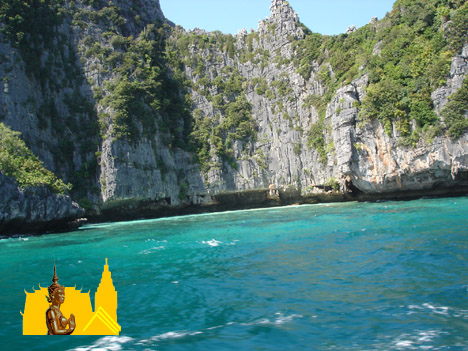 Photo courtesy of Doozy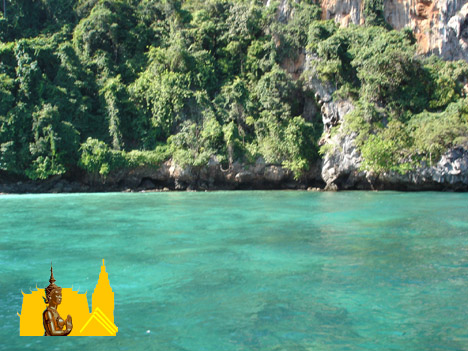 Photo courtesy of Doozy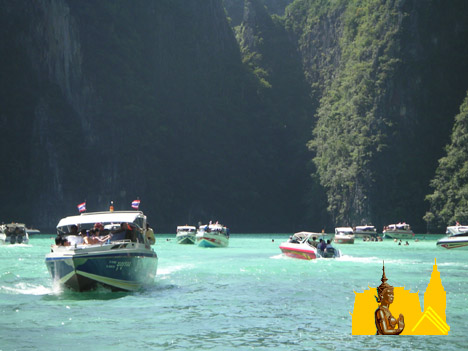 Photo courtesy of Reeb
So much for the "Hidden Cove"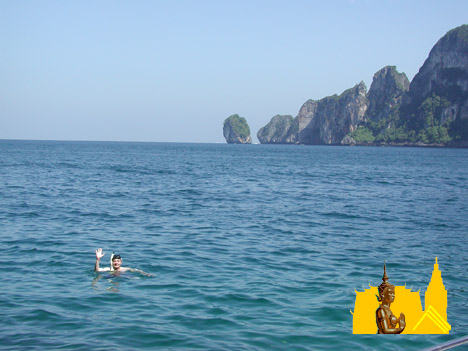 Jacques CouDoozy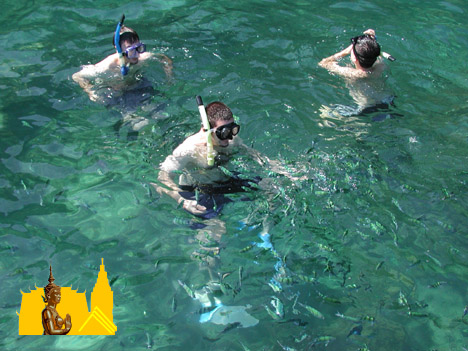 The snorkeling was fun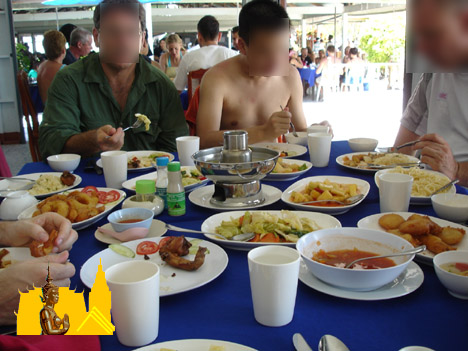 Photo courtesy of Doozy
Great lunch on Phi-Phi Don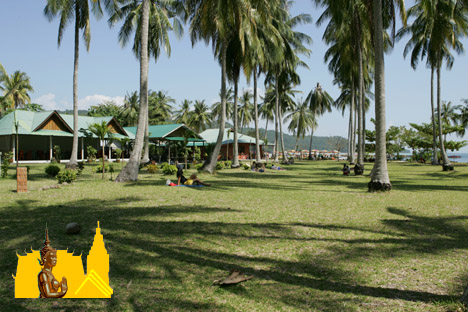 Photo courtesy of Antman
Phi-Phi Don before the tsunami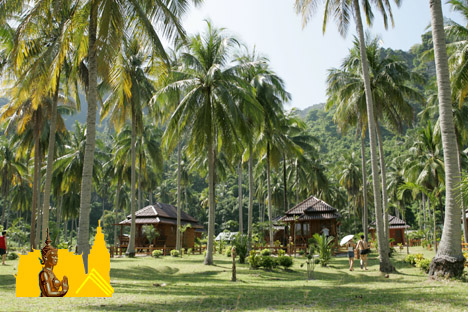 Photo courtesy of Antman
Bungalows on Phi-Phi Don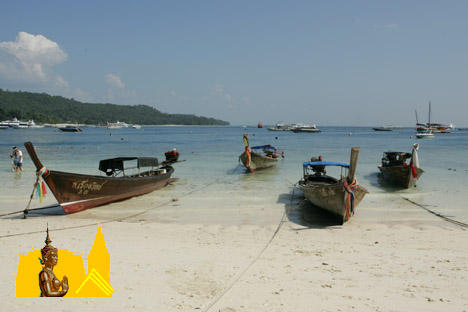 Photo courtesy of Antman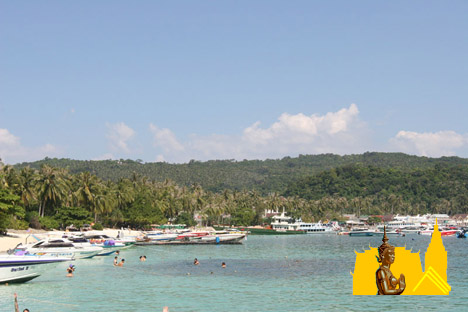 Photo courtesy of Reeb
Traffic jam on Phi-Phi Don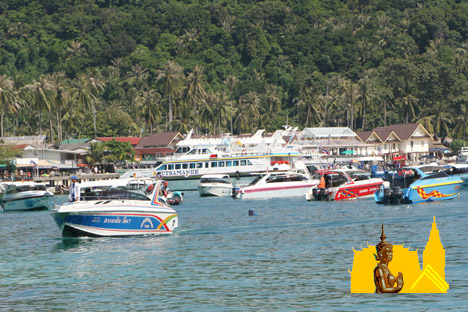 Photo courtesy of Reeb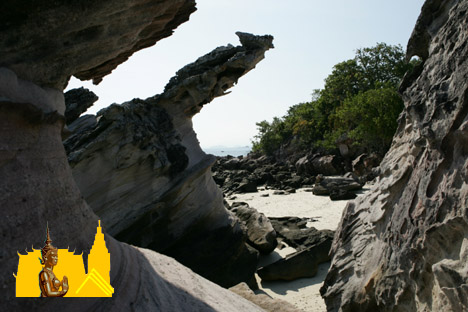 Photo courtesy of Antman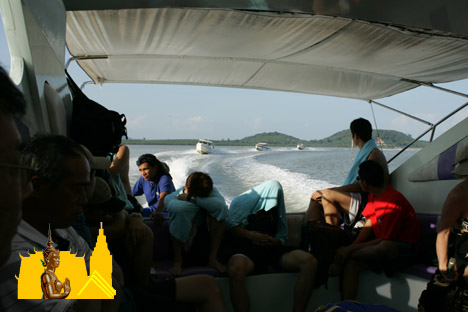 Photo courtesy of Antman
Returning to the harbor.
It's a busy day...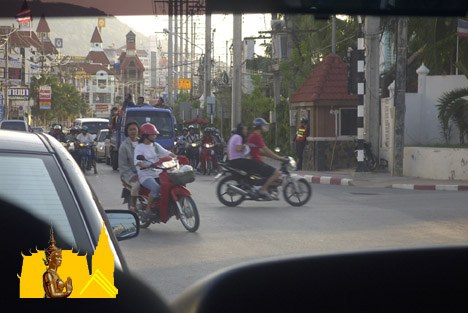 Photo courtesy of Bubbles
Patong Beach
When we got back to the hotel, Reeb and I had to drop off some laundry before going out to dinner. Usually I prefer to let the hotel manage the laundry but Reeb found a laundry on Beach Road, felt strongly about saving a few bucks, and talked me into joining him.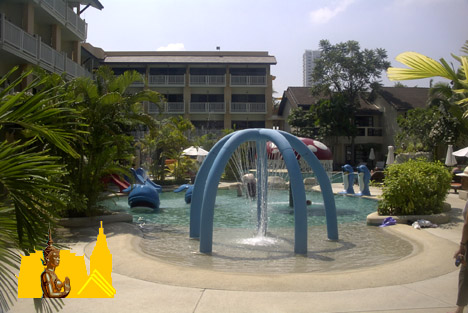 Photo courtesy of Bubbles
One of the Thara Patong pools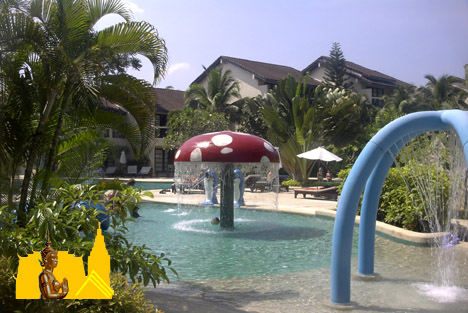 Photo courtesy of Bubbles
It wasn't too painful. The lovely girl behind the counter weighed my clothes, gave me a ticket for the laundry, and I had to pay in advance. It was only around 180 THB for a full bag of laundry which would have been much more expensive at the hotel.
We asked what time they opened, and said we had to pick up our clothes as soon as they opened tomorrow. No problem for them. Then we went back to the Thara Patong lobby to meet the guys.
All of us except Antman and Wifey met in the lobby of the Thara Patong to go out for dinner. We were in the mood for something different and I wanted to stay away from Yang's bar for now, so I suggested going out in the other direction. Doozy and Reeb pointed out an Italian restaurant across from our hotel, and it was settled.
There were a few couples in the restaurant, but the size of our crew took the wait staff by surprise. The staff ran off to push tables together while we joked and laughed. Bubbles, Doozy, MikeM, Rama, and Reeb are a good bunch of guys, and I hope we can travel together again some time.
The food was good, and dinner off Beach Road was a lot less expensive. And this restaurant even had mango with sticky rice for dessert! You gotta be happy with that…
A few meters down the street is a beer bar complex we haven't been to before. Since I'm trying to stay away from Yang's bar, it's a good night to sample this new area.
This place has some good-looking girls, and not a lot of punters. In fact, we're just about the only customers in the complex. Bubbles and Rama BFed rather quickly and took their girls back to the room. Doozy also BFed quickly, but he kept drinking with us. Reeb and I kept busy playing games and buying ladydrinks for the girls. In between sips of his beer, MikeM would run out to other beer bars to scope out the talent.
After we sampled just about every bar in the complex, we went back to our favorite bar and got serious. Doozy and Reeb were drinking and playing games with their girls, MikeM was off at the bar next door chatting up a couple BGs, and I was thinking about going back to the bar where I admired that girl in a short-skirt bending over the pool table.
And that's when the mamasan sidled up… I bought her a drink, and we flirted for a while before she dropped the bomb on me, "I think you good man. I want you pay bar this girl."
"Wah???"
Kui was a beautiful girl. One doesn't see a girl like her in a beer bar often. And no matter how hard she tried to strap them down, there was no hiding the ample treasures hidden under her shirt. Okay, she's got the nutty jutters, but she was only 25, and although a lovely girl, I could tell by looking at her that she just was not my type. I like the nasty girls, not the inexperienced type.
"I'm an old man. I no have power."
"Today first day her. You good man. You take care her."
Her first day? This is not something I was looking forward to getting mixed up in at all. Kui stood by patiently as the mamasan and I went back and forth. She truly was a lovely girl and had an impressive rack, but I really didn't want to end up wooing a girl out of her towel tonight.
To end negotiations, I bought drinks for Kui and the mamasan. Kui ran off and came back with the drinks and the dice game. Actually, I had ordered a gin and tonic and have no idea what she brought back, but I decided to grin and bear it. Kui was prolly much more nervous than I was disappointed in the evening, and I felt there was no reason to make it worse for her.
Kui knew a little English but being shy and nervous, she didn't say much. We played the dice game and to work on our numbers she called her numbers out in English, and I called mine out in Thai. We had fun playing the game and helping each other, and after a few games I could see that Kui loosened up a little.
MikeM came back with a big smile on his face, and a BG under each arm. Doozy was getting glassy eyed, and Reeb looked bored so it was time to check bin. I gave the cup to a passing server girl, and with the mamasan watching in the background.
Kui started looking up at me with those big brown eyes of hers.
Could it really be her first night in the bar? I didn't know what to believe; I've heard more than a few like stories before, and I'm sure it can't be every BG's first night in the bar. Yet, Kui was pleasant company and kept me in the bar longer than the 1-round-and-split rule allowed.
I really didn't expect much from Kui in the sack but I decided to toss her a bone and asked her if she knew how to give a massage. My thought was that I could get a massage out of the deal, declare a Short Time, and get rid of her before Yang showed up for her nightly fuckfest.
Kui got pretty excited. I couldn't tell if it was because she got an opportunity to show off her massage talents, or she was happy about being barfined. But I took that as a positive thing and asked Kui, "Tow rai pay bar?"
"100 baht."
"100 baht?" That's not possible. How could a barfine be so low?
Thinking that Kui was new and didn't have a clue what she was talking about, I motioned the mamasan over to aske the same question.
I think Kui didn't understand what was going on, and perhaps thought the barfine was too high for her; she looked pretty worried. But when the mamasan said the barfine was indeed only 100 baht, I pulled a bill out of my 100-baht pocket and handed it to Kui. She responded with a lovely wai, and was off to get her stuff.
We must have been quite a sight as we staggered out of the beer bar complex. Only Reeb could walk a straight line, and MikeM was being held upright by his two girls. Other beer bar girls would shout out greetings and good wishes as we passed, and our girls responded in kind. Somehow we made it across the street okay, and up the steps to the Thara Patong entrance.
It's funny; I don't mind giving 500 baht away if I have half a reason to, but the idea of paying a joiner fee really sticks in my craw. Especially when I've had a little to drink. When we got to the hotel's front lobby I remembered that I had my key in my pocket, so I wasn't going to stop for anyone. I took Kui by the hand, walked into the bar area, and down the stairs to the rooms.
The other guys didn't make it down behind me, and I don't know what happened to them that night. But no one complained of a joiner fee the next morning.
When we got to the room, I tried to talk Kui into joining me in the ab nam but she wouldn't have it. As I showered by myself, I had to laugh about that. Can I pick 'em, or what? Nice girls are nice but I'll take the nasty ones, if you please.
Out of the shower, I showed Kui where the shower cap and girly soaps and lotions were kept, and got comfortable on the bed while she showered.
Kui finally joined me on the bed, and I was amazed; I don't think I've ever seen a towel wrapped more securely around a TG, and I don't think I've ever seen a larger pair of nugs hiding under one. I playfully tugged at the towel, but it was pretty clear that Kui wanted to keep it on. Remembering my massage and out plan, I rolled over and let her get to work.
Kui gave a pretty good massage; easily one of the best I've ever had. When it was over we talked for a while, and Kui told me she used to work in a spa. No wonder the massage was so good. Kui also used to work in Bangkok as a cosmetics representative for Chanel and Shiseido. Hmmm… No kidding… Whatever was this girl doing working in a 100 baht backstreet beer bar in Phuket?
My curiosity got the better of me, and I considered the towel a challenge. After a while it seemed pretty funny to me; Kui might allow the towel to be up around her neck for a moment or two, but she didn't want to let it go. I actually had to dust off the never-fail move, before I could victoriously throw the towel to the far corner of the room.
It was nice. It wasn't nasty; it was nice. Kui was a lovely girl, and was there to please once she got warmed up.
When the smoke cleared, we talked some more. Kui got married at an embarrassingly young age, and had one baby before the father left. She left the baby with her mother back at the farm, and went to Bangkok to work as a massage girl in a spa. There, a Japanese agent of Shiseido was impressed with Kui's beauty, and Kui was given a job as a cosmetics representative for the company. Chanel offered her more money, so Kui jumped ship.
So I had to ask the question, "What are you doing working in a beer bar in Phuket?"
Kui exploded into tears. She wasn't merely crying, she was most sincerely crying. According to Kui, she came down for Phuket for a holiday with her girlfriend, and her girlfriend ran off with some Swedish guy leaving Kui all alone. Kui ended up at the mamasan's house, and the mamasan put her to work in the bar to pay for the room and board.
That's when I started thinking… Always a bad thing when my brain is pickled in gin… If I had any brain cells left, I would send Kui back to the farm, and pay her to wait for me until I could make the move over. I can't imagine ever finding another girl like Kui again. I wracked my poor pickled brain running numbers and trying to see if I could really pull it off, when it occurred to me; the same thing happens to me every trip.
Okay… Kui really is a lovely girl with nutty jutters… And what if I really could keep her idling on the farm… What happens the next time I come across a girl with nutty jutters? Am I going to support her too? And/or maybe stop supporting Kui?
Let's face it; gin and tonics and thinking don't mix well for me.
I was able to calm Kui down, and fell asleep still doing math and wondering what I should do.
---------------------------------------------------
Ommmmmm

Jai Guru