They Started As Strangers
-- Part 3

They Started As Strangers -- Part 3
This is just a bit of silliness really...
It's 9 AM and time for another feast at the Nana Hotel's bountiful breakfast buffet. A little of this and a little of that, and all the sweet watermelon one can eat. We snagged the big round table in the back, and laughed about last night's adventure as some of us tanked up on coffee in preparation for the day to come.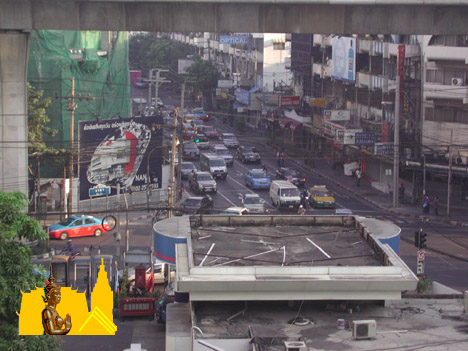 View from the JaiGuru Suite at the Nana Hotel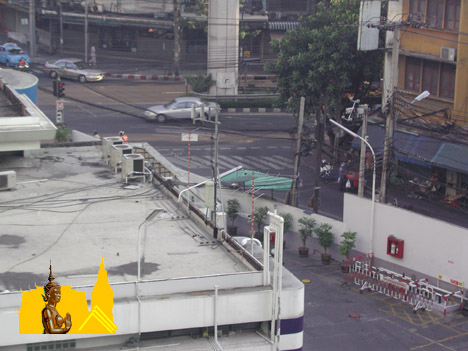 The infamous Soi Sii wall
Like yesterday, some of us needed to change money and some of us needed to brush our teeth, so we agreed to meet at GBB in about 15 minutes; that should be enough time for the quick among us to enjoy a round.
We ended up waiting an hour for Antman and Wifey, and promised each other that we wouldn't wait for any slackers in the future.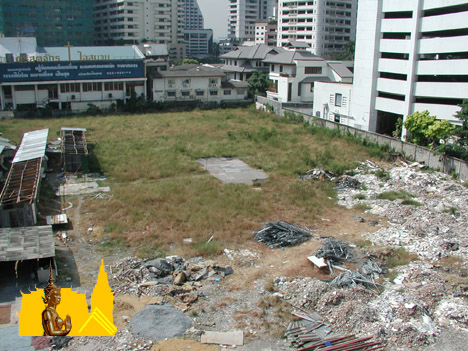 Strange view from the Nana Skytrain Station.
What is it?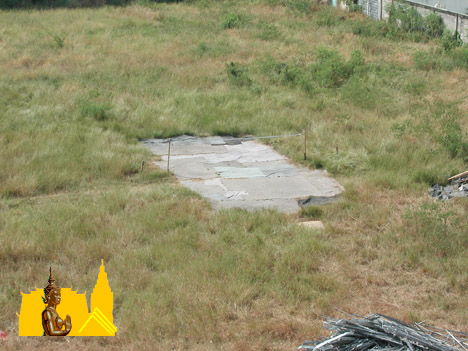 A volleyball court?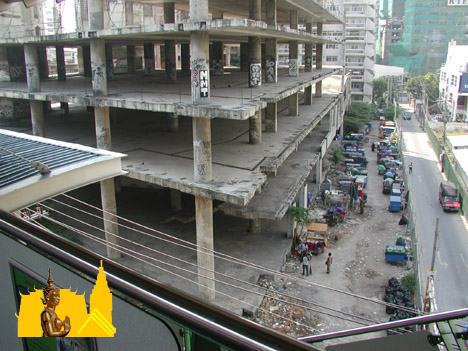 Another view from the Nana Skytrain Station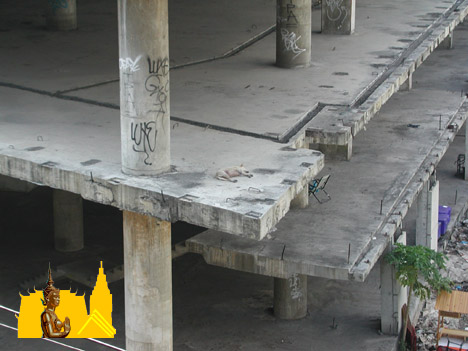 On closer inspection...
Leaving an hour later meant that the Grand Palace and Wat Pho would be considerably hotter, and more uncomfortable.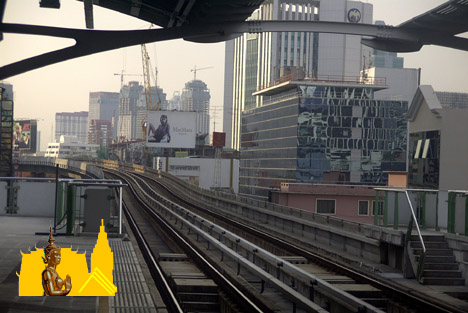 Photo courtesy of Bubbles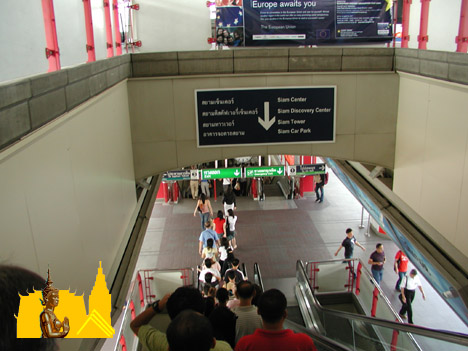 Siam Station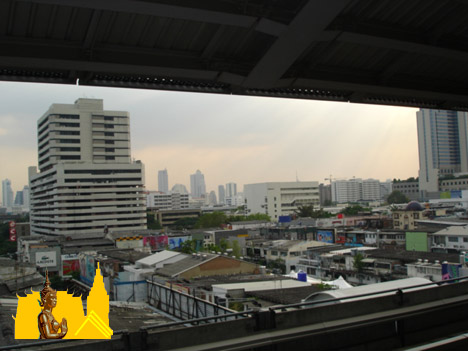 Photo courtesy of Doozy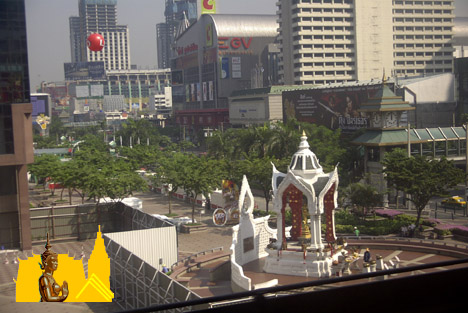 Photo courtesy of Bubbles
But in no time at all we were on the Skytrain making our way to the river. When we got to the riverbus stop, we bought some bottles of water and tried to cool off waiting for the next boat. It wasn't a long wait, and when we did get on the boat and out on the river the breeze made it feel like things had cooled down 10 degrees.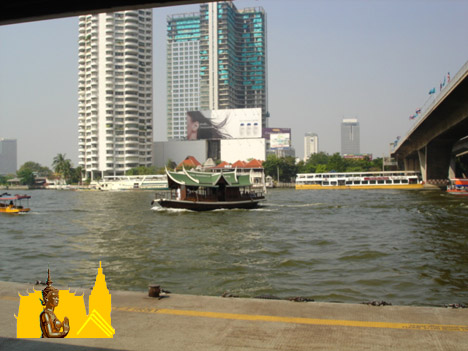 The riverbus stop at the Saphan Taksin Skytrain Station
Photo courtesy of Doozy
The boat was pretty crowded and we were spread out all over, but we were able to maintain eye contact with each other, so it was easy for us all to get off at the Grand Palace stop.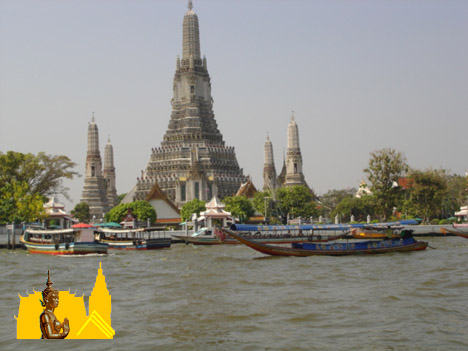 Wat Arun
Photo courtesy of Doozy
When passengers get off the boat, they must pass by a number of shops before getting out to the fruit market in front of the building. The newbies marveled at all the activity going on, and we took advantage of the opportunity to drink more cold water. One can't have too much on a day like that.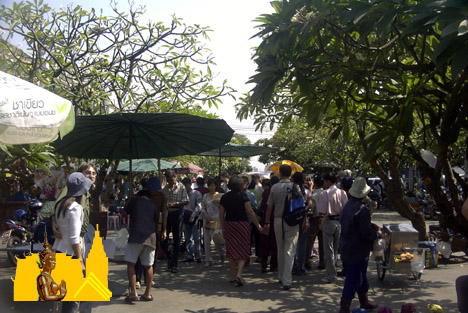 Outside the riverbus stop for the Grand Palace
Photo courtesy of Bubbles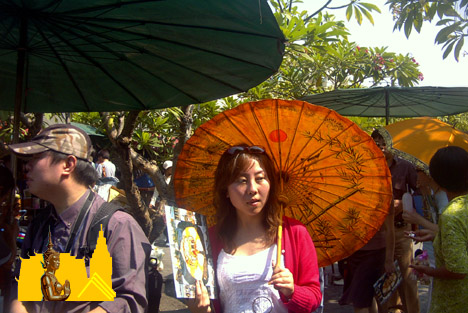 Photo courtesy of Bubbles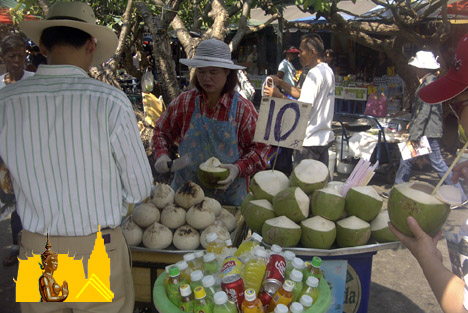 Photo courtesy of Bubbles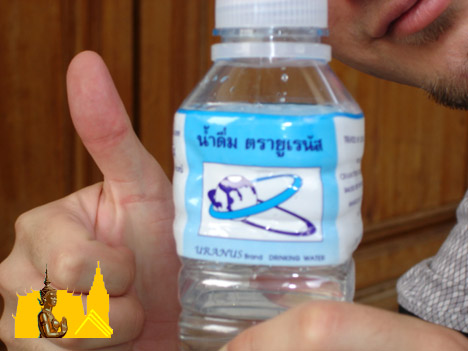 According to Bubbles, there's nothing
quite like drinking water from Uranus...
Photo courtesy of Doozy
Bubbles and Doozy were looking forward to visiting the Grand Palace. They were interested in seeing a little culture on the trip, but they really needed some photos of temples and stuff to show friends and family back home.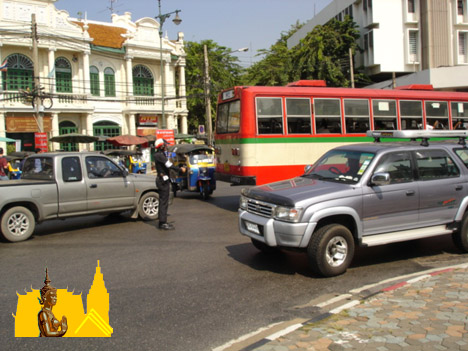 On the way to the Grand Palace
Photo courtesy of Doozy
Bubbles and Doozy had a hard time believing they couldn't wear shorts whenever they wanted, and were surprised to see the checkpoint just inside the Grand Palace where visitors wearing unsuitable clothing were weeded out. As Antman will attest, wearing community clothing is no picnic and a nasty dose of chiggers can ruin one's vacation.
The moment we got past the clothing checkpoint, everyone went camera crazy. A busload of Japanese tourists had nothing on us. Bubbles and Doozy snapped photos with the fervor of a condemned man on death row trying to make his own alibi.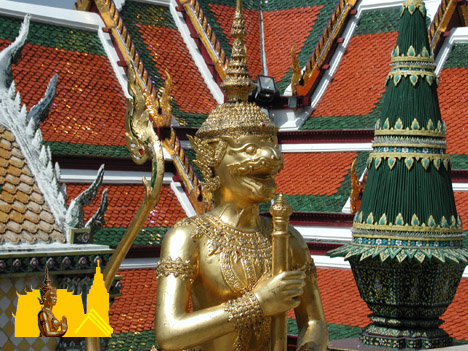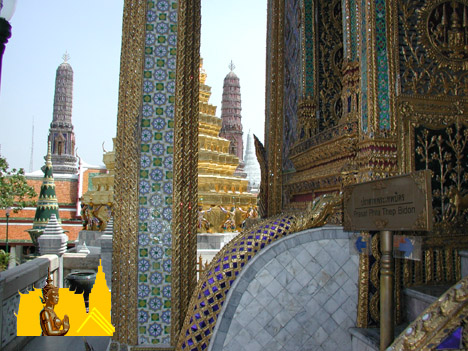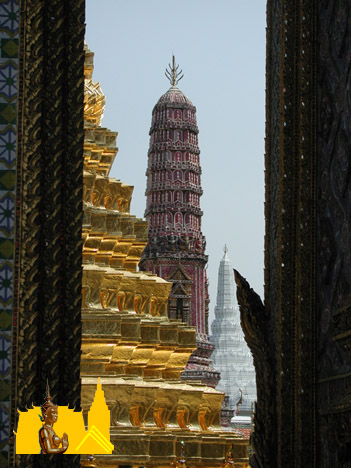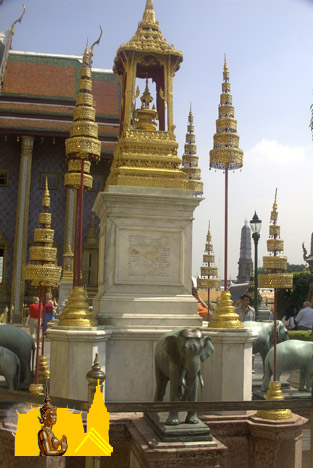 Photo courtesy of Bubbles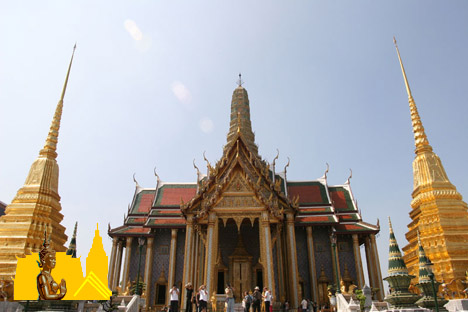 Photo courtesy of Reeb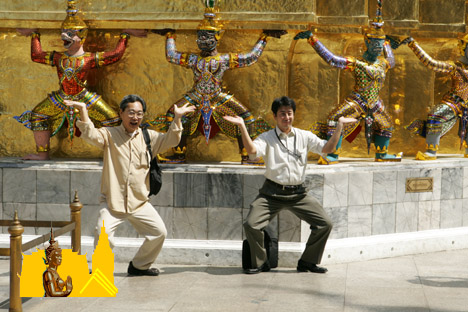 That's why I keep going back...
Photo courtesy of Antman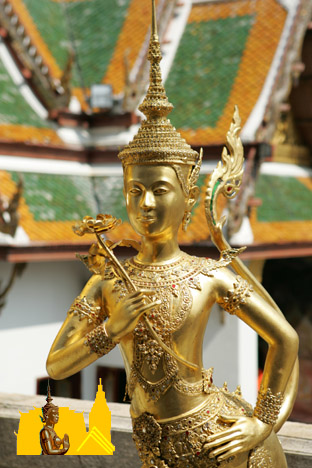 Photo courtesy of Antman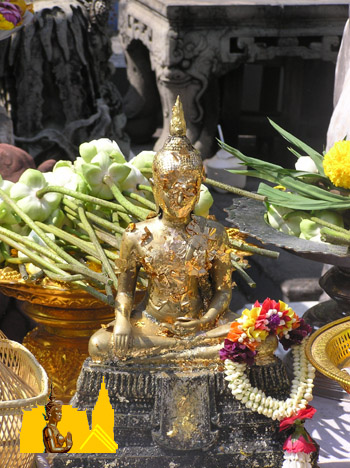 Photo courtesy of Reeb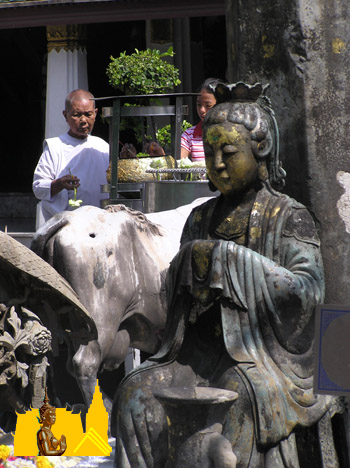 Photo courtesy of Reeb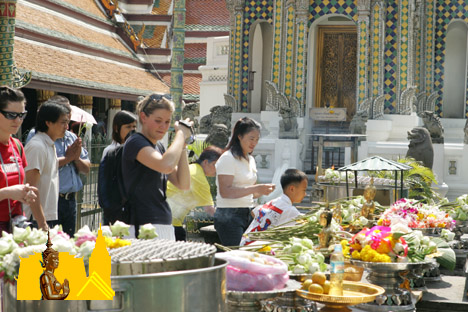 Photo courtesy of Antman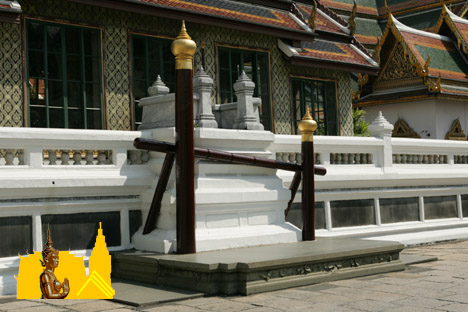 Does anybody know what this is?
Photo courtesy of Antman
As our tour of the Grand Palace was winding down we found a place to sit in the shade, and enjoyed looking at the buildings and watching the other people milling about while a couple of the guys visited the Emerald Buddha.
A Thai high school was visiting the Grand Palace that day, and to practice their English they were interviewing farangs. The questions were like, where are you from, what do you do in Thailand, how do you like the Thai food, what do you think of Thai manners, and so on.
When Antman was asked what he does in Thailand, Wifey blurted out, "He sleep and watch TV all day." I guess Wifey has a sense of humor after all.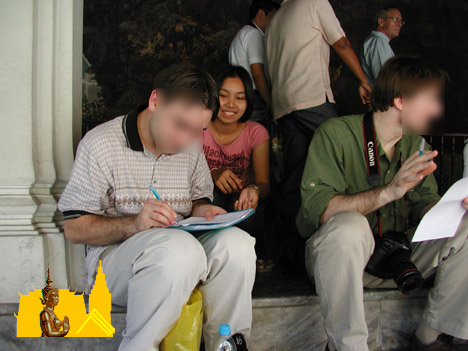 These guys weren't helping her at all...
And that was the point at which all the guys started relating to Wifey a little differently. We noticed that whenever Antman was around, Wifey was very quiet and demure, but out of his eyesight she would open up and was actually fun to be with. A couple of the less mature guys had a contest to see who could grab her ass the most times, and she took quite a shining to Doozy. I don't know how much of it Antman noticed, but it was pretty obvious to everyone else.
It was hard to figure out who to feel more sorry for; Antman or Wifey. Antman had clearly dug his own hole, but Wifey was being subjected to the charade. Then again, there was a pretty good chance she was being paid well for her trouble.

We stopped by to see the king...
Photo courtesy of Doozy
We left the Grand Palace and tried to stop a couple tuk-tuks to Wat Pho. Doozy and Rama had no problems, but the rest of us couldn't find a ride to save our souls.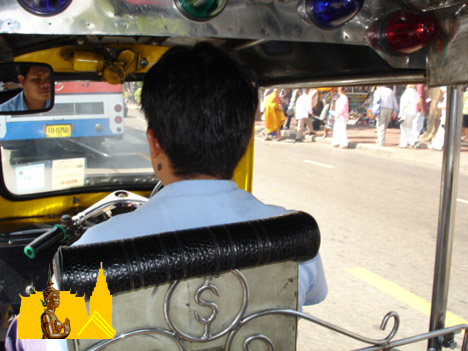 Photo courtesy of Doozy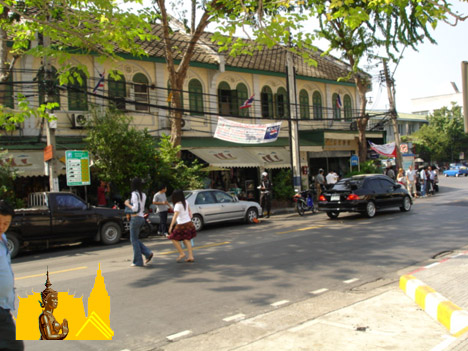 Photo courtesy of Doozy
As we were walking down the sidewalk, I heard a Thai woman tell a farang family that Wat Pho was closed and would re-open in two hours. So I asked the father of the family, "Do you know this woman?"
"No…"
"Then tell her to get lost. She's a crook. Wat Pho is open and we're headed that way right now if you'd like to join us. If you go with her you'll end up shopping at her friend's store."
Just then the Thai woman piped in with a cheerful, "Yes, shopping would be a good idea!"
Sheesh…
I don't know what happened to the family, but they didn't come with us and we didn't see them at Wat Pho. They prolly ended up buying a lot of lovely souvenirs…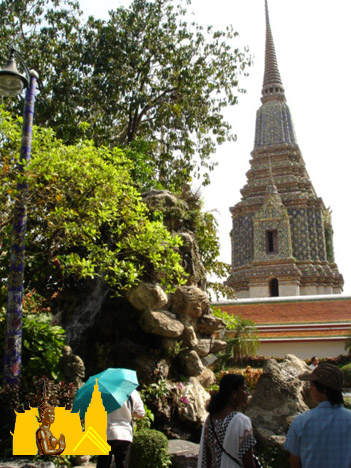 Photo courtesy of Doozy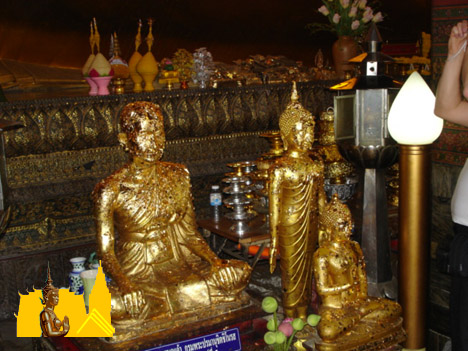 Photo courtesy of Doozy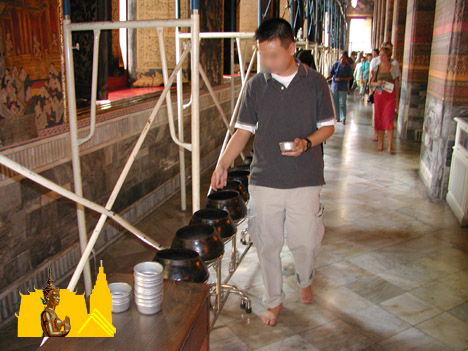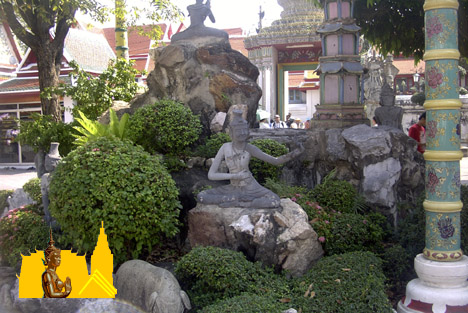 Photo courtesy of Bubbles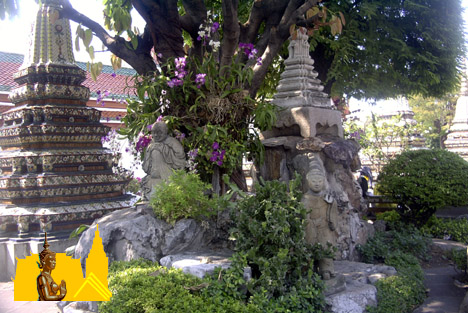 Photo courtesy of Bubbles
We took the guys to the major shrines, and stupas, and led everyone to see the Reclining Buddha. After that, a few of the guys wanted to try the massage school.
Reeb and I were beat, so we left them there and grabbed a taxi back to the Nana. Normally we would have taken the riverbus back to the Skytrain station, but we really were beat and wanted to sit in air conditioned comfort. If it took hours to get to the Nana, that was okay with us.
The taxi diver really didn't want to take us all the way to the Nana Hotel because the traffic was so bad, so we tried to negotiate a ride to a Skytrain station. The driver thought a ride to any Skytrain station would be just as bad, and agreed to take us to our hotel instead.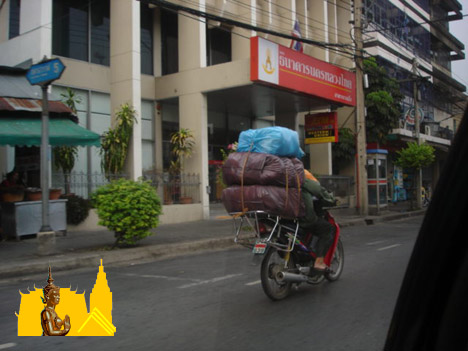 Photo courtesy of Doozy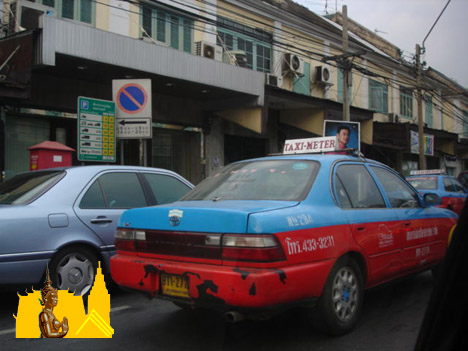 Photo courtesy of Doozy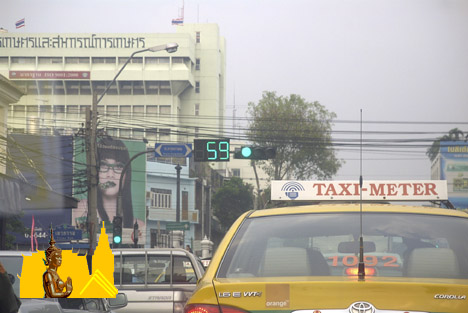 Photo courtesy of Bubbles
The driver spoke very good English and talked about his kids (son 10, & daughter 4) and his wife. Loy Krathong was coming up, so I asked him if he was going to do anything special for the holiday. He said he could not, because he would have to work; he drove a taxi during the day, and an ambulance every other night.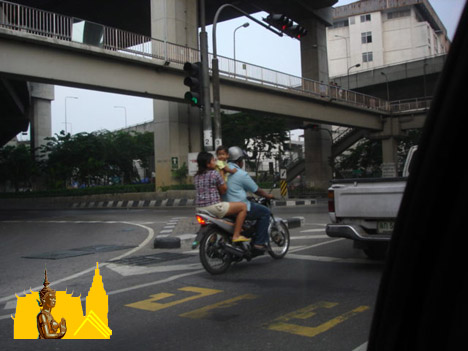 What? No child seat?
Photo courtesy of Doozy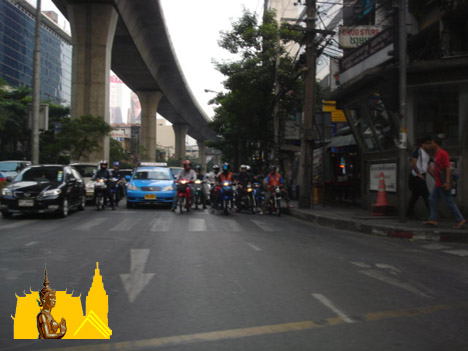 Getting ready to take off from the corner of
Sukhumvit and Soi Sii
Photo courtesy of Doozy
The traffic may have been bad, but Reeb and I didn't notice because we enjoyed talking with the driver so much. When we got to the hotel, Reeb paid the fare and a tip, and I have the guy something extra for Loy Krathong and his wife. He was pretty happy to get it, and I hoped it contributed to a nice holiday for him and his family.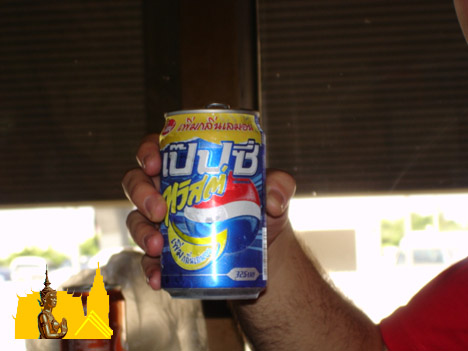 Photo courtesy of Doozy
Feeling a little peckish, we hit the Bus Stop to fill up. I've never been disappointed by the food there, and the girls did their usual good job of taking care of us.
After the late lunch, Reeb hit World Coffee to check his email, and I took a nap. Ah, it really hit the spot.
The gang reconvened for a round or two at Bully's Pub at 8 PM. Shortstuff was there, and staked us out as her customers. We kept her busy and in ladydrinks, while Doozy entertained us with the story of his adventure last night.
Doozy In Wonderland
In some bar on Soi 1, Doozy fell in lust with a lady working at the bar and proceeded to lavish ladydrinks on her. Something didn't seem quite right, and Shotover warned Doozy that he could be in for a surprise. Doozy was convinced that this beautiful creature couldn't possibly be a ladyboy, and when she excused herself to go to the little girls room or little boys room or where every they go, Doozy asked a passing waitress if the girl in question was really a girl or a boy.
The waitress swore the girl in question was really a girl. Doozy was happy he picked a good one, and Shotover was left scratching his head.
The merry band broke up for the evening, and Doozy led his prize back to his room. In no time at all she was running around Doozy's room wearing only panties and high heels before finally settling down to give Doozy a blowjob. Somewhere around the middle of the BJ (prolly a little more toward the end than the beginning), Doozy got the wise idea to interrupt her and ask if she was a girl or a boy.
She replied that she was indeed a he. Refusing to believe it, Doozy commanded her to drop her panties so he could decide for himself. Well, it didn't take good old Doozy long to figure it out, and at that point he thought it would be a good idea to turn the blowjob into a picnic, and handed her (or him or it) the room service menu so they could order something to eat.
After their little picnic, Doozy said that he really didn't want a ladyboy so she should get dressed and leave. Well, that didn't sit well with the ladyboy at all. The ladyboy demanded 1,000 THB, or she (or he or it) would make a scene.
Oh, no. Not a scene! Doozy didn't want that at all. So what's a young lad to do? Why, call Nana Hotel security, of course!
Nana security responded in no time, and tried to sort out the details. But the more the ladyboy told her side of the story, the louder she got. Finally, one of the guards grabbed the ladyboy still clad only in panties and high heels, and proceeded to carry her kicking and screaming out of Doozy's room and down the hall.
Not a scene at all…
I had to laugh when Doozy told his tale. I've read so many stories on the forums about Cheap Charlies waiting until a bar closed to get out of paying a barfine, or other schemes to get something for nothing from the girls; why hadn't anyone ever thought to just call security and have the girl dragged from the room. I don't recommend it, but it worked for Doozy.
Whatever Doozy wanted to do was up to him but I suggested that since she (or he) did provide some services, it would have been nice to give her (or him) a few baht even if it wasn't the entire 1,000 THB that she (or he) asked for.
Doozy admitted that he hadn't thought of it that way, but he would give her some baht if he ever saw her again. I quietly wondered what would happen if she saw him first…
~~~~~~~~~~~~~~~~~~~~~~~~~~~~~~~
Back at Bully's Pub, we were getting ready to go. Because we saw Soi Cowboy last night, we had our sights on Nana Plaza tonight.
As we were walking out the door, The Mook showed up.
First stop was Hollywood Strip. Rama is doing very well for himself; he's able to select some fine companions for the evening.
Antman and Wifey disappeared. Antman said he would call Shotover later in the evening, but we never heard from him again.
It was early (still before 9 PM or so), so the place wasn't really jumping, and I figured it was a good time to give The Mook a quick tour of NEP.
We made our way back to Hollywood Strip, and enjoyed another round and looking at the girls on the stage. But before my angel could step down from the stage to join me, it was time to move on to AngelWitch to secure some seats for the show.
It was fun to talk with The Mook. Although not a newbie to LOS, most of his travels were to the cultural spots of the temple type. With a few trips to LOS under his belt, he was just getting into the nightlife scene but it looked like he was taking to it like a duck to water. I had a good time sharing information on some of the better bars at the time, and we had some spirited discussion on which girls around the bars were katoeys, and how we clocked them.
The AngelWitch show was good as usual. There were a couple new twists here and there, and it was good to see that the bar was continuing on the same good track.
At some point in the evening, Rama's glass was empty, and he decided he didn't want anything else to drink. Unfortunately the server girl wouldn't take no for an answer and continued to pester him. Rama finally waved her off with a dismissive flip of his hand, and that made the server girl insane.
She screamed, "You go out, now!" And Rama just stayed glued to his seat ignoring her. The server girl ran off and came back with the mamasan and a couple bar boys; it looked like they were going to throw him out like a Frisbee.
Reeb saw what was going on, and took over negotiating the situation. Reeb bought a drink for Rama, a drink for the server girl and mamasan, and made jokes all around. With everyone's face regained, the server girl moved on to pester other punters.
As I watched the AngelWitch show, a girl moved into my field of view, gave me a quizzical look, and began hopping down and waving at me. She looked familiar to me, but I really couldn't place her. Then it struck me...
THE CINDERELLA STORY
Bud was not a pretty girl. She wasn't ugly, she was just plain... But still I always thought she was a nice girl. Not my type, but a nice girl. Bud always dressed tough in pants and a tank-top, but I knew there was a girly girl inside that rough exterior.
I met her a couple years ago when she worked at Morning/Night. She had just started working there sometime in the middle of one our longer trips. Bud took a shining to me even though Nit staked me out as her customer, and I wasn't BFing anyone anyway because Morning/Night was my home bar. And I was also spending as much time as I could with GoodGirl.
Our last day in Bangkok that trip, Bud got her hair done and wore a yellow dress to work. I would learn later that she wanted to make it a special night to say good-bye to me. We had some private talks that night, and I left Bangkok never to see her again - until tonight...
I had always wondered what happened to her; Bud was one of the girls I wished I could have stayed in contact with.
After we left Bangkok that trip, Bud continued to work at Morning/Night. Bud worked at Morning/Night for two months and was never barfined; not once. Bud told me that she had to BF herself so the bar wouldn't cut her pay. It didn't take long for her to realize that she wasn't making any money and quit Morning/Night to attend beauty school for a year.
The beauty school paid off; Bud had blossomed into a beautiful lady.
After beauty school, Bud got a job working as a bartender in a Soi 33 bar. And here we were, reunited in AngelWitch.
Bud had some farang friends that lived in Bangkok that had BFed her for a night on the town. She asked them if it was okay if she stayed with me, and they agreed. I wish I would have understood what was going on at the time because I would have reimbursed her friends the BF. But no worries; I'll pay it forward…
Bud and I left AngelWitch, and we talked for hours. I was tempted to invite Bud to my room, but she made it clear that she never went with a customer and never would; Bud is waiting for her husband.
Bud is a good girl…
---------------------------------------------------
Ommmmmm

Jai Guru