They Started As Strangers
-- Part 9

They Started As Strangers -- Part 9
I've read that every time a baby laughs, a fairy is born.
And I've come to think they all have moved to Thailand
As it does every day, breakfast came way too soon. I was able to escape Cookie's leg-lock, and catch my breath for a few moments in the shower before it was time to head down and join the others at the breakfast buffet. Cookie's soapy training kicked in, and she wouldn't let me leave the shower until she lathered every part of me; soup to nuts.
The Front Desk seemed a little surprised I asked for two breakfast vouchers, but they handed them over without a problem. A few of the guys already found a table, so we joined them before going to the bountiful breakfast buffet.
After breakfast it was back to the room to pack, and then nap with Cookie until 11:30AM. At 11:30, we made our way down to the lobby, checked-out, and relaxed in the big chairs facing the Front Desk.
I had hired a bus through NanaTours to take the group to Pattaya and back. Even though it was a half-hour early, a representative from NanaTours and the bus company were running around like chickens with their heads cut off. It's hard to say if they were really doing anything. They just seemed to be bouncing between the big bus waiting out front and the NanaTours desk. It didn't matter to me what they were doing, I just hoped there wasn't a problem.
Anyway, I enjoyed my time sitting in the big chair with Cookie cuddled up on my right. The light touch of fingertips on my left forearm brought me back into consciousness. I looked up to see a lovely girl smiling down at me, and saying hello.
"I'm sorry, honey. I already have a girl."
Some of the guys were surprised because she was quite an attractive little package.
"You no remember me?"
"Uh, no... Should I?"
With that, she got a strained look on her face and walked away. I think it was Rama that said, "I don't know about that, Jai. *I* would have remembered that one." Hmmm… I was thinking the same thing…
As I watched that fine ass and legs atop high-heels walk out the Nana lobby door, it occurred to me; she was SchoolGirl!!!
Damn, damn, damn… I shot out of my seat and ran after her. As I reached her, I touched her lightly on the shoulder to get her attention. When she turned around I was saddened to see she was crying.
"SchoolGirl! I didn't know that was you!! You changed your hair. Your hair is very beautiful."
It was good to see her again, and we spent a few minutes making small talk.
"Please say hello to me next time you see me, okay?"
"I say hello already, but you no remember me."
"Come on darling, you changed your hair. I will remember you, jing-jing."
With that she was able to smile through the tears and we hugged goodbye. SchoolGirl is another girl I wouldn't mind staying in contact with, even though she's a little hung up on Antman.
Sometimes I wonder… If I ever did win the lottery, I think I would have quite a collection of bargirls that I just didn't want to let go… It's a nasty business but some of them are just so nice…
When I rejoined the guys, the NanaTours and bus company representative started rounding up everyone for the bus. This wasn't a minivan like we usually get; it was a bus. When I ordered it, the NanaTours lady told me it only sat 20. Well, we had 20 and there were a few empty seats, so I was a little disappointed that I had to turn some guys away. I really do believe the more people that come along the merrier the journey will be.
Everyone shoved their bags into the luggage compartment, and climbed into the bus. Cookie and I sat in the front as I was hoping to take some photos.
It took two Nana guards and one innocent bystander to help direct the bus into Soi Sii, but once we were on the street we were off. The driver put a Thai cassette into the music system as we eased our way onto the expressway.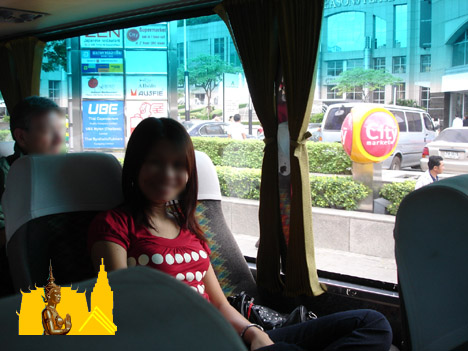 Photo courtesy of Doozy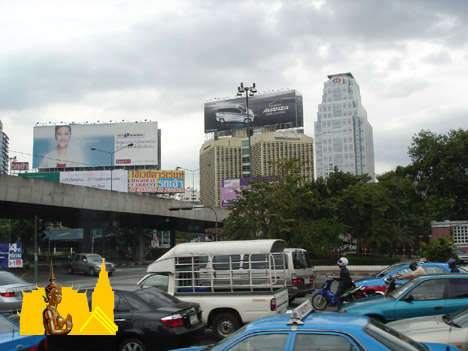 Photo courtesy of Doozy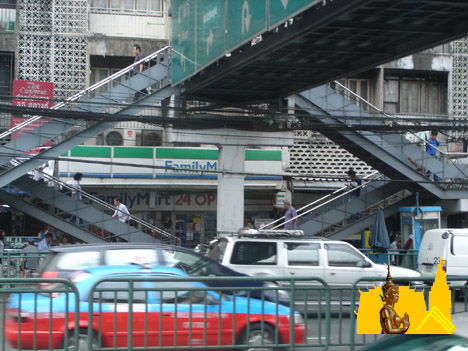 Photo courtesy of Doozy
Unfortunately, before we could make our way out of Bangkok we were pulled over by one of Bangkok's finest. The poor bus driver popped out of his seat and ran back to talk to the cop, but had handed the bribe over before we could get a camera and take a photo. Bummer…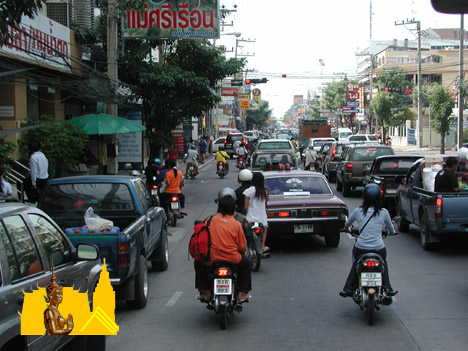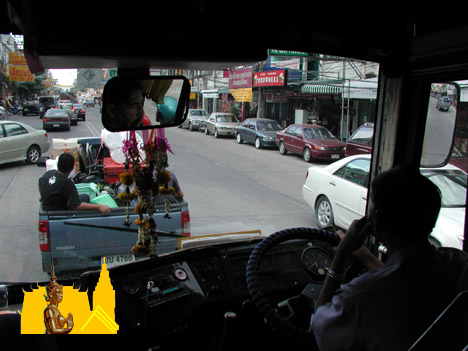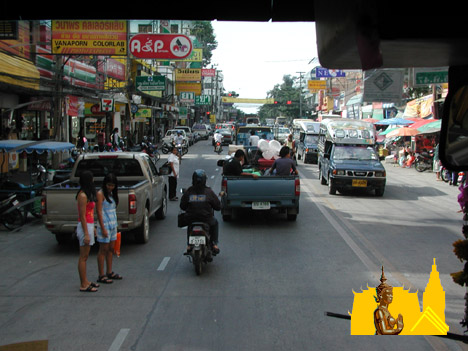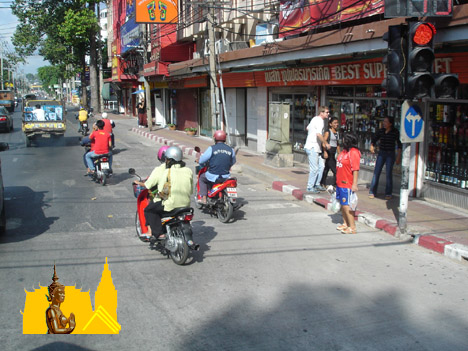 Photo courtesy of Doozy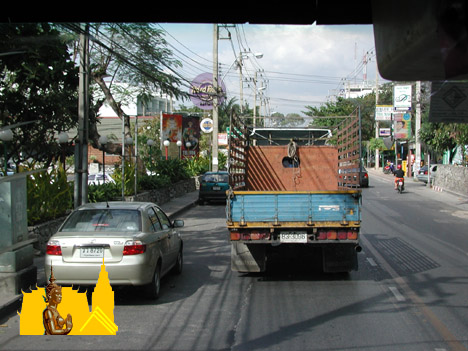 Listening to the driver's music, and the lack of traffic made it a pleasant drive to Pattaya. And before we knew it, we were pulling up to the Hard Rock Hotel's front door.
Some of the guys were staying at other hotels nearer to Walking Street, but before they walked through the grounds to Beach Road to catch a baht bus, we all promised to meet at Starz Café in the HRH for dinner. Starz Café is a little pricey for dinner in Pattaya, but the food is good and because we had so many newbies with us, we didn't want to hit Pattayaland until it was dark and *all* the neon was fired up.
Check-in at the Hard Rock Hotel was painless. One of the guys drew a smoking room and it was pretty nasty inside, but the Front Desk promptly gave him another room.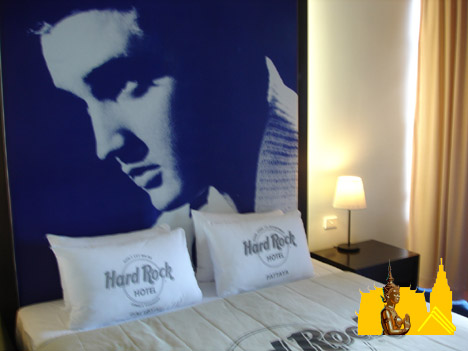 Photo courtesy of Doozy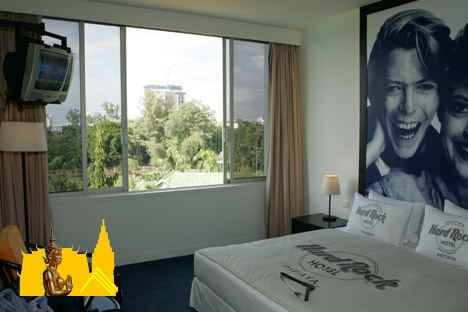 Photo courtesy of Antman
Antman led Bubbles, Doozy, and Wifey down the beach to rent some jet-skis.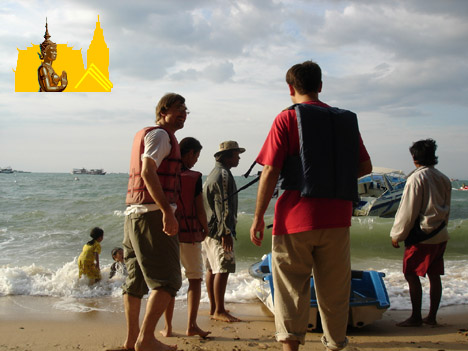 Photo courtesy of Doozy
No matter how many times Antman asked him,
the tout always said Antman wouldn't get wet.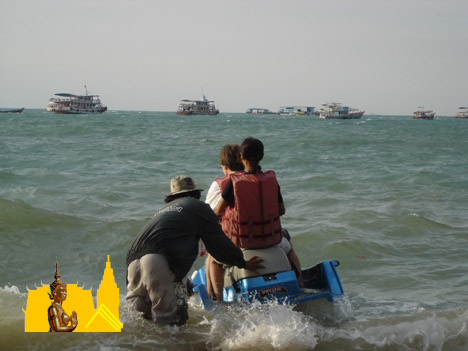 Photo courtesy of Doozy
Looks a little nose-heavy to me...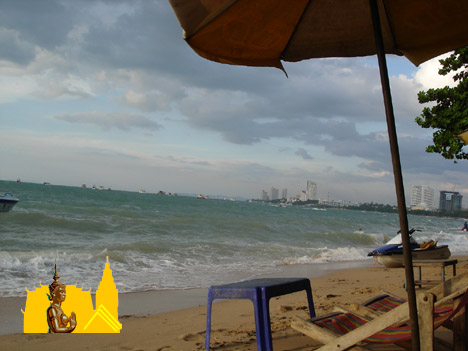 Photo courtesy of Doozy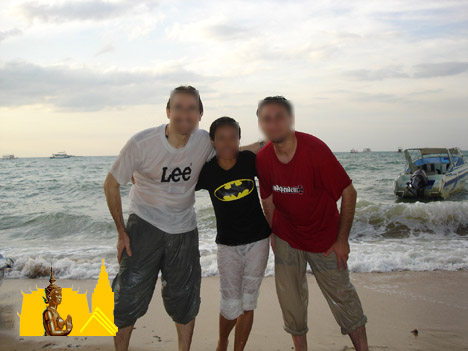 Photo courtesy of Doozy
I'm sure the tout was amazed they all got soaked
Meanwhile, Cookie, Lady, MikeM, Reeb, and I relaxed in the lobby bar, and had a choo-chee party. I don't think Cookie ever had choo-chee before, but one bite of the stuff had her peeling off the fish and putting the rice on my plate.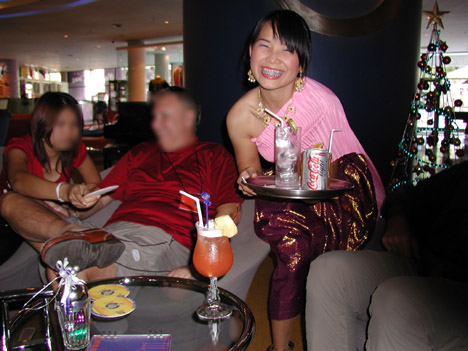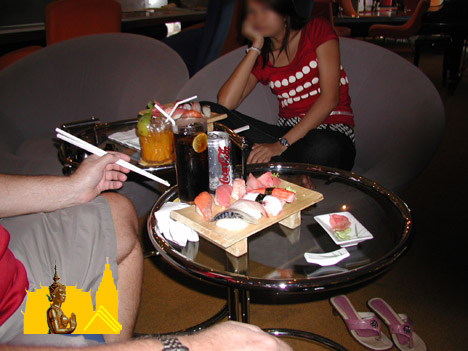 Not even choo-chee could cheer up Lady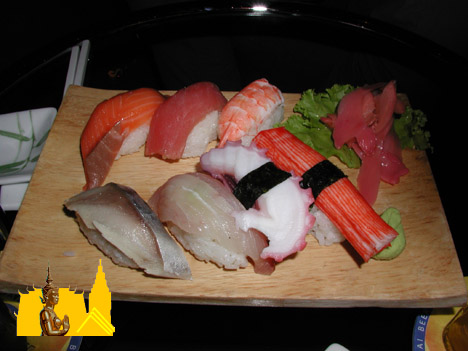 Before heading up to the room to nap the afternoon away, we showed Cookie and Reeb around the HRH grounds. While at the pool, we reserved our favorite cabana for the rest of our stay.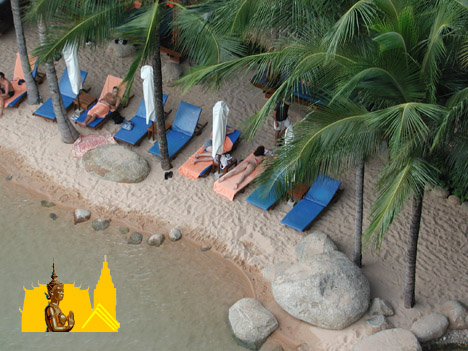 The HRH has a real sand beach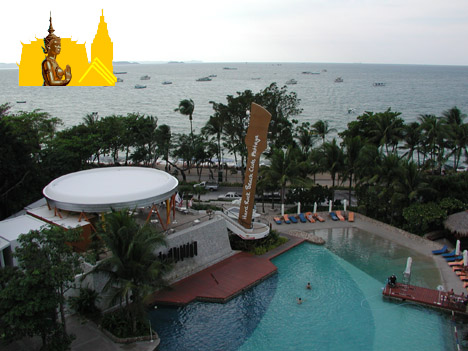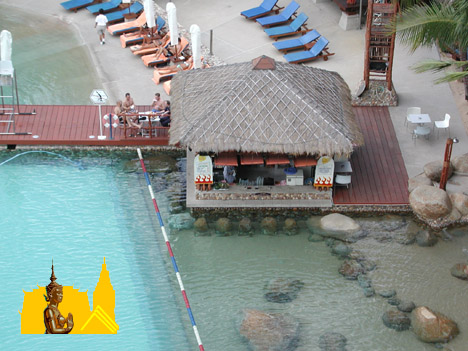 And a swim-up bar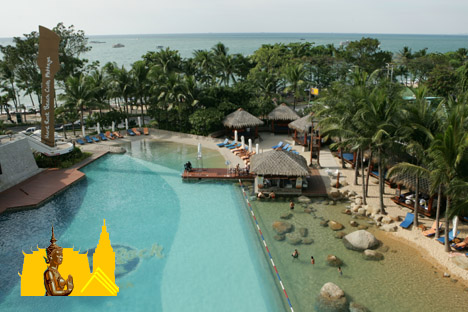 Photo courtesy of Antman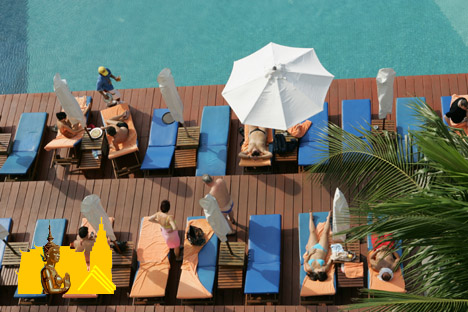 Photo courtesy of Antman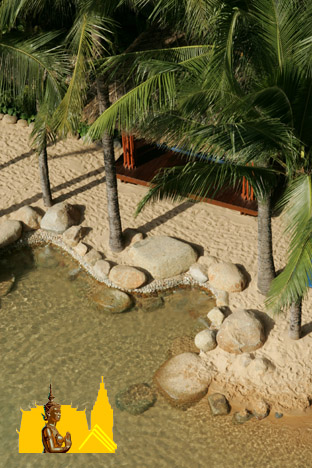 Photo courtesy of Antman
Cookie is a delight to have around; she's well behaved in public, and the moment our room's door closed she didn't have to be told to bust out the girls. If we were relaxing with a few drinks, as soon as my glass was half empty she would sort out another one. Cookie was a lot of fun when it was time to have fun, and she was nice and quiet when it was time to kick back. I could get used to living like this…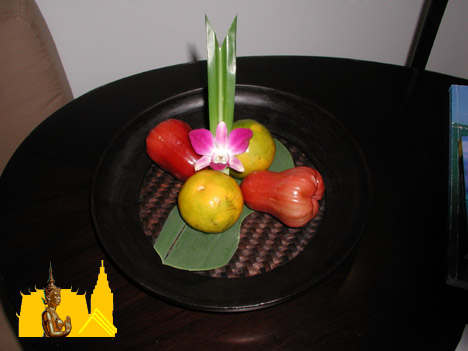 The HRH welcome gift
We awoke a little late from our afternoon nap, and had to shower quickly to meet the guys on time in the lobby. Unfortunately, Antman and Wifey were crazy late, and everyone waited for them instead of moving on to dinner.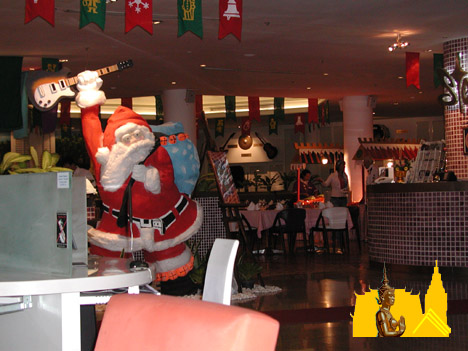 Starz Cafe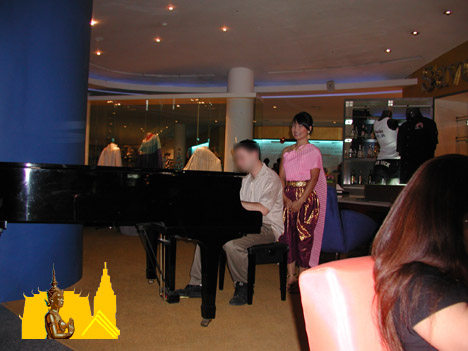 Bubbles entertained everyone while
we waited for Antman and Wifey
Starz Café at the Hard Rock Hotel had some sort of celebration going on; in addition to their fine dinner menu, they offered a nice buffet. On top of that, there was a small floorshow.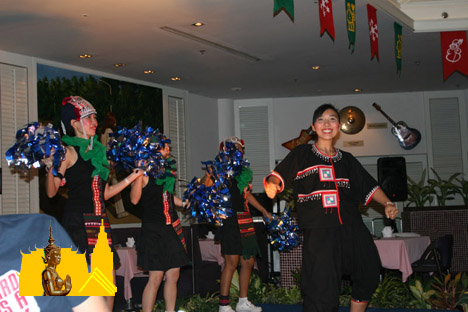 Photo courtesy of Reeb
Part of the HRH floorshow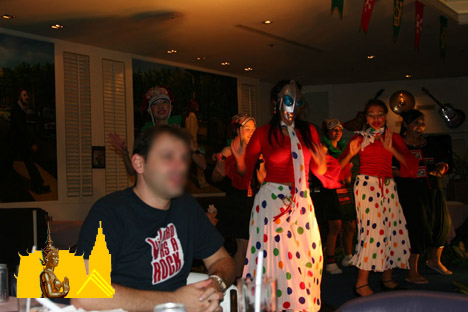 Photo courtesy of Reeb
It's hard to explain what went on in the floorshow. Some girls wore masks and would sing a song revealing interesting make-up jobs. Some songs were in English and some were in Thai. The girls were cute, and the show was entertaining. I'm glad I got to see it.
The food at Starz Café is pretty good. I prolly wouldn't go out of my way to eat there, but it was good. Bubbles is a vegetarian (which earned him some extra points with the girls) and we were always concerned if he could find something to eat, but he never had a problem; even at Starz Café.
In the middle of dinner, Wifey handed her mobile to me. I thought it was one of Antman's ex's on the line, and I was more than a little frosted; it wouldn't have been the first time that he stiffed me dealing with one of his ex-girlfriends when I was with a girl, because he was embarrassed to do it when he was with his girl.
After dinner, we made our way around the pool and out to Beach Road to catch a baht bus to Pattayaland. All of the beerbars and streets lit up with neon were something new to the boys. Sure they had seen Soi Cowboy and Bangla Road, but that didn't prepare them for Pattayaland, Walking Street, and the baht bus ride around the area.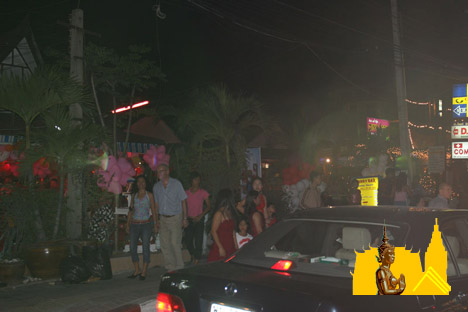 Photo courtesy of Reeb
Beach Road view from a baht bus
Down Walking Street, it was nice to see some of the girls dressed up for Loy Krathong.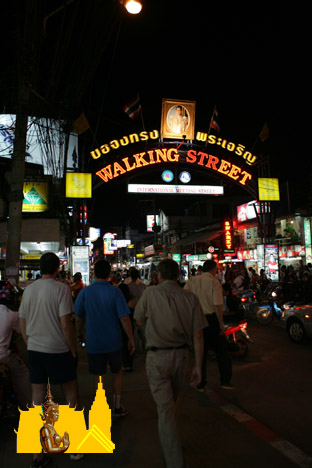 Photo courtesy of Antman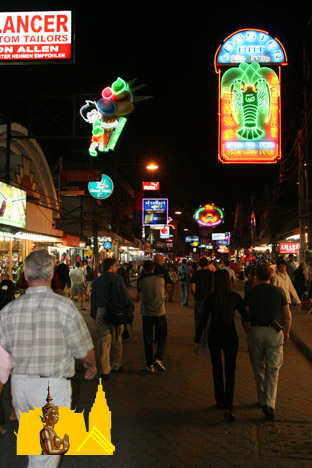 Photo courtesy of Reeb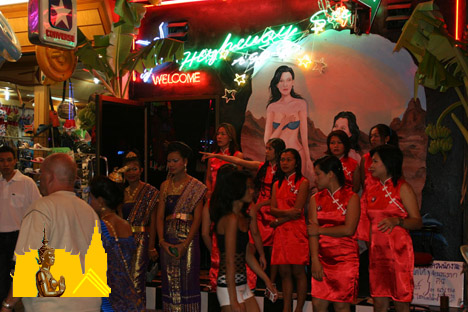 Photo courtesy of Reeb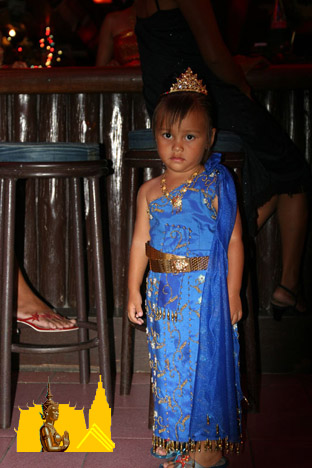 Photo courtesy of Reeb
This girl was so damn cute,
but she just didn't want to smile for us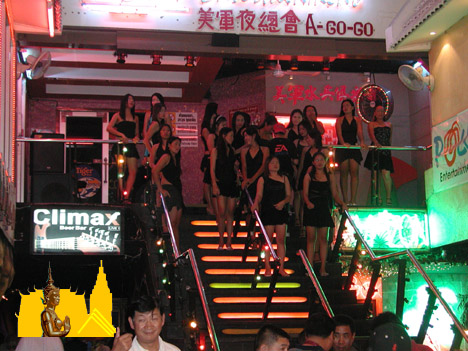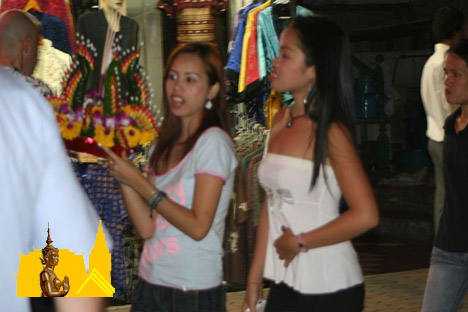 Photo courtesy of Reeb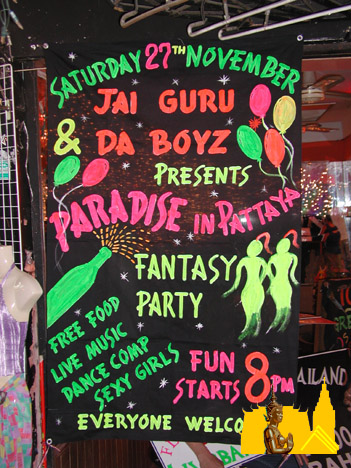 It looks like we could be in for a fun time tomorrow
We got to FLB around 8PM, and settled in for a round or two. Even so, everyone was chomping at the bit to leave. Bubbles and Doozy wanted to hit the bars, but Reeb, MikeM, and I were more interested in investigating Loy Krathong a little more.
It was good to see CodeMonkey again. I had hoped to spend more time with him, but he had BFed a lovely girl from FLB and I had Cookie so things didn't work out this trip. But I do intend to get a few pointers from him and go after his record…
We checked bin and the gang met in front of FLB for a quick pow-wow. Everyone was comfortable with where they were going, so we promised to meet at breakfast tomorrow and were off.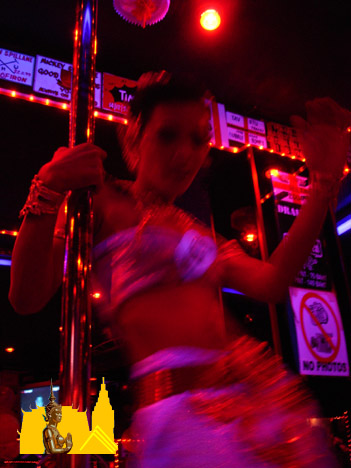 Photo courtesy of Doozy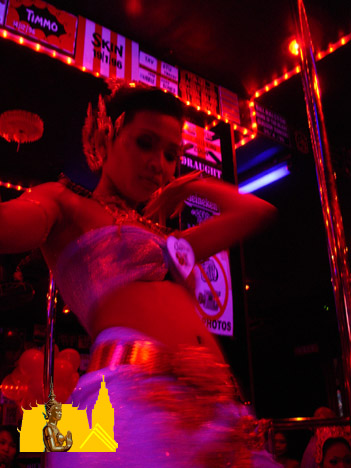 Photo courtesy of Doozy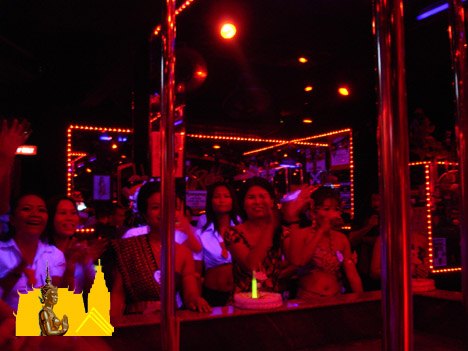 Photo courtesy of Doozy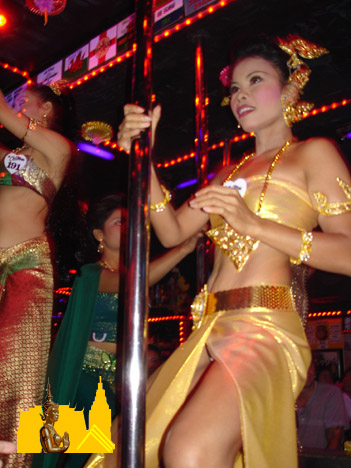 Photo courtesy of Doozy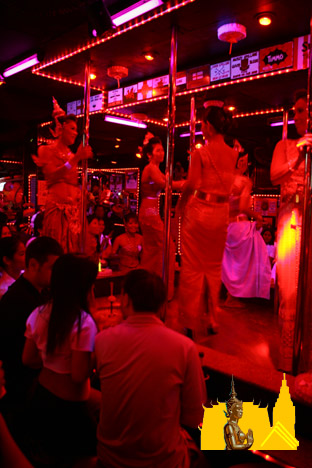 Photo courtesy of Antman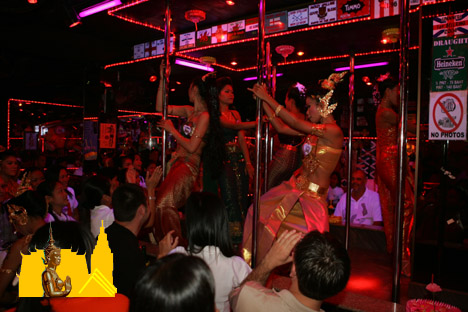 Photo courtesy of Antman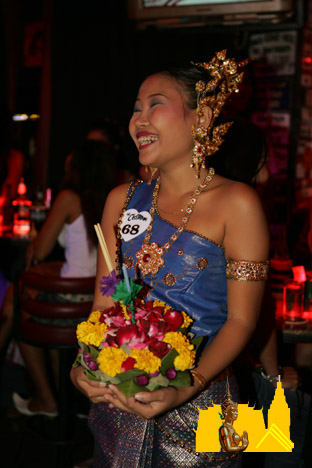 Photo courtesy of Antman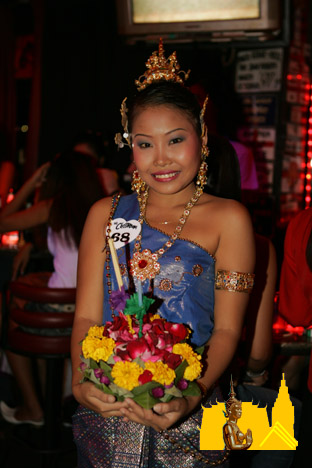 Photo courtesy of Antman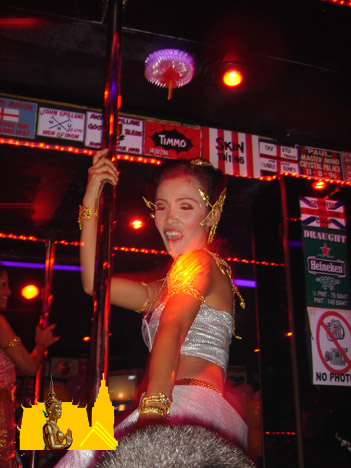 Photo courtesy of Shotover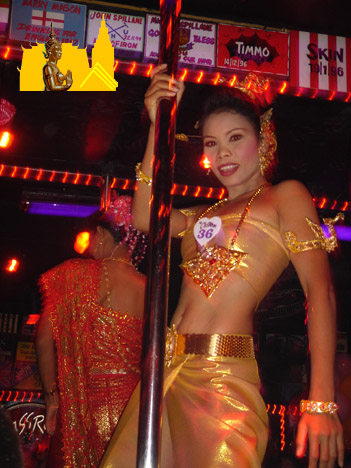 Photo courtesy of Shotover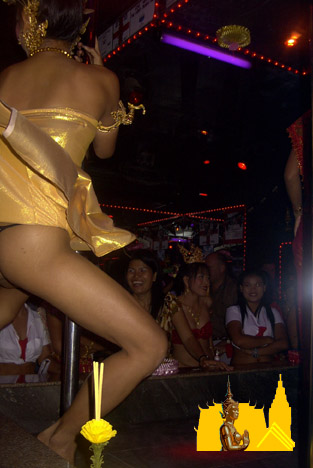 Photo courtesy of Bubbles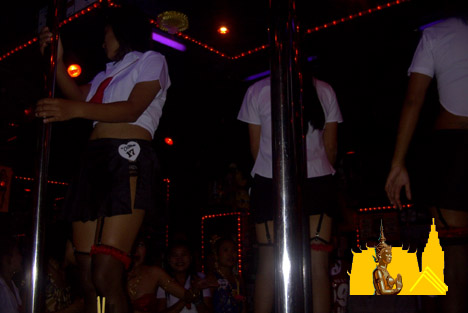 Photo courtesy of Bubbles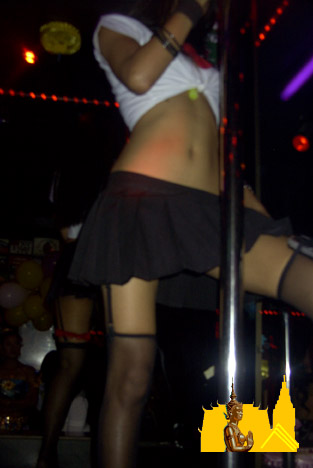 Photo courtesy of Bubbles
Cookie, Lady, MikeM, Reeb, and I headed toward the new pier to check out the Loy Krathong festivities. With ever step, we would see more and more people carrying their krathongs and making their way to the shore.
Near the pier, there was a clearing in the sidewalk were vendors were busy building krathongs to sell. We lingered for a few moments, and I tried to get Cookie to buy a krathong but she wouldn't have it saying it was a big waste of money. I thought it might be nice for her but if she's not into it, no problem for me.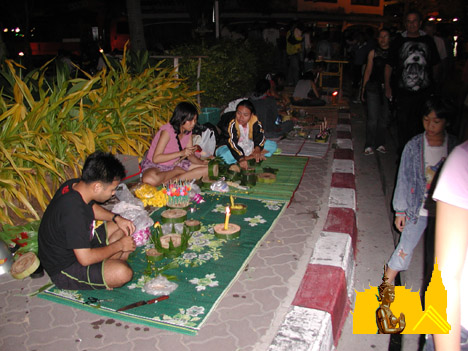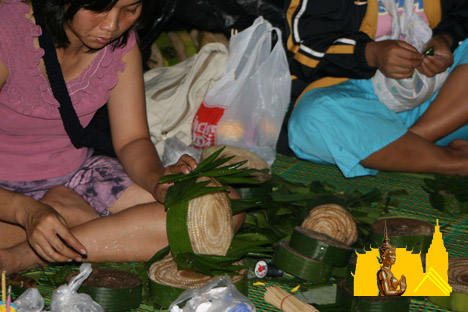 Photo courtesy of Reeb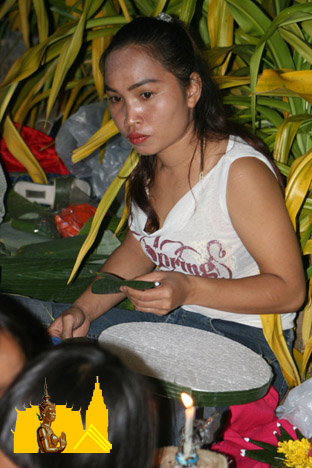 Photo courtesy of Reeb
There was a clearing by the pier where they set up a big stage. It looked like there was a beauty contest in progress to select Miss Loy Krathong - Pattaya. Some of the girls were really beautiful, and it was enchanting to see them dressed in their traditional costumes.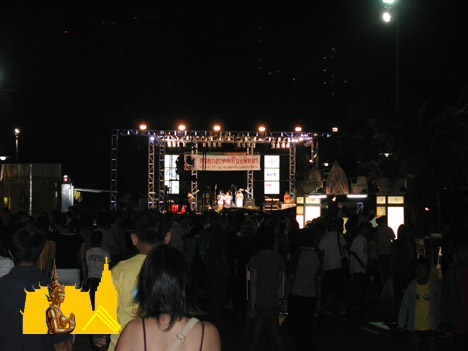 When we finally made it to the pier, Cookie would take advantage of opportunity to point out wilted krathongs on the shore and say, "See? Wasted money! You pay for krathong, fibe minute later it garbage." Even if I thought it might be fun to do, there was no arguing with her…
MikeM and Lady bought krathongs, and paid some young kids to launch the krathongs past the surf (such as it was). The surf wasn't really that big (maybe only a couple inches) but unless the krathongs were launched well past the tiny surf, they didn't stand a chance. MikeM got his money's worth, and we enjoyed watching the krathongs float off the coast for a while before the wind blew them ashore.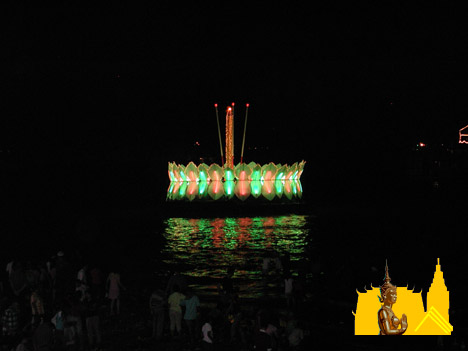 After walking to the end of the pier and back, we started our way down Walking Street. Walking Street was really packed now with all kinds of people; gawking tourists to punters to bargirls to girls in parade configuration dressed in their finest costumes.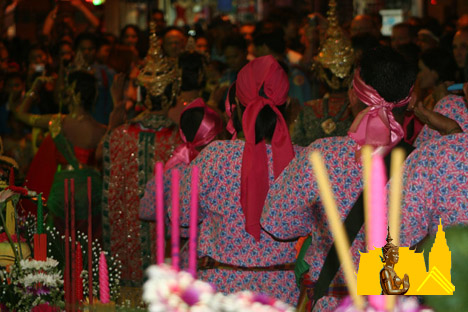 Photo courtesy of Reeb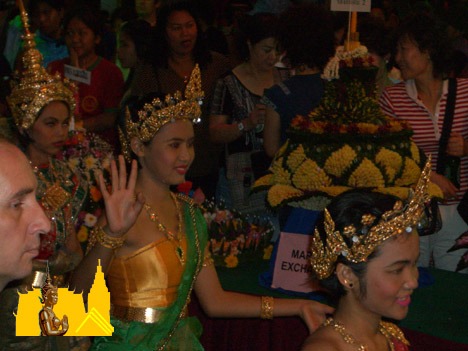 Photo courtesy of ShadowDweller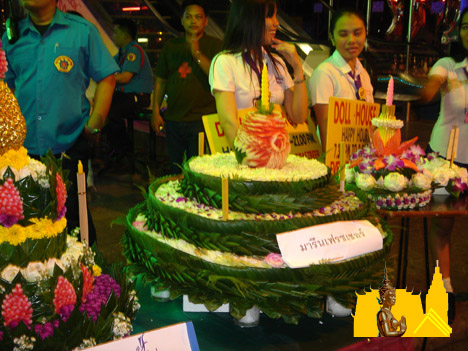 Photo courtesy of Shotover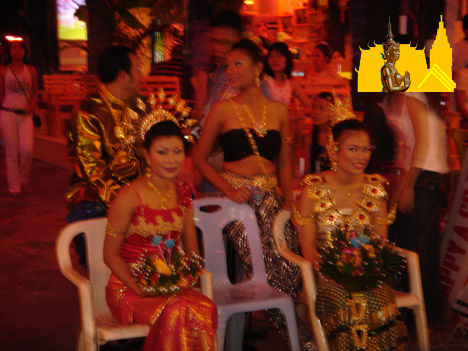 Photo courtesy of Shotover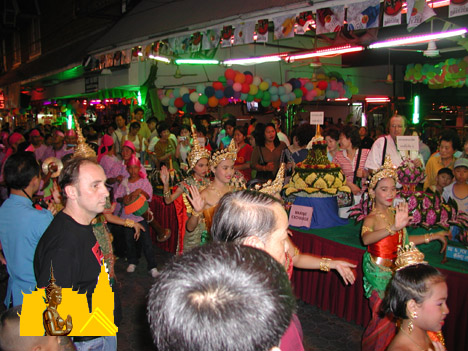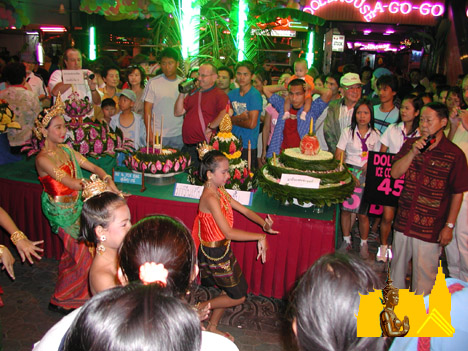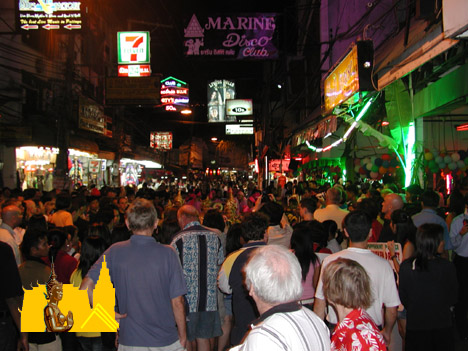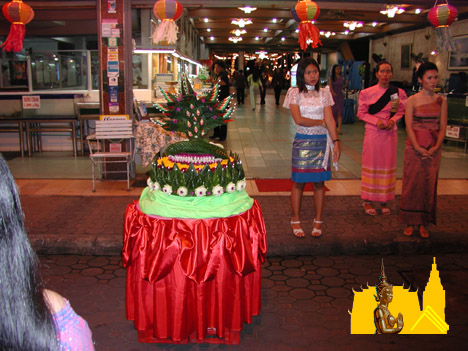 It was fun. All I can add is if you haven't been to Pattaya for Loy Krathong give it a shot. It's a blast.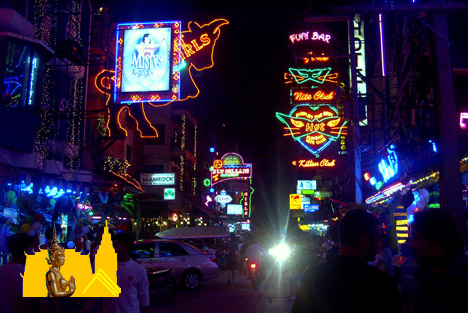 Photo courtesy of Bubbles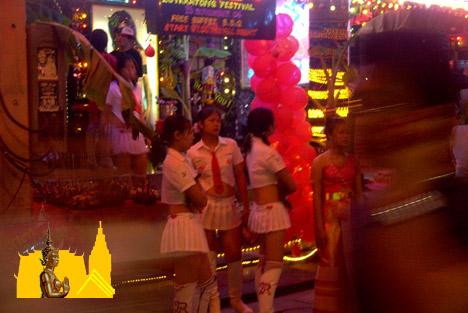 Photo courtesy of Bubbles

Photo courtesy of Doozy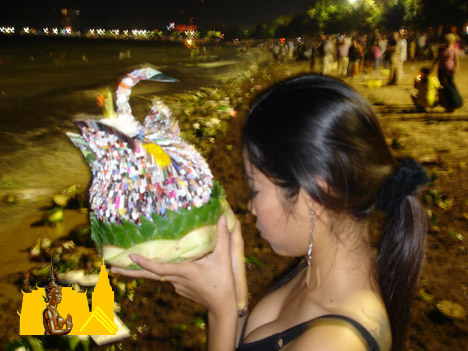 Photo courtesy of Doozy
We sampled a few bars on Soi Pattayaland 1 and 2, and then decided to walk on the beach. The beach was packed with Thais launching krathongs, and only a few farangs watching the spectacle. Reeb and I hired a couple beach chairs, and everyone one else wandered away including Cookie.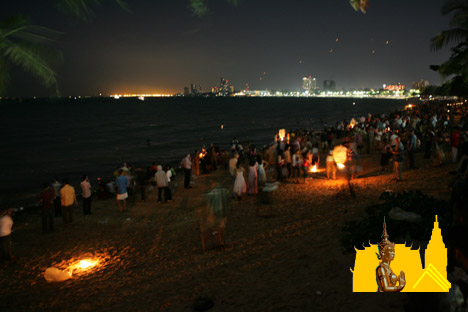 Photo courtesy of Antman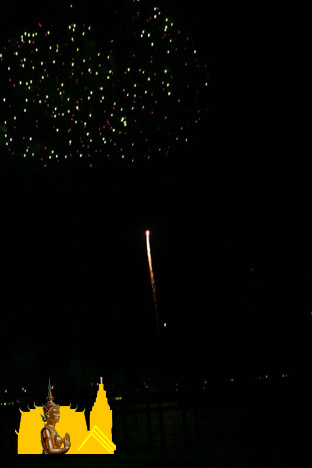 Photo courtesy of Reeb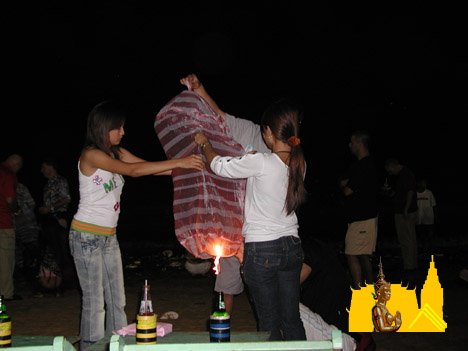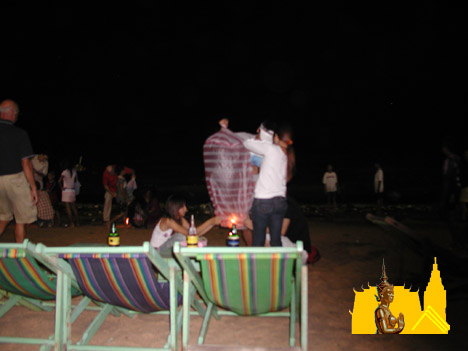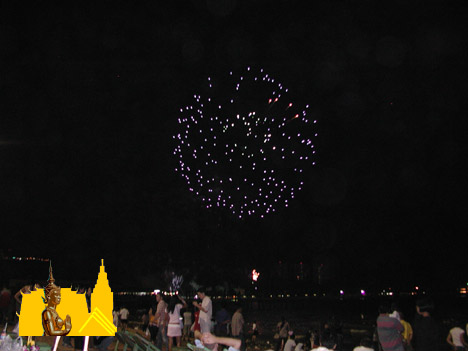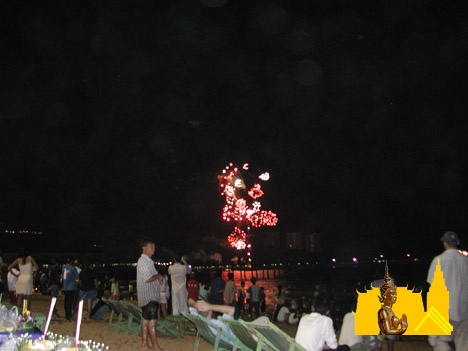 Reeb and I relaxed in our chairs and watched the locals launch their krathongs and small hot-air balloons. We noticed a woman selling hot-air balloon kits but before we could get off our asses and buy a couple, she was put out of business by the local police. They asked her to hand over her stock and when she refused, the police were not shy about tearing it all from her grip. Where I come, that would have landed her in the pokey. But the cops were happy just to get their hands on the balloon kits. I wonder if they had a big party to attend later that night…
The gang wandered back and we all continued to relax a while on the beach before deciding to make our way back to the Hard Rock Hotel.
Walking from Second Road to the entrance of HRH, it looked to me like Cookie was genuinely happy. On one hand it's hard to tell as she always has a smile on her face, but there was something about her that made me think she was really happy to be out that night.
As soon as we got back to the room, Cookie was out of her clothes and into a HRH robe. She knows I don't like cigarette smoke, so she went out on the balcony to light up. It was a nice night, so I decided to join her for a while.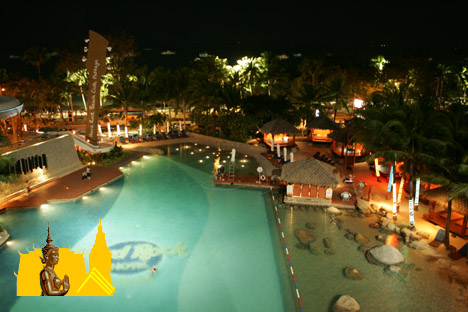 Photo courtesy of Antman
There was a warm breeze that night, and we enjoyed our stay on the balcony watching the hot-air balloons drift down the shore.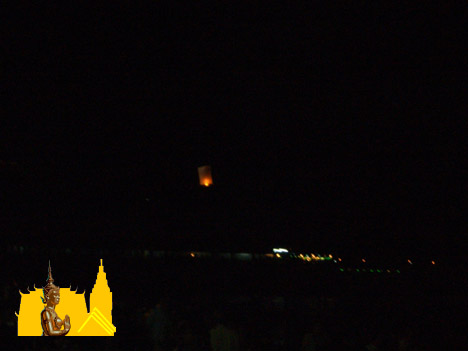 Photo courtesy of ShadowDweller
It was another good night...
---------------------------------------------------
Ommmmmm

Jai Guru