They Started As Strangers
-- Part 13

They Started As Strangers -- Part 13
The more things change; the more they remain the same.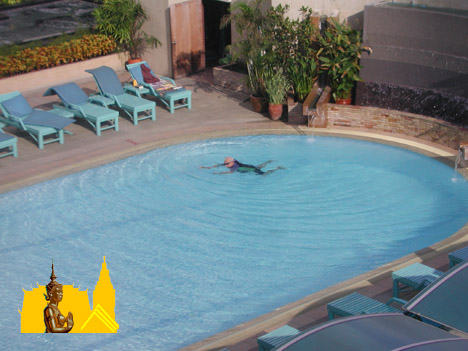 Squiggy was taking his morning dip in the Nana pool, Hoover was padding around the room naked and trying to get herself ready to leave, while I got ready to meet the guys at the Nana breakfast buffet.
Since we would be leaving Thailand later today, we all decided to check email one last time at World Coffee. No one had to fight any fires and the real world seemed to be spinning in greased grooves, so we settled on a couple drinks at Morning/Night before it was time to check-out and take the limo to the airport.
Lady was supposed to be working days at Morning/Night but she was nowhere to be found. I joked with MikeM that he had been paying her too much, and she hung up her kneepads.
The truth is that I have no idea what everyone is paying the girls. Some of the more experienced guys gave the newbies advice on what to pay and tip, but the advice was always ranges and never an exact price. My guess is most of the guys followed the advice more or less; except Antman, who pays the girl whatever she asks.
Once we got off the surface streets, it was a relaxing ride to the airport. We guessed that the Nana limo driver must have made the trip hundreds of times before, so we didn't pay any attention to the signs when we pulled up. For our trust (or lack of attention), we found ourselves dropped off at the wrong terminal.
It took us a few moments to realize we were at the wrong terminal, and then it was only a short walk to the correct one.
Check-in was a breeze, and we all met at KFC for our traditional pre-flight snack. While enjoying our fast-food chicken meal, we noticed an O2 Spa across the terminal. We were all interested to try it out but time was short, so MikeM stuck a toe in for us. MikeM came back with two thumbs up, so the O2 Spa is on the list to try next time.
Even though our flight was paged as boarding, we had a few moments in the gate area to fill out our visa applications. In fact, boarding was so late that even Antman and Wifey showed up before they started to board the flight.
Antman and Wifey didn't have a seat together, so some of the guys traded boarding passes so the two lovebirds could be next to each other. Personally, I didn't care where they sat as long as they weren't in my field of vision; an hour of those two sitting nose-to-nose and making goo-goo eyes at each other is more than I can stomach.
On the boarding-bus to the airplane, a backpacker I called KoolKarl started asking Reeb and I what to expect upon arrival. I'd been through the drill at Siem Reap airport before, so I shared what I knew. KoolKarl was a pleasant enough guy (for a backpacker), and not the worse we've ever spent time with while traveling.
It was only a 55-minute flight from Don Muang to Siem Reap, but that was enough time for the flight attendants to serve us a drink and a box lunch. Reeb and I were pretty surprised how good the box lunch was. Maybe the servings were a bit small, but I would have been happy with that instead of the usual food I get on flights. And that includes Business Class flights.
As we lined up in the visa queue at Siem Reap International Airport, we had one last pow-wow to explain to the newbies what to expect.
A moment or two after Reeb handed his passport and photos to the visa official, MikeM asked Reeb what happened to his passport.
"I gave it to one of the visa guys."
"Which guy? Do you still see him anywhere up there?"
"Uh, no…"
"Oh man, never give anyone your passport even if they're wearing a uniform. And if you have to give it to someone, never take your eyes off it. You better go up and find out what's going on. They could try to sell it on the black-market for a few dollars. They're all pretty poor, you know"
Poor Reeb was panic-stricken. The last thing he wanted was to be trapped in Cambodia without a passport and no way to get out. As the adrenalin built up in his system and he turned to go up to the visa desk, we stopped him just in time and told him it was all a joke.
It took Reeb a moment or two to appreciate the humor in it but even when he did, he still vowed revenge… Reeb has played some pretty good practical jokes in his day, so I'm expecting the worst… Or the best, depending on how you look at it…
Reeb and I got through Passport Control quickly, so we grabbed our bags and went to look for our ride to the hotel.
A lovely girl was standing outside the airport and holding a sign with our names on it, so she must be the one. Reeb and I introduced ourselves, and were immediately surrounded by touts trying to hijack us. Reeb and I kept a hand on our bags and just ignored the touts. The girl was all sugar and smiles until she barked a few words at the touts, who all then left with their tails between their legs. I wonder what she said…
I made a point of telling the hotel before we left that our group was too big for just one taxi. It was nice to see they read my emails and sent a bus to pick us up. Reeb and I tossed our bags in the back, and went back inside the airport to round up the rest of the guys.
As we were making our final headcount, KoolKarl stopped by to thank us for our advice and ask about hotels, as he didn't have one. I knew we had and extra seat in the bus and figured there was a good chance there would be a free room at our hotel (the Ta Prohm), so I invited him to join us.
When we were boarding the bus, we could tell the girl was a little miffed to be giving someone a free ride into town. We told her that KoolKarl was our friend and would be inquiring about a room at the hotel, and that got her to accept it with a smile.
On the drive into town there was a little bit of a traffic jam we had to get through. I should think those are rare in Siem Reap. When we inched our way up to the source of the problem, we found that there was an old man lying dead in the street. My guess is that he was walking on the side of the road, and was hit by a passing truck.
Reeb stared at the scene open-mouthed as we passed, and Antman said, "Hey Reeb, welcome to Cambodia."
My thoughts turned to the old man's family. How would they get the news? He was an old man, but was a provider for the family? If so, what would the family do now? I'll never know the answers, but I still think of the questions whenever I think of the ride into town.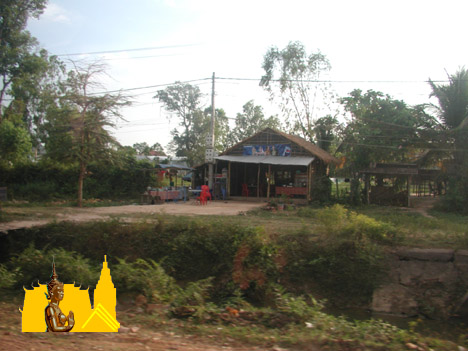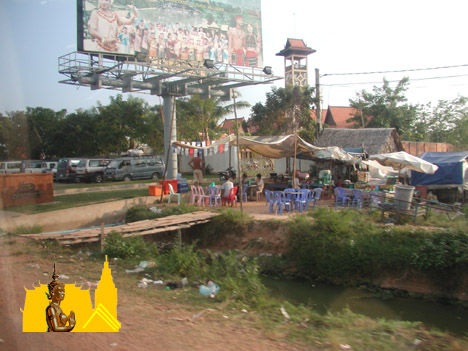 A short while later, our bus pulled up to the Ta Prohm Hotel. KoolKarl lost just a smidge of his cool; the Ta Prohm was a pretty nice hotel, and he was more interested in one of the $5 per night places. Up to him… Before we sent him off in the right direction so he could look for more "economical" accommodations, we told him that we were hiring a bus to tour Angkor Wat and he was welcome to join us. But our plan was to be there for sunrise tomorrow, so he would have to meet us at our hotel at 5AM sharp to catch the bus.
As we were checking-in I realized the lovely girl that met us at the airport actually worked at the hotel. That's nice; she spoke English well, and was a joy to talk with.
I had reserved a Deluxe room, but when I got to my room it appeared a little less Deluxe than the room I had on my previous stay. I asked the bellboy if this was a Deluxe room, and he assured me that it was indeed a Deluxe room in that goofy way that let me know that he didn't have a clue what I was talking about. After the bellboy left, I sat on the bed a moment contemplating the room, and then called the Front Desk.
"I reserved a Deluxe room."
"Yes, sir. That is a Deluxe room."
"Well, I stayed here last year, and my Deluxe room last year was much better.
"No problem, sir. We will change for you."
Cool. Not only did they put me in my old room, they also moved MikeM and Reeb to the better rooms. We were all now staying in the same wing, but Antman. I don't know what happened to him, and when we called his room there was no answer. Mai pehn rai…
When MikeM, Reeb, and I met in the lobby to go out on a little walk, the girl behind the counter told us that she had given us the other rooms because she thought they would be quieter for us. I thanked her for her concern and said we preferred the rooms that overlooked the street. I think we were all pretty happy with the change, and that earned her a little tip.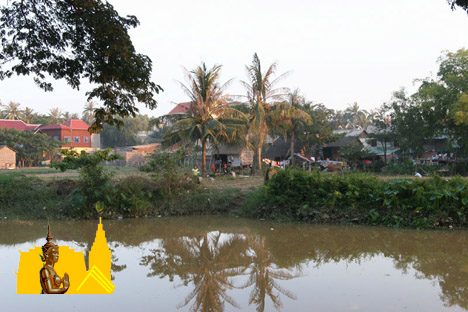 Photo courtesy of Reeb
View from the Ta Prohm Biergarten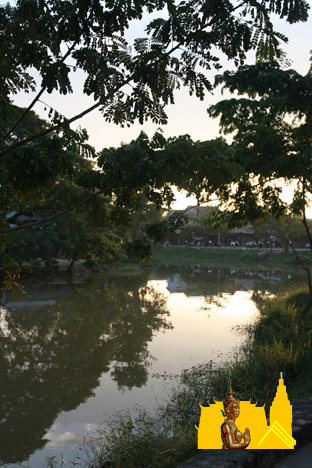 Photo courtesy of Reeb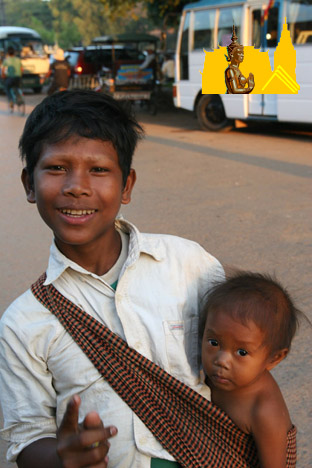 Photo courtesy of Reeb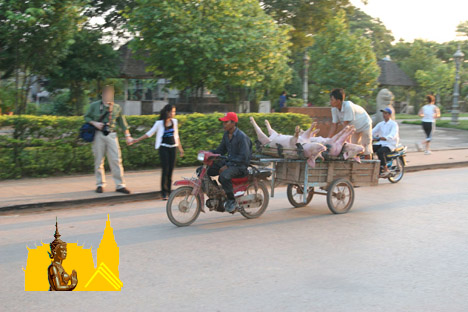 Photo courtesy of Reeb
Antman, Wifey, and a cart full of moo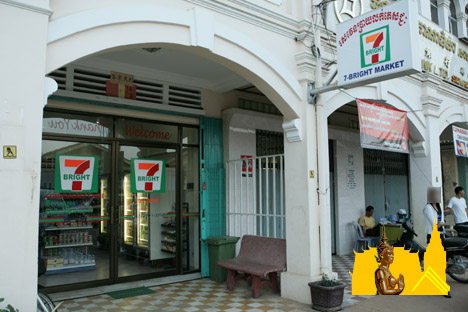 Photo courtesy of Antman
Reeb was interested in having a look at the market, so we stopped at a local mini-mart, bought some Gatorade, made our way to the market, and shopped the afternoon away. At the far end of the market, I found a stall that had some nice paintings for sale. I asked about the price, and was surprised the quoted price was pretty high. Of course, they expected to be haggled down but prices seemed to be much higher than last year.
We had agreed to meet in the lobby for dinner, and I had to drag Reeb back because his argument was that Antman never shows up for anything. Maybe so, but we said we would meet there, and that's what we should do.
It was nice to see that Antman and Wifey were actually sitting in the lobby waiting for us. I guess the promise of pumpkin soup was just too much for him.
We had only been to Khmer Kitchen a couple times last year, so we weren't really sure where it was. But the area where it was located was small, and the restaurant was easy to find.
Everyone ordered two entrees, and just about everyone ordered the pumpkin soup except for KoolKarl. He heard the amok was a local dish and supposed to be quite good. We shared samples of our food, and the amok was indeed good but amok is not pumpkin soup.
I figure long after I become bored with Angkor Wat (if that's at all possible), I'll still return to Siem Reap for the pumpkin soup at Khmer Kitchen. It's that good!
After dinner, a few of the guys wanted to go back to the room for an early bedtime so they could honor their 4AM wake-up call, while others preferred a nightcap or two.
MikeM, Reeb, and I wandered around looking for the perfect bar, or at least one we didn't mind stopping at. By accident, we found the bar we used to drink at last year, and our favorite girl was still working there.
It was so nice to see her again, even though she gave me a ration of grief about not emailing her. I tried to explain it was all TiggerBkk's fault because he took her email address, but I don't think she was buying it. Be that as it may, it was a joy to be talking with here again.
She was very nice company last year, so we invited her to join us for a tour of Angkor Wat tomorrow. Our plan was that we would wake up early to see the sun rise over Angkor Wat, and then go back to the hotel for breakfast. The Ta Prohm Hotel's breakfast isn't anything to write home about but it beats their breakfast box (just barely).
She prolly would have joined us for sunrise, but we wanted her to get some sleep. Our experience last year was that she would work all night at her bar, and then spend all day with us at the temples. After a couple days of that, I think she started to poop out a little.
We'll see how it goes tomorrow…
---------------------------------------------------
Ommmmmm

Jai Guru