They Started As Strangers
-- Part 1

They Started As Strangers -- Part 1
November 2004
So here's what I've learned
In the passing drama of life,
I'm usually the hero, but occasionally
I'm simply a minor character in someone else's play.
It seems that every night is the same; a quick SSS, jiggle the doorknob on the way out to make sure the door to the Jai Guru Suite is securely locked, an elevator ride down to the Nana lobby, big smiles and little waves from the girls sitting in the chairs that line the lobby walls, the counter-help eyeing me suspiciously as I toss my room key into the Front Desk Key-Drop, the first lung-full of hot humid air as I step into the darkness of the Nana parking lot, the short walk along the Nana coffee shop and saying hello to the girls sitting on the curb, patting the baby elephant once on the rump for good luck as I pass GBB, dodging kamikaze tuk-tuks to make my way across Soi Sii, negotiating the uneven pavement and weaving my way toward the entrance to NEP through the katoeys trolling for the evening's boyfriend, perhaps a cheeseburger or two to help soak up all the gin and tonics to come, breeze past all the old barflies that inhabit the rail at Big Dog, and a nod to the shrine as I step onto the escalator…
And then I wake up.
But this day is different; today I have a ticket to LOS. And this promises to be an interesting trip. A trip guaranteed to be fraught with good friends and good times. And you just can't argue with a word like fraught...
Standard Disclaimer: Names and some places have been changed to protect the innocent (such as they are). The characters and incidents portrayed herein are fictitious, and any similarity to the name, character, or history of any person or place is entirely coincidental and unintentional. No animals were harmed during the writing of this story. Well, there was one, actually. But it was a very small animal, and hardly counts.
Usually I wait to thank friends in the report's Epilogue, but I really must give a big THANK YOU to Shotover. His advice was always spot on, and he was a big help with all the newbies we had on this trip (and we had quite a few, including Antman the perma-newbie). On top of all that, he's just a great guy to spend some time with.
It was the best of times; it was the worst of times… We met some new friends, but missed some old friends... Some girls that I thought would always be there are now long gone, but a couple girls I thought I would never see again popped up... I paid the highest barfine yet - 5,700 THB (I know, I know, but it was worth it), and the lowest (100 baht, and that was worth it too)... I took advantage of the opportunity to do a good deed or two, but maybe missed the chance to do others… We did a lot, maybe as much as we could, but I think I can speak for all the guys when I say it was a good trip.
~~~~~~~~~~~~~~~~~~~~~~~~~~~~~~
One never knows when they're making a memory…
~~~~~~~~~~~~~~~~~~~~~~~~~~~~~~
A long, long, long time ago, but not too long ago… MikeM picked over the bones of yet another fast-food chicken lunch, while 2,500 miles to the west Antman, Doozy, Reeb, Stoney, and I climbed into the back of the limo.
MikeM would join us in a week or so, but until then nothing but countless mindless tasks and fast-food chicken lunches loomed.
It didn't take more than a block or two before everyone agreed this was the only way to travel.
Antman's hand reached instinctively for the Scotch as Reeb hung his head and moaned, "Not Scotch, not now; it's much too early."
With a smile on his face and a twinkle in his eye, Antman replied, "No it's not. You need to reset your watch; we're on Bangkok time now."
It began as most things do, with drinks all around.
It seemed that every 10-minutes Stoney would slap his forehead at the remembrance of something else forgotten. Luckily it was only a short drive, and Stoney didn't have enough time to slap himself into unconsciousness. And even luckier for him; Stoney couldn't remember anything he forgot that couldn't be replaced in BKK.
The limo streaked its way to the airport as we slowly sipped our drinks in the back. We shared strategies, gave last minute pep talks for the trip, and tried to teach the newbies (Doozy, Stoney, and Antman the perma-newbie) a few Thai words that might come in handy.
Arriving at the United international terminal, we found the Coach check-in lines were packed. Antman and I grabbed Doozy, Reeb, and Stoney and suggested since they were traveling with us they should be able to check-in with us at the "premium products" counter.
The guys were pretty happy that they didn't have to stand in that long Coach line, and everyone joked with each other as they compared reserved seat assignments.
United had tossed a spanner in the works a few weeks ago by changing equipment and our reservations. Reeb and I caught the change and called United to sort everything out so we would be traveling together again. Unfortunately, United did it to us again and our group was now split across two flights.
The counter helped us out and got us al back onto one flight; all of us, that is, except Reeb. We would have to fight the battle to get Reeb on our flight to BKK at the gate in Narita; not a good way to start a trip.
Reeb was philosophical about it all and said he wouldn't mind a day or two in Tokyo, but we would do our best to get him on our flight.
We sat for a while in the food court, and told the guys what to expect when we landed at Don Muang. Antman recalled with relish the fist step from the plane and the smell that alerts the traveler that they're back where they belong.
Reeb remarked that he didn't thing the smell was so special, but he's only made one trip. I suggested he might think of the smell differently when he steps off the plane the second time. I guess we'll find out in a few hours.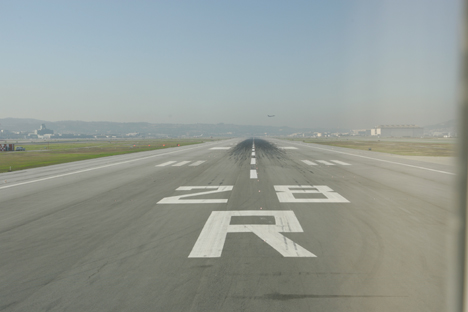 Photo courtesy of Antman
Because of Antman's frequent flyer status he was able to sit in the cockpit during take-off again. A few more trips and I think they'll let him fly the damn thing...
After our meal (and a few glasses of not the worst Port I've ever had), we wandered back to see how the boys were doing in coach.
It's been a few years since we've made the trip in Coach, and as I passed the threshold from Business to Coach I was actually shocked at the way passengers were crammed in back there.
But it didn't bother the boys as they were all smiles; induced no doubt by all the free cocktails there were consuming.
When Antman and I returned to our seats, we started discussing if we wanted to continue flying United. We fly on United a considerable amount, and credit cards and other schemes generate even more miles for us. And on top of that we're at a level where we get handsome bonuses monthly.
But IMO United has been slipping lately; they screwed us over even before we checked-in, Reeb is traveling without a boarding pass to finish his trip, and the Business Class in-flight service was nothing to crow about (although I do give them extra points for being generous with the Port).
And the final straw is that their flights aren't convenient for me; after all, considering the crackdown and other recent events in the kingdom it's hard to get excited about the first night out if one is arriving at Don Muang well after 11 PM.
EVA, on the other hand, has flights that leave SFO at midnight and land in BKK around noon. That means we wouldn't have to use carry-on baggage any more; we could travel heavy and check our baggage. Additionally because of the way our schedules work, we would get an extra Saturday night's stay on a weeklong trip; that's not a bad thing at all.
It might take a while to work up to the frequent flyer level and perks we enjoy on United, but I'm starting to think it would be worth it.
Who knows… There's an idea of a May trip being bandied about, and we might just give EVA a try.
The flight to Tokyo came off without a hitch, although we did arrive a few minutes late which wouldn't make getting Reeb a ticket any easier.
Antman, Doozy, and Stoney wanted to nose around the Duty Free shop, so that left Reeb and I free to sort out his problems.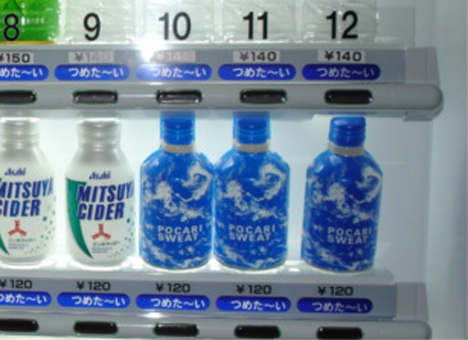 Pocari Sweat -- The Legend Continues...
Photo courtesy of Bubbles
As it turns out, Reeb and I have the same initials, and that caused a great deal of confusion. The counter help said they were working on the problem, but that wasn't evident by watching what they were doing.
When they actually started boarding the flight, Reeb went nutz. He ranted a bit and made some oblique insults that non-native speakers prolly wouldn't understand; both of which rarely help in a situation like that. I tried to remain calm and work through the problem, which got the counter help to talk to me and ignore Reeb, which just made him more nutz.
But after a few smiles and a few laughs, Reeb's boarding pass was finally produced and we rushed off to join the rest of the guys already on the plane.
I slept the whole way to Bangkok. The stewardess finally woke me up to tell me our landing would be delayed because of a VIP leaving Don Muang. How nice of her to wake me just to say I had more time to sleep. That sucks because it'll just make us later getting to the bars. We would learn that it was Taksin on his way to an APEC meeting. We circled for about 30 minutes, and then the plane straightened out on we were on our final approach.
Our seats were right by the exit, so Antman and I made the first bus. We saw Reeb come down the stairs, but couldn't tell if he also got on the first bus. Considering how far back Doozy and Stoney were sitting, there was no hope for them.
When the bus finally got to Passport Control, we waited at the escalators to see if Reeb made it, and sure enough he did. We marched together the rest of the way to Passport Control, and kept walking until we found the shortest line.
Even though I warned Doozy and Stoney that I would leave them at the airport if they didn't catch up, my plan was to wait for them at the escalators to the baggage carrousels. But as the Passport Official handed my passport back to me, I noticed Doozy and Stoney already walking around aimlessly by Customs below. I don't know how those guys beat me to Customs, but they sure did.
I gave them a shout on the escalator ride down, and we waited a few moments for Antman and Reeb to join us. In no time at all we were all together and marching through Customs. It's nice that a Customs form is no longer needed at Don Muang. There was always a back up at the Customs desk and now we can just breeze through.
I was the first to see Wifey, and I was happy to see that the mother-in-law wasn't with her. But either way it didn't matter to me; there were enough guys that we had to take two taxis, and there was no way I was going to ride with Antman and Wifey. The truth is we should have split up anyway as he and I were the most experienced getting to the hotel. This was the first trip for Doozy and Stoney, and the second for Reeb, but Antman and I had a little more confidence in getting to the hotel without getting taken for a ride.
Doozy and Stoney must have wanted to give Antman and Wifey a little privacy because they all crammed into the taxi with Reeb and I. We didn't get the fastest taxi driver in Bangkok, but he wasn't the slowest either. Doozy's and Stoney's heads swung around this way and that just trying to take it all in, while Reeb enjoyed the ride with a big grin on his face. Ah, it's good to be back.
I feel the hot wind blowin'
From the West to the East
I feel the hot wind blowin'
Can't get no relief

I feel the hot wind blowin'
Ev'ry day and ev'ry night
I feel my confidence growin'
And I know I'm gonna be alright

I got corruption
Seduction
Destruction
Reproduction
I got Bangkok in my mind
Seem like it's stuck up in there
Like it's been up there for all times
You can take your paradise
Goddamn it, give me mine
'Cause I got Bangkok in my mind

Through these portals
Pass the rich and the famous
Through these portals
Pass the very best at what they do
Man, they're the greatest
It's the land of beautiful women
But the ugly man is king
Here in Bangkok
Man, they got ev'rything
Stepping into the Nana Hotel lobby I was surprised to see Rama and Shotover waiting for us. Rama said he would try to meet us, but with Taksin's delay I wasn't sure if he would stick around. It was a pleasure shaking their hands but I had to excuse myself to check-in, and I promised I would be back after dropping my bag in the room. Because of the late arrival, we decided to 86 the SSS.
The Reception staff seemed a little taken aback that I didn't go directly to their counter to check-in, but they quickly recovered. It's nice to be greeted by name at one's favorite hotel, and it's even better to get one's favorite room. I have a funny feeling that this is going to be a good trip. Even Antman made it to the counter with us.
Rama was staying at the Dynasty, and was curious to see my room. Like so many other unlucky souls, he had read all the bad press about the Nana on the Internet and was afraid to book a room. I gave him a quick tour of my home in Bangkok, and because the Nana was completely booked, he asked if I could help him secure a room. The hotel staff has always been very kind to me, so I thought his chances were good that they would find a room for him.
After that quick tour, I splashed a little water in my face and we headed to the lobby to re-group. As we exited the elevator and turned to make our way to the lobby, I walked into Nit (the Rubber Tree Girl from a previous trip report), and her tall Swedish boyfriend for the night. Nit immediately leapt into my arms and sniffed me hello, while the tall skinny Swedish guy just watched with a strange look on his face. We said our hellos for a moment or two, and I promised I would go her bar later in the trip. Because we both had things to do for the evening, I told the Swedish guy that Nit was my sister so he should take very good care of her. The Swedish guy nodded obediently, while Nit just beamed up at me with a big smile on her face.
In just a few moments everyone was gathered in the lobby but Antman. We waited for a little while but guessing he was unavoidably detained, rushed out into the night.
It was late. Still, I had hope that I could watch the end of the show at Angelwitch while I enjoyed my first beer of the trip. Unfortunately, Nana Plaza was dark and throngs of bargirls were making their way out the narrow opening of NEP and across the street to the Nana disco or parking lot, or down the street toward Sukhumvit.
We worked our way against the current of BG's pouring out of NEP to give Doozy, Rama, and Stoney a little peek at the fun to come. Even though it was dark, the newbies drank it all in. They had heard so much about NEP, but it was hard to be impressed with the neon off. Nevertheless, they couldn't hide their interest in the hundreds of girls filing past them. This was a place we would have to revisit.
Walking down Sukhumvit, I was surprised at the number of girls that Shotover and I knew that were out on the streets; girls that used to work safely and securely in their go-gos and beerbars that were now forced to look for customers in the streets. It was hard to feel good about that; in fact, impossible.
We couldn't walk more than a half block without a girl shouting out our name and running out to give one of us a hug. Being the big softie that I am, I wanted to take them all with us.
I've read a lot of stories about the dragon ladies inside, and was surprised to find some very nice looking talent at Therme that night.
It reminds me of all the negative stories about the Nana Hotel; I'm convinced they're all just a load of crap spread by malcontents attempting to keep the place to themselves. Ever notice one doesn't meet those guys on a stagger? It makes one wonder…
Anyway, Therme was a fun time and is now enjoys a spot on my 'must visit' list.
Doozy actually got back into the swing of things pretty quickly once the proper talent presented itself, but poor Stoney was scared into his pants for a long time. It took days of the guys parading beauty queens under his nose before he finally gave up his shag stoppage.
On the way back, Som (a friend from years ago) ran out of the shadows to say hello. Her English is better but still not that good, so it was hard to really understand what her story was. From what I was able to gather, Som no longer works at the go-go bars where we met, and is now working at a beer bar on Sukumvit.
Isn't anyone tryin' to find me?
Won't somebody come take me home?
It's a damn cold night;
Trying to figure out this life.
Wont you take me by the hand,
Take me somewhere new.
I don't know who you are,
But I... I'm with you...
That saddened me. Som was a nice girl, so it was hard for me to think she had been fired. Even though she never chased after customers, it looked to me like she enjoyed working in the go-go so it was hard for me to think she had quit. I promised myself that I would get back to see her again this trip, but I never did. My loss… My thoughts returned to her often, and every time I regretted not seeing her again. Maybe next time… I hope so…
Reeb and I decided to call it a night, while Shotover led the gang off to more late-night adventures.
Within minutes of getting back to my room, there was a knock on the door. It was a bellboy with my welcoming fruit basket, and an offer of female company… I wonder how often guests take them up on their offer, but all the bellboys seem to be doing it now.
As I was packing for this trip I paged through some of the papers collected from previous trips, and found Hoover's number. I went to her bar last trip, but never found her. With any luck her number would still be in service.
It was.
She sounded excited to hear from me but they all do, don't they. You gotta love them.
30 or so minutes later Hoover was in my room, and it was like we never parted.
Ah, what a girl she was…
---------------------------------------------------
Ommmmmm

Jai Guru