They Started As Strangers
-- Part 10

They Started As Strangers -- Part 10
The most exhilarating moments are lived in slow motion
The Hard Rock Hotel breakfast buffet is not bad. The offer different items everyday, and there is always a fresh fruit bar and an egg station. They also offer some Asian things that keep the girls happy.
The guys wandered down to breakfast slowly but surely. More than a couple of them looked like they were suffering from a little bit too much fun last night. No problem; there's nothing on today's agenda but relaxing in the Nanacabana.
Over breakfast, l realized the caller at dinner last night was really Kui. I didn't know that Kui and Wifey had exchanged mobile numbers, but that's okay with me, I guess. With a little luck, I might be able to enjoy Cookie's and Kui's company without causing a big problem. Anyway, that all meant that I had to eat a little crow with Wifey and figure out some way to get in touch with Kui again.
Cookie was able to get some noodle soup for breakfast, and she was as happy as she could be. Some of the guys at the table were interested in what she was eating, and she happily shared her noodles with everyone. The catch was that the newbies weren't quite prepared for how much pepper sauce she put in her soup. It didn't take long for the guys to drink the orange juice dispenser dry.
We went up to the room to brush our teeth and change into our swimwear. Cookie brought a very sexy bikini and a one-piece bathing suit, and proceeded to model them for me. She looked pretty damn good in that bikini, but when she asked which one she should wear, I said, "Up to you." I expected Cookie to pick the one-piece, so I wasn't surprised when she did so. We're supposed to be relaxing all day by the pool, so it didn't bother me that she didn't want to worry all the time if her naughty bits were covered up. Besides, I knew we would be napping in the room after noon.
I reserved one cabana for our stay, and Reeb reserved the cabana right next door. With so many guys and most of them having girls, we thought two cabanas was a good idea. But although MikeM, Reeb, and I spent pretty much the whole day at the cabana, the younger guys came down for a swim and a chat, went parasailing, and then dragged their girls back to the room for more bedroom olympics.

Photo courtesy of Doozy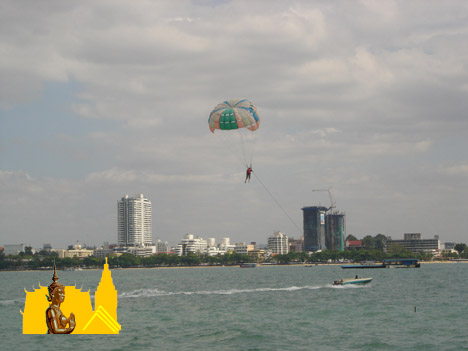 Photo courtesy of Doozy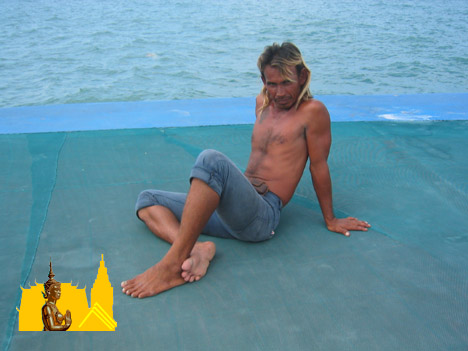 Photo courtesy of MikeM
When they got their cameras back, they were
surprised to find a couple extra pics
had been taken by the sail handlers
A whistle would bring a pool-boy or girl running, so snacks and drinks were never far away. Our cabana was full of choo-chee, different kinds of pizza, and noodle soups. It's great to watch the girls enjoy themselves, and it seems that eating is one of the things they enjoy most.
Cookie also enjoyed going in the pool, but it didn't look like she could swim very well; she would circle the pool by hanging on to the sides whenever it got too deep. Thinking it might be nice to give her a tour of the pool, I had Cookie hold on to my shoulders and headed for the deeper parts. It only took a few moments for Cookie to come to the conclusion that her grip on my shoulders wasn't good enough, and decided to wrap her arms around my neck. As long as I could keep her from cutting off my air supply, it was okay.
A little bit later, the hotel organized a water polo game. Antman, Bubbles, Doozy, and Rama were really up for it, and Wifey goes wherever Antman goes; especially if Doozy is there. It was actually pretty funny to watch; Wifey always situated herself between Antman and Doozy. I don't think she liked playing the game that much, but she sure did like swimming between Antman and Doozy. The ball was often thrown out of the pool, and Wifey would jump up out of the pool after it. The only problem was that Wifey's bikini bottoms were a little bit too big, and usually wouldn't make it out of the pool when Wifey did. We saw more ass crack that day than at a plumbers' convention…
Tonight was the night of the FLB party and dance contest so when the afternoon rolled around, Cookie and I went up to the room to nap a bit. It was hot at the Nanacabana, so it was really nice to take a shower and relax between the cool sheets.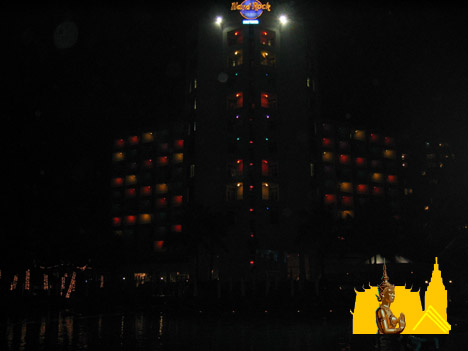 Photo courtesy of MikeM
The FLB party was scheduled to start at 8:30PM but I had a few things to do and wanted to get there early. We told the other guys to be there by 8:30 and to be hungry as it was a catered affair.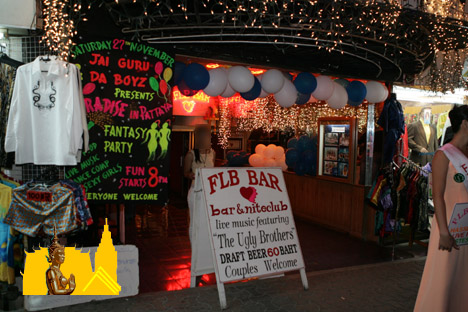 Photo courtesy of Antman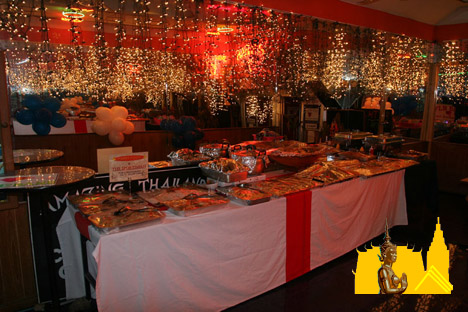 Photo courtesy of Reeb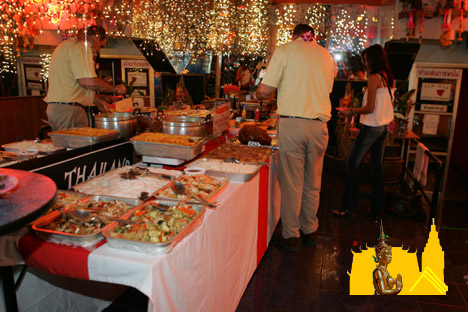 Photo courtesy of Antman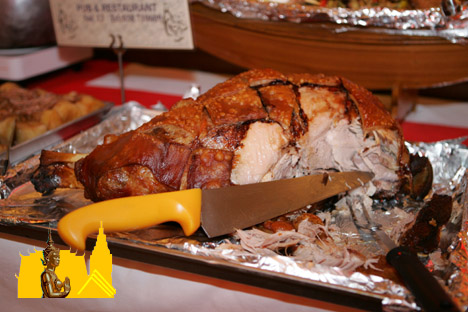 Photo courtesy of Antman
Cookie, Lady, MikeM, Reeb, and I wandered in to FLB around 8, and staked out our favorite table. FLB reminds me of the old Living Room bar in Clinton Plaza, only FLB is seriously stocked with girls. MikeM and I brought our own girls to the party, but soon we had FLB girls. And the girls we brought had FLB girls too! It was a lot of fun, and it only cost a few ladydrinks here and there.
CodeMonkey showed up with his striking GFE, and got a table near ours. It didn't take long for him to procure a bottle, and soon every girl in the joint was lining up at his table glass in hand.
ShadowDweller waltzed in and promptly rang the bell. That's another good thing about traveling with these guys; one never needs worry about going dry.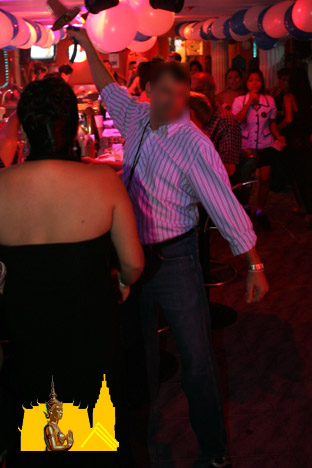 Photo courtesy of Antman
Striking his best John Travolta pose,
ShadowDweller rings the bell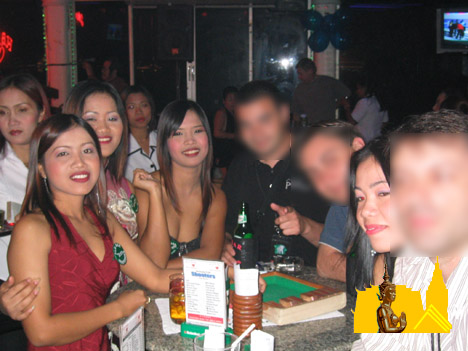 Photo courtesy of MikeM
The rest of the guys rolled in, and they pulled a few tables together making enough room for them and a couple handfuls of FLB girls. The guys had never seen the FLB girls in action before, so I suggested they order the girls a round of Blowjobs. Needless to say, the night was never the same after that.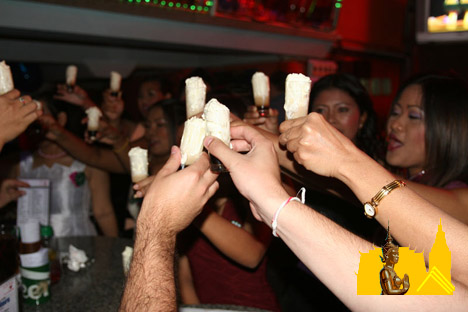 Photo courtesy of Reeb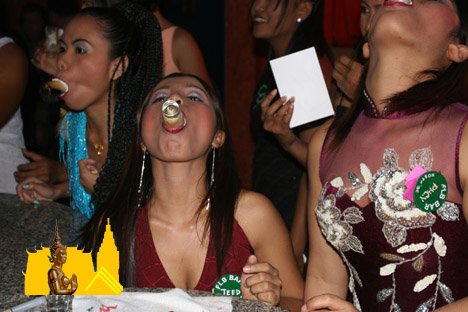 Photo courtesy of Reeb
A round of BlowJobs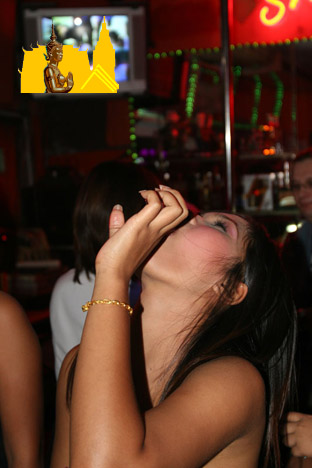 Photo courtesy of Reeb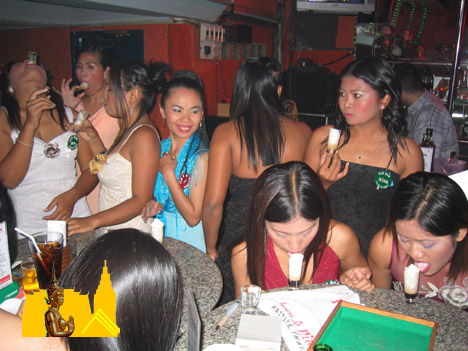 Photo courtesy of MikeM
And another...
The guys got into a shot ordering frenzy with every other round being a round of Blowjobs for the girls. They were ordering shots as fast as they could drink them, and the bar was in serious danger of running out of shot glasses. It looked to me that they had to put two girls on shot glass duty just to keep up with those guys, and they weren't the only guys in the bar drinking.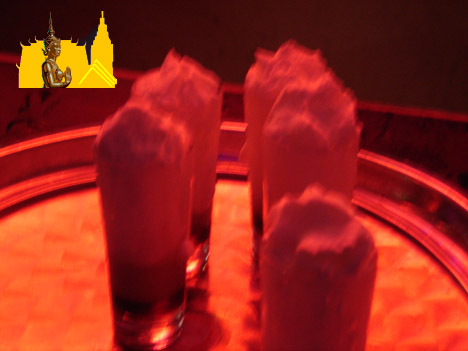 Photo courtesy of Shotover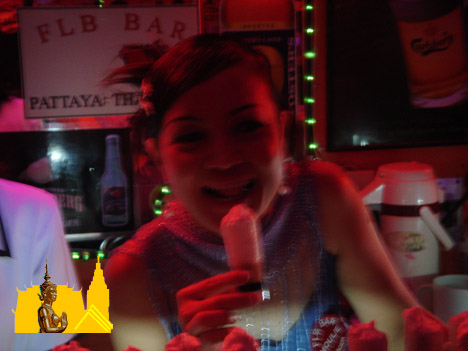 Photo courtesy of Shotover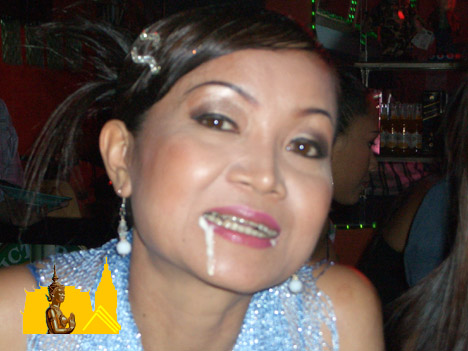 Photo courtesy of ShadowDweller
Most of the guys brought bottles of booze into the bar for a give away. The manager put a couple girls at the door handing out tickets to anyone that walked in, and a couple times throughout the night they drew tickets out of the hat.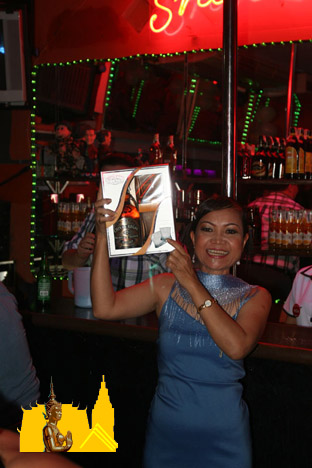 Photo courtesy of Reeb
One of the happy winners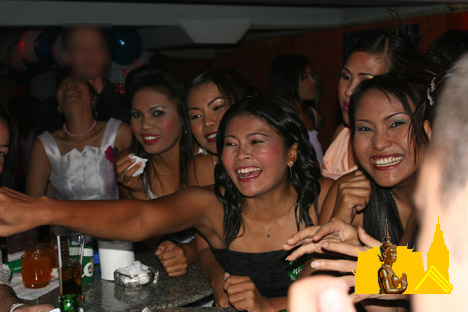 Photo courtesy of Reeb
Between all the drinks and craziness that went on, we would walk out to the buffet and fill up a plate with food. I must admit that I didn't expect much from the food, but boy was I ever surprised; it was VERY good. If I had known the food was going to be that good, I would have starved myself for a day or two.
Surprisingly, Gung spent quite a bit of time hanging out at my table. It was surprising to me because my original plan was to BF Gung and taker her out for a spin or two. But with Cookie there, what could I do? Actually, this is one of the few times I wished Sip was there because I know Sip would have gone for Gung in a hot second.
A guy named Xbox was also at our table, and it looked like he and Gung were taking a shining to each other. As the evening wore on, I asked Xbox if he was going to BF Gung.
"Nah, I don't think so. There doesn't seem to be any chemistry between us."
"Chemistry? My friend, she's a working girl. She doesn't need chemistry; she needs baht. Gung is quite a girl and worth going after. Did you tell her that you like her?"
"Think that will help?"
"It couldn't hurt. Sometimes if a girl knows a guy is interested in her, it helps with the 'chemistry'."
Xbox spun around to talk to Gung, and whatever he said to her must have worked, as they were now close friends. It just goes to show that a kind word or a little paak wan can go a long way in the right circumstances.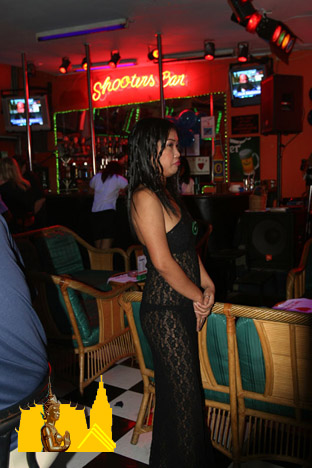 Photo courtesy of Reeb
The night's Dance Contest judges were Bubbles, Doozy, ShadowDweller, and ZZTop. Bubbles was a little worried about being a judge, and asked, "What if screw up, or vote for the wrong girl?"
"Bubbles, you just can't screw up. You owe it to all the punters that went before you and all that will come after to take this judgeship seriously."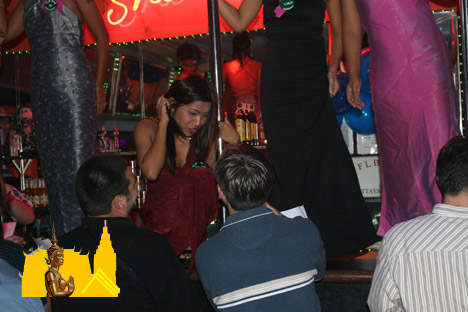 Photo courtesy of Reeb
Bubbles making sure he got the right name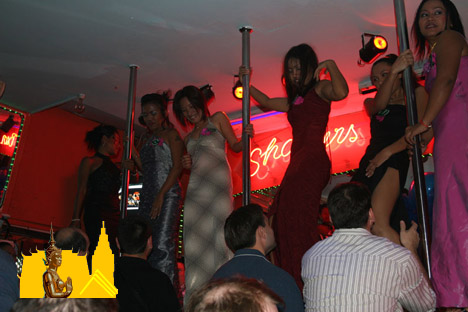 Photo courtesy of Reeb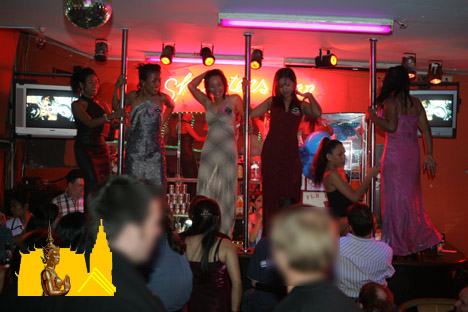 Photo courtesy of Antman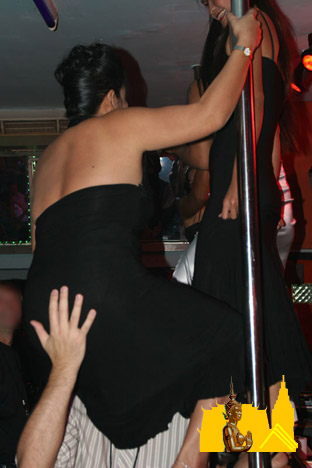 Photo courtesy of Reeb
Where did ShadowDweller go?
Now, I was just having a little fun and pulling his leg a bit, but Bubbles did indeed take his judgeship seriously. No matter how many beers were spilled on his score sheet or how many girls were crawling all over him, Bubbles never let the scoresheet out of his hand. The fact that Bubbles was now seeing double prolly didn't improve his accuracy any, but no one minded and he wasn't feeling any pain.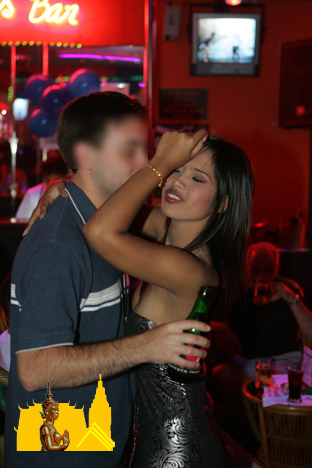 Photo courtesy of Antman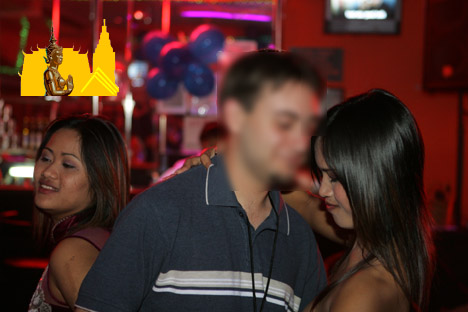 Photo courtesy of Antman
A Bubbles sandwich...
Between rounds of the contest, I would touch base to see how the judges were doing, and I can tell you they were having the time of their lives. To this day, every time I mention the dance contest, Bubbles gets a big smile on his face.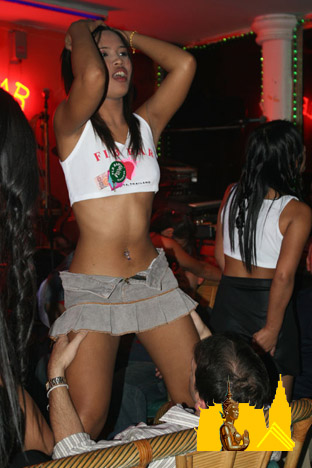 Photo courtesy of Reeb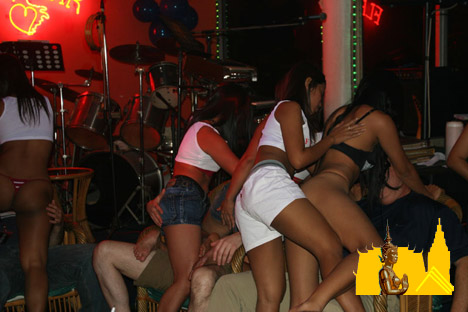 Photo courtesy of Reeb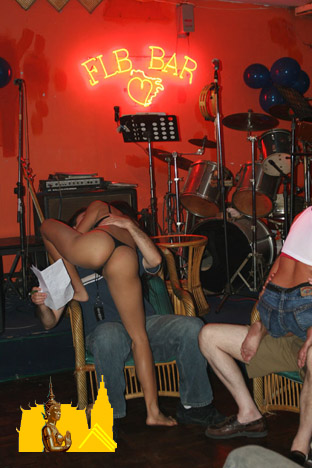 Photo courtesy of Reeb
Bubbles never dropped his score sheet,
no matter what was going on...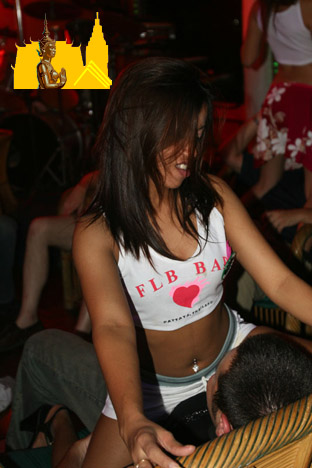 Photo courtesy of Reeb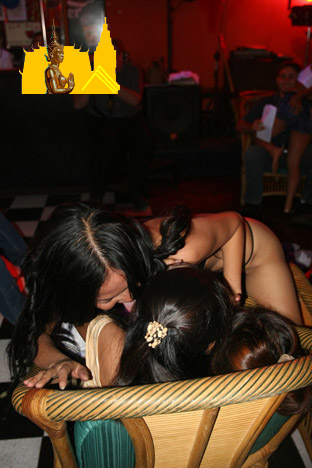 Photo courtesy of Reeb
Even Lady and Wifey got
a little attention from the FLB girls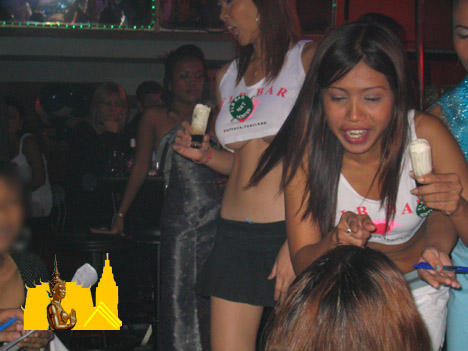 Photo courtesy of MikeM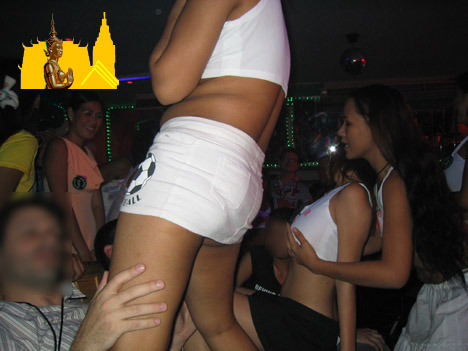 Photo courtesy of MikeM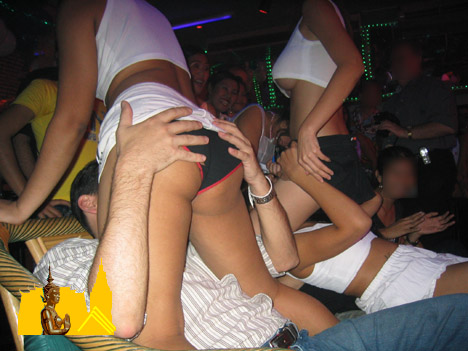 Photo courtesy of MikeM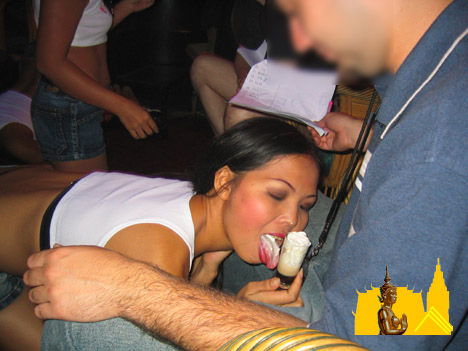 Photo courtesy of MikeM
More BlowJobs...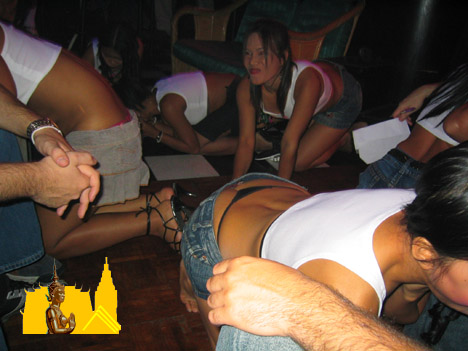 Photo courtesy of MikeM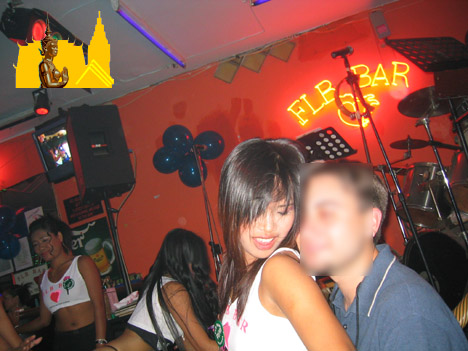 Photo courtesy of MikeM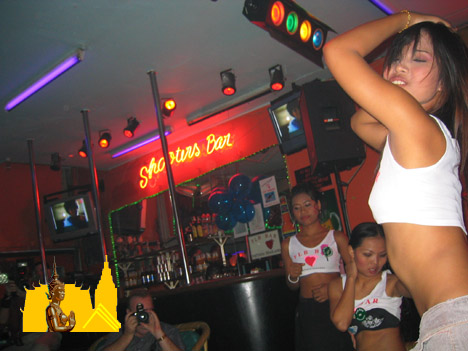 Photo courtesy of MikeM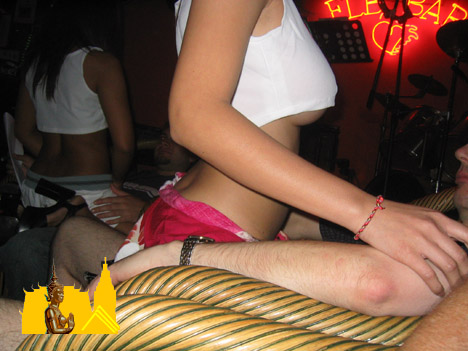 Photo courtesy of MikeM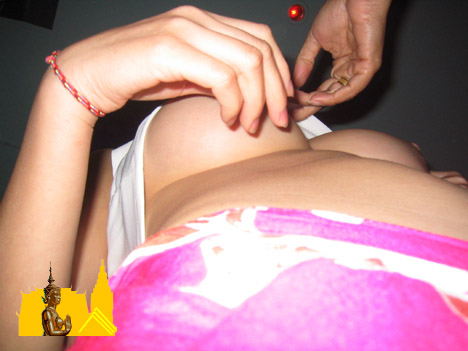 Photo courtesy of MikeM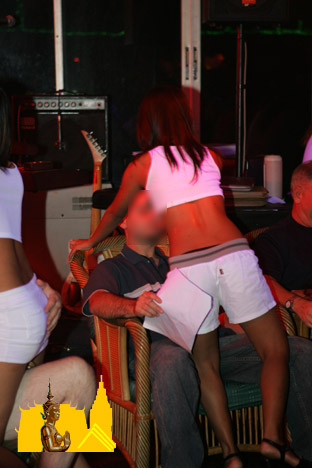 Photo courtesy of Antman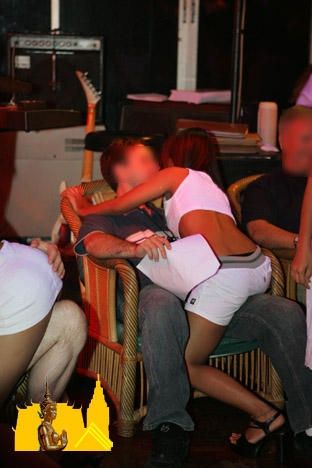 Photo courtesy of Antman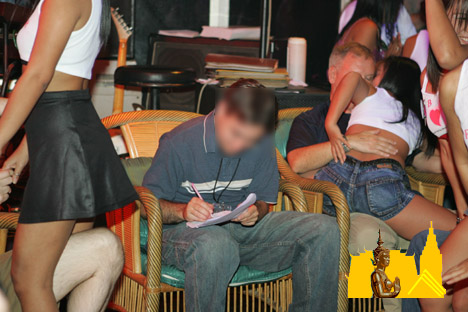 Photo courtesy of Antman
Maybe I pulled Bubble's leg a little too hard...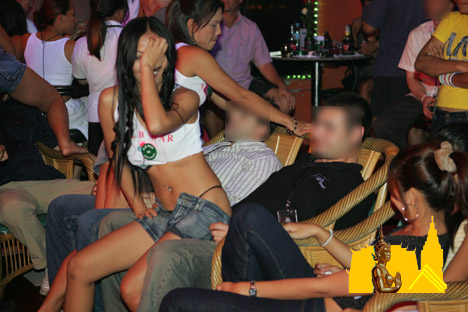 Photo courtesy of Antman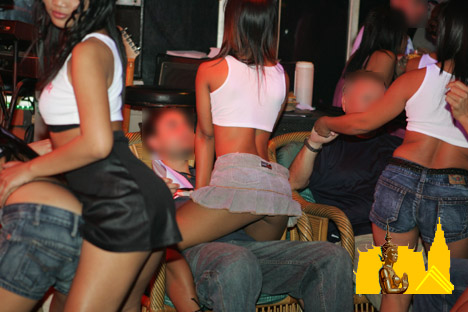 Photo courtesy of Antman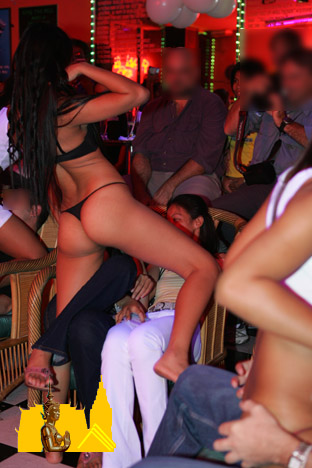 Photo courtesy of Antman
Lady and Wifey get more attention from the FLB girls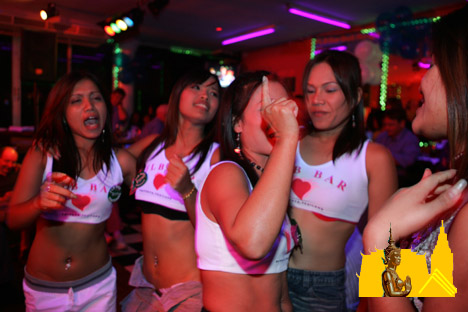 Photo courtesy of Antman
After the contest was over, Ben (the FLB manager) had arranged a birthday cake for Reeb. Reeb might have had more than enough celebration this evening already but the cake was a really nice touch, and I think the best part was having all the girls sing Happy Birthday to him.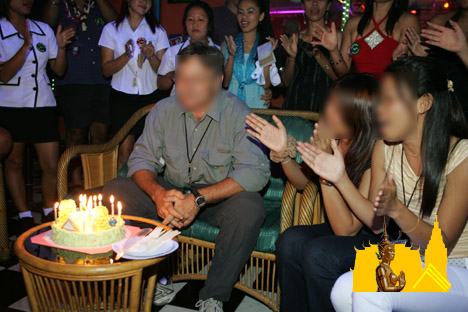 Photo courtesy of Antman
After the cake was passed out, it was time to hit the road. Bubbles had a flight leaving in less than 5 hours, and I had promised him that I would see him off but he was long gone. By the time we made it out of the bar and onto Walking Street, all the lights were off and the street was pretty much deserted except for one big Cher-looking katoey. We thought it was so funny I was tempted to have her join us; it would be fun to have a celebrity in the group!
Xbox came over with Gung tucked under his arm and a big smile on his face. I think he's in for a wild ride tonight.
We made our way to Second Road and hopped on a passing baht bus. It would have been fun to stop at a few beer bars on the way back, but we were enjoying the ride back to the Hard Rock Hotel and missed everything; including almost the HRH itself.
Someone had the presence of mind to ring the buzzer and the bus stopped right in front of the HRH entrance; we couldn't have timed it any better if we had meant to.
Meanwhile…
Bubbles and Doozy had BFed a couple of the FLB girls, and were up having some fun in Doozy's room. When it was time, they all came down to see Bubbles off, but there was no car. Luckily, Bubbles had booked it through the hotel, and the front desk staff sorted out everything for him as he was in no condition to do any thinking.
When the car showed up, Bubbles said goodbye, crawled in the back and shut his eyes. To hear Bubbles tell the story, no sooner had he shut his eyes than the driver was yelling at him to wake up. Bubbles had slept through the entire drive to Don Muang.
Bubbles says he doesn't remember checking-in for the flight or anything, but it must have been easy because he was able to do it.
Bubbles was a good guy to have on the trip, and I hope he joins us again soon.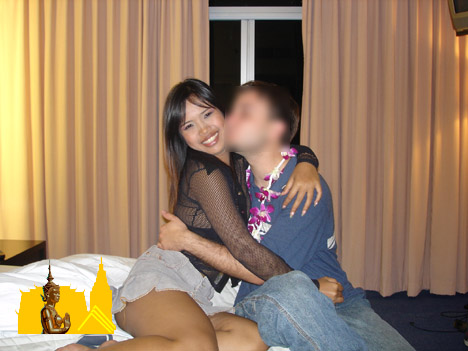 Photo courtesy of Doozy
Bubble's last moments in LOS
---------------------------------------------------
Ommmmmm

Jai Guru