They Started As Strangers
-- Part 5

They Started As Strangers -- Part 5
In between rounds of Yang's all night fuckfest, I actually did manage to get some sleep. And she was up and at it again when my alarm went off signaling it was time to get ready for breakfast. I really am too old for this.
I invited her to breakfast, but she wasn't interested. She was; however, interested in a return engagement, and I heard myself promising to go to her bar later that night.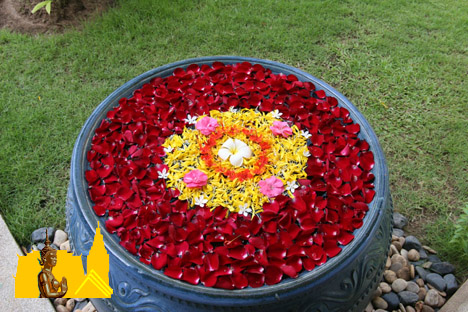 Photo courtesy of Reeb
The well kept grounds of the Thara Patong Hotel
The breakfast buffet at the Thara Patong isn't bad. They have a few of the usual things, a good fresh fruit selection, and an omelet bar.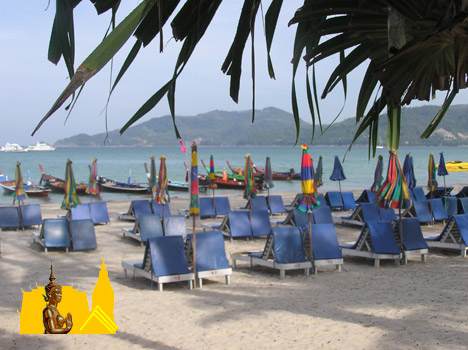 Photo courtesy of Reeb
Patong Beach, Phuket
Everybody made it down to breakfast at the appointed time except Antman and Wifey. Bubbles, Doozy, and Rama wanted to go swimming in the sea, and Reeb was interested in the spa.
After breakfast, I joined Reeb to see what the spa offered. I had heard the salt scrub at Sazanka in Bangkok was recommended, and I wondered if they offered it at the Thara Patong spa. The Thara Patong offered a lot of different treatments with a lot of different things (including salt), but none of them looked like a salt "scrub." One thing is for sure; the Thara Patong spa treatments were all very expensive. I don't think any of them were cheaper than 4,000 THB. IMO, that's a bit much for a massage in Thailand especially if there's no guaranty of a happy ending. Even if it is a fancy massage, a happy ending is always appreciated.
Reeb decided he was going to workout in the hotel's gym, and I figured the time could be best used napping and returned to my room after picking up my painting from the deaf-mute girl.
40 winks later, it was time to meet in the lobby for our tour of James Bond Island. Reeb and I tanked up on iced coffees while waiting for the tour bus to arrive.
The bus was surprisingly empty. The last time we took the James Bond Island tour, the bus was packed. Our first stop at the Monkey Cave Temple we learned why; there were now scads of new tour companies offering the same tour. Our bus was pretty much empty and so were all the others but the parking lot was now full of buses, and the Monkey Cave Temple was full of people.
One of the old hands commented that it was fairly typical for Thais; one had a good idea, and everyone else tried to copy it.
There's a small store there so we bought some snacks for us, and peanuts to feed the monkeys. Of course, everyone would try to feed the cute little monkeys, which didn't please the larger dominant monkeys at all.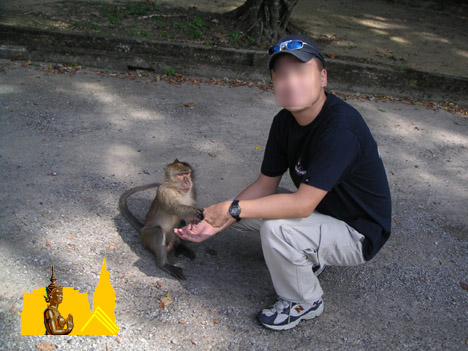 Photo courtesy of Rama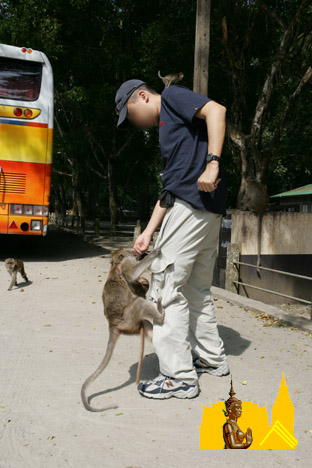 Photo courtesy of Antman
No matter how much the tour guide warned us, some people just didn't understand and lost all their bounty to the thieving monkeys. The monkeys would watch the visitors, and look for an opportunity to steal an entire bag of peanuts. That's all the monkeys had to do all day long, and they were good at it. I noticed that I was being stalked by a couple of pirate monkeys, and found that a little eye contact was all it took to move the bandits along to easier pickings.

Photo courtesy of Reeb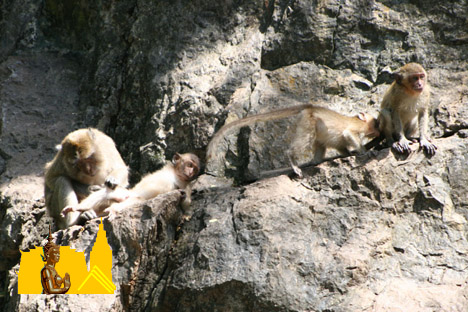 Photo courtesy of Reeb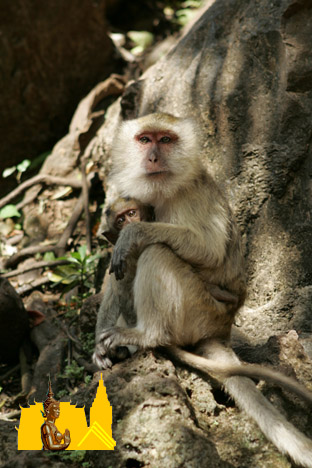 Photo courtesy of Antman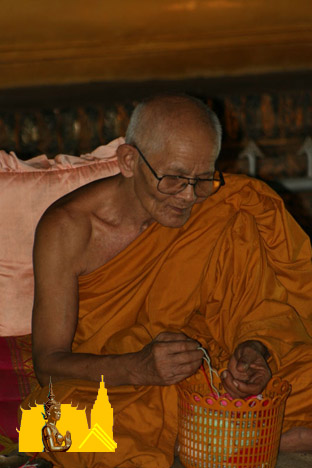 Photo courtesy of Reeb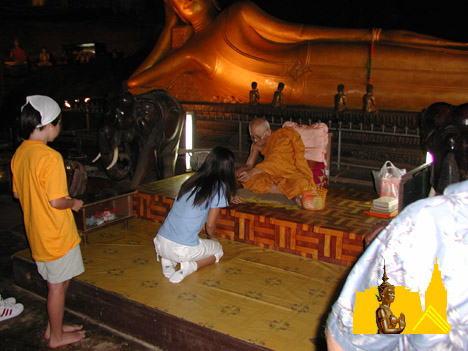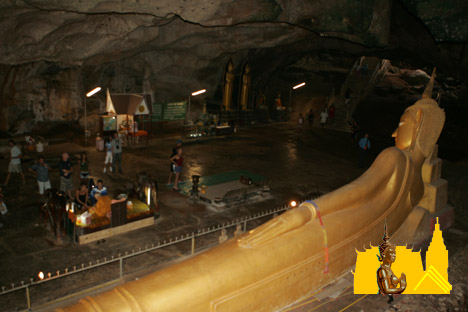 Photo courtesy of Antman
We soon tired of the monkeys and made our way to the cave. One of the upper shrines was open, so I stopped in to pay my respects.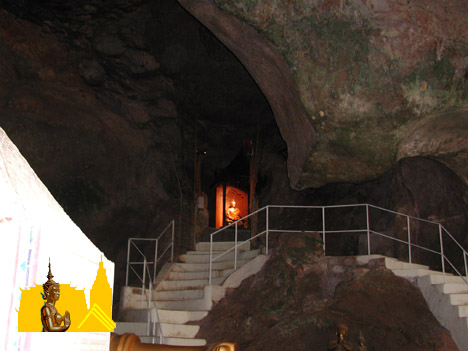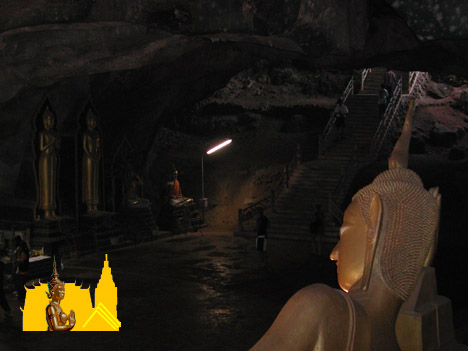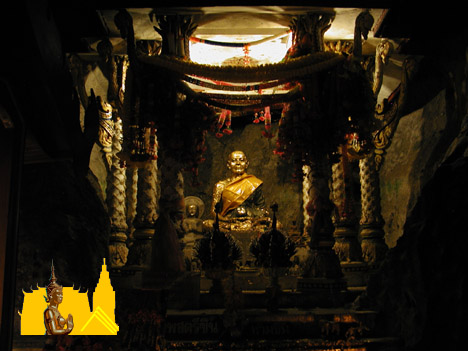 The gang met in front of the bus eager to move on. But the tour guide wouldn't let anyone board the bus until their shoes were clean of guano and monkey poop. Reeb and I breezed through the checkpoint, and we had a hard time containing ourselves as the rest of the merry band was sent to the grass to clean their shoes.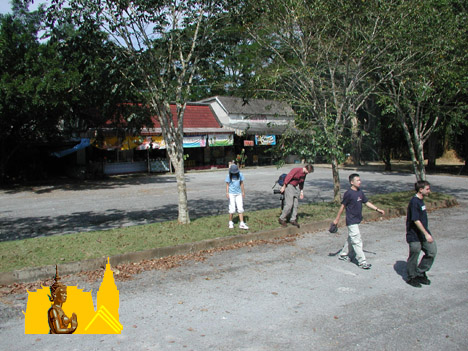 When everyone got back to their seats, we talked a little about what was next. I warned the guys not to sit in the back of the boat because the motor was so loud, and in my opinion the best photos could be taken from the front of the boat. We talked a little about buying snacks and getting a life preserver before getting on the boat, and the last chance to buy snacks and water when we got off the boat.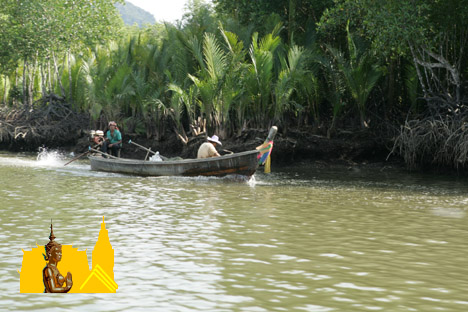 Photo courtesy of Antman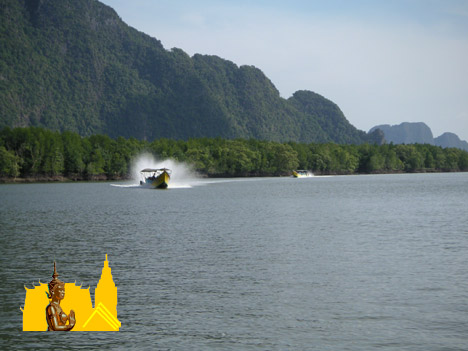 Photo courtesy of Rama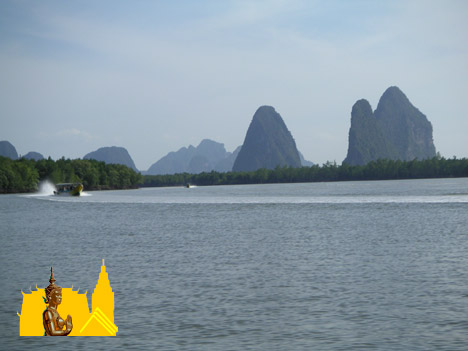 Photo courtesy of Rama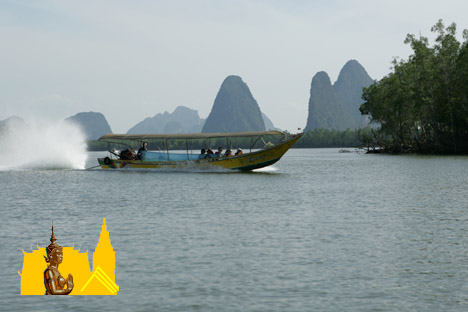 Photo courtesy of Antman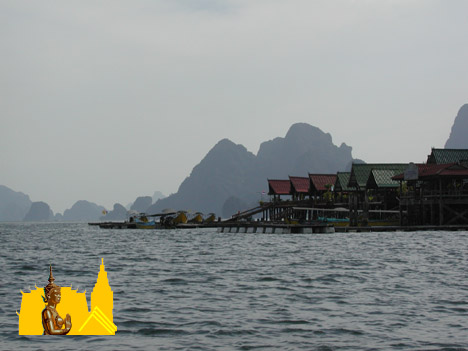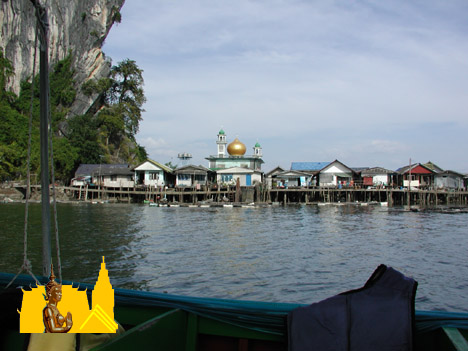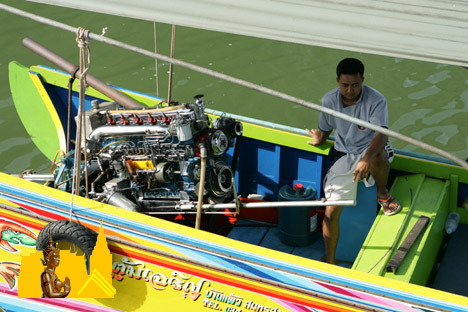 Photo courtesy of Antman
When we got to Pan Ya, I stayed in the boat. I'd been to Pan Ya before and didn't feel like being assaulted by little kids selling postcards. As it turned out, staying in the boat was pretty cool. There was a nice breeze on the water, but the driver also decided to circle the floating village and island, which was nice.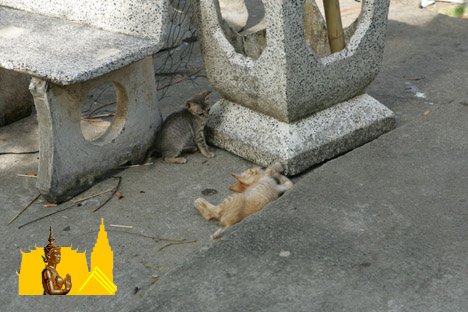 Photo courtesy of Antman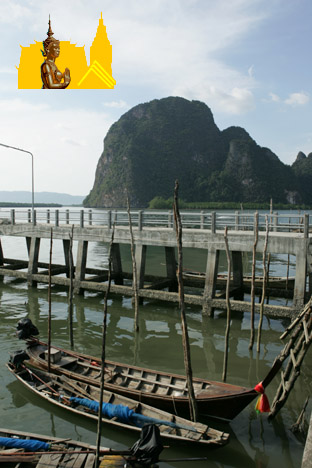 Photo courtesy of Antman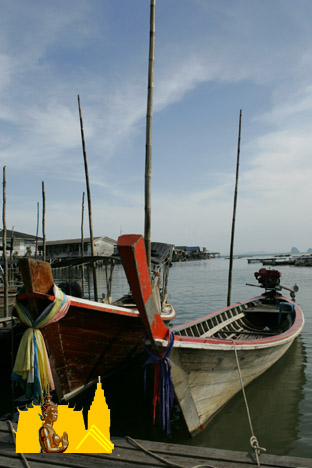 Photo courtesy of Antman

Photo courtesy of Antman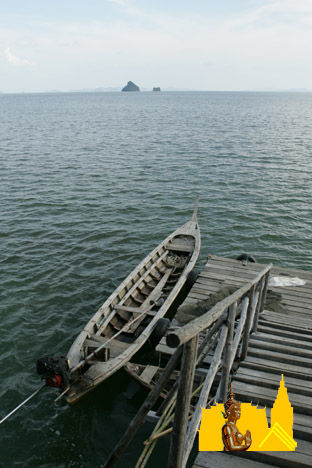 Photo courtesy of Antman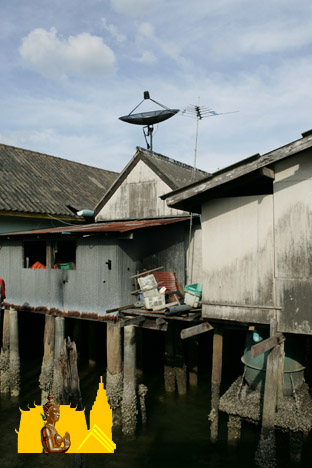 Photo courtesy of Antman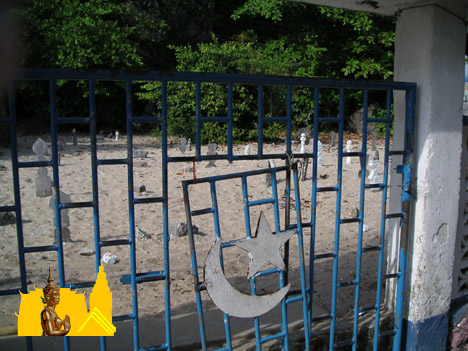 Photo courtesy of Rama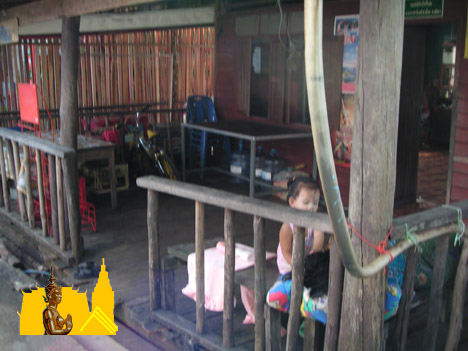 Photo courtesy of Rama
All the guys knew James Bond Island well because of the movie, and were pretty excited to be there. Everyone ran around taking pictures from different angles, and basically had a fun time.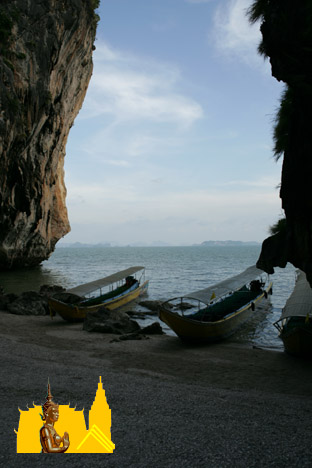 Photo courtesy of Antman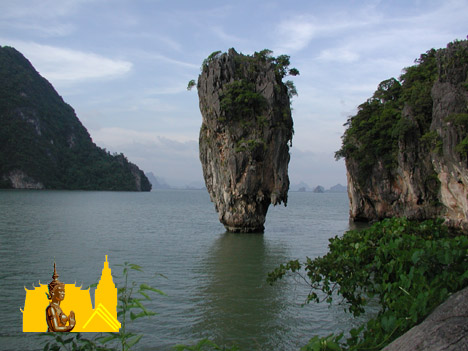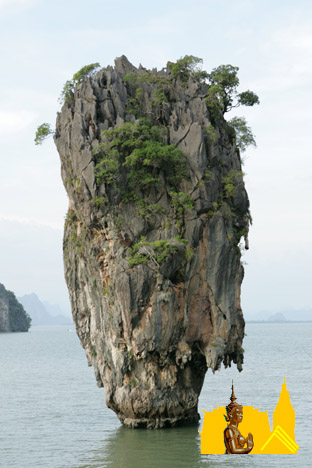 Photo courtesy of Antman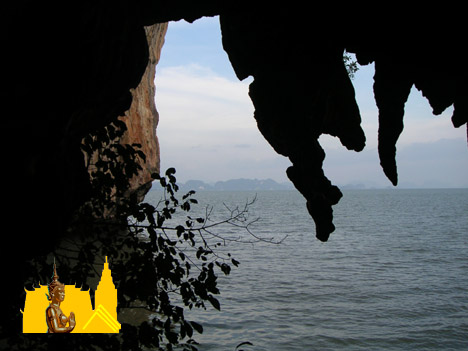 Photo courtesy of Rama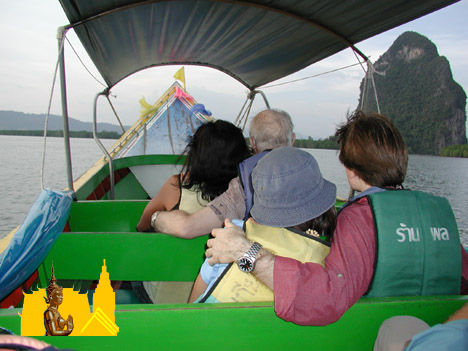 Like father, like son...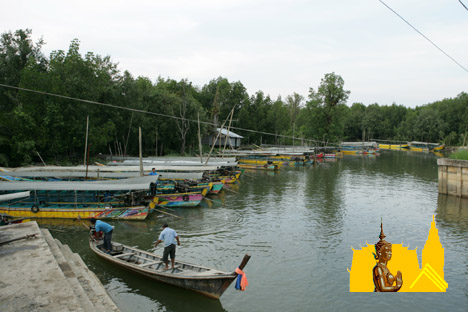 Photo courtesy of Antman
We dropped off our stuff in our rooms, and met at my room to head out to dinner. My room was a good place to meet because it had a patio overlooking the pool; we could relax out there as the guys rolled up.
Additionally, this is the day when MikeM joined the group. MikeM flew into Bangkok last night, and spent the night at the Nana before coming down to join us. I was a little worried that there might be a problem finding his ticket behind the Nana's front desk, but he got it okay. I called his room, and he also started over to my room to join up.
On the way to the restaurant, Yang ran out to greet me when we passed her bar and said she wanted to go with us. I told her we were going out to dinner, and she said she wasn't hungry. I wasn't really interested in having a dinner companion anyway. I thought it would be fun to see her again tonight, but it was too early for me right now; I wanted to hit a couple bars and have fun with the guys before settling down for the evening. I'm sure she'd rather spend time with her friends and earn a few ladydrinks instead of being dragged around the bars of Bangla Road anyway.
We settled in to a nice outside restaurant on Beach Road. An older Thai woman came hovered in the background to oversee our ordering, and everything came off just fine. She would stop by our table as we were eating to see if we needed anything, but the waitresses took good care of us.
A little while later, we were surprised to see the women grab a guitar and get up on stage to sing a few songs. She wasn't the best in the world but she had a lot of personality, and brought smiles to everyone's faces.
We skipped dessert, and went straight to the bars. We roared through the bars, and the guys got busy selecting some entertainment for the evening. We had an early start scheduled for tomorrow, so no one wanted to be out too late.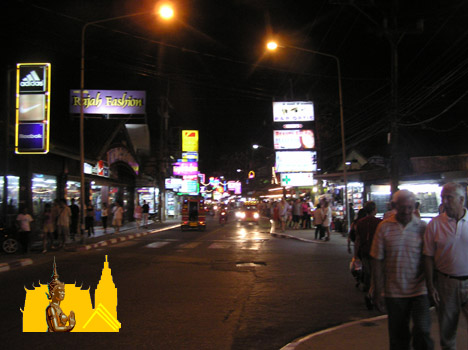 Photo courtesy of Reeb
Beach Road, Patong Beach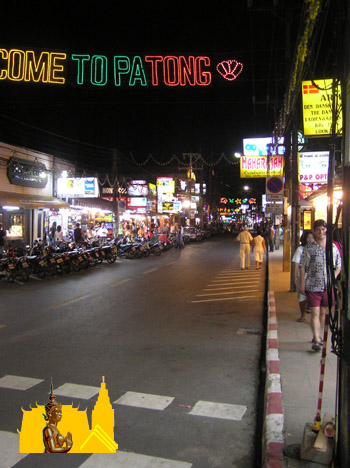 Photo courtesy of Reeb
Bangla Road, Patong Beach
When it was only Rama and I left, we headed off to Yang's bar. It turned out that Rama had his eye on a girl he had seen last night, and she coincidently worked at the same bar as Yang. We settled in for some drinks, but Yang really wanted to get to business.
Rounding into the Thara Patong, we received a sharp salute from the Beach Road guard and I gave him a few baht just to keep him honest.
In the room, Yang was wiggling out of her clothes before I even got the door locked. Some of these girls can be fun. She was pretty happy about me BFing her again, but she wasn't too happy that I hadn't invited her on any of our tours. The truth is that I didn't want to take a girl on the tours, and at this point even if I did agree to take Yang tomorrow, it was too late.
Yang wasn't happy, but she didn't let her disappointment ruin her performance.
After all; she was a professional.
---------------------------------------------------
Ommmmmm

Jai Guru