They Started As Strangers
-- Part 2

They Started As Strangers -- Part 2
They say that money can't buy love in this world
But it'll get you a half-pound of cocaine and a nineteen-year old girl
And a great big long limousine on a hot September night
Now that may not be love but it is all right
One of the nice things about Hoover is that mornings are never a hassle. She understands I've got things to do, and she prolly has her own things to do as well. Anyway, she's always happy to hit the showers and hit the road, which is perfect for me.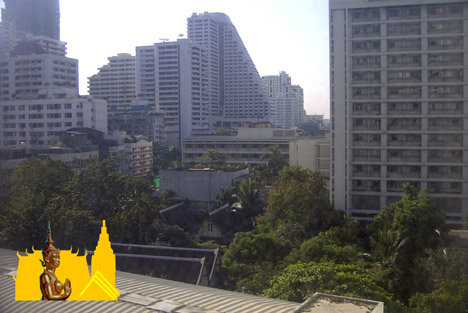 Photo courtesy of Bubbles
The view from Stoney's room
Everyone made it down to breakfast at the appointed time (9 AM); even Antman and Wifey. We didn't really have a lot of structure to our days in Bangkok but we all promised each other no matter what we got tangled up in, we would meet for breakfast at 9 AM, and at Bully's Pub at 8 PM.
It was good to fill up at the Nana breakfast buffet while being entertained by the first night stories of Doozy, Stoney, and Rama.
After breakfast, a few of us wanted to brush our teeth and others needed to change money. So we agreed to re-group at GBB before heading to our favorite travel agent to buy tickets for Phuket and Siem Reap.
As I left my room after brushing my teeth, I grabbed the welcoming fruit basket the hotel always gives me. The maids were sitting on the floor of their room reading the paper and listening to the radio as they ate their breakfast of rice. I presented the fruit basket to the eldest maid and was rewarded with a round of wais from the rest of the girls.
I breezed through the lobby on the way to drop off my key, and zagged over to the Cashier's counter to pat Doozy and Stoney on the back as they were changing money. There was a new face behind the counter today, and the rest of the staff was happy to introduce Jaruwan to me. Jaruwan and I had been emailing for years. Ever since my first trip, she has taken care of all my Nana Hotel reservations. And with our crazy schedule of a few days here and a few days there, I'm sure it hasn't been easy for her. On top of that, I usually request my favorite room and she always has it waiting for me. She's done such a good job that friends don't bother to ask the Front Desk which room I'm in, because they know I'm always in the same one. There's nothing like having a home away from home, and Jaruwan makes it all happen for me.
I had thanked her by email many times before and wrote her a little note after my last stay, but there's nothing like thanking her in person. I'm sure she appreciated the kind words said in front of her colleagues.
When I got to GBB it was sad to see that Angel (my favorite GBB girl for a few years) wasn't around. There were a lot of new faces there, and none of them knew who I was talking about when I asked about Angel. I guess one shouldn't think the girls will hang around forever, and it was bad enough that Hammers, Gooner, and PommieBruv weren't around this trip but I felt like GBB just wouldn't be the same without Angel sitting at my table.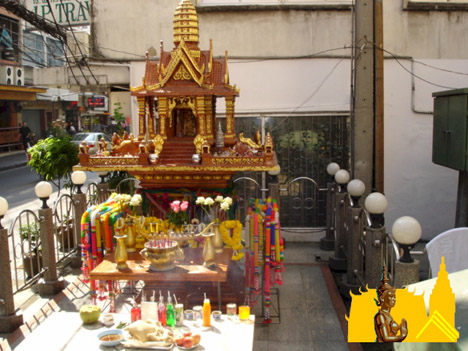 Photo courtesy of Doozy
Having known her for a few years, she knew when to get me another drink, she knew how I liked my noodles (nit noi pet), and she knew when I could use a refreshing towel. They don't seem like big things, but Angel was one of the few girls that cared to remember and got it right.
I must have really missed her… Two paragraphs in my trip report, and she wasn't even there!
We only had time for a drink or two before everyone showed up, and it was time to visit our favorite travel agent.
Doozy and Stoney were prepared for a big adventure, and were surprised to learn the travel agent was only next door to GBB. The travel agent, on the other hand, wasn't quite prepared to see Antman, Doozy, Rama, Reeb, Stoney, Wifey, and myself come walking through the door to buy tickets. And just to make things more difficult, some of us were flying Orchid Class and some Coach, some were returning on different dates, some were going to Siem Reap and some weren't, some of us were buying tickets for guys that hadn't shown up yet, and we were all paying for our own tickets.

Photo courtesy of Bubbles
The poor girl was swamped, but she did a good job of writing down all of our information and then got to work on the phone as her fingers punched at her keyboard. I could picture dishes spinning around on the roof as satellites linked up far overhead. And as if the Herculean task of sorting out our travels wasn't enough, other customers soon joined us in a line going out the door.
The girl checked our information one last time, and when everyone was satisfied that the correct tickets were being ordered, she told us the tickets would be ready at 1 PM. She offered to leave them at our hotel, but I thought it would be better to pick them up at the shop in case there were any problems.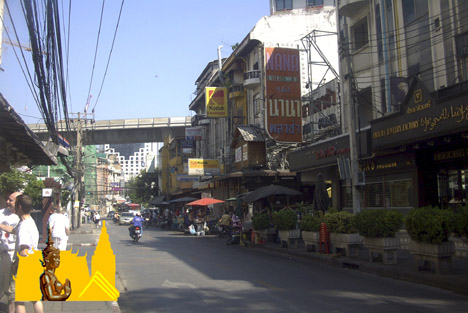 Photo courtesy of Bubbles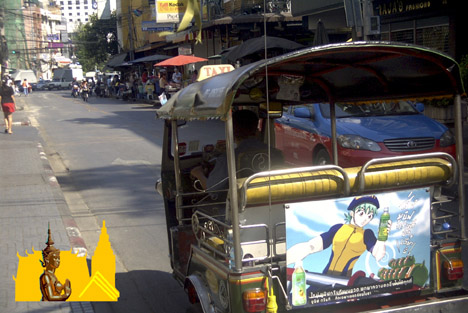 Photo courtesy of Bubbles
A lot of guys ask me, "Jai, at your advanced age just how do you keep your Tom Cruise good looks?" Well, I can say with all those doughnuts and lack of exercise it's not easy. But the girls at the August Styling Salon on Sukhumvit are always there to lend a helping hand.
The band of merry makers marched their way down Soi Sii to Sukhumvt. As we passed Morning/Night, one of the girls recognized me and gave me a hearty wave. "How nice it is that she remembers me," I thought. But I had absolutely no idea who she was. That is, until I got a shop or two away. Lady!! MikeM's girl from the previous trip!!! I asked the guys to wait a moment while I ran back to say hello. I think she understood MikeM was on his way, but wasn't really sure when he would get there. I knew when MikeM would roll into town, but I didn't want to let the cat out of the bag in case he was out for a little strange before meeting up with Lady.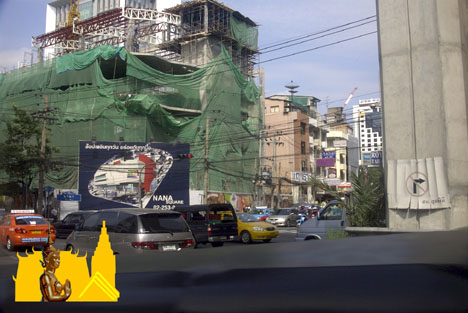 Photo courtesy of Bubbles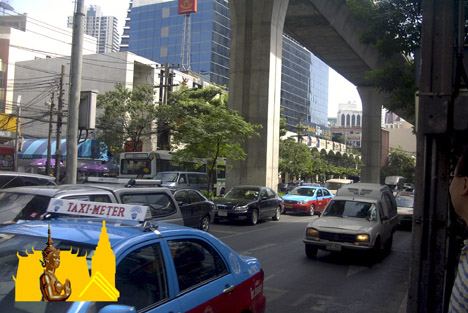 Photo courtesy of Bubbles
We met up at the corner and waited for the light to change before rushing out to cross Sukhumvit. Doozy and Stoney looked a little concerned, but they did a pretty good job of keeping up with everyone. August Styling Salon is only a block or two up Sukhumvit, so we were there in no time.
The girls at August were no less shocked than the travel agents to see our group walk through the door. A Middle Eastern woman was the only other customer in the place, and she was quickly forgotten as the girls rushed to find us seats and got our orders sorted. For some reason the Middle Eastern woman decided to focus her attention on me, and stared at me with her mouth agape. Well, that's not going to do her any good. I just politely smiled, and waved my fingers back at her. She was pissed big time. It was easy to see she was seething…
Of course, there weren't enough girls to go around so they had to call in reinforcements. Girls would run in and quickly change into that day's colored shirt before sitting down with us. The Middle Eastern woman didn't say a word; she just stared at me the whole time. I wish I would have taken her picture. The last girl to come in must have drawn the short straw, and got to finish off the Middle Eastern woman.
When it was time to pay her bill, the Middle Eastern woman exploded into a tirade of complaints and insults. I couldn't believe it. If I had it to do over again, I would have ripped the bill out of her hand, paid it, and then given her a ride out the door on the toe of my boot.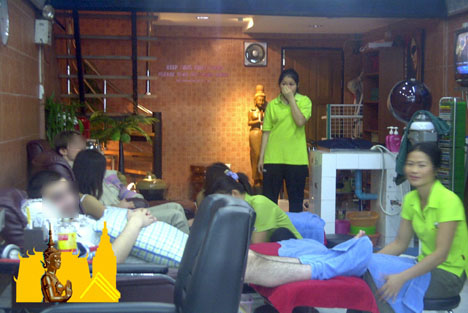 Photo courtesy of Doozy
Most of the guys ordered the works; facial, manicure, special ear cleaning, and foot massage. Stoney was having problems. He would complain that his girl was hurting him as she gave him a manicure. Reeb just stared at Stoney with a raised eyebrow. During the special ear cleaning, Stoney complained that the girl was poking out his eardrum as Reeb's eyebrow arched higher and higher. The last straw came when Stoney started complaining that the facial goop the girls were using was burning his face. Finally Reeb had to ask, "Do you live in a bubble, or what?"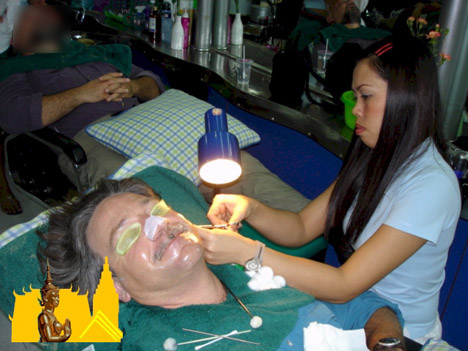 Photo courtesy of Doozy
Stoney's nickname was instantly changed to BubbleBoy -- Bubbles for short. We all had a great laugh at that. Bubbles continued to complain about his burning face, but no one was buying it as they all had the same goop on their faces and seemed to be doing okay.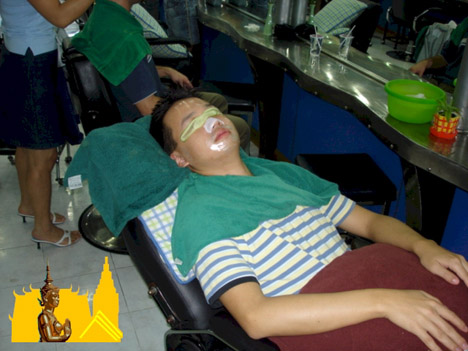 Photo courtesy of Doozy
None of us were finishing at the same time, so we all agreed to regroup across the street at World Coffee. That would give us a chance to check email and enjoy a cool drink while we were waiting. Even though we only ate breakfast a couple hours earlier, it was tough to walk past the Subway without getting a samich. The smell of the freshly baked bread gets me every time.
With everyone stuffed and all shined up, we made our way to pick up our tickets. As promised, they were ready on time. We all took a moment to make sure all the dates, times, and flight numbers were correct, and then we hit the road.
MikeM would be joining us in Phuket, but I arranged his ticket for him just to make sure he got good flight times. We debated whether it would be better to leave the ticket at the travel agent, but decided to leave it with the front desk of the Nana Hotel. I sealed the ticket in an envelope, and handed it to one of my favorite counter girls along with a little tip.
For some reason everyone wanted to do a little shopping at Siam Center, so I led the excursion to the Skytrain and explained how it all worked.
After a short time of wandering around Siam Center, I decided it was time for a nap. Some of us agreed to meet in the Nana Lobby for dinner at Gulliver's, and we were off.
It's amazing how good a 90-minute nap can be; I felt like a new person, and ready to go again for hours.
Gulliver's really isn't my favorite place, but I had promised to meet Kuhn Sanuk and Gulliver's was the place. The food there really isn't bad; it's just that Thai food back home tastes more Thai than the food at Gulliver's. The rest of the guys looked like they were enjoying everything, so no harm done.
One of the guys that got there a few days ahead of us related the story over dinner of his bareback adventure earlier in the week, and the nasty case of NSU he picked up. He said he knew better, but he excused it by saying accidents can happen when one has a little too much to drink now and then. He was following the doctor's orders and everything was responding nicely. The story should have served as a warning to Doozy and Stoney to slip on a jimmy hat any time they unloose their great trouser snake, but instead the story took a little of the glow off the newbie aura that surrounded the boys. Nothing that a couple beers and a couple bargirls couldn't restore, I'm sure…
Everyone enjoyed their dinner (even Bubbles (he's a vegetarian and very picky about what he eats)) and we made it to Bully's Pub just before the stroke of 8. We grabbed a couple tables and got comfortable. A very short girl came over to take our orders. Because she got mine right, Shortstuff was rewarded with a drink. She seemed a little surprised to be offered a drink, but ran off to get herself one nonetheless.
Shortstuff spoke English well enough, and was a joy to have around. She made sure no one went without a drink for long, and was rewarded with a drink any time she was dry. Shortstuff wasn't really my style, but I was tempted to BF her just because she was so much fun, until I remembered that Bully's was my home bar and BFing a girl from my home bar was a no-no. And on top of that, we were told that BFing a girl from Bully's was not allowed.
We stuck around for obligatory round or two, and then started discussing where to go. It was the first night in the bars for Bubbles and Doozy, and we figured things might be a little more fun in Soi Cowboy.
We crossed Sukhumvit and split up into a couple taxis. Shotover was great to have around, and really helped take up the slack with the newbies. That made it a lot easier to get around. Antman could usually get a taxi to go where he wanted but because he was spending all his time with Wifey, one couldn't rely on Antman being around.
Baccara -- more crowded than I've seen it in a while. We walked in and made a tour of the bar, but hit the road when we couldn't find enough seats together.
We made our way to the back corner at Midnight, and Bubbles and Doozy were finally introduced to bargirls. A half-dozen guys and a dozen girls were squeezed into that corner, and what fun it was. We made sure to keep the girls fueled with ladydrinks and shots, and we all had a lot of fun.
When Doozy started to look like he was getting serious about his girl, I suggested he not BF the first girl he sits with.
"Why not?"
"The night is young, and you might find a better one."
"Yes, right… I could find a better one…"
We crossed the soi and stumbled into Suzie Wong. The guys found seats together at the stage, but I preferred to watch the action from the bleachers. Sitting at the stage just gives me a sore neck…
In no time at all, the girls were dancing in front of, on top of, and all around the guys. A song or two later the girls were jumping onto the guys and then sliding down them to join them for a drink.
A few girls that remembered me from past trips stopped by to say hello and collect a ladydrink. Even the mamasan got in on the action.
Suzie Wong was off the hook that night. It was a good start of the trip for the newbies. But all good things must come to an end, so we decided to pay a visit to the Asoke beer bars for a little change of pace.
We stopped at a beer bar here and there along the way, and finally settled in for a few drinks and a few games of pool at a beer bar owned by a friend of Shotover's. I was surprised to learn that the owner of the bar was also the owner of one of our favorite beer bars located in Sukhumvit Square before it was torn down in the middle of the night. I'm sure it wasn't easy, but it was good to see that she was still in business.
We did our best to support her business by drinking more than our fair share, and giving away ladydrinks like they were going out of style.
But something was wrong in paradise tonight. Even though the bar's best-looking girl was throwing herself at Bubbles, he was having none of it.
I went over to congratulate him on his good luck, and explain again how the BF system works.
"I don't know, man. All these girls are infected."
"Don't be silly; the British won't be here for another month…"
"Yeah, but look what happened already; that guy got NSU."
"Shit happens. He went bareback. Don't go bareback and you don't have to worry."
"You can still get stuff if you wear a condom."
"Really? Like what?"
"I don't know, but I bet you can get something."
"Maybe you can get hit by lightening wearing a condom too, but nothing bad ever happened to me when I was wearing a jimmy hat."
The poor guy; he was really spooked. That girl was quite a looker, and I was surprised he could pass her up so easily.
The beer bars were fun, but we wanted to see the end of the show at Angelwitch and checked bin.
We gathered in the walkway as a few of the guys finished their drinks. Unfortunately, Reeb stepped into the over-flowing gutter wearing his tennis shoes - man, that's a pretty bad way to start a trip. Unless he buys some new shoes, he's going to have the stink-foot for weeks!
We split up into taxies again, and made our way to NEP. The newbies couldn't contain themselves with everything going on; all the neon flashing as they rode by, kamikaze tuk-tuk drivers whizzing past them, the smell of the food stalls, and all those girls. All those girls… Bubbles was sure that no one back home would ever believe him.
We made our way into NEP and found the group waiting at Pharaoh's; everyone except Doozy and Shotover. It wasn't really clear where they went, but everyone agreed we were supposed to wait for them.
Everyone finally regrouped and we made our way to watch the end of the show at Angelwitch. We missed a considerable portion of the show, but we got there in time to watch the Issan dancers, which was perfect for me because that's my favorite part of the show.
After the show, Shotover led the party to Soi 1. I knew a friend that just got a job in one of the bars there as a mamasan and I wanted to say hello, but I saw GoodGirl in Morning/Night and stayed behind to talk with her.
I got back to my room at 2.30, and decided to rest for an hour before giving Hoover a call. Hoover is service oriented, and takes pride in doing a good job. So I don't mind giving her the business.
At 4:30 AM the phone rang, and it was GoodGirl. I was a little worried how Hoover would react, but she didn't mind a bit. GoodGirl and I talked about this and we talked about that, but what was really on her mind was what kind of future we could have together.
That's hard to say… I don't mind saying my intentions are honorable (more or less) or could be if needed, but it didn't make a lot of sense to make commitments about the future when getting to know her better was proving to be so difficult.
And the truth is I had written GoodGirl off, and had absolutely no plans to spend any time with her this trip. But as she was attempting to communicate, I was more than willing to meet her halfway. And if the opportunity did present itself to get to know her better, I would definitely take advantage of it.
I guess we'll see…
---------------------------------------------------
Ommmmmm

Jai Guru