They Started As Strangers
-- Part 8

They Started As Strangers -- Part 8
We will have to make do with a few compromises -
Much of it will have to be imagined, as it should be
In the middle of the night, I woke up with the worse calve cramps I've ever had. Nit offered to massage them for me, but I just rolled on the bed in pain and said, "No! Please don't touch me. And please don't start singing either!!"
Another rendition of that Titanic song is the only thing that could make it worse.
When it was time, I limped down to breakfast to join the guys. It was actually a cross between a limp and a shuffle; my calves weren't working at all.
MikeM asked how the muscle relaxers worked, and I said, "Great, the back pain is completely gone, but the pills seem to have moved the cramps from my back down to my calves."
We all had a laugh about that, and MikeM suggested that calve cramps could sometimes indicate dehydration. I suppose I could be a touch dehydrated; I did my best to drink as much water as I could, but the last few days in Phuket were hot and we were pretty active.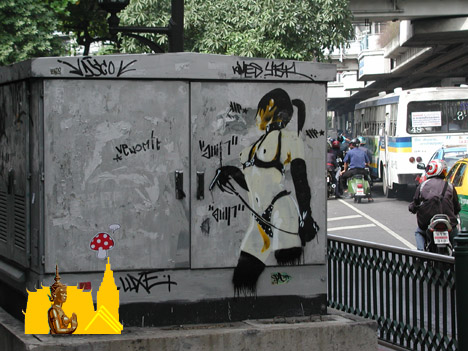 Bangkok graffiti
Today we were headed to MBK to do a little shopping. MikeM and I thought we would stop at the little store across from the Nana Hotel to pick up some Gatorade on our way to the Nana Skytrain station.
On our way out the lobby, we bumped into ShadowDweller. He had just arrived in town, and was eager to see some sights. Well, MBK might not be number one on Bangkok's attraction list, but it's a good group of guys and ShadowDweller will have a chance to buy a few cheap souvenirs.
As we were leaving MBK, we found a couple shops that specialized in paintings. A customer gives the artist a photo, and then the artist will draw it in pencil, or paint it in watercolor or oil. Not only that, but from the examples I saw, the painter used his artist's eye to touch up the picture a little. And it wasn't too expensive; I think it was around 3,000 THB for a large portrait. Reeb had a photo of his girlfriend's daughter in his camera, and started mulling over the idea of having a painting made. He figured it would make a nice present for his girlfriend.
After MBK, we hiked over to Jim Thompson House for some snacks and fresh squeezed lime juice. We read some tour descriptions and a little history about the house, and there was enough time to take the tour, but the guys wanted to rest a little before the big events planned for today.
A quick Skytrain trip back to Nana, 30 minutes sleep, and it was time to meet in the lobby for the next adventure. In attendance were Bubbles, DJ, Doozy, MikeM, Rama, ShadowDweller, Shotover, and ZZTop. We figured we had just enough time to rush over to Chao Phraya 2, enjoy a soapy, and then rush over to Bourbon Street for Thanksgiving dinner.
Not a bad plan at all…
With a spring in our step we marched down to the Nana Skytrain station, and hopped on for a ride to the Phaya Thai station and the walk to CP2. Once on the ground, Shotover and I got our bearings mixed up a little. But soon we were on the right track, and even though it was a little warm out, we were enjoying the walk.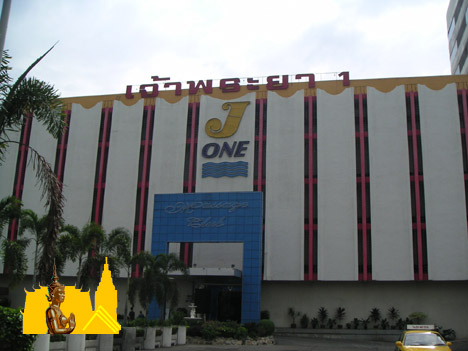 Photo courtesy of Rama
Chao Praya 1 - Not recommended
I explained to the newbies that the girls are split up into three groups; the group on the right is the traditional Thai massage group, the middle group are the Superstars and they do just straight sex, and the group on the left are the soapy girls. A soapy is what we were all here for, so that's where we should be looking. CP2 added a bench in the back of the fishbowl where the Sideline girls work, but we didn't talk about that.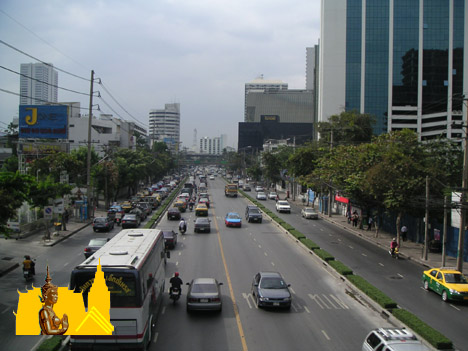 Photo courtesy of Rama
On the pedestrian bridge, looking back
toward CP1 and the Skytrain station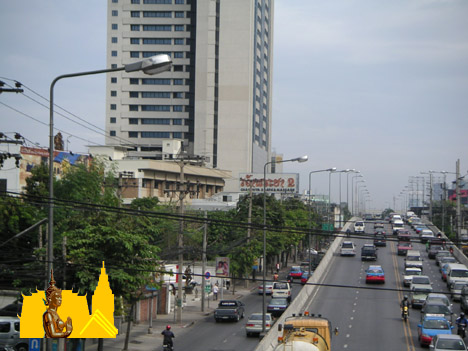 Photo courtesy of Rama
On the pedestrian bridge, looking forward to CP2
We also went over the process, and talked about how much we should pay and who we should tip and so on…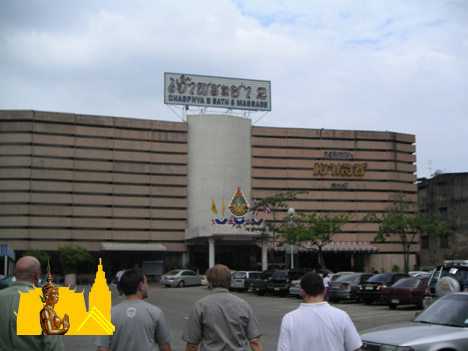 Photo courtesy of Rama
The promised land
Those guys were pretty well prepared for their first foray into the bubbles, but nothing can prepare a man for his first trip to the fishbowl. The fishbowl contained scores of beautiful Thai girls of all ages and descriptions, and they were all dressed in evening gowns. It's really something to see.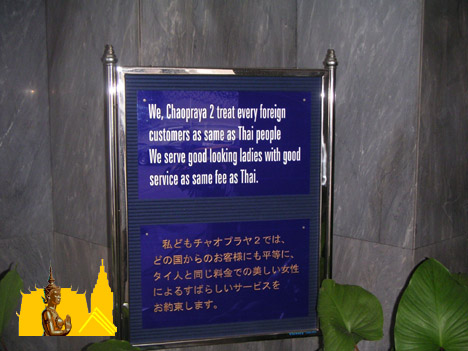 Photo courtesy of Rama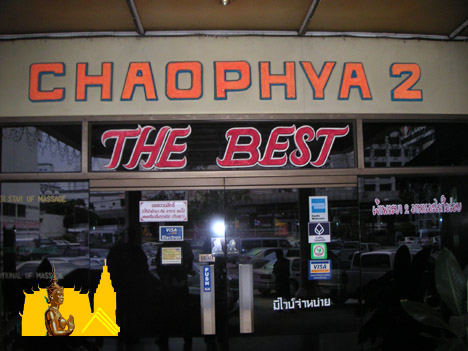 Photo courtesy of Rama
Even though there were scores of girls in the fishbowl, only a few were in the Body (also known as soapy) section. That's not so good. Bubbles and Doozy kept wandering over to the massage girls, and couldn't understand why those girls wouldn't give them a soapy. All I could say was "Because they won't" and point them back to the soapy girls.
There really weren't enough soapy girls to go around. We tried to separate the guys into two groups; those that had been to CP2 before, and the virgins. The thinking was that we might not all get a soapy today, so we would let that guys that had never been there before go first. The guys that had never been there before were, Bubbles, Doozy, Rama, and ShadowDweller.
And the first person to choose a girl was………….
DJ!
"No, no, no… You've been here before, let the other guys go first."
Okay, got that straightened out. One of the newbies picked his girl and headed off to paradise.
And the second person to choose a girl was………….
DJ!
Boy howdy, DJ was raring to go! But as the papasan walked up we were able to push a newbie to the front, and another newbie was on his way to a soap suds filled paradise.
And the third person to choose a girl was………….
DJ!
Crikey! I don't think DJ understands what we're trying to do here.
Slowly but surely all the newbies (and DJ too) were sent off with the last of the soapy girls, and that left MikeM, Shotover, ZZTop and I to sit in the lobby and enjoy some cold drinks. We called one of the papasans over, borrowed his binoculars, and all had fun checking out the girls. There were a couple girls on the traditional massage side that I might not mind flipping over once or twice, but I really had my heart set on a soapy.
Shotover was willing to take a pass on a soapy today to be there for the newbies when they got out, and I think ZZTop grabbed a new girl before she was even able to sit down in the soapy section.
Just then a girl walked into the fishbowl and sat in the Body section. Being the gentleman that I am, I gave her to MikeM. He walked up to the glass to have a look, and came back saying that she was too old.
"Too old? Did you see the chest on that girl? Who cares how old she is? Just look at those hoots!"
That got MiKeM to grab the binoculars for a closer look, but he wasn't interested.
Well, up to him! He had his chance. I called the papasan over and sealed the deal.
One thing that put me off a little was that I had to pay before going up to the room. I always paid after not before, and wondered why they made the change. I would never think about paying a BG before the act. Maybe it's not a big thing, but changes like that always stick in my craw.
The sting of paying first quickly vanished as Cookie snaked her hand into mine and led me up to the room.
The room had a big VIP sign on the door, but it looked the same as other CP2 rooms I've seen before; couch, TV, big tub, tiled area with an industrial strength air-mattress, and big round bed. Also featured in the room are the mirrors. There are quite a few mirrors in the room and they seem to be positioned so that no matter where one might be in the room, one can always see their reflection. It certainly seemed that way to me, and I was giving serious thought of putting it to the test after the slip-and-slide.
Cookie turned on the TV, ordered us some drinks, and got busy readying the tub. After the drinks were delivered, she knelt before me and removed my shoes and socks. Cookie neatly folded the socks, put them inside the shoes, and then placed the shoes off to the side. She took great care with every action, and every movement seemed deliberate and thought out.
Cookie then stood in front of me, reached behind her neck to undo her halter, and let her dress fall to the ground.
Damn.
I've seen a lot of tits in my day, but Cookie's where right up there in the Top Ten of Tittydom. She had hoots to rival any Apsara I've ever seen.
~~
30 seconds or a million years later, the buzzer sounded alerting us that we only had 10 minutes left. We finished up what we were doing and started getting dressed.
The thought occurred to me that I would like to spend some more time with Cookie. Her English wasn't that good, but at least she made the effort to communicate. She was fun in the sack, had a nice rack, and it don't get much better than that. So I threw caution to the wind and asked if she wanted to go with me.
At first she said 3,000 baht to go to my hotel, but when she saw my raised eyebrow she changed it to, "Up to you." I also told her that we were not going to my hotel; we were gong to dinner at Bourbon Street and then on the Wat Saket. I don't know how much of that she understood, but she was willing to go, so what the hell.
I asked her how much the barfine was, and she didn't understand. As it turns out, she had never been taken out of the MP before. I thought that was surprising. Maybe it's just not done that often. But I couldn't imagine guys that were with her not having fantasies of spending more time with her, so why not do it?
We finished getting dressed, and Cookie led me by the hand down to the bookkeepers' desk to find out how much the barfine was. I guess it doesn't happen often because the two bookkeepers had to talk it over to come up with a price.
And the price was………………….
5,700 baht.
Yes. You read it correctly; 5,700 THB. I don't know how much that is in my currency, and I don't want to know. Please don't tell me. But I do know that's a hella lot of money.
For a second, Cookie looked embarrassed because of the amount quoted, but she quickly looked up to me with her big brown eyes to see what I would do.
I reached into my pocket, pulled out my money clip full of 1,000 baht notes, and began peeling them off. In for a penny; in for a pound, I guess. It's crazy expensive, but I have a funny feeling that it'll be a night to remember.
I told Cookie I would wait for her in the lobby, and she ran of to grab her stuff.
All the guys were gone, except for MikeM. He said that it was getting late, so Shotover took the boys back to the Nana Hotel and on the Bourbon Street for dinner. I quickly filled MikeM in on the story before Cookie joined us.
And this is where we made our big mistake of the evening.
When Cookie joined us, instead of walking down to the Skytrain and taking the Skytrain to Washington Square, we agreed to let Cookie drive us in her car.
I don't know if it was the surprise that she had a car, or if I really didn't want to walk in the heat so soon after having a bath. But we quickly agreed, and were off.
The problem was that we didn't get very far before we were stuck in traffic. And we were stuck big time. At one traffic light alone, we were stuck for over 40 minutes.
A couple hours later, Cookie finally got us to the neighborhood, but she didn't know where Soi 22 was. She didn't understand English well enough to follow directions, so I had to use my rudimentary Thai to get us the rest of the way there.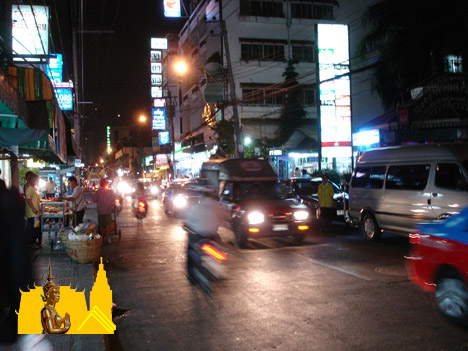 Photo courtesy of Doozy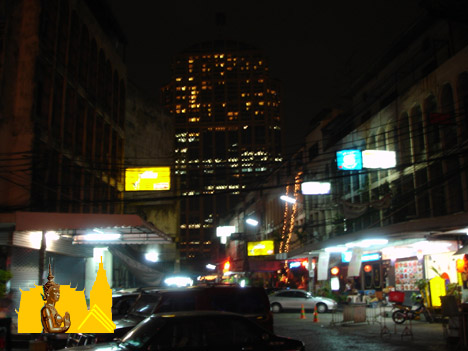 Photo courtesy of Doozy
Washington Square
Cookie parked her car at a big hotel, and we walked the last block or two to Bourbon Street. As we made our way over the creative placement of bits of concrete that others might call a sidewalk, we heard a big explosion. And then another, and another…
WTF? We looked in the general direction of the sound, and saw they were launching fireworks. Just a moment later they exploded into colors over head. What was really impressive to me was the way the sounds echoed off all the nearby buildings. The show was really something to see, and to hear.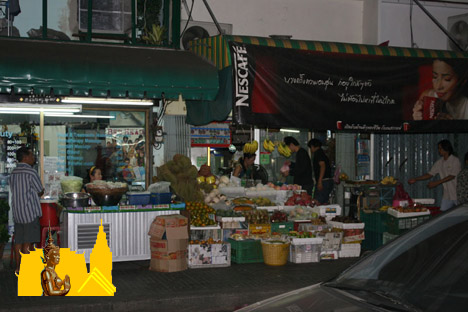 Photo courtesy of Reeb
We were pretty late for dinner.
Some of the guys were hanging out in Washing Square, and one or two were inside Bourbon Street holding the table for us. The plan for the rest of the night was that we would meet at the National Stadium Skytrain station after dinner. Shotover would take all the guys there, Cookie would drop her car at the Nana Hotel, and Cookie, Lady, MikeM and I would then catch up to the guys at National Stadium.
We were also told that we only had a few minutes to eat, and then they would need the table for the next party.
And one other thing; Lady was sitting at the table waiting for MikeM, and she was not amused at our tardiness. I don't know what she thought we were doing, but even Cookie telling her in Thai that we were really stuck in traffic didn't improve her demeanor.
Antman and Wifey wanted to hitch a ride with us when we left, but Cookie's car was full. I suggested he take the Skytrain down to National Stadium, and we could hook up there.
Anyway, it's time to eat. I grabbed my plate, and rushed the buffet. Cookie was interested in the food, and was willing to try little pieces of what ever I recommended; very brave for a Thai girl, I thought.
This was our second annual Thanksgiving dinner at Bourbon Street, and if I have anything to say about it, there will be many more to come.
The food was fantastic; deep-fried or roasted turkey, stuffing, cranberry sauce, candied yams, potatoes, and different vegetables. And I don't even know what to say about the desserts! They were fantastic.
Worried that we were about to overstay our welcome, I ate as quickly as I could. But I savored every bite. Luckily, I had piled my plate high with food so I didn't feel the need to go back for seconds. Had there been more time, I prolly would have. But it was time for us to go, and I ate enough to feel satisfied.
When we left Bourbon Street, we explained to Antman and Wifey how to meet us at the National Stadium Skytrain station one last time, and we were off.
For some reason on the way to get Cookie's car, Cookie, Lady, MikeM, and I started talking the whole plan over. All of a sudden it made more sense to us to leave the car at the hotel and go with the guys. With Cookie's permission (since it was her car), that's what we did.
We called Shotover on the mobile, and found that he and the boys were holed up in a Washington Square bar having one for the road. We exchanged coordinates, and agreed to meet in front of the Phrom Phong Skytrain station.
Although we were coming from different directions, we met Shotover's group about a block away from Phrom Phong and walked the rest of the way together. It was good to have the group together again (Bubbles, Cookie, DJ, Doozy, Lady, MikeM, Pem, Rama, Reeb. ShadowDweller, Shotover, ZZTop, and myself).
On the south side of Sukhumvit near Prom Phong is (what looks like) a park with a large pond. Antman and Wifey were bent over the railing looking at the water below. We called out to them, but Antman ignored us. Wifey on the other hand, ran over to Doozy to say hello and spend a few moments with one or two of the less mature members of the merry band.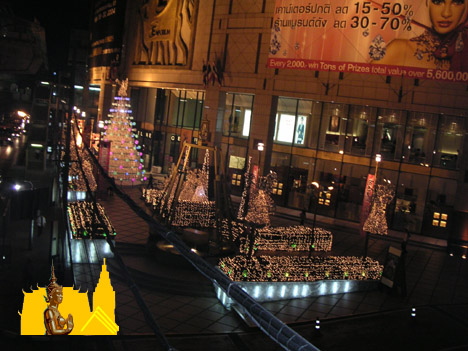 Photo courtesy of Rama
Taken from Phrom Phong station
We all tried to get Wifey to join us, but she just pointed and Antman and shrugged her shoulders. As I mentioned before; Wifey was beginning to open up a little around the guys, and she was even a little more outgoing if Doozy was anywhere near.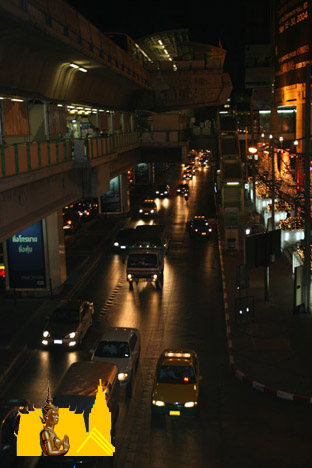 Photo courtesy of Reeb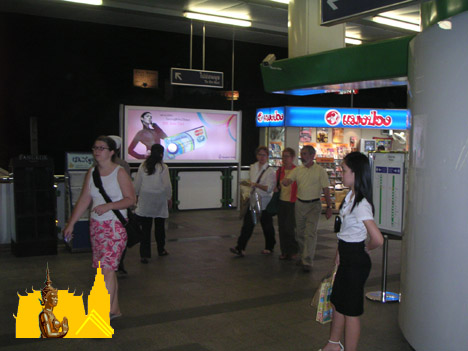 Photo courtesy of Rama
It was a quick Skytrain ride to Siam Station, and a much shorter one to National Stadium. We exited on the southwest side of the station, and started looking for taxies.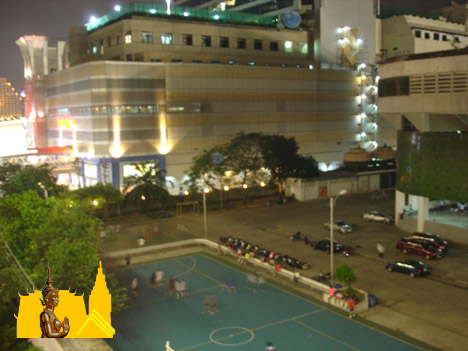 Photo courtesy of Doozy
Taken from National Stadium station
I was surprised to learn that not one taxi driver in Bangkok knows where Wat Saket is. But they all know Bukow Tong (also know as the Golden Mount). And that's were we were headed. Because of the size of our group, we had to split up into a few taxis. But we made sure that each group had a mobile phone so we could stay in contact if any group got lost.
Tonight was the last night before Loy Krathong, and there was a carnival at Wat Saket / Bukow Tong. Antman and I had wandered through the carnival a few years ago during the daytime, but it had been closed. Still, it looked like the carnival could be fun, and I was eager to return and see what went on.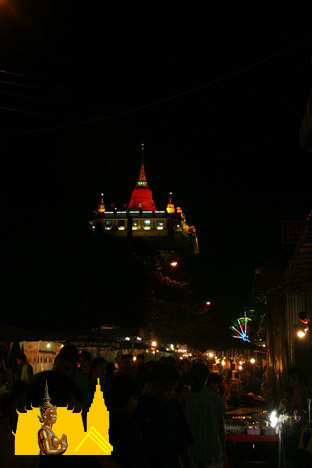 Photo courtesy of Reeb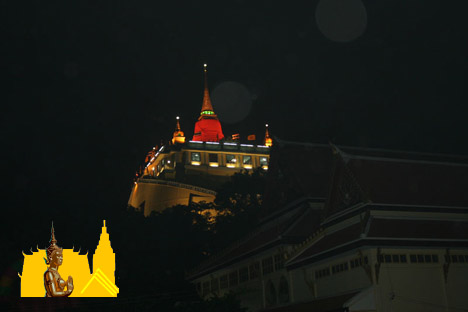 Photo courtesy of Reeb
As we neared Bukow Tong, we could see the shrine on top was illuminated. We heard it was open to the public, and were looking forward to seeing Bangkok at night from up there.
Our taxi dropped us off, and in no time at all the other taxies pulled up and we reassembled the group. Shotover bought a helium filled balloon, and was instantly appointed the official tour guide of the group.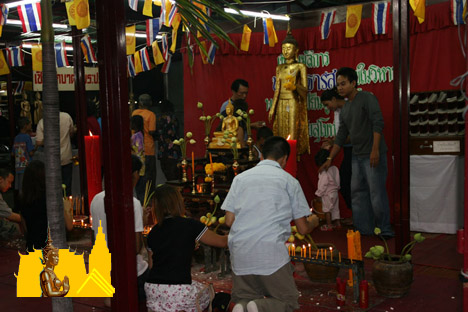 Photo courtesy of Reeb
Rama making merit
Cookie and Pem were a delight. It was fun to watch them look in to all the different stalls, and examine the wares (anything from shoes to food). Lady, on the other hand, hadn't recovered from our being late to dinner, and it looked like she was giving MikeM a little bit of a cold shoulder. I thought that was sad because Lady had been around for a couple trips, we all liked her, and if she kept that up I didn't think she would be around for long. A lot of fun women are just too darn available for a guy in this town to put up with any crap.
While I'm on the subject of shoes, one of Cookie's high heels broke and I bought her some new ones. I wonder why the girl's shoes seem to break whenever a farang is around. Okay, most of the shoes I've seen in Bangkok aren't made that well to begin with. But I'm sure I must have bought more than my fair share of shoes in Bangkok, and I never bought a pair for myself.
It was a nice warm night, and it felt good to be walking off the big dinner we just ate. There were a lot of stalls selling water, so we were able to do a good job staying hydrated.
We had a few false starts, but finally found the steps to take us to the top of Bukow Tong. It was a long hot climb to the top. I was pretty happy that I bought another bottle of water just before we started climbing. A famous tour book states that there are 318 steps to the top. I counted only 307.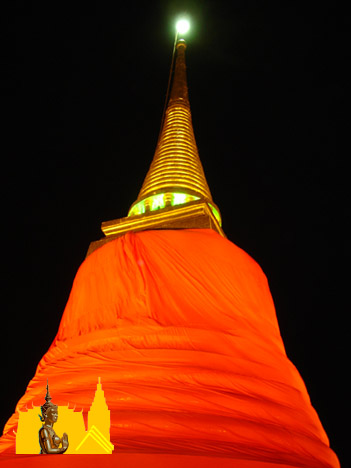 Photo courtesy of Doozy
The top of Bukow Tong was filled with people of all ages; from groups of younger people that looked like they were cluster dating, to older people with children. There were also monks there that were kept busy blessing the people walking by.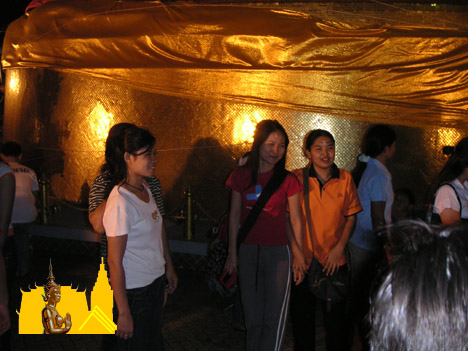 Photo courtesy of Rama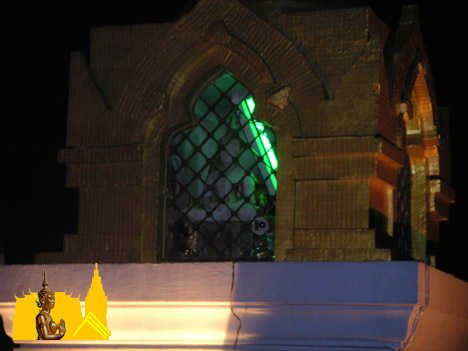 Photo courtesy of Rama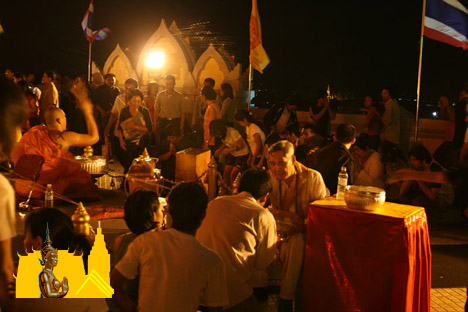 Photo courtesy of Reeb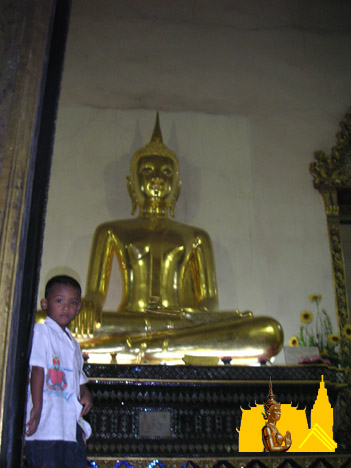 Photo courtesy of Rama
There were so many people up there, that the line to leave actually wrapped around the temple one and a half times. Thankfully, the line moved quickly. The view was nice but there wasn't much of a breeze that night, and it was hot.

Photo courtesy of Reeb
I shouldn't have been surprised, but on the way down I counted 284 steps. It's true that it was a different path and none of the steps are any sort of standard size, but I thought that was a big difference.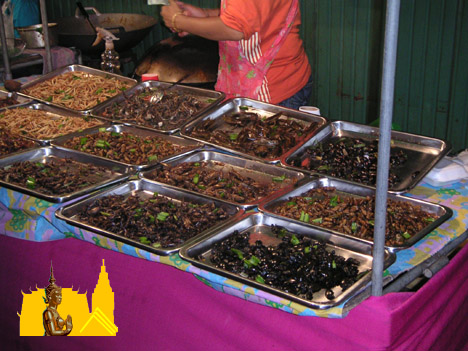 Photo courtesy of Rama
On the way out of the festival, we got to see more of the interesting stalls that were set up. They had a freak show tent set up (which I was tempted to go into but no one wanted to join me), food stalls ranging from some delicious looking deserts to bugs, some games of skill (or chance, depending on how one looks at it), and also a dunking booth.
The dunking booth was kind of interesting, so we stopped to have a look for a few minutes. It was much like any other dunking booth I've seen before (girls sit on boards spanning a big barrel full of water, waiting for some one to throw a ball and hit the target at which time the board falls from under the girl, and the girl falls into the barrel of water), but the big difference was that these girls weren't wearing bikinis (even in all that heat); they were fully clothed. Well, maybe not *fully* clothed, but it looked like they were wearing more clothes than I'd ever seen a dunkee girl wear before. And these girls weren't bargirls; every time they got dunked, they would pop up out of the barrel and try to rearrange their clothes without compromising their modesty. It was interesting to watch, and notice the difference between these girls and the girls we spend time with in the bars.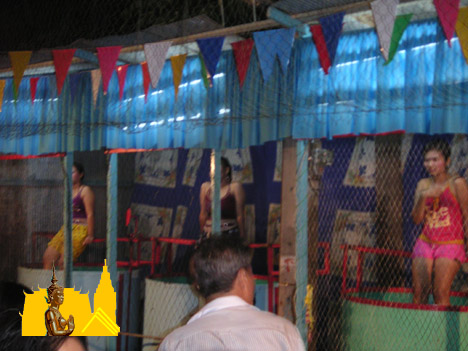 Photo courtesy of Rama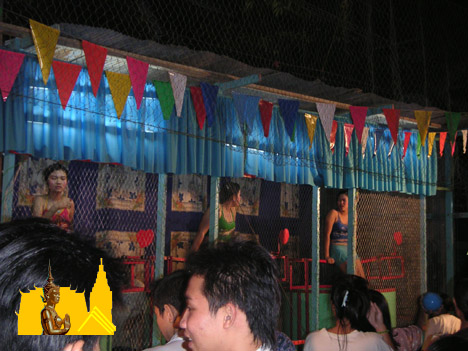 Photo courtesy of Rama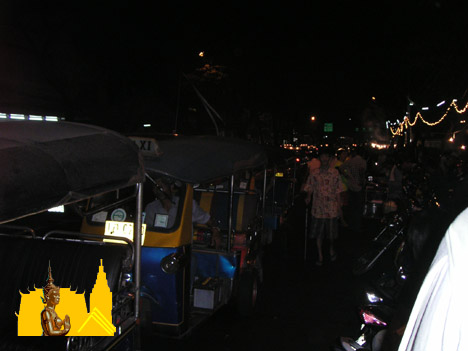 Photo courtesy of Rama
I can't for the life of me remember how we got back to the hotel where Cookie's car was parked. I do know I didn't want to go back to the Nana triangle by myself, and MikeM graciously agreed to join me dragging a cranky Lady behind him.
Lady and MikeM waited in the hotel lobby, while I escorted Cookie to retrieve her car. I wanted to go with her so I could pay her parking charges. Riding the elevator to the garage floor, it occurred to me that Cookie was a pretty good sport. Of course, that rack and her being good in the sack didn't hurt… Anyway, I thought it might be nice to take her to Pattaya.
My original plan was to roll into Pattaya, hit FLB early and BF Gung for the rest of my stay. Gung was one of the infamous girls of the bar, and I figured she'd be worth flipping over once or twice but you know what they say about plans and LOS…
Anyway, I asked Cookie if she wanted to join me in Pattaya, and she jumped at the chance. I told her to go home, pack a bag, and be back at the Nana before 11 AM tomorrow.
My thinking was that the night was still young and there was enough time left to go out and score a little fun. Cookie wouldn't have it; she wanted to join me at the Nana as quickly as possible. What the hell… I'll just go back at have a few drinks with the girls at Morning/Night; I'm sure GoodGirl will be around...
I met MikeM and Lady in the lobby, and we walked down to Sukhumvit to catch a taxi. For some reason, when we got to the Nana I decided to spend last-call at NEP instead. What the hell, there are worse ways to spend a little time…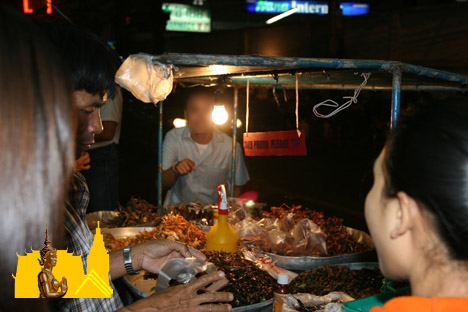 Photo courtesy of Reeb
Rama orders a late-night snack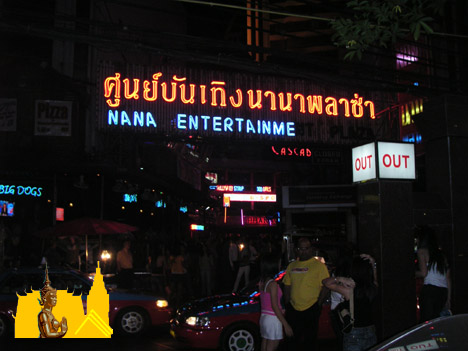 Photo courtesy of Rama
When the rest of the guys left Bukow Tong, they made their way to the Nana Disco and a splendid time was had by all. Rama found the girl of his dreams on the dance floor, and couldn't resist taking her up to his room for a short time spin even though he had promised to meet ShortStuff in the Nana lobby at 2AM. Rama finished up with his short time and escorted her out the lobby door at the exact moment ShortStuff walked up to the hotel.
ShortStuff picked up on the vibes and started accusing Rama of being with that girl. Like a gentleman, Rama denied everything. He's a good man, that Rama…
Cookie showed up a few hours later, and wanted to re-create the afternoon's magic. Bringing her to Pattaya may just turn out to be a better idea than I expected…
---------------------------------------------------
Ommmmmm

Jai Guru