They Started As Strangers
-- Part 16

They Started As Strangers -- Part 16
I *should* have a lot of room in my suitcase, especially considering I bought a brand new larger one, but for some reason I don't. My carry-on, souvenirs, and the souvenirs that Reeb didn't want to carry pretty much filled it up. Luckily the new suitcase has wheels and I can pay someone to carry it wherever we go for the rest of the trip.
Breakfast was the usual glass of orange drink, coffee, an egg, two half-pieces of dried out bacon, a piece of toast, and a croissant. Man, I'm really looking forward to getting back to the Nana Hotel and the bountiful breakfast buffet.
Reeb and I were packed and ready to go, so we ventured out onto the busy street in front of the hotel and took some pictures.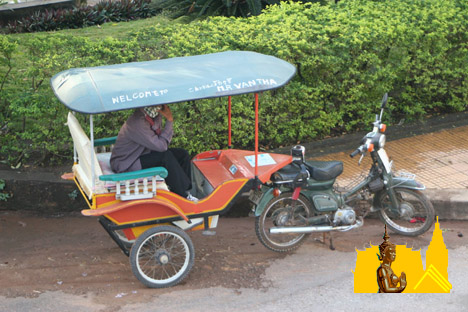 Photo courtesy of Reeb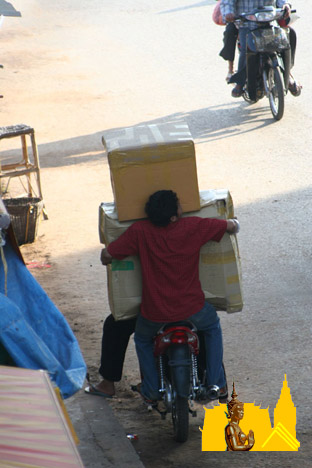 Photo courtesy of Reeb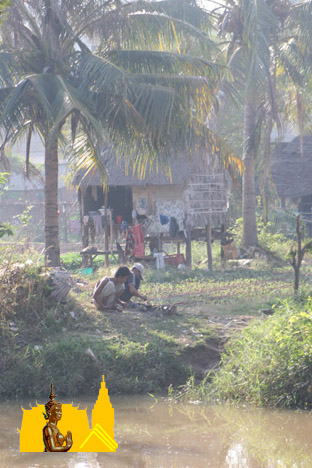 Photo courtesy of Reeb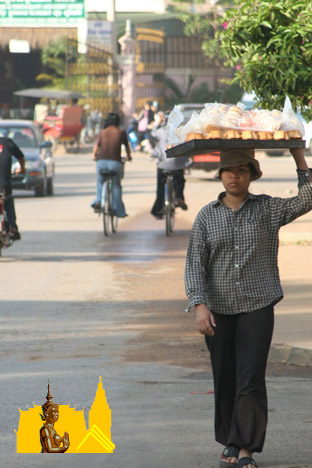 Photo courtesy of Reeb
Our bus was already waiting for us so when we were done, we went up to our rooms, got our stuff, checked-out of the Ta Prohm, and tossed our bags into the back of the bus. The driver had the motor running and the AC on, which made a pleasant wait for the rest of the group. MikeM was down in no time, and we were pleasantly surprised that we didn't have to wait long for Antman and Wifey.
On the way to the airport, Antman mentioned that he didn't have enough money for the Exit Tax. Being the helpful guys we are, we pointed out the Immigration Prison as we passed. That didn't help him feel much better…
I thought the transfers to and from the hotel were gratis, but only the pick-up was. When we got to the airport, the guys went in to begin the process of getting out of the country while I was taken to sort out the ride. It was only $10, but the inconvenience of being separated from the group and dealing with this all at the last minute is what stuck in my craw.
By the time I joined the others, Antman had found a moneychanger and had enough to get himself and Wifey out of Cambodia.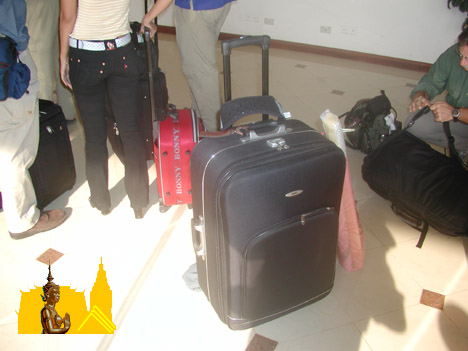 It started out as a carry-on, but it didn't last long...
Our flight to Bangkok was delayed but we arrived early enough to make it on an earlier flight. Not bad at all… In addition to that, this earlier flight was on a jet instead of the usual prop planes we've flown on to and from Siem Reap. Cool… That means only a 35-minute flight once we get airborne.
Antman and Wifey weren't seated together again, and MikeM was gracious to give up his seat so they could sit together. Unfortunately, that now meant the three largest guys on the flight were now seated on the same side of the plane. I was concerned we'd be flying lopsided all the way to Bangkok. Or maybe once we became airborne all we would be able to do is fly in circles…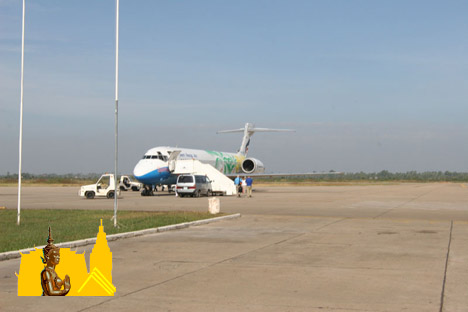 Photo courtesy of Reeb
But everything turned out okay and even thought the flight was indeed only 35 minutes long, the flight attendants busted their butts giving everyone a drink.
The queue at the Don Muang taxi kiosk was the longest that I've ever seen it, and there wasn't a taxi to be seen. Screw that; let's take a limo. We stayed in line while MikeM sorted out the details. There were a couple of locals that offered to give people standing in line a ride into town in their "limo" but they didn't get any takers.
Only a moment or two later, a limo pulled up to where we were standing and we all piled in. You should have seen the looks on the faces of the people still standing in line; it was priceless! They just didn't know what to think!
After I checked into my room, I was thinking it would be nice to see her again and gave Kui a call. Sadly, Kui was up in Korat visiting her baby and the rest of her family. But it was nice that she sounded excited to hear from me.
A few days ago when we were last in Bangkok we met a lovely girl on a Segway, and she stopped to talk to us for a while. We heard there was a company in Bangkok offering tours on the contraptions, and we thought it would be fun. The girl gave us a flyer with the name and address of the company, and we promised to sign up for a tour.
After we all checked-in to the Nana, MikeM, Reeb, and I walked down to the Woraburi Hotel on Soi Sii to sign up for the tour. There we met another lovely girl working at the Segway tour office. Man, it's impossible to turn around without seeing another beautiful girl around here.
The tour price was a little steep (my recollection is that the tour cost a little over 2,000 THB), but we really weren't interested in the tour per se, we were interesting in getting some time on a Segway.
The next morning's tour was empty, so we signed up. Shotover was also curious about the Segway, but he hadn't committed to the tour so we didn't know if we should buy a ticket for him or not. The office girl felt confident that there would be a slot available tomorrow, so Shotover should be able to just walk up and join us.
Cool! The Segway tour was something that we wanted to do, so we all felt good about our reservations for tomorrow. But what to do today? Hmmm…
A long, long, long time ago, but not too long ago… RabbitRabbit told me about a favorite massage joint of his called Sazanka. I also heard Sazanka has a specialty massage called a salt scrub that sounded interesting.
Reeb is often suspicious of my recommendations (and rightfully so) and wanted a little more information on this Sazanka place. But I had nothing else to tell him.
"Come on, the place was recommended by a massage expert. I'll tell you what; give it a try and if you don't like it, I'll give you your money back."
A money back guaranty! How could he argue with that? Well, he couldn't. But that didn't stop Reeb from being suspicious about the whole adventure. If that arched eyebrow of his wasn't attached to his face, it would have flown right off…
We made a deal with a tuk-tuk driver in front of the Woraburi Hotel to take us to the Nana Hotel for 20 baht. The driver wasn't sure three big guys like us could all squeeze into his little tuk-tuk, but we did; no problem. Just as we were pulling away from the Woraburi, an old Thai man ran out and flagged the tuk-tuk down. It seems that he told the driver that he could not take all of us at one time, and we had to take two tuk-tuks. Screw that; I'd rather walk than put up with that crap.
We fell out of the tuk-tuk and started making our way toward Sukhumvit. Across the street another tuk-tuk driver watched the whole thing and pulled up to us asking if we wanted a ride. He was happy to take us to the Nana for 20 baht, so we got in. He dropped us off in front of GBB and because he was a Good Samaritan, we gave him a tip.
From there we walked to the Nana Skytrain station, and took the Skytrain to Prohm Phong where we got off and walked to Washington Square. We weren't really sure where we were going so we stopped and asked directions now and then. All of the people we met were helpful, and kept us going in the right direction.
Lo and behold, the promised land; we finally found it. Sazanka!
We opened the door and stepped into a small lobby. The papasan offered us coffee, but no one was interested; not even Reeb, and he's a real coffee junkie.
A few moments later, the papasan came back with 8 by 10 cards each showing a picture of the available girls, and the statistics for each. Statistics like body characteristics, how many customers she had, and a bunch of other stuff we really weren't too sure about. MikeM poured over the numbers and statistics like he knew what they meant. Maybe he did, but I sure didn't have a clue. I kept it simple and looked for the girl with the biggest hoots.
The papasan also gave us a menu, but we all said we wanted the salt scrub. My recollection is that the salt scrub was only included in the super-duper package, but at around 1,300 THB we were in no danger of it breaking the bank.
We were each given a key to a locker, and told to place our valuables inside. This is so they don't have to sneak into our rooms to steal our stuff; instead they can do it when we're not around. The lockers are a nice touch, but my advice is to leave your valuables back at the hotel. Unfortunately, I had way too much money with me, and the thought of those guys going through my stuff while I was getting massaged really nagged at me the whole time. I don't think any money was stolen, but my advice is not to tempt fate.
The girls came down and led us by the hand to our individual massage cubicles. They're not the most private cubicles in the world, but they're not the worst, either. There, my girl gave me a towel and told me to disrobe. She also took my drink order.
When she came back with my drink, she told me lay face down on the massage table. The massage table was one of those that have a hole cut in it so one can stick their face in and watch her feet as she gives the massage. But the table was designed for much smaller people, the hole wasn't positioned properly for my 6'1" frame, and the hole wasn't big enough for my giant melon head either. Still it wasn't too uncomfortable.
I remember reading a report where the guy said the wider the girl's feet are, the happier he is. Looking at the girl's feet through the hole in the table, I could see she had some wide ones. And she had a heart to match; she was a nice girl. Even if she didn't take her top off.
In the corner of the room was a giant plastic tub filled with warm water. The girl would dip a bucket into the giant tub and then pour the warm water all over my body. I don't know how many times she did that, but it sure did feel good. After that she gave a little body shampoo, and then more buckets of warm water. It was delightful.
She then put on a couple of loofah gloves, and proceeded to give me a real good scrub down from head to toe. When the maximum amount of fresh skin was exposed, she got a big bucket of sea salt and poured it all over me. Yikes! That was a new feeling for me. It didn't hurt, but it did get one's attention.
It was the perfect situation for puns. "Now I know what a rack of ribs feels like." "Help, I've been assaulted!" and "I feel like a giant salted pretzel" just to name a few… MikeM isn't known as the Punster King for nothing…
I don't think I've ever been so exfoliated in my life. After the salt worked its magic for a while, it was more buckets of warm water to wash all the salt away.
Then she had me flip over onto my back, and she did the entire process again on the front of my body. I'm pleased to say she kept the loofahs away from the more sensitive parts of my body, but that didn't stop her from getting to know me a little better now and again.
When she was finished exfoliating the front of my body, she had me turn over again, poured more warm water on me, and wrapped me head to toe in steaming hot towels. It felt great. And then after that, she began massaging me through the towels. It really was fantastic. Then she hopped up on the table and began to walk on my back. I thought I had died and gone to heaven. She put one foot between my shoulders and the other on my butt and began a rocking motion that cracked my back like it had never been cracked before. I went to a chiropractor for years, but this girl was better IMO.
She had me roll over again to massage my front and administer a happy ending to the therapy. And she was good. She surprised even me!
I learned later that when Reeb's girl had walked out to get the steamed towels for the body wrap, Reeb got dressed and went downstairs to wait for MikeM and I in the lobby. He thought the whole thing was over.
When Reeb got down there, he said it was like someone had sounded the fire alarm. All the girls were scurrying around not knowing what to do, and the papasan was pacing a hole the carpet while yelling for Reeb's masseuse. Nobody really spoke English that well, but somehow they were able to explain to Reeb that he still had a considerable portion of his massage experience to go, and Reeb's masseuse led him by the hand back upstairs.
Sazanka was a good time, and I will be back. That's a promise.
After the massage, we noticed it was getting close to the time that we were supposed to pick up Reeb's painting at MBK. An afternoon snack is a good idea, so we hopped the Skytrain to Jim Thompson's House for refreshments.
Reeb caught the bug and picked up a considerable amount of silk for his girlfriend and girlfriend's daughter back in the real world. Maybe he was feeling a little guilty over the fun he was having. But he really did find some nice things.
We entered MBK through McDonald's, and stopped to see if they had any taro pie available. What the heck… Since we were there, I picked up a quick snack just to keep my blood sugar in check.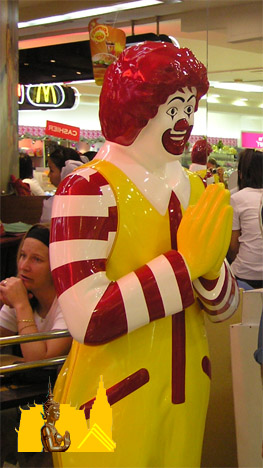 Photo courtesy of Reeb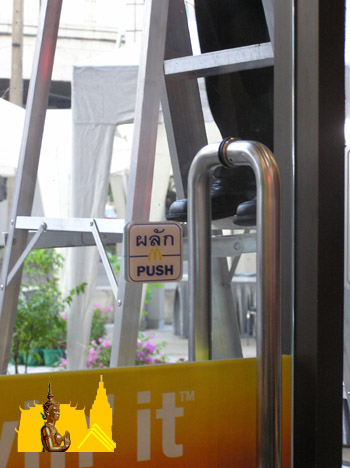 Photo courtesy of Reeb
While we were enjoying our quick snack, one of the employees set up a ladder on the outside of the door and started cleaning the windows, but no one barred the door. I guess life is cheap in the Big Mango. Reeb watched the door and stayed ready to stop anyone from opening it.
The painting was ready for pick-up when we got there. We had them open it so we could have a look, and I think we were all impressed what a really good job they did. Before my next trip, I think I'll have a look through my photos to see what I'd like to have turned into portraits.
Reeb wanted to go back to the hotel to drop off the painting and I wanted to BF Bud for the evening, so we agreed to meet at Cabbages & Condoms for dinner.
Antman's Trip to the Village...
This section was written by Antman.
We flew Phuket Air in a small propeller airplane. It was so small, we had to check our carry-on luggage!
The plane landed at the airport in Sutuc (pronounced with 'u' as in "fun"), a very small town. This regional airport serves the whole Buriram area.
We went to the airport limo desk to get a ride into town. The driver we got turned out to be an off-duty cop, moonlighting as a limo driver in his Honda Accord (with automatic transmission no less). The guy was actually very nice.
The limo took us to a 350 Baht per night motel in Sutuc, about 10 minutes from the airport. Air conditioning, hot water, cable TV, and one giant roach... everything you need for a comfortable stay.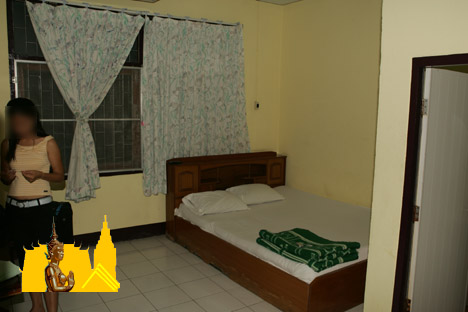 Photo courtesy of Antman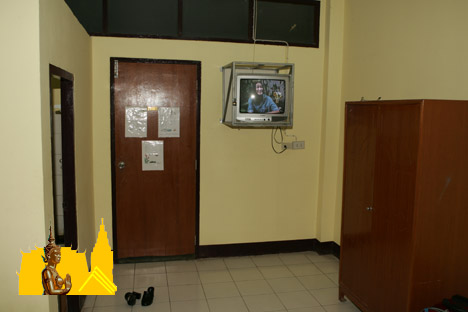 Photo courtesy of Antman
After a good night's sleep, the next day we headed for Tan's village. Her village is about 45 minutes from the motel, half-way between Buriram and Surin. We contracted with the same driver for the whole day for 1200 Baht plus gas money. I though it a little steep at first, but after seeing the dirt and gravel roads he had to take his shiny Honda through, I didn't feel so bad anymore. Including gas money, the total came to 1700 Baht; I gave him 2000.
Tan's family lives in a humble abode. They own several cows, pigs, and chickens. They also have several large rice fields.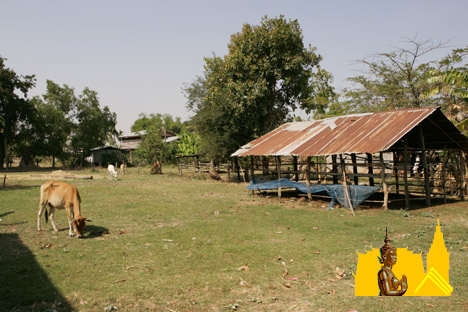 Photo courtesy of Antman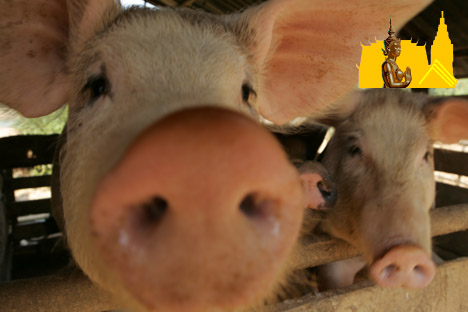 Photo courtesy of Antman
Her family was waiting for us. Father, mother, several aunts, etc. Tan's young niece was there also. I bought a nice silk shirt for her father, some sarongs for the women, and chocolate for the children. Thai children love chocolate!
After chatting with the family through head bows and smiles, we headed over to Tan's old elementary school. We took Tan's moped which got us there in about 30 seconds.
It was a Saturday and the school was having a weekend soccer match. It seemed like all the children were there. There was a guy selling ice cream from a motorcycle ice-cream cart. Somehow I got the idea that it would be neat to buy ice cream for all the kids. I had Tan arrange the deal -- 500 Baht for the remainder of his vat, which I estimated at several gallons. Besides the familiar waffle cones, one also had the option of having the ice cream in a small hot dog bun! As word got out, the children started forming a line. Soon, the soccer game had to be interrupted as too many players were in the ice cream line instead of playing.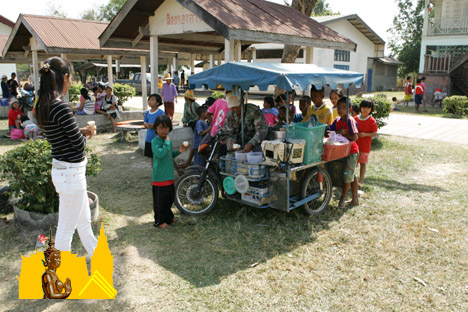 Photo courtesy of Antman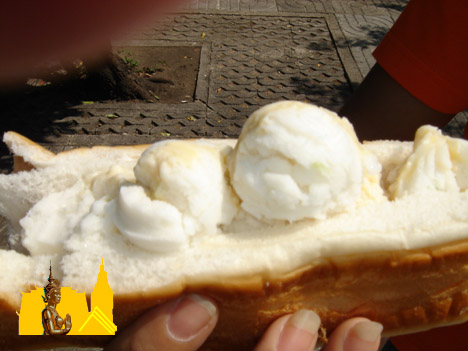 Photo courtesy of Shotover
At first the children were shy about photographs. However, as soon as a few brave ones stepped up, it seemed like the whole school was trying to crowd into every picture.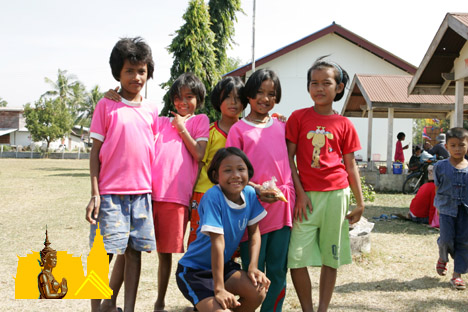 Photo courtesy of Antman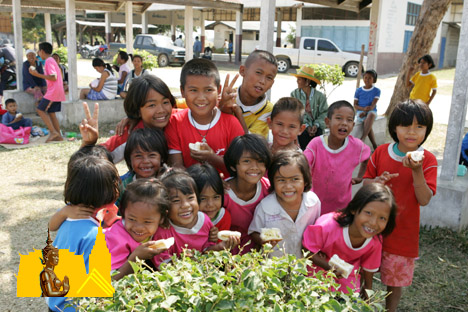 Photo courtesy of Antman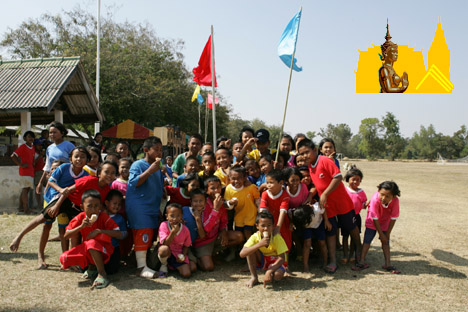 Photo courtesy of Antman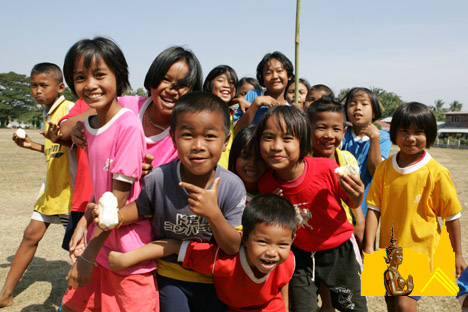 Photo courtesy of Antman
Some of the older kids were playing a game that was a cross between volleyball and soccer. Same rules as volleyball but you could only hit the ball with your feet or head. They played with a hollow, hard plastic ball that was smaller than a volleyball but bigger than a softball.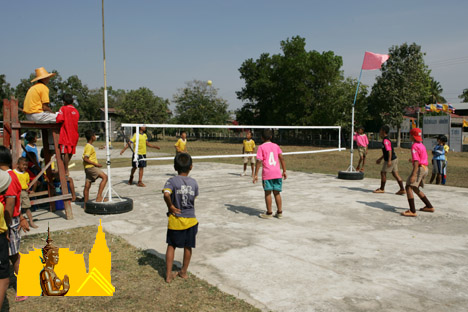 Photo courtesy of Antman
At the school, I met a French guy that has lived in that village for seven years. He has a Thai wife and a child. He spoke a little English but was fluent in Khmer -- which is spoken by many people in that region. He told me that Thailand is the way to go -- a stress-free paradise.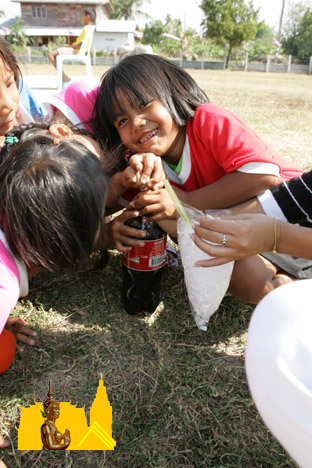 Photo courtesy of Antman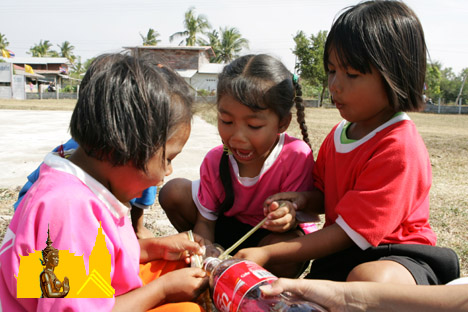 Photo courtesy of Antman
We stayed at the school for about an hour and a half. We then headed back to Tan's house, chatted some more with the family, said our goodbyes, and headed towards Surin. We drove through Surin to a restaurant by a lake outside the city. The restaurant consists of several gazebos on a smaller man-made lake. Along the roof of the gazebos is a sprinkler system that gives the constant feeling of a soft rain shower. Tan and I invited the driver to join us. We ordered five dishes, including a whole steamed fish, for a total of less than 500 Baht.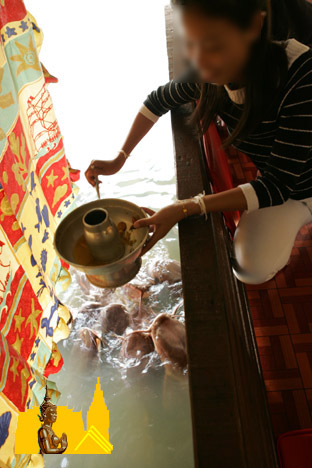 Photo courtesy of Antman
At 4:00 PM we started heading back for Sutuc. It took a good hour and a half to get back, driving at high speed. We went back to the motel, washed up, got our luggage, and headed for the airport. We had a plane to catch back to Bangkok.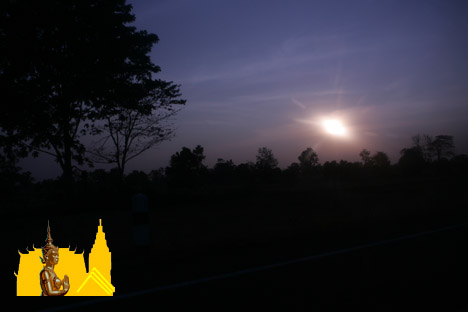 Photo courtesy of Antman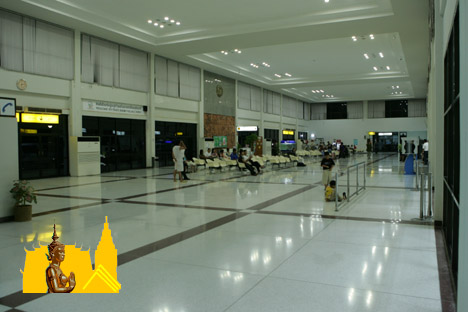 Photo courtesy of Antman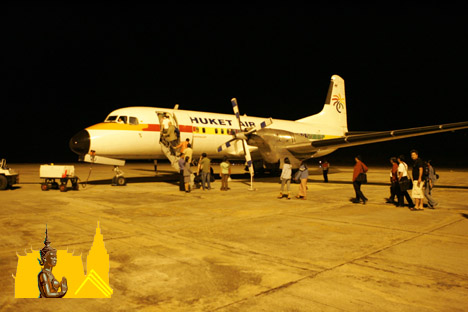 Photo courtesy of Antman
I would definitely want to go back to the Buriram/Surin area to see what there is to see.
[Now that I'm back home, Wifey and I] miss each other a lot. We talk every day on the phone, just as we've done for the past year. That helps keep us a little closer together.
Meanwhile, Back in Bangkok...
Bud had just arrived at her bar, and was setting things up for the evening. She was overjoyed to be BFed for a night out, but she said she didn't want to leave until the bar was set up so her friends wouldn't have to work so hard. I gave the 2,000 THB BF to the mamasan, and the mamasan slipped the 2k to Bud when they thought I couldn't see.
We all walked down Soi 33 to the corner, and then crossed Sukhumvit to grab a taxi to Cabbages & Condoms.
Reeb was waiting for us, and we were all happy to get a table outside on the balcony.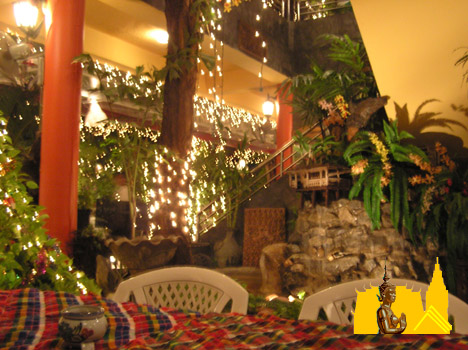 Photo courtesy of Reeb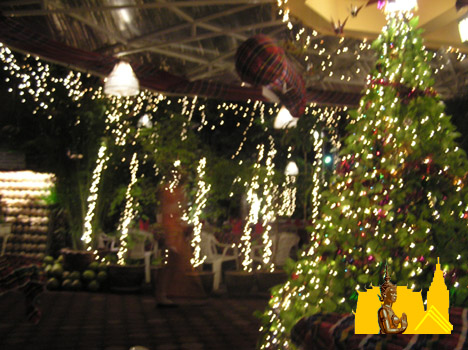 Photo courtesy of Reeb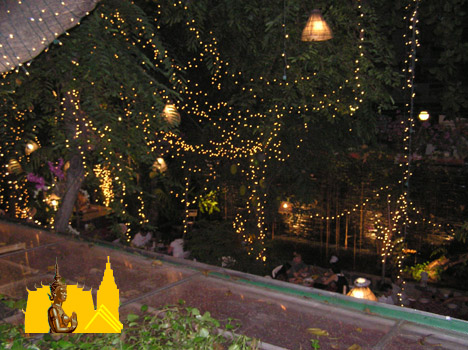 Photo courtesy of Reeb
The food was fantastic as usual, but Bud was complaining she was pom pui and would only eat little bites of things. Bud is not pom pui by any definition of the phrase, but girls will be girls… Still, I think she enjoyed the restaurant. Bud is a lovely girl to have around.
After dinner, we had just enough time to make it to Bully's Pub to meet the guys. We high-stepped it down to Sukhumvit and grabbed a taxi for the trip.
There weren't a lot of punters in the pub, so we got our usual table.
Shortstuff pouted behind the bar, while the big nancy of a bar manager flitted from table to table. This was just so wrong… A waitress came over to take our order, and I told her to add a drink for herself and ShortStuff to the tab.
Shortstuff came over to thank us for the drink, and burst into tears. WTF????
"Jai, I want talk you."
"Sure… Sure… Let's move to a quiet table."
Maybe I bought her a few drinks, but there was no relationship of any kind between Shortstuff and myself. I wondered what she wanted to talk about.
"Jai, I don't like pub. New bar manager treat me no good"
"No problem, let me pay bar and you can come with us tonight."
"Cannot. No pay bar for girls here."
"Well, what can I do to help you?"
"Nothing. I just want you to know."
Poor girl…
There are often at least two sides to every story, so who knows what the truth is between Shortstuff and the new bar manager. But what I do know is that in a matter of just a week or so, Bully's Pub went to a place that we looked forward to going to every night, to a place we looked forward to leaving every night. As I said, I didn't know what the truth was between those two but if Shortstuff had started working at another bar, I would have followed her.
Shotover was in the bar that night, and he was going to lead the expedition to the Lumpini Night Bazaar. MikeM and I had driven by the night bazaar before on the way to watch some boxing at Lumpini Stadium, but tonight was our chance to see what it was all about.
We checked-bin and hit the curb to hail a few taxis for the ride to the bazaar. Shotover did a good job describing where we were supposed to meet up once we got there. But when we arrived I couldn't make head nor tails of the place. As I was wandering around the entrance looking for the meeting point landmark, Shotover's taxi pulled up to us. One doesn't get luckier than that, because I don't know if we would have been able to find him there.
The Lumpini Night Bazaar is a pretty big place. There's a large stall area where one can buy all kinds of different things; from exotic cooking supplies to souvenirs and artwork. To the right of the large stall area (looking from where we were dropped off by our taxis) there's a large stage with an outside seating area. The seating area has a retractable roof, so it can be closed if it's raining, or opened on a nice evening like tonight.
We found a table, and got some snacks and drinks. The acts on the stage were mostly female Asian Pop singers, backed by a live band and a half-dozen dancers. It was actually fun to watch, and you just can't beat the price.
After a while, the guys wanted to hit the bars, so we split up and took taxis back to the Nana Triangle. The plan was to meet at Pharaohs, so I said goodbye to Bud in front of NEP.
I was only expecting to see the guys from the Night Bazaar there (MikeM, Reeb and Shotover), but was pleasantly surprised to Rama and ShadowDancer enjoying cold ones at Pharaohs. And ShadowDancer had a date; Gung from FLB in Pattaya!
Gung excused herself to go to the little girls' room, but came back saying it was too bad for her to use. Shotover, ever the gentleman, offered to escort her across the street to the Nana Hotel where they should have better facilities.
A few minutes after they left, we were surprised to see Xbox walk into NEP. I thought he left the kingdom days ago. And so did ShadowDancer or he wouldn't have brought Gung to Bangers.
With a shout or two, we got Xbox's attention and waved him over. A dekserve quickly returned with his drink, and Xbox got settled in.
I think ShadowDweller was a little concerned about what Xbox might think of ShadowDweller bringing Gung to Bangkok, because Gung was Xbox's GFE in Pattaya and Xbox had ended up spending quite a few days with her. So ShadowDweller tried to break the news softly by saying, "You know what they say, Xbox; you don't lose your girl, you just lose your turn."
"What do you mean?"
"Well, these girls need to make money to live so when we leave town they're out seeing other guys. Understand?"
"No, I *don't* understand. What are you trying to tell me?"
The guys tried a few other cryptic comments, but the message just didn't get through until ShadowDweller leaned across the table and whispered something in Xbox's ear.
Xbox's jaw dropped, he pushed away from the table, and ran out of the bar. Watching Xbox stagger out of NEP, it was easy to see he was literally beside himself with grief; I've seen Antman walk a straighter line after a night on the town…
About halfway out the entrance, Xbox ran into Shotover. I figured Shotover is a good guy and if anyone could talk Xbox back into the bar, Shotover could. Then it occurred to me that if Shotover was returning to NEP, Gung shouldn't be far behind, and Shotover didn't know what happened at the table.
I hopped out of my seat and scooted over to see if I could help. But there was no consoling the inconsolable. Xbox was devastated, and wanted to leave. And nothing we could say would change things that night.
Xbox ran out the entrance to NEP, and that was the last time we saw him.
Sometimes girls end up with other guys; that just the way it is in the Big Mango. Xbox is a good guy. I wish I could have said something that would have made it all okay. But sometimes a little time does a better job. Then again, some guys never recover.
Anyway, I hope Xbox does pull out of it because he's a good guy, and I wouldn't mind bending elbows with him in the future.
We hit a few bars until they kicked us out of NEP, and then we went to Morning/Night to help close it down. Nothing struck my fancy that night and as I had promised to call Cookie anyway, I went back to my room.
Up in the room, I called Cookie but there was no answer. No problem for me… At least her mobile will show that I *tried* to call. Hoover wasn't a big eater, so I ordered a late dinner from Room Service before making any more calls.
At about 2:45, Cookie called from the Nana lobby and came up to the room. Cookie had enjoyed a few drinks that evening, and thought it was a good idea to give me the 3rd degree about Cambodian girls. I figured I could either try to reason with her or play with her jumbly bits; I opted for the latter.
At 5am she wanted to leave. I told her that she was mao and shouldn't drive, but she wouldn't have it.
I tried to give her money but she wouldn't take it. So while she was in taking a shower, I put in on her purse.
She finally left at 5:30, which enabled me to get one and a half hours of sleep before I had to meet the guys for an early breakfast.
What fun!
---------------------------------------------------
Ommmmmm

Jai Guru