They Started As Strangers
-- Part 15

They Started As Strangers -- Part 15
Another morning at the Ta Prohm Hotel means another egg, two half-pieces of dried out bacon, a piece of toast, and a croissant. At least the coffee was good, but it was bloody murder to get a refill.
Antman didn't show for breakfast, so we gave his room a call. He said that Wifey was still not feeling well. Funny… She seemed to be doing okay last night at Martini's. Anyway, it wouldn't be a problem for us. If fact, it would give us a little more room to spread out in the bus, and it would be a lot easier to make decisions without having to consult the 'undecidable duo.'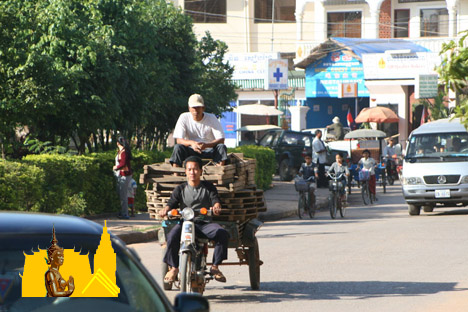 Photo courtesy of Reeb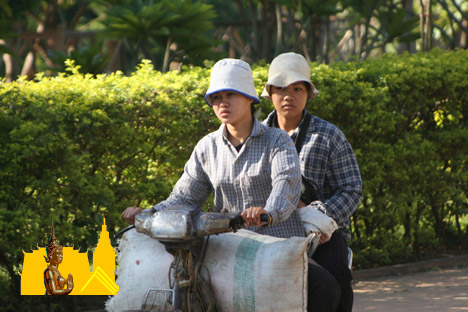 Photo courtesy of Reeb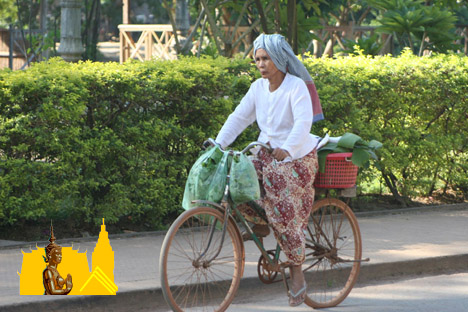 Photo courtesy of Reeb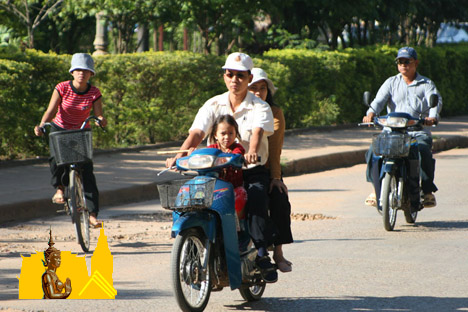 Photo courtesy of Reeb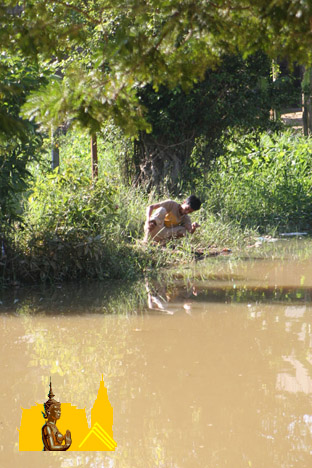 Photo courtesy of Reeb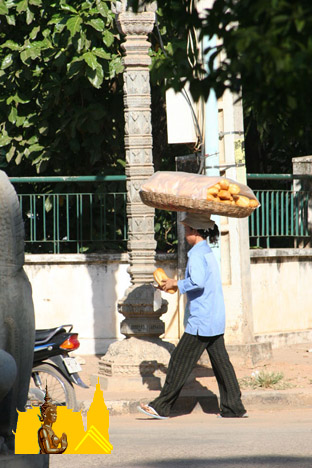 Photo courtesy of Reeb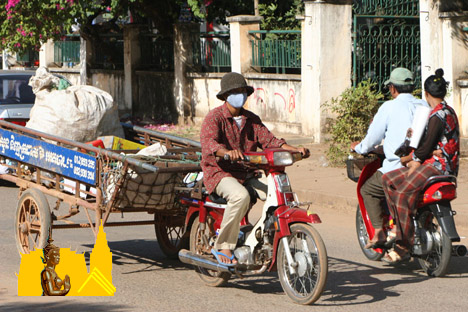 Photo courtesy of Reeb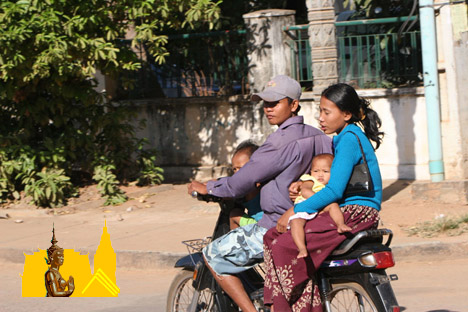 Photo courtesy of Reeb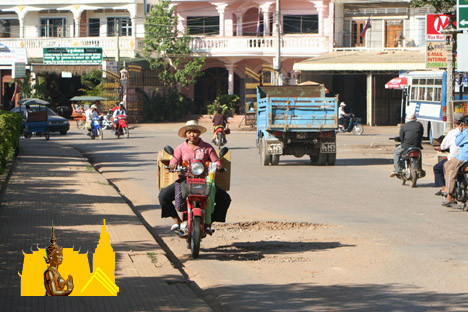 Photo courtesy of Reeb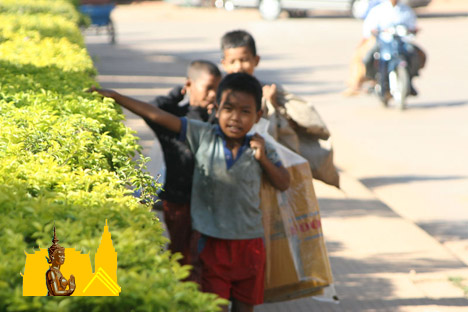 Photo courtesy of Reeb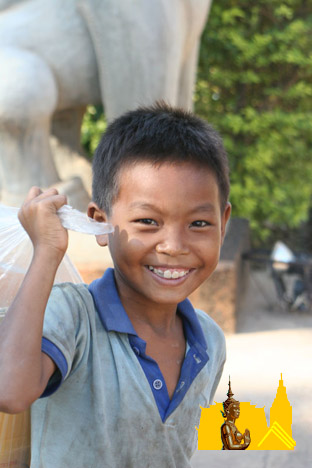 Photo courtesy of Reeb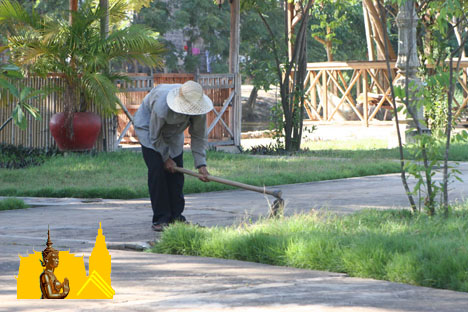 Photo courtesy of Reeb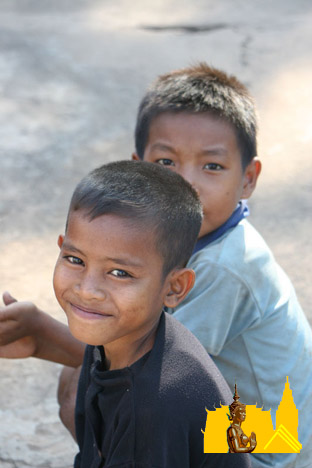 Photo courtesy of Reeb
Our plan this morning was to take the balloon ride to get a few pictures. The whole balloon ride idea was just too complicated to explain to our driver, so we had to enlist the help of our favorite Front Desk girl. She got things sorted in no time.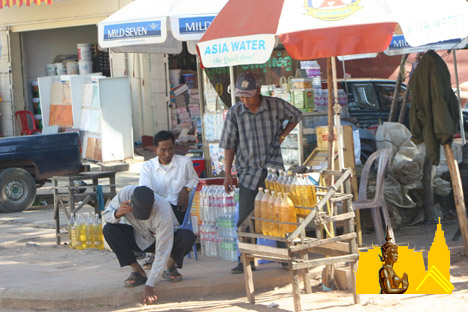 Photo courtesy of Reeb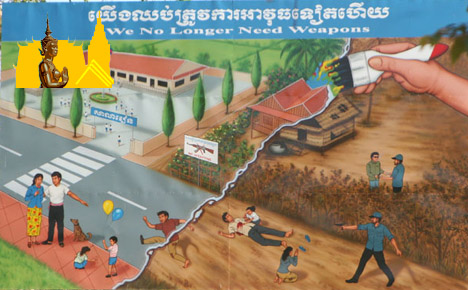 Photo courtesy of Reeb
Unfortunately, it was too windy for balloon rides that morning. The girl at the ticket counter suggested we come back in a few hours. They have a sign-up sheet where people can reserve slots, but it was completely empty for that day so we didn't think we would have a problem when we came back. We understood the rides were only 20 or so minutes long, and maybe another 10 minutes to cycle the balloon so we didn't think they would book up completely.
Next, we tried to get the driver to take us to Bantay Srie. He had absolutely no idea what we were talking about. We tried saying it with different accents, showing him pictures of the temple, and anything we could think of. Finally I remembered a street marker showing the direction to Bantay Srei with writing in English and Khmer, so I figured if I could get the driver to that road sign that I would be able to show him where I wanted to go.
At least that got him moving again. But only as far as the next police box. The driver stopped the bus, and waved over an officer to translate for us. The officer did a little better with the way we murdered the language, said a couple quick words to the driver, and we were off again.
Bantay Srie is a long way from the main temple complex, so it gave us a good chance to relax and watch the scenery as it rolled by. It looked like any family that lived on land a little bigger than their shack would try to grow some rice, and sell it in little leave-wrapped packages. I was tempted to stop and buy some, but I had no idea what I would do with it. What could I do; take it back to the hotel and have the chef cook it up for me? That prolly wouldn't work real well. Although it would be interesting…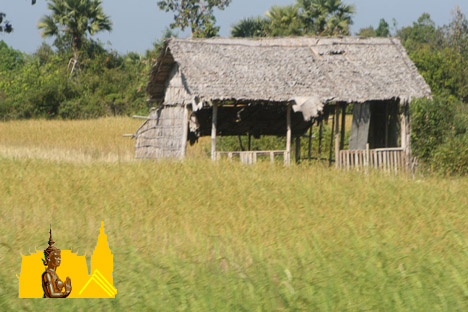 Photo courtesy of Reeb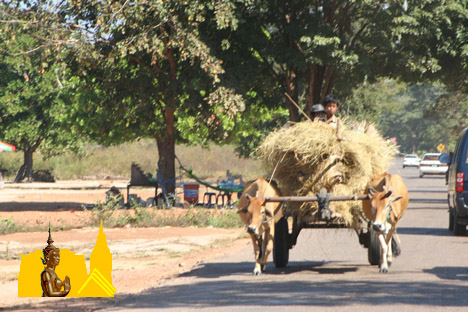 Photo courtesy of Reeb
The temple was packed. Instead of rushing in, MikeM, Reeb, and I had a look at the souvenir stalls to at least get some cold water if nothing else. The prices here were much more reasonable, and we even got a chance to haggle a little. Cold water, however, was going for $1 a bottle. It took us buying a few things and a little haggling before we got two bottles of cold water for a dollar, but I don't recall seeing anyone else get that price.
The last time we visited Bantay Srie, there was an active archeological dig underway. The dig was still going on strong, and it looked like they made a lot of progress. I hope they don't lose the charts like they did at the Temple of the 12 Women…
They had parts of the temple closed off, so we couldn't go all the way around and get pictures of the temple reflected in the moat. Oh well, that'll give us something to do next visit.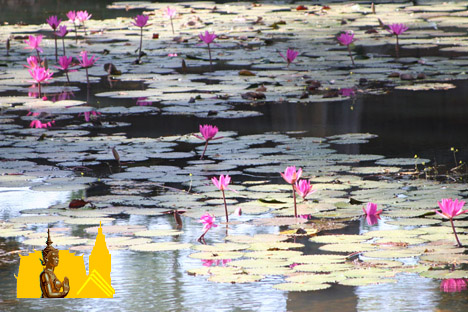 Photo courtesy of Reeb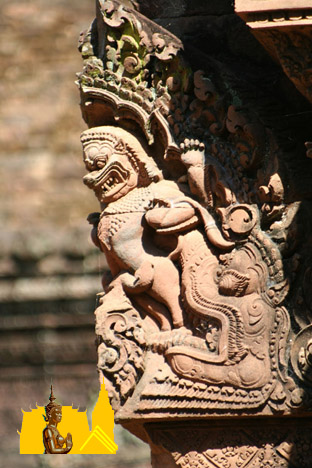 Photo courtesy of Reeb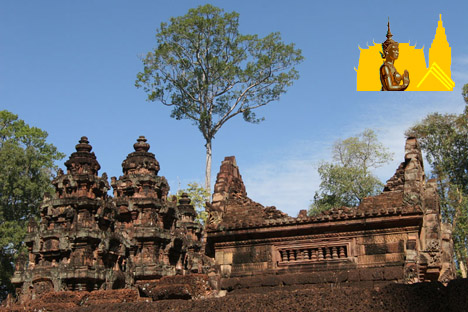 Photo courtesy of Reeb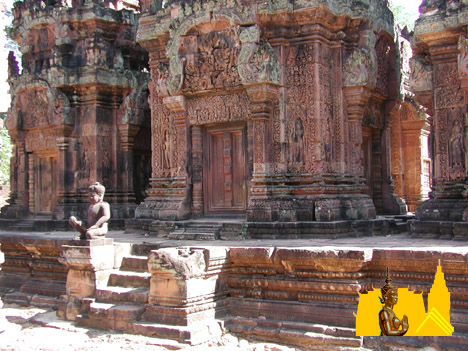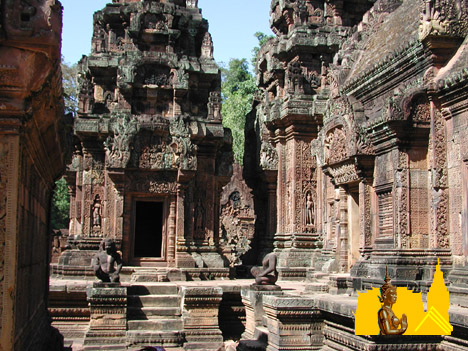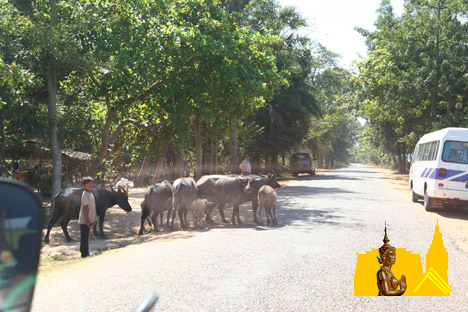 Photo courtesy of Reeb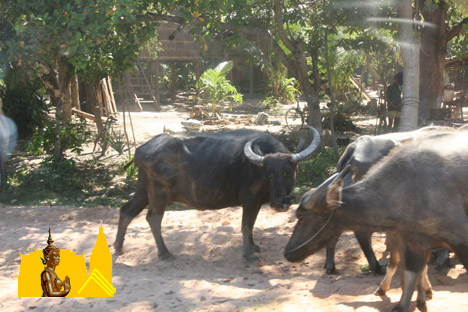 Photo courtesy of Reeb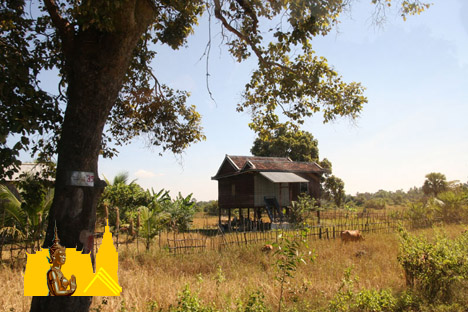 Photo courtesy of Reeb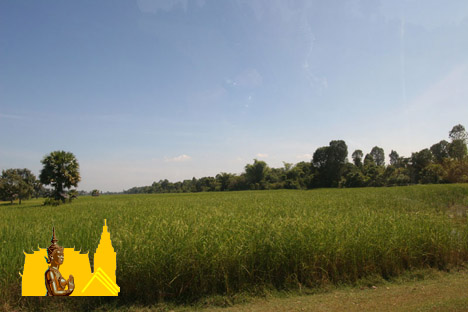 Photo courtesy of Reeb
When we had our fill of Bantay Srie, it was off to give the balloon another try. This time we lucked out; the balloon was landing just as we pulled up.
It's a helium filled balloon tethered to a winch so it can be easily launched or brought back down. The basket is large; I wouldn't be surprised if it held 40 passengers or more. On our trip up, there were only about seven in the basket. The ride up was okay as everyone stayed pretty much in one place. But once we got up as far as we were going to go, every time someone said "oooh" or "aaah" people would rush to that side to see what they were looking at. That would cause a big weight shift, and we found ourselves in some pretty severe angles quite a few times. But the cage over the basket was sturdy, and no one fell out I'm pleased to say.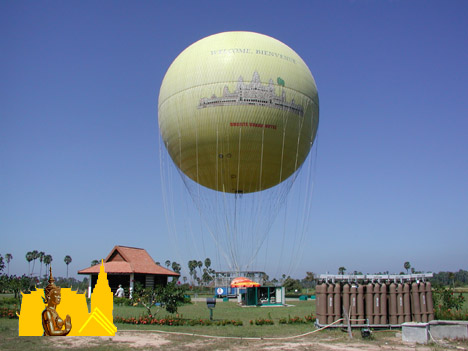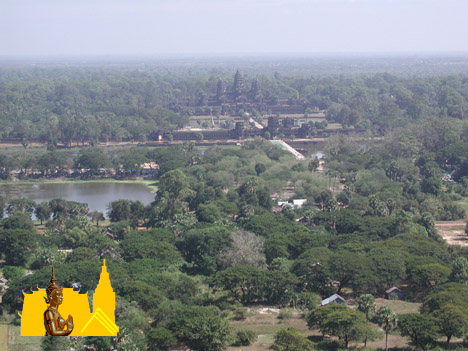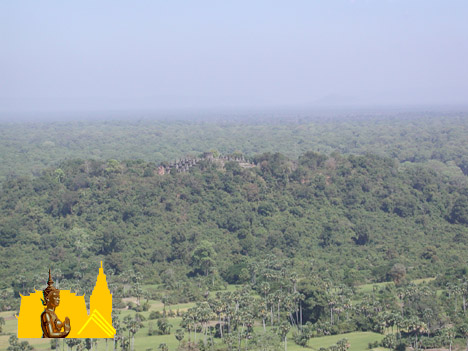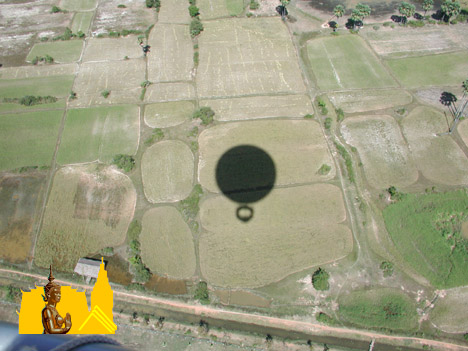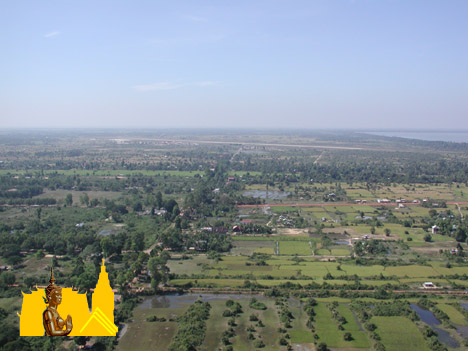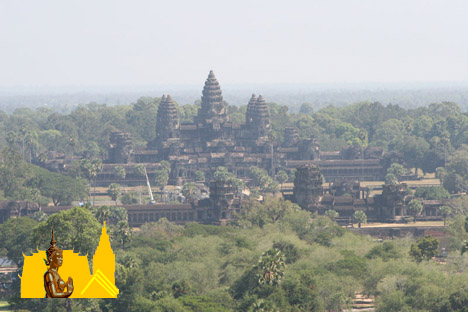 Photo courtesy of Reeb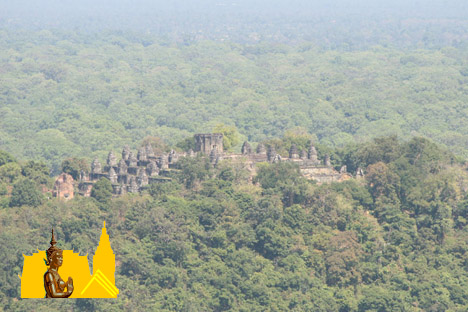 Photo courtesy of Reeb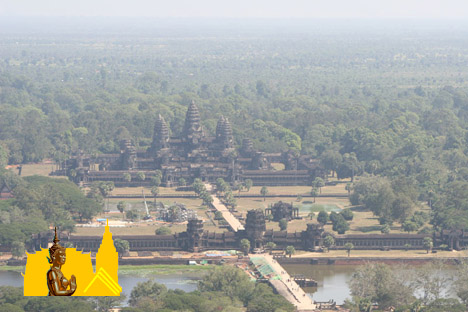 Photo courtesy of Reeb
Two half-pieces of overcooked bacon, a croissant, and an egg just didn't keep us going for long, so it was time for lunch. And today I think we'll have….
Pumpkin soup!!
I love that stuff. What can I say… There are lots of things on the menu so others can have whatever they want. But I'm having the pumpkin soup.
We were able to find the shortcut again and we were sitting at our favorite table in no time.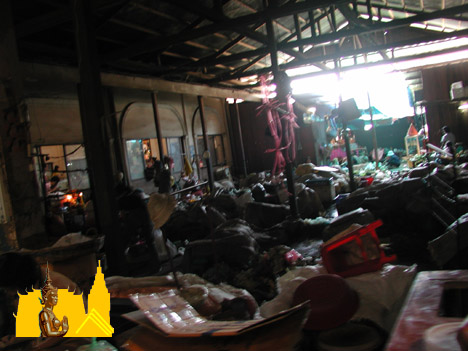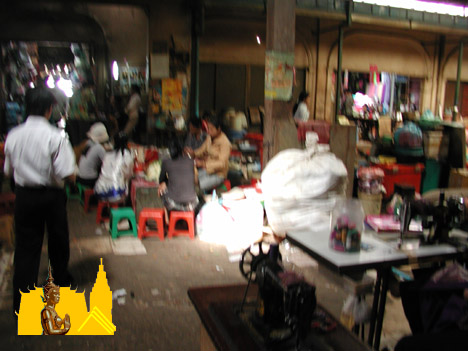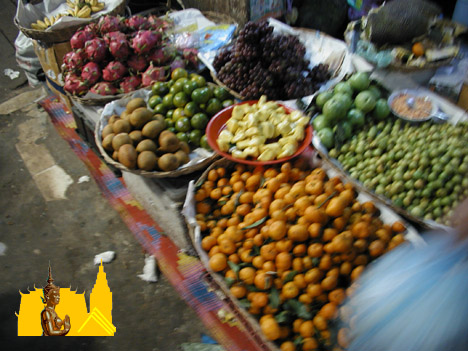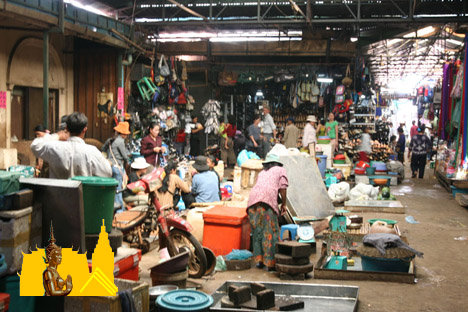 Photo courtesy of Reeb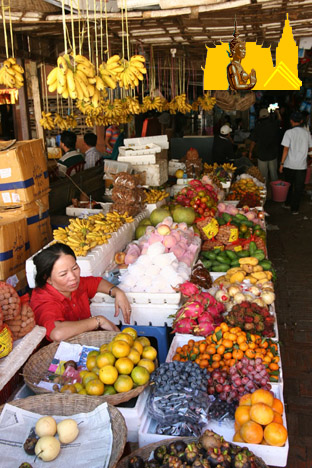 Photo courtesy of Reeb
While we were enjoying the time sipping our cool drinks and waiting for our food, a beggar woman set up shop about 2 meters in front of our table. I've got mixed emotions about that; on one hand the beggars setting up shop in the middle of town are prolly doing a brisk business and prolly shouldn't be encouraged, but on the other hand a lot of these people really are dirt poor. What capped it for me was when the woman reached into her basket and pulled out a baby that couldn't have been more than a month old and an empty baby-bottle.
I called the waiter over and asked him to fill the empty baby-bottle with milk. It took a little while for the idea to sink in to the waiter's head, but when he understood he handled it like a champ.
KoolKarl picked up the tab, which was a nice gesture on his part. He was traveling on a pretty tight budget and I'm sure that lunch put a hefty dent in it, but he wanted to pay back the guys for taking care of him the last few days.
After lunch, it was just MikeM, Reeb, and I to Rolos Group. KoolKarl wanted to spend more time with Soph. KoolKarl could be an Antman in the making!!
The Rolos Group is another collection of temples far outside the main Angkor Wat temple complex. It's in a different direction than Bantay Srei, so we were treated to much different views on the way over. The temples are interesting, but just riding around in the air-conditioned bus was a marvelous time.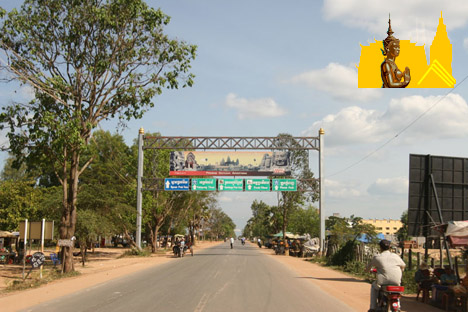 Photo courtesy of Reeb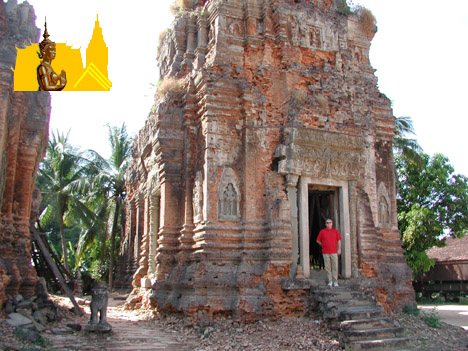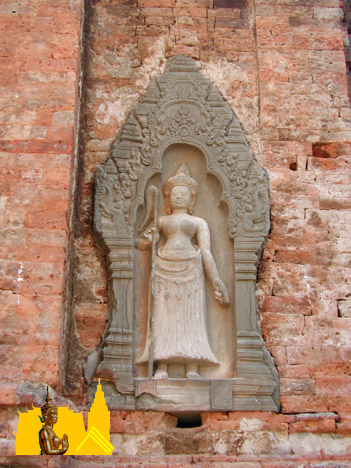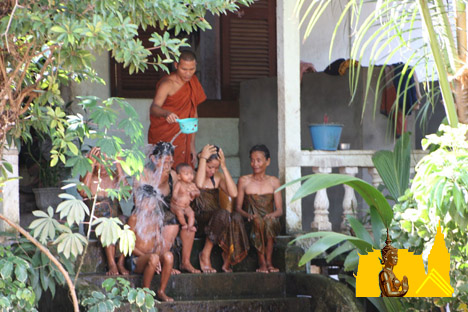 Photo courtesy of Reeb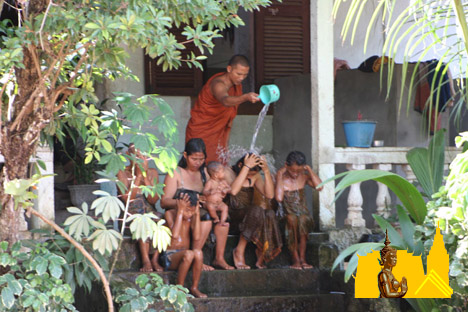 Photo courtesy of Reeb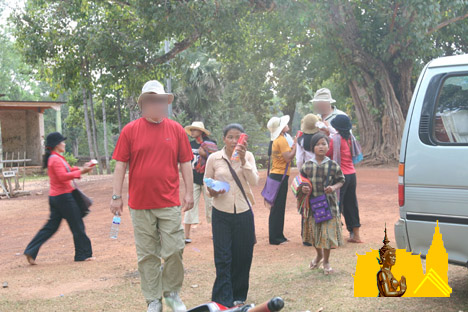 Photo courtesy of Reeb
At the last temple of the group, a small group of girls ran out to meet our bus when we pulled up. One girl took a ring she had made of reeds and slipped in on my finger. I guess we're married now… It turns out she was deaf, and that was her way to get my attention. At just about any temple, one could buy anything. But this was the temple of silk scarves. They sold one thing; scarves. Just scarves… Scarves in every color and pattern imaginable, but just scarves. They wanted $1 a piece for each scarf. Frankly, it was something I could pass up. But when they lowered the price to two for a $1, I started to think that these people were pretty poor, they prolly didn't get many customers way out here, and I could prolly give the scarves away as presents when I got home.
I lined up all the girls (including my new wife) and began to select two scarves from each girl's giant stack of scarves. Then I would send the girl and her stack over to stand by a tree where I would pass out the dollar bills. About halfway through I noticed that a bunch more girls with giant stacks of scarves were turning up. It turns out the old women of the village were wise to my plan, and took the stacks from girls that had already made a sale and handed the stacks to new girls. Very clever… Very clever indeed...
Screw it… They need the dollars more than I do… I stayed there until every girl made a sale. And I also gave the old ladies a dollar for their ingenuity.
After it was all done, my wife for the stop came over and walked me back to the bus. On our way we stopped, and I got us some cold water.
These were some beautiful people, but it looked like they had a rough life.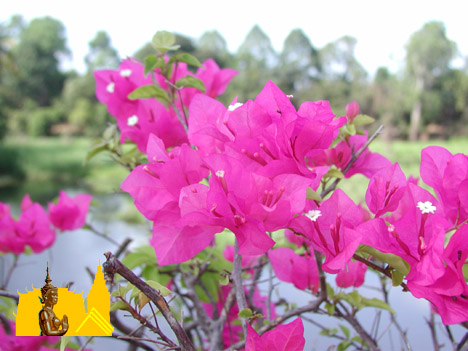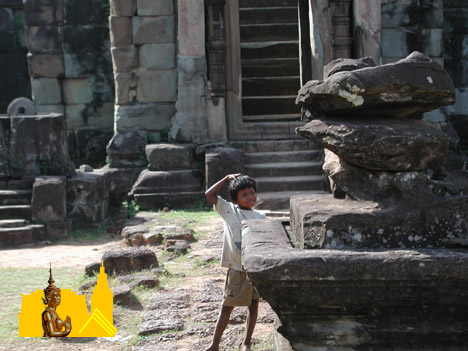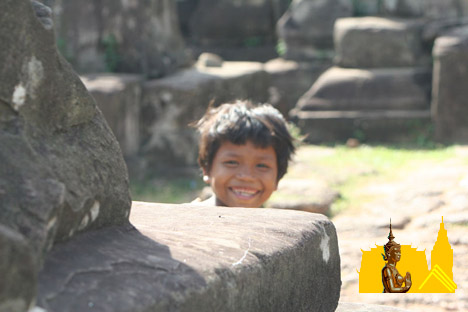 Photo courtesy of Reeb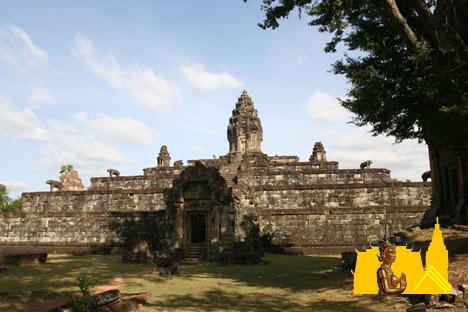 Photo courtesy of Reeb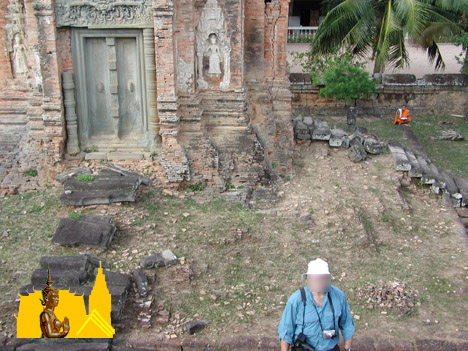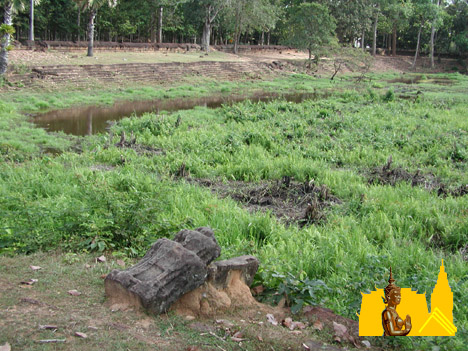 As we were being driven around, we noticed a lot of trucks filled with dirt and they seemed to be going in all directions. It was like there were crews of guys all over Cambodia digging holes, and then sending the dirt off to some freshly dug hole to fill it up. Cambodians like to solve road problems with piles of dirt, so that could have been it too. Too bad they don't pack it down before they pave it; roads might last longer that way.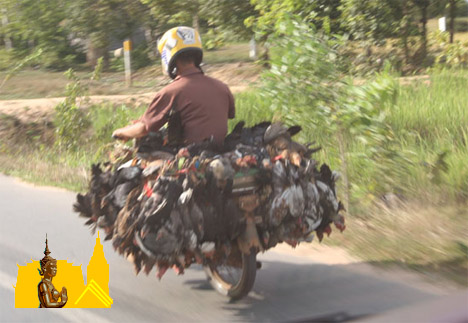 Photo courtesy of Reeb
Winning quote by MikeM
"I'll bet it took that guy all day to choke those chickens."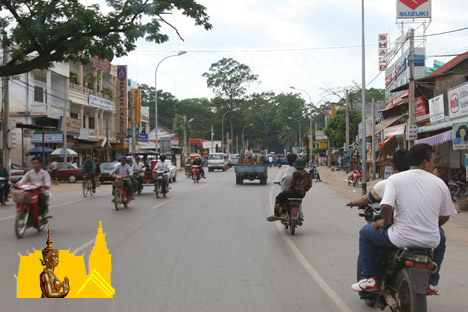 Photo courtesy of Reeb
It's hard to get away without buying at least a few souvenirs so when we got back to the hotel, Reeb and I went out looking for a new suitcase. The idea was that I could put my carry-on inside, and all the stuff that Reeb and I bought along the way.
As I expected, the suitcase prices were very expensive and no one would haggle. I finally bit the bullet and got one I thought would work.
Reeb and I dropped it off at the hotel and continued our shopping. We made it back to my favorite shop, and I tried to get my price one last time on that cracked Buddha head. When I told her this was my last day in town and I wouldn't be back, she agreed to my price.
The prices around here are crazy. Okay, the face was beautiful; that's why I wanted it. But the head was cracked. I don't know what happened in the last year to make the prices go nutz, but something must have happened. And it must have happened in a big way for it to affect the entire town and temple complex.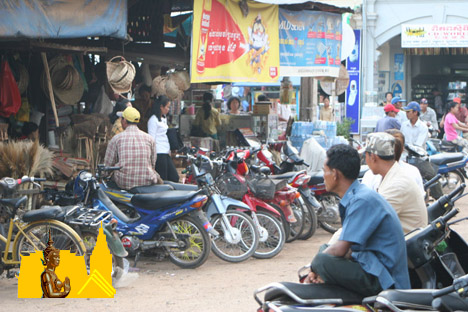 Photo courtesy of Reeb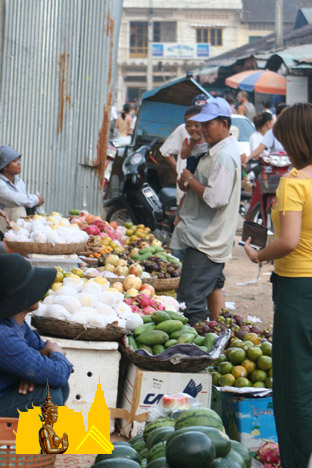 Photo courtesy of Reeb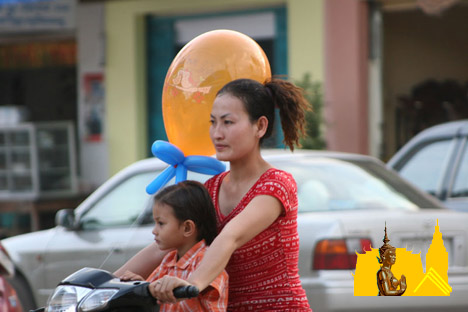 Photo courtesy of Reeb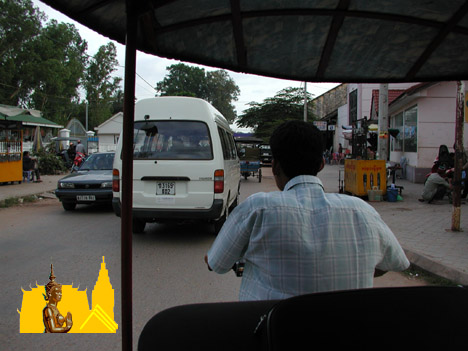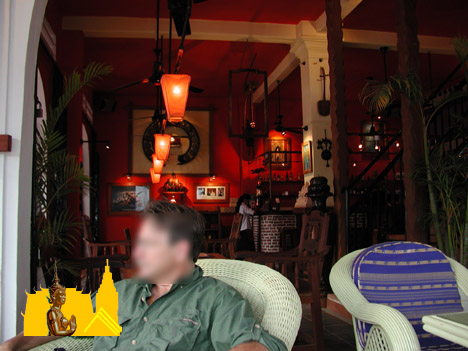 Finished with our shopping, Reeb and I hit Red Piano for a couple cool drinks. As we sat and nursed our drinks, I noticed there was a lot more traffic in town. Last year where there were only one or two motorcies waiting for customers at the taxi stand, there were now 10 or 15. And it was like that all over the city. It hadn't occurred to me before, but there were also a lot more beggars than I'd seen before. It seems Siem Reap had quite a little population explosion in the last year.
We all met in the Ta Prohm lobby at the appointed time for dinner, but Reeb talked us into going out for drinks first. I think he was getting a little tired of all the pumpkin soup.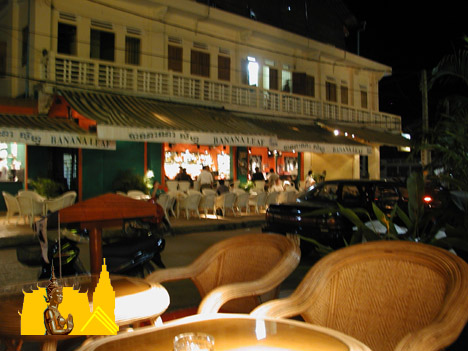 We went to Tess' bar.
Tess was happy to see us, but a little upset we didn't take her to the temples today. As always, it would have been nice to have her company but I was a little concerned that she was staying up all night at work and all day with us. I know she must be interested in the money so if she takes care of us while we're at her bar, we'll take care of her.
As we were having fun at the bar, I noticed Tess had shoes that covered her toes. That was a big deal for her last trip. Tess said having shoes that covered her toes would be a dream come true. It was nice to see that she was making enough money to buy things like that.
Reeb pointed out a parade wheelchairs going down the street. I can't recall ever seeing so many wheelchairs in one place before. Reeb wondered why there were so many wheelchairs in Cambodia, yet we rarely (if ever) saw a local in Thailand with one. Reeb recalled the guys that would pull themselves along the ground on Sukhumvit all day… Considering the uneven pavement on Sukhumvit, I wonder if wheelchairs would be any easier for them.
I explained about the problems with landmines in Cambodia, and suggested the wheelchairs could be a result of all the donations to the cause… Still, considering how things in Siem Reap have changed over the last year, I wouldn't be surprised if wheelchair beggars were coming from all over Cambodia to try their luck there.
After a few drinks, we were too lazy to go looking for a restaurant (even if they did have pumpkin soup) so we ordered off the menu in the bar. The food was served quickly, and was pretty good. But I think if I had it to do over again, I would have sent one of the girls to the Khmer Kitchen to bring back some soup for me. After all, it was my last night in town.
The evening was starting to wind down for us; Reeb wanted to hit the sack, MikeM was thinking about trying a full-service massage parlor, and I was thinking about a traditional massage at a place I saw earlier in the day.
After we checked-bin MikeM disappeared into the street looking for a motorcy to take him to paradise, and Reeb and I started on the long-way back to the hotel.
The massage place I was interested in had a special that day; a 1-hour 4-hand massage for $10. That's not such a bad deal, is it? I tried to get Reeb to join me, but all he wanted to do was saw a few logs. We promised to meet for breakfast, and said our goodbyes before I headed into the shop.
I entered the shop, and a girl showed me to a seat in the lobby. A few moments later she came back with a cup of green tea and a plastic basin. After she served the tea, she knelt at my feet and removed my shoes and socks. Once the little piggies were free, she washed my feet in the scented water and wrapped each foot in a towel.
As I was sipping my tea, the papasan came down with a menu of the different massages on offer. Right off the bat one could see that the prices on the menu were more expensive than what was being quoted on the street, and the 4-hander wasn't even on the menu. I tried to explain what I wanted and for how much, but the papasan was playing dumb. Then I remembered that I had one of the flyers that the girls in the street were handing out; that jogged his memory, and he was all smiles as he led me up the stairs to the massage floor.
The stairs were very steep and I was concerned about climbing them in my towel wrapped feet, but I was able to make it up without slipping. At the top of the stairs I was introduced to two girls that would take it from there. They each grabbed my hands and led me into the massage room. The room was one of the big communal style rooms, but there weren't any curtains between the mats.
One of the girls handed me a pair of short silk pants to put on that looked only a little less grim than the pair they tried to get me to wear last year. I was able to convince them to find me a towel instead, and they led be behind a screen to disrobe. Even though they saw me before I went behind the screen, they acted surprised when I came out. The girls ran over and began to feel my muscles. The girls would pantomime making a muscle, and I would flex my bicep for them. Immediately they would try to squeeze my arm, and then hit themselves on their heads like they were knocking on wood. I'm not sure what they were trying to say, but it sure was funny to watch.
While I was flexing my bicep, one girl jumped up and grabbed my arm thinking she could pull it down.
She couldn't… She just stayed there hanging…
I tried to get the other girl to jump onto the other arm to see if I could hold them both up at the same time, but just couldn't get my point across. No problem… It's time for the massage, anyway.
The 4-hander was fun for all; I enjoyed the massage, and the girls had fun playing with all the muscles and body hair. There was a lot of good-natured groping going on all around but that's as far as it went.
10-minutes before the 4-hander finished, a couple Japanese guys entered the room for massages and the fun pretty much stopped cold.
After the massage, I got dressed behind the screen and the girls led me back downstairs to my chair. One ran off to fix me another cup of tea, while the other found my shoes and socks and placed them on my feet. When they had finished their duties, the girls sat on the arms of the chair and kept feeling my arms and shoulders.
The papasan came to collect his $10, and I gave some tips to the girls. One of the girls ran over and brought back a registry where previous customers had made glowing comments about the shop. When the handed me a pen, I too immortalized myself in the book.
I don't think my feet touched the ground all the way back to the hotel; it was like walking on air. Although I did notice quite a few nasty looking locals walking around, and the streets were a little too dark for my liking.
As I reached the front door of the Ta Prohm, a motorcy screeched to a stop behind me and MikeM hopped out. The big smile on his face was proof that he had a pleasant evening as well.
We stopped in the hotel bar for a beer or two, and some salty peanuts. From the bar on the second floor, we could see the motorcys racing down the streets below.
Not a bad ending to a pretty nice day.
---------------------------------------------------
Ommmmmm

Jai Guru