They Started As Strangers
-- Part 17

They Started As Strangers -- Part 17
After less than 90 minutes sleep last night, I was moving slow this morning. The truth is I don't know how we do it; we get very little sleep for the weeks were in Thailand, but somehow we're able to keep at it. I could understand it if I were 20, but I'm not.
An early breakfast was planned today, because we had early morning reservations for the Segway Back-roads Tour of Bangkok. http://www.thailandsegwaytours.com
When I dropped my room key at the Front Desk, I was given a phone message that said Kui would be at the hotel around noon. Hmmm… I wonder how that's going to work. I hadn't planned on seeing Kui today, and had already promised to see Bud and Cookie.
Shotover decided to join us, so we walked from the Nana Hotel to the Woraburi Hotel together. Unfortunately, two more guys had signed up for the tour and one of the Segways was out of order, so Shotover sat out the tour. But I think he did participate in the training class.
The Segway experience works out like this; first there is an orientation class that lasts around 10 or so minutes in the Thailand Segway Tours office. That's where we learned how to turn the Segway on and off, monitor the battery life, the basics of getting on and off, starting and stopping, moving forward and backward, and turning.
When it was my turn to try it out, I felt like it would be impossible to learn. I would try to stand in a comfortable position and balance holding the handlebars the correct way, but when the Segway would try to balance things out the Segway and I would get in a strange oscillation race of it trying to balance and then me and then it and then me and so on. It wasn't as bad as riding a bull, but it was pretty obvious what was going on.
And then something just clicked in my head. Maybe I gave up and let the machine have its way. But from then on I was not riding a Segway; the Segway had become an extension of me. It was as if the Segway could read my mind and act accordingly.
After 10 or so minutes of miraculously not knocking any of the furniture over in his office, we were taken out to the sub-soi for some speed runs and speed-bump climbing. By that time it all had become remarkably second nature to us, and we were ready to hit the road.
Without regard to the photos on the Website, the Back-roads Tour is mainly of the Tobacco Monopoly ground. One doesn't really see much of Bangkok, but it seems like a very safe place to glide around on a Segway as there isn't any traffic. We didn't mind because we weren't that interested in a tour anyway, we really wanted to clock some time on a Segway. As long as you're okay with that, you should have a blast.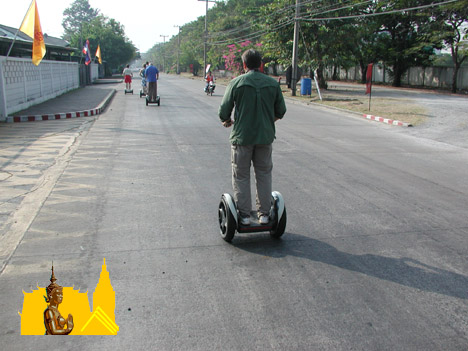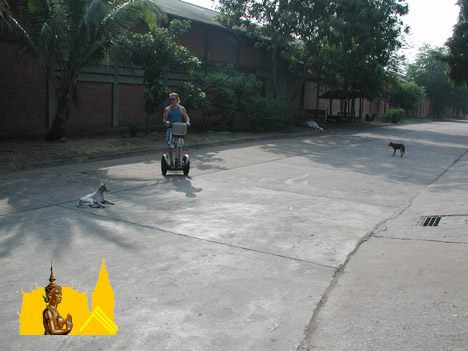 We were more than a little concerned about the soi dogs,
but they left us alone.
We did pop out of the south end of the Tobacco Monopoly for a little while, and it was interesting to see some of the local Thai-life up close and personal. We also went for a block or two on Rama IV / Thang Rotfai Kao Roads, which was a little hairy, but we didn't lose anyone.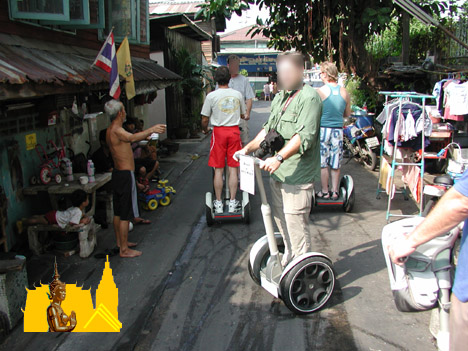 The tour stopped in front of a store where a couple old men were drinking whisky, and they quickly found some glasses and started passing out shotz. But when I heard it tasted like snake's blood, I gave it a pass.
We also stopped for a few minutes at a temple where a group of women met a few times a week to do some praying and what looked like sewing.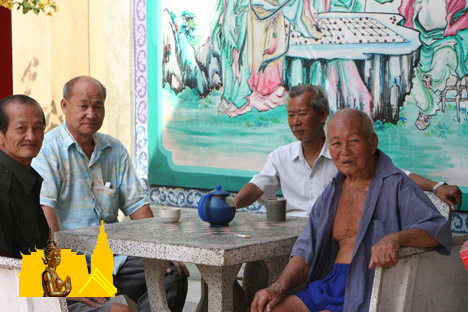 Photo courtesy of Reeb
Throughout the tour if the tour leader came across some teenaged locals that looked like they were interested, he would stop and let them have a try.
As I mentioned above; if you're interested in a tour of Bangkok, then this isn't for you. But if you're curious to clock some time on a Segway, I think you'll have a pretty good time in a relatively safe environment.
When the tour ended, we were pretty jazzed. I wouldn't mind taking some of the other tours just to clock some more time.
We had some time to kill before I had to be at the Nana to meet Kui, so we had a round at GBB and then hit August for a touch up.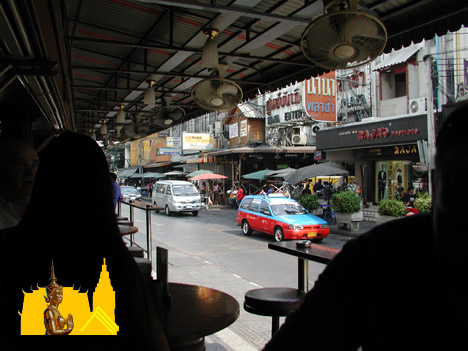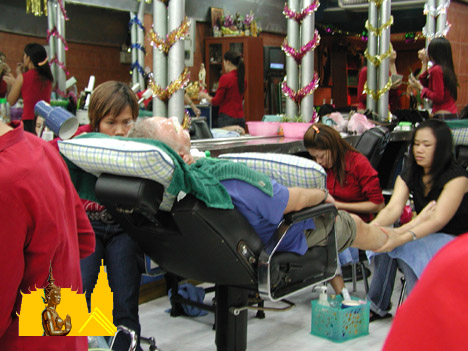 A few minutes before noon, I left the guys to go to the Nana lobby and meet Kui. She wanted to know what I did this morning, so I showed her the pictures of the Segway tour and everyone getting worked on at August. She wanted to see my fingernails and showed me her's. It looked like she could use a manicure too so I took her to August to meet up with everyone. What the heck… There are worse ways to spend the day…
All shined up, we hit Gulliver's for lunch. When the food was delivered to our table, Kui chased the waitresses away from my plate, and put on a show of selecting food for me.
I enjoyed the short time I spent with Kui, and I hope we can keep in touch. But girls disappear all the time in the Big Mango.
After lunch, I had to say goodbye to Kui. The guys were headed to the hotel for a nap or whatever before dinner, so I walked Kui down to the Nana Skytrain station. When we got to the steps, I gave Kui my extra Skytrain multi-pass card, and slipped her some baht. She seemed a little antsy upon receiving the baht, but I changed the subject by telling her to go back to her job at Chanel, and that working in the bars was no good for her.
Kui reached into her purse, pulled out her address book, and tore out a page with her name and address already written on it. I borrowed a pen from her, and wrote my name and email address in her address book.
We hugged goodbye, and I turned around to leave as Kui made her way up the stairs.
I don't know what the future will bring, but I have a soft spot in my heart for Kui. That's for sure.
When I walked through the doors at the Nana Hotel, Cookie was already waiting in the lobby. That was a big surprise. Since I wasn't buying her out of the MP, I thought she would come over after work. Shit, now what am I going to do with Bud.
We said hello and went over to get my room key. Along with the key, the guy manning the Front Desk pulled out a half-dozen messages from Kui and Bud and proceeded to read each one aloud. I guess being jai dee doesn't get one much around here… The truth is that there is one guy that works the Front Desk that is pretty nice, but the rest of the guys are not too helpful. Usually I try to go to one of the girls at the Front Desk when I need something.
And if reading my messages aloud wasn't bad enough, Kui had somehow managed to slip a few messages under the door. So much for security... It seems like now that everyone knows me at the Nana, they're letting everyone up to my room without asking me first!
It was time to answer a few questions and take a nap. Cookie did have a few questions about Kui (and Cambodian girls again), but she accepted that I knew Kui longer than her. Or at least it seemed that way to me…
We were supposed to meet for dinner at 5:30, but I set my alarm earlier because I had a few things to do. When my alarm went off I sent Cookie to the showers, wrote a thank you note to Jaruwan, and grabbed the note and a few baht and put them both into an envelope.
It was about 5:00 when we got to the lobby, so I might just be able to pull everything off without having the guys wait too long. I gave the envelope with Jaruwan's name on it to my favorite girl behind the Front Desk, along with a little something for her trouble. And then I walked Cookie over to the seats by the window. I told her that MikeM and Reeb were coming down, that she should wait for them, and that I had some business to do and I would be back in 10 minutes. I knew it would take me longer than 10 minutes to do what I wanted to do, but felt promising anything longer might be pushing things with Cookie.
My plan was to rush over to Soi 33 and say goodbye to Bud.
If she had been just any girl, I prolly wouldn't have given saying good-bye a second thought but Bud is a nice girl, and I did promise that I would see her once more before I left. It prolly won't be me, but I'm sure Bud will make some man a good wife. I just hope she finds a good man.
I rushed down to the Nana Skytrain and jogged up the stairs. There was a train waiting for me at the station, and a quick two-stops later I was there. It was early, but I hoped Bud would be there.
She was.
There were only a handful of girls working in the bar at that time, so I bought everyone a drink. Hopefully that smoothed over my monopolizing Bud's time, instead of Bud setting up the bar like she was supposed to do when she got to work.
I had to tell Bud that I wasn't going to BF her tonight because it was my last night in town, but I wanted to stay in contact with her. We exchanged email addresses, hugged our goodbyes, and for the second time that day, started back to the Nana with a freshly broken heart.
When I got back to the Nana, everyone was waiting for me in the lobby; MikeM and Reeb with raised eyebrows…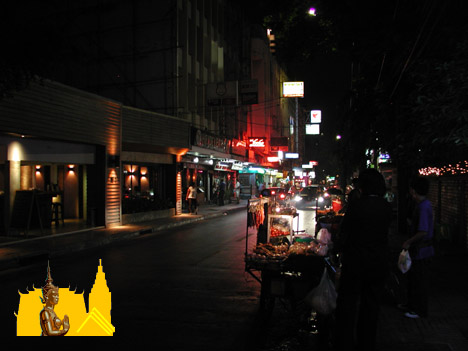 Sukhumvit, Soi Sii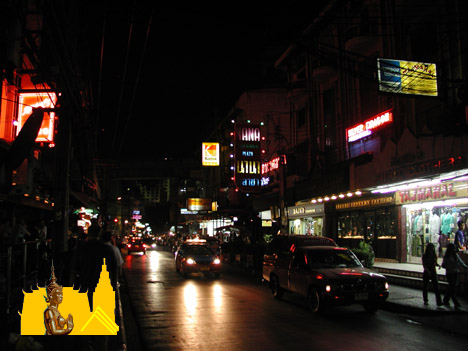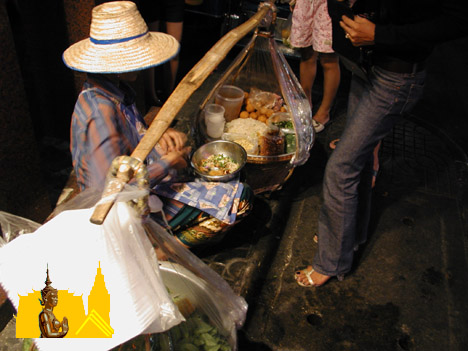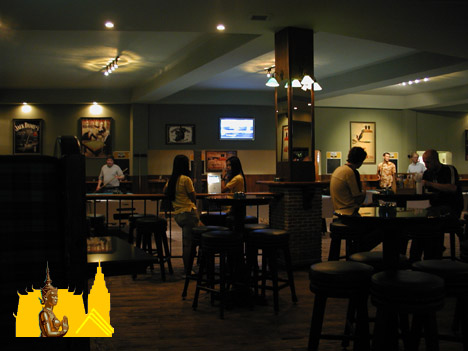 Bully's Pub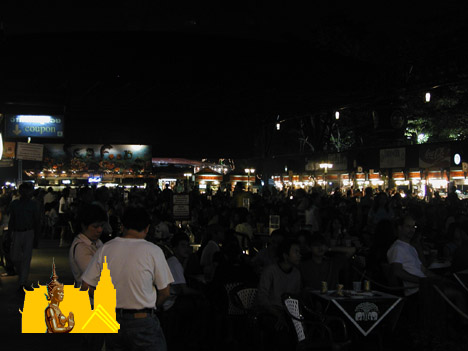 Lumpini Night Bazaar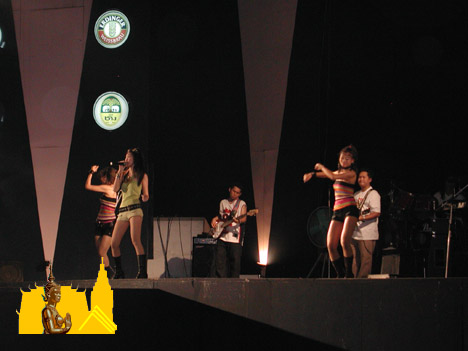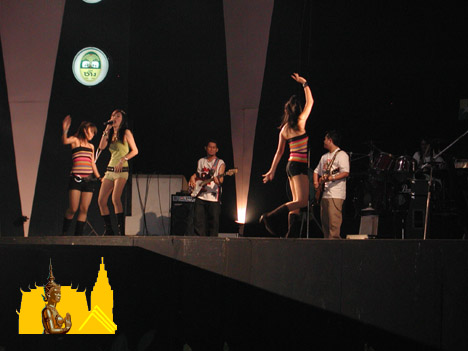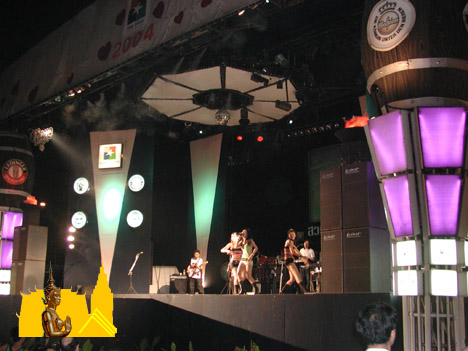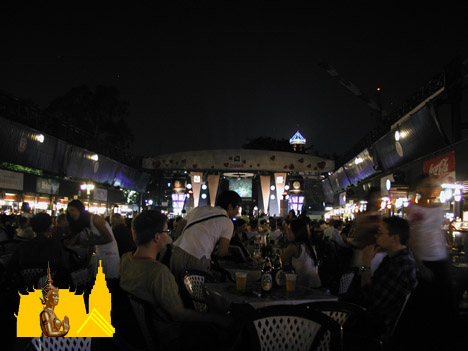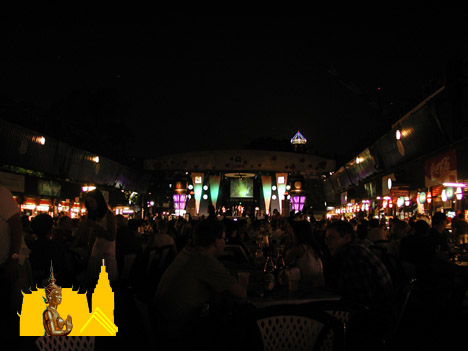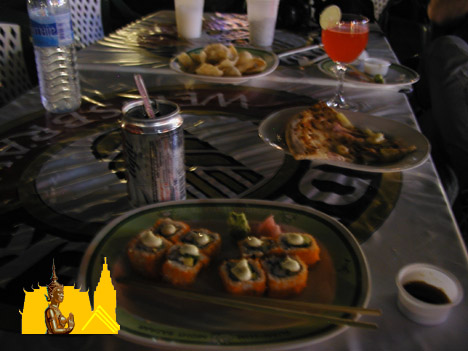 A little snack is always appreciated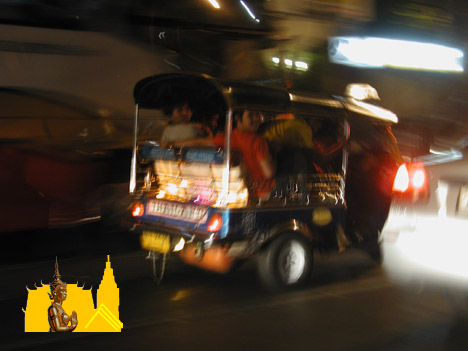 One full tuk-tuk
We had dinner at Cabbages & Condoms (with mango and sticky rice for dessert), met the guys at Bully's Pub around 8, joined Shotover for another evening at the Lumpini Night Bazaar, and caught the end of the show (and the Isaan dancers) at AngleWitch. It was a pretty good night.
But they kicked us out around 1:30, and I knew I only had a couple hours with Cookie before it was time to go to the airport.
We weaved our way across Soi Sii and the Nana Hotel parking lot, got the key, and headed up to the room.
Three broken hearts in less than 24-hours. I think that's a new record for me.
The Next Morning
When my alarm clock went off around 4AM, I took a shower, threw the rest of the stuff in my bag, called Antman, and Reeb to make sure they were up, shoved some more baht in Cookie's purse, and Cookie and I made our way to the lobby to check out.
As the cashier pulled my paperwork together, I scanned the Nana lobby one last time. There always seems to be girls in the lobby at that hour, but tonight SchoolGirl was sitting on one of the couches and holding the hand of some old geezer. I gave her a wave, but she could only wave back with her fingertips so as not to break her customer's illusion.
GoodGirl was having a late-night dinner in the Nana coffee shop with a table of her Thai friends. I thought to go over and say goodbye to her but I didn't have anything new to say since the last time I saw her, and since she had her back to me I figured there was a good chance of getting out of the lobby without her spotting me. Of course, I hadn't counted on one of her friends spotting me.
We hung around in the lobby longer than we said we would, called Antman's room one last time (with no answer), and waited just a bit longer for him to come down. Antman never showed.
Cookie gave Reeb and I a ride to the airport, but I stopped her from coming in. I'm not one for long goodbyes and didn't want to spend my last hour in Thailand in the Departure Lobby.
Reeb and I checked-in, paid our Exit Tax, made our way through Passport Control, and caught our breath at KFC. I was hoping to introduce Reeb to taro pie, but we never did find it this trip. There's always next trip…
While Reeb and I were congratulating ourselves at KFC for a trip well done, Antman showed up. He seemed a little frosted that we left without him, but he really couldn't argue because there was no answer at his room and he hadn't shown up in the lobby anywhere near the appointed time. All total, we waited hours for him just this trip alone. I wasn't about to risk my flight home on his lack of timing.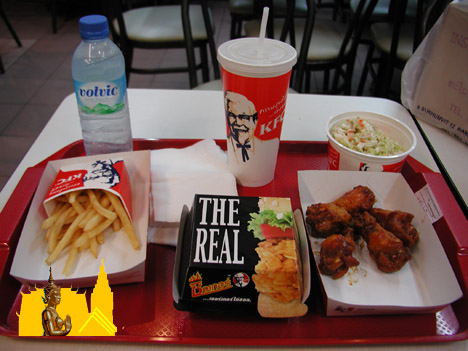 The last meal
I like to keep a few thousand baht for the next trip but Reeb decided to do a little shopping to get rid of his and, bought some dried durian to give to friends back home.
That should be a treat…
---------------------------------------------------
Ommmmmm

Jai Guru