They Started As Strangers
-- Part 14

They Started As Strangers -- Part 14
Sunrise at Angkor Wat was fantastic as usual. But it surprises me the number of people that will get up to see the sun rise over Angkor Wat, and not actually visit inside the temple. They don't know what they're missing.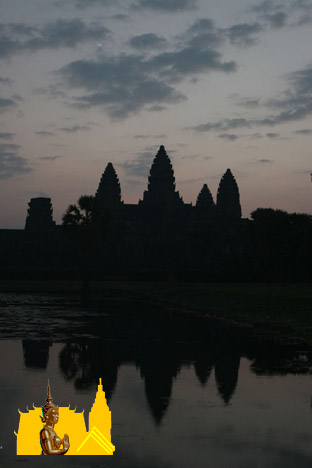 Photo courtesy of Reeb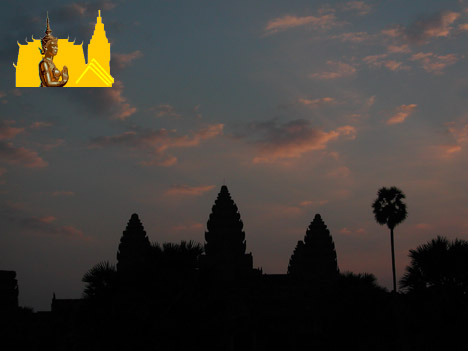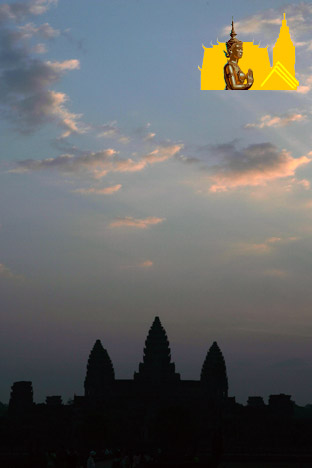 Photo courtesy of Antman
There is a moat around the outside of the temple, but there are also a couple of reflecting pools further inside Angkor Wat's temple grounds. Reeb and I spent some time trying to get some shots of the temple and the sunrise reflecting off the ponds, but it was tough to concentrate on setting up shots with all the touts around.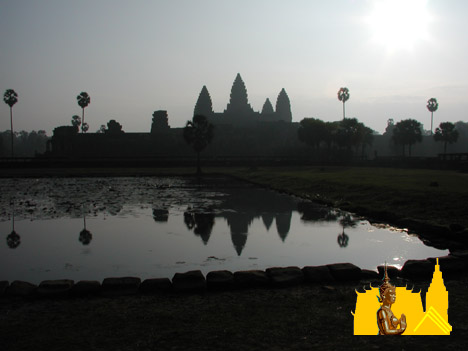 When the sun finally got up, we all went deeper into the temple complex and started exploring. Reeb was more than a little concerned about climbing into the temple but when he saw MikeM and I scamper up the steep steps, he quickly joined us.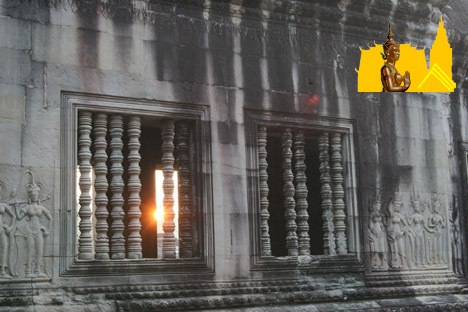 Photo courtesy of Reeb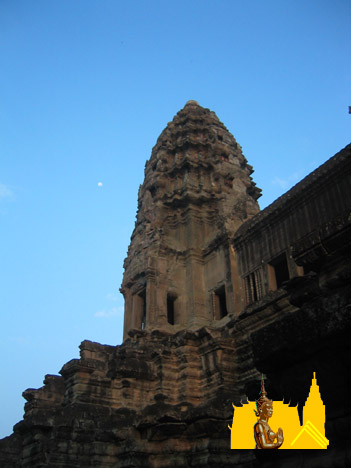 Photo courtesy of MikeM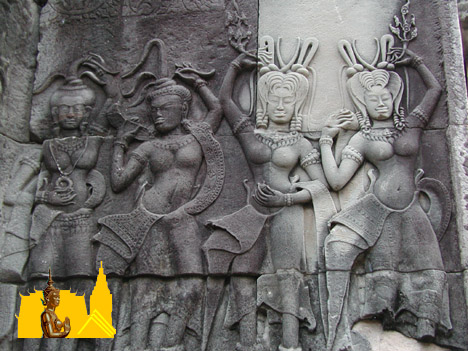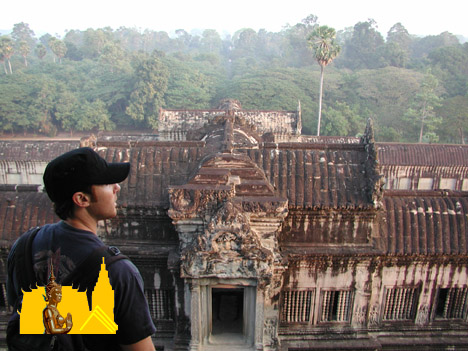 KoolKarl at Angkor Wat
It's good to be a young man and live the live you please,
For a young man is the king of every kingdom that he sees.
KoolKarl was having a blast exploring the temple. Every time he saw us, he thanked us for letting him join the group because he was sure he'd never have found out about the sunrise over Angkor Wat on his own. KoolKarl might have been young and a little naive, but it was good to have a guy with his energy in the group.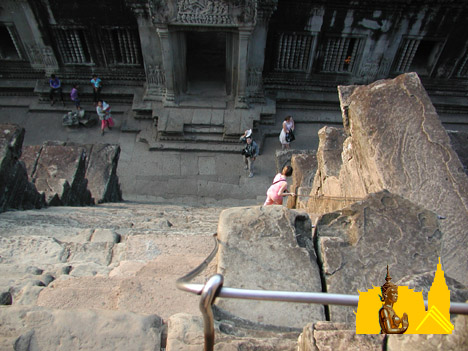 The way down...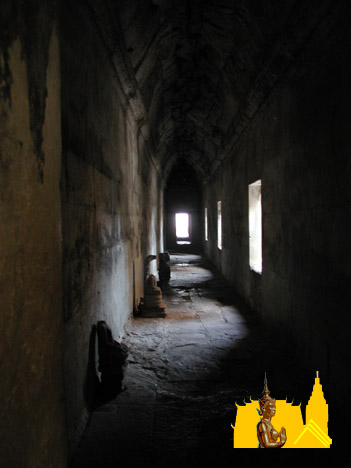 On the way out of Angkor Wat, Reeb and I started feeling a little thirsty so we approached the touts to buy some water. Some of the touts started to complain that we were buying too much from one stall, and we should spread the wealth a little. On one hand, the touts are a bother. But on the other hand, even the more successful stallkeepers are pretty poor. At least that's how they looked to me…
Just for snicks we did a little shopping at other stalls but they all had pretty much the same stuff, and it was all stuff we really weren't interested in buying. On last year's trip I felt sorry for a lot of the poor shopkeepers and ended up buying a bunch of crap I didn't want. I promised myself that I wouldn't do the same thing again this year, but it was difficult.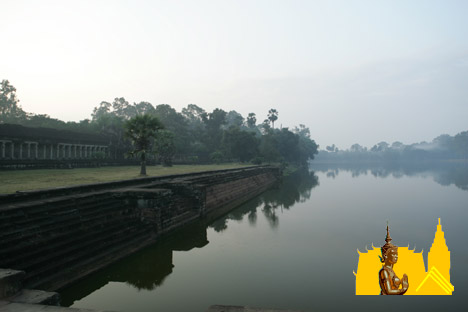 Photo courtesy of Antman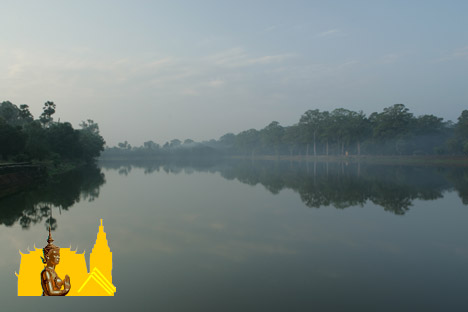 Photo courtesy of Antman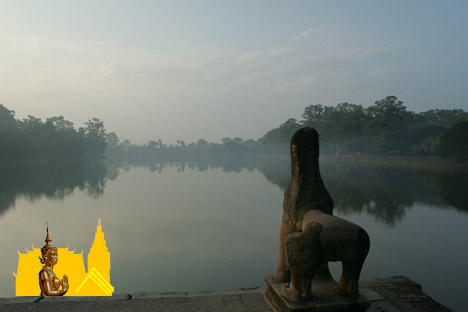 Photo courtesy of Antman
We made our way back to the bus and were surrounded by touts again. This time they were all children selling books and film. I felt sorry for the touts selling film, because I didn't see many film cameras around; I don't think anyone in *our* group had one. Everyone seems to be going digital these days.
We noticed there was a steel cable lying on the ground. One of the children stepped on the cable, and a policeman quickly ran over and started yelling at the child. Other children said that because that one kid stepped on the cable, he had to pay a fine of $1 USD to the cop.
I gotta admit it was nice to have a 'no touts land' even if the police had to enforce it with an iron fist.
I also noticed that all the vehicles would park half-in and half-out of the tout-free zone. I guess the drivers were doing their part to give the touts access to customers while giving the visitors a chance to escape.
It's only a 5 or 10-minute drive to the Ta Prohm for breakfast, so it really isn't much of a hardship to take a little break and go back.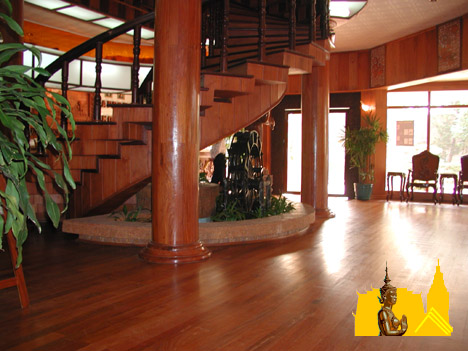 The Ta Prohm lobby
Breakfast at the Ta Prohm is a glass of orange drink, some pretty good coffee, an egg cooked any way you want it, two half-pieces of dried out bacon or two dried out cocktail sausages, a piece of toast, and a croissant. Not exactly the breakfast of champions.
As we were finishing up our small breakfast, the girl from the front desk said we had a visitor - that must be Tess, our Cambodian girl friend. I told the girl it was okay to send her back, and then thought to run after her to escort Tess to our table.
It was good to see Tess again, but her choice of clothes was a little shocking; she was wearing deep black pants, a bright red top with a large white "Hello Kitty" on the front, and some kind of strange red kamikaze headband. It was easy to see that Tess was no longer the simple Cambodian girl we left behind last year.
Tess was a little hungry, so we had a little fun getting to know each other again while she ate. When she was finished, we all gathered our things and made our way to the minivan.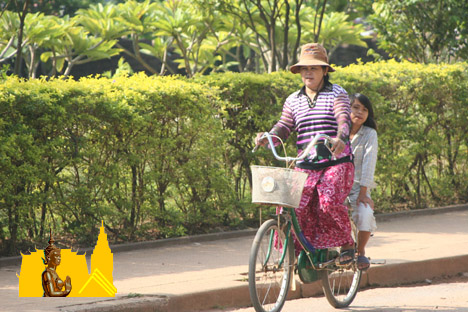 Photo courtesy of Reeb

Photo courtesy of Reeb
As we were driving away, Tess asked if we could pick up her friend.
"What friend?"
"Bery good friend!"
Okay… I don't know what would be worse, a backpacker or a Cambodian boyfriend, but we threw caution to the wind and agreed to stop. Living well paid off; Tess' friend Soph is a beautiful girl. Tess and Soph grew up together in Siem Reap and have remained friends. Soph currently lives in Phnom Penh, and is in Siem Reap visiting Tess.
Soph was a little shy, so we asked her a bunch of questions to break the ice. We learned that Soph was 27 years old and even though she grew up in Siem Reap, this was her visit to Angkor Wat. That's hard to believe, but that was her story and she was sticking to it.
Our plan for the morning was to have the driver drop us off at Leper King, and we would walk through that, the Elephant Terrace, Temple of the 12 Women, and Bayon. The driver didn't speak a lot of English, but we said goodbye to him relatively confident that he had a clue what we wanted. I guess we'll find out in a couple hours.
Luckily, we were dropped off just as a large Japanese tour bus was leaving. We walked around a little while looking at the stone carvings before going up top to see the statues. I thought they were statues of the Leper King, but the girls call him Buddha.
There were a few musicians here or there playing a recorder, type of flute, and a kind of violin. It was nice to hear the music fading in and out as it was being carried on the wind. There were also a few children running around and mugging for peoples' cameras.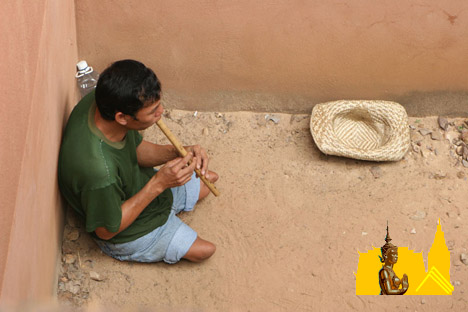 Photo courtesy of Reeb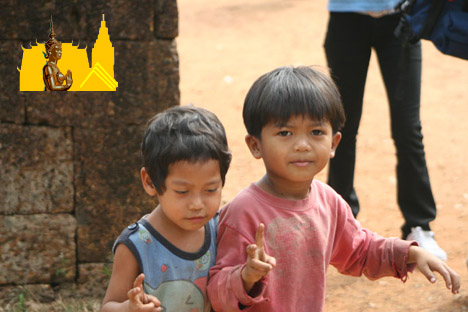 Photo courtesy of Reeb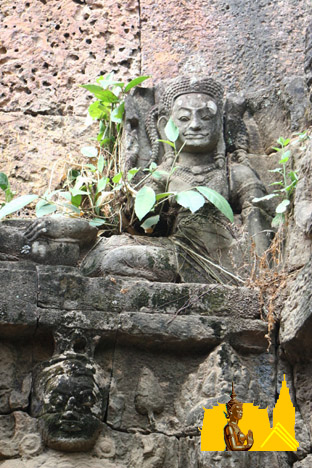 Photo courtesy of Reeb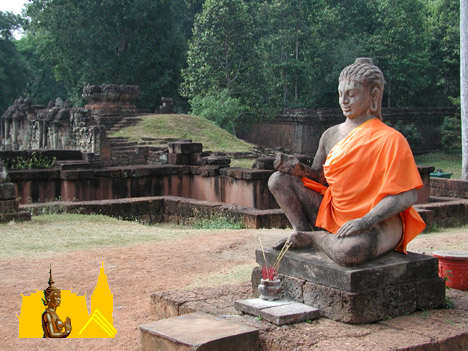 The girls began to get quite agitated, and Tess started pulling on my shirtsleeve and pointing at the statues.
There, dressed in his finest short pants, black socks, and sandals, was a German guy trying to balance his camera and mini-tripod on top of Buddha's head so he could take a picture of himself at the temple. Sheesh…
Saying it as politely as I could, I asked, "Just what the fuck do you think you're doing?" Taking the camera off of Buddha's head and handing it back to him I added, "You don't put your camera on top of statues around here. If you want someone to take your picture, just ask."
He handed the camera back to me and asked, "Will you take my picture, please."
"Of course I will... All you had to do was ask."
I tried to compose the best picture I could, hoping that he would be encouraged to ask someone to take his picture again in the future instead of pulling such a stunt. But I was pretty frosted. People that do stuff like that really get my goat.

Photo courtesy of Antman
The statue used as a tripod
We spent a good amount of time at the Leper King examining the faces carved into the stone. Some of the carvings really were remarkable. I could spend all day there contemplating some of the carvings, and I hope to some day.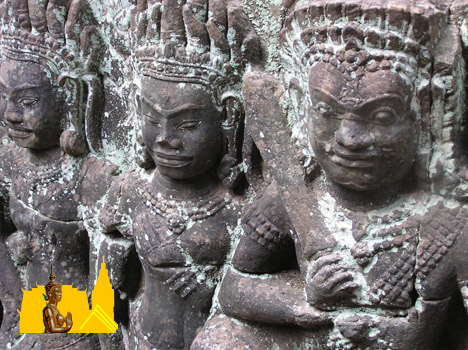 Photo courtesy of Reeb
Winding our way through the passageways, we had to step over a few strategically placed landmine victims that kept us entertained by playing what looked like a homemade flute. I hate to encourage begging, but it's hard to pass by these guys without putting something in their hat.
Tess and Soph had fun posing for pictures at the Elephant Terrace. They loved to have their pictures taken and then look at the results in the digital camera's LCD screen. KoolKarl didn't have a digital camera, but it was easy to see that he and Soph were becoming good friends.
The Temple of the 12 Women has been disassembled. According to the plaque placed in the spot where the temple used to be located - a leading French archeologist came to Cambodia and meticulously disassembled the temple, numbering and charting the location of each individual stone upon removal. It must have taken him and his crew years to do that.
When the temple was completely disassembled, he lost the paperwork.
Now all they have is acres of stones with neatly written numbers written on each and every one.
They're hoping someone will write a computer program to figure out how to put the temple back together again. Me too.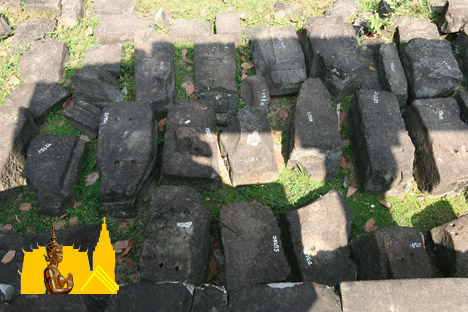 Photo courtesy of Reeb
There lies the Temple of 12 Women
We made our way back to the main road, and had a look at the souvenir stalls to see if they had anything worth buying. Reeb and I were impressed with some of the artwork we saw and since we both had new accommodations to decorate, looked for out of the ordinary paintings that would work in our homes.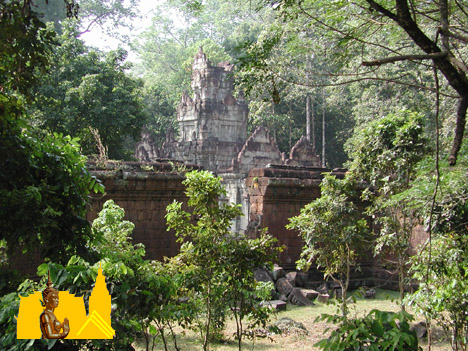 When traveling, Reeb takes particular interest when he finds handicapped people working in souvenir stalls. A local man in a wheelchair had a stall that was full of colorful paintings (mostly watercolors) of village life in Cambodia. And in each colorful painting, one of the characters was a man in a wheelchair.
"Did you paint these?"
"I paint everyting."
"What happened to your legs?"
"Land mind take my leg."
The artist wanted a pretty penny for his paintings, and Reeb didn't feel like haggling with him. So Reeb paid full price for the paintings he picked up.
The truth is that prices in all stalls seemed way out of whack this trip. Silk tablecloths that I picked up last year for a few dollars started the process at $20 this trip and the sellers didn't want to haggle at all. I needed some silk tablecloths for myself and friends, but I walked out of many stalls because the stall keepers simply would not haggle.
Finally, I found a stall where the woman would haggle with me, and I began the laborious task of trying to get the price down. As in all the other stalls, the price began at $20 USD. I asked about her family and she asked about mine, and the price was lowered to $15. She has a sister living in California, so the price was lowered to $10. As I began my last argument to lower the price to $5 (which was a couple dollars more than I paid last year), a British woman walked between us, waved a twenty-dollar bill in front of the stall keeper's face and said, "I'll pay you $20 for this, but not a penny more."
I really wanted to choke her.
The stall keeper turned to me and said, "See? Lady pay $20."
The keeper wasn't at all amused when I replied, "Maybe she's Japanese…"
As we left for Bayon, I felt lucky to get a tablecloth for $10. And I knew I wouldn't be buying as much stuff this trip as I did last trip.
As we made our way through Bayon, MikeM and I stopped to help an elderly British woman and her husband up the steep steps. It looked like she hadn't seen the sun in years, and she was sweating profusely. I don't think I've ever seen someone her age sweat so much. MikeM had an extra bottle of water so he gave it to the couple, and cautioned them to keep drinking water because dehydration can sneak up on them. They accepted the water, but I got the feeling they thought the whole thing was a joke. I wonder how the rest of their trip went.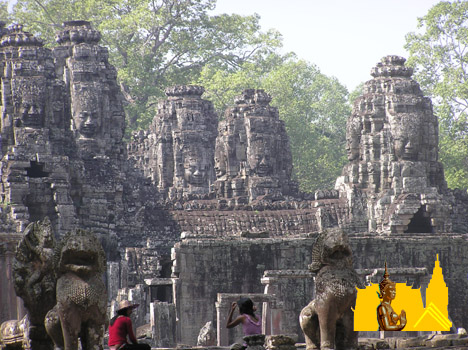 Photo courtesy of Reeb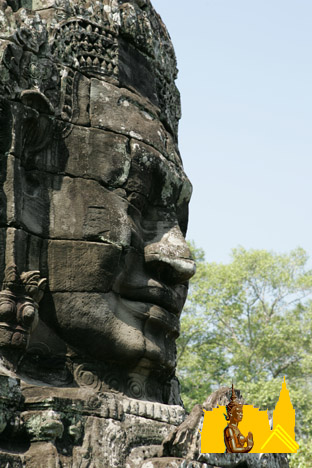 Photo courtesy of Antman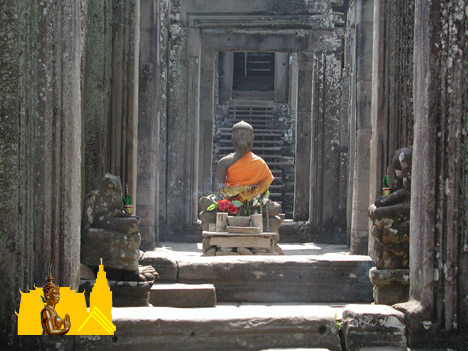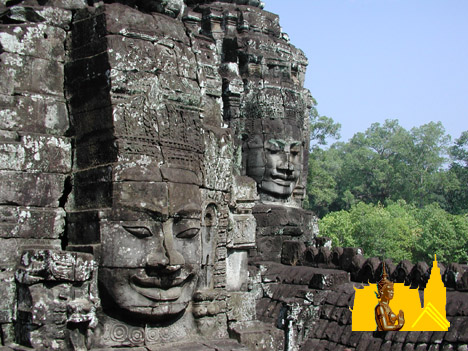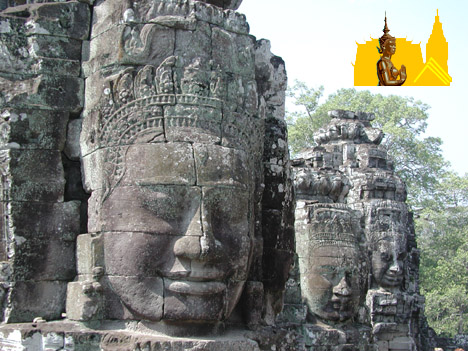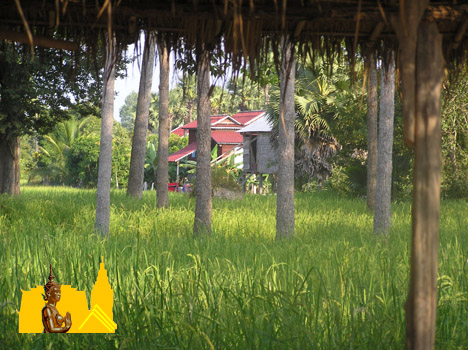 Photo courtesy of Reeb
We were all starving. It was time to take a load off our feet and enjoy our favorite food (or mine, anyway) at the Khmer Kitchen.
After the short ride back to the hotel, Tess and Soph showed us a shortcut to the restaurant. The shortcut went through a shopping area, and just before entering Tess warned us, "Move fast, and don't stop."
I was on her heels the whole way. Rushing through the shopping area it was hard to see what the problem was, other than the smell. The smell was pretty strong, but no worse than any Chinatown I've been in.
The Khmer Kitchen in Siem Reap has the best pumpkin soup I've ever tasted. We all shared other entrees too, but all I can remember is the pumpkin soup. That's not to say the other entrees were bad; in fact, they were all quite good. But the pumpkin soup is worth the trip alone.
Tess wanted to get some sleep before she had to go to work this evening, so I slipped her a few bucks before she left. Tess is quite a girl.
When we got back to the hotel, we hit our rooms for a few minutes to freshen up before heading into the jungle again.
As usual, Antman was the last one to join the waiting group in the lobby. Only this time Antman was without Wifey.
"Wifey doesn't want to go back to the temples. She says she doesn't feel well."
"So what? Grab your camera and let's go!"
"Well, if she's not feeling okay I should stay with her."
"No you shouldn't, you should go to the temples. You flew halfway around the world to see the temples. She would want you to enjoy your holiday. Sheesh…"
But there wasn't anything Antman could do, because he thinks he's in love.
No problem for us (other than the usual Antman induced delay). The rest of us jumped on the bus and were off to Ta Prohm.
Ta Prohm was pretty packed but we were able to explain to our driver that we wanted to be dropped off at the temple's exit, and that he should pick us up at the entrance. IMO, that really does make the walk through the crowded temple much more enjoyable. Instead of traveling around the grounds in a pack, we were able to swim against the current of tourists and actually find a few moments of peace and quiet here and there. If Ta Prohm is busy, starting from the exit is a pretty good tip, IMO.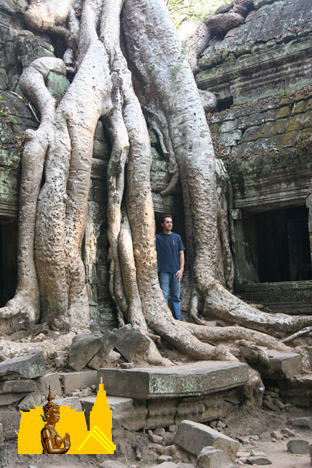 Photo courtesy of Reeb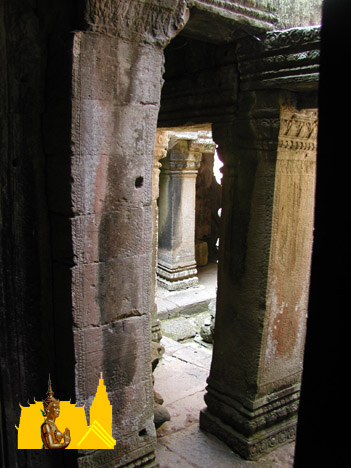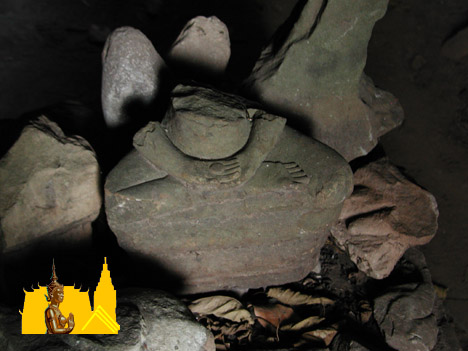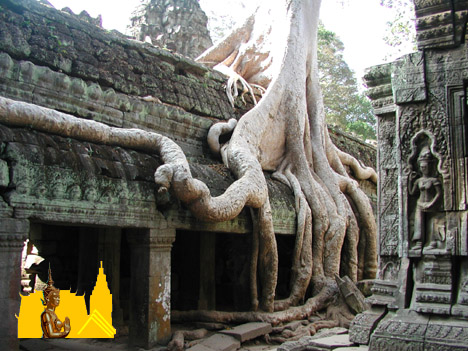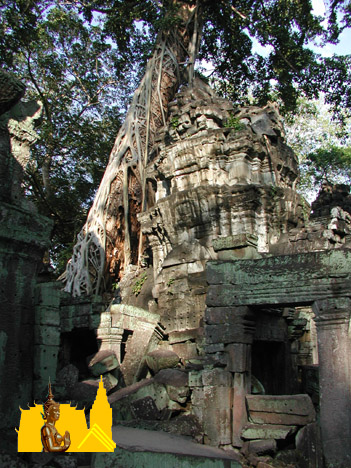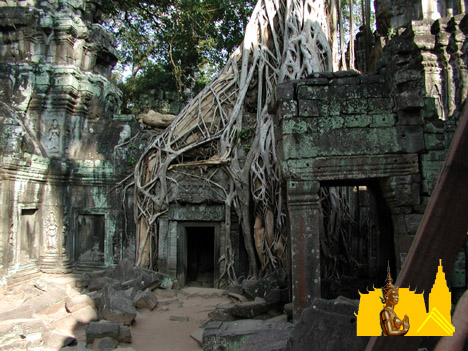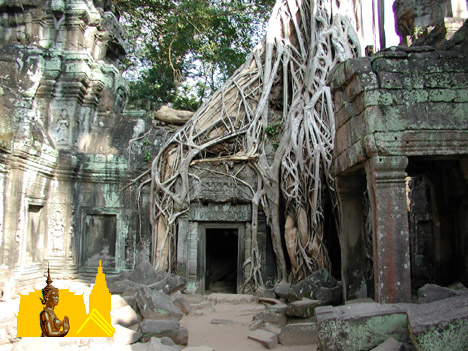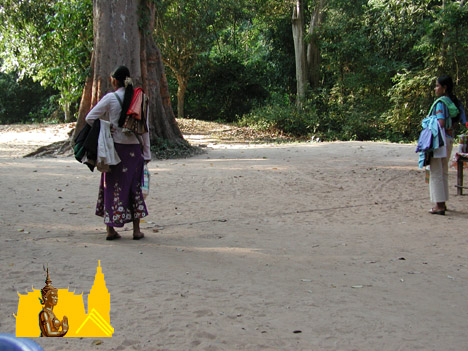 The steel cable marking the tout zone
After Ta Prohm, we decided to call it a day. Reeb and I wanted to do some shopping, and the rest wanted to take a nap before dinner.
We had fun finding our way through the stalls, but the prices were just as screwed up here as they were at the temple stalls. The outrageous prices and the unwillingness to haggle made it easy to pass on buying anything. Hell, prices were cheaper in Bangkok; that's a big change. In fact, I'll bet prices were even cheaper in Phuket!
I did find a couple oil paintings that I liked and was able to haggle the price down a little since I was going to buy two, so I did buy them. I also found a Buddha head that I liked but even though it had a big crack in it, they wouldn't budge on the price.
"Buddha face bery beautiful. You see?"
"Yes, Buddha face is beautiful. But (pointing at the crack) Buddha head very bad."
We went back and forth for a while but they weren't interested in lowering the price, so we left.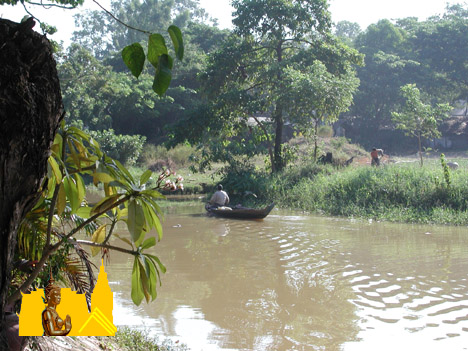 When we got back to the hotel, Reeb still had some energy left so I suggested he take our bus to see the sunset over Angkor Wat while I headed up to the room for a nap.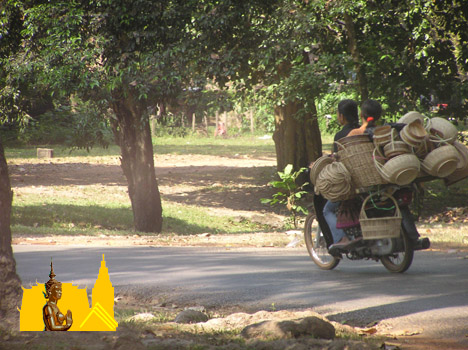 Photo courtesy of Reeb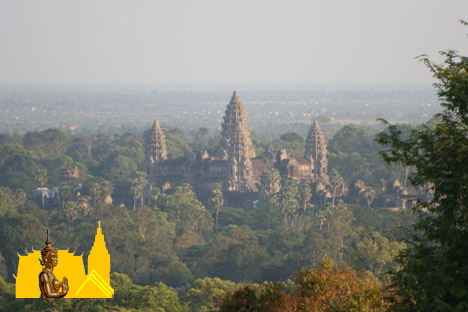 Photo courtesy of Reeb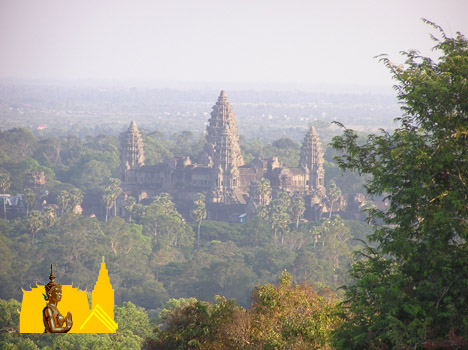 Photo courtesy of Reeb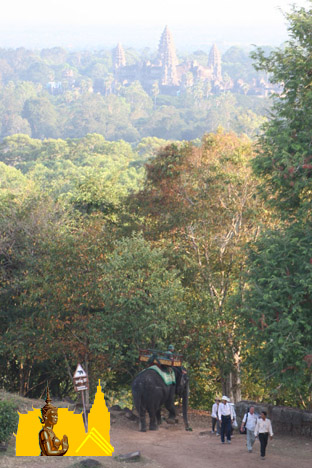 Photo courtesy of Reeb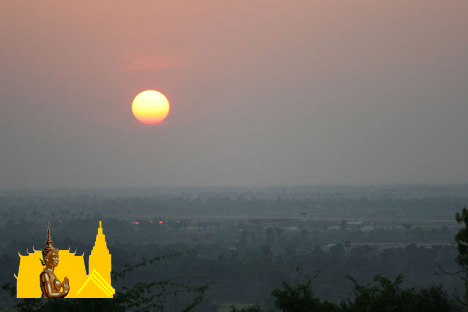 Photo courtesy of Reeb

Photo courtesy of Reeb
That nap really hit the spot.
We met in the lobby at the appointed time and started out to the Khmer Kitchen for dinner. Reeb hinted that he wanted to try someplace new and I suggested he do so, but I came for the pumpkin soup and I wasn't about to take a chance that some other restaurant's pumpkin soup wouldn't be up to snuff. Usually I'm pretty easy about that kind of stuff, but in Siem Reap I'm living for the pumpkin soup.
We split up after dinner, and Reeb and I ended up for after dinner drinks at Tess' bar. Tess and I flirted a little and we talked about living together in Siem Reap. But I was saddened to hear that she has too many marriage proposals already, and doesn't know what to do. Poor me…
After a couple more rounds we checked bin and hit the road. One of those motorcycles with a rickshaw on the back skidded up to us, and we were surprised to see MikeM in the back. Reeb was done for the day so he wanted to turn in but feeling recharged from the afternoon's nap I climbed in and we were off.
It turns out that MikeM was headed to Martini's. I hadn't been there before, so I was up for it. I'd read a bit about the place and was prepared to hate it, but it was actually a fun place.
Even though it was night outside, Martini's was much much darker inside, and my eyes took a few moments to adjust before I could see. The mamasan ran over, grabbed me by the arm, and started dragging me to a table. Now I know how Stevie Wonder must feel…
The moment we were seated, a snack basket was delivered to our table and we were surrounded by a half-dozen beer girls that were holding full-page beer advertisements in front of our faces trying to get us to buy their brand. For the most part they were brands that I had never heard of before, so I pointed to the prettiest girl and made my order.
Then the hostesses started arriving at our table. I was quite prepared to enjoy the company of two or three, but only one would sit with a customer at a time. Too bad; some of the girls looked nice.
MikeM and I finally made our hostess selections, and dived into the snack tray. The girls attended to our every need but if we took a sip of beer while the girls were busy wiping our brow with a cool refreshing towel, a server boy would quickly run over and top off our glass. Now that's service!
As dark as Martini's was, it was also that loud. The volume of the music was earsplitting. It was prolly just as well because our girls didn't speak much English, and didn't understand a word of Thai we said to them. But they were indeed pretty to look at. My girl said she was 20 but if she was, then I'm a monkey's uncle. MikeM's girl said she was 24 and looked even younger than mine.
The music played in the bar was a mix of the usual Asian disco music, and obviously local tunes. The disco would play for about 20 minutes, and all the modern style dancers would jump up and strut their stuff. Then the DJ would start playing local music and the dance floor would clear to reveal a group of dancers forming a pinwheel and dancing in a counter-clockwise fashion. Maybe the word 'dancing' is a bit of a stretch; while walking in a circle around the dance floor they would take two steps forward and one step back while making strange Khmer hand gestures. It occurred to MikeM and I that these were the same gestures that one might see carved in stone at the Angkor Wat temples. It was all very interesting to watch.
After a while, some familiar faces started to wander in. First it was Antman and Wifey, and then KoolKarl and Soph. Way to go, KoolKarl; Soph was a good catch!
The way the bar works is that they leave all the empties on one's table, and then count them up at the end of the evening when it's time to pay. I supposed that's usually a good idea, but KoolKarl, MikeM, and I were thirsty and the hostesses weren't shy about accepting a drink (a cola that is) if one were offered. Needless to say that after a while there wasn't a lot of elbowroom left at our table.
A few bottles of courage got me to jump on the dance floor during a disco set. Martini's never saw the likes of Dancing Papa before but that's okay, I was paying the piper. Even Wifey dragged Antman onto the dance floor. It was fun to make up new dance moves, and watch the girls try to copy us.
We danced until we couldn't dance any more. Then we would cool off with a round or two, and get back on the dance floor. Maybe KoolKarl didn't want to seem uncool by being seen shaking what his mother gave him on the dance floor, but it didn't bother the rest of us. We just kept dancing until we were ready to collapse.
During one of our rest periods, the mamasan came over to sit with us for a while. She pulled out all the stops to get me to barfine my new friend, but I told her I could not because I only loved her. That got her to rest her head on my shoulder, and a lovely oily stain on my shirt - not to mention a few dirty looks from my new friend.
Soon it was time for more dancing. One of our girls made a small flashing ball appear out of nowhere. The girls had fun dropping the ball down their tops, and then watching the progress the flashing ball made until it dropped out the bottom of their shirts. MikeM got a hold of the ball and started waving it around as if we were in a strobe light. That looked pretty cool for a while, but then I think all the dancing, beer, and heat started to get to me; it was time for a looooong rest.
My girl tried to pull me back onto the dance floor, but that was it. I was really done for the evening.
"Check-bin, please!"
Even though the large table was covered in empty bottles, cans, and snack wrappers, Antman wanted to argue the price. Screw that. At times we had 9 people drinking at our table, and the bill worked out to a little over $4 USD each for the entire evening. That's a pretty good deal in my book. I really didn't understand how anyone could be upset about that price, but that didn't stop Antman from getting all worked up about it.
The mamasan made another stab at trying to get us to BF our friends, but I wasn't going anywhere near that idea. MikeM toyed with it for a little while, but I think the price ($30USD) put him off. $30 is a pretty stiff barfine, but I think that included all the night's activities to come. Add a tip on top of that, and maybe it's not so bad after all.
I passed out a couple tips to my new friends, and made my way out the door into the night's cool air. Boy, I never thought I would write something like that about Siem Reap but Martini's didn't have very good air circulation (if any), and it was stifling inside.
I stumbled about the small parking lot for a short time, and our driver soon found me. Antman and Wifey were next into the contraption, and finally MikeM joined us for the ride back to the hotel.
Hmmm… I wonder what happened to KoolKarl and Soph. I think they ducked out while we were paying the tab. No problem… We knew he was a backpacker when he joined us…
Martini's was surprisingly close to the Ta Prohm Hotel, and I wondered why we never went there before. But I will again, that's for sure.
We all fell out of the contraption in front of our hotel, and were promptly accosted by the massage girls next door. I'm not saying it wasn't tempting but I was too pooped, and the girls at the massage shop next door wanted a lot of money. One can do a lot better in Siem Reap than $20 for a one hour massage, and little hope of a happy ending.
---------------------------------------------------
Ommmmmm

Jai Guru