They Started As Strangers
-- Part 11

They Started As Strangers -- Part 11
This morning as we were getting ready for breakfast, Cookie volunteered that she doesn't like Wifey. It looks like Wifey is still batting 1,000; not one girl that's been around likes her. I thought that was a little strange; most of the girls I've been around the past seemed to like everyone.
I asked Cookie why she didn't like Wifey, but Cookie didn't speak enough English and I didn't speak enough Thai… All Cookie could do was make a funny face, and then some weird hand gestures to go along with it. Sure, she looked cute, but I wasn't any closer to understanding what was going on.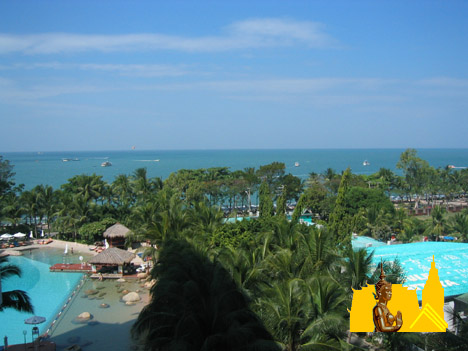 Photo courtesy of MikeM
A beautiful morning in Pattaya
Over breakfast, MikeM, Reeb, and I discussed what we should do today. The idea to visit the Sanctuary of Truth (or as I call it The Temple of Doom) got kicked around, and we decided to look into hiring a car to see it.
The Hard Rock Hotel travel desk offered some tour packages to see it, but the tour packages also included a bunch of other attractions that we just weren't interested in. We finally were able to talk the desk into letting us hire a limo to take us out to the Sanctuary of Truth and back.
It turns out that the Sanctuary of Truth isn't that far. If I had known how close it was, I would have just hired a baht bus to take us there; it would have been a lot less trouble than the limo.
The Sanctuary of Truth has a visitors' center where admission tickets can be purchased. Unfortunately, the admission ticket includes all kinds of crap like a dolphin show and other things that we weren't interested in either, and one cannot buy a ticket for just the Sanctuary of Truth.
We less than cheerfully handed over our baht, were handed back tickets, and told to wait out front in the dusty parking lot of the Sanctuary of Truth. It was pretty hot, and I'm sure we were all glad that we brought water with us. But we were going through the water pretty quickly, and kept on the look out for another chance to buy more.
It only took a few minutes of waiting in the dust before a mule-drawn buggy pulled up. It took a couple of the buggies to carry our small group, and we were soon off. The buggies stopped at an overlook that offered a nice view of the sanctuary. After snapping a few photos, we began climbing down the steep wooden staircase. The wooden staircase looked strong enough to support a couple 90-pound Thais, but MikeM, Reeb, and I are big guys, and I was worried with every creak of the staircase.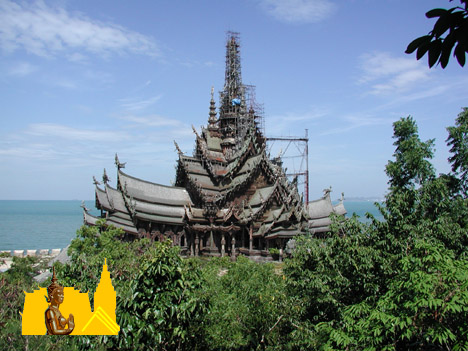 At the bottom of the staircase is a small café. We stopped in to buy some bottled water to go, and were on our way again. The walk was a couple hundred yards to the sanctuary, but most of it was tree-covered. At a few places along the way, Thais would appear from behind trees and ask to see our tickets. I suppose it makes sense to check tickets every once in a while, but this was pretty far inside the grounds. Mai phen rai…
Just in front of the actual sanctuary is a large sign explaining what the whole thing is about. According to whoever put the sign up, the owner of the land was unhappy with the West's commercialism, and put up the Sanctuary of Truth to combat that. Truth is what is important; not the West's quest for riches. Even though it was pretty hot and sticky out, that didn't stop Reeb from falling to the ground with laughter and rolling around in the dust.
I had to agree with Reeb; if there's a more unashamed tourist attraction in Thailand, I sure don't know what it is.
And on top of that; the fooking thing's not even finished yet. They say it's halfway finished, and should be completed in 10 or so years. Sheesh…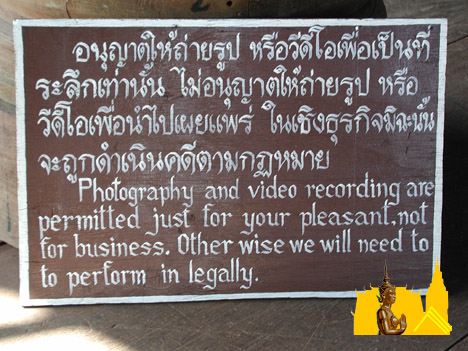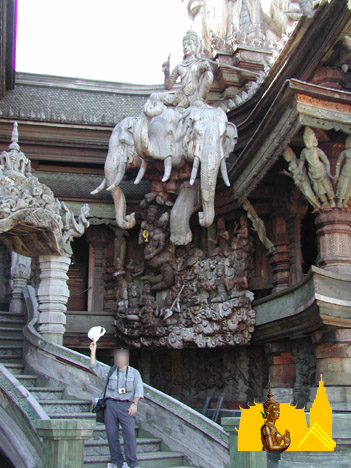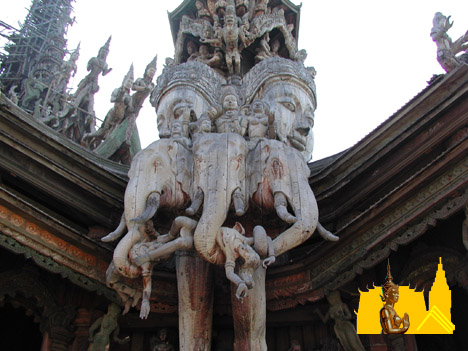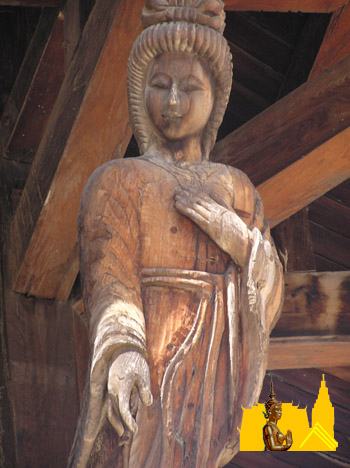 Photo courtesy of Reeb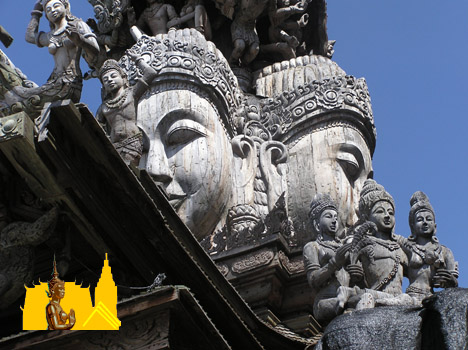 Photo courtesy of Reeb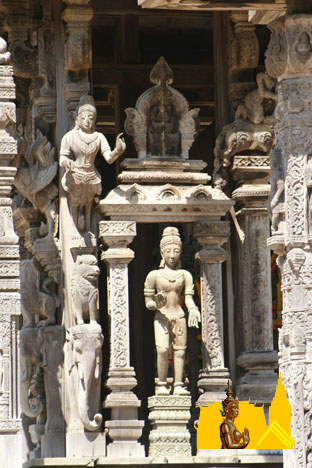 Photo courtesy of Reeb
Reeb tried to look on the bright side of things and said it was a good chance to see Thai woodcarving. They did have a small workshop that one could walk through, but the workers tended to stop working and stare whenever a farang was around.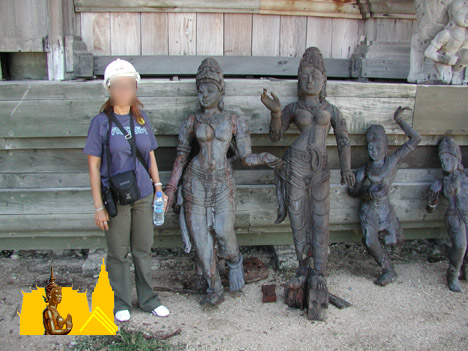 Cookie out-hoots the Apsaras
We saw everything that was available to see at the sanctuary. MikeM and Reeb are much more diplomatic than I and said they enjoyed the morning, but I thought it was a complete waste of time.
There was a snack shack next to the workshop, and we stopped for some cold water and ice cream. Even though the morning was pretty unpleasant, the girl working in the snack shack was able to bring a smile to everyone's faces. She had a beautiful smile and the most wonderful way of saying whatever we wanted to buy was completely sold out. After inquiring about 5 or 6 of the 20 different selections listed on the menu, we looked in the freezer and found she only hand one item in stock. No problem… At least they were frozen…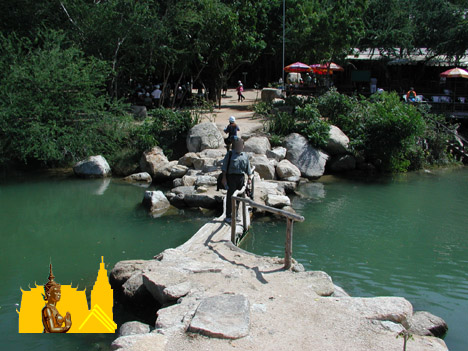 After stopping to enjoy our cold water and ice cream, we made our way back to the café. We hopped there was a buggy or bus or something to take us back to the visitors' center, but were told that we had to climb the steep staircase instead. Somehow I wasn't surprised, and managed to climb the stairs without bitching too much; however, Reeb and MikeM might disagree…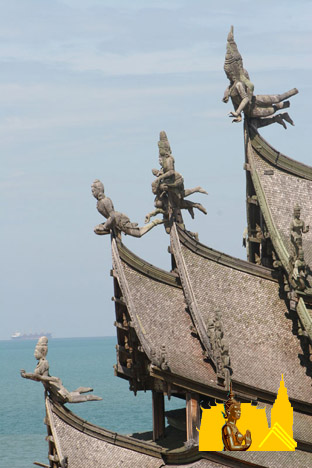 Photo courtesy of Reeb
There were a couple buggies waiting for us at the top of the stairs, and we were given a ride back to the visitor's center. Knowing that we would soon be out of there, I started to cheer up a bit. There may have been light at the end of the tunnel, but our limo was not in the dusty parking lot. It seems they told him that he couldn't park there, because they needed room for tour buses. Of course there weren't any tour buses to be seen…
Cookie (smart girl that she is) got the drivers mobile number, and gave him a call. While we waited for him pick us up, we walked around and looked at the stables.
We were starving when we got back to the Hard Rock Hotel, so we had another choo-chee party in the lobby bar. Later we found out that Mook was wandering around the HRH grounds looking for us, but just missed us by moments everywhere we went. It was our loss too, because his GFE was quite a nice package and he splurged on a knockout bikini for her; she would have been a nice ornament to have around the Nanacabana.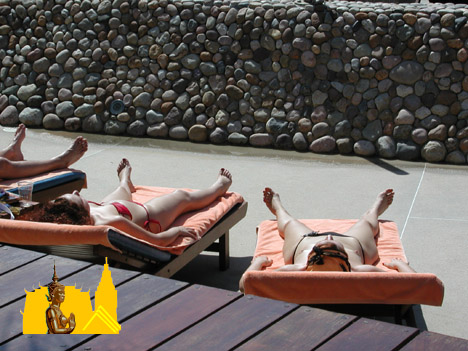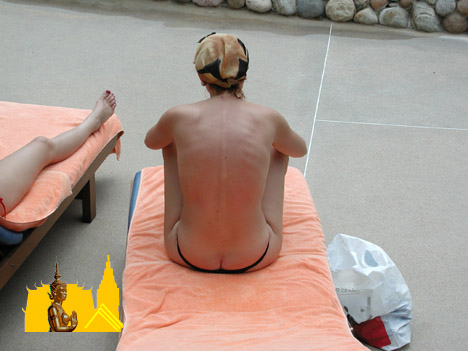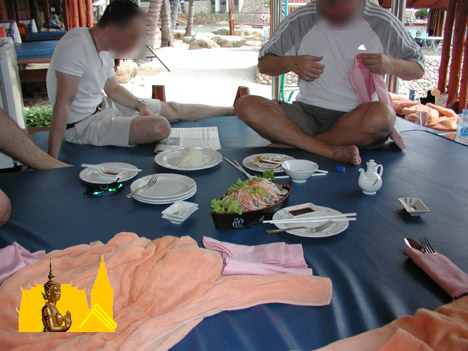 When we had finished stuffing ourselves with choo-chee, we went up to our rooms, changed into our bathing suits, and met at the Nanacabana. We may have gotten the Nanacabana off to a late start, but it was in full swing in no time. It was another beautiful day in Pattaya and some of the guys went parasailing or rented jetskis, but we spent the afternoon relaxing in the Nanacabana listening to the music and taking periodic dips in the pool. What a way to spend a day…
After a few hours of paradise, Cookie and I headed to the room for a nap. We stopped at the dessert counter for a couple treats. I pictured the chocolate cheesecake smeared all over Cookie's chest, but somehow we ended up in the tub instead.
We enjoyed a lazy late afternoon, and made it to the HRH lobby in time to join the guys for dinner. Tonight it would be Nang Nual so we made our way to Beach Road, gave a passing baht bus the finger, and got out at Walking Street.
I like Nang Nual; the food is good, it's not the most expensive seafood restaurant on Walking Street, and there's a nice offshore breeze if one is sitting at an outside table.
Poor Mook was having a hard time with his orders. We had close to a dozen people at our table, and everyone got what they wanted except Mook. He ordered this kind of salad but got that kind… He ordered that kind of soup but got this kind… The servers seemed to not understand his complaints, so I tried to help him be philosophical about it; the food here was good, and he was getting a chance to try some things he might not normally order. But when the entrée came, poor Mook got pretty disappointed in the place; he ordered a sautéed fish, but the fish they delivered looked fried. The truth is I'm not so much an expert on food so it was hard for me to tell just how the fish was cooked. But without regard to how it was cooked, the fish was delicious.
The Mook was now in a kind of funk that only one thing can cure… Shotz!
We checked bin and made it to FLB just in time for our 8PM meeting. It was fun to see the girls again and buy a few drinks, but after a round or two it was time to hit the bars.
First stop was Polo Lounge. They have an interesting show there, so I thought it might be nice for everyone. Having seen the show a few times, I watched the girls at our table. They seemed to be enjoying the show more than the guys were!
Next stop was Misty's Ago-go. Our group was big and spread out across three tables, still we didn't have too much trouble keeping the party going. Most of the girls there were plain by my standards, but there were a couple that stood out. It took a little working, but I was able to get them both to our table. I know, I know… I'm a glutton… There was also a lucky dip going on that night, and Antman and I started playing. We couldn't lose! We were winning beer, shotz, t-shirts, and even barfines, and were doing our best to pass the prizes out to the guys as quickly as we won them. I must admit to having a few sticky fingers as far as the booze was concerned; I'd pass along the beers but I had a hard time letting go of the shotz.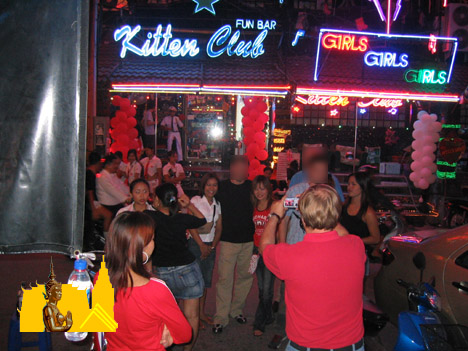 Photo courtesy of Reeb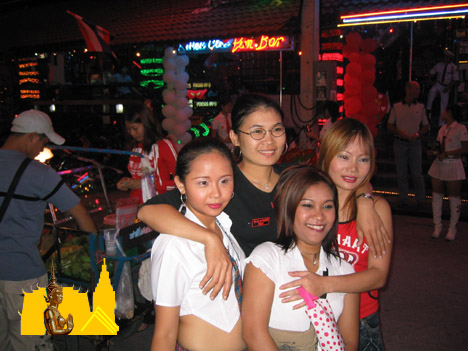 Photo courtesy of Reeb
When we couldn't take any more of our good luck, we moved on to Jupiter's. It turned out our good luck followed us over. It didn't take long until all of us had a line of drinks to consume, and that includes more than a few bargirls that were keeping us company. We had so much "free booze" that I started passing drinks out to other punters in the bar. Some of the more gracious ones would buy us drinks in return; and while it was kind of them to do so, totally screwed up the reason for giving all the booze away in the first place.
Jupiter's played a pretty good mix of tunes, and soon a few of us were out of our seats and dancing. Thank god no one got up on the stage. I would dance up a storm for a few minutes, and then sit down exhausted. Cookie would make a refreshing towel appear out of nowhere, and wipe my brow with it. What a girl…
Another nice thing was that Cookie didn't give me any guff about talking to other girls. Of course I would talk to her too, but every once in a while I would spin around in my chair and play with a couple bargirls. Later Cookie told me that she didn't care what I did in the bars, as long as I came home to her every night. Hmmm… This could be the start of another beautiful relationship…
I think some of the younger guys in the group were intimidated by all the booze on the table, and wanted to clear out pronto. "No problem, mates. Just finish up your drinks, and we'll be off."
We didn't get far; in fact, we only made it as far as the Kitten Club. And our luck tagged along with us. In no time at all, I was the proud owner of a 3-barfine coupon. The mamasan was quick to point out that I must take different girls, but it did include use of the Penthouse spa. Sip would have enjoyed playing with the girls in the spa, but she wasn't here and this was my last night in Pattaya. Bummer…
I knew ShadowDweller would be in town a few more nights so I gave the coupon to him. When it occurred to me that this was his first time at the Penthouse, I also gave him a tour of the spa. The spa looks like it could be a fun time. One of these days I must BF a couple Kittens, and have a frolic.
When it was time to go, we walked down to Second Road and caught a baht bus to the Hard Rock Hotel.
Up in the room, Cookie headed straight for the tub. All I know is next trip I'm bringing along Mr. Bubble!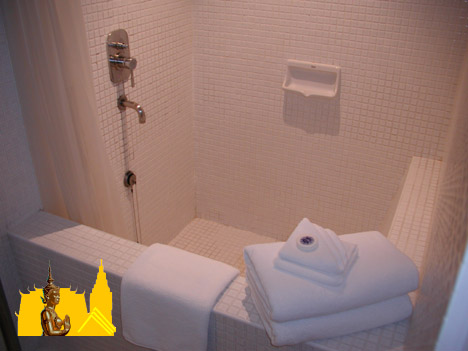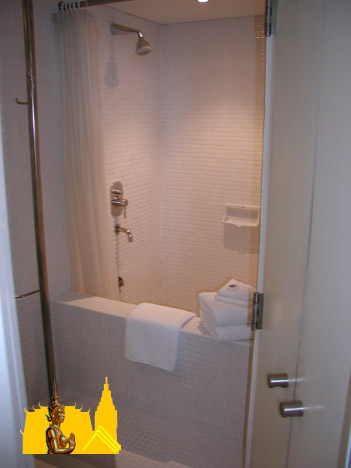 ---------------------------------------------------
Ommmmmm

Jai Guru