No Party Too Far -- Part 14

No Party Too Far -- Part 14
One day while taking my 8th or 9th shower of the day, I was thinking this Thai business of taking 8 or 9 showers a day is pretty good. I don't think I've ever looked forward to or been happy taking showers so much. Maybe I should try that water scooper thingie and spray nozzle in the hawng nam - I might like it. Then again, maybe I should be taking baby steps.
~ ~ ~
Antman was in hiding with his superstar, and MikeM33607 was interested in hitting a few massage parlors so Sip and I would be left alone to enjoy a day lounging at the NanaCabana all by ourselves. Ah, nothing to do but concentrate on relaxing, and enjoying cool drinks and snacks all day. It just don't get better than that.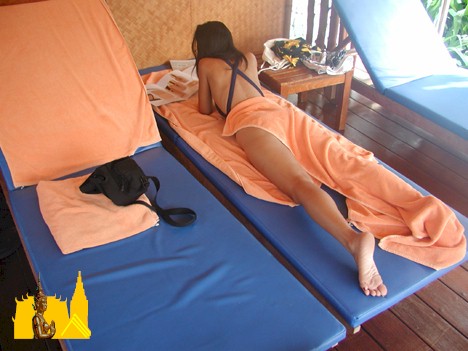 Life is good in the NanaCabana
Chuck Wow was in town on business, and stopped by the NanaCabana to say hello. He had other deals to pursue so he didn't stay long, but it was nice to have him stop by.
As the day wore on, we would take a dip in the pool every so often just to cool down a little. Sip might not have been a good swimmer (she stayed away from the deeper parts), so she would climb on my back and I would give her a ride around the pool. Of course we would stop at the swim up bar to have a drink every time we passed. Must keep our fluid intake up, you know.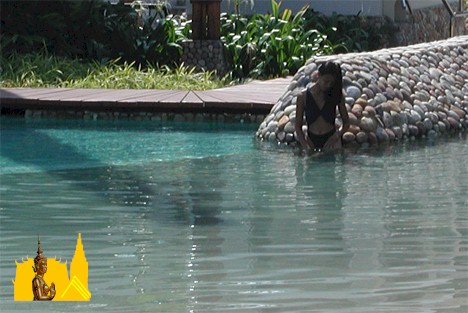 Life is good by the pool
While I was relaxing in the NanaCabana I noticed the hotel was giving scuba lessons at the far side of the pool. That would have been fun to do, but just doing nothing for a few days was better.
The bell rang to indicate the start of Happy Hour, and the live band started playing on the pool stage. This really is the life. Relaxing at the NanaCabana, drinks and snacks just a finger-snap away, and a live band to boot!
After a while we couldn't take all that relaxing, and went up to the room for a nap. The plan was to get a couple hours sleep and meet everyone for dinner at 6:30 PM.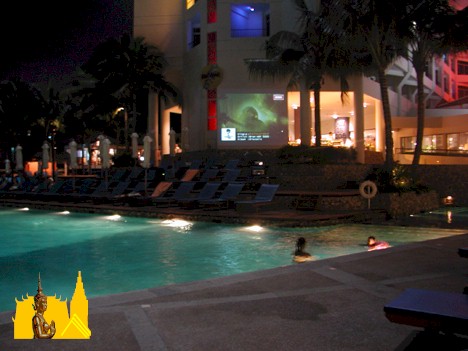 Saturday night drive-in movies
Every Saturday night the Hard Rock Hotel has a party called Saturday Night At The Drive-In. They use a projection TV to show movies on the side of the hotel. One can sit on the pool-side chairs or relax in the pool while watching the movies. Of course, full bar and kitchen service is available.

Sip getting the party started
Another meal on the water orchestrated by Sip. She delighted in ordering all the food and making sure we were all having a good time. I was feeling pretty happy I brought her along.
The plan tonight was to hit a couple bars, and head back to the Hard Rock Hotel for the Saturday night foam party.
First stop was All Girls Ago-go. We liked the place. The music was good, the beer was cold, and the natives were friendly. What more could we ask for? MikeM33607 found a little something he fancied, so he barfined her. From there it was out to Second Road to catch a baht bus back to the Hard Rock Hotel.
The foam party was in full swing when we got there. The party was being held outside in the Foam Pool. There was area by the NanaCabana where they erected some giant plastic sheet fence and attached an industrial strength bubble machine to a pole. They also had so light polls with a multi-colored lighting system. A DJ was set up in one of the cabanas, and he kept the party going with non-stop rave music.
There were a couple of people dancing in the foam, but there was also a spirited volleyball game going on in the middle of all that foam. Sip was interested in watching the party but she didn't want to get anywhere near the foam; she was afraid the foam would ruin her clothes.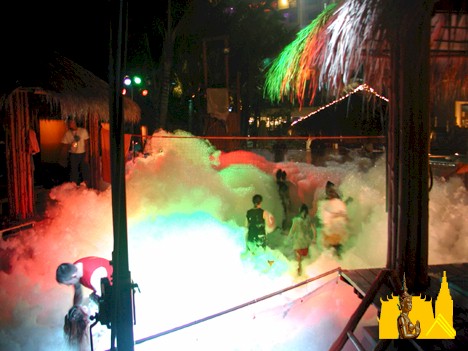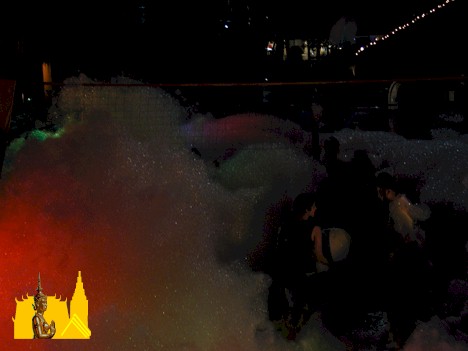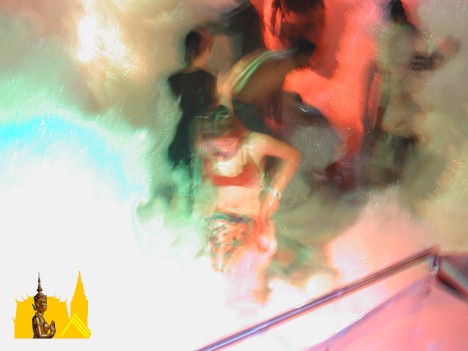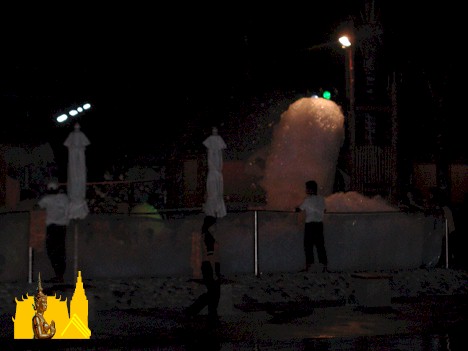 Dumping foam in the pit
We watched the party for a while until Antman started whining that he wanted to get back and find the girl he had last night. Sip said she wanted to stay and watch the foam party, and MikeM33607 had plans with his cutie; so Antman and I hit the road looking for adventure and what ever comes our way.
We left by the Beach Road gate and gave a baht bus the finger. We jumped out just before Pattayaland 1. While walking down Pattayaland 1, Antman fell prey to four male greeters that wanted him to make an appearance at their go-go rather badly. They rushed out to greet him and a couple put their arms around him as they started walking him into their bar.
As he was being ushered into their bar, Antman shouted out, "Wooooo!!! Come on, Jai. Let's go!! Party on, dude! Woo hoo!!!"
"Stop, dude! That's a gay bar!!"
"Wha!?!? What do you mean gay bar? How do you know that?"
"Dude, look around!"
"Well, why don't they put a sign up or something?"
"Look up."
Looking up, Antman noticed the gigantic sign that read, "Boys Ago-go."
Not a good thing.
He was able to get away from the four greeters and we ducked into Spicy Girls Too to shake it off. I grabbed a superstar for Antman, and took the big nasty Phillipina looking girl for myself.
I don't remember seeing any topless dancers on the stage, but Spicy Girls Too was of those places where the girls just couldn't keep their clothes on. Antman's superstar and my big nasty Phillipina got in a bikini fight where they would reach over and undo the other girl's bikini strings. Before long there were a half dozen girls in our little corner of the bar, each trying to undress the other. Good clean fun! More guys in the bar were watching the girls play in our corner than the girls left up on stage doing the Buffalo Shuffle! Damn that was fun.
At one point, some guy got up on the stage to dance with the girls. Antman laughed and said, "That guy looks like an idiot!"
"Yeah, that's why I tried to stop you last night..."
"No, you're stoned. I didn't look anything like that!"
"No, of course not. I was just kidding..." Sheesh...
Unfortunately, even with all the excitement we had going on, it didn't take long for Antman to start whining about the girl he had last night. I told him to forget about her because these girls were better, but he gave her 500 baht this morning for tonight's barfine. I gave him 500 baht and told him to get busy with these girls, but he just kept whining about wanting to see the one he had last night.
Antman didn't know how to find the bar that girl worked at, so I had to take him there. Of course we stopped at a few places on the way. But after a round, he would just start whining about that girl again.
I dropped him off in front of her bar, and hit Second Road to grab a baht bus for the Hard Rock Hotel. There was a small gaggle of katoeys next to the driveway for the Hard Rock, so the driver thought it would be great fun to drop me off in the middle of them. What fun that was... I'll bet he did that on purpose... A couple of the "girls" said I was a very hansom man and wanted me to take them to the disco, but I respectfully declined.
When I got to the foam party, Sip was gone. She said she was going to wait for me there, so I figured she must be somewhere nearby. Just a stone's throw away from the foam party is the Hard Rock Cafe and disco. Maybe she went inside. I should have a look.
The Hard Rock disco is a happening place. Good band, great crowd, fantastic ambiance. The only thing is there sure are a lot of katoeys in the place. Not that there's anything wrong with that. I made a couple passes through the place just to make sure Sip wasn't there, but I didn't see her. On my second pass through, the katoeys started noticing me. Maybe they thought I was sharking them.
Screw this. It's back to the room for me.
Sip was sleeping when I entered the room. I awoke her when I turned on the light, and she came running over to welcome me back to the room. And she ran over without that confounding towel. This is going to be a good night.
Ain't this the life?
---------------------------------------------------
Ommmmmm

Jai Guru