No Party Too Far -- Part 5

No Party Too Far -- Part 5
The story is a legend;
A living legend.
A legend that will live long after
lots of other living legends have died.
~ ~ ~
Som wanted to join us on our trip to the temple today, but she forgot to wear clothes covering her shoulders again. I told her it wasn't a problem, she could join us tomorrow. But that wasn't good enough. She had some friends that lived on Soi 23 and she said she could go there and borrow some clothes. She mentioned taking a motorcycle taxi, but I gave her enough money for a proper taxi and told her to take one because they're safer.
It was a quiet breakfast with Antman and Burnout. Maybe Antman was licking his wounds after what happened last night at Casanova, but I figured he should have worked that out of his system with the hottie Som fixed him up with at Angels.
I needed to exchange a couple Travelers Cheques before we started out, and Som hadn't made it back yet so we had to wait. But it wasn't long before Som came striding in through the lobby door. Unfortunately, two of her friends came striding in with her. I didn't know if she wanted to fix Antman and Burnout up with her friends, or this was a case of everybody goes on the trip and the farang pays. I didn't mind paying, but I told Som that Antman and Burnout didn't want a lady today just in case. The way Som said no problem made me sure it was a case of everybody goes and the farang pays.
The plan was to take the Skytrain to Saphan Taksin, the riverbus to the Wat Po stop, and then the ferry across the river to Wat Arun.
When we got to the Sapan Taksin station, the route we usually took to the river was closed because of flooding. We went around the other way and found a sandbag walkway going all the way from the Skytrain station to the riverbus stop.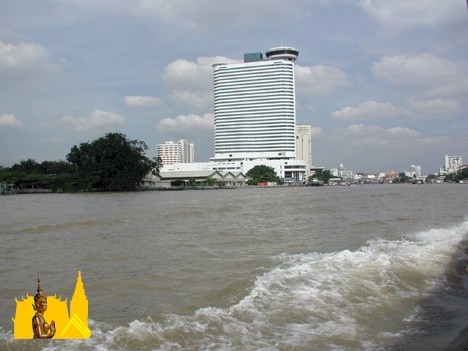 The hotel with no guests.
I don't recall it raining last night, but the river was considerably higher, and looked every bit as rough as it did yesterday. We had to duck a little going from the waiting area to the floating pier so we wouldn't hit our heads on the roof.
A young Vietnamese girl was on the riverbus, and asked directions to Wat Arun. I told Quack we were going there and she could join us. She looked a little overwhelmed, and seemed happy to have some friends. I'm pretty sure all the guys thought she was cute, and the girls accepted her as a sister.
We got off at the Wat Po riverbus stop, and walked around to the ferry dock. The ticket for the ferry is pretty cheap; about two baht. But we were all willing to pick up the tab, so I think two or three of us each ended up buying tickets for the whole group. Som and her friends must have thought we were nutz.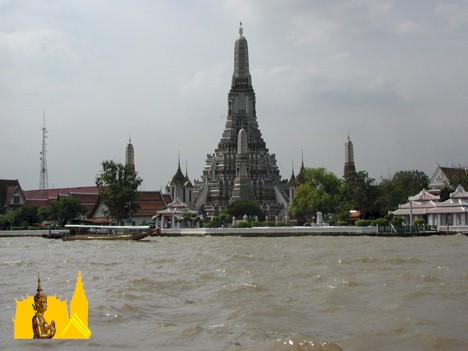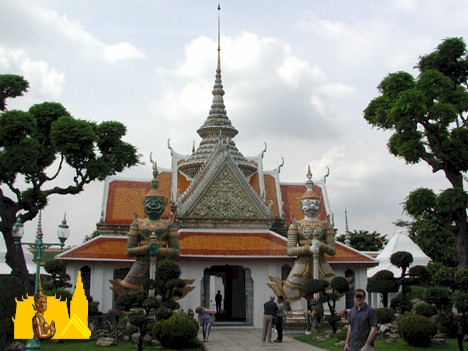 By the entrance to Wat Arun, there was a couple of girls dressed in traditional outfits. They came up and asked us if we would like our photos taken with them. Someone asked about the price, and the girls said 20 baht. We took a few photos, but it all turned ugly when it was time to pay. Antman took a really large wad of baht (we're talking thousands of baht) out of his pocket and one of the girls grabbed it. She didn't try to run or anything, she just stood there with his money. I held out my hand, and she gave it to me. I gave the wad back to Antman, and gave both girls some baht. But they really weren't happy.
Because of the language differences I'm really sure what happened, but I think there were a few of us with cameras and the girls wanted money from all of us. Now I feel bad about the whole thing. If we had known that's what they wanted we would have been happy to pay, but when the one girl grabbed Antman's money I think we got frosted.
The boys all paid to enter Wat Arun, and Som pulled Quack past the ticket booth so she wouldn't have to pay. Once inside, we all enjoyed exploring the temple grounds.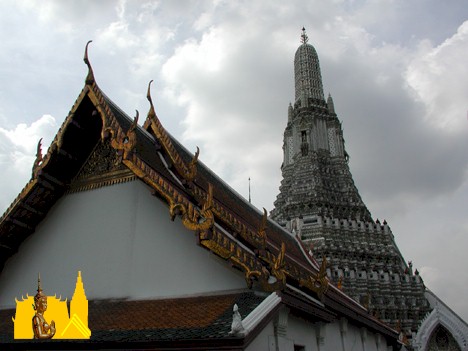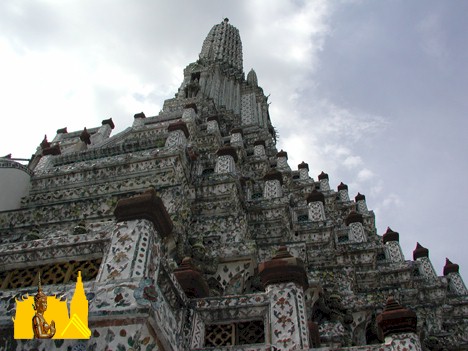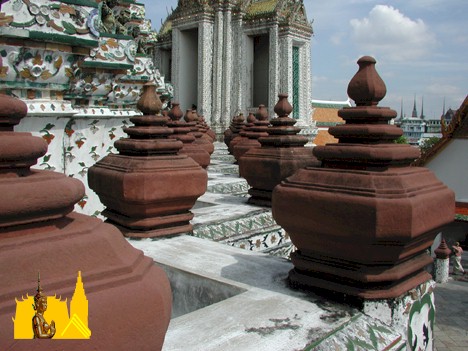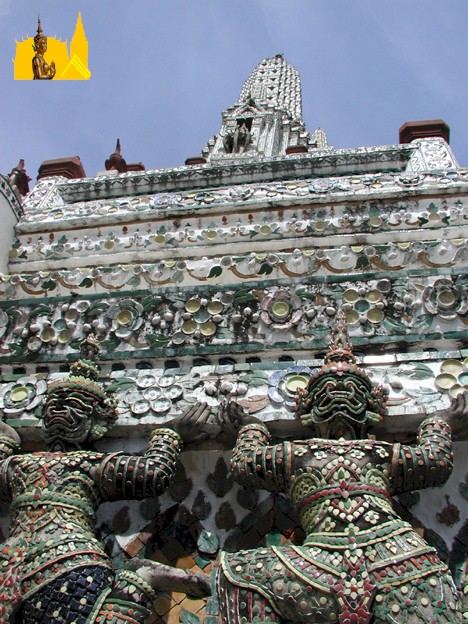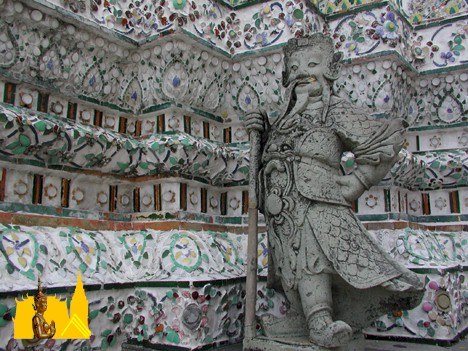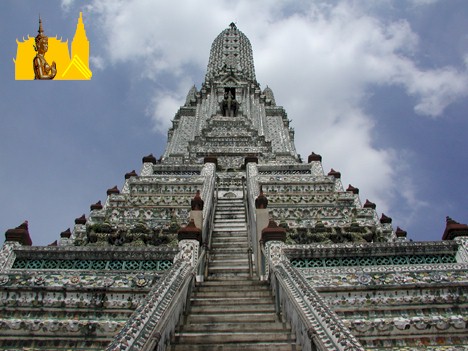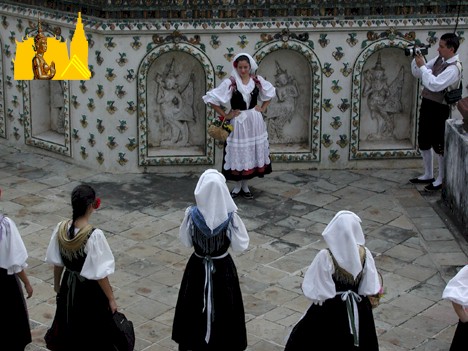 Talk about strange...
An Italian dance troupe visiting Wat Arun.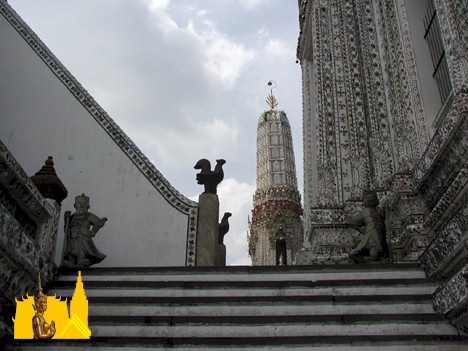 By the exit is a small shrine where merit can be made. Quack had never made merit before and asked how it all worked. I explained it to Quack, dropped some baht in the collection box, selected some incense, candle, and a water lilly for Quack. Even though this was her first time, her movements were so graceful... Quack looked like she had made merit a hundred times before.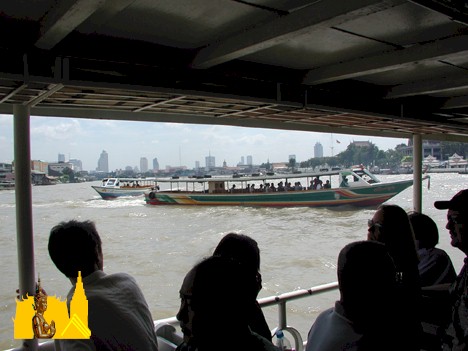 A busy river.
We crossed the river and decided to grab a couple taxis to Jim Thompson House for some snacks and fresh squeezed lime juice.
The street in front of the Wat Po riverbus stop is pretty busy so it's usually a good place to get a taxi. Just remember to stay away from the tuk-tuk touts trolling the crowds.
Som and I spent a few moments telling her friends how to get there. We were pretty confident that Antman and the girls could get there without getting lost. They hailed a taxi, jumped in, and were off in flash.
Because it is such a busy street, it only took us a moment to hail a second taxi. We all climbed in and were off. The driver took us about one block and stopped. Som said he doesn't want to take us there. "I know," I said. "That's why I'm paying him."
"We get out now," she said. And we all got out.
It only took us another moment to get another taxi, and once again we were off. The only problem is he took us to the wrong Jim Thompson House. I learned this trip that more than a few blocks behind MBK, Jim Thompson has a store selling silk goods. I was kinda p.issed about the whole thing; we actually passed the Jim Thompson House on the way to the shop. I called it to the driver's attention, but were were in the wrong lane to make the turn and Som thought he knew how to get there. The fact is we would have been better off if we would have bailed at MBK.
When we finally did get to the Jim Thompson house, we weren't surprised to seen Antman and the two girls already settled in to their lunch. But it didn't take us long to catch up.
Antman, Burnout, and Quack took a tour of the house and grounds while I stayed at the table and spent time with Som and her two friends. I wasn't really a hardship for me.
After the tour, we walked to the National Stadium Skytrain station together. Som and her friends wanted to go back to the room, so I gave them 100 baht for a taxi -- that should have been more than enough. The rest of us hit the stairs and took the Skytrain to the Nana station. Quack was staying at a hotel near the Nana station, so we parted there. Because Quack wanted to spend tomorrow with us, I suggested she join us for breakfast and we could hit the road from there.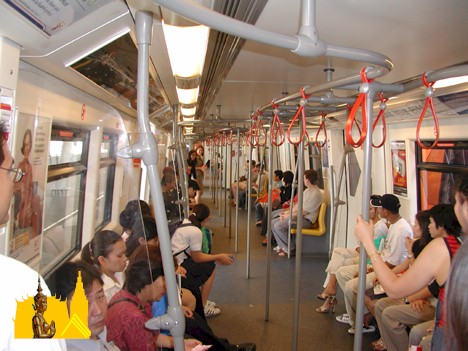 The only way to fly.
Song and her friend spotted Antman and I returning to the hotel, and that cost us another barfine and massage. Not too painful, but I was lucky if I got another 90 minutes sleep before it was time to get up and get ready for the night's fun.
Having sex with 90 pound girls can be a hell of a lot of fun. One of the things I like to do is carry them around the room while we're going at it. They seem to get a little more excited to find themselves on top of the desk or dining table at any given moment. They don't weigh much so it's easy, and they usually have their hands locked around my neck which makes it even easier. Today, Song and I were pretty sweaty and her grip slipped. That caused her to fall back and hit her head pretty damn hard on the mirror mounted on the wall next to the bed. I was concerned she might have a cracked her melon, but she quickly got up to inspect the mirror for damage. "See? It OK! No problem!!" I bet she had a headache that night...
We were supposed to meet at 6:30 but at about 6:15 PM, I received a call from Antman. He said he blamed me for introducing him to Hammers11, Gooner, and Burnout because they made him drink too much and they made a katoey do terrible things to him. Antman was afraid participating in another crawl would cause irreparable damage. I tried talking some sense into him, but he was a man obsessed. For the most part, I've enjoyed traveling with Antman and showing him around. But he just wasn't meeting me half-way on this one. I did my best, but I've got some big time fun waiting for me out there.
On top of all that, Antman thought he was coming down with something.
The guys were all there. I met Noozy that night. Noozy mentioned the Clinton Dollhouse would be closing tomorrow night. It sounded like he was hoping the Dollhouse would be auctioning off some of the fixtures so he could have a piece of history. I was wondering if he just wanted to snag a go-go pole so he wouldn't have to go out any more... Actually, I was tempted to snag a go-go pole myself but how would I get that back on the plane? Ah, but it would have been fun...
Also in attendance that night were; Solohunter, Burnout, Hammers, Gooner, Davieboy, and NYSaint (without that cute little ball and chain). I think Jazz was there for a while too.
After the requisite rounds and shotz, we headed to Sukhumvit Square. We walked around for a while looking for the perfect roosting place, and settled on 99 Bar. I believe the bar had only opened a few days ago, and they didn't really have their act together. But they were really trying... Girls came out with the cold napkins and beers, and before long they brought out the games. Games and that whole "having fun" attitude are what I like about bar beers. Win or lose; it's just so much fun.
We had a round or two and decided to hit the road. We walked from Sukhumvit Square to Soi Cowboy. First stop was Suzie Wong's. I'm really starting to like that place; nice girls, good music -- except I think that weird looking mamasan has a crush on me. Blast this irresistible profile of mine... There were a couple of cute girls on the stage, and NYSaint and I had ringside seats. One of the girls must have thought NYSaint was a gynecologist because she was giving him quite a show. And I think he was smitten with her as well. But he said he wouldn't barfine her.
"No problem, I'll barfine her for you!"
"No!!! Don't do that!!! I'll get killed!!!"
"You won't get killed. Who will tell? I won't tell... Will you tell? Of course not..."
"You don't understand; word will get around on the bargirl grapevine. And I'll get very killed!!"
It was fun to watch him sweat... We came up with a couple different ideas and schemes, but NYSaint swore each and every one would get him killed. Suzie Wong's was a pretty good time that night.
We passed Tilac on the way out, and Som was standing outside the bar. I gave her the money to pay bar, and told her I was on a crawl with friends but would come back to pick her up later. No problem.
It took two taxis to move the group to NEP. First stop was one of my favorite bars, Hollywood Strip. It's a big bar with a reasonable selection of girls, decent music (not too much Asian Techno), and shows (with the shows varying from wild to mild over the years). I've usually had a good time there, and I'm always happy to go back. The place was pretty crowded and we had a big group, so we ended up taking seats in the girls dressing area. Not too shabby; we had a choice of watching the show on the stage or the one right under our noses.
We enjoyed a round or two and decided to move on. Stepping out, we were caught in the type of Bangkok downpour that I've only seen occur in, well, Bangkok.
"It looks like it's a little damp out there, lads."
"Bloody 'ell! It looks like someone turned the world upside down and the oceans are falling from the sky!"
It was raining so hard that Carnival was barely visible from Hollywood Strip.
That's when the group started sharking Casanova. I think Burnout may have been daring Davieboy to go inside, but Davieboy was under the impression he was PNG, so naturally wasn't eager to pay a visit. We ponged around from bar to bar, usually stopping in for a round if the bar wasn't too dead.
We went into Carnival which looked promising, but Burnout didn't like the selection. I noticed there was only one katoey in the club... :) From there we went to Playskool, I believe. The place was packed -- Dance Contest packed. We were able to find a few seats but even though the place was unbelievably packed, the bar was dead. There was no connection between the girls on the stage and the punters in the audience. Another bar where the punters were nursing their beers and staring at the dancers, who were staring at themselves in the mirror. I tried to get a something going with the girls by dancing a little in my seat and playing with my hat, but you've never seen a bar so dead.
Solohunter and I started wondering why we left Carnival. It was empty, but it had promise. A bunch of us picked up and when back. The girls noticed we came back and were eager to keep us there. I had one bouncing up and down on my lap like she had springs in her @ss. But it was another round or two, and we moved on.
I'd have to say it was a pretty good crawl. But it was getting late and the group started to break up. I recall there was some more talk about going to Casanova, so I took that as my chance to split. I hit Soi See and grabbed a tuk-tuk. He wanted only 100 baht to take me to Soi Cowboy, imagine that. When I counter-offered sip baht, he counter-countered with 30 baht. Since that was the cheapest tuk-tuk ride I could recall being offered, I took it. Too bad I didn't have any of Antman's tuk-tuk coupons...
I stopped at Suzie Wong's to get to know one of my favorite girls a little better, and let the strange looking mamasan grab my ass. Having a drink or two, it was time to barfine Som. I slowly entered Tilac and was pounced on by Som's friends. They led me to a seat at the bar by the bookkeeper. I noticed on the way over to my seat that Som was sitting on the other side of the club with a customer, and her friends seemed to position me with my back to her so I couldn't watch. Maybe it was a coincidence, but I thought it was funny.
The girl that Antman barfined the other day came over to keep me company. For the longest time the topic of conversation was "Where In The World Is Antman?" I finally told her that he had eaten some soi food, and had a sick belly. She wanted me to barfine her so she could take care of him, but I told her that he should sleep. The trick of buying her a ladydrink to shut her up worked, and she started giving me a massage.
I was surprised to learn that the girls Som brought to Wat Arun today, all worked at Tilac. I had to laugh; at first I couldn't recognized them with no clothes on! More ladydrinks!! Woo hoo!!! Does it get better than having a girl on each knee and another giving a back massage? Of course it does! Just start flirting with the bookkeeper. I wonder if I was the first guy to ever buy her a ladydrink.
Every time a cute girl walked by I pulled her in to the party and bought a ladydrink. From where I was sitting, the joint was rocking. It wasn't too long until I felt a second pair of hands on my back, and someone nibbling my ear. I turned to see who it was, and was pleasantly surprised it was Som.
Ain't this the life?
---------------------------------------------------
Ommmmmm

Jai Guru