No Party Too Far -- Part 8

No Party Too Far -- Part 8
Why does everything happen to me? First I had to console myself as I went prematurely bald. Now, what little I have left is turning prematurely gray. "Prematurely gray;" that's what I choose to believe.
Okay, I have a few gray hairs here and there, but I was pretty surprised when the girls on Soi Cowboy started calling me Dancing Papa. And do they really have a BG grapevine that travels from bar to bar? How else could every darn BG in Bangkok all start calling me Dancing Papa at the same time?
~ ~ ~
Antman is MIA again. He says he's sick and doesn't want to go out. His plan is to stay in the room and suffer. Mai phen rai...
MikeM33607 saw an ad in the local English paper showing some carved wood figures that he thought would make nice souvenirs. We didn't really know where the store was, but for some reason The Force was pulling us to the mall in Japantown. Most of the shops were closed because it was Sunday. A few golf shops were open so I had a look the Calloway bags as MikeM33607 shopped. When I got back to the real world I checked the prices and could have kicked myself because I didn't buy a Calloway bag in Bangkok -- there's always next trip...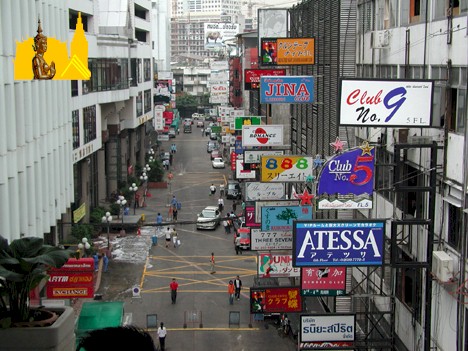 When we left the mall, we headed over to the Sunday Market at Sala Daeng. I understand they close the main street to vehicle traffic on Sundays, and allow stalls to be set up to sell all kinds of things. We saw stalls selling; silk, musical instruments, soap, art, wood carvings -- you name it. I bought a couple traditional silk dresses for girls back home, and MikeM33607 stocked up on some beautiful carved soap in the shape of flowers. We stopped at 7-11 and bought some drinks to sip as we walked up and down the street admiring everything for sale.
We expected a long night ahead, so we thought it would be a good idea to get a little sleep. And as we were going to be flying to Phuket tomorrow, it would also be a good idea to get started on packing a little.
~ ~ ~
Tonight's the night of Nanapong Dance Contest XIX - The Coveted Edition. I don't know if I can add anything about the contest that hasn't been written already, but I can tell you what happened to me.
DC XIX was known as The Coveted Edition because Hammers11 and I were both eager to sponsor the contest, but because of scheduling we were pulling for different dates. It would be nice to say the better man won; but after meeting Hammers11, I can tell you it just wouldn't be true. Because of schedules of the bars, and girls, and the guys that have to do the hard work of putting it on, 24 November just worked out to be a better date for the contest.
I called up and had a talk with Antman. He says he's pretty ill and has been holed up in his room for the past few days with the GBB girl. He was also a little upset that the girl from Tilac called him last night; he never knew how lucky he was... At least she didn't show up at his door. Anyway, I told him if he was healthy enough to answer the phone, he was well enough to go to the dance contest but he wouldn't have it. Unless the hotel caught on fire, he wasn't leaving his room. I explained that people from around the world schedule their trips to be in town just to see a Nanapong dance contest, but Antman wasn't budging. Mai phen rai... I tried my best; if he didn't want to go, he wasn't going to go and that's all there was to it. There wasn't anything else I could do.
Well, I sure as hell wanted to go, and I didn't want to stand up MikeM33607 who was waiting for me in the Nana lobby.
MikeM33607 and I headed off to The Living Room to be there at 6 PM. We had a few drinks and dinner -- TLR is the kind of place after just eating there once or twice, one can just order "the usual" and their favorite meal will soon appear. GB64 has created a most congenial spot. It's without a doubt my favorite place to start an evening. I bought my favorite girl there a drink, and she entertained us with photos of her recent visit to one of the famous wats.
Noozy poked his head in, and I handed over the envelope containing tonight's First Prize. Guys would straggle in to have a few drinks before the big show. As it grew closer to contest time, we (about 10 of us) had a round or three of shotz and were off. Some of us (like MikeM33607 and I) were headed to Hollywood Rocks to find a good seat, while others had to get to work to put on the show.
We walked in to Hollywood Rocks and started to look for a seat. We were there early, so there were lots of good seats to choose from. For some reason we decided to sit at the bar, which turned out to be a good choice that evening. A couple girls came over to keep us company, and MikeM33607 ended up with one of the better girls in the bar -- prolly the best. We didn't want the girls to wander too far so we started in on the ladydrinks right away. And if I'm not mistaken, MikeM33607 barfined his girl as quickly as he could reach into his pocket and pull out a 500 baht note. She really was pretty cute and did have a killer body. He found a winner that night!
I once saw an interview with the great director, John Houston. The interviewer asked which was his most difficult scene to direct, and John Houston said, "Without a doubt it was the scene where Noah was sheparding the animals into the ark. Most people think that animals will quite naturally walk two-by-two onto an ark, but they just don't."
I thought of that quote while the Nanapong guys were all preparing to start the show. What's the big deal? You get some girls, you get some beer, and you play some good rock-n-roll, and you've got yourself a dance contest. But it just ain't that easy.
Picking up the girls, preping them for the show, setting up the judging; those are just a few of thing that need to be done. Of course since This Is Thailand, nothing goes right. And there's also the preparation weeks in advance to find a venue, get bars to send their girls, and so on -- and I wouldn't be surprised to hear not much of that goes right as well.
Loot Doot asked if I would like to help with the preparations and being the public spirited guy that I am, I quickly agreed. It was usually his job, but I was assigned the arduous task of painting the identification numbers on each of the girls.
Yeah, I know what you're thinking, "tough job." Just imagine barely dressed girls that all they want to do is dance, and there ain't no way they're going to sit still to have numbers finger painted on their torsos. To make matters worse, this important task takes place in the pressure cooker inner sanctum also known as the girls locker room. And to make matters worse again, the paint they use has the consistency of tar. I wouldn't be surprised if the small jars of paint spent the time since the previous DC in the trunk of someone's car baking in the Bangkok sun.
I took Noozy's advice to heart regarding the regulation size of the numbers, and the paint thickness required so the judges could see the numbers from anywhere in the club. Yes, I concentrated mightily on every stroke of my paint dipped finger... My apologies, for I'm certain all that attention to detail contributed to the contest starting a little late that night. And there was not time to admire my work, as the moment I finished with a girl, she was whisked away and another was placed in front of me to be painted.
You guys just don't understand how tough it is -- I'm trying to concentrate on what I'm doing, and all those tickle induced giggles and jiggles are distracting me. It's a man's job, that's for sure.
But they finally all do get painted and it's time for the contest to begin. The contest is actually organized enough there is a judging sheet, without one there would be total chaos. As I walked back into the bar I was handed a judging sheet and a pen, and I was ready to go!
So I settled back on to my barstool, girl on my knee and judging sheet in hand, and waited for the games to begin.
To give the contest an air of respectability or perhaps to hear emergency confessions, there was a man of the cloth performing the Master of Ceremonies responsibilities for the contest. Although he offered good advice such as using jimmy hats so one doesn't get exposed to the butt flu, I had a funny feeling if one weren't doing so already they weren't going to be converted in a go-go bar. Then again, Antman was learning a lot about condom use while on the prowl...
As the girls from Dollhouse, Soi Cowboy took the stage, I got a chance to admire my identification numbering handiwork. I had no doubt that each an every number could easily be seen anywhere in the club. A job well done...
When the second song started, someone went up and placed four bottles of beer on the stage. The girls quickly grabbed the beers and began shaking them up to spray over the crowd. And they also poured the beer over each other! As the beer flowed down the glistening bodies of these beautiful girls, I watched in horror as the fruits my effort were washed away! All the numbers were disappearing!!
I was taking the judging pretty seriously, so I tried to memorize which girl had which number. At first I thought it might be impossible, until I realized it truly was impossible. Luckily, each bar only had a girl or two that stood out from the rest, so I only had to keep my mind wrapped around 4-6 instead of all of them.
The judging was complicated enough, but MikeM33607 now had three or four girls between us that also wanted attention. Buying them ladydrinks just wasn't enough, they also wanted to get jiggy with it. Someone told me the girls weren't sophisticated enough to bribe the judges, but I found it hard to believe my Tom Cruise good looks were pulling all this attention. Until I looked around; the bar was absolutely packed with punters, and anyone that wanted a girl had one or maybe two on their knee.
I missed judging the final round because I was unavoidably engaged, but I don't know if my judging sheet would have made much difference; it was pretty clear who the winner was. I got back to my seat just in time to see Whittler with a permanent grin on his face hand in his judging sheet. I have many good memories of that night, but the smile on Whittler's face is one of the best.
Farangman asked me if I would do the honor of handing out the prize money, and I jumped at the chance. He handed the prize money to me and I climbed on stage as I was introduced to the crowd. I'm more of a loner than an extrovert so it was a little weird being on stage in front of so many people, but I was enthusiastically greeted by the crowd. I was very careful to keep the money straight so I didn't hand out the wrong prize. As each girl came up, I respectfully handed her the prized using both hands.
All I can tell you is that there is no smile on earth like that of a bar girl when she's just been selected as Number 1 and handed 10,000 baht in front of her peers.
As I was describing this to a friend of mine, he said, "I know, she was beaming." But it occurred to me that the expression on the girl's face was the exact opposite of beaming; it was as if her inner-self was exposed and she was most sincerely grateful for being selected.
After the prize ceremony, the party at Hollywood Rocks started to break up a little. A few guys came over to thank me for sponsoring the contest, but I did my drunken best to tell everyone that the thanks should go to the guys that did the real work.
MikeM33607 and I started to walk out of the bar, but the mamasan ran over and grabbed me. "Your friend barfine girl. She go wit you." I was going to write that was prolly the first time someone left without their barfine, but I just remembered I did that a few days ago. MikeM33607's girl came out to join us looking better than ever.
MikeM33607 and his prize hit the road, so I was on my own. I walked around NEP for a while and stuck my head into a few bars, but I got recognized and thanked pretty much everywhere I went. I'm basically a shy guy, but now I know how the real Tom Cruise must feel... S ome of the guys were pretty cool, but there were quite a few who had a beer or two too many and had lost their inhibitions. I think I was glad we were flying to Phuket the next day.
I thought I should head over to Soi Cowboy for a change. I successfully dodged being molested by an elephant and a katoey at the NEP entrance, and crossed Sukhumvit to grab a cab.
The police were out in force on Sukhumvit that night. When the traffic was stopped, they would walk into the street and wander through the traffic looking into cars. One cop tried to stop a taxi, but the driver blew right past him. The cop ran to his waiting scooter by the curb and took off after the taxi. From where I was in the traffic, I could see that the taxi had turned off his headlights and was weaving in and out of traffic. The interesting thing to me was that it looked like the other taxi drivers knew what was going on, and they were filling in behind the escaping taxi to block the police. But it's pretty hard to get away in heavy traffic from a cop on a scooter, so it wasn't long until the cop caught up with the taxi and blocked its way with his scooter. The only thing I can imagine that worse than being strong-armed by police, is being strong-armed by the police after trying to get away. Maybe it's all part of the game, but I figured that taxi driver had some serious explaining to do.
The driver let me out on the Soi 23 side of Soi Cowboy. That's okay with me, I can stop off at Suzi Wong's and see what's happening on my way to Tilac. Since the girls at Tilac know me, it's a lot easier for me to enter the soi from Soi 23 if I don't want to go straight to Tilac.
There weren't too many customers in Suzy Wong's tonight. The last few visits we sat at the stage or in the front row, but this time I went for one of the nosebleed seats. It didn't take long for my drink to be delivered and to be joined by an attractive girl. She must have lost the tie to her robe and had just a terrible time trying to keep her robe closed. I thought it would be a good idea to buy her a ladydrink to try and keep her warm.
It's a funny thing about me and Suzy Wong's; I had become friendly with a few girls from there, but it was absolutely impossible for me to keep them straight. The fact is I couldn't even remember any from previous nights, but I could guess which ones they were by the sometimes chilly glances I would get. I guess the girls in this bar really staked out their territories. Too bad, if they would have just joined the party I would have bought them all drinks.
While the girl and I were having great fun with her defective robe, the front door burst open and in marched five Suzy Wong server girls. The first girl was proudly carrying a bottle of tequila over her head, and the girls behind her were all chanting, "Champion, champion, champion." I must admit it got my attention. Shortly after the server girls, in marched the four Suzy Wong contestants from the Nanapong dance contest. That's when I realized the winner of the dance contest was from Suzy Wong's, and she had returned triumphantly to the bar. I was actually surprised by that; I was sure someone would have barfined her at Hollywood Rocks.
One of the contestants noticed me, grabbed the other girls, and they all ran over. They were all kneeling expectantly at my feet, staring at me. I was wondering what was going on, when one of the girls started pantomiming for me to take off my hat. Oh, that's it; they're not sure if it's really me. The moment I removed my hat they all jumped in my lap, knocking the robe girl to the floor. Oh, how I love this place...
The mamasan came over to break up the group hug, and sent the girls off in all directions. Damn, and just when I was getting used to it! The mamasan (the katoey looking one) sat down next to me, and started some small talk. I guessed it's never a bad thing to have a mamasan as a friend (especially one who grabs your @ss all the time), so I bought her a drink. I think she was surprised at the offer, but that didn't stop her from placing her order and chasing the robe girl away to sit by the front entrance. Damn, I was having fun with the robe girl.
Even though there were precious few customers in the bar, it was interesting to watch the mamasan work. If too many girls were gathering in one spot, the mamasan would shine her flashlight on them and indicate where she wanted them to go with flicks of her wrist. When the mamasan ran out of small talk, she downed her drink, and pulled over one of the girls with her flashlight. The girl she pulled over was the winner of the dance contest.
Any other time I might have appreciated that, but not tonight. I was feeling a little trapped. Here I am with an attractive girl and a hell of a dancer staring up at me with those big goo-goo eyes, a girl by the front door with a robe that just won't stay shut prolly wondering what she did to get chased away, and a girl at Tilac that I would rather end up with. After a while, the DC winner had to get up on stage to dance. I couldn't help but feel the evening must have been a little anti-climactic for her; here she was Queen of her Universe for a little while, and now back on stage shakin' it. But this was my chance to hit the road. I reached into my pocket and pulled out a tip for her, and I also tipped the robe girl on the way out -- maybe now she can afford to get that robe fixed.
Entering Tilac I could see the joint was jumpin'. I was surrounded by girls, and lead to my favorite seat by the book-keeper. Som was busy on the other side of the bar attending to some of the dancers. No problem, I'll just get a drink for me and a bunch of the girls over here. That girl Antman barfined a few days ago was enjoying a snack a few seats away, and came over to give me a little taste. As she was walking over, I noticed the little snack she was about to feed me was a bug. Well, eating bugs was on the list of things to do so I had to try it. Hey, it wasn't bad! It was caterpillar-like, and about 3 times the size of an average mealworm. At least the mealworms I've seen. To me it tasted like curly fries. I can't say I filled up on bugs, but I had as many as she wanted to share. When she stopped eating, she starting giving me a back massage.
I bought Som's friends some ladydrinks, and relaxed enjoying my massage and watching Som move.
Ain't this the life?
---------------------------------------------------
Ommmmmm

Jai Guru