No Party Too Far -- Part 12

No Party Too Far -- Part 12
Some people say we're having too much fun,
But that's just the sort of thing some people would say.
"Are you rearry? I'm rearry! Ret's go!" That must be the sound of Sip waking up the boys again...
Today is going to be a full day. We need to eat breakfast, pack, check out of the Thara Patong Beach Resort Hotel, make our way to Phuket International Airport, fly to Bangkok, get a limo to Pattaya, check in to the Hard Rock Hotel, celebrate Thanksgiving, and hit the bars. Phew! I'm getting tired just thinking about it all!
Antman brought Om to breakfast and announced he wanted to bring her to Pattaya with him. Ay Carumba... I didn't think that was such a great idea for a bunch of different reasons. For one thing; Antman said he was starting to run low on money so maybe it wasn't the best idea to start moving BGs around Thailand. Om was one of those sweet moppet girls but there are lots of those in Pattaya, and I was pretty sure Antman could do better. Even if he only found one "as nice" as Om, he would save the airfare. But there wasn't much I could tell Antman in front of Om. Instead I just asked questions like "Did you get her a ticket?" "Are seats available on the flight?" and "The limo is supposed to be here in 20 minutes; is Om packed and ready to go?" Antman didn't make a reservation, he didn't check the flight availability, and Om wasn't packed. Antman tried to come up with work-arounds, but it didn't take long for him to realize it was hopeless. I just hope Om's feelings weren't hurt enough so she would start crying again -- I hate that.
Om walked us to the limo and hugged us all goodbye. Because she sister me, I slipped her a few baht before climbing into the limo and shutting the door. The driver looked through his paperwork for a moment and verified it was okay to take us to the airport, and we were off. It doesn't really matter where I'm going, I just love to drive around and look at the sights. Especially when it's in a clean air conditioned limo. And some of the views that can be seen on Phuket make the ride very special. It's a long ride to Phuket International Airport from Patong Beach, so we had a chance to relax a little and enjoy the ride.
We piled out of the limo at the airport and started looking for First Class check-in. The lines in the airport were pretty long, but not for us. We checked some bags, and were shown the way to the First Class lounge. We didn't have long to enjoy the lounge as we arrived just before the flight was scheduled to start boarding. But we were there long enough to have some mid-morning snacks, and for Antman to have a few tuna sandwiches. Antman loves tuna and will go way out of his way for a tuna sandwich. Sip, on the other hand, was attempting to eat her weight in brownies. For someone who said she didn't like sweets, she was really attacking the dessert buffet.
When our flight was called for boarding, we got up and started for the security checkpoint. We were shocked at the length of the lines, but pleasantly surprised to see they had a separate First Class security checkpoint for us. Sweet...
I don't think it really sunk in to Sip that we were flying First Class until we actually got on the plane. Maybe she thought farangs always get special treatment. Immediately after we were served our welcome drink of champagne, Sip grabbed my arm and pulled me over to ask, "Return ticket you buy me, it First Class?" When I said it was, she settled in her seat and acted like a queen for the rest of the flight.
When I bought Sip's ticket, she asked if she could have an opened ended return flight. It didn't cost any more, so it didn't matter to me. Sip's plan was to return to Bangkok after Pattaya, and take a bus to her home town so she could visit her father on the King's birthday. Sip said the King's birthday is like Father's Day in Thailand. I made a mental note to give Sip a little extra for bus fare.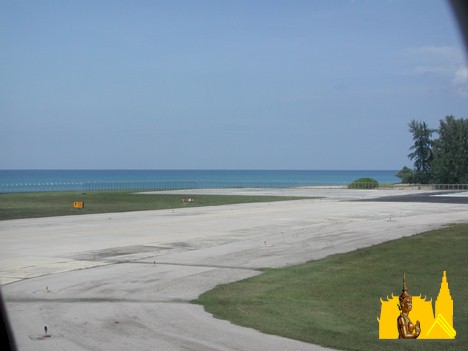 The end of the runway is unforgiving,
so be careful!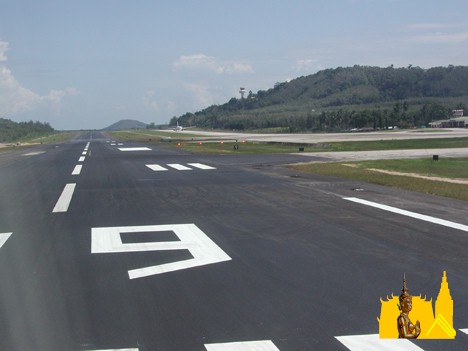 For a few baht more, they let you fly the plane!
Sip loved to ask the flight attendants to fill up her champagne glass... It was a quiet flight, and we even got a chance to nap a little. After all the great vistas, of course.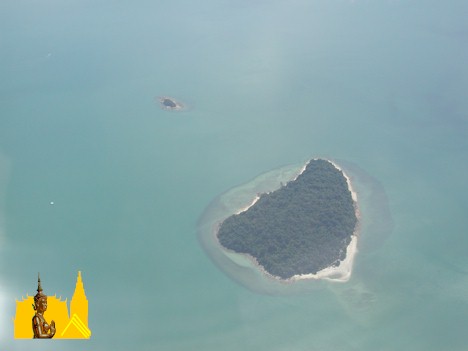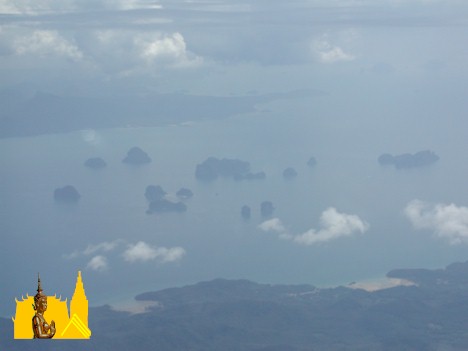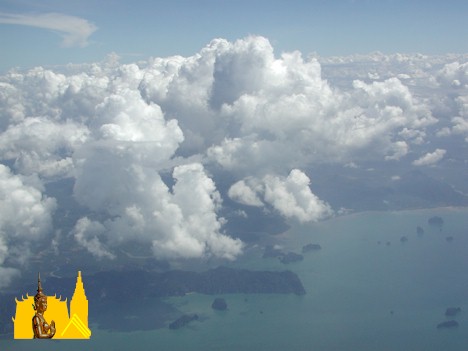 It was a little hazy, but I hope you can appreciate the views.
We arrived at the Don Muang's Domestic Terminal and started looking for the Thai Limo desk. Of course Antman was attracting touts like flowers attract bees. I stopped to have a long look at him, and he didn't seem to be wearing a mark. But somehow the touts knew Antman would be interested in anything they had to say. Unfortunately the Thai Limo desk is located in the International Terminal so we headed over there.
I'd like to say we jumped on the high-speed people mover to the International Terminal, but they don't have one. Don Muang has a skybridge that links the two terminals, and it's a decent walk. Just as we entered the skybridge and turned to make our way to the International Terminal, we woke up a sleeping courtesy cart driver and he offered to give is a ride all the rest of the way.
We came up behind a traffic jam at the far end of the skybridge caused by four Thai girls walking in the same direction we were headed. The cart's horn must have been broken because the driver shouted out "beeb-beep" to clear the skybridge of the jam. For some reason that cracked us up, and we laughed about it the rest of the day.
The diver dropped us off in front of the elevator, and we took that down to the ground level where the Thai Limo desk should be. When the doors opened, Antman was quick to point out there were many companies offering cars for hire but I was holding out for Thai Limo.
We found the desk and asked about a limo to Pattaya. The price was reasonable, and if we booked our return trip at that time we would receive a discount. Well, I knew we would be coming back and I didn't want a repeat of what happened in Pattaya last year so I was happy to schedule the roundtrip. As we were being shown away to our car, another man walked up to ask about a car but was told all their cars were taken. Lucky us, we got the last Thai Limo that day.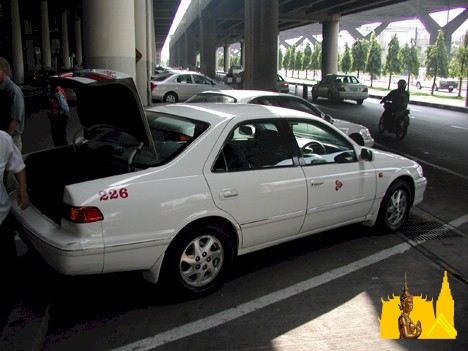 Another nice clean car. Sweet... The ride to Pattaya takes about 2 hours so I asked the driver to stop so we could get some water and snacks. Just outside Bangkok was a service station with a snackshop, and the driver pulled in so we could do a little shopping. Someone, who will remain nameless, thought it would be a good idea to buy some dried fish. Maybe they thought it was tuna... I was not looking forward to that bag being opened in the car because I was sharing the back seat with them. The smell of dried fish travels fast in confined spaces... I wonder if the trunk is air conditioned...
We had seen a lot of police in town; there were many more police out and about than I can remember seeing on previous visits. And I was surprised to see so many soldiers on the highway as we traveled to Pattaya. They would have little camps set up on the side of the road, and we would also see them at every toll stop standing between the lanes of traffic writing down license plate numbers. I wondered if it had anything to do with the problems in Bali or the Scout Jamboree.
MikeM33607 and I enjoyed the ride to Pattaya, but Antman and Sip slept like babies. I wasn't going to wake them because I figured the more they slept the less likely it was they would open the bag of dried fish.
When we actually pulled into Pattaya, I woke up Antman and Sip. On the way to the Hard Rock Hotel, the driver stopped at the Pattaya office of Thai Limo. Sip thought it was because the driver didn't know where the hotel was. Too bad he didn't say something; I could have told him how to get there. But it was only a short stop and we were soon on our way.
The limo turned into the Hard Rock driveway, and we received a smart salute from the guard as he lifted the barrier to let us pass. There were already a couple bellboys waiting for us when we pulled up to the lobby, and our Check-in Assistant was running out to greet us before we set foot outside the limo.
It was good to be back. The Hard Rock Hotel is a fun place to stay; they play great rock and roll music 24/7, and the staff is young and geared toward fun.
As we were walking up to the front desk, Sip grabbed my arm with a horrified look on her face. "My purse in car!" she said.
"So? Go get it!"
"Man, he gone!"
Aaaahhhh, poop. It's always something...
I had some papers from Thai Limo and started looking through them to see if they had any phone numbers on them. I remembered the driver had a cell phone and figured if we could call the office, they should be able to get call the driver. Luckily Sip had her cell phone, so I gave her the Thai Limo telephone number to call.
No sense watching Sip make phone calls, so we went back to the business of checking in. A moment or two later Sip was just sitting there, so I asked her what was going on. "Man, he come now."
"He come here?"
"Yes."
"He bring your purse?
"Yes."
"Cool!"
I gave her a little baht so Sip could give the driver a tip. We gave him a tip when he dropped us off, but coming back to deliver Sip's purse was worth something extra.
While checking-in, they asked MikeM33607 and Antman what kind of bed they preferred, and were quite shocked at their request for a king size bed. Unknown to us, Reception had assumed that MikeM33607 and Antman were staying in the same room - now they recoiled in horror as they thought those two were gay too! That story about Antman and the katoey must have made the grapevine! With laughter and smiles all around, we were able to sort out that problem and all get separate rooms.
Our Check-in Assistant gave us a quick tour of the hotel, and explained how the cabanas worked. Since each of us were staying in a King's Club room, we each were entitled to a complementary use of a cabana for one day. Three people, three days - cool!
The Front Desk reserved Cabana 9 for us, so we went out to see if it was the best one. Inspecting each one, we couldn't come up with any compelling reasons why any one in particular was best, so we decided to take the cabana Fate had dealt us. Cabana 9 was positioned well for the sun, close to the bar, and had a good view of the stage. Okay, Cabana 9 didn't offer the best view of the bikini traffic, but I expected a lot more fat-assed farangs walking around the pool than lithe Thai girls. Done! Cabana 9 it is.
On the way to the elevators we saw a sign advertising a Thanksgiving Buffet in the Hard Rock Hotel. I forgot all about Thanksgiving. The hotel is offering turkey and everything, so why not.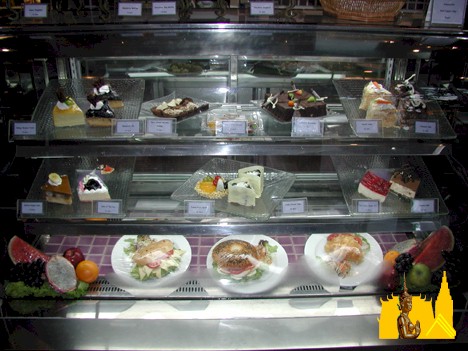 The tempting snack bar

This is the place to celebrate Thanksgiving
One last stop in the King's Club special meeting room to show us where the free drinks and free internet access is located, and then we're off to our rooms.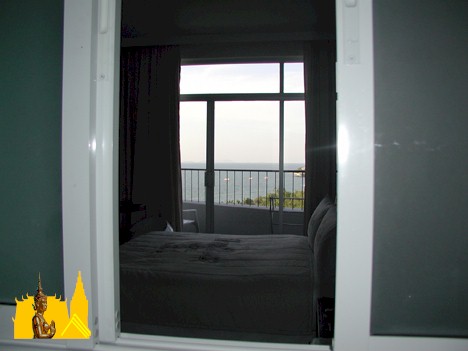 View from the crapper
The bathroom had a window that opened to view the room and the vista out the sliding glass door. Now that's the way to get business done!
Although MikeM33607 and Antman are happy with the rooms, I've got to admit I'm not impressed. It's the same size as the room I had last year (maybe a little smaller) and cost 50% more. Okay, free use of a cabana, free internet access, free laundry, free beach bag, and prolly some other stuff I forgot about -- but still...
We agree to meet in our elevator lobby for dinner at 8PM. I can take another shower, flip Sip over once or twice, and still get in a nap before dinner. Sweet...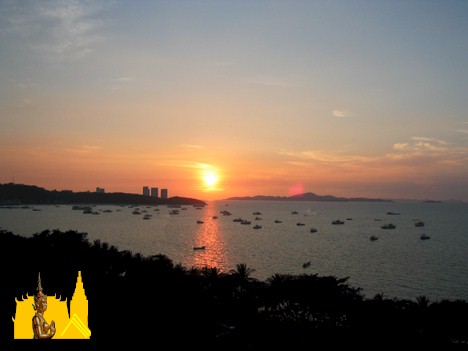 Photo courtesy of MikeM33607
Another beautiful Thai sunset
The Thanksgiving Buffet at the Hard Rock Hotel was fantastic. The turkey was just like mother used to make, the pumpkin soup was delicious, and the dessert bar was to die for. We all ate too much except Sip who thought the food was all a bit strange. But she did make a couple passes at the dessert buffet. It's a good thing they didn't have brownies...
After dinner, we left the hotel by the back door and walked around the pool to Beach Road. Stepping into the street and sticking out my finger, I hailed a baht bus. MikeM33607 and I had been to Pattaya before, but this was Antman's first time to Thailand, and first night in Pattaya. MikeM33607 and I pointed out some of the busy sois filled with bars to Antman, and had to laugh when his eyes grew as large as saucers. Antman has seen a few things in his life, but nothing like this!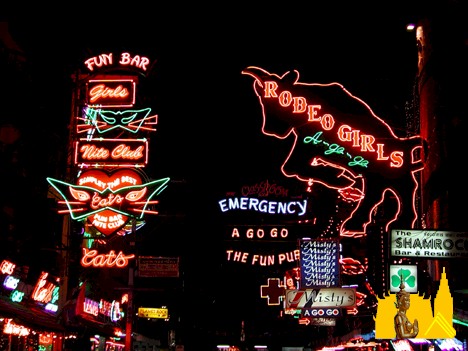 As the baht bus neared Walking Street, MikeM33607 pressed the buzzer, the bus pulled over, and we all hopped out.
MikeM33607 had read some good things about Super Baby so we stopped in to have a look. Super Baby was packed and had some nice looking girls there. They also made a feeble attempt to put on a show. The show itself wasn't too bad, but the DJ kept playing the Theme from Star Wars between each act. Guess how quickly that gets old...
There were indeed some good looking girls at Super Baby, but Antman was scared to go grab one. His strategy was to sit and wait until some girl sat next to him. He thought this one girl was good looking, but he said he needed to work up his courage to go and talk to her. I reminded him that because he was European he was predisposed to a lack of courage and if we had to wait for him to grow a pair of stones we would be there a very long time. He called my bluff by saying if it's so easy to talk to strange women that I should talk to her. Sheesh... Just like a European... Have the American do the tough work... No problem. I left the table with the plan to grab the girl and drag her back for Antman. As luck would have it, by the time I caught up with her, she was already sitting with a customer.
It didn't take us long to grow tired of Super Baby and that damn Star Wars song, so we decided to give Super Girl a shot. The moment we stepped into Super Girl, it was a lot more fun. There were a lot of attractive girls in the club, and they were all wearing great big smiles and precious little else. Two girls stood out from the rest, but one had dyed her hair blond so I crossed her off the list. I urged Antman to go after the other, but again he said he needed time to work up his courage. Bah... Enough of this! Feckin Europeans... I walked over, gave her the old my friend likes her too mut, dragged her back to Antman, and tossed her in his lap.
Boy howdie was Antman surprised. He asked, "Aren't you afraid of getting rejected?"
"No, and you shouldn't be either. What is she going to do? Bite you?"
Okay, they have been known to do that but I wasn't about to explain that to Antman at the moment. Now was the time for much beer, girls sitting on our knees, many ladydrinks, and loud rock n' roll...
Ain't this the life?
---------------------------------------------------
Ommmmmm

Jai Guru