No Party Too Far -- Part 17

No Party Too Far -- Part 17
Somehow I missed the guys for breakfast this morning. That's not like me to miss a meal!
MikeM33607 was leaving today, and he called to say goodbye. Leaving the Land Of Smiles is never easy to do, but I'm sure flying First Class made it a little less painful for him.
This was the second trip I got to spend some time with MikeM33607. I don't know if he enjoyed our company as much as we enjoyed his. But I would jump at the chance to join him on another crawl. Any time, Mike!
Today was also Antman's and my last day in the kingdom. Our shopping was done, we had seen quite a few temples, and we were used to relaxing from the time spent in Pattaya, so today would be a lazy day for us.
We had one early round at GBB, and decided to head over to August Styling Salon for a touch up. It would be a while before we got back, so we went for the works. What a way to relax...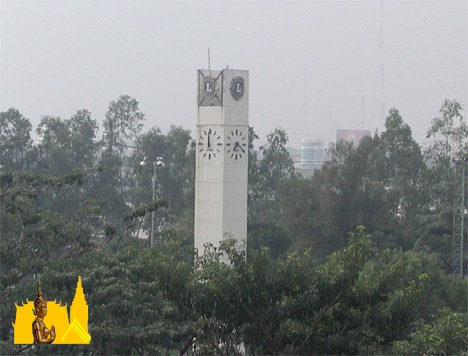 Does anybody really know what time it is?
We wanted to see where it went, so we took a Skytrain tour. It was interesting to ride it down to Mo Chit and show the weekend market to Antman. Then we rode to On Nut. Riding in air conditioned comfort as the city rolled by below us was quite nice.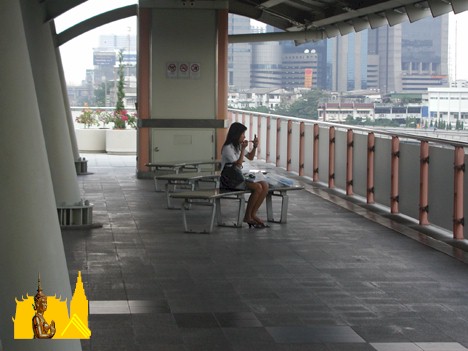 We got off at the Nana station and checked our email at World Coffee. Tomorrow we would be flying to San Francisco to swap suitcases and then on to Hannover, Germany. It looked like our environment would be changing from 90+F to -8C in just a matter of hours. Not really much to look forward to, but Hannover does have an enclave of Thai girls...
In every new country we visit we stop at McDonald's for a obligatory Big Mac. It also gave us a last chance to fill out some postcards. While Antman enjoyed his Big Mac, I scribbled out a stack of postcards. What fun.
After stopping at the Post Office to mail the postcards, Antman and I went to TLR to cool off and pick up a Nanapong calendar. I'm prolly the only guy that bought one of those...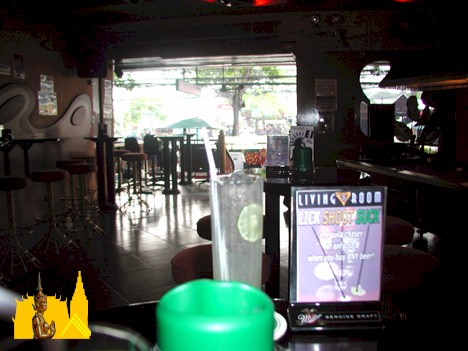 We were there early, so it wasn't crowded yet. Drinks were served, and Antman challenged a couple girls to play pool. I took a few pictures of Antman playing pool, and a couple girls were interested to see the other pictures in the camera. It was fun to show the girls the pictures of Phuket, Phang Nga, the Phi-Phi Islands, and Pattaya. Their interest in the photos made me think it would be nice to take them all there someday, and the way I've been moving BGs around Thailand I prolly will!
I was starving and ordered a big feast of a last meal. The girls were happy to get the ladydrinks, but they weren't interested in any food.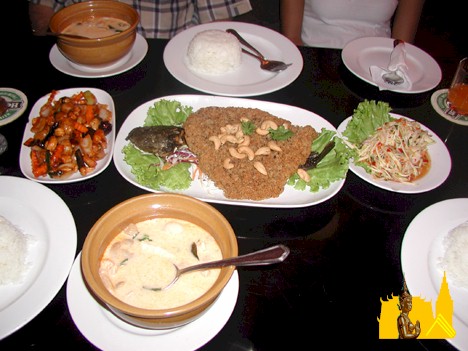 Once upon a time, a long, long time ago, Antman and I started this habit of putting on a Scottish accent. Every once in a while we'll say something to each other with that accent, and it just cracks us up. Our accents aren't that good, but good enough to fool people that don't know better. It works great on strippers and small town waitresses.
Something set us off so I put on my accent and said to Antman, "Screw ye!"
"Screw me, you say. Screw ye, I say. Screw ye double!
"MacTavis, watch it. I know ye father..."
"You know nothin'..."
The lovely TRL girl sitting by my side, tugged my arm and looked deep into my eyes when she asked, "Are you a cartoon?"
"Am I a cartoon? A cartoon?"
"Yes, a cartoon like on TV."
"A cartoon? Am I a cartoon?"
"You talk funny too mut, like on TV."
That moment was priceless. It turns out out they couldn't figure out what we were saying when we used the accent. I'll have to remember that. That could be useful in the future... Encoded communications. Sort of like Pig Latin, only different.
It was time to check bin and say goodbye to GB64 and the girls.
We wanted to get a head start on our packing, so we could enjoy the rest of the evening. It actually turned out to be a good idea. Instead of screwing around and taking forever to get things packed, we packed in a flash so we could get back out to the bars.
With everything packed except our traveling clothes and toiletry bag, we met in the lobby. Honoring our tradition, it was Antman's turn to pick our last venue. He picked NEP. Not a bad choice; he started there, and he'll finish this trip there.
I was tempted to take Antman back to Carnival to watch how he acted with his katoey friend, but we went to Hollywood Strip instead. It's nice to be greeted by the hello girls. Makes me feel like I'm home. But they always want to seat us in weird places. We ignored their suggestions and had a walk around the bar looking for the perfect place to sit down. We found a seat, ordered drinks, and a moppet ran up and jumped in Antman's lap. He warned me that he was going to BF her, but I suggested we hit a little more of the nightlife.
As usual, Antman BFed the first girl that sat next to him, and hurried her back to his loom. There were less than 12 hours until our flight took off, and I guess he wanted to spend as many as he could bumpin' nasties. It looks like I would be on the crawl alone tonight.
Bright lights distract me,
Sounds won't go away.
Here you can not find me,
It's time to go out and play...
I stuck my nose into every bar in NEP except Carnival, Casanova's, and Obsession. I even had a quick drink in those two bars on the second floor to the right of the escalator where most people never go. But not finding anything that struck my fancy, I decided to go back to the Hog's Breath Saloon and see if I could scare up a good time.
The girls seemed to be more interested in entertaining themselves than the customers this night, but the girl I spent some time with last night soon showed up and we started flirting.
It was time to fish or cut bait. I figured I could do a lot worse than the girl I had on my knee, and even though she didn't go with me last night, I slipped her 500 baht to see if she could do as good a job keeping my occupied in my room as she was doing in the bar.
The barfine hit her as a surprise and after a wai, she ran off to grab her purse.
I had this lovely creature tucked under my arm, but it was sad to be leaving Nana Plaza for the last time this trip. There was the usual baby elephant and manhout begging for business, the usual massage touts and tuk-tuk drivers waiting for a live one, and countless girls lining the soi hoping for a customer. I knew I wouldn't be there tomorrow night, and it was sad to think the carnival would start again tomorrow as the sun set without me.
Up in the room, she was surprised it was so big -- the room, I mean. She had obviously been to the Nana before, but never such a grand room as a Deluxe. She asked me why the room was so good, and I told her it was because I was "so good." That earned me a puzzled look, and a punch in the arm. Thai girl boxing too mut.
She disappeared into the bathroom, and soon called me in to bathe me. After she made sure I was squeaky clean from head to toe, she pat me dry, and led me to the bed.
All those talents she hinted at in the bar, she put to pretty good use on the Deluxe room's big bed.
I needed to check out at 4 AM to stay on schedule for my flight. Trying to keep one eye on the clock, I watched helplessly as the minutes ticked by liked seconds.
Sometime in the middle of the night, the phone started ringing. I was certain it was Antman with some new and original problem he needed help with, and was ready to give him hell for calling me during prime time. But it turned out the caller was the freelancer from last night.
"I go you loom?"
"Not tonight, I'm tired."
Hog girl asked, "Is that girlfriend?"
And it all went toes up from there. But I did get the freelancer off the phone, and was able to finish up with the Hog girl and get her out the door with a pat on the rump by 3:30 AM.
I called Antman and said, "Be ready to roll in 30," but I could tell by the sound of his voice he wouldn't be there on time.
Quickly, I shat, showered, and shaved, tossed the rest of my stuff into my bags, and carried it all down to check out. Then I waited and waited and waited.
Antman was 20 minutes late. Okay, I had fat built into the schedule because Antman never shows up on time, but I really hate being behind schedule. Even when I do build in some extra time.
We grabbed a Nana limo and took it to Don Muang. Although we had to go though Security, our Gold tickets enabled us to leave the cattle queue and check in at the First Class counter.
Traveling is so nice when one doesn't have to be subjected to tourists...
We did a little shopping and ate a little food, and got to the gate just in time to board the plane. We shoved our carry-ons into the overhead compartments, and started to get comfortable in our seats.
While I was flipping through the in-flight magazine trying to figure out what the movie was, Antman tugged on my sleeve as he asked, "Hey Jai, that was great! When are we coming back?"
We carried away our sins
and made our way back to where ever we called home
to pick up the pieces of what ever was waiting...

We carry on...

I've been there and I've done that,
and I've reduced it all to a story that I tell.

And maybe you're not like me,
Maybe you wouldn't do this,
or maybe you wouldn't do that,
But you don't know for sure.

But now I know Paradise is not someplace you can look for,
because it's not where you go,
it's how you feel when you're a part of something.

And if you find that moment,
it lasts forever...
Ain't this the life?
---------------------------------------------------
Ommmmmm

Jai Guru