No Party Too Far -- Part 10

No Party Too Far -- Part 10
Just hear those sleigh bells jingling,
ring ting tingling too!
Come on, it's lovely weather
for a sleigh ride together with you.
The Thara Patong isn't a bad hotel; it's just a little tired. Nowhere near as tired as the Nana, but still a little tired. It was prolly quite the place 5 or 10 years ago.
Last night the poor air conditioner just didn't have the poop to cool the room. I finally grew tired of messing with the thermostat and turned it down to 10C.
This morning I discovered the air conditioner had a little more poop than I thought it did. It was cold; damn cold. As I peered with one eye from under the blankets, I wouldn't have been surprised to see icicles hanging from the ceiling and penguins sliding by on the tile. A glance at Sip showed that she was shivering and her lips were blue. Poor girl. She shuddered, "Me cold too mut!" And that was the beginning of a constant battle for control of the thermostat. I was comfortable around 20C, but Sip wouldn't be comfortable a degree under 25C.
~ ~ ~
We met MikeM33607 and Antman for breakfast around 8 AM. But since Sip and I didn't get to sleep until 5, I really needed to take a short nap before the bus picked us up for the trip to Phang Nga. We've been going at it for a week now with only a few hours sleep each day. The bus is scheduled to pick us up at 12:20, so we should just about be able to fit in 2 more hours of sleep.
We've done a lot of eating, drinking, and carousing, but sleep has not been a priority for us.
Tomorrow's a big day; we're planning a whole day's speedboat trip to the Phi-Phi Islands. We'll have to do better and turn in early tonight or we'll be hurtin'.
After breakfast I stopped off at the hotel's travel desk and picked up some tickets for Sip so she could join us. Having survived the bedroom Olympics last night, I figured she's a keeper. Sip was top-shelf all the way; she was a gold medal winner in the bed room, did a great job of taking care of me, spoke English better than any BG I've ever been with before, and took an interest in Antman and MikeM33607. She was bringing a lot to the party, and I thought she deserved to be around.
~ ~ ~
The after-breakfast nap was successful and I was able to get a good two hours of sleep. Normally that doesn't sound like a lot of sleep, but we really have been burning the candle at both ends. We've been getting up early to do some sightseeing, and the bargirls have been keeping us up all night. If that ain't burning the candle at both ends, I don't know what is.
Today's sightseeing event is the Sims Tour to Phang Nga. The main attraction of this tour is Ko Tapu, also known as James Bond's Island; it's the island in the movie The Man With The Golden Gun where Scaramanga lived. Also included in the trip are stops at the Monkey Temple and Sea Gypsy Village.
We decided to meet in the hotel lobby 15 minutes before we were supposed to be picked up. That turned out to be a pretty good thing because it was considerably hotter and more humid outside that it was in our rooms, and a few moments waiting in the open-air lobby of the hotel enabled us to adjust a little before we had to get on the bus.
That was also the moment I decided to bring Sip to Pattaya. Yeah, I know... There are a lot of girls in Pattaya but Sip is bringing a lot to the party, and I figured I could do a lot worse.
The bus pulled up right on time, and we all hopped on. Our hotel was the last on the list, so the bus was pretty full. It looked like there were just two seats left for the four of us, and of course they weren't together. The two seats behind the driver were full of coats (What's up with that? It was 90+F and 90+% humidity!) and stuff, so we started putting them in the overhead storage bins to make room. The tour guide went around re-seating people so we could have two seats together. That was nice of him to do without even being asked.
As we were getting settled in our seats, the bus hit the road. From the looks of it, the bus was pretty new; the interior looked great, the air conditioning was actually cooling the cabin, there was actually a toilet on the bus, and each seat had it's own air conditioning output, foot rest, storage space, and reading light. The bus also had a public address system so it was very easy to hear the tour guide. And there was also a TV and VCR on board.
A few moments after leaving the Thara Patong, the bus started up the steep hill that leads out of Patong Beach. It really is quite a steep hill. So steep that it's impossible for most vehicles to climb without slowing to a crawl. It seems dangerous enough when the weather is good, I'd hate to be on that hill in a downpour.
The tour guide was easy to understand and did a good job pointing out interesting things along the way. At one point the bus pulled up behind a small pickup truck that had a very large elephant in the bed. Although the sight delighted most passengers on the bus, I watched in horror as the elephant would shift its weight from side to side sending the small pickup swerving this way or that. And of course the pickup driver was driving way too fast prolly because having a large elephant in the back of such a little truck is very dangerous, and he wanted to get the job over as quickly as possible. TIT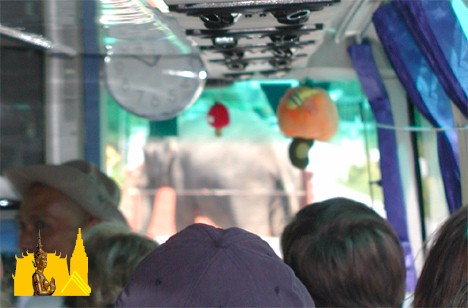 One theme that we would hear repeated on our tours is "Thailand loves Americans." Except for a few trolls on various forums, I hear that from people everywhere I go. But it was a little different for a tour guide to include the theme as part of his spiel. My thought was TAT must have put him up to it, and I was sure of it after a few different tour guides all said the same thing. The whole thing was kinda weird; it was hard to tell who the spiel was really aimed at.
When the tour guide finally tired of talking, he put on a video tape of The Man With The Golden Gun. This is the James Bond movie that takes place, in part, in Thailand. Not only does it have some very interesting shots of Bangkok taken in 1975 (was the Giant Swing still being used then?), the movie also has some good aerial photography of Phang Nga and Ko Tapu.
The first stop on today's tour was the Monkey Cave temple. Before we got off the bus, the tour guide spoke at great length about holding on to your belongings because the small monkeys would jump up and grab anything that might be in a one's hands thinking it might be food. He even said that if we bought some peanuts or bananas to feed the monkeys to be very careful because the big monkeys would come out and try to grab the whole bag.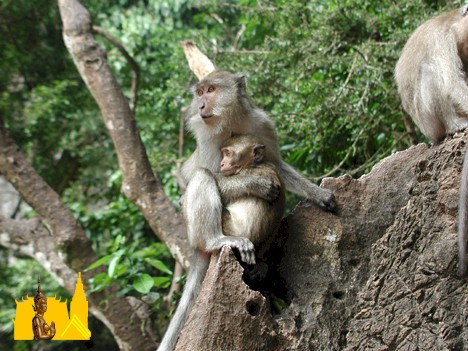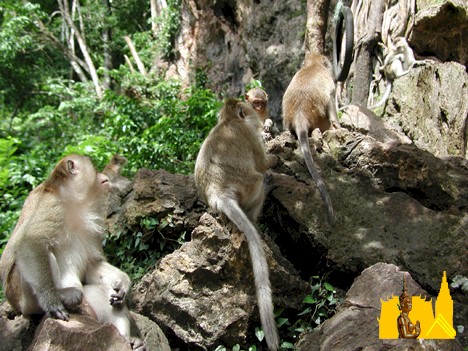 Sip wanted to feed the monkeys so I bought her a bag of peanuts but the warnings didn't sink in, and she prolly only held the bag for 15 seconds before a monkey jumped up and grabbed the entire bag out of her hands. No problem; we'll just buy another... This time she was a little more cautious and got to feed quite a few. She had a preference for feeding the baby monkeys, and would stop when the bigger ones would come around. But just because she stopped tossing peanuts didn't mean the bigger monkeys lost interest in her. In fact, she was being surrounded by monkeys and it was pretty clear to see they were planning an attack. I scooted over to join her, and was able to chase a few monkeys away. The monkeys that didn't run away were dispatched with some cleverly thrown peanuts. But when those were gone, we were surrounded by hungry monkeys again. That was a good time to escape, so we decided to duck into the cave.
The cave was considerably cooler, but it smelled of guano. I guess you can't have everything. Inside the cave there were a few shrines where merit could be made, and there was a monk sitting on a pillow who would give out blessings. I gave Sip some baht to make merit, and she came back with blessing strings for Antman, MikeM33607, and I.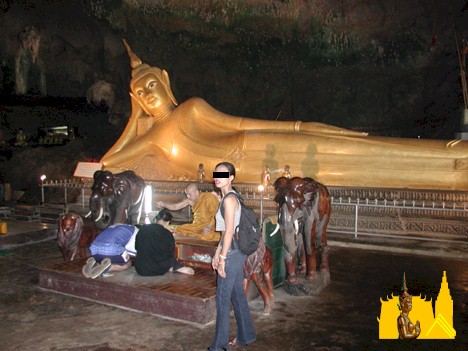 That was one of the things I liked about Sip; she seemed genuinely interested in Antman and MikeM33607, and would go out of her way to make sure they were okay and having fun.
Antman had seen me receive a blessing at Wat Pho, but this was his first. He seemed a little surprised to have Sip tie the string around his wrist, but he thought it was cool. For a while, anyway.
We walked deeper into the cave to see the shrines, and stalactites and stalagmites. We also saw hundreds of bats. That must be where all that guano is coming from. Duh...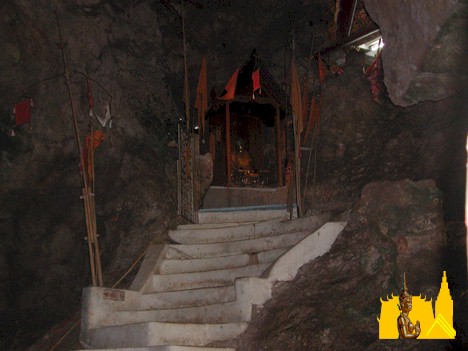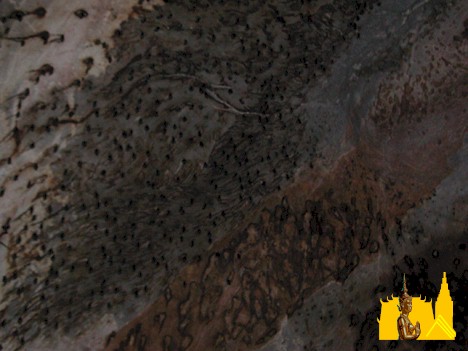 Bats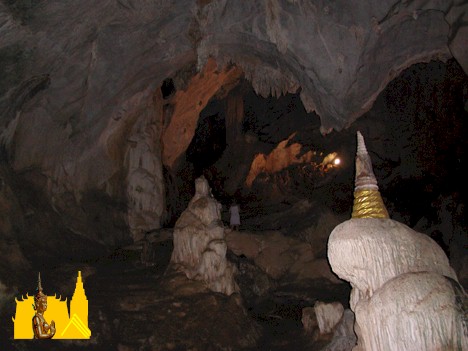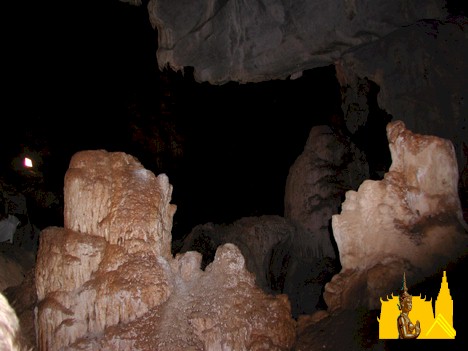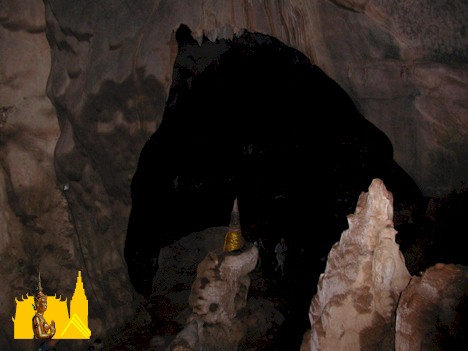 Without warning, the lights went off with good number of visitors still stuck in the deepest part of the cave. For whatever reason, the people stuck refused to walk out; they just stood there in the dark. The cave has a rather large entrance so it wasn't completely dark, still they just stood there. Antman suggested I should go back into the deeper cave so I could help people get out; nice guy, Antman. Dragging him with me so he could be a hero too, I told Sip to stay there (so I could find her again in the dark), and Antman and I went back into the deepest part of the cave to help bring the people out. Even with Antman and I helping, some people just flat out refused to move. I found if I fired my camera's flash that it would give some people just enough of a view so they would take a few steps. Once people saw that others were walking out, they would follow us. It didn't take us that long to get the rest of everyone out. And not one person fell. And not one person thanked us. No biggie...
There was enough time for some cold water and ice cream before we got on the bus, so we bought some from the vendors in an effort to cool off a little. Sip went all out at one of the stalls and got some spicy hot dogs. They were very hot, but they were good too. I may actually be getting used to the hot stuff! While my favorite old lady vendor was helping me, a monkey jumped into her basket of peanuts and made off with a bag. That was prolly coming out of her profits, so we gave her a little tip.
From the Monkey Temple Cave, it's a short ride to the Phang Nga boat dock.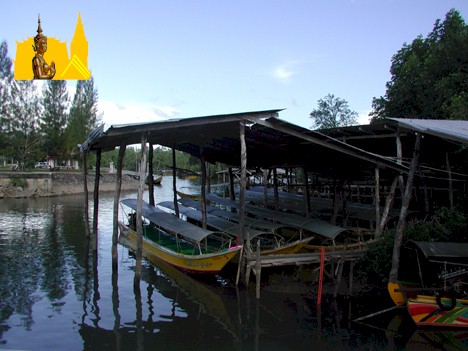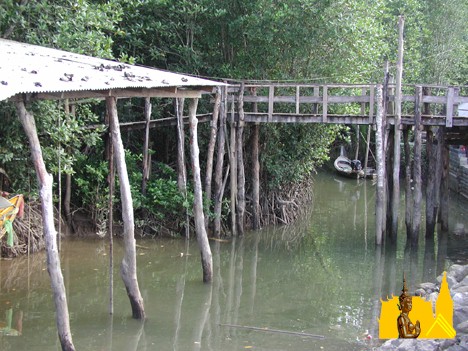 We all grabbed some life jackets, and followed the tour guide out to our long-tail boat. Antman and MikeM33607 were able to get seats up front, but Sip was busy buying more food so we ended up getting a seat in the back just in front of the motor. Because the motor was pretty loud, the tour guide passed out cotton to stick in our ears.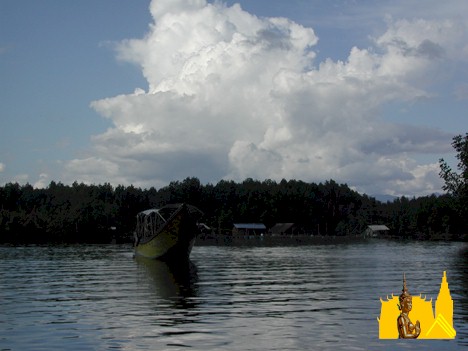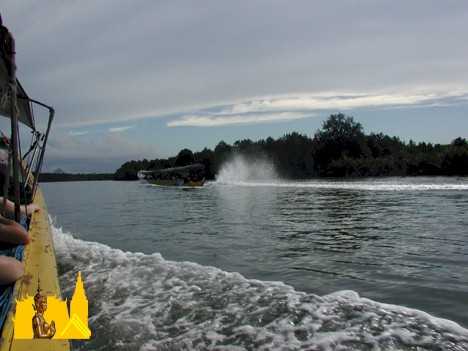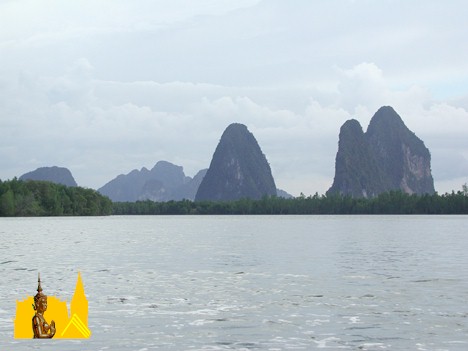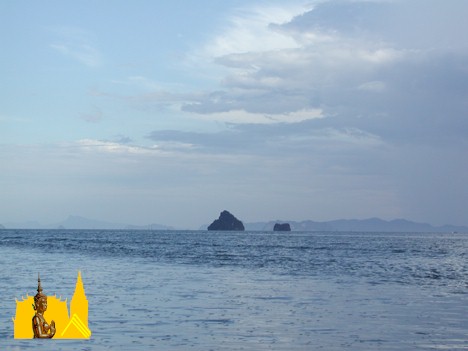 The views as we road through Phang Nga National Park were truly spectacular. Although some of the photos here may be interesting, they really don't do the park justice and the park must be seen to be believed. I wish I could say more about the incredible vistas but I'm really not a writer, and will have to let these small photos do the talking for me.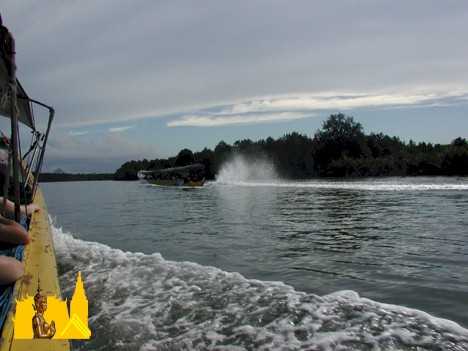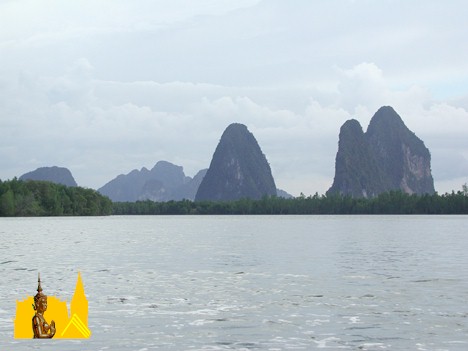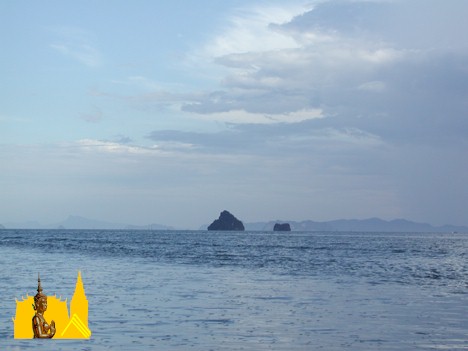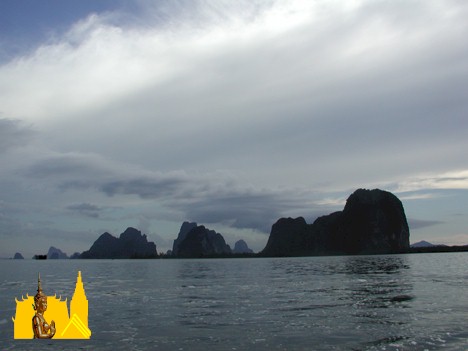 Our long-tail boat took us down the river, through mangrove forests and limestone tunnels, until we arrived at Ko Pan Yee -- the Sea Gypsy Village.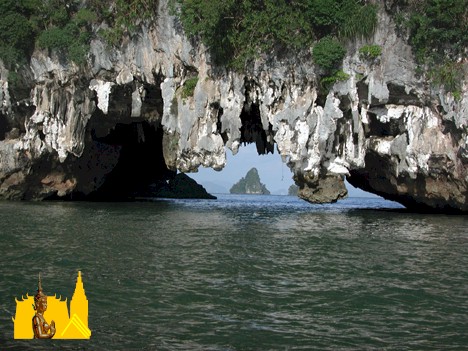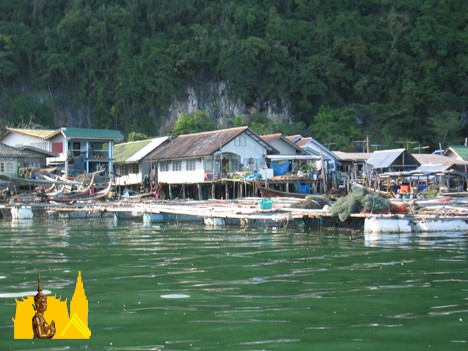 Photo courtesy of MikeM33607
The story we were told is that there were tribes of Vietnamese fishermen who all went out fishing together, but got separated because of a giant storm. One of the tribes settled here, and they are still waiting for the other tribes to find them. The people that live on this floating village survive on the fish they catch. They also have some trinket shops, but didn't seem to be doing any business.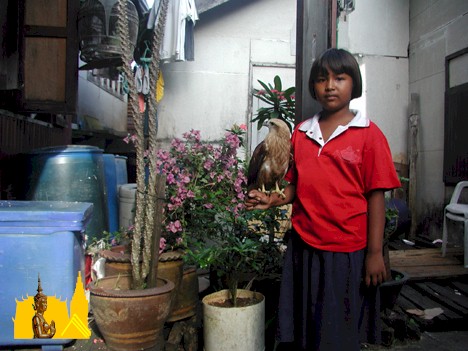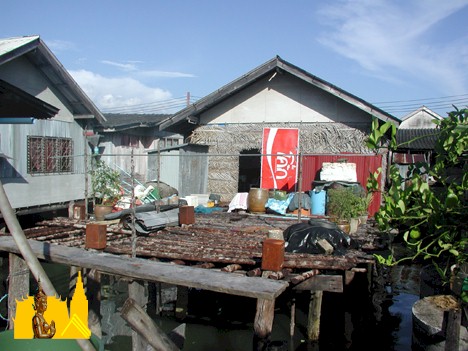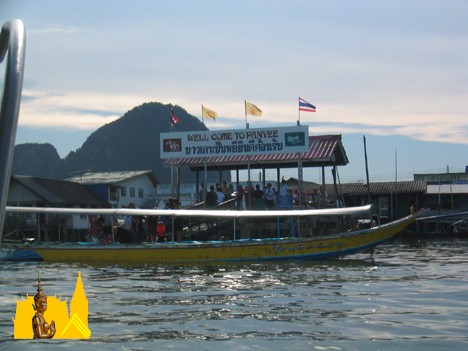 Photo courtesy of MikeM33607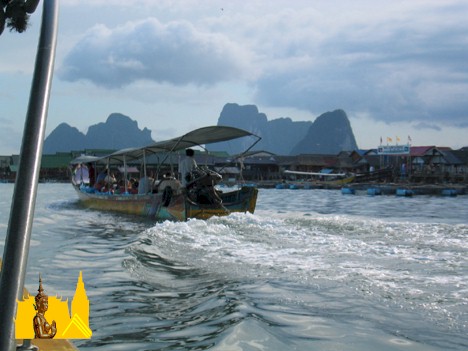 Photo courtesy of MikeM33607
The saddest part was the young children they had selling postcards. I was there a few years ago, and they targeted my group. This year they did the same thing. Antman, MikeM33607, and I were hounded from the moment we set foot on the floating village until the moment we stepped off. Maybe we should start carrying backpacks...
It's a speedy long-tail boat ride from the floating village to Ko Tapu -- James Bond Island. If one is a James Bond fan or just interested in seeing one of the most beautiful places on the planet, this is the place to go. The views are fantastic.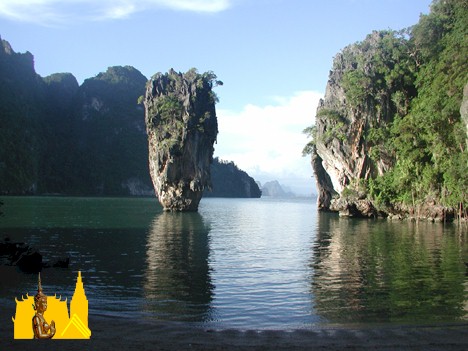 Taken from Scaramanga's lair

Photo courtesy of MikeM33607
On the downside: According to the tour guide the people of the floating village are very poor, so the Thai government allows them to set up souvenir stalls on James Bond Island. A few stalls might not be a bad idea, but there are so many stalls with aggressive keepers that it can affect the experience of the island. Most people don't buy anything anyway, so I don't know if it's such a good idea. In general I'm against taxes, but maybe if they just charged each person an extra baht for the boat trip to the island they could pass the extra money to the people living on the floating village and they would make much more money. But even with this small downside, a trip to the island is a must do.
We spent a goodly amount of time exploring James Bond Island and drinking in the view of Ko Tapu. Then it was back on the long-tail boat for the ride to the Phang Nga boat dock.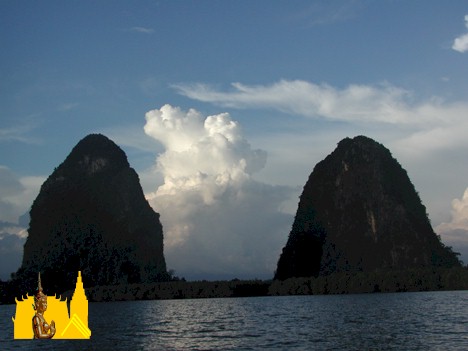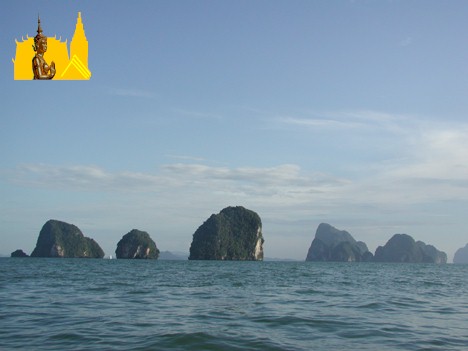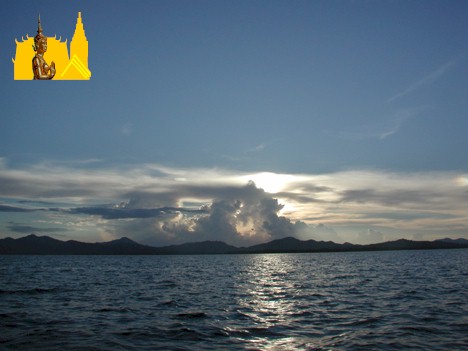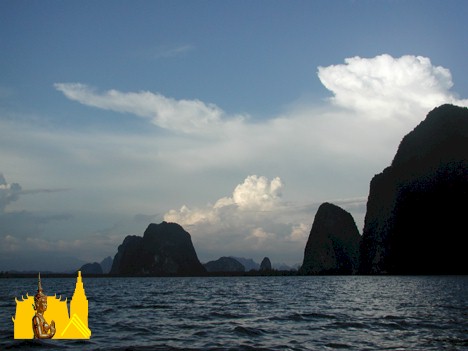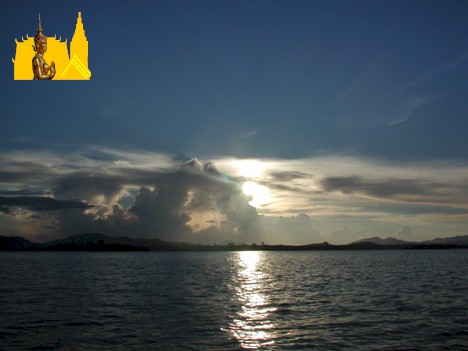 Once back at the boat dock, we had time to fill up on snacks of fresh corn, squid, and other food stall type snacks. We also bought some cold water to drink there and to have on the bus ride back.
If one's interest in Thailand goes beyond Sukhumvit, Phuket and this tour really shouldn't be missed. One other important thing to add; the entire tour I described here cost only 650 baht. That's pretty good value for your baht.
Back in the bus, the tour guide put the tape back in so we could watch the rest of The Man With The Golden Gun. Most people slept but not me. I was consumed by the constantly changing vista that rolled past my window. I had to laugh -- how can people sleep when there is so much to see and do?
We were dropped off on Beach Road about a block away from our hotel, and made it back to our rooms by 7:30. We had all agreed to take a nap and meet up for dinner at 9 PM. All of us, that is, expect Sip. Alone in our room, she wanted to express her appreciation for the trip to Phang Nga. This girl is going to be the death of me, but what a way to go! At least I'll go with a smile on my face.
Somehow we all did meet on my patio at 9 PM, and headed off toward Beach Road. Sip wanted to eat seafood, and I don't think the rest of us cared what we ate. Sip said she knew a good place and took us there. The seafood emporiums on Beach Road charge top price for their food compared to what else can be had in town, but it's still a lot cheaper that what I would pay at home. The food on Beach Road tastes better, too! And one of the nice things about eating at the open air restaurants on Beach Road is that there is often a cooling breeze that comes in off the water.
We ordered all kinds of stuff; clams, oysters, fish, lobster, Tom Kha Gai (of course), fried chicken and cashews (my favorite), and we had a huge plate of fresh fruit for dessert. We may have ordered way too much food, but somehow we ate it all.
Next stop was Rock Hard so Sip could pay bar. Sip ran off to do her stuff and left Antman, MikeM33607, and I alone. Aha, I spotted a new girl - Big Red. I called her Big Red because she was a tall, heavily busted girl wearing a red bra and panties. We had our share of flirting eye contact, but she wouldn't join us. My guess is she didn't want to step on Sip's toes. Sip and Big Red were easily the two best girls in the go-go. Om came by, I'm sure thinking I would barfine her tonight since I told her I would yesterday. I'm an idiot. I prolly would have if Sip wasn't an X-rated movie. But instead, I introduced Om to Antman who fell in love with her the moment he saw her (as usual). Even after Antman barfined her, Om wanted to gib me massage. I tried saying she sister me, and Antman barfined her already -- but that didn't put her off much. I heard myself say I would barfine her tomorrow for sure, ching-ching. What the hell was I thinking?
All five of us grouped up and headed out. We wandered up and down the bar beer sois looking for a fun time. We stopped at one of the bars to watch the girls pound nails into a tree cross-section, but we didn't stay long. Prolly because she was tired of walking, Sip mentioned her friend owns a bar on Soi Easy and we were off.
Most of the bars in Soi Easy were pretty dead, but we brought the party with us. Because MikeM33607 was solo, he won the attention of all the girls at the bar. The owner of the bar was an attractive Thai girl with one of the prettiest smiles I've ever seen -- it was hard to take my eyes off her. The bookkeeper on the other hand, just stared at me and smiled the whole evening. Then there was Pompooey (Sip's room-mate), and Apple. There were a couple other girls working there, but they didn't bring much to the party. Pompooey was a little older and had been around. She would come over and tease me whenever Sip wasn't looking. Apple was prolly 19 years old, and new to the business but she was fun to have around and took good care of us when we were in the bar.
We bought a bunch of ladydrinks, and it wasn't long until the girls brought out the games. Antman and I had been talking about it for months, but tonight he would play his first game of Connect 4. He got waxed big time. A few months ago I had been practicing on a program I downloaded for my Palm, but it took me a while before I could remember my strategy and start beating the BGs.
There was a commotion in the complex, and we all turned to see a wonderfully full-breasted girl dancing topless on the bar across from us. I offered tips to the girls at our bar if they would do the same, but I guess they were all "good girls" and wouldn't do it.
Oops! Stayed out until after 1 AM - so much for getting a good night's rest. And that doesn't even count what Sip has in store for me back at the room.
Ain't this the life?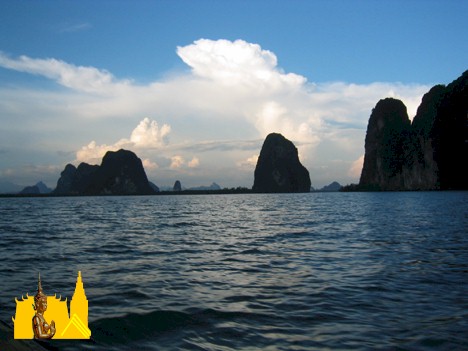 Photo courtesy of MikeM33607
---------------------------------------------------
Ommmmmm

Jai Guru