No Party Too Far -- Part 9

No Party Too Far -- Part 9
Ah, I love to look into your big brown eyes,
They talk to me and seem to hypnotize.
They say the things nobody dares to say,
And I'm not about to let you fly away.
After Som came out of the shower this morning, I went in to the bathroom to shave. I had forgotten something and went into the sitting area to retrieve it. There I found Som with her face pressed against the window and like a little girl saying, "Good morning Bangkok, good morning Skytrain, good morning policeman, good morning..."
It was one of the sweetest things I think I've ever seen.
~ ~ ~
We said a quick goodbye that morning, and I promised Som I would see her again when I returned to Bangkok -- ching-ching.
Antman, MikeM33607, and I met in the Nana lobby, and we agreed to take a Nana limo to airport. Yeah, there are cheaper ways to go, but we were more interested in being comfortable than saving a few baht.
We had to report to the Thai Air ticket office to pay for our upgrade, but from there it was First Class all the way.
Next stop was the Executive Class check-in area. While the coach queues were all full, we breezed to the Executive Class check-in counter and handed over our tickets. After much checking of IDs and stamping of tickets, the attractive girl behind the counter told us there was a special Executive Class waiting area, and we could wait there for our flight to board. Well, why not? We paid for it!
Inside the Executive Class lounge they offered snacks, drinks, sandwiches, and desserts. For entertainment they offered some business magazines, the local English paper, USA today, and CNN on the TV. Better yet, the Executive Class lounge had their own lavatories so travelers didn't need to consort with the wretched refuse of Coach...
Even though I enjoyed a hearty breakfast as usual, I found myself growing peckish and grazing the buffet in the Executive Lounge. Before long, it was time to go to the gate. We left the Executive Class lounge and were quite happy to find there was an Executive Class Security Checkpoint. Now that's the way to do it!
I'd flown to Phuket before so I suggested Antman and MikeM33607 try to get window seats on the port side of the plane. If the weather is good there should be some good views as we neared Phuket. The flight to Phuket was only an hour or so, but I recall being served a very good meal and champagne. And because I haven't slept much the previous week, I tried to catch as many winks as I could on this short flight.
MikeM33607 had checked his bag so while he and Antman were sharking the luggage carousel, I went to the Thai ticket counter to arrange Executive Class upgrades for the return trip. While I was gone, Antman secured a limo to our hotel; the Thara Patong Hotel and Beach Resort.
It's quite a long ride from the Phuket airport to Patong Beach; maybe 30 or 45 minutes or so. But there are beautiful vistas on the way. And it was nice to be in a new, clean car instead of the grimy taxis we've been riding in the last week.
We were greeted at our hotel like royalty, and shown to our rooms. MikeM33607 had booked his room through one of those Internet sites and was entitled to a free upgrade. Since Antman and I were redneck enough to pay full price, we got squat.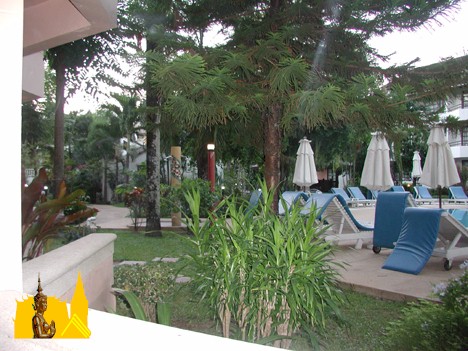 From my patio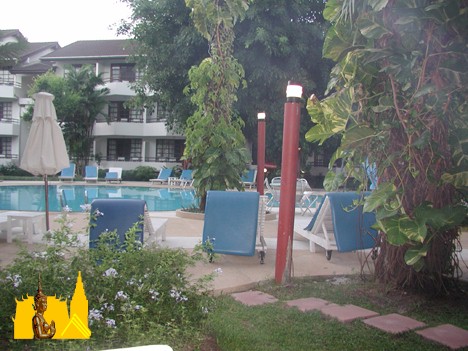 Same patio, different direction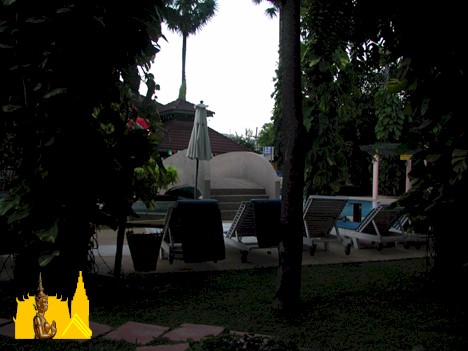 Still the same patio, but another direction...

One of the Thara Patong pools
We agreed to meet in the lobby after settling in our rooms. Just off the lobby, the Thara Patong has their own travel desk. We marched in to figure out our options for the next few days. The girls behind the counter guaranteed that it wouldn't rain the next few days, and even printed out a weather report to prove it. But when we read the print-out it said quite clearly it would indeed rain. What the hell... We came this far, why not take a little chance? Done! The tickets are booked. The plan is to visit Phang Nga tomorrow, and the Phi-Phi Islands the day after. With that out of the way, it's time to do a little exploring.
The past few days I have been collecting price data points on some large brass statues I was interested in buying and taking home. After visiting many street stalls, I finally went to my favorite export shop in Bangkok. They had exactly what I was looking for but I didn't want to buy it just yet because I didn't was to carry it with me around Thailand. And who knows, maybe I could find it cheaper. While at my favorite export shop, Antman found something that could pass as a jade elephant. I purposely have picked those words, because neither Antman or I have a clue what jade really looks like.
As we walked around Patong Beach, I continued to shop for my brass statues, and Antman tried to resolve his fears of buyer's remorse. Just like Bangkok, I was amazed stall keepers didn't try to take advantage of Antman. They could have told him anything, and Antman would have been very willing to accept it as fact.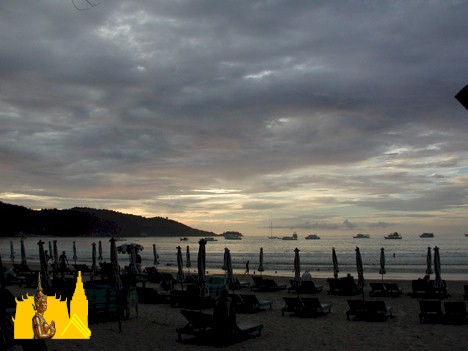 Phuket sunset
We found a couple large massage parlors and Antman and MikeM33607 went in to check out the fishbowl while I logged some notes on my Palm.
By the time we got back to the hotel, the sun was beginning to set. We agreed to meet in 90 minutes or so, thinking we could get a little sleep before meeting for dinner. But on the way back to our rooms, it was pretty clear Antman wanted to have a heart-to-heart talk.
Man or machine,
keep yourself clean,
or be a has-been...
"Jai, have you ever caught anything from a bargirl?"
Arrrgh... In the moment I paused before answering this question, I had to decide how honest I wanted to be. Although Antman and I had known each other for a few years, sharing information on various communicable diseases we've contracted is a new milestone in our relationship.
"Last year, I barfined this girl on my last night in Bangkok and took her back to the room. In the middle of the night, she decided to wake me up the good way by exhibiting her oral talents. Unfortunately, she wasn't using a condom. As soon as I was awake and understood what was going on, I put on a jimmy hat and got back to business. But a day or so later I realized I had a problem. I suffered from an itching of the urethra, which could only be made to feel better when I urinated. Nothing came up with the swab, so the doctor diagnosed it as Non-Specific Urethritis (NSU) and gave me some antibiotics to take for the next ten days. The pills knocked the hell out of the NSU for a few days, but by the third or fourth day it was back. I called the doc, but he said to keep taking the pills and come back to the office if I still had symptoms when the pills were gone. Since it was getting worse with each day, I knew I'd be visiting again. At the next office visit, I was given a prescription for a different (more expensive) antibiotic, but the same thing happened again; the NSU was spanked for a few days but came back on the third or fourth day. On the third visit he gave me the pills I asked for initially, and they did the trick. So I'd say as far as catching things from bargirls go, I've been pretty lucky. But then again, I play it pretty safe."
As Antman took some folded papers out of his pocket and handed them to me, he said, "Yeah, I didn't think I could catch anything from oral, but it looks like I did."
The report from Bumrungrad said Antman had a case of gonorrhea. Bummer, dude.
"Well Antman, I wasn't trying to ruin your fun by suggesting to always wear a jimmy hat. That's just what you've got to do these days."
Antman said his case was pretty bad, and that's why he didn't want to leave his room. I'm just glad he got it taken care of before the flight to Phuket.
We talked for quite a while about condom use and some of the experiences he had been having with the girls for the last few days. I think he had a hard time understanding that these girls were really in it for the money. Pretty much anything they told him, he was willing to believe. There was no way I could turn around 30 years of conditioning by Ant Mom; the best I could to was to take him out and show him some fun.
Unfortunately, the 90 minutes I had hoped to use for sleep before we went out were gone but it was a good thing to spend some time talking with Antman. Antman begged off the evening's crawl saying that although he felt better, he just wasn't 100% yet. No problem, that means more girls for MikeM33607 and I. Woo hoo!!
My room had a patio that led out to the pool, so I called MikeM33607 in his room and suggested we meet at my patio. A quick shower later, and it was time to hit the road.
We hadn't eaten for a while so the first stop was a seafood restaurant on Beach Road, just south of Bangla. As usual we ordered too much food, but it sure did taste good.
I wanted to start the evening at Rock Hard, but since we were on the wrong end of Bangla we decided to walk down every bar beer soi on the way. These bar beers were stocked with girls and ready for fun! Girls would run out and try to get us to stop for a while, but I really did want to get to Rock Hard.
Burnout would love Soi Katoey... There were katoeys dancing on the sidewalk, katoeys dancing on the bars, katoeys dancing on the tables, and katoeys dancing on a small stage built at the entrance of the soi. Katoeys, katoeys, katoeys... They were everywhere! Hmm... I wonder if Antman would be safe here...
It was great fun to walk down Bangla Road; there were girls everywhere, music was pouring out of the bars, drunken yahoos were weaving though traffic on their rented scooters, baht buses were honking their horns sharking for riders, a little Muay Thai was going on at the big ring, and of course the touts were out. What fun!
At Rock Hard was seriously overstocked with girls. Not only did they have a stage full of dancers, there were girls everywhere! We found a couple empty stools at the front of the main stage and got right to business. MikeM33607 and I had quite a party going on. Pretty much any girl that smiled in our direction, we pulled into the party. One girl, Sip, was sticking to my right side and did a pretty good job of keeping things fun. We would point to girls on the other side of the bar, and Sip would run off and bring them back for us. There was one cute girl making eyes at me from the other side of the bar, so I motioned for her to come over. I don't usually go for the moppet look, but that doesn't mean I couldn't buy a cute girl a drink. Om, the moppet girl, camped out on a stool behind Sip. Om quietly drank her ladydrinks and would stare at me with those big brown eyes of hers. Every once in a while Om would sneak up behind me and give me a massage.
As the evening went on, it was pretty clear Sip was a superstar; she was the sexiest dressed, had the biggest breasts in the club, was damn attractive, and was instrumental in getting the party started. On top of that, she was a pretty nasty girl. It was pretty clear Sip would do whatever it took to ensure I took her home tonight. We were there for a few hours, but all of Sip's free samples, and private shows were starting to get to me; I just couldn't keep my mind on having fun in the bar anymore, and wanted to go.
I pulled out 500 baht, handed it to Sip, and was very surprised when Om exploded into tears. Om wasn't merely crying, she was most sincerely crying. The floodgates had opened and tears were streaming down her face. Damn, damn, damn. What did I do now. Blast this irresistible profile of mine...
Sip ran off to pay bar and change, and left me to deal with Om. I would have told her anything to stop the crying, but I did tell Om I would come back tomorrow and barfine her for a massage. That seemed to make things a little better. Om brought enough to the party that I didn't mind having her around, I just didn't think she was going to me a good partner for me. I took some baht and put it in her hand saying "Om sister me." I choose to believe Om appreciated that, but who knows.
Sip came back just as Om's sniffles were subsiding. I handed the cup to Sip, and told her to check bin. I don't think MikeM33607 had made a selection yet; so we parted company there with Sip and I headed to my room, and MikeM33607 walking into the long dark night...
As soon as we hit the sidewalk in front of the Rock Hard, Sip said she wanted to take a taxi. Well I didn't want to take a taxi for a bunch of reasons; I could use the walk to clear my head of a Kloster or two, I actually enjoy walking down Bangla Road, the Thara Patong is only a block away from Bangla, and I hate those damn truck taxi thingies in Patong Beach -- there are just too many tourists for them to rip off so the amounts they charge are outrageous. It hadn't occurred to me that Sip might be having a problem with her high heels (that's right; no platforms for this girl!) but by the time we walked to the far end of Bangla, Sip could no longer walk. I picked her up and tossed her over my shoulder and carried on. Sip was all laughs and giggles until she realized her short skirt meant that following us down Beach Road was now a spectator sport! I carefully put her down and offered to buy her some shoes at one of the nearby stalls, but she just removed her shoes and continued the walk to Thara Patong in her bare feet.
We entered the grounds of the Thara Patong through the Beach Road entrance. They used to have a reception desk there, now they just have a guard. I don't know if the guard was interested in checking Sip's ID. If so, he didn't get up fast enough, and I just ignored him.
On the way to my room, Sip wanted to sit by the pool to talk. "I have to tell you, I very expensive girl."
"Oh yeah? How expensive?"
"Man pay me 4,000 long time, 2,000 short time."
I've been accused of being a guy that doesn't show much emotion, but I could feel my face break into a broad smile just before I said, "You want Japanese man, he pay big money. I not Japanese man," and I told her what I would pay for LT or ST.
"All man pay me 4,000 baht."
I was responding with an "Up to..." but was interrupted before I could get the "you" out by Sip saying "Okay, okay... You good man. I stay wit you, you price. Only, I stay wit you every day." I really did not like the idea of that but I figured if I didn't like her, I would dump her. I know, I know.... I'm a ruthless bastard...
This seemed to be the first time Sip had been to the Thara Patong, and she approved of the room. We got comfortable on the bed for a little while, and then she announced she had to go to her room to feed her dog. Wha? She got out her purse and showed me pictures of her little poodle dog. Sip said if she could go to her room she could fix things so she wouldn't have to go back. I don't think I was paying attention at this point because I wasn't sure if I wanted her to stay more than the night. Sip was pretty hot, but I was very tired and starting not to care whether I got laid or just went to sleep. I gave her 100 baht for a taxi, and Sip said she would be back in 30 minutes. What ever; I could use the sleep.
Off she went, and I went to sleep only to be awakened 30 minutes later on the dot by the phone ringing. It was the Front Desk calling to say there was a girl waiting for me in the lobby. Screw that, I'm not going all the way to the lobby. The Thara Patong is a big hotel and the Front Lobby is way over on the other side of the compound. I asked to talk with Sip. "Sip, what's going on? Just come to the room."
"You want me to go to room? (To the Front Desk help:) My customer want me to go to room. I go now." And she hung up the phone. She must have run to the room because she was there in no time. And she was carrying a suitcase. I guess she was planning on staying for a few days. I sure hope she's worth it...
Sip was smarter than the average bear, and quite adept at manipulating guards and other people that would pop up in our way. She was prolly good at manipulating me too, but I never felt that way.
All the little hints Sip gave me in the bar were spot on; she was indeed an X-rated movie. Sip was hot stuff. I'd like to meet the guy that trained her, and buy him a drink. Sip was quite a package; attractive, killer rack, and shag nasty. It just don't get better than that. And she didn't want to stop. Ever. For any reason. At all. I looked over at my travel alarm and saw it was 5 AM. I had to plead with her to stop now so we could get some sleep.
A few moments later we were snuggled up and ready to saw a few logs.
Ain't this the life?
---------------------------------------------------
Ommmmmm

Jai Guru