The CHANG Gang -- Part 7

CHANG Gang -- Part 7
I made it to the Nana breakfast that morning, and was rewarded with a feast for my effort.
A group of us were heading down to Pattaya for a few days, so I hired a minibus to take us all down there together. The minibus was scheduled to leave at noon, so there was a good chance I wouldn't be able to say good-bye to Hammers and the guys. I wrote a short note thanking Hammers for allowing Antman and I to join his party, and asked him to give my best wishes to everyone. We were going to Pattaya for a few days, but Hammers and gang were headed home and we wouldn't see them again this trip.
This was the third or fourth trip we were lucky enough to meet up with Hammers and Gooner, and I hope there will be many more to come.
I had a little over an hour to pack, which is cutting it pretty short for me. But I finished just in time to run down, check out, and meet the other guys gathering in the lobby.
Before long the Nanatour lady came over and said our bus was here. So out we all went to climb aboard the Pattaya Fun Bus.
Hiring the bus was a good idea. It enabled us all to travel to Pattaya together, and it was big enough that we had a little room to spread out.
We were never quite able to figure out what happened, but for some reason the Pattaya Fun Bus took the long way to Pattaya instead of the toll road. That made some a little cranky, but I tried to look on the bright side. After all, we were seeing quite a lot of Bangkok we wouldn't normally see.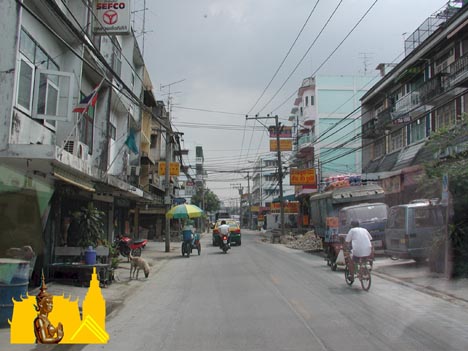 After a few hours we finally made it to the expressway. Unfortunately, there was a big accident up ahead so the traffic moved torturously slow.
Tig delighted us with some stories of his job at MTV, and we made the best of enjoying the view (such as it was). And after a while, guys started to nod off. The truth is, we were all doing a pretty good job of burning the candle at both ends and could really use the sleep.
A little more than four hours after we began, the Pattaya Fun Bus pulled up to the Hard Rock Hotel. I've stayed there a few times so my check-in was easy, but with a little perseverance the other guys were able to get everything sorted out and handed keys to their rooms.
Even though checking in was a breeze for me, when I got to my room I realized I was royally screwed. Not only did they give me a room with two small beds, it was a smoking room and stunk to high heaven of cigarette smoke. I opened the sliding glass doors to the balcony to see if that would help, but it didn't.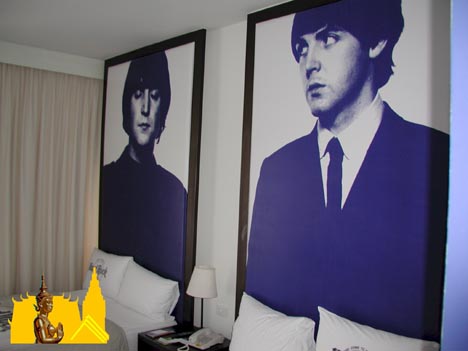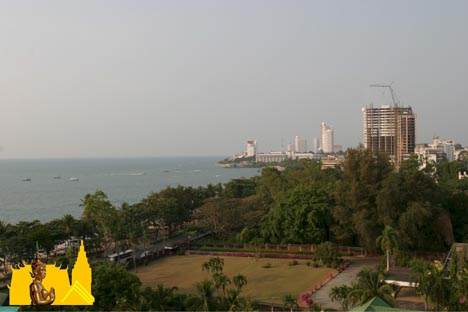 Photo courtesy of Antman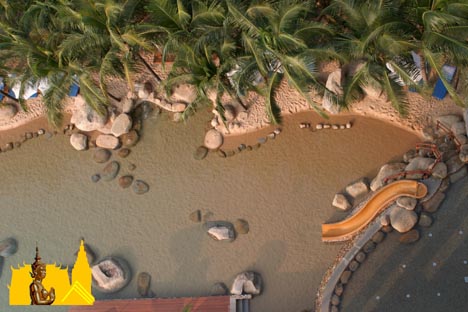 Photo courtesy of Antman
When the bellboy arrived at the room with my bags, I told him we were going down to get another room. Thankfully, changing rooms wasn't a problem and I was given a room on the No Smoking floor. That's more like it!
This was TiggerBKK's first trip to Pattaya, and we didn't want to ruin the surprise by taking him through the city before it was rockin. We thought it would be a good idea to get a little sleep, and then meet for dinner at the Starz Café in the Hard Rock Hotel before heading out to Giligin's to meet the guys.
Dinner in Starz Café was pretty good. But we were pretty happy to leave and get our evening started. We left by the back door of the hotel, and walked around the pool to Beach Road. There we gave a passing baht bus the finger and hopped on for the ride to Soi Pattayaland.
We hit the buzzer just in time, and all tumbled out. We actually went a block too far because we wanted to take Tig down one of the streets all lit up with neon. It looked like he was enjoying the walk and all the attention from the hello girls.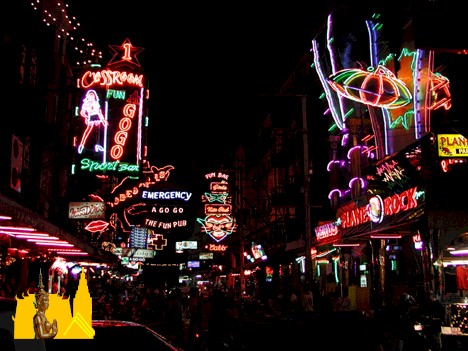 We rounded the block and stepped up to Giligin's, but were surprised to see it was closed down. Giligin's wasn't the most happening bar in Pattaya, but it was a nice little place that would serve us well as a meeting point; if it were only open.
Spicy Girls Too was only a couple doors down, so we stopped in for a drink. Antman and I had a lot of fun in Spicy Girls Too last year, but it was pretty dead now. If the DJ playing some really horrible music wasn't bad enough, the mamasan started assigning us girls before we even saw what the bar had to offer. The girls were nice enough, but we like to pick our own girls. All of us but Antman, that is.
After a quick round, we checked bin and started seriously hitting the bars.
Tig dropped out after a while, so that just left Antman, LOSVirgin, and I to carry the flag. Before long, Antman wanted to find a girl he had barfined last year, so that just left LOSVirgin and I.
As I mentioned earlier, this was LOSVirgin's first trip to the kingdom, but he really did take to it like a duck to water. It was a blast to spend some time with him.
We spent some time at Doll House where I had some fun with the mamasan, and she was able to secure a promise that we'd be back. The Doll House was so much fun, we figured it would be a much better place to begin our evening and changed our Pattaya meeting point from Spicy Girl Too to the Doll House.
We ended up at some bar and I made pretty good friends with a couple girls working the bar. Just before I was going to barfine Noy, one of her regular customers came in and she left to say hello with a promise she'd be right back.
I may have waited an entire 30 seconds for her, and then barfined her friend. That prolly wasn't the smartest thing to do; but hey, I was drunk and ready to go. Noy girl came back more than a little upset, but all I could do in response was shrug my shoulders.
Wishing LOSVirgin well, I collected my prize and headed back to the Hard Rock. Nit didn't know where we were going, but was excited to stop at the Hard Rock Hotel.
Up in the room Nit was about average, and wanted to leave after ST. She wanted LT money, but wasn't going to get it unless she stayed. I gave her the option, and she took the ST money and ran. Well, that's what I get for BFing Nit instead of Noy.
That really wasn't a problem for me anyway as it would give me a chance to call GoodGirl and get some sleep.
All things considered, it wasn't a bad ending to our first day in Pattaya.
---------------------------------------------------
Ommmmmm

Jai Guru