The CHANG Gang -- Part 14

CHANG Gang -- Part 14
I made it to the bus and was happy to see the Cambodian girl from the night before sitting inside.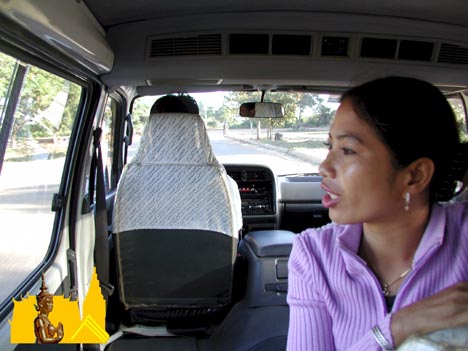 We didn't care which temple we would see next, so we left the choosing up to the girl. She chose Bansa Srei. She said it was her favorite temple, but she had never been there before.
On the ride to Bansa Srei, the girl kept staring at our shoes. Even though she must have been at least 35 years old, she said she had never owned shoes that covered her toes. I made a mental note to buy her some shoes if we saw a shoe store, but there weren't a lot of shoe stores in the middle of the jungle. At least that I saw.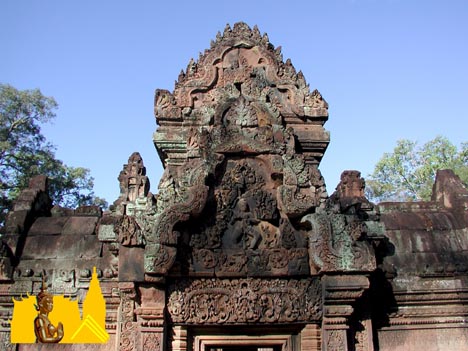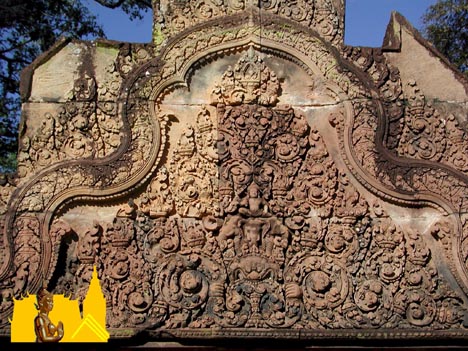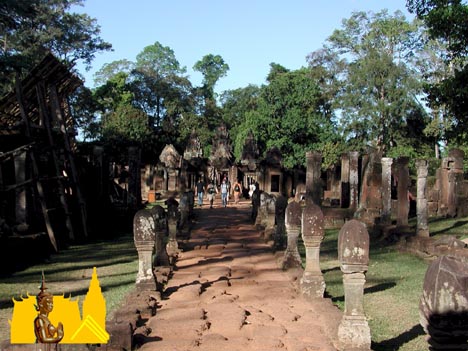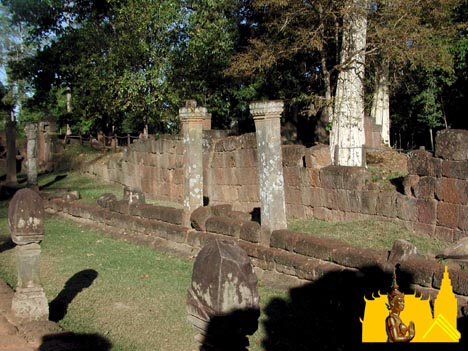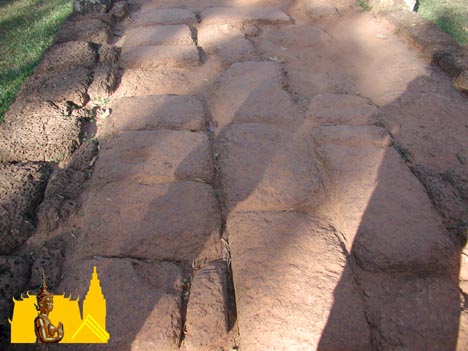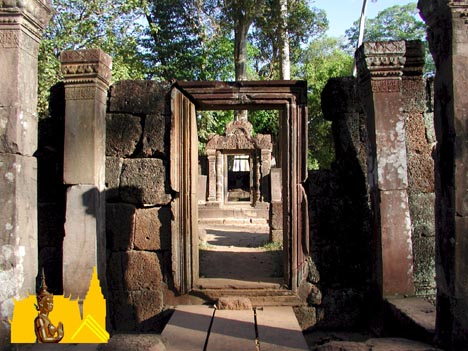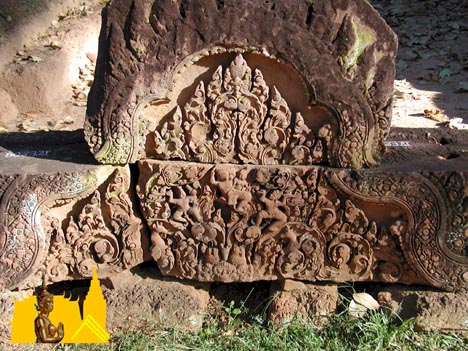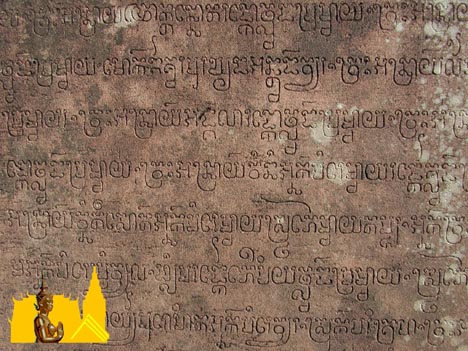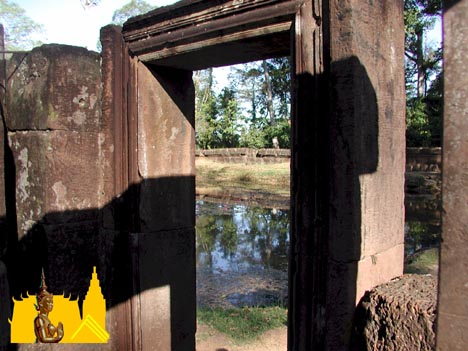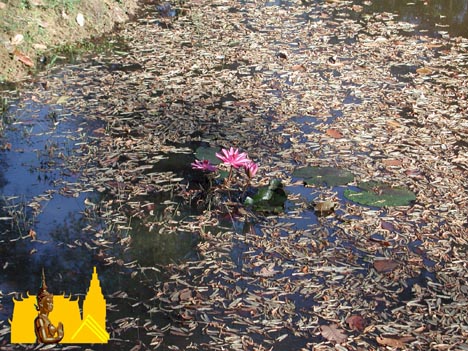 Bansa Srei was interesting; there were some very interesting carvings and many of the pillars were covered with writing, an active archeological dig was underway, and there was even a moat that surrounded most of the temple.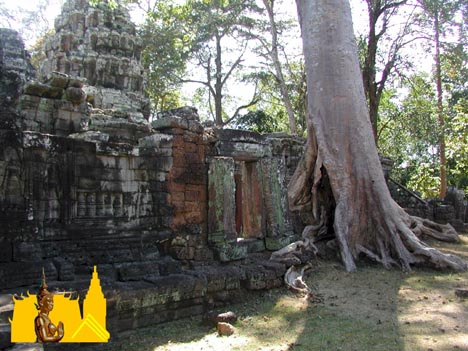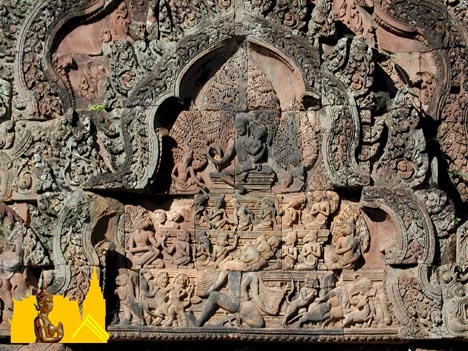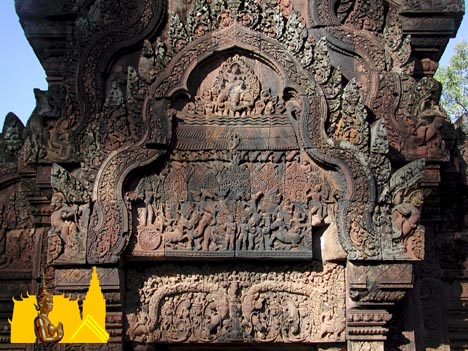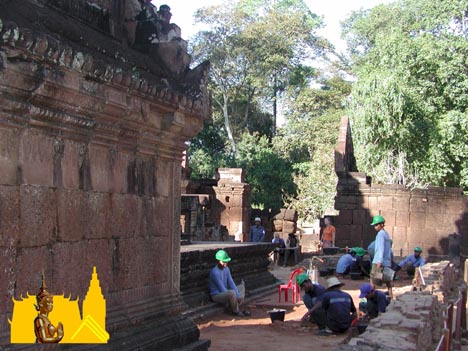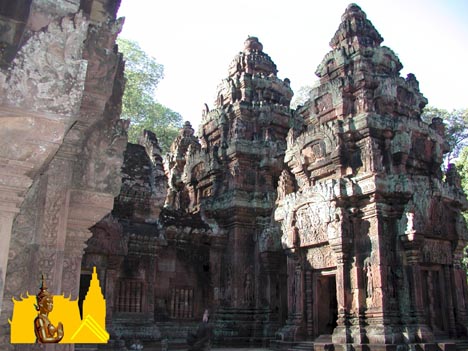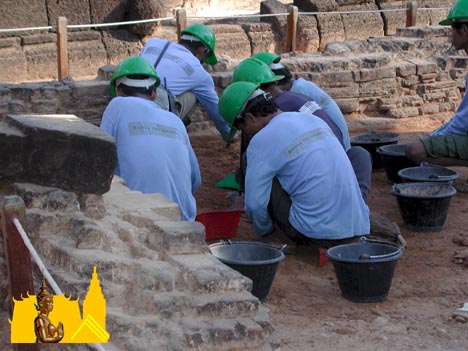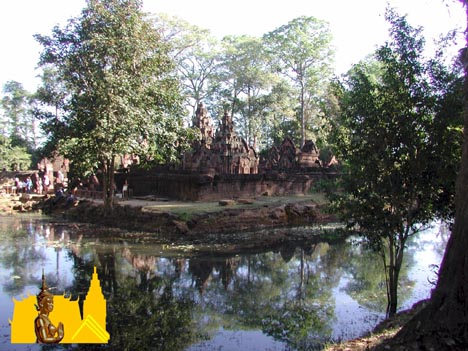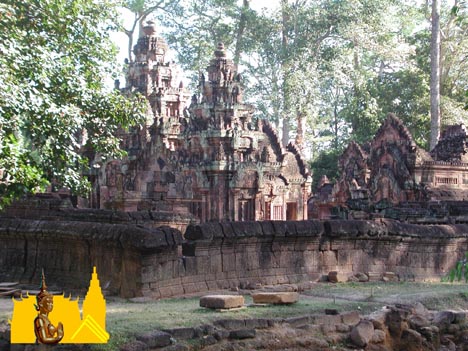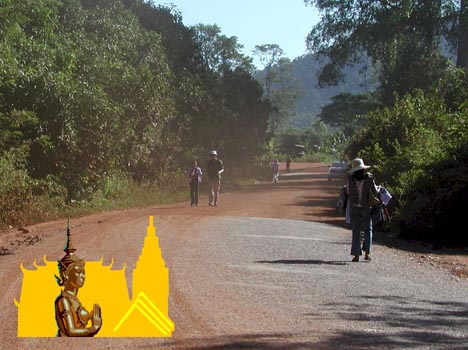 TiggerBKK had to hit the can and went off with the girl
in search of a loo.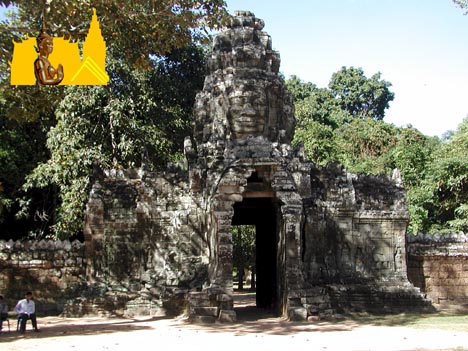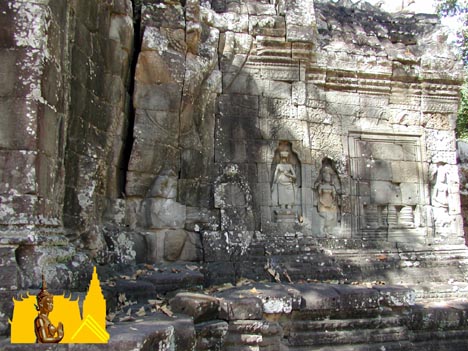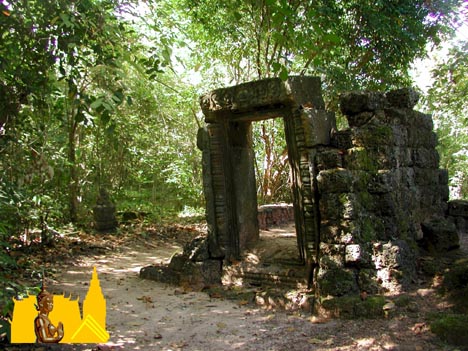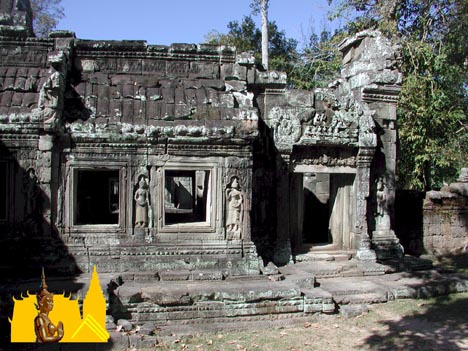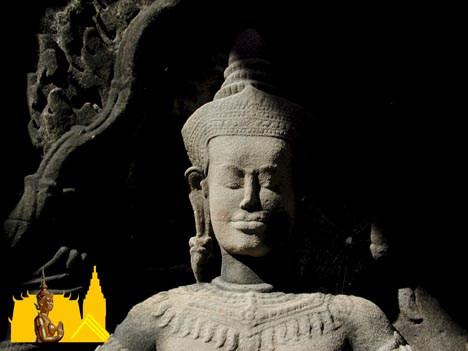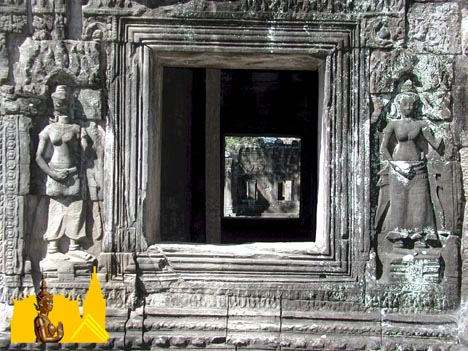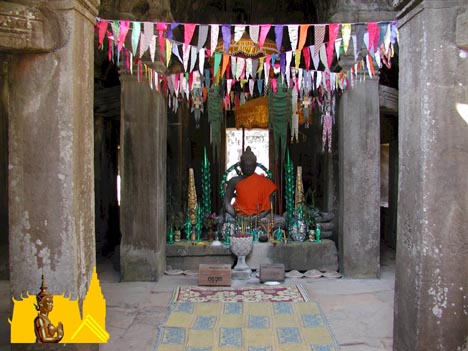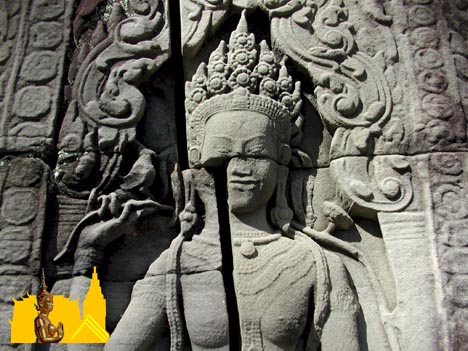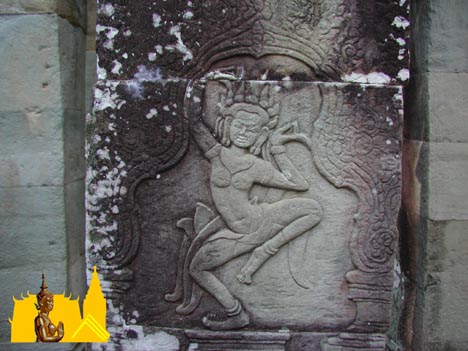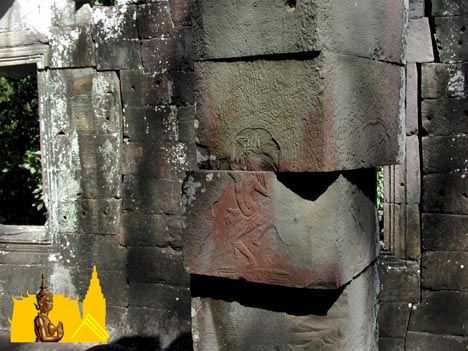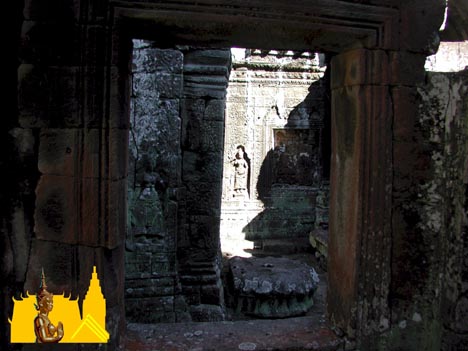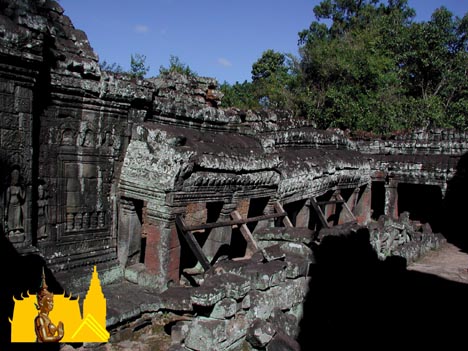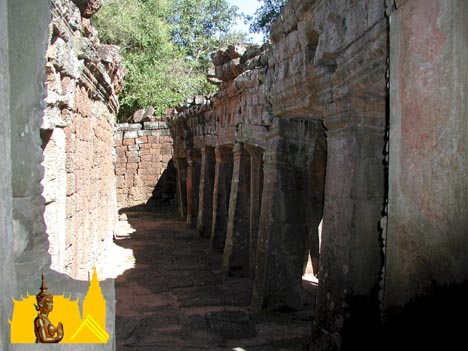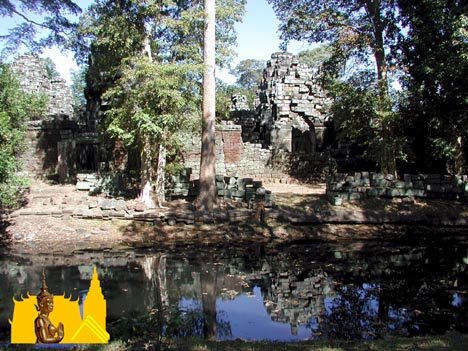 The girl was getting a little irritated; we guessed she was worried she might be late for work so we headed off to town to have some lunch and drop her off.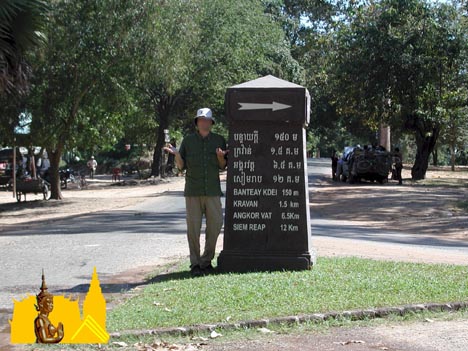 The Tuskers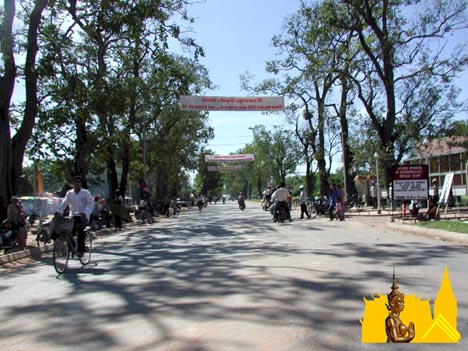 On the trip back, the girl asked how much the minibus cost to hire for one day. Her dream was to save up money so she could take her family out to see Bansa Srei. As it turned out, the minibus cost a month's wages for her, so she would have some saving to do.
We asked the girl what was the best restaurant in Siem Reap, and she suggested Khmer Kitchen. Khmer Kitchen is a small little place with only three tables so we were a little concerned when we sat down to look at the menu. The dishes were made of familiar ingredients, but in new and interesting combinations for us. The food was really good, but the pumpkin and coconut soup was really great! I would quite happily travel back to Siem Reap for the pumpkin and coconut soup alone!!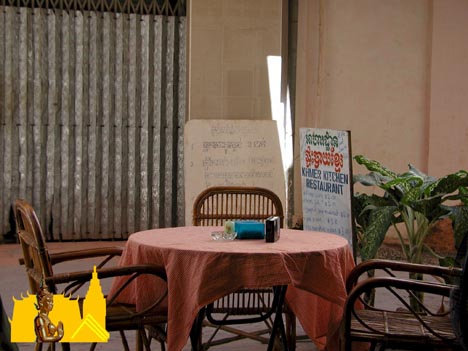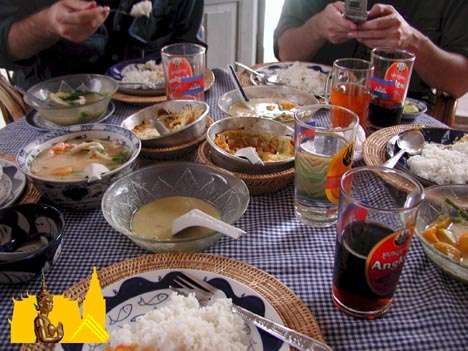 During lunch, the girl kept us entertained with stories, and shared information about the cost of living in Siem Reap. MikeM33607 and I started thinking that Cambodia could become an interesting retirement option for us, especially if that meant more pumpkin and coconut soup!
Before she left us to go to work, Mike and I both tipped her a month's wages. That was a lot of money, but she added so much to our trip that I can honestly say it wouldn't have been the same trip without her. We said our good-byes and promised to stop by her bar tonight for a drink or two.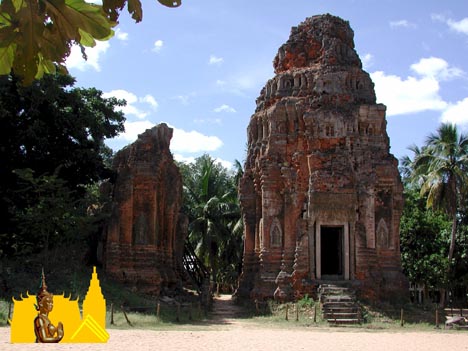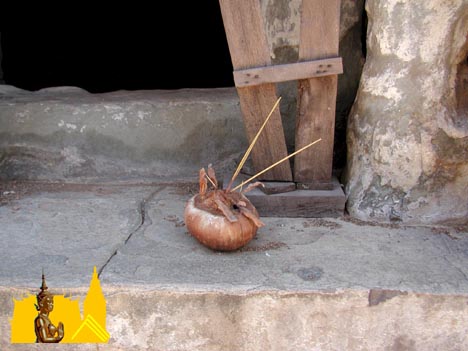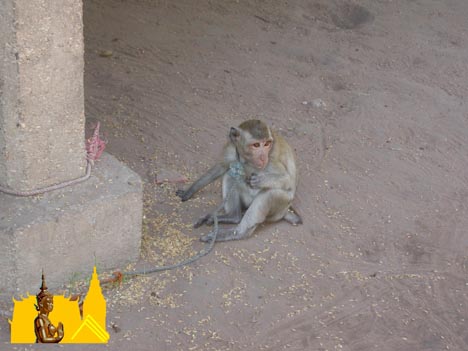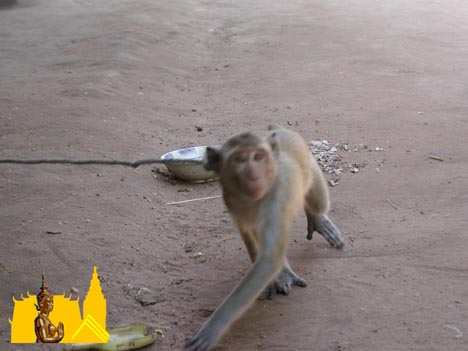 This was the last photo I got of the monkey
before it lunged for my throat.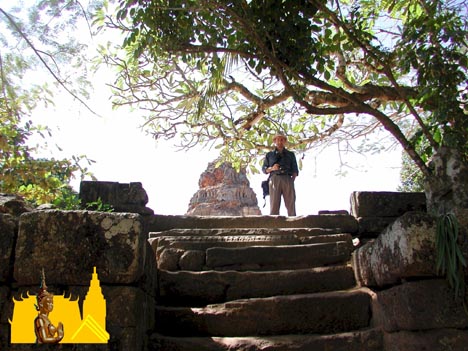 Indiana Antman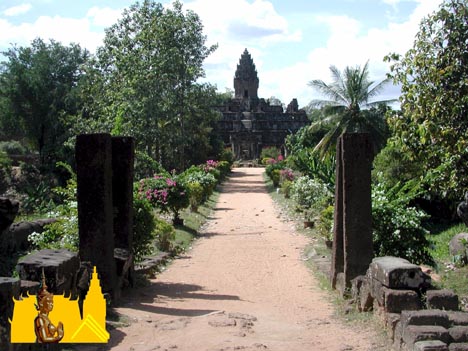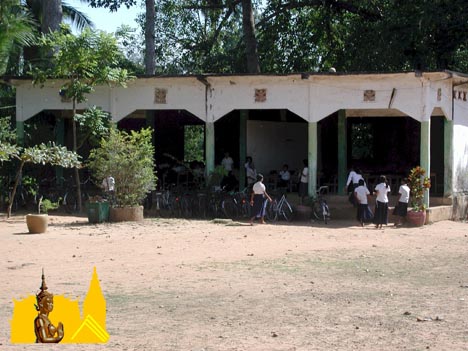 A school at Rolos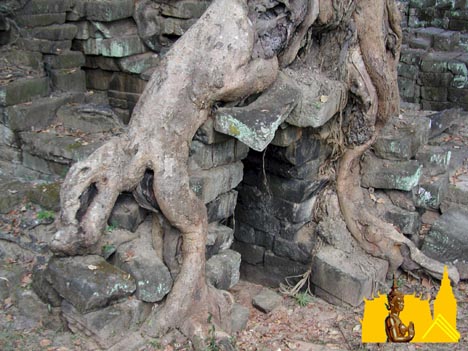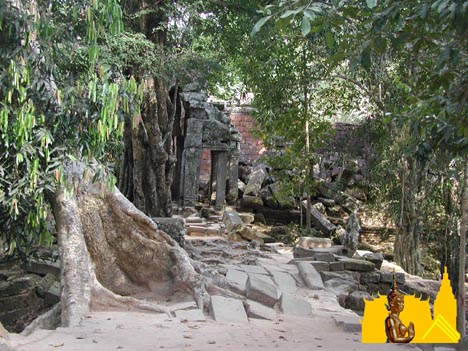 Antman working with the spider close up.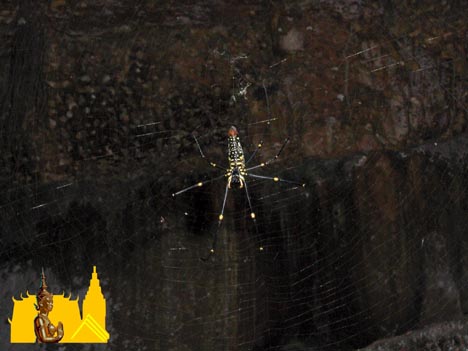 This spider was huge!
Easily 8 inches from the head to the tip,
NOT including the legs!!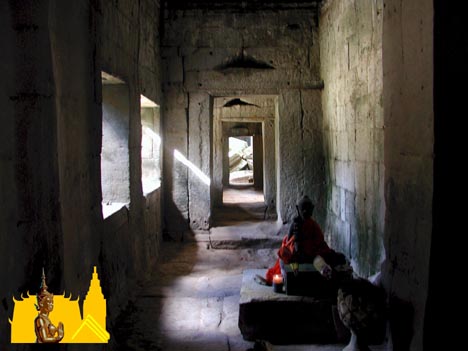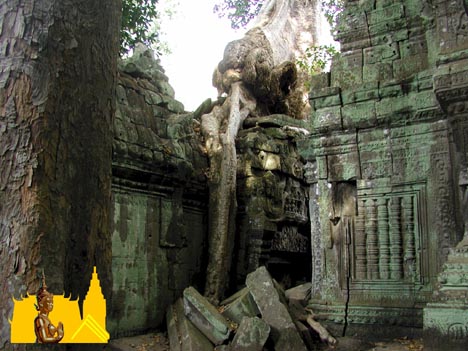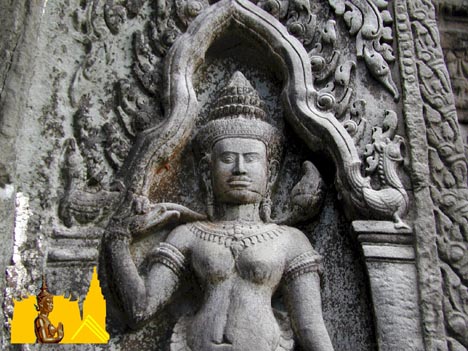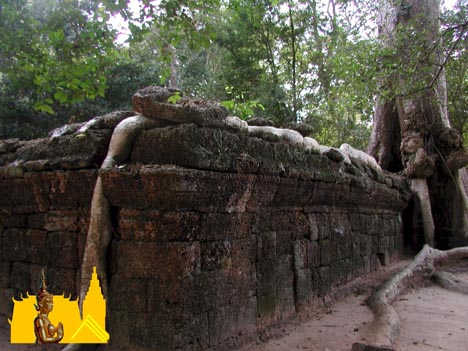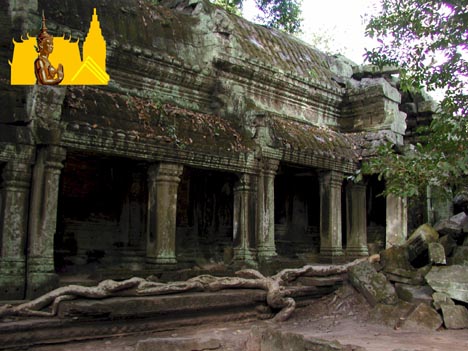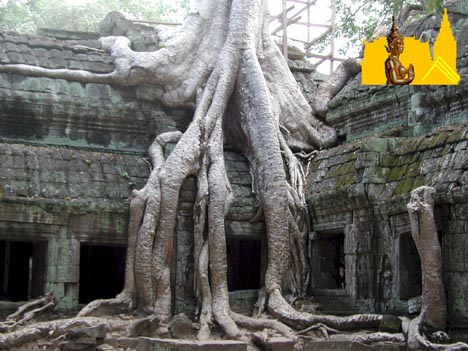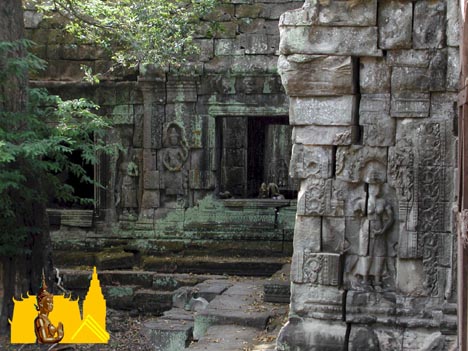 And then it was back to the temples. We stopped at Rolos complex, and even made it back to Ta Prohm in the afternoon to take a few pictures with the sun behind us this time.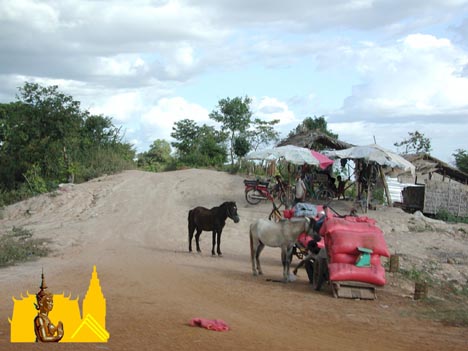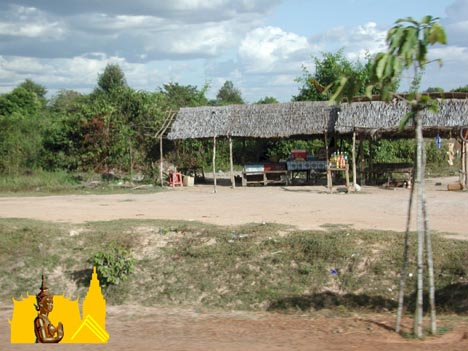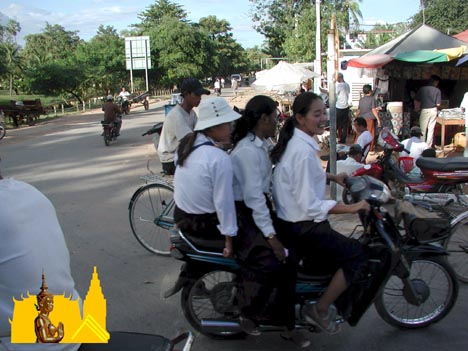 When we got back to the hotel, we all planned to nap until it was time to meet for dinner. An hour or two into my nap, I was awakened by the sound of a pig squealing like I've never heard before. I quickly grabbed the phone, dialed his room and said, "Damn it, Antman! Leave that pig alone!!"
"But I thought it was you with the pig…"
And they say he's slow…
We all made it to the lobby at the appointed hour and even though scores of massage girls beckoned us into their establishments, we were able to keep on our course back to the Khmer Kitchen.
We grabbed the menus the moment we sat down, and started listing all the many things we wanted to eat. It worked out to about three entrees each. And of course each of us ordered the pumpkin and coconut soup.
The poor woman in charge that night didn't know what to do. She complained we were ordering too much food! We could have two entrees each, but that was it; no more. Sadly, we had to regroup and select which entrees would be crossed off the list.
The Khmer Kitchen has only about three tables, but there seems to be about a dozen cook stations in the back room. As soon as the woman went away with our order, people came out nowhere to start cooking for us. Before we knew it, food was being delivered to our table. All of the food was great, but that pumpkin and coconut soup is still the best I've ever had.
After dinner we stopped by the Cambodian girl's bar, had a few rounds, and bought the girl and her boss a few drinks. The Cambodian Girl was a delight. She gave us her email address but it was quickly snatched by Tig, and the rest of us never saw it again. Too bad; I would have liked to stay in touch with her.
Before long, MikeM33607 wanted to hit the massage parlors, Tig wanted to hit Martini's, and Antman and I wanted to do some exploring. So we split up.
As it turned out, it didn't take long for Antman and I to end up at a massage joint. After all, it's pretty hard to keep turning down all those attractive girls trying to drag you into their establishments.
This particular massage establishment had a communal massage area, not private rooms. So I figured the chances of any hanky-panky going on were pretty slim. In addition to that, the girls handed us some pretty grim looking shorts to put on. Antman, being rather slim had no problem getting into the shorts fit for a Cambodian. But I on the other hand with thighs enhanced by a few years of bodybuilding (and donuts) could barely get my legs through the waistband. So I told the girls I would be happy just wearing a towel. Now is no time to be modest…
I think we went for the two-hour super-duper massage. It was kinda funny; Antman's masseuse would kneel between Antman and I while giving him a massage, and I would end up groping both girls while Antman just lay there with his eyes shut. At one point Antman's masseuse was massaging him with one hand, and groping me with the other. What fun it was for everyone, but Antman.
And as things turned out, those nasty shorts the girls wanted us to wear were infested with chiggers and Antman ended up with a pretty bad case.
On the way back to the hotel, we were surrounded by beggars. Luckily I had a bunch of Real notes as Shotover suggested, and passed some out to everyone. That was enough for them to leave us alone, and we high stepped it to the hotel.
Tig was hanging out in the lobby when we got back, so he and I went to the bar for a nightcap before turning in. Sitting in the cool bar sipping a cold beer was a good way to end the day.
---------------------------------------------------
Ommmmmm

Jai Guru