The CHANG Gang -- Part 15

CHANG Gang -- Part 15
Today is Thanksgiving, and we're flying back to Bangkok.
Even though I bought an amazing amount of crap at the temples, I was able to fit it all into my bags.
We all checked out on time, and the bus was at the curb waiting for us. On the way to the airport we noticed a war museum and promised we would have a look next time in town.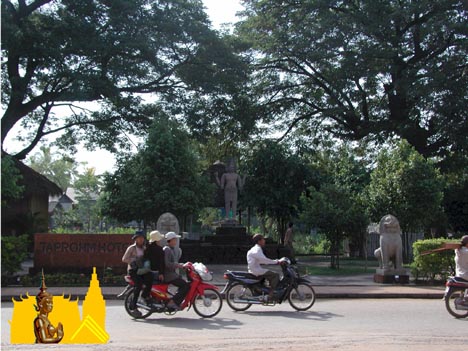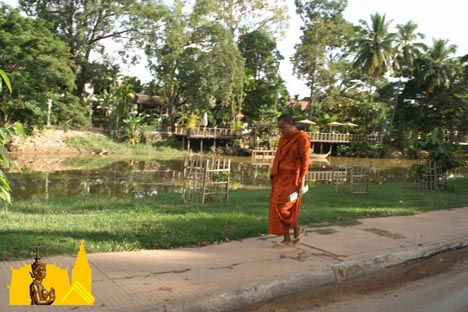 With the awe-inspiring time at Angkor Wat and the pumpkin soup, there was little doubt we would be back some day.
Checking in at the Siem Reap airport was painless, and we were told to wait in the lounge for our flight. We noticed a private jet on the tarmac and wondered if it could be Mick Jagger's. Whenever there was a little activity around the plane, farangs would jump up to have a look.
TiggerBKK was having a great time making fun of a farang that hadn't bathed in a few days, but MikeM33607 looked pretty concerned. Mike was afraid if there was a stinky guy on the flight, the odds were pretty good that he would be seated next to him. It's just hard to believe people have enough money to travel, but they don't understand soap and deodorants…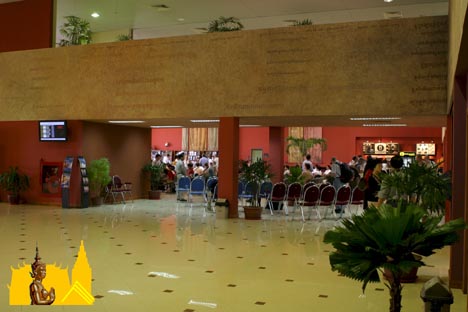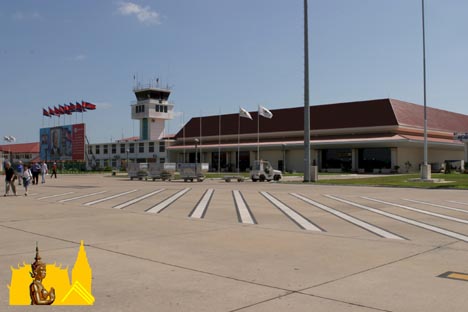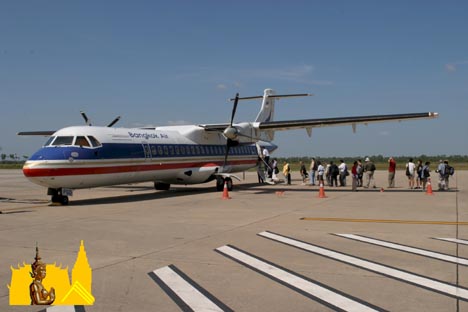 Luckily for us (and especially MikeM33607) the stinky guy wasn't on our short flight back to Bangkok. It was a pleasant enough flight back, but Antman was disappointed he didn't get another tuna sandwich.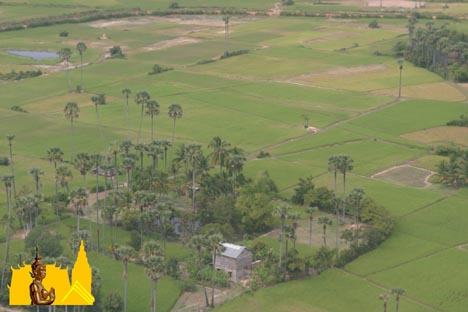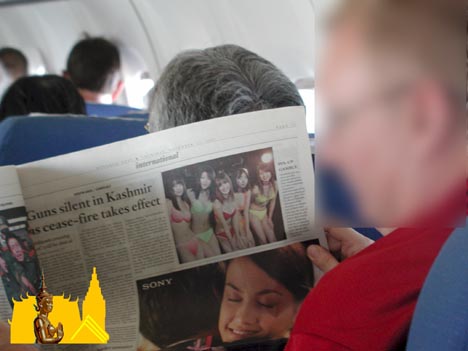 MikeM33607 engrossed in the day's news
Tig had arranged for his friend at the Nana Hotel to pick us up in a limo, but the driver ended up parking somewhere weird, and we had to walk a ways to get to the car. It was a nice thought on Tig's part, but I would have rather gotten a limo from the car desk as it would have save a lot of time (and walking).
Antman and MikeM33607 checked-in to the Nana with no problem, but my room wasn't ready yet. TiggerBKK didn't have a reservation at the Nana because he wasn't sure if he wanted to stay there again. He had heard the Dynasty was a good place and made his reservation there.
Before we had all finished checking in, Tig was back at the Nana reception desk saying he had a look at the rooms and the Dynasty was no good; he wanted to stay with us. Unfortunately, the Nana was booked and the girl at reception suggested next time he should make a reservation. Well, duh… MikeM33607 and I joined Tig just to rub a little salt in his wound when the girl behind the desk realized Tig was with us and found a room for him after all. She said since Mike and I were good customers, she would help our friend.
Because my room wasn't ready, MikeM33607 invited me to hang out with him in his room for a while. While we were sitting there, the thought hit us that we should try to make reservations somewhere for Thanksgiving dinner. We discussed a bunch of options, but the two that stayed at the top of the list was the Marriott Hotel and Bourbon Street.
We called the Marriott Hotel, but they said there reservations were full. Bourbon Street wasn't taking reservations, so we pictured a line around the block. We figured it would be a good idea to show up at the Marriott without reservations and see if they could seat us. Our thought was that someone with reservations might not show, and we would be seated.
The gang assembled in the Nana lobby, and we decided it was time for an oily. All except Antman; he refused to believe that he had a case of parasites and he was suffering because the last oily girl had rubbed him too hard.
We high tailed it to a little massage joint on Sukhumvit and went our separate ways into little rooms. A splendid time was had by all (except Antman), and when it was all over we went to World Coffee for a cold drink and to catch up on our email.
Sip (you might remember her from previous trip reports) sent an email saying she knew I was in Bangkok, and was hurt that I didn't tell her. It's not that I wanted not to see her, I just felt like a little break and I was interested to see where things would go with GoodGirl. Sip and GoodGirl were both very attractive long-time prospects. Sip had the body, attitude, and personality, but GoodGirl was established with a house and car and what not. I figured Sip could stay with me in a few years when I move to Thailand, but with GoodGirl I felt it would be easy to move to Bangkok tomorrow.
I emailed back making some lame excuses, and promised if I couldn't see Sip now that I would see her soon.
As we were enjoying our drinks at World Coffee, we noticed a familiar face. Four years ago, MikeM33607 and I had met at Showtime's 4-day Bachelor Party Extravaganza. I thought Showtime had moved to Brazil (and I can't remember why I thought that), but here he was in Bangkok as large as life. We shook his hand, thanked him again for a wonderful time, and got caught up on a few things. It turned out Showtime and a few friends were also enjoying a cold drink on their way to Thanksgiving dinner. Showtime said he had a few cancellations, so we could join his group if we couldn't find a place. We thanked him for his invitation, and said we would join him if the Marriott and Bourbon Street didn't pan out.
We stopped by the Nana so I could check-in to my room, and for a quick SSS. Feeling refreshed and with a bounce in our step, we marched to the Marriott. When the hostess found out we didn't have a reservation, she said there was no way she could seat us. We came up with all kinds of ideas that should have been okay with her, but she wouldn't have it. We even pointed out all the empty seats in the dining room, but it was clear if we didn't have a reservation we weren't going to be eating at the Marriott Hotel today.
We re-grouped in the lobby to decide what to do next; it was either head off to Bourbon Street where we expected a line around the block, or Showtime's hotel. The funny thing was that none of us had been to either place before and really didn't know where they were located. Oh sure, we knew they were down Sukhumvit a way but that was about it.
We flipped a coin and Bourbon Street got the nod. It was on to the Marriott's taxi stand to grab a quick ride to Bourbon Street. Unfortunately the driver didn't know what we were talking about. One of the Marriott's doormen ran over to help us out and earned a fistful of baht.
Having heard so many good things about Bourbon Street, we were surprised there wasn't a line around the block when we pulled up. We timidly opened the door and asked if they were open. The welcomed us with open arms. It was like we were long lost friends found again. Now that's the way a traveler should be made to feel on Thanksgiving! We were shown around the buffet and to our table.
This was going to be good! They had a turkey that was deep-fried in peanut oil, and one that was roasted. They had potatoes, yams, stuffing, different kinds of cranberry sauce, an assortment of vegetables, and I can't even remember what else. Ah yes, desserts... I can't remember all they had, but I do remember the bread pudding with whiskey sauce.
Antman was dead set against bread pudding. "Pudding should be chocolate, or vanilla, or tapioca, but not bread!"
"Just try it…"
"It doesn't even look like pudding! Lookie here! There's bread in it!!"
"Dude, pour some whiskey sauce on it and enjoy."
With a worried look on his face, Antman reluctantly covered his bread pudding with whiskey sauce and joined us back at the table. A forkful later Antman was all smiles; it seems he's found a new favorite.
GoodGirl couldn't join us for dinner, so I had promised to bring Thanksgiving dinner to her at Morning/Night. I got a box of food to go (including some bread pudding and whiskey sauce) and we were off.
With "Rock DJ" blaring from the speakers, we took the food to GoodGirl. We got the party started at Morning/Night but said we couldn't stay long because we had to meet some friends. It wasn't a complete lie; they were just friends we hadn't met yet. We figured Soi Cowboy would be full of them!
A short taxi ride later we're at Soi Cowboy visiting some of our favorite bars. We had our usual round or two in each bar, sharing the wealth by ordering a liberal amount of ladydrinks for our favorites. All was well until Som spotted me.
It turns out that Som's boss bought a new bar, and Som was now working there. I felt obligated to go in and have a few drinks. Spending time with Som was a little disappointing. Her English was getting better, if you could say that weird kind of bargirl talk was English. And it was hard to tell if Som wanted me to barfine her or not, but when it was time to leave I slipped a couple thousand baht in her hand and told her I had to go with my friends.
We hopped a taxi back to Nana Plaza and grabbed a couple burgs at the entrance to NEP before going up the escalator. Angelwitch was packed (as usual), but the rest of NEP was dead. We tried a couple other bars, but it was pretty clear not much would be happening at NEP tonight.
What the hell… We have a dozen girls waiting for us at Morning/Night. As usual "Rock DJ" greeted me as I climbed the stairs to the bar. And we had our usual good time, and received our usual padded bill. It's irritating to receive a padded bill, but still it's a small amount to pay for so much fun.
And it was good to spend more time with GoodGirl. She wanted me to barfine Pim for tomorrow so the four of us (GoodGirll, Pim, MikeM33607, and I) could have dinner together. GoodGirl's plan was to take us somewhere special for dinner, and then on to Q-Bar.
I seemed to be the last one there when Morning/Night closed. I said my goodbyes, and dodged the racing tuk-tuks to cross Soi See. There was a lot of talent in the Nana parking lot that night, and I was tempted to grab more than a couple of the girls I saw there. But I was sure I was being watched from the perch at Morning/Night.
No worries. I still have Hoover's number and can order in.
Ah, what a girl she was…
---------------------------------------------------
Ommmmmm

Jai Guru