The CHANG Gang -- Part 13

CHANG Gang -- Part 13
4AM came pretty fast, and I was surprised I made it.
We had arranged the sunrise trip when we checked in, and hired a minivan to take us around the temples. The air conditioned minivan cost a little more than a car, but considering there were four of us, it was a good idea to have room to spread out a little.
As we were leaving before breakfast was being served, we also arranged for box breakfasts to take with us.
I thought we might eat them waiting for the sun to come up over Angkor Wat, but all the breakfasts were devoured before the bus even left town.
Getting tickets at Angkor Wat was a snap; we handed over our money and photos, and received the tickets in just a few minutes. There seemed to be a lot of people entering the park to see the sunrise, but we were the only ones buying tickets.
Even though we thought we got there pretty early, there were a lot of people there before us. I mean hundreds! Even so, there were lots of places to get shots of the sunrise, and we moved around a little to take photos from different perspectives.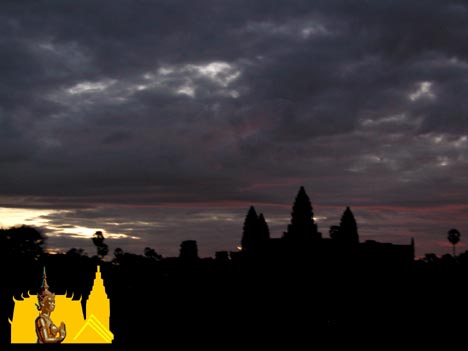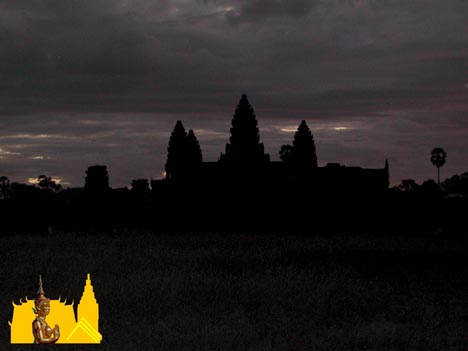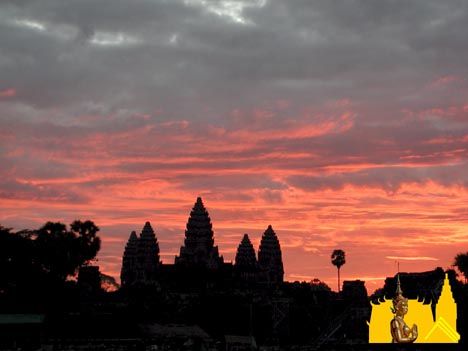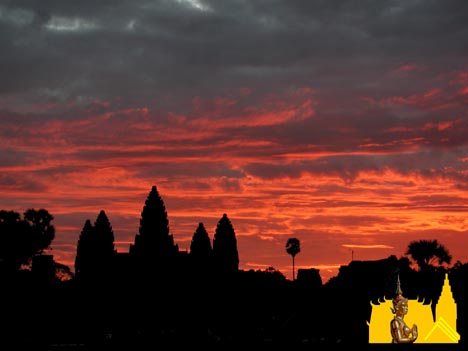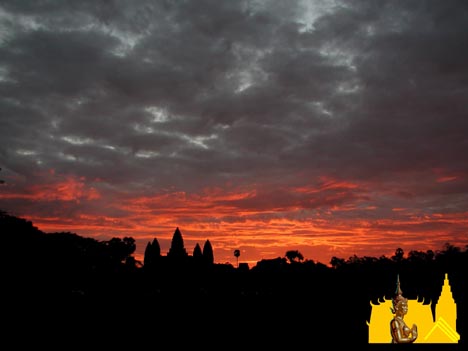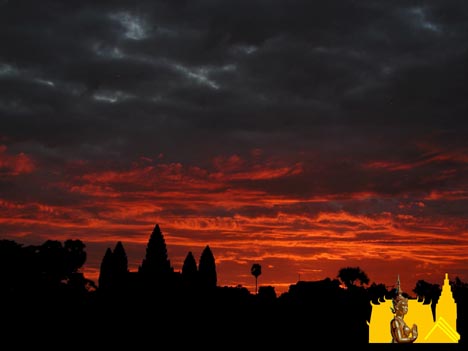 The sunrise over Angkor Wat was impressive, and Iím happy I experienced it. After the sunrise, Antman and MikeM33607 took a tour of the base reliefs while Tig and I climbed to the top of the Angkor Wat temple.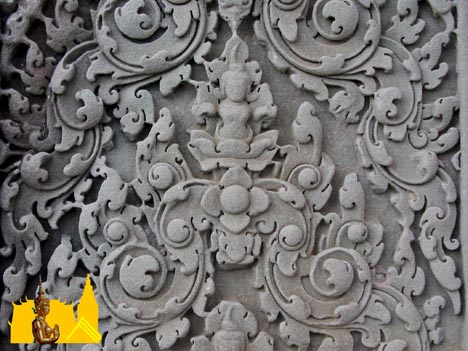 The carvings were brilliant!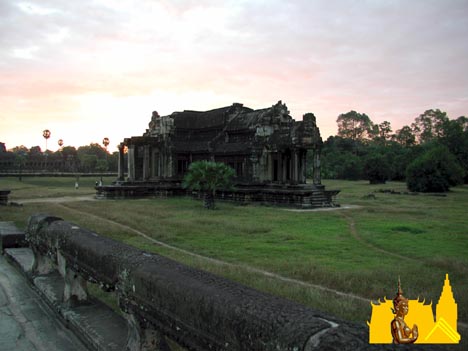 Climbing to the top of Angkor Wat, like most things, is easier said than done. The steps are very steep and not very wide. About three-quarters of the way up, I started wondering if climbing the temple was such a good idea but it was too late now. Looking down, I thought the only thing more dangerous than climbing up the steps was trying to climb down the steps. I figured it was a big temple, so there must be an easier way to get down. Lots of people do it, so it canít be impossible. Right?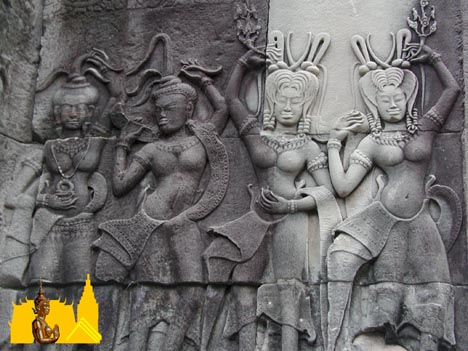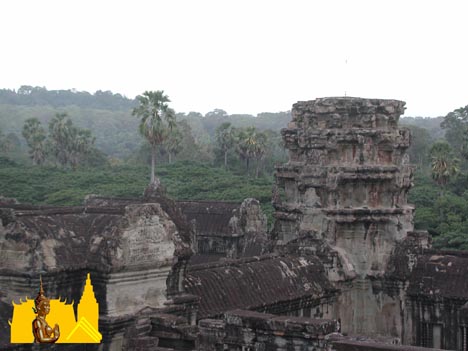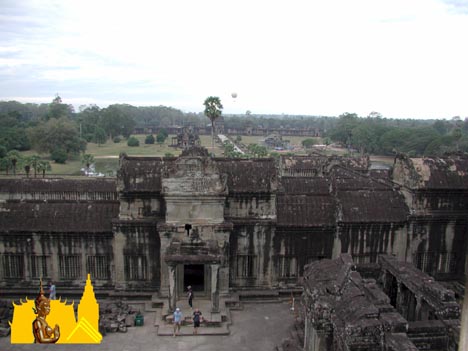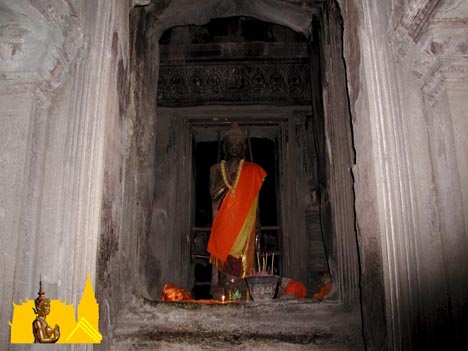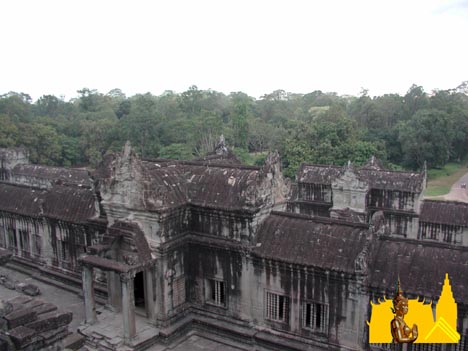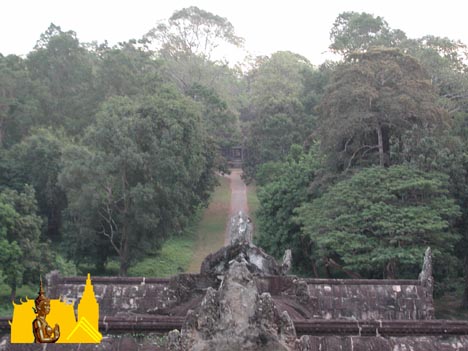 At the top, we were treated to some fantastic views of the temple grounds, and the surrounding jungle. The sights were spectacular. We even spotted groups of monkeys coming out of the jungle to scour the temple grounds looking for something to eat.
Inside the main spire at the top of Angkor Wat, there are four alters with statues of Buddha. At each of them, I made merit in my motherís honor. As I sat watching the smoke from the incense rise up out of the temple, I recalled someone saying our loved ones are never gone as long as we remembered them.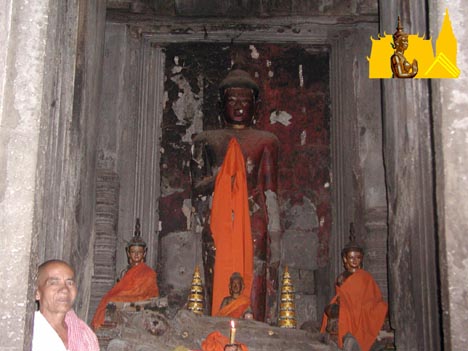 One of the four shrines at the top of Angkor Wat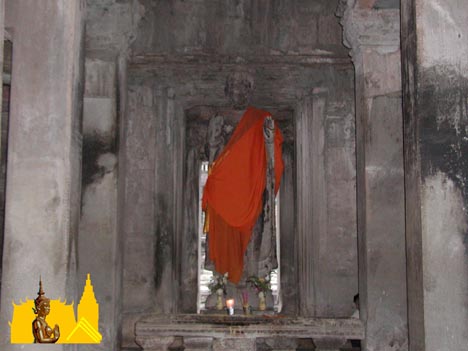 When Tig and I finished exploring the upper part of the temple, we started looking for a way down. All of the steps down looked equally steep (and dangerous), but the west steps had a rickety handrail that scored it a few extra points. I suggested Tig head down first and when he asked why, I told him I wanted something soft to land on in case I fell.
Tig wasnít too eager to start down; I donít know if it was because he didnít want me landing on him, or if the steps were just to damn scary. So I grabbed the handrail and started my way down. About halfway down I got into a pattern, and the steps werenít so scary. I was also a lot farther down which meant I had less to fall, and that might have had something to do with it. At the bottom, I was able to sit and relax as I watched Tigís timid start down the steps.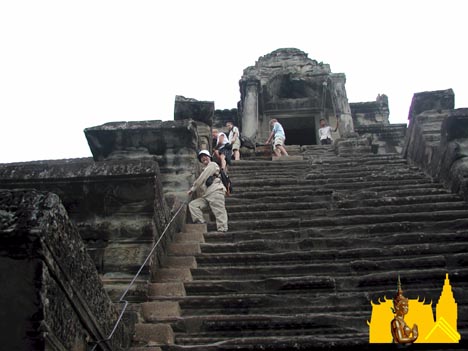 It wasnít long until Antman, MikeM33607, and their guide caught up with us. We talked MikeM33607 into climbing the steps, but Antman was pretty concerened. We even told him there was a guy up there selling tuna sandwiches, but he wasn't too sure about it.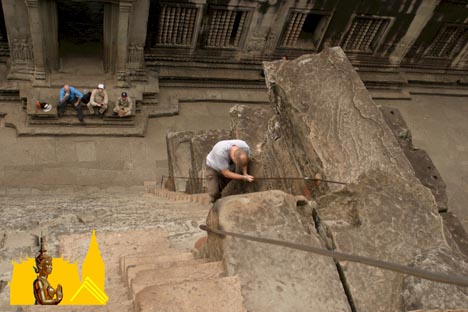 Photo courtesy of Antman
According to the guide, we missed Mick Jagger visiting the temple yesterday. The Stones were in Asia making up the part of their world tour they canceled due to the SARS scare last April.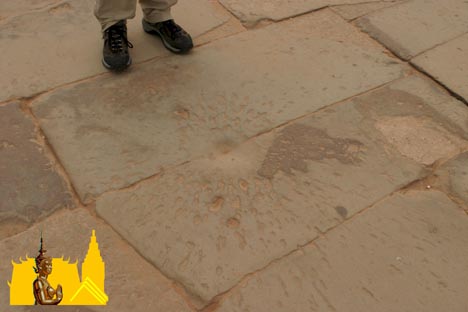 Looks like hand-grenade damage
We slowly made our way back to the minivan so we could go to the next temple on our list. Initially we thought we would only spend a short time at each temple, and would be able to see quite a bit during our short stay. But the truth is the temples, are incredible and there is just too much to see. Wherever one looks, there are beautiful carvings or something worth spending some time pondering.
Even thought we were one of the last of the sunrise groups to leave Angkor Wat that morning, I felt like I could have stayed there days exploring the temples and passageways. I tried to rationalize it by saying that we were only sticking our toe in to see if everything was okay, and after just that first temple we all agreed that we would be back again.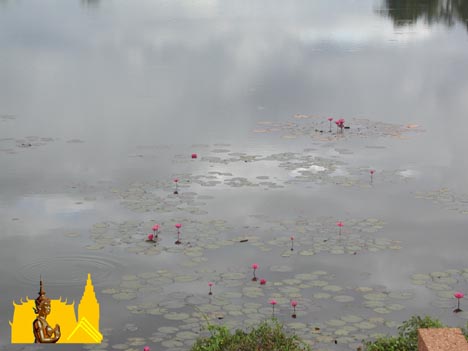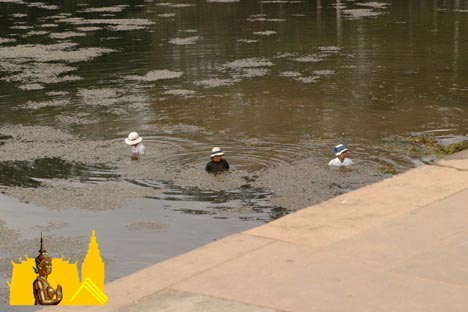 Photo courtesy of Antman
These girls were clearing lily pads
out of the moat around Angkor Wat.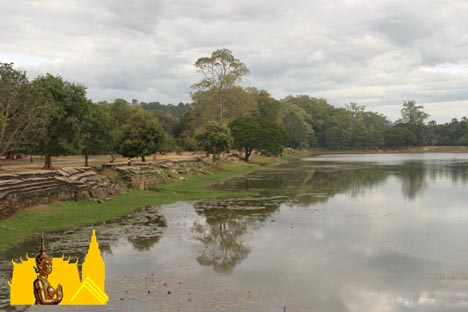 Photo courtesy of Antman
Next stop was Ta Prohm. We were pretty excited to see that temple because it was the one used in Tomb Raider, and it has been largely left alone to show the state of the temples when they were discovered.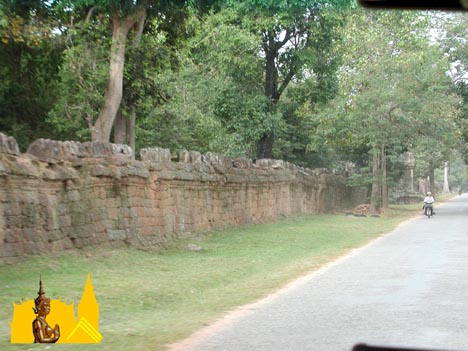 My guidebook said it was a good idea to enter the temple from the back door to avoid traveling with a pack of other tourists. We tried to explain we wanted to be left at the exit of the temple, but the driver had absolutely no clue what we were talking about. As it turned out, the driver actually did drop us off at the back door of the temple. The book was spot on about not traveling with packs of tourists. Even if small groups of five or six people did bunch up around particularly interesting spots, so going against the tide worked out great.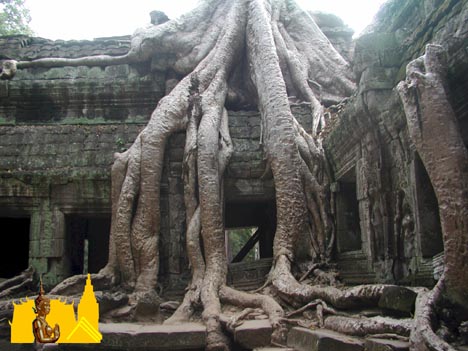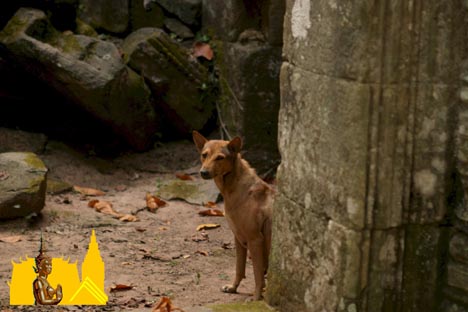 Photo courtesy of Antman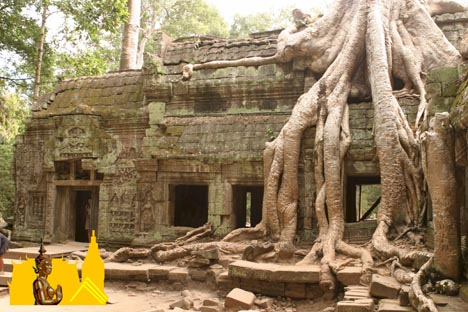 Photo courtesy of Antman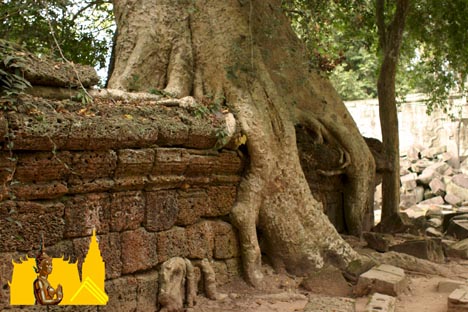 One bad thing about going through Ta Prohm from back to front was that we didnít see the ďDangerĒ signs. More that a few times we exited a passageway only to be greeted by the back end of a sign saying the passageway was too dangerous to pass through.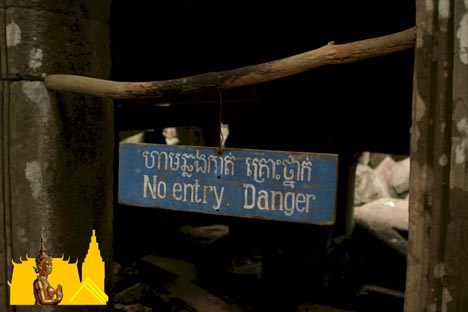 Photo courtesy of Antman

Photo courtesy of Antman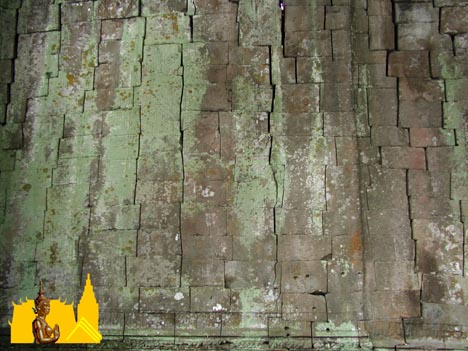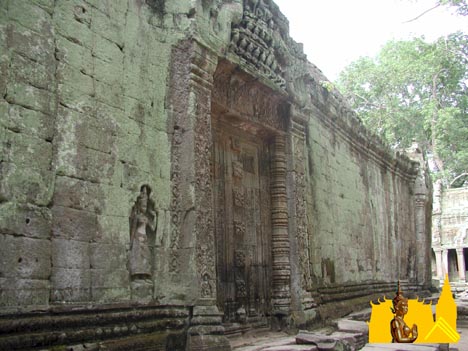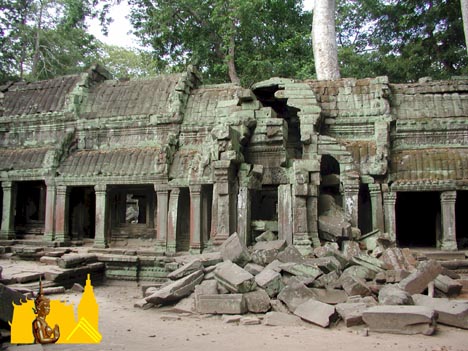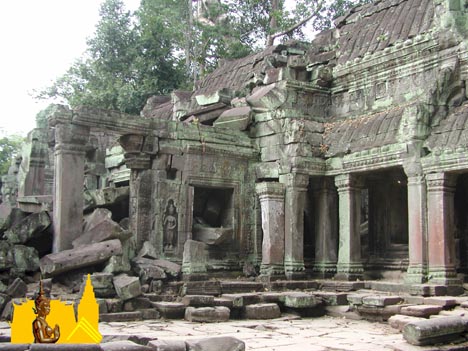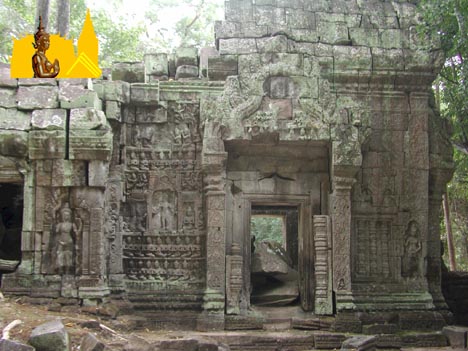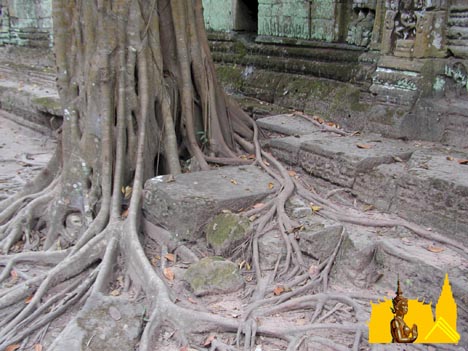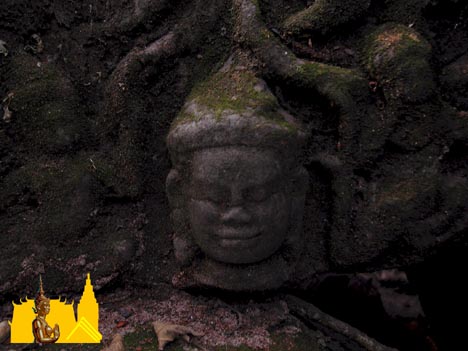 As I was passing through one of the more over-grown
areas of the temple, I spotted this face hidden under plants.
I wonder when it last saw the light of day, or was seen
by another human.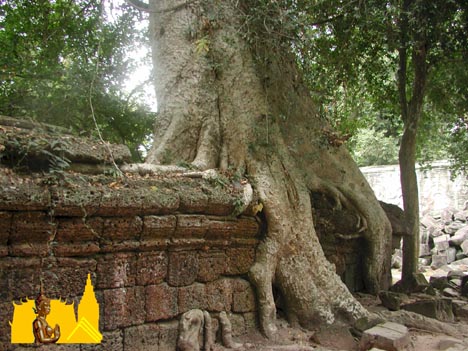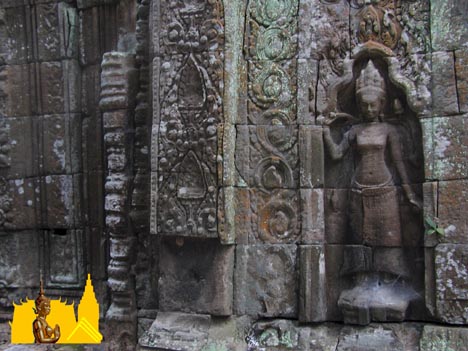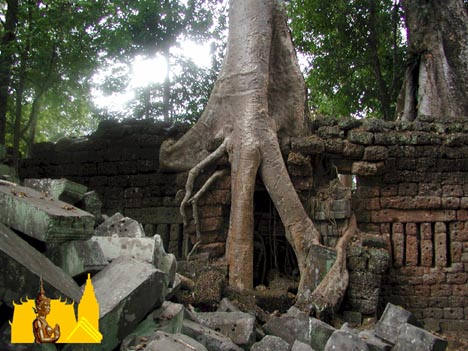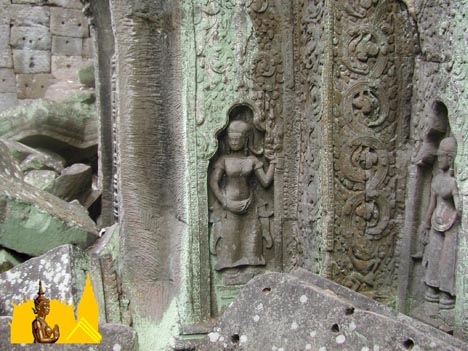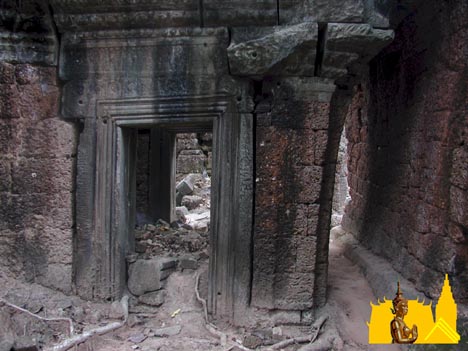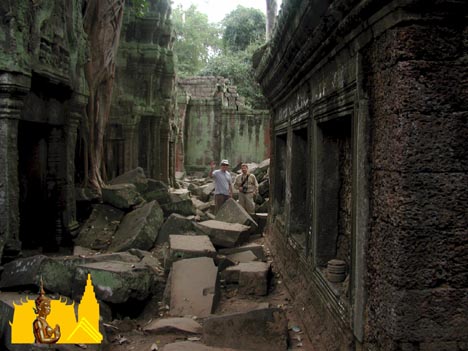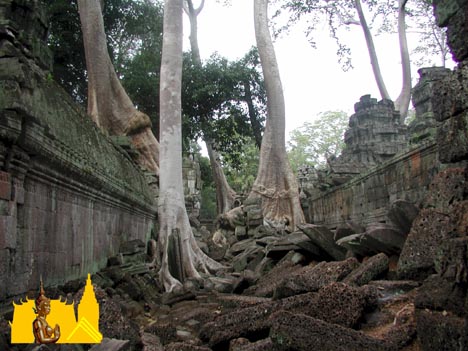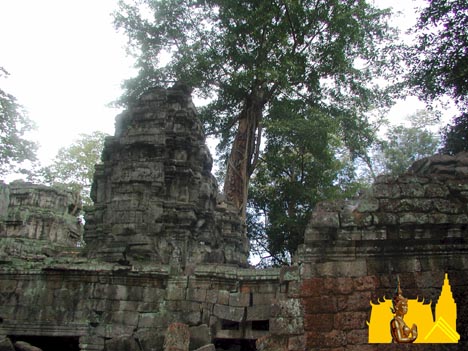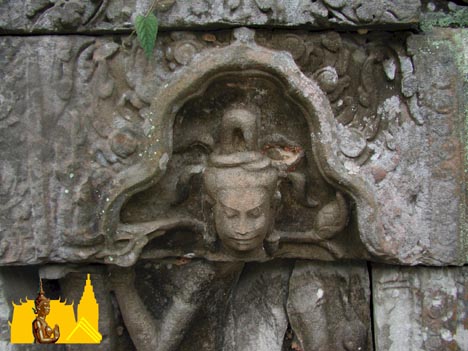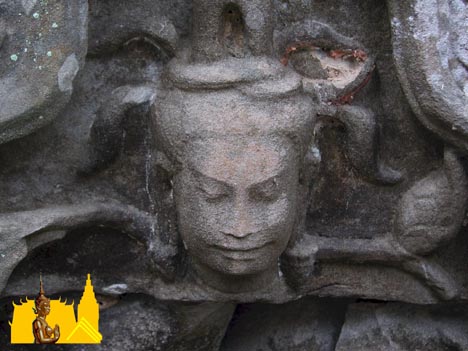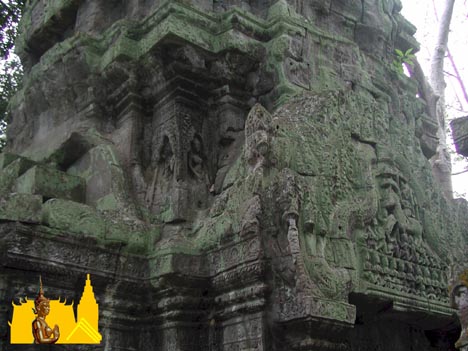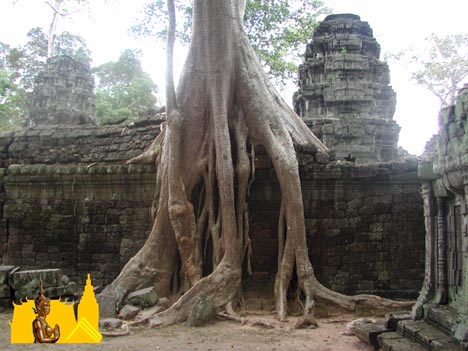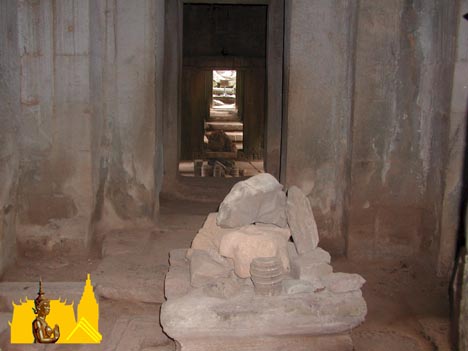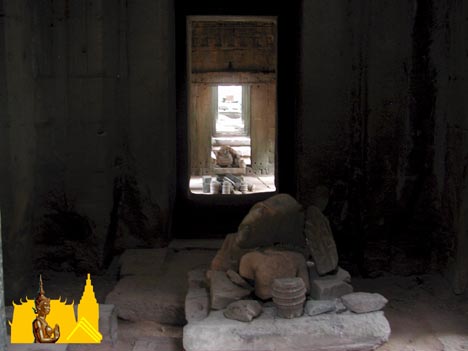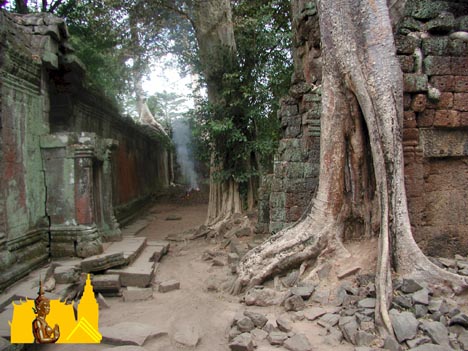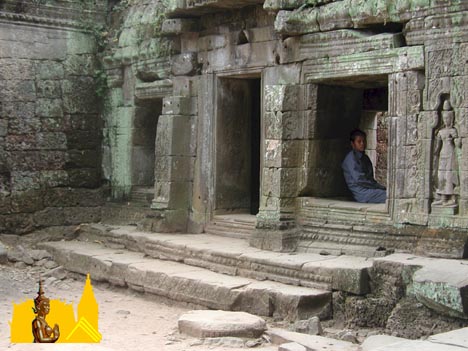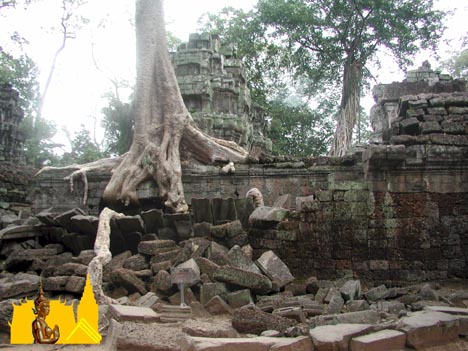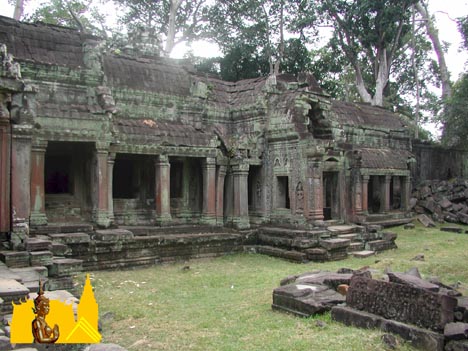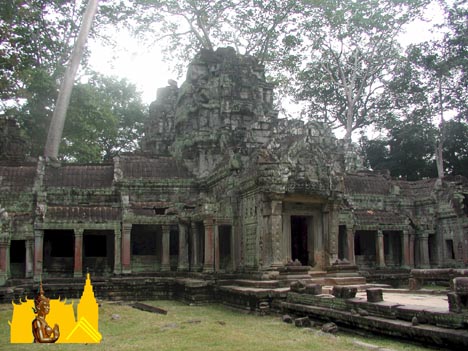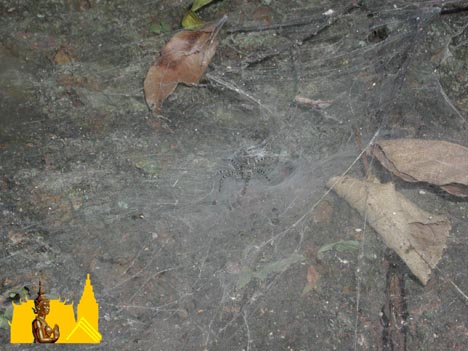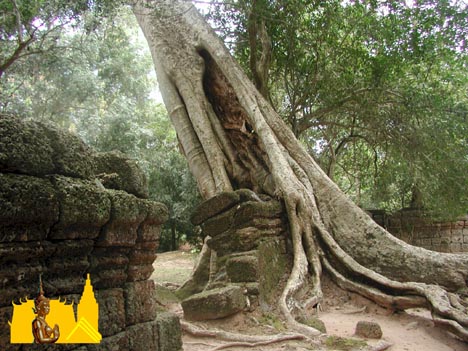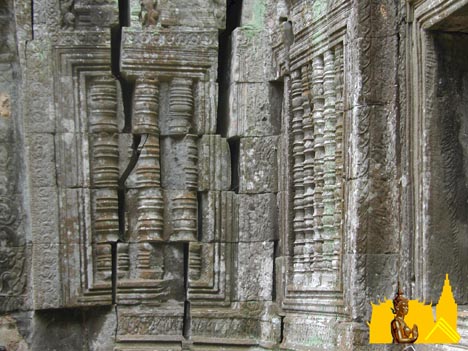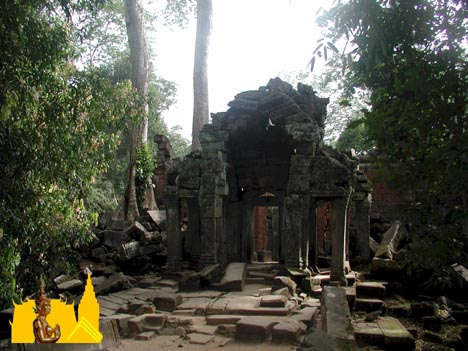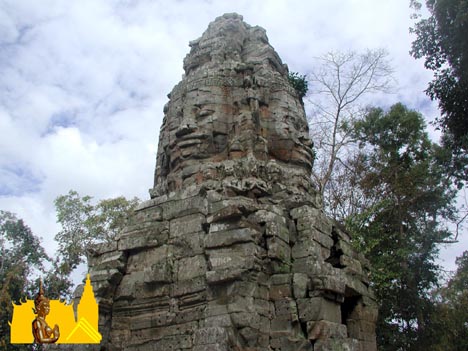 We all really enjoyed touring Ta Prohm, be we had arrived too early in the morning, and as the sun was quite low we couldnít get the photos we wanted. We decided we would come back later in the trip to take those photos we couldnít take now.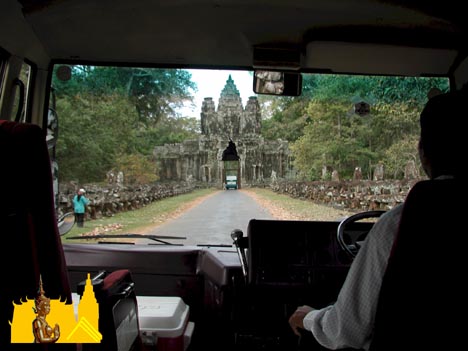 After Ta Prohm, we headed off to the Temple of the Leper King, and the Elephant Terrace. The Leper King base reliefs were mind blowing, and the Elephant Terrace was pretty interesting to see. But it was starting to get hot. I was getting to the end of the water I brought, and kept an eye open for people selling water so I could stock up again.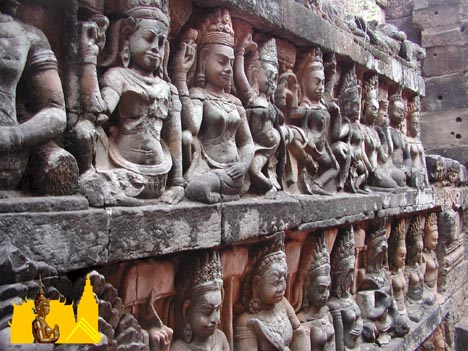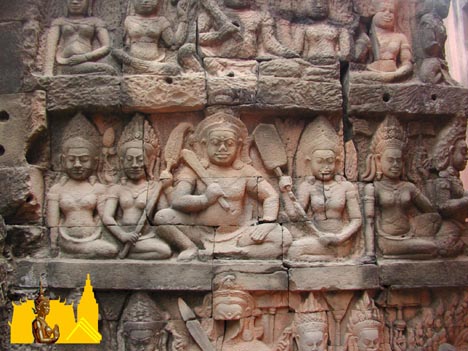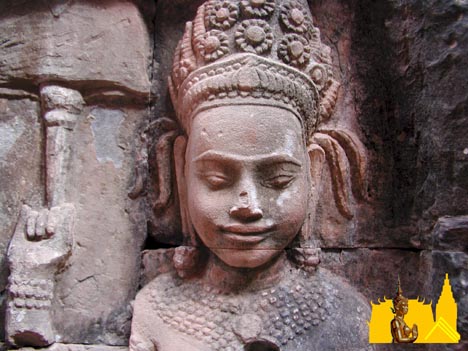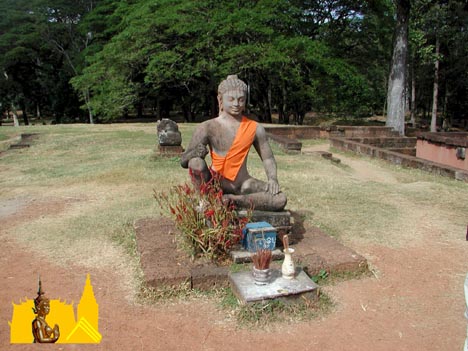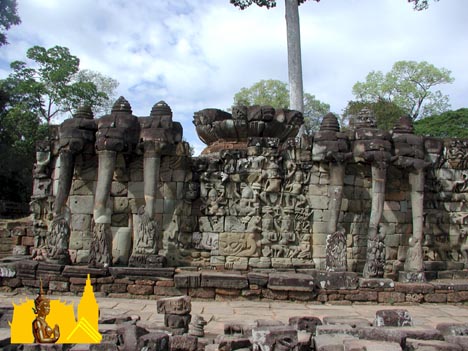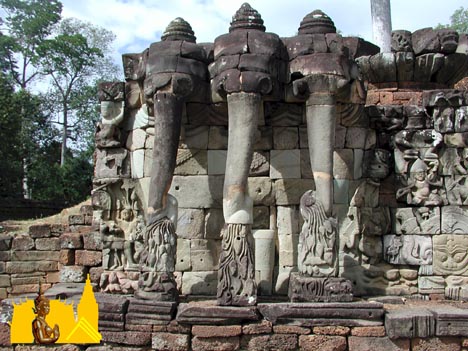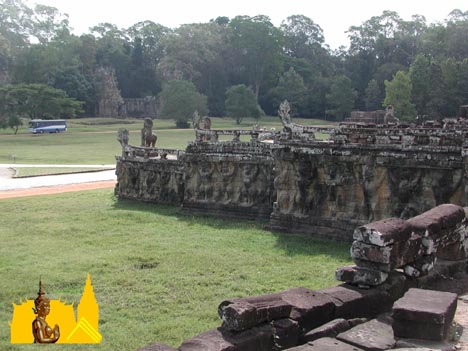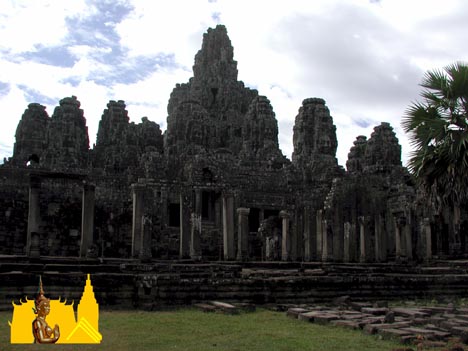 Luckily, there are many tables set up with locals selling water and other things. Unfortunately, there are also a lot of children running around selling things like tablecloths, woodcarvings, bracelets, t-shirts, postcards, photo books, and other things.
We found a shady place under the trees to sit down and enjoy some cold water, but children trying to get us to buy things quickly surrounded us. One girl about five years old targeted Antman and pulled out all the stops trying to sell him little purses. Trying to be polite Antman responded with a ďSorryĒ to which the five-year-old girl replied, ďListen mister, Ďsorryí doesnít buy it."
I tried to be philosophical about it. These people are really poor, and they werenít asking much for what they were selling. So I bought a few things here and there. Even little purses I figured I could give away to friendís children when I got back home. The only hassle was carrying that crap. And the times I didnít buy things, I passed out real notes. The kids were very grateful to get them, and Iíll never forget the looks on their faces.
On the way to Bayon, we decided it would be our last temple for the day. We got up early, and felt like a nap in air-conditioned comfort really would hit the spot. And we were all starting to get hungry.
The carvings of the giant faces at Bayon were hypnotizing. We stopped and took a lot of photos, but we kept an eye out for our minibus.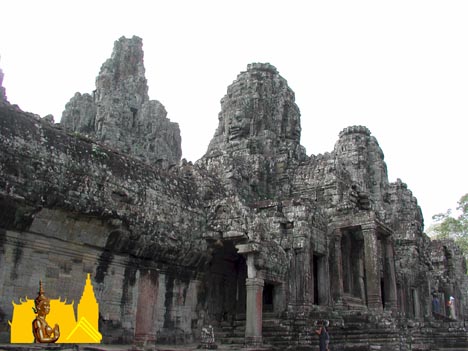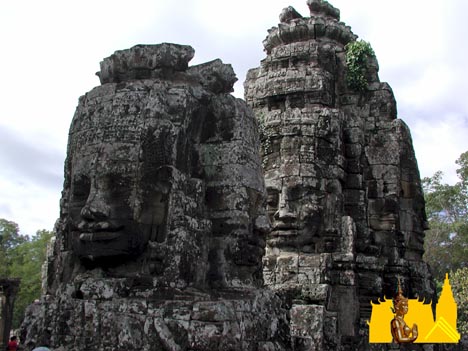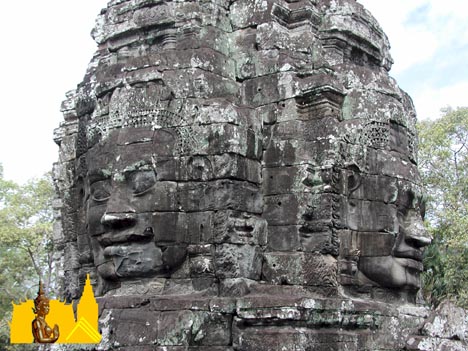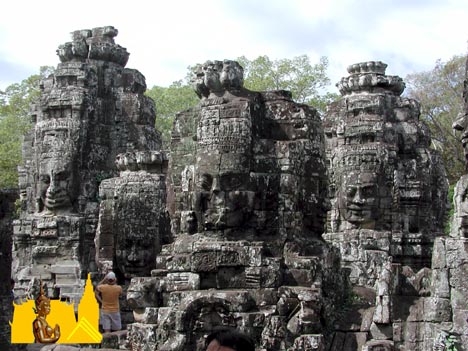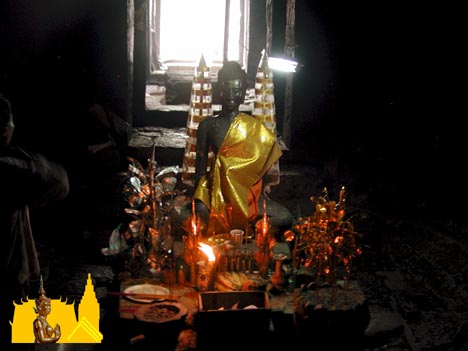 At the exit of Bayon we noticed a few stalls across the street and walked over to have a look. Nothing new, but the cold water was welcoming. A few of the girls sat with us to practice their English.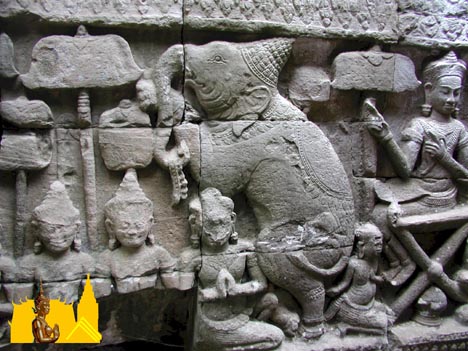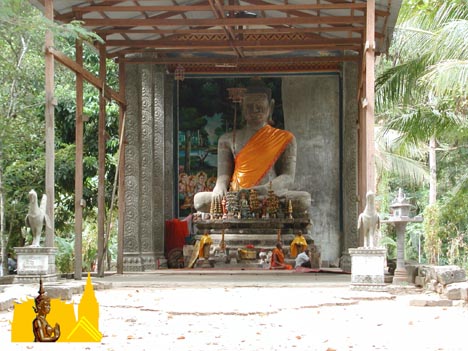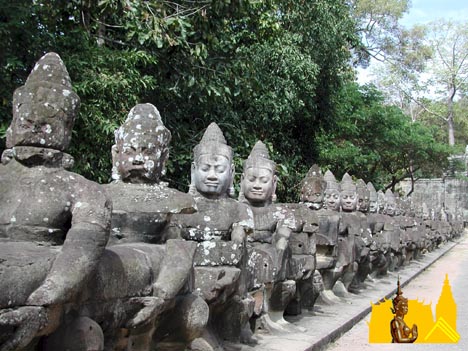 After enjoying two bottles of cold water each, we all agreed we were really starting to get hungry and wondered where our driver was. The road splits around Bayon so we figured it would be a good idea to split up with one group heading off around Bayon clockwise, and the other group counter-clockwise. Of course we promised that we would both meet when the road joins on the other side of Bayon, or the group finding the minibus would come and rescue the other group.
About halfway around Bayon, I really started wondering what the hell I was doing walking around in this Cambodian heat without any water. I should have bought a few bottles to take with me back at the last stall. Just then I noticed a few girls off to the side of the road about 20 meters were calling us over. Maybe it was the heat or lack of water, but I had to be talked out of going over and seeing what the girls were up to.
Thatís about when our minibus pulled up with the other group welcoming us aboard.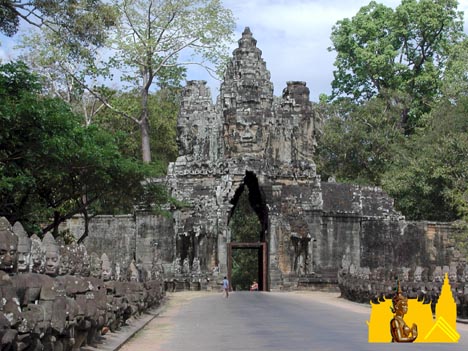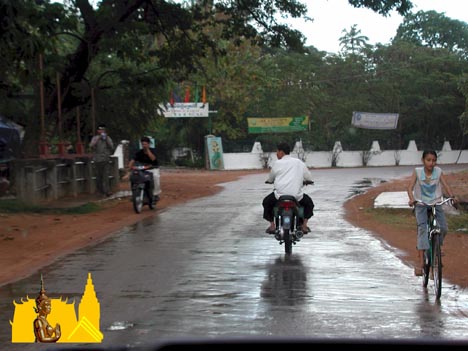 We settled on lunch at Red Piano again, which was perfect for Antman because it gave him another opportunity for a tuna sandwich. Three tuna sandwiches in two days; could he be in heaven?
By now it was about 2 or 3 PM, and we were a bit tired having spent the last 10 hours or so at Angkor Wat. We thought it might be nice to take a relaxing drive out to see Tonel Sap (the big lake just outside Siem Reap).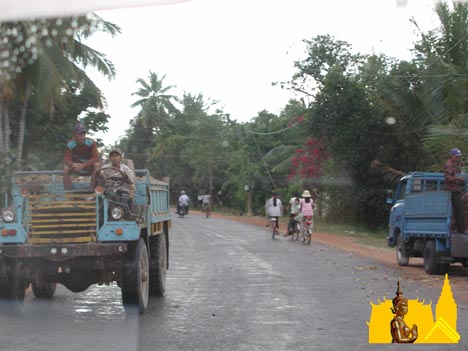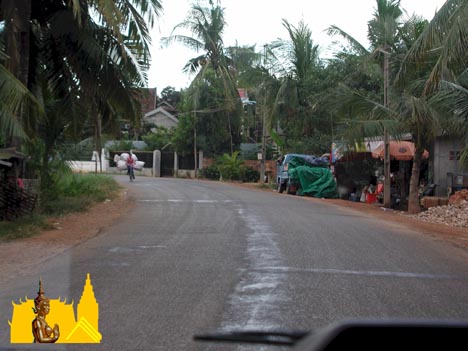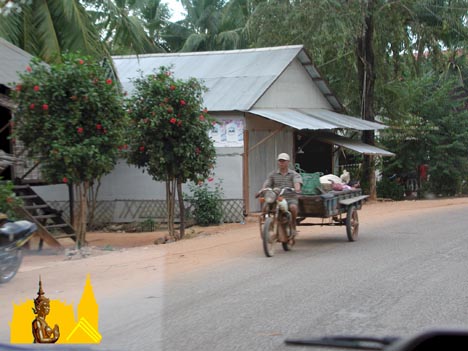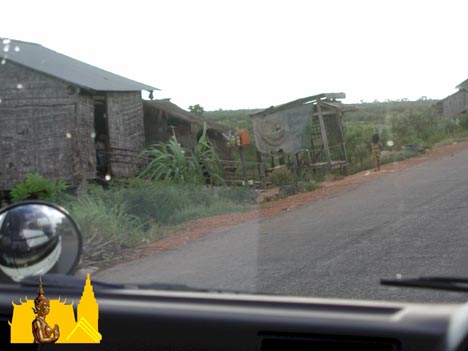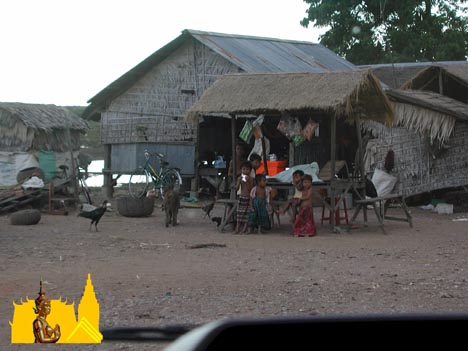 The driver understood English very well, and we were off. As we eased outside the city (such as it is) the skies opened up and it began to rain. Iíve been in some vehicles with some pretty bad windshield wipers, but this one took the prize. We kept heading for the lake, and the downpour soon stopped.
After a while we were stopped at a checkpoint. The driver got out to talk to the police and tell them what we were up to. A few clicks down the road there was another checkpoint, and then a third. At the third checkpoint, the driver said the police did not want us to go to the lake. According to the driver, the police sell tickets for boat rides and they were concerned that we would try to deal directly with the boat owners. We tried to get the driver to go back at tell the police that we didnít want to go on a boat, we just wanted to see the lake but it did no good. The driver wasnít happy about talking to the police and the police didnít want to let us pass, so there was nothing for us to do but go back.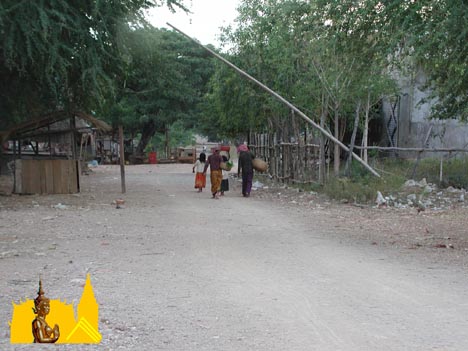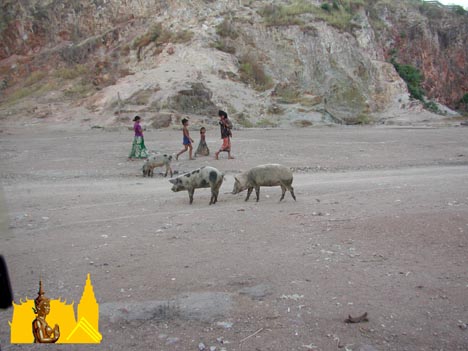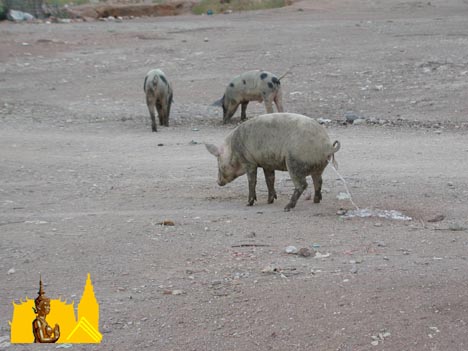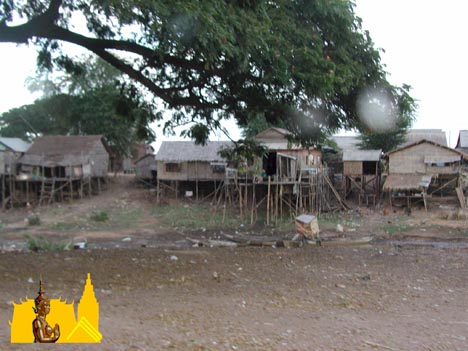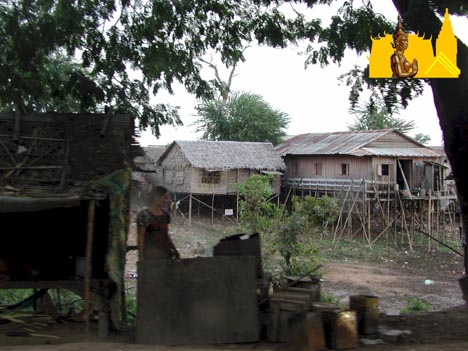 Well, thatís okay. It had been a long day and I was looking forward to a quick nap. Antman and MikeM33607 had other plans; MikeM33607 wanted to check out some massage parlors, and Antman wanted to see the sun set over Angkor Wat. We told Antman to take the minibus, and we all agreed on a time to meet in the lobby for dinner.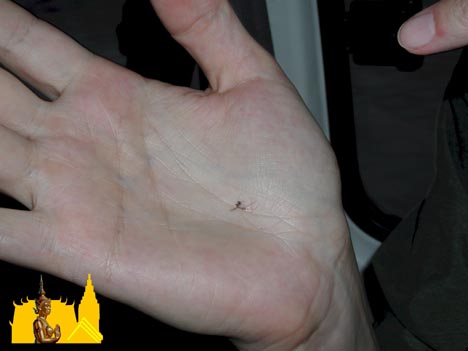 According to Antman, itís quite a climb up the hill overlooking Angkor Wat. And thatís coming from a young man! He also said it was quite crowded up there with a mix of tourists, backpackers, and locals.
The sunset was every bit as spectacular as the sunrise, and as soon as it was over the farangs scampered back down hill. Antman thought it was funny that the tourists left so quickly. As it got darker the locals got the courage to go up to Antman and ask questions about his ďexpensiveĒ camera, and thatís when he got the idea that if he too didnít make a quick exit his camera could end up in a Cambodian pawn shop and he could end up a statistic.
But Antman made it out okay, and got back to the hotel in time to meet us for dinner. Our research suggested that Soup Dragon was another good place to eat. Luckily for us it was easy to find and the food was filling, but it was nothing to write home about. Still, it was better than going hungry. The highpoint of dinner was watching the geckos go after bugs.
The area around the Soup Dragon has a number of small bar/cafes, and we sampled a few on our way back to the hotel.
At one bar we met a nice Cambodian girl who said she would join us at the temple the next day. She was great fun to be with, and we sincerely hoped she would join us, but none of us held our breath.
---------------------------------------------------
Ommmmmm

Jai Guru