The CHANG Gang -- Part 8

CHANG Gang -- Part 8
After the breakfast at Starz Café, the rest of the day was spent at the Nanacabana overlooking the Hard Rock Hotel Pool. I really can't think of a better way to spend the day in Pattaya than relaxing by the Hard Rock Hotel pool. The Nanacabana is close enough to the pool bar that it's easy to get one of the servers over if anyone wants a drink or a snack.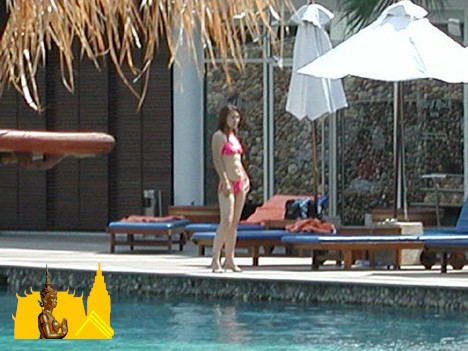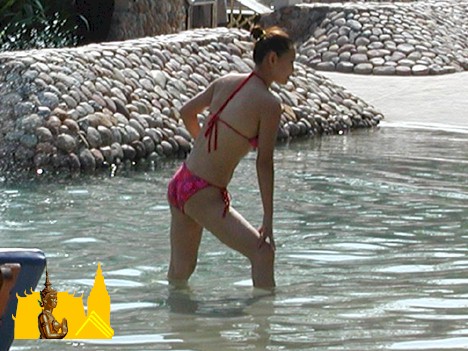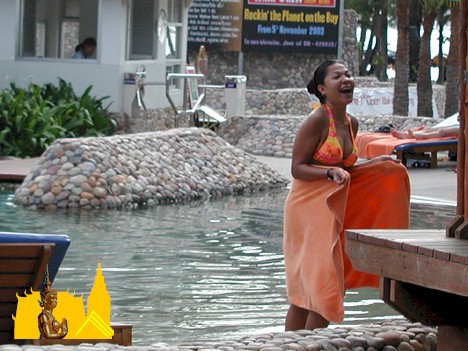 That night we had dinner at Tankay on Walking Street. After dinner, Antman stopped by Spicy Girl Two in case LOSVirgin didn't get the word, while Tig and I made our way to the Doll House. Unfortunately, we scheduled the meeting a full half-hour before the bar opened. We had to laugh about the success of our planning, but there were quite a few bar beers around where we could pass the time.
As we were enjoying a few cold ones at a bar beer in front of Doll House, about a dozen or so of Pattaya's finest pulled up to piss test Marine Disco and Peppermint Palace. Antman walked through the scene oblivious to everything that was going on around him. I was worried he'd get fingered to join the scores of guys and gals for a little test, but somehow he lucked out.
We had a few drinks in Doll House, and headed off to FLB to find Code Monkey.
I'd been in FLB 3 or 4 times in the past, and kept it on my list of places to visit. It's a different kind of place; maybe not as "in your face" as a go-go, and maybe more comfortable than a bar beer. This night was a little different; there was a private party going on and the place was packed.
Code Monkey was there with one of the better girls at the bar, IMO. She was pretty cute, and had quite a chest. I prolly would have tried to sleaze her except for the experience I had with PommieBruv earlier in the trip. PommieBruv ended my sleazing career for good.
It was a night full of wine, women, and song, topped off with a FLB dance contest.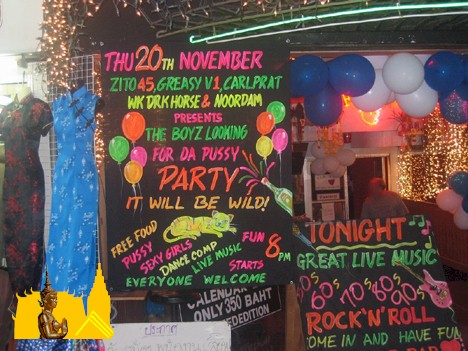 Photo courtesy of Code Monkey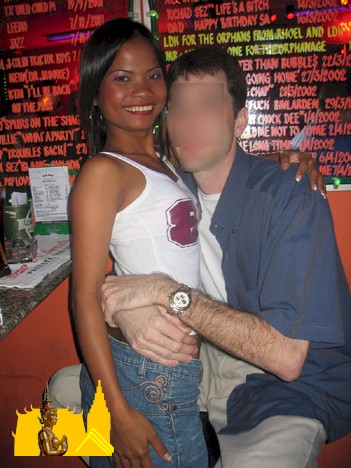 Photo courtesy of Code Monkey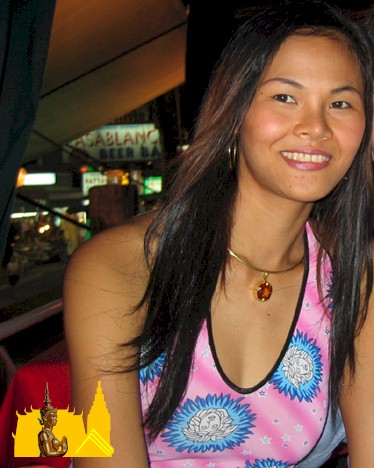 Photo courtesy of Code Monkey

Four guys and only six girls.
We must be slipping...
Photo courtesy of Code Monkey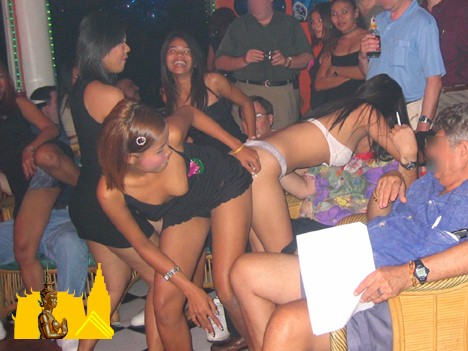 Photo courtesy of Code Monkey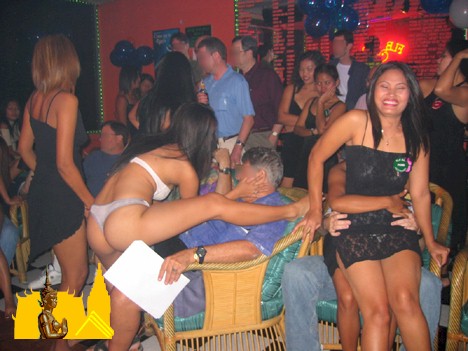 Photo courtesy of Code Monkey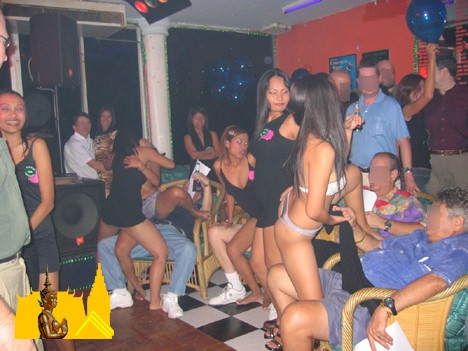 Photo courtesy of Code Monkey
Antman had left earlier in the evening to search for his lost barfine, and the rest of us closed FLB.
I'm not exactly sure what happened to everyone at that point, but I felt like a little walk in the fresh air and figured I could always pick up something around Soi Pattayaland even if it was late. But Pattayaland came and went, and I kept walking. And walking, and walking.
I needed to find a hawng nam, so I had a walk through one of the bar beer complexes on 2nd Road to see if I could find one open. Even though most of the lights were off, a few of the bars were open and serving.
The girls pointed me in the right direction when I asked about the hawng nam, and of course I had to promise I'd be back for a beer as soon as I got rid of a few.
There were three girls in the bar; a server, bargirl, and mamasan. The bargirl was very outgoing, but there was no way I was going to barfine her – she just didn't do it for me. The BG didn't want to take no for an answer, so I ended up telling her I was in love with the mamasan.
All the girls there were great. I kept them all in drinks while flirting with the BG and a little later, the mamasan. It really was a good time.
I thought the "falling in love with the mamasan" bit was a good way to save myself from the pressure of barfining the BG, but it all started to go a bit weird when the mamasan started entertaining the idea of going with me. She said she wanted to go but couldn't because there were some Thai guys in the back still playing pool, and she had to keep the bar open as long as there were paying customers.
No problem for me I told them, I can always come back another day. But as I got up to go, the mamasan called my bluff and said she would close the bar.
I was pretty drunk, and didn't know if I really wanted to barfine any of them. But it was getting late and unfortunately Hoover was all the way back in Bangkok…
The server girl and the bargirl starting closing up the bar. After everything was secure, they lit mosquito coils and started rolling out a small blanket on the bar to sleep on. I couldn't believe what I was seeing. I had met some girls that worked in bar beers before, but they all had apartments. Maybe they were sharing them with other girls, but at least they had a roof over their heads. These girls were spending the night in their open air bar.
I handed 100 baht to the bargirl and another 100 to the server girl, or so I thought. It seems a 500 baht note had gotten into my 100 baht pocket by mistake, and the server girl was now the proud owner of it. I received a beautiful wai from the server girl, and a scream from the bargirl. How the hell could they notice that? Okay, the color of the notes are different but we're not talking about a well lit place here; we're talking about a closed down beer bar. Of course the BG wanted to know why the server got 500 when she only got 100. I couldn't feel right about taking the 500 baht note back from the server girl, so the only thing I could think of was to trade the bargirl's tip up for a 500 baht note. See what happens when I drinks too much?
The truth is I prolly would have ended up tipping them a bit more because I felt pretty sorry for them, but I had just about exhausted today's ration of baht and I wanted to make sure I had enough for the mamasan.
Maybe if I had it to do over again I would have taken them all so at least they'd have a decent place to sleep for the night. Thinking back on it all now, I wish I would have.
The mamasan was a little bit older than the average bargirl, and as I went to sleep I though how nice it was to have a girl with some curves.
---------------------------------------------------
Ommmmmm

Jai Guru