The CHANG Gang -- Part 19

CHANG Gang -- Part 19
I was able to get Hoover out of my room just in time to meet MikeM33607 and Pim in the lobby. It was tough work, but somebody had to do it...
Today GoodGirl wanted to take us all to the zoo. Oooookay… It's been a while since I've been to the zoo, but what the hell… Maybe they would have something there I've never seen before. Hey, it could happen…
Anyway, the plan was that we would taxi to a shopping area near GoodGirl's house, and GoodGirl would pick us up in her car and take us the rest of the way to the zoo.
It was a long taxi ride, and it certainly gave Mike and I a chance to see parts of Bangkok we've never seen before.
There were a couple of factory outlets at the shopping area, so we had a look. We expected some good prices but everything was pretty expensive, and the quality didn't look any better than what one could find at a Sukhumvit stall. It didn't take long until we decided to head over to KFC for a cold drink. At least we could wait for GoodGirl in air-conditioned comfort. And since I'd missed breakfast that morning, I could have a quick snack.
It wasn't long until GoodGirl showed up, and we were off to the zoo. When we got to the zoo, Mike and I found out it wasn't a zoo at all but a safari park – the kind where the animals run around and the people stay locked up in their cars.
They also have a bus that goes through the park for people that don't have cars, or don't want to take them through the park. GoodGirl wanted to take the bus because the last time she drove through the safari park her car was attacked by ostriches. It's hard to argue with that.
We had the big bus to ourselves and sometimes the girls would sit together and talk, and sometimes they would sit with us.
When MikeM33607 and I had a moment together he told me a little about Pim. She shared an apartment with another girl, and had to stop on her way home every night to buy ice because she didn't have a refrigerator. Today was Pim's birthday, and Mike wanted to get her a refrigerator but he was concerned about the cost. I figured a small refrigerator is all she would need and those shouldn't be too expensive. But if he was concerned about the cost, I was happy to split the cost with him.
So it was settled; we would buy Pim a refrigerator for her birthday. A small refrigerator would fit in the trunk of a taxi, and two big strong guys like us could easily carry it up a few flights of stairs.
The safari park bus wound its way through the animals stopping here and there so we could take pictures.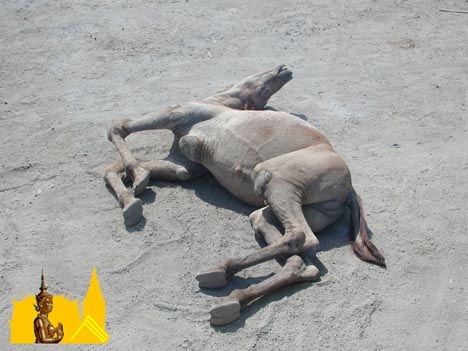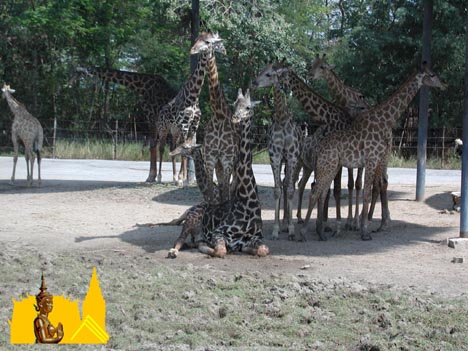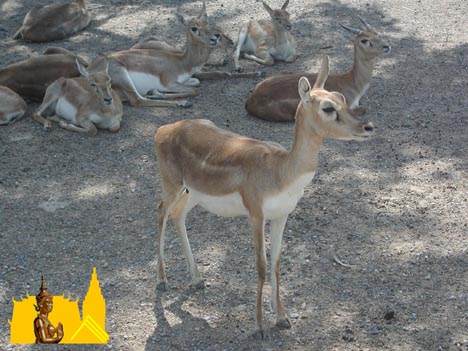 The girls *loved* the little animals...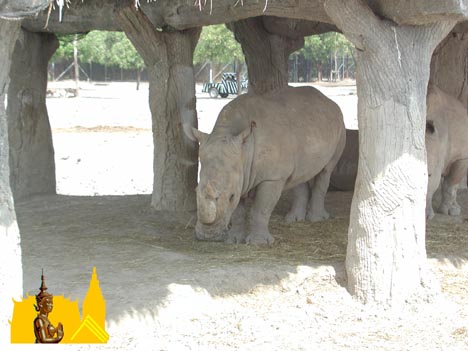 But not the big ones so much...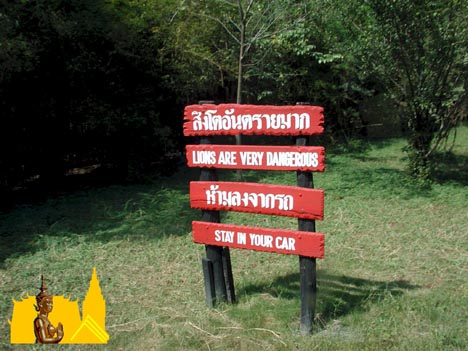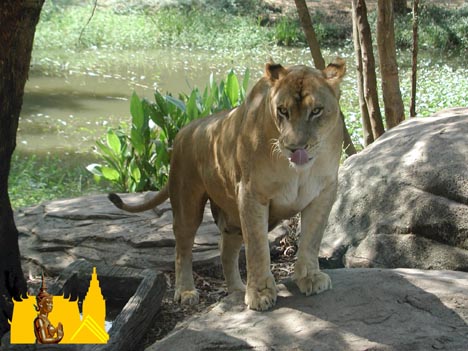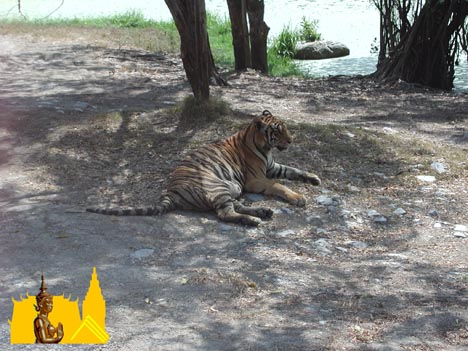 The ride was over all too soon, and I was surprised there was more to see. They had animal shows, dolphin shows, and even an adventure show. A few minutes with the show schedule and GoodGirl and Pim had the rest of the day planned.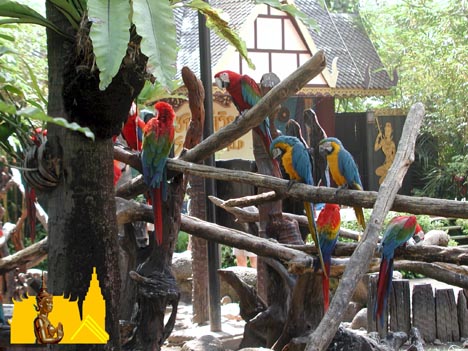 Over lunch, MikeM33607 unveiled his plan to buy Pim a refrigerator. Pim was overjoyed, but GoodGirl started to get a bit frosty (no pun intended). I thought maybe GoodGirl was jealous of the attention paid to Pim, so I offered to get GoodGirl whatever she wanted too. The only thing was that GoodGirl already had a refrigerator, and everything else we could think of that would make sense to get her. GoodGirl couldn't come up with anything on her own, but she could indeed get more frosted. Even in all that heat…
After a while, Pim said that she didn't think a refrigerator was such a good idea. Pim preferred her life to be easy and if she owned a refrigerator she would have to take it with her if she moved. And there was no way she could do that by herself.
With that, Mike came up with the idea that he would buy Pim a gold bracelet instead. That announcement just made GoodGirl's eyes roll, and didn't help things a bit.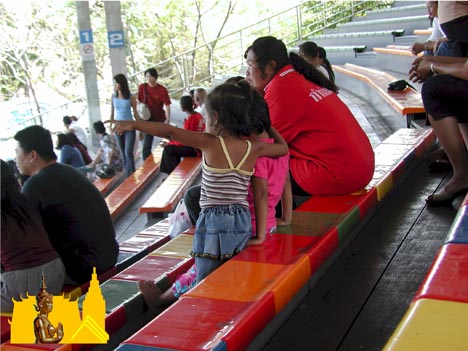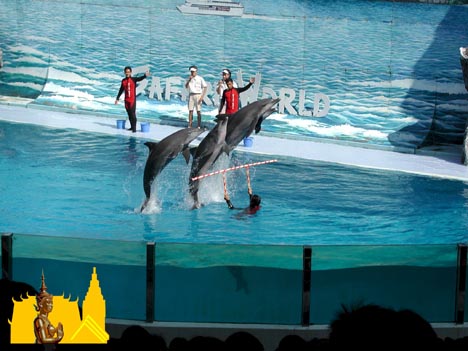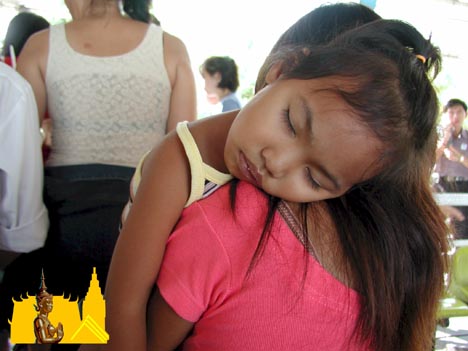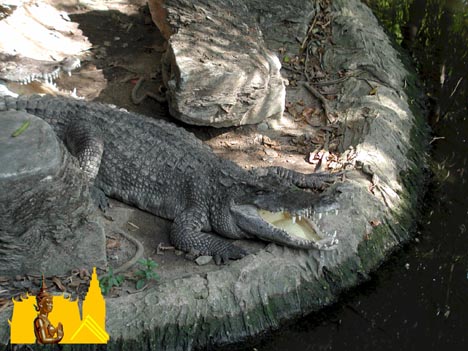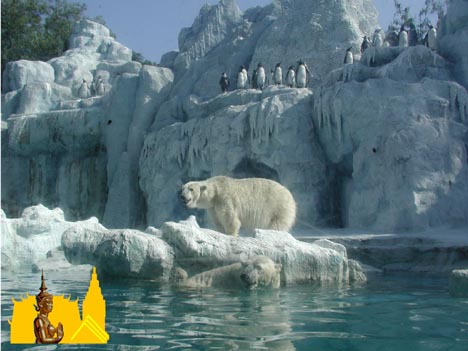 Hard to believe...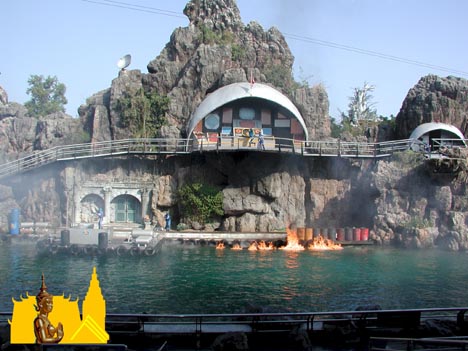 Part of the Adventure Show
The afternoon was spent watching the shows, but GoodGirl never recovered. In fact, she got even more cranky as the day wore on -- if that was at all possible.
On the ride back to town, the traffic coupled with GoodGirl's icy silence made the ride unbearable; for me, anyway. I figured GoodGirl was my responsibility, so it was my duty to punt. I offered to pay for a taxi so GoodGirl didn't have to drive us back all they way to the Nana Triangle, but she wouldn't have it.
We suffered for another half-hour or so in the car until GoodGirl pulled over and let us out somewhere in the middle of greater Bangkok. I lingered a moment and said a private goodbye to GoodGirl, but she wasn't responding. As I shut the car door and GoodGirl sped away, I realized I had left my hat in her car. I stepped into the street to try to flag her down so she would stop but thought fuck it, I can buy another hat.
It was no problem for us to get a taxi. Now we just had to decide where to eat. MikeM33607 and I didn't have a clue where we were but we knew we were hungry, so we left the decisions up to Pim. She wanted to go to Bamboo Bar Beer which is all the way back on Sukhumvit Soi Som. I'd seen the place a few times, but never stopped there.
Pim had a couple friends working there, the beer was cold, the restrooms were clean, and the food was good; an ace place in my book.
After our little snack we decided to walk back to the hotel. On the way we noticed a jewelry shop and stopped in to have a look. Poor Mike was so taken aback at the prices he just about ran out of the shop! Pim said she knew a place that had good prices, and she would take us there tonight.
So we went back to the hotel for a quick SSS, and headed off to the Nana Skytrain station to ride to the shopping area.
I had been to the shopping area a few times during the day, but it was quite a different experience to see it at night. During the day the malls are pretty much deserted, but at night they are teeming with people. And they're all lit up with decorations for Christmas and New Years.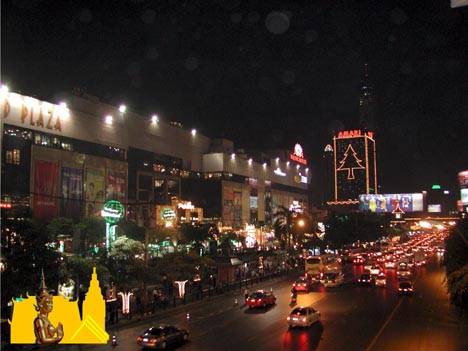 Pim said she wanted a half-baht bracelet, and there were quite a few to choose from. She asked us for our opinions on this one and that, but the decision was up to her. Pim settled on a nice bracelet with blue and red hearts hanging from it. I told her to remember the red hearts were from Mike, and the blue ones from me.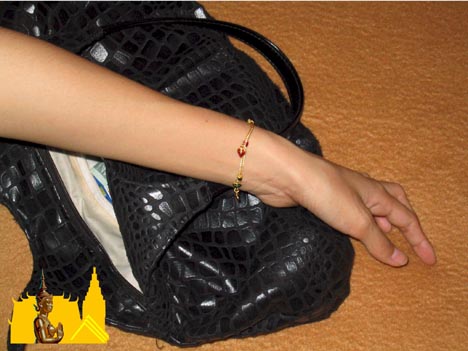 Photo courtesy of MikeM33607
This would be our last night in town, and I wanted to say goodbye to the girls at Morning/Night but I didn't really know if it would be a good idea to see GoodGirl if she were there. I was hoping she wouldn't be.
But she was.
It only took a foot on the stairs before they started playing 'Rock DJ.' Damn that guy was good! 'Rock DJ' was turning out to be a signal to the girls that we had arrived; an instant later our usual girls were at our table.
I bought a round and quickly checked bin when I noticed the icy stare from GoodGirl. Whatever I did, I felt there was no repairing it now. And even if there was a chance, why bother? Things weren't going to work out they way I hoped they would, and if she wants to be that way; let her.
My plan was to have fun my last night in Bangkok.
I said my final goodbyes to the girls with a generous tip. I saved Nit for last because I wanted to make a point of wishing her well on her rubber tree farm, and I wanted to give her a little extra. Nit handed me a little paper with her email address on it. I promised to write, and this time I really would.
As I turned to leave, I noticed GoodGirl was at the stairs looking out to the crowd in the streets. It might be rude to walk past her without saying anything, and maybe her moving to the stairs was an attempt to start a conversation.
Nope, it wasn't. I tried a few small jokes, but all I got for my trouble was icy silence. I gave her a little wave, said, "See you later," and bounced down the stairs. Screw that craziness. There's fun to be had in the Big Mango!
I quickly promised myself that I wouldn't call Hoover tonight. I was ready for the whole nine-yards.
On the short walk from Morning/Night to NEP, I ran in to SchoolGirl amongst the crowded stalls; no doubt she was looking for Antman again. I asked her if she was hungry, and since she was invited her to dinner.
SchoolGirl was indeed hungry. She's just a little slip of a girl, but must have a hollow leg. Where else could she put all that food?
Dinner conversation quickly turned to Antman, and it was easy to see she had it bad; and that's not good. I did my best to console her, but this was another hassle I didn't need -- especially on my last night. I wanted to be out at the bars having fun.
I said goodbye to SchoolGirl in front of NEP, and made my way for the escalator to see what kind of trouble I could get in to.
I hit my favorite bars at NEP, and ended up in the nosebleed seats at some bar I can't remember. Before I knew it, that cute girl on the stage was sitting next to me snaking her hand down my pants.
After a couple beers, it was time to get serious. When I BFed her, she told me that she only does ST. Ah, an honest girl. No problem for me; I have a flight tomorrow morning and need time to pack.
She must have enjoyed herself because when the smoke cleared, it was clear she wasn't going to be leaving anytime soon. We ordered some food and had a little picnic up in the room.
She was a fun girl. I only wish I'd found her earlier in the trip. Maybe if I hadn't spent so much time with GoodGirl, I would have.
Oh, well... Live and learn.
Trip To The Airport
MikeM33607 and Antman met me in the lobby to check-out and share a taxi to the airport. Of course, Antman had the latest love of his life on his arm...
I was hoping he was going to get rid of her at the hotel, but instead he brought her along for the trip to the airport. Those two were nose-to-nose the entire way. A little of their constant giggling goes a long way...
We quickly made our way through security, and checked-in for the flight back. MikeM33607 was flying on a different airline, so we met up again at the Exit Tax station before going through Passport Control.
With our passports stamped, it was off to KFC for a quick snack.
Antman wondered why the girl wanted to see him off at the airport. I suggested there are two reasons; the first is to make sure he's really leaving town because she wanted to be sure she's the only one getting his money, and the second is so he can give her his pockets full of unspent baht.
"Damn, how did you know?"
"I've seen it all before..."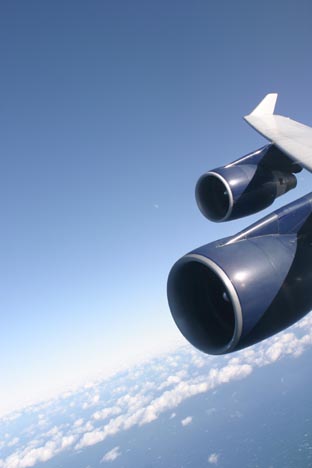 Photo courtesy of Antman
---------------------------------------------------
Ommmmmm

Jai Guru