Don't Ask; Don't Remember
-- Part 7

This series of trip reports was written by my good friend, Chewie. It covers the APPLE Gang Tour and it's interesting to have these reports to see things from a different prospective.

"The end"
Like so many on the board, I wake up to my last day in Bangkok and the blues start to set in. I have had two previous last days in BK. The first one I had the GFE experience at airport with tears from OH and I never wanted that again. My second trip I dumped my attachments before my last night in BK, hanged out with my friends and had a kick ass time. I hooked up with a TLR girl that HAMMERS knows as my last shag in BK and it was an incredible experience. Today I was looking to do the same thing only that last shag would be with a creature I had been checking on all week at Mandarin.
I have AWE at my side and we know our time is drawing to an end. I explain to her that we go and have some lunch and we have to say good-bye. I would be hanging out with my friends later. She is sad, but understands.
With the plan starting to come together and everyone knows what is happening for the day, we head out to the New Wave bar. The New Wave is a great place to hang out. Something is missing on this visit and I try to figure it out to no avail. I order some food and ask the waiter about the watermelon spinners I had the night before. He says they serve them in the food court, however, he wasn't sure if he could serve those in the bar. It's not a big deal as something was missing in the New Wave anyway and it wasn't the same. I finish my beer and head out to the food court area in time for my food to be coming out. I have my usual and AWE orders oysters. She giggles about the aphrodisiac qualities of her dish. I try one and they are fine. I enjoy my drink and I am constantly just going through the motions. Things just don't seem the same.
We head out of New Wave and as I write this report I remember I didn't even look in the direction of the Beergarden. Something isn't the same…
We head down to the TLR and I want to play some pool. AWE is a horrible pool player and we played a game or two. I notice ILU2M is working as the cashier this afternoon and I call her out for a couple games of pool. I actually beat her three times in a row before she cleaned my clock. I think she was sand bagging. I start to have some fun playing pool and the time flies. I head back to the Nana about 3pm and stop off at TajMahal clothiers to pick up my stuff. I try on everything and I am pleased with everything. I am asked if I wanted anything else and he gives me a good deal on any other shirts I want for B1,000. For my size, that is an awesome price. Basically, it was looking at less then $25 for another custom made shirt… I see a couple other patterns I like and AWE helps me pick them out. He promises to have my shirts to my hotel that evening. They were there when I came in for the evening. That was quick service. Business must be slow for a rush job and price like that.
We get to the room and I want to take a short power nap. About 30 minutes pass and I fight the sleep demons and take a shower. I have a long talk with AWE and I thank her for her time. We go back and forth about that night's events. First, she was going to wait at her bar for me in case I want to see one last time. I first think that is a good idea, and then I think it would be unfair to her to wait for me. All I wanted to know was that she was not going to end up in someone else's bed while I was still in town. I tell her I will pay bar, and for her not to wait for me at Sheeba's, as I would not come by. She was going to go there to pay the bar and hang out with her friends for a while. She was not to wait for me to come by. We grab a taxi and head down to TLR. I get out of the taxi and she is whisked away before I get on the curb.
I am a little heart broken and walk up the steps of TLR and take a deep breath. I try to F&F and am meet by one of my favorite TLR ladies and she wants to play some pool. That's what the doctor ordered. Stop thinking about good-byes and get into some fun.
This is when I start to realize what is missing on this day. I had spent most of the week with HAMMERS, GOONER, JaiGuru, ANTMAN and BURNOUT. I said good-bye to HAMMERS and GOONER the day before. JaiGuru and ANTMAN heading out earlier that morning. NYSAINT and BURNOUT headed down to Pattaya earlier that day.
I WAS BY MYSELF. S ure I had some good times with others, while at the same time, the crew I crawled with all week was gone.
THAIBARMY was there and we had bumped into each other out on the crawl all week long. We were playing pool earlier in the afternoon as well. Soon the TLR girls decide to run the tourney and take THAIBARMY and I for a ride. It's simple math. The three TLR ladies spot us and we are easy prey. We all pay B100 for the tourney and somehow THAIBARMY and I pay for the ladies so they can play too. ILU2M is a mean player. She would laugh at the poor shots she would leave THAIBARMY to make as she was shooting. Needless to say, they made about B1500 off us before we kinda got board with the event and went back to playing for B20 a game. LOL
THAIBARMY has an appointment at Rainbow III with a squeeze he had on a trip before. He already paid her bar and she would wait for him until 10pm. I know I want to get over to Mandarin for a special number to put the final notch on my BK scorecard. We head over to Nana and I head right for Mandarin. I look at the board and her number is not on the board. I'm thinking that was dam quick tonight and the Mamasan (a farang woman?) approaches and asks whom I was looking to get. I let her know the number and she talks with one of the girls and she says. "It is her Holiday"
DAM DAM DAM
Wouldn't you know it? It was her one-day off a week!
I head over the RBIII and meet up with THAIBARMY. He has his hands full at this point and he is dancing around having a good time. There are a couple ladies I find interesting and I try to have a good time. This is nothing against THAIBARMY, it is just that he was no longer on the crawl. He had his prize for the evening so I head over to AW for some of the show.
As I get there, the Dragon I had a couple nights ago is happy to see me. I have no interest in her at all and I tell her to leave me a lone. It was a brief standoff and she takes the hint and leaves me alone. The show is getting old, it is good, but you can only see the same same so many times. With time counting down and since was around 11ish, I had to figure something out.
I decide that I might go check on Sheeba's and see if AWE is still there. I take a taxi to Soi Cowboy and am there in no time. AWE sees me coming down the Soi and runs over to me. The #3 girl from the night before is happy to see me as well and she drags me into Suzzi Wongs. I sit and quickly realize the same mistake I did earlier in the week. Upon further observation it isn't AWE, its THAIBARMY's BF that I was buying drinks for thinking it was AWE from earlier in the week. THAIBARMY had BF her as well this night and she is asking if I know where he is… I may have mentioned that he wasn't coming for sure as I just left him at another bar and he had his hands full. At the time, I didn't know I was stirring a fire. Since reading other posts, this was his LEACH. I believe she went to his hotel later that night. SORRY THAIBARMY… I may have said something I shouldn't have.
They tell me AWE came earlier and left by herself and I believe them without a doubt. I wasn't supposed to come back and she wasn't supposed to be there.
#3 is still really excited and wants me to BF her and her friend who loves lesbian love. They tell me that #3 had a great time and they want to come with me tonight. There are a few girls hanging around for some lady drinks. I have fun telling #3's friends about her getting up several times during our session and soon she was on the floor laughing hard. The capper was telling her friends I was too much for her, as she had to finish giving me a HJ. It was a good laugh. I just wasn't interested in anyone there for my last shag. When they have to go dance, I take the opportunity to escape.
I remember SIP wrote directions down to CPII massage parlor on a piece of paper. Many on the board have asked for direction sand I guess it isn't an easy place to get too. I checkbin and see the owner on my way out. He tells me "You 're going to miss this place" I agree and thank him for his fine establishment
I grab a taxi and hand over my piece of paper. The driver heads off and it is a 10-15 minute ride. We pull up to CPII and I get out. I can see the fishbowl from the steps and the place looks empty. It sort of looks closed. I ask anyway and confirm the place is closed for the night.
DAM DAM DAM!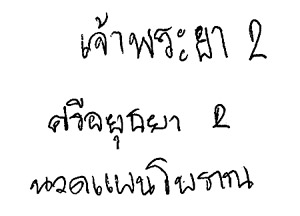 These are the direction in Thai to CPII. Too bad I didn't try them before they closed for the evening! You should be able to right click the picture and select Print Picture.
It is a little after midnight. AWE is home and I have no way to contact her. All my friends from the week are gone. I have less then 4 hours till I have to head to the airport and time is running out.
I head back to Nana and go meet up with THAIBARMY. He is half naked and really into the show. I am encouraged to get up on stage like he was before I got back. He is having a great time. I see nothing I like and bid THAIBARMY farewell. He was having a good time. I was a little depressed.
I head over to Silver Dragon as when I was there with NYSAINT earlier in the week, they had some very nice looking ladies. I was sure something there would be to my liking. I make a selection soon and make sure she smokes as that is how I want to finish my trip. I BF her and head back to my room across the street.
We get there and I let her know my plans. I want to pack my things and set out a change of clothes for my flight. Nothing special happens and she heads home about 3:30am. I lay down on the bed and my wake up call comes 30 minutes later. I head to the airport.
THE END
Thanks for reading and I personally find tremendous enjoyment reliving my week in paradise through these reports. I agree it is long winded at times, however, this was a chronicle of my week and what I found important and interesting. It has been hard getting back to my normal life since coming home this time. I sit here almost 4 weeks after my trip thinking daily about it through these reports. I still have two yellow strings tied to my left wrist, I am glued to this board checking for the latest posts. I'm slowly getting back into the swing of things with work. Work has suffered this last month as I am constantly looking for other ways to make a living that will allow more frequent trips. Currently, I am waiting for the next installment of DAGRINGO's trip and I look forward to future posts by anyone attempting to share their experiences with everyone else.
Thanks to everyone who contributed to my festive week. You all know who you are and I hope to share my vacation time with you all again soon.
Again, Thanks for reading!
Chewie
---------------------------------------------------
Ommmmmm

Jai Guru