Don't Ask; Don't Remember
-- Part 5

This series of trip reports was written by my good friend, Chewie. It covers the APPLE Gang Tour and it's interesting to have these reports to see things from a different prospective.

"Something Old, Something New"
I say goodbye to my companion from the night before and head down to meet the breakfast crew for a day of sight seeing. It is 9:30 and Iím concerned I have missed the crew so I call JaiGuru's room and he is just heading down. We have breakfast and I run up and take some clothes to the cleaners before we head out on the town. I thought I would use the Nana laundry service to get a couple things washed before the trip started, however, I have gone through most of clothes and decide to wash everything. I head down the street past the Dynasty Inn and drop it off at a beauty parlor/laundry shop. I used them last time and things were fine.
I meet JaiGuru and Sip in the lobby and he suggests I bring some water with me. JaiGurutook the complimentary water and froze it in the freezef part of his in-room fridge. It was a great idea, as he would share some of his ice water later in the day with me.
Today we are heading to Wat Pho. For me, this was my first sightseeing trip since my first visit to Thailand. On that trip I visited a couple places on the way back from Pattaya and it was nice to see something different. The adventure to Wat Pho was a better adventure for me then seeing The Reclining Buddha at Wat Pho.
First stop is the Nana Sky Train station. There are three senior couples in shorts and sleeveless tops trying to read a map going to the Grand Palace. They ask us if we can help and itís on the way to where we are going and they tag along. Before we get on the train I run into PEABODY who lurks on the board and I saw the night before in Angels Disco at closing time. He just got into town late Sunday and it was too late for the DC. He introduces me to his female companion for the trip. Later while making small talk PEABODYís female friend asks SIP what she does and she tell her she works in the hotel. She tries to clarify what exactly Sip does in the hotel and I turn away and smile to myself. Later PEABODY said that she has heard about the nightlife in BK, but doesnít really ďKNOWĒ the scene. He suggests we keep things on the low about things. I still wonder how awkward it must have been for PEABODY to have her around, knowing that he was looking to find some recreation when she wasnít looking.
The trip on the Skytrain is uneventful until we have to switch trains. It was a quick jog with everyone else to the waiting train on the other side of the track. We get to the end of the line and we get off and head to water. Soon we are on a water taxi and this is another first for me. It was 8 Bhat for the 10-15 minute ride down the river. We get off the water taxi and we head to Wat Pho. It is a short walk and soon we are entering the grounds.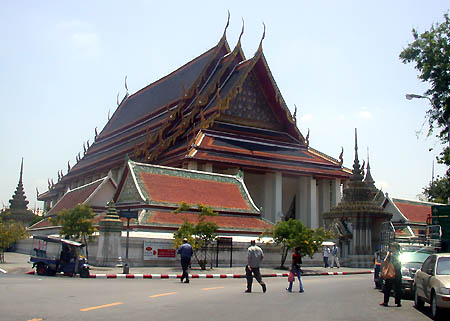 Wat Po is just ahead and there are
not a lot of other tourists out on this day.
The Reclining Buddha is a site to see. After taking our shoes off we enter a huge room with the Reclining Buddha. I have my picture taken next to the Buddha and it makes me look small!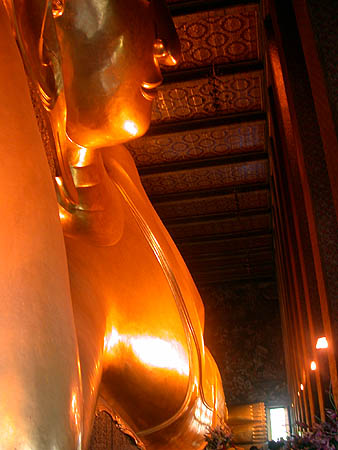 The Reclining Buddha in Wat Po
can make me look small.
We make merit and are given small coins to put in the buckets. They say if you have just enough coins as there are buckets, that is really good luck. If you have less it is still good luck but not a good as with the perfect match. I had 5 extra coins and Iím not sure what kind of luck this would be until later that night. I always wanted to have one of the strings tied on my wrist and SIP goes inside and gets some for us with some more money got merit. I still have the strings, as I write this, on my left wrist. They say you have to wait till they fall off or it is bad luck.
PEABODY splits from us and we say good-bye. They are heading to get a massage at Wat Pho. Apparently, the massage school there is world known as the best school for learning Thai Massage. JaiGuru, SIP and I head around the grounds looking and at the sights. We come around a corner and see the massage school and we take a look inside. On offer is a foot massage as well as 1-hour sessions. Iím not exactly sure of the cost but it was around 300 Baht and not that much more for a full body massage.
My foot massage was good and soon I have several hands helping relax me. It seems where ever I go, people canít get enough of Chewie and I love every minute of it.
I mention my sore neck and am giving a great neck massage as well when the foot massage was completed. I tip her 200 baht and she is very happy. I go outside and wait for JaiGuru and SIP as they were getting the full massage. While waiting, my new friend comes over and continues with my neck massage while I wait for JaiGuru and SIP. I could have gone to sleep right then and there. For those that are thinking about going to Wat Pho for a massage, they will supply you with some comfortable clothing if you are wearing stiff clothes. It is highly recommended and I might brave a full massage next visit. I was concerned they would have a hard time twisting and pulling me in all the proper positions.
We finish with Wat Pho and head to the Jim Thompson house. JaiGuru said he loves to sit in the garden and drink fresh squeezed limejuice. SIP and I have never been to the Jim Thompson house, however, we both have heard about it and are glad it was included in the afternoon activities.
We have a great lunch and SIP and I take the tour of the house. JaiGuru has seen it a few times before and wants to sit and enjoy his limejuice. We take the tour and our guide was very beautiful and spoke good English. Even when Thai ladies speak English they sound so pleasant to the ear. ďThis way pleaseĒ was said after each stop on the tour and it ranks up there with ďkaísĒ you hear so often. I can still hear her voice. The tour guide tried hard to keep her composure while this European Family with their 2-year old WALKING baby was in tow.
Our tour guide would cringe and keep her smile while this baby is about to knock over various artifacts in the house. In America I have no doubt the tour guide would have stopped the tour, told the couple they either had to hold their child or leave the tour. She just kept smiling and trying to hold the kid back so he wouldnít run off and break something. She did hold her ground when it came to entering the master suite and held him back from entering the room when he tried to crawl over the threshold. Apparently spirits are only able to travel in straight lines and you upset the house when you step on these entryways and allowing the spirits to enter the room.
What is it about Silk? Its pretty to look at, however, it just isn't anything I would buy. Not sure I would have bought something in the gift shop. The things I did look out were very expensive.
It is a long walk back to the main road, and we take a moment to look and smell the klong that runs at the back of the Jim Thompson house. It might interesting to take a trip on the city klongs and see Bangkok from a different perspective. As we walk to the main road I spot an open-air restaurant and notice the prices of food. You can eat well at incredible prices in Bangkok.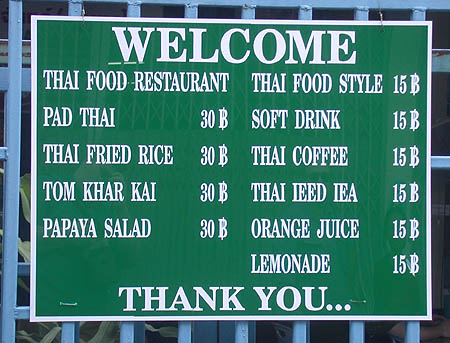 At prices like this, one can eat well in LOS for almost nothing. 15B for Thai food Style?
We take the train back to Nana. bSIP and JaiGuru head back to the hotel and I stop by the internet cafť to catch up on some things back home. I get back to the Nana and see HAMMERS, GOONER and his Apple in the lobby. I join them and start drinking Lippo and Vodka. Basically it is Red Bull and Vodka in the States. This quickly gets the energy going.
While sitting there, I sort of hit a brick wall on my trip. It is Monday evening and I realize my days are numbered in Bangkok. I have had some great encounters, some not so great and still something was missing. I think about calling Na, however, I didnít see her the night before and thought it might be better to take a pass. I was thinking about Goonerís Apple who was stuck with a LT and couldnít be with GOONER the night before. There was a huge contrast in emotions today as she was smiling from ear to ear and having a great time with us all.
For a brief moment I realize what I was missing and decide to take action. It was an impulse move and pull out my OLD HATís phone number from my wallet. I told her I was coming to Bangkok and would try to find time to meet her. Iím thinking this would be a good night to meet up with her. GOONERís Apple has a phone with her and I ask her to make the call and see what she is doing. At first I am thinking we can do lunch tomorrow or something. I really wasnít sure if I wanted to shag her or just stay in touch. Soon she is going to get ready and met us down at TLR later.
Iím not sure I wanted to meet her later as what I probably needed was a crawl with the crew. After the crawl, find a stunner and have some meaningless sex. W e head down to TLR for the 6pm pool tournement. We walk in close to 7 and things are starting to get organized. I am starting to have a nice time and then my OLD HAT walks in and I donít know what I was thinking. She is a nice lady and I wanted to see her on my trip. I didnít want to go bar hopping with her though. We talk for a while and soon the crawl talk starts to take shape. I tell my OLD HAT that I wanted to hang out with the guys tonight and I really wanted to see if she would go with me to the floating market in the morning. I remember some advice in the past from some fellow pongers and decide to give her B500 for taxi and trouble and send her home. I will see her at 8am to go to the floating market. She left and went to a Internet Cafť and sent me a note about how glad she was to see me and she was looking forward to spending time with me. I didnít see this e-mail until I came home though.
I scan the room and NYSAINT, HAMMERS, UPTWOYOU, BOB4YOU, SWEEDE, THAIBARRY, GB, DAGRINGO, SICK PUPPY, GOONER, ANTMAN, JaiGuru, and BURNOUT and a few others (sorry if I missed your names). The crawl heads to NANA and I want to check out a number in Mandarin JaiGuru has mentioned before. I get there and spot her sitting with a punter. S he is gorgeous and I wait it out to see if she was going to be BFed. She was and I head over to Angel Witch. I take a position next to NYSAINT and a few others. NYSAINT has stalker in the bar and is upset about some games she is playing with another bird he fancies. His apple schnapps is flowing and a good time is had by all. NYSAINT has good tastes and I hope he found a way to cut her from the herd and have some fun.
After a while we head over to Silver Dragon. I fondle a couple things and nothing really sticks with my choices there. I quickly decide that there is only one thing I need right now and since it was about 12:30am, I had better go get it. I head down and catch a cab to Soi Cowboy. I walk into Sheebaís and look at the board for the right number. Keep in mind, I had made mistakes before but this number stuck in my head. I ask for her and to see if she is still available. She is and I BF her immediately.
Just as I do this, BOB4YOU walks in to say good-bye to his fling from the night before. It was a little awkward. They bid each other a farewell and she heads up to get changed. Standing in front of me is the girl I had bought other drinks for thinking it was my spinner I had just BFed. THAIBERRY is in the bar and I point her out to him and he takes a liking to her. She is happy and is BFed in minutes. SWEEDEís squeeze is looking for him and she misses her SWEEDE and lets me know to tell him. SWEEDE she love you too mut at Sheebaís.
We head out of Sheebaís and a cheer from bar is head as we exitÖ I love this place. We head across the way to Suzi Wong. Once inside, I order a shot plus a Mekong and Coke for my new friend I will call Awe as she was awesome. Awe was soon a little drunk and was starting to get carried away. I took a seat near NOOZY and DAGRINGO. She begins to flirt a little with NOOZY and is dancing away and having a great time. She was going to be a fun one tonight. We head out to get back to NANA for the witching hour in my room.
We get back and are quickly joined by BURNOUT and his lady and an empty handed UPTWOYOU. It seems UPTWOYOU would be doing some window-shopping tonight. I love playing with my drunken plaything and even shoulder press my beauty a few times. She was light. Outside on the stroll the fish we have tossed back into the pond over the last few days are starting to stir things up. Soon a couple ladies cause such a scene we temporarily shut the windows. UPTWOYOU is still fishing for a keeper in the pond below and takes a position at the other window.
Awe is really drunk and we are start talking about lesbian love as a group. We were having a good laugh when Awe took something BURNOUT said the wrong way. He said something about doing it for money. We were joking earlier about the live sex show we could have and charge 20 bhat for the show. At that price, we are obviously joking. BURNOUT was joking along the same lines and she took it for saying she should do it for money. That upset her tremendously and she demanded an apology. He gave her one under duress and she was ready to kick his ass. He dismissed himself and left the room and so did UPTWOYOU. She was sorry for causing a problem and I tried to explain what were joking about and when I put the conversations together for her she calmed down. I looked out the window and saw BURNOUT walking to the Soi and ask him to hold on while I talk with her. He was gone by the time she was ready to see him down below. When I did look out, UPTWOYOU scored and was in a taxi heading back to his hotel. I think I acknowledged his departure down below. That was the last time we did any window-shopping. It was too hard looking down and having the toss backs looking back at you. If you take room 247, I suggest only window-shopping at the Nana because your cast offs can get upset watching the show from the parking lot below
Now back to Awe being upset, well she overcame her emotional charge about BURNOUT and we proceeded through the ritual showers. She prefers baths and draws one in the tub. The baths in the Suites are larger then regular rooms while at the same time, too much water displacement for me to enjoy. She takes the foam bath tubes and I think she starts to please herself with the round tip that is on the bottle. I take a closer look and YEP, she is masturbating in the tub. She tells me she does it everyday. I am like OK; I need to take a shower. She tells me that I should take a shower while she soaks in the tub. This is interesting. I turn the shower on and clean my parts and look down at this bundle of joy below getting herself off. WOW.
We adjourn to the bed after drying off. Before we get started she apologies again about the issue with BURNOUT and tell her it was the alcohol and I may have made her drink too much. I assist her with her manual stimulation and take my time as she really enjoys what is going on. Then when she is finished she gives me an incredible bbbj and then one of my digressions from the trip occurs. She mounts me without a jimmy hat on and my judgment is put on temporary hold. As I am about to nut, I give her a slight nudge and almost wind up tossing her off the bed. I donít want to get too detailed, however, the load I busted was quite impressive especially after the previous 4-days entertainment. She was a keeper.
It is close to 4am and I tell her I have plans in the morning to go to the floating market. She wants to go and tells me she wants to spend more time with me. T his is a keeper and I tell her that it was a great idea and she should come with me in the morning.
As I settled in for the night with her at my side, I begin to think about the awkward morning meeting I am going to have. I am bringing Awe with me to the Floating Market and my Old Hat was coming too.
It didnít matter at that point as I just had the best session of my life and was on cloud nine.
To be continued...
Chewie
---------------------------------------------------
Ommmmmm

Jai Guru