The Big APPLE -- Part 1

The Big APPLE -- Part 1
April 2003
Standard Disclaimer - Names have been changed to protect the innocent. A few nicknames have been used and if you find your name in a report but don't care to be mentioned, just drop me a line and I'll change it.
~ ~ ~ ~ ~
How do I begin,
To tell the story of how
Fun a trip can be?
A true trip story...
"There's no way I can make it to Bangkok in April." I can still remember typing the words. Never say never, I guess. The truth is with the pressures at home mounting, I really shouldn't have planned to attend. But I did.
It all started innocently enough; I really hadn't planned to attend. But seeing the posts fly between Burnout and Hammers11, I started to get that itch. That itch that one thinks can only be scratched by purchasing a ticket, but in reality can only be satisfied by stepping onto the tarmac at Don Muang.
It didn't take more than a few posts before Hammers had bestowed a name upon the gathering -- April Ponger Piss-up & Laughing Excursion, or the APPLE Gang.
A few guys and then more and more were making plans to meet in April. I followed the thread jealous of the guys that would be attending. In an attempt to help everyone stay organized, I put the list into HTML and posted it periodically in the APPLE thread. The list kept growing until its gravity was too much; Antman and I must also attend.
The trip would be short for trusty Antman and I as we already had plans for a party in New Orleans that we couldn't (and really didn't want to) get out of. But we decided even only a few days in the Big Mango is better than no days in the Big Mango. Are we hooked, or what?
It has been an interesting past few months. Memories of the last trip served as fuel for the fire of desire to get this trip started. Moderators on the forum complained about the way APPLE messages sprung up all over the forum like mushrooms a spring lawn. Other posters gave us encouragement and wished us luck. It seemed like every few days the plucky little group would reaffirm its plan to meet in April and go off on the mother of all crawls.
I had asked Hammers for a favor; a favor that only someone coming from Australia could perform. Without hesitating, he agreed to take it on. When asked what I could do for him in return, he replied, "Just bring along a bandana or something with APPLE Gang on it." Hmmm... Now *that's* an idea...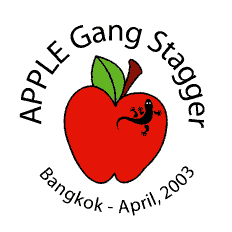 About that time, Antman offered to sponsor a Nanapong Dance Contest if it could be held on April 6th. That date was picked because Sunday was the traditional day of the week when DC's are held, and it was the Sunday when the largest collection of APPLE Gangers would be in town.
The dance contest promoters put their heads together and came up with a plan. The plan called for the APPLE Gang to completely underwrite the expense of the DC; a tidy sum indeed. Antman and I stepped up to the bar, immediately followed by Hammers and Gooner. In those heady early days, it seemed only a day or two would go by before another pledge of assistance would be posted on the forum.
Keeping the list of attendees and contributors was prolly a bad idea as it gave Noozy the idea to appoint me accountant for the group.
The APPLE Gang list grew to 18 people that would attend, and 3 more that promised to attend but didn't want their names on the list. Although I have seen large groups of guys on a crawl (like Showtime's 4-day bachelor party), in my few years on the forums I don't think I've ever seen such a group of guys come from around the world to meet up in Bangkok for a few drinks one weekend.
Having said all that, who knows what will happen. Some guys might not show up, some may be hijacked by bargirls, and others may disappear when it's time to honor their pledges. But it would be their loss. If the APPLE Gang Stagger is half as much fun as the nights with Antman, Hammers11, Gooner last November -- it will prolly be too much fun for me. I am getting older, you know...
Decisions, decisions...
Should we order the 8 dollar pizza, or the 13 dollar fried rice? One might think with as much time as Antman and I spend at SFO airport, we would eat *before* we got there. But nope, not us; we don't learn that well from our mistakes.
All pre-flight tasks came off like clockwork. Limo to the airport; slam-dunk. Check-in; zippity-zap. Security; a breeze. The plane from SFO to Narita was very empty, so Antman and I each got our own rows so we could sleep as much as possible. Not always a good idea on a flight, but neither of us slept the night before.
Yes, it was a perfect morning indeed -- right up until the time the plane was supposed to take-off. We taxied short of the runway, awaited our turn, and just as we were about to roll onto the runway a little red warning light showed up on the pilot's console. Not usually a good thing, but better that it showed up on the ground than in the air.
Mechanics were sent out to have a look and they decided the plane should taxi back to the gate. All the while the pilot assured us that it was no big deal; but if so, why don't we just forget about it! We've got things to see, and people to do!
It felt like it took forever for the mechanics to coax the little red light to go out. They finally did, but that's when the pilot discovered he needed to top-off again before he took-off.
It's obvious the travel fairies take great sport in giving me the dinkie. Almost 2 hours late, we are finally flying over the Golden Gate Bridge.
We were scheduled for a 3-hour layover at Narita, and had planned to try the showers there to refresh ourselves before that last leg of the trip. The pilot was able to make up a little time so we were able catch our connecting flight to Bangkok, but we didn't have enough time to check out the showers.
As things turned out, the flight from Narita had problems too. At least this time they were able to address the problem and get us in the air only 30 minutes late. Although we were glad to be up in the air, we weren't happy about the possibility of arriving late -- we were scheduled to arrive at 11:30 PM as it was.
The pilot must have wanted to get to Bangkok quickly too as he not only made up the 30 minutes in flight, he got us there 5 minutes early.
On the flight there was an older gentleman traveling with his teenage son. He had volunteered his help as a Thailand expert (having been to Koh Samui twice about 18 years ago). He told us a few stories, and asked us a question or two. They had a flight scheduled to Vietnam the next evening so had only one day for sightseeing. We suggested the Grand Palace with a stop at Wat Pho to see the Reclining Buddha and get a quick massage at the massage school. We also explained how the Skytrain worked, and how he could take the riverbus up to the palace and temple.
Antman and I made a couple jokes about getting on the first bus to Passport Control, and the Thailand expert asked if he and his son could follow us through the airport. We told him we would be happy to have them tag along, but we were going to move and move quickly.
When the plane landed, I was surprised it pulled up to a gate instead of parking on the tarmac. Antman and I were just a few rows back from the door, and were able to pass quite a few people before they even got out of their seats. The expert shouted, "Whoa, wait up!" But I *told* him we were going to move so he would just have to catch up and keep up.
Somehow I got 15 or so yards ahead of Antman, but he was able to make up the distance when I got on the moving walkway and he jogged along side until he passed us. I was able to catch up to Antman once off the moving walkway, but it was tough. He can really move when he wants to.
As we walked, I noticed a sign telling us to go left to Passport Control while the scores of everyone else were going straight. Trusting that someone smarter that I decided to put that sign up, I turned left. And Antman trusting me, fell in just a step behind. The expert started yelling, "Where are you going? Everybody else is going that way!"
"*I'm* following the sign."
"But what should *I* do?"
"Up to you!"
The expert decided to follow me and was rewarded with an empty Passport Control counter instead of having to wait in one of the 10-person deep lines. As soon as he joined us, he started complaining that he should change money first. I suggested if he didn't go through Passport Control now, the lines would only be longer. Besides, there are money changers in the terminal and they're usually open this late.
"Usually?"
"Yeah. Planes coming in mean they have customers. I should think there will be at least one or two open."
I guess it made sense to him and he quit complaining.
We explained 2 or 3 more times how to get through Customs, and were off.
Stepping into the Arrival Terminal, we got our first blast of the April heat. It was so hot, we really didn't get a chance to enjoy the gauntlet on the way to the taxi stand.
"Nana Hotel, Sukhumvit Soi See, krap," and the girl behind the counter got busy filling out the paper work.
With a scratch or two of her pen, she was finished and handed everything over. Antman then handed it all to the driver, and we tossed our bags in the trunk.
Antman and I got comfortable in the backseat secure in the knowledge that we were in Bangkok and would soon be checking into our hotel.
As the driver got behind the wheel Antman said, "Nana Hotel, Sukhumvit Soi See, krap." And the driver quickly turned on the meter. He must have thought it was no use trying any funny stuff because we had obviously been here before.
The taxi meter to Nana usually runs to around 150 baht. Periodically, we would check the meter to judge our progress; everything was going great! At about 111 on the meter we eased on to Sukhumvit. Now we're within striking distance.
The driver started trying to explain that he could not make a right turn on Soi See. No problem. I told him to go down the the alley and come back Soi Som. Well, he got to the alley, announced it was blocked, and proceeded to the next one.
I shouted out "yut yut" but he kept going to the next alley. He said this one was blocked too, but "we try." By the time we got to the end, it was painfully obvious that this alley did not lead to Soi Som.
When he made the turn to go back to Sukhumvit, I noticed the meter was off and pointed it out to Antman. Being the eternal optimist, he figured that the driver turned off he meter so we wouldn't have to pay for his mistake. Sheesh...
The taxi made its way back to Sukhumvit, but couldn't turn into traffic because it was too heavy. I really didn't want to cruise down Sukhumvit looking for a place to turn around on a busy Friday night, so I opened the door and said, "We get out now." Antman looked perplexed, "How much do we pay."
"Don't talk about money now. Let's get our bags. The driver climbed out after us and stopped; I suppose wanting to be paid. Standing at the back of the taxi, I rapped on the trunk a few times indicating I wanted him to open it. While the driver was opening the trunk, I asked Antman to count out 150 baht. We prolly should have only paid 140, but I'm a nice guy. Antman handed it to me, and I told him to get his bag.
I gave the 150 baht to the driver, curious to see his reaction. But I wasn't really surprised when he wanted another 100 baht. I said "No" only because I didn't know how to say "Get stuffed" in Thai. The driver turned his attention to Antman who was hefting his bag on his shoulder, and started asking for another 100 baht. Antman asked, "What do we do?"
I shouted, "Forget about him, and let's get to the hotel and check in" over my shoulder as I started to walk off. Antman hesitated for a moment, shrugged his shoulders at the taxi driver, and ran after me.
Looking back, we had paid the tolls but maybe we should have given him 50 baht more for the airport fee. Unfortunately I hadn't thought of it at the time. I was more than a little frosted even in the 90 degree heat, and all I could think about was the fun I was now missing.
We jogged up the pedestrian bridge and crossed Sukhumvit. We prolly should have jumped in one of the taxis at the bottom but I was done with taxis for this day. Besides, I really only had enough baht to fuel Antman and I for one night. Extra taxis would put a crimp in our finances for the evening.
Although it was pretty hot, it was nice to have a midnight walk on Sukhumvit and see so many punters doing well and proudly taking their catch home for the evening.
Rounding the corner of Sukhumvit to Soi See is where we first caught a glimpse of the promised land. How wonderful that short walk was; the smell of the food stalls, the sounds of tuk-tuks buzzing past on one side and the loud beat of the bar music on the other, and the sight of all the lovely girls out for a snack or beckoning us into their bars. And of course, not to be left out -- the sounds of shrieks, laughter, and their constant yabbering that can be heard wherever bargirls gather.
Nearing the entrance to Nana Plaza, we cautiously jogged across Soi See and sharked GBB looking for a couple guys that might be there. We missed them this time, but there's always tomorrow.
There was a guyleaning halfway out one of the windows on a lower floor of the Nana Hotel shouting down to some of the girls in the parking lot who were shouting back up at him. What the hell is going on? That was our introduction to Chewie.
Sensing fresh meat just off the plane, a couple freelancers stalked us from behind but we had no time for that now. It was time to check in to the Nana Hotel.
When we walked up to the Front Desk they greeted me by name. Not bad. I guess the little tips over the years have paid off. They even had my favorite room waiting for me.
Stepping into the room, I felt something was different. After a few moments it dawned on me: the room had been refreshed. It was not completely refurbished as some of the other rooms had been, but they did put in carpeting and a fresh coat of paint.
Stepping into the bathroom I noticed all new fixtures. Very nice! It wasn't long before I started using them for a quick shlt, shower, and shave. Great Caesar's ghost, I've forgotten my razor again. It seems like every damn time I come to Bangkok I forget my razor. Well, at least I know where to buy them now...
After stepping out of the shower, I grabbed the phone in the bathroom and called Antman.
"Hey! I'm just out of the shower and will be dressed in less than som nahtee. Come up when you're ready."
Less than 30 seconds after hanging up the phone, there was a knock at the door; that boy must be eager!! But it was a bellboy delivering a complementary welcoming fruit basket. It's a nice gesture on the part of the hotel, but I rarely eat them. Nor do the bargirls; they're happy to feed them to me, but I don't recall one eating anything from it. I always figured that was a bad sign, like maybe the fruit wasn't fresh. But the cleaning ladies love the fruit baskets, so I will present it to them tomorrow morning.
No more traveling clothes for me; it's into my Thailand Ex Officio wardrobe. I just can't say enough about those clothes; they are perfect for Thailand's climate. They are extremely light weight, have vents built into the sides and back to help keep one cool, and even have zippered pockets to help keep out wandering hands.
All dressed up and ready to go, I feel like I'm back in gear. Now all I have to do is wait for Antman. Remembering one of my Thailand tricks, I crank up the refrigerator a notch or two and put a few bottles of water in the freezer. That way they'll be frozen solid tomorrow morning when we're ready to run out into the city.
As I shut the refrigerator door, the doorbell rings. Woo hoo!! Antman is here and we're ready to roll!
We learned our lesson last time, so we brought a pocket full of baht. Well, actually only a few thousand each but that should be enough to fuel the first night's fun.
Stepping outside we are free! Damn that feels good!! The parking lot girls take renewed interest in us, but there's no time for that now; we're headed to Nana Plaza!!
We sharked GBB again, cautiously jogged back across Soi See, walked past Big Dogs, and rode the escalator to the second floor. It was nice to be welcomed by all the girls at the top of the escalator. We couldn't visit their bar now as we were headed to Angelwitch, but we promised to come back soon.
Antman tugged on my shirtsleeve, "Jai, we're going to walk past Casanova. Is that okay?"
"Don't worry, it'll be fine. Just don't make eye contact with the big ones because if they drag you in, I'm not coming in after you!"
That caused him to stay right on my heels.
There were a couple of lovely ladies sitting at the Angelwitch beer bar, but we wanted to go inside. Once inside we hesitated for a moment so our eyes could get used to the darkness, but we were grabbed by a couple girls each and led to our seats.
I ordered my first Singha of the trip, and Antman ordered the same. What a relief... We're sitting in one of our favorite bars, sipping a beer, and enjoying the show of the ladies dancing on the stage. All the pressure is off us now -- we're here!
We drank that first beer pretty fast but instead of ordering another, we decided to hit Hollywood Strip.
Hollywood Strip has been one of my favorite bar for years now, and it didn't fail to live up to my expectations. I ordered another Singha, and Antman tried to order a Chang but they "no have."
"Jai? Why don't they have Chang? I like it!"
"Maybe they don't get a lot of tuk-tuk drivers in here... Try Singha gold; maybe you'll like that too."
Antman ordered a Singha Gold, and picked up one of those table cards to see what else the bar offered.
"What's Thai whiskey?"
"I think it's Mekong and Santip."
"Is it good?"
"It's pretty rough, but II don't think it's as bad as everyone says it is. It most likely won't kill you, so give it a try and see for yourself."
"You want one?"
"I'll drink it if you're buying!"
Drinking Mekong on an empty stomach. Things could get interesting. Or at least a little blurry.
A girl and her friend came over to keep me company, but I accidentally insulted one of them and they ran away. One looked back as she was leaving and I was able to wave her back and buy her a ladydrink to make up for the insult. Apology accepted, she called her friend back and I bought her a drink too.
They really wanted me to BF both of them, but I didn't have the poop after that long flight. Antman can have two tonight; he's still young.
I asked Antman why he didn't have a lady when I had two, and he responded, "Because you're a pig!" No problem. I grabbed the hand of this really cute girl walking by, and introduced her to my good friend, Antman. Fine -- with drinks all around, everybody is happy.
Asking one of the girls, I found it soon be closing time. I asked Nueng if she wanted to go to the disco. When she said yes, I sent the other girl to check bin. Antman saw me check bin, so he quickly barfined the girl he was with. Hey! I think he's catching on!!
Next stop was Angel's Disco to see if we could find Hammers and Gooner. On the way, we sharked GBB again but there was no sign of them.
We got to Angel's a little late, and it was already closing down. Walking against the scores of people leaving the disco made me feel like I was a salmon trying to swim upstream. How appropriate.
Passing the Nana lobby bar I noticed a couple familiar faces. Hammers and Gooner were there enjoying a couple of drinks. Antman and I made a bee-line for their table, ladies in tow.
It was great to see Hammers and Gooner again. I felt like we had only parted last weekend! We caught up on a few things, and Hammers bought us a round. But it didn't take long until Hammers had that itch to go to Grace.
Even though I had a lady in tow, I was looking forward to going back to Grace to check out the action. And this would be Antman's first visit there.
For some reason, Nueng took out her ID card and started showing it to everyone. Crazy chicks... But the interesting thing was she and I shared the same birthday. How often does that happen? One out of 365? Nueng decided that was a sign of very good luck for us, and that she would be very special for me. Hell, I was thinking that already!
When the drinks were finished, we gathered up the girls (except for Hammers who was stag) and started our trek.
Crossing Sukhumvit was no problem, except for a couple guys ahead of us that thought stepping into a zebra crossing would actually make Bangkok traffic stop. Boy howdie, do they have a few things to learn!!
Passing 7-11 we noticed another familiar face heading our way; Burnout had just left Grace and was taking his prey back to the room. It didn't take much arm-twisting for Burnout to turn around and join us.
There was a lot of action in Grace that night. Some day I hope to go to Grace without BFing a lady first. It might be more fun.
Because Hammers was stag, he was working the sympathy angle; "No lady love me." That worked pretty well for him and earned him the attention of more than a few attractive ladies.
Nueng was always a step behind and usually holding my hand, but that didn't stop other ladies from making passes. Drat these Tom Cruise good-looks!
One lady in particular didn't want to take no for an answer. I showed her that I already had a lady, but that just made her try harder.
Maybe Burnout can fill us in on what happened, but it looked to me like he and his lady had a falling out. The last time I saw her, she was quite angry and walking away as she was flipping him off. Now that's something you don't see every day. But Burnout was just standing there with a big smile on his face. Somehow I think he wasn't too broken up about it.
The lady that wouldn't take "no" for an answer joined us at our table, and I was hoping we could get her interested in Hammers. But she just sat there making eyes at me. That's about when we noticed she had some serious problems; every so often she would scream out and then look surprised that she did so.
The long flight, the lack of sleep, the few drinks, and the very willing Nueng started to get to me. Wishing Burnout, Gooner, and Hammers a good night, I hit the road. I also suggested that Antman stay a while to bask in the Grace experience, but he was beat too. What the hell -- there's a pretty good chance we'll be back at Grace again this trip.
Walking down Soi Som towards the Nana Hotel, a black man grabbed at Antman's girl. Before anyone knew what was going on, Antman's girl exploded into a fury of punches, kicks, and screams. I was a few steps behind her and as the man reached back to throw a punch at her, I shouted out, "Hey! What are you doing?" That caused Antman to turn around, so the man was now faced with the two of us approaching him and the girl attacking him. The man must have thought better about what he was going to do, and ran down one of the sois into Little Arabia. As soon as he was gone, Antman's girl settled down as if nothing happened. Nueng looked at me and said, "Black man he no good. He hurt lady too mut."
When we got to the room, Nueng went in to take a shower while I tried to decide how worried I should be about leaving valuables in the room. So far Nueng was a good girl, so I settled on trusting her..
Nueng must have rethought the shower idea, because she fixed a bath and called me in to join her. I've got to admit it was pretty relaxing after that long flight.
Nueng was pretty playful so when the bath was over, I threw her over my shoulder and carried her into the bedroom. A couple of slaps on the rear and mock screams were proof that we were having fun.
After the second or third match, Nueng announced she was hungry. She was keeping me entertained when room service arrived so I was in no condition to answer the door. Nueng must have had a hard time figuring out what to order, because by the look of the trays being brought into the room she got a little bit of everything!
We ate in the sitting room and when we had our fill, I put her over my shoulder again and carried her into the bedroom tossing her on the bed.
One more round and I had to throw in the towel. "Me finit," I said. But she grabbed Little Jai and replied, "No, I gib you power!"
As I lay there wondering if she could really give me more power, I noticed just a little sunlight starting to creep in through the dining area window.
"I'm going to be hurting tomorrow," I thought. But, hey! That's the reason I came here.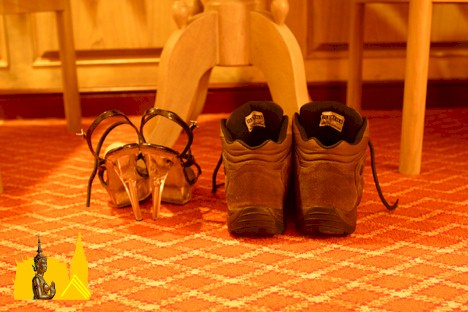 Photo courtesy of Antman
---------------------------------------------------
Ommmmmm

Jai Guru