Don't Ask; Don't Remember -- Part 1

This series of trip reports was written by my good friend, Chewie. It covers the APPLE Gang Tour and it's interesting to have these reports to see things from a different prospective.
Chewie was a great guy to hang out with, and I hope we'll meet for many staggers to come. One thing for sure, if I hear he's in town and can possibly make it -- I'll be there.

Don't Ask - Don't Remember (APPLE TOUR)
Last December the November '02 crawl started posting their reports and I quickly realized that I must return to the land of smiles. A post or two later HAMMERS, GOONER slated the YUMMMMMMIE Tour (Yearning Urge Mid March More Mayhem & Madness Mini Interactive Expedition) for late March and I was quick to join. Ticket bought and ready to fly, the count down began.
Then a late night drinker and ladyboy lover by the handle of BURNOUT posted shortly the April Ponger Piss Up Tour that would later be renamed the APPLE tour. The original cast was from the November crawl were ready to merge plans and soon I was joining in the mayhem.
Rumors of a DC occurring in early April cemented the plans. Tickets bought. Room Booked. Vacation dates finalized. Time went fast and over 1100 posts later I was a week away from departing and indecision was setting in whether to go or not to go.
Pressure from home about going abroad with the world events was catching my ear. I know what waits for me on the other side of the world. I want to go, but, instead of being 110% committed to going, I found room to consider other options for my vacation.
Chatting online with GB set my mind straight. I asked if there was anything I could bring him from the States. He mentioned getting his daughter back and asked me to bring some stuff over for his daughter as he was vying for Worlds Greatest Dad honors.
GB: What is hot now for 7-year-old girls
Chewie: I don't know I could ask some coworkers that have kids and get something for you.
GB: Great!
I picked up the phone and called one of my female managers who has a daughter about the same age and then a light bulb went off about he possible discussion. It would probably go something like this:
"I'm going to Thailand and want to get something hot for a 7-year-old"
OHHH…that doesn't sound good at all and I luckily I thought about it before I actually asked someone. Instead I went to a local Disney Outlet and looked for something for my 7-year-old niece.
Prior to going on vacation everyone keeps asking me where am I going. One of the executive managers in the company pulled me aside one day after my second trip to BK in Jan 02 and said it really is no one's business where I go on vacation and I should keep it to myself as it could cause problems. It was one of the main reasons for my long delay for my third trip.
Co-workers and other business contacts wanted to know some details of my trip. I kept telling them I don't know what I was doing and then changed that to a politically correct plan. I was going to California to spend a week with my mother in the mountains where there is no computers or cell phone service. Most accepted this plan. Others knew exactly where I was going and I kept to my story.
About 36 hours to departure I packed my bags and found about B350 from my previous trip. I have Taxi Money, YA! I'm worried about the bag search and the possible looks I would receive about my story going to Thailand with a bottle of Cabo Wabo tequila, a bunch of stuff for a 7-year-old girl and a couple dozen condoms in my bag.
DAY 1 "Touchdown in the Land Of Smiles"
My flight was at 10am out of Philadelphia and I would connect in Chicago to Tokyo and then onto BK. It is about a 26-hour flight to Bangkok. I get to the airport at 8 am and armed with my Premier Card status for the first time on United, I walked proudly into the terminal ready to walk past the hoards of people waiting to check their baggage. To my surprise there was no one in line, however, I still used the Premier line, as that was now MY LINE to use for the first time. Then, it's off to the rumored 45min - 1hr wait in security. I approach the x-ray machines and it took longer for me to pull out my boarding pass and passport then it was to go through the lines. There is almost no one in the airport.
I used seatguru.com to pre-arrange my seats on the flights. To my surprise the plane from Chicago to Tokyo doesn't have the economy plus seats as indicated on seat guru. These seats give you an extra 5 inches of space. It makes all the difference. I asked at the gate how full the flight was and if there was someone sitting next to me. The plane was pretty full for economy but several seats were available and no one was sitting next to me. I get on the plane and find my seat. To my surprise someone in the last 30 minutes was put in a seat next to me. This was not going to work. I was able to get a seat change at the last minute in the middle row with 4 empty seats. Can someone say instant bed? Still with my size, it was difficult to be comfortable until I started dreaming of what was waiting for me at the end of this long day.
Tokyo was a breeze and SARS concerns kept some masks on the beautiful Japanese workers. A few ladies did not wear masks and they were pleasant to watch as they looked through my bags.
The flight to BK was quick which landed almost a ½ hour early and soon I was dashing to the passport control desks. I passed lines with four people deep and kept walking till I was able to find an empty line. A stamp here and there and zoom -- I am down to baggage claim.
I stop by the automatic change machine for about $200 in flesh vouchers. The first $100 goes in fine and then none of my other bills would read correctly. Armed with over B4,200 in hand, I am off past the taxi touts. I just keep walking to the taxi stand and they eventually loose interest.
What the heck is it with all the taxi drivers not putting their cars in park? Even when they are in the car they don't even have their foot on the dam thing. Here I am trying to squeeze into a taxi and I wind up rolling this taxi backwards towards another taxi. We almost hit the other taxi and it gets a little laugh while at the same time it was a little embarrassing to have this happen.
I get to the Nana and pay the driver a total of B300 for the ride with tip and tolls.
I unfold out of the car and the dam things rolls back again. DAM DAM DAM. I make my way to the counter and to my surprise whom do I see walking down the lobby but non-other then HAMMERS. We meet, greet and agree to head to the Disco after I check in.
They give me room number 247 and they want to charge me B1600 for my deluxe room. I show them the booking information from the tour desk and it is B1400 and he quickly agrees after pressing the issue. The room number indicates it is on the second floor. This will be a mistake I thought, as it would be too noisy and troubling. I asked for something up on the 5th floor or higher and am told this is all they have right now and I am welcome to look into a room change in the morning.
I exchange some more Baht and then reluctantly head up to my room.
I am extremely pleased with the room when I walk in. If you have never stayed in a Deluxe room at the Nana, it is a must and a huge difference then a standard room. The place is huge. Then I walk over to the window and want to check out the view. I have the best DAM room in the entire hotel. I am right above the diner across from NEP and have the best view for the witching hour.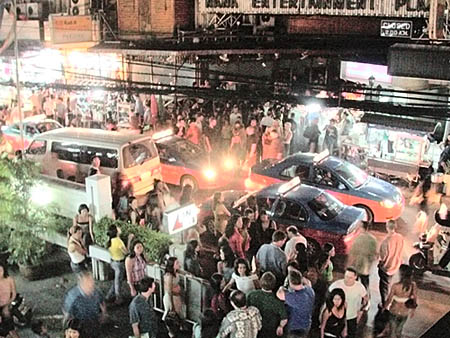 The view from my room 247 overlooking the stroll
at the intersection of NEP and Nana Hotel parking lot.
I quickly toss some things around, freshen up and head down to the disco. There is no place like the Nana Disco on this green earth. The flesh party inside will forever be burnt in my memory. It is just like I left it the last time. It is SAME SAME. Girls all around, punters engaged in transactions and women from all over the place are fondling my belly. I latch onto a couple and make my way back to the corner where HAMMERS, GOONER and BURNOUT are lurking. GOONER is latched onto a hottie and is inseparable. I quickly draw the attention of a few ladies and in a flash have forgotten my aches and pains from a long flight.
I was hypnotized from that point on. The ladies of Bangkok have cast their spell on me and I am all theirs for the taking.
During our conversations, I have an idea to show my room off to the crew and we head up for a shot of Cabo Wabo tequila. On the way up I grab several beers for the fridge and soon we are in my room looking over the stroll down below. This stunt would be repeated several times during the trip and it was a blast. Down below there are several ladies vying for our attention and one of them asks us for a beer. Instead of a beer I toss a pack of Marlboro lights down to her. What a mistake this would become as I just picked my first stalker in Thailand.
A quick shot and we head back down to the disco. I made some cheesy shot glasses with the APPLE GANGER logo JaiGuru created for the trip. These stickers quickly came off the shot glasses when they got wet. Soon we had little stickers of the APPLE logo.
While down at the disco HAMMERS, GOONER and I quickly find some companions. I like em a little taller then on the short side (this would change later in the week) and quickly latch onto a beauty. I take my APPLE sticker and put it on the chest of my lady of choice. She is sort of branded. BURNOUT comes by and he likes even taller then me and sometimes with the Adams Apple and takes a liking to my squeeze. I point out the sticker and he is unfazed. He likes my selection and she is getting along with him pretty good. I have three choices in front of me and give the OK to BURNOUT that there were no hard feelings and to enjoy himself.
She mainly lost interest in me as my Marlboro lady seems to think a contract has been signed - I am hers for the night. I explain to her that I am still looking and she follows us down to the Grace Hotel. Hey, her persistence I thought was a good thing at the time.
I have never been to the Grace Hotel and it is a quick walk up the road from Nana. The place is full but not packed at this point. We start on the left side and I did not realize there are two sides to this place. The Grace is way better then the Thermae I remember from my last two trips and is packed full of freelancers. My Marlboro girl takes B1,000 up and gets a round of drinks for 4 of us. We all sit around and take in the whole scene. HAMMERS is getting a little pissed (drunk) and my first choice gal is looking really good at this point and I kid BURNOUT about stealing her back. After a little while GOONERS and HAMMERS leave together with their ladies and five minutes later HAMMERS comes back without his lady. We don't know what happened but no worries as I get several new choices huddled around HAMMERS. Soon those choices leave and HAMMERS and my Marlboro girl talk a little. BURNOUT informs me as HAMMERS and Marlboro girl head off together that he offered her a bunch of Baht and she went with him.
I am sitting thinking that HAMMERS just stole my girl too. Boy do I wish that were the case now. BURNOUT and I have a laugh and I jump back into the game and latch onto a newer model with a tight body and am over about what has happened in less then 2 minutes.
Things are going great until Marlboro girl comes back and sees me with another squeeze. Marlboro girl scares off the thing I was fondling and everything is cool again. She drags me with her to the other side of Grace. This room is packed and HAMMERS has a nice harem arranged around him and I begin to question why I was with this Marlboro girl.
We soon sign off from Grace and head back down to Nana. We stop at the 7-11 and pick up some sodas and beer and she gets one of those dogs on a stick. At the last moment she picks up some strawberry condoms. Once in the room we take showers and play around a little and she likes to talk. She likes to talk too much and I start to see that she is a bit psycho. While in the shower I arrange my things and make sure I have enough Baht for her in the morning.
As I recall about the session it was simple and nothing worth mentioning. Come to think about it, she never once gave a BJ with those dam tight as hell strawberry condoms she bought. We wake and she is not too interested in another session in the morning, but, after some encouragement and kissing she takes a hold of my member and we have another go at it.
She takes a shower and I place B1,500 under her phone (a brown and a purple) and give her another B100 for taxi (I only mention price here to make a point about her reaction and that really ticked me off and to understand other events later on). She eventually sees this while getting dressed and makes it known she is not pleased with the amount and demands more. She is serious and I want to avoid confrontation and go back to my wallet to get a B1000 bill and exchange it for the B500 bill near her phone. She now has B2000 plus the change she never gave back buying drinks the night before. She is well compensated and I have never had a bad reaction about the amount I leave for my ladies. I give more sometimes for special performances and longer stays. She was average and deserved average.
Then she is upset still and now wants the purple B500 note I took back. She wants B2,500 and I say no and put it in my pocket and things are starting to get really bad. This has never happened before and she starts talking about the money and something about her child and not making any sense at all. She then reaches into my pocket in a manor that was not playful and scowls at me. Wanting to avoid any more unpleasantness I give her the note and tell her to leave NOW. She mumbles a bunch of stuff in Thai and I know it isn't anything nice about me and I am glad to see this one leave and head out the door.
I never have had this happen before and it all could have been avoided if BURNOUT had not stolen my lady or HAMMERS had taken her off my hands as I thought before. (I'm just joking guys).
To be continued
------------------------------------
That is it for my first night in BK. It was a great start to a week until the last moment to seeing this psycho leave. You will hear more about this psycho in the days to come.
Chewie
---------------------------------------------------
Ommmmmm

Jai Guru