Don't Ask; Don't Remember
-- Part 6

This series of trip reports was written by my good friend, Chewie. It covers the APPLE Gang Tour and it's interesting to have these reports to see things from a different prospective.

"Double Trouble Day"
RING RING RING… RING RING RING... RING RING RING... RING RING
I answer the phone and notice that it is 7:30am. I start getting the same feeling you have when you lean back in your chair and catch yourself before falling backwards.
It is OH and she wants to come up to the room. I tell her that I am on my way down soon and to wait for me in the lobby. I roll over and my prize from the night before leans into me and I tell AWE that it is time to get up. I head to the shower. When I am finished, she asks me what I am doing and I tell her about meeting JaiGuru and going to the floating market for the day.
AWE: I come wit you?
I tell her that it might be a little odd, as I have invited another friend to come with me on this trip. She still wants to come and being still hypnotized from the previous evenings events, I tell her she is coming. I work out a plan that I go down early and let OH know that I had made a mistake asking her to come with me today. I thought about telling her that we canceled the trip, but I'm sure she would want to just hang around with me all day anyway. I come to a decision to let her know that we are friends and I wanted to see her on this trip. I am glad that she has come over this morning. We are going to have a great time. And by the way, someone else is coming too.
OH: No poblem.
ME: COOL. (Dodged a bullet here for now).
We go to the coffee shop and get a table for seven people. Soon JaiGuru and SIP join us and I introduce her to them. ANTMAN comes a few minutes later. We all head over to get some of the buffet and I notice AWE come into the coffee shop. I set my plate of food down and show AWE to the buffet and return to the table with OH. I introduce AWE and OH and they sit on either side of me. I'm not sure what ANTMAN and JaiGuru are thinking at the moment and I casually let them know my situation. They don't blink an eye and soon we are ready to leave the hotel.
I bring my frozen water from my room and have plenty for the three of us.
We walk down to SUK to catch taxis. JaiGuru, ANTMAN and SIP in one taxi and my ménage a trios in the other. Soon JaiGuruand crew have to switch taxis, as the driver didn't want to take them where we are going. It is a good hike to where we are going.
I have a potential time bomb on my hands with these two ladies. Did I mention it was a long drive?
To break the ice, I try to get them talking and it works. I tell Awe about some of the great things I did on my first two trips to Thailand and about how OH has kept in contact over the last 2 years. I had OH in the front seat and AWE in the back seat with me. OH was very friendly with us and they both started to get along fine. I think OH liked that I talked about so many positive things we have done. Things actually were working out very well.
We get down to the floating market and the place looks deserted. Upon further inspection it was obviously closed. We are alert enough to pay some extra baht to our to wait for us in case we had to leave. There were no other taxis around.
We walk down to the water and there are some food stalls with locals having lunch. It looks like a place to get rural eating experience, eating on the floor/dock. It is the kind of place that looks and feels Thai and if I was hungry for lunch, I'm sure I would have pulled up a mat to sit on.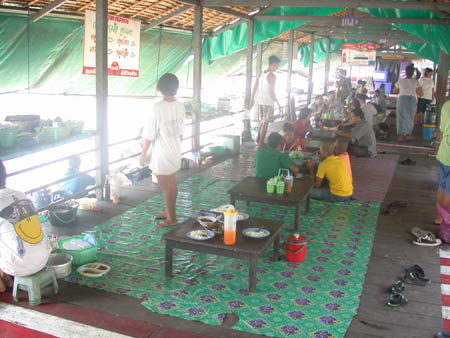 I liked the feel of this dock and it may be a place
I go on a return trip to have a meal.
We look around the dock area and someone comes up with the idea of taking a speedboat around the klongs. Some simple questions are asked such as if we want a 1 hour or 2 hour trip. What do we want to do? We decide on two things quickly as they were easy directions. We will pay for the 2-hour trip, which is about 800 baht for everyone and let them figure it out where we are going and we will go with the flow. If we want to cut it short we can with no problems. All we ask is that we are dropped off to catch the boat taxi. The boat taxi can take us to the Skytrain and we can make it back home base.
No pressure, change of plans. TIT at its finest.
The boat itself is perfect for our group of six. JaiGuru and SIP sit upfront, then ANTMAN, then OH. Finally AWE and I sit together in the back. With my size, I can cause the boat to capsize with little effort on my part. In fact, I think many of the turns we made had everyone looking my way to get to the other side so we didn't take on water. LOL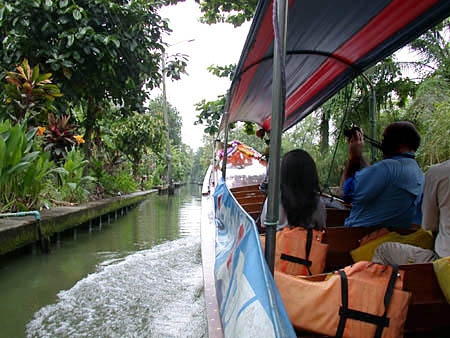 Our speedboat makes its way down one
of the narrow water soi's on our trip.
Some of the best things happen when you least expect them and our impromptu sightseeing trip was full of surprises. Overall it was another blistering hot day. We were spared the heat with the cool breeze as we moved along the water and seeking shade when we pulled over for side trips. When it got to hot, we simply shoved on and we cooled down again.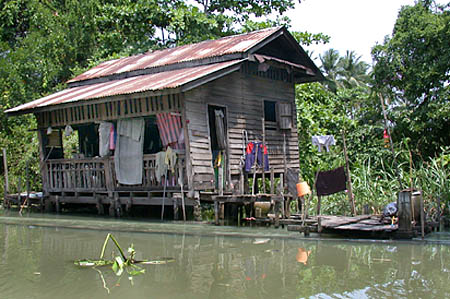 This was one of the more worn structures on water, there were some MUCH nicer Thai homes that I don't seem to have saved. Hopefully, JaiGuru or Antman can post a couple in replies.
We are out in the sticks of Bangkok. It is amazing to see the contrast of life on the water streets with that of the big city not far way. The homes on the waterways offer a wide range of styles. This range includes some shacks to some rather elaborate traditional homes. Everywhere we go children and adults wave to us as we go buy. Smiles are big and we see some generally happy people on our trip. Some are swimming and others are bathing in the water. One child was in his birthday suit on his family's deck. It was a delightful slice of Thai life you can only witness getting out of the tourist areas.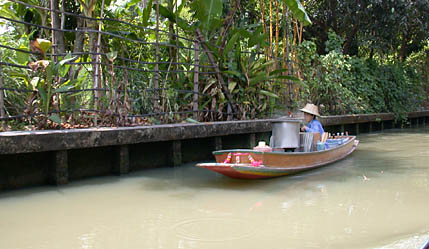 Here a soup vendor makes her way down one of the water soi's.
Several entrepreneurs could be seen hocking their services like ice cream trucks. Some with loud speakers.
Our first stop is at a Temple and we are offered some fresh bread for 10 baht to feed some enormous catfish. These catfish are very healthy and swarm around the pieces of bread that are tossed in. I ask if the bread is ok to try and JaiGuru suggests that I don't eat the crust because I have no idea what the crust has touched. Good suggestion. It is good bread mainly because it is so fresh.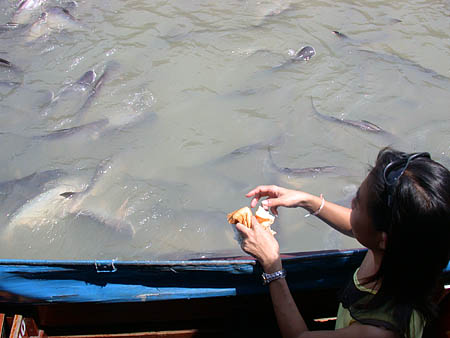 We were splashed a couple times by the catfish
wrestling for the bread crumbs.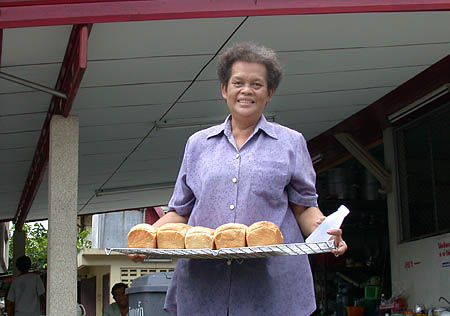 Our baker presents us with loaves of bread to feed the catfish.
We head out again and take in more of the sights. The outdoor Spirit Houses are beautiful and offer the same diversity as the homes they are paired with.
Soon we stop by an Orchid farm. This looks like a place that has visitors often, as there is some sodas and water available to purchase. I'm sure JaiGuru will talk about how we witnessed the BG network cell developing before our own eyes in his trip reports. Before we leave, the ladies were taking notice of some small orchids they have on display for purchase. I decide to get one each for my ladies and SIP declines the offer. She is going to take a clipping of AWE's in a few months when her's grows more.
Humm I think. That is odd. They just met this morning. SIP flew up from Phuket and they only met for the first time a couple hours ago. How is she going to get a clipping from Awe in a few months…? A Bar Girl network cell has been developed before our very own eyes.
Our next stop was in the middle of tourist trap central. None of us had an interest seeing the snake show or even the alligator show further down the water soi. T he day was running long and we ask to be dropped off so we can catch the boat taxi and call it a day.
We get on the boat taxi and it is packed. Standing room only and we are literally shoulder-to-shoulder on the taxi. Somehow the fare collector makes her rounds and collects enough baht for our ride.
We want to get back to the GBB as GOONER and HAMMERS were leaving late afternoon and we wanted to see them off. On the train, JaiGuru helps me with an exit strategy for my pair of ladies. I need to cut one from the herd and send her packing. I need to do this on the way back to the hotel as it would only get more complicated the longer we stay together. I decide to stop and get some fruit for my guests and I. ANTMAN wasn't included in the plan and I have to fill him in as the separation plan was underway. ANTMAN was great to wait for us; he just didn't know I was trying to toss one of my fish back in the water. It would be easier if it were only the three of us around.
I start by thanking OH for taking the time to do something with me today. I praised her for keeping in touch and give her brown note for taxi fare and wish her good luck. It took her a moment to realize she was getting the boot. She was a good sport and took the hints and got in the cab I hailed for her. I t would have gone smoother if they had not combined bags earlier with the plants. They separate them and soon OH's taxi disappears in the busy road. The traffic was moving quickly as the last thing I wanted to happen was for her to watch me walk by all the way back to Nana.
AWE and I plan to go take a nap and almost forgot about our departing friends. We see the crew GBB and head over. HAMMERS and GOONERS have their talics with them and the long face on my friend's tells me "dead men walking". We share a round or two and shot for good luck. We take some group pictures that came out very well. Soon JaiGuru and I decide we should let them have some time to themselves as they were heading for the airport in a few minutes. We bid each other farewell and head up to our rooms. It is time for an afternoon session before dinner.
We take a refreshing shower and my power rangerette goes to work and I quickly forget the quilt of leaving OH the way I did. I do insist on wearing a jimmy hat and telling her to be careful herself. Like I said earlier in my report, she was new to the scene. How new you ask? New enough not to own a cell phone new. New enough to being only working a bar for three days and me being her second farang shag. (Ok…Bob4You was the first one…don't need to be reminded). She was sweet.
We are dead tired and however we wanted to met JaiGuru, SIP and ANTMAN for diner at Cabbage and Condoms. I call and tell them that I am dead tired and so is my playmate. JaiGuru doesn't take NO for an answer and soon I am rejuvenated to go to dinner. I think I called back once more to cancel to no avail. I'm glad I went.
We met in the lobby and AWE looks great in her new clothes we bought on the way back to the hotel. She needed a change of clothes since she had not gone home from the night before. Night SIP is much different then TOURIST SIP. She is done up. We hail a taxi from Nana, as I wasn't interested in getting hot and sweaty walking anywhere at the moment.
We pile into one taxi. Of course I was in the front and the four of them are packed in the back. We start off ok and then notice we are only going 20-25 mph or so. We go about a three or four miles like this and the driver says nothing. Finally some Thai is spoken and we find out we are making his wheels hit the edge of wheel well. We are too heavy for the taxi. Instead of stopping and telling us to get out, he goes slowly so he doesn't damage his car. We get up on a main road and hail another taxi and ANTMAN and I get into it. We follow each other and soon JaiGuru's taxi is out of sight. We are lost.
ANTMAN has been there before and gives the impression he has no clue where we are going. I get frustrated and ANTMAN stays calm and soon we get where we are going. GOOD JOB ANTMAN.
Dinner is good and I am introduced to watermelon spinners. Basically, they take a ripest watermelon, put it in a blender and mix it up. I'm not sure if ice is added or not. All I can say is that it was great. Sometime this summer during that two-week period when watermelon is as sweet in the US as it is in Bangkok, I will enjoy some watermelon spinners in my home. I think they would even be good with a little Malibu rum in them. They were good.
Another treat I highly recommend is sticky rice and mango. Individually these treats are tasty. When combined, they cause a taste bud explosion when eaten. I think JaiGuru said the trick is to get that perfect amount of mango and sticky rice together for each bite. If I weren't already stuffed, I would have ordered more. My mouth waters thinking about the dish.
We head back to TLR and the crew is in full swing and NYSAINT is passing out shots. SIP and AWE take up spots in the chill out room and the two talk for a while. Soon I find myself going on a crawl with a NYSAINT and BURNOUT. When we are ready to leave, JaiGuru and ANTMAN have left the building… SIP doesn't know where they are and she decides to hang out with us. I know JaiGuru was looking for some "me time", as it was his last night in town. We all head to AW. When we get there, I notice JaiGuru and ANTMAN inside. I go in and let JaiGuru know that SIP was looking for him and she was outside. I'm not sure he understood that we would occupy her and go someplace else so he could do whatever he wanted. He comes out and we head in. I never saw JaiGuru the rest of the night. I know SIP wanted to go to Angles Disco and I try to develop a plan to free JaiGuru for the evening or at least occupy his partner long enough for him to slip away for a little snack before leaving. The plan was to get a BF from Mandarin he mentioned earlier in his trip before SIP showed up and have her waiting in his room as a going away present. The idea was scuttled when the girl was already BF for the evening. She a hot number, that was the second time I checked in on her and she was BF this week!
I break away from the pack and head over to Soi Cowboy so AWE can pay her BF. We get to Sheeba's and settle in for a couple drinks. I order a couple shots of tequila and a Mekong and coke for her. I have a beer. We start off joking about lesbian love. She is actually interested in the experience. I ask her which girls she is attracted too and she picks one. She goes over to the stage and starts dancing with her and brings her over. I repeat the shots of tequila and order her the Mekong and coke. I talk with her about the idea and she is interested in it as well.
I now think it is necessary to see how compatible the two ladies will be together. I think a kiss is in order and I'm not talking a little peck on the check. I want to see lots of tongue action and hands giving assurance to each other. Soon they are clicking and I order another round of shots for us.
CHECK BIN!!!!
She, we will call her #3 (I was going to use SAM, if it wasn't GB that told me how to say THREE in Thai), spoke almost no English and makes it known she cannot stay long because she has school in the morning. Later in the session, Awe comments it is strange. "She work in bar for 6 year and go to university but can not speak English? This is strange," she said.
We order some food and we all take showers. The room was chilly because of the aircon. I opened the windows and soon it was warm. The food comes. #3 heads to the bed after eating. Awe comes out of the shower and has something to eat. When we finish, #3 claims she is too cold to do anything. Awe and her talk a little in Thai and soon the covers and towel come off #3.
I'm not sure what #3 thought was going to happen, however, Awe was as interested in the session as I was. We were both looking at our chosen one thinking we could have picked a better third wheel. It is funny now to think back on it, we both decided early on we were going to make the best of it while she was there. We were a team.
We both get to pleasing #3 and making her feel comfortable with both of us. She is very satisfied and when AWE and I start at it, #3 slips off to the bathroom looking like she was done. She comes back and she's not sure what is going on. AWE and I inform her that it was MY turn now and proceed to get out some hats. Then, I find out then that she doesn't smoke.
DAMM: Not to self, make sure girl wants to smoke if taking her for lesbian love.
I quickly become the director of activities and get the two of them going at each other. Later, AWE lets me know that #3 was not too into the lesbian love until she started playing with her as I directed. Once she found how tight and shapely AWE was up close she could tell she enjoyed what she was doing.
#3 gets up on top and we start going at it. As I prepare to nut I switch girls to save the money shot. Then it happens. The money shot retreats too far and getting it back was quickly becoming a lost cause. Awe is quick to notice and a change is in order to get things back on track. #3 had left another time to go to the bathroom in the middle of the session and had to come back to finish the job. The session ends with Awe and I pleasing each other and #3 giving a hand job. I WISH SHE SMOKED! At some point I got lost with AWE and was looking forward to seeing #3 leave. Soon I am finished and #3 prepares to leave. AWE and #3 talk a while and I find out later that #3 left each time she had an orgasm. She was impressed with the session and wanted to come back again.
We send her on her way and take a much-needed sleep.
To be continued...
NOTE: I have only one more report in this series. My last day was not that great so don't expect much, but then again I may just be loosing the plot. Come to think of it, I can't think of one positive thing that happened. I made some poor decisions on the last day and it was too late to correct them once I realized my situation. Soon I was on my way to the airport.
Chewie
---------------------------------------------------
Ommmmmm

Jai Guru