Don't Ask; Don't Remember -- Part 2

This series of trip reports was written by my good friend, Chewie. It covers the APPLE Gang Tour and it's interesting to have these reports to see things from a different prospective.

"The Witch from Angel Witch"
10:00AM -- 24 hours in Bangkok- First full day
Marlboro girl leaves and I go back to bed and turn on the TV to see how the war is going. I was watching primarily for differences in coverage. It seemed all SAME SAME. I almost fell asleep and realized there is too much to do. So I jumped up, took a shower and headed out the door wearing some shorts and t-shirt.
It was 10am and I wanted to get some clothes made again. Used Tajmahal Clothiers across from GBB near the Nana Hotel. Last year they made me three pairs of pants and 12 shirts. Most of the shirts were with crappy fabric and they didn't last long. The pants on the other hand were still in great shape. They were made of Japanese Cotton and never wrinkle. I wanted to see if I could get some more of those done. I get across the street and some people sitting outside said the store didn't open for a few minutes. I decided to head up the road to the Internet place where I think they charge too much for the internet. I check e-mail from work and am off of it in about a ˝ hour and it costs me something like B50-100. It was expensive for internet.
I head back to the Taj and the gates are still down, the time is closing in on 10:45am. I see one of the workers waiting for the gate to open as well and decide to wait it out at GBB. I order a beer and observe some German guys getting upset with the worker across the street because they have an appointment and the store is not open. They go across the street to GBB and a Swedish guy approached the lad and hassles him as well. The worker finally got smart and left from in front of the store and stood off to the side with everyone else. I enjoyed another beer.
Finally at almost 11:30 the store opens and several people head over to get things taken care of. Technically, I was the first person to wait, however, I let everyone else get taken care of until I looked out the window and HAMMERS and GOONER have perched themselves on stools at GBB. I head across and tell them what is going on and I have a beer with them as well. We had a noon appointment at the new wave bar to meet GB for some lunch and pool. We decide to head down around 12:30 and it is a quick walk. GB is nowhere to be seen and HAMMERS calls him on the cell and he and his daughter are heading down.
One of the things I love just as much as the women of Thailand is Thai food. I order the same thing I ordered last time in there from the same stall, two orders of Fried Chicken with Cashews, Chicken Fried Rice and some kind of egg roll. Soon the food starts to arrive and I have to remind my server for the other plate of Fried Chicken with Cashews. The food is good and soon GB and daughter arrive. We have a great talk and we are happy to see each other. We all admire the BG playing pool in front of us. She had an incredible body. GB commented on her perfect hamstrings as she could completely bend from the waist and keep her back in a perched position. I wanted to just take her over the table and go at it myself. That was probably the hottest specimen I observed the entire week. She was a stunner.
1:30 PM
After lunch we agree to meet later at TLR and HAMMERS and GOONER drag me over to Beergarden. I didn't want to go, they made me.
Once inside we have about 5 ladies hanging on us and one has taken a special liking to me. At first I didn't plan on going to the place, as I needed to get back to the Taj for my fitting and maybe take in a massage.
We have a couple beers and my admirer has latched onto me and was not going to let go. She barley came to my elbow's standing straight up. After a while and some pressing on my member, I decide that this isn't such a bad idea. She motioned several times that she smoked and a plan started to come together that I might as well put into action.
CheckBin!
2:45 P.M.
We get back to the Nana and we take showers. Most of you know I am a rather large fellow and she really puts it into perspective. She takes my belt and holds it above her head as high as she can reach and the belt still touches the ground. She was tiny.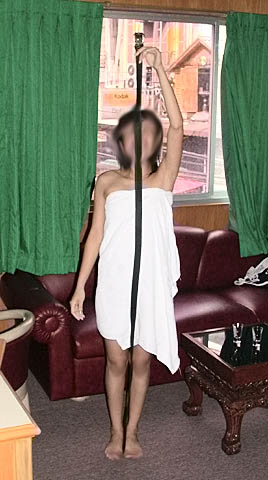 She was a trooper and I really enjoy a good BJ. For some reason, it is hard for me to "complete" the task when given a BJ. I concentrate but something about the timing always sends the money shot packing. She never lets up. Some will result to a HJ as they can get tired of constant blow, but this trooper was going to have none of that. Soon she has earned her Baht.
4:00 PM
Quickly I send her packing and remember the bellhop telling me he could get me a good 2-hour massage for B1,000 when I checked in. I could call him at the front desk. This starts to sound like a great idea, as my neck was hurting from the flight still. I call the desk and he said he would be right up. Then I start to think, this guy is freelancing someone and I don't really care. He tells me she will be here in about 25 minutes.
4:25pm
I lay down on the bed for a short nap and soon I hear a knock on the door. I get dressed with a pair of shorts and answer the door. To my surprise it is my little package from GBB and a friend of hers. I was half asleep and they make their way into the room and I they take a beer out of the fridge (I showed my stash earlier to her). I tell them that they are not welcome at the moment, however, I was a little hesitant since I began to think about the things I could do with the two of them.
4:35pm
Soon there is a knock at the door and I quickly remember that that was probably my massage lady. I let her in and she is average looking and appears to have the strength to do a proper job. My two bundles of joy take up positions on the couch as if they are going to sit through my massage. I tell them they have to go. They try to talk me out of it, and I briefly think of what I can do with three ladies at once…
You gotta go...
We get down to business and I enjoy a relaxing massage. Halfway through I am asked if I would like a special massage and I decline. I just want to relax and get the kinks worked out. It was a great massage and lasted about the required two hours. My neck was feeling great and I talked with her about compensation. Of the B1,000 she gives the owner B800 and keeps only B200. I know she expects to do "Special" massages for the extra bath and I tip her B500 for the session. She is happy and leaves.
It is now almost 6:45 and there is no time to sleep. I was dead tired and wanted to go to sleep. I have to go get measured and get down to TLR. There is no time to relax.
7:15pm
I head out with a huge bag from the Disney store for GB, a couple bottles of spirits. I get fitted and head down to TLR.
FARANGMAN and NOOZY are there and the normal cast of HAMMERS, GOONER, BURNOUT and of course GB. There was another guy there and I can't remember his handle, he came with us that night as well. We pass around a shot of Wabo and a beer or two later I am introduced to a game of Shotz. Shotz is a great drinking game. We could have defiantly done more damage with that game then we did. I am totally surprised now that I think about it, why we did not play more during the week. It might have something to do with the Sauna we were in as it was usually warm at TLR because the aircon was on the fritz. It was a good time. (Come to think about it, I don't think GOONER was there this evening. He was with a young companion from the Beergarden still bopping his brains out all day)
FARANGMAN tells us about Ponger Roulette. Ponger Roulette is basically you and a bunch of pongers head out and pick a number on the board for each other and you must BF that girl and shag her. I was all game as long as the bar was a regular bar and not one chosen by BURNOUT. This game could be dangerous playing with locals who know most the bars and the numbers in them.
BURNOUT decides he will be the ringleader on the crawl for the evening and wants to go to Patpong. Patpong with all the crap I hear about it… BURNOUT assures us he knows where we should go and have a great time. HAMMERS, BURNOUT, GOONER, a newbie that wasn't on the board and I head out for the evening.
10:00 PM
Kings Castle III is our first stop. IT approaches me and has an extensive boob job and I was impressed at how they looked. I didn't want to sit ringside with HAMMERS, GOONER and BURNOUT so I took a position in the seats and IT followed me back. I bought it a drink, as IT would help keep the others away. I am shown a napkin with B500 hotel, B500 BF and B2,500 for it. I have no intention on leaving or doing anything with it, while at the same time, IT's tits were impressive. It's amazing what they can do with a little silicon. The newbie that came with us latches onto a little number and soon he heads off against our warnings that he was getting more then he bargained for. I had ONE beer and ONE IT drink and want to get the heck out of there. Somehow the entire crew's checkbin had been accumulating in my bin and I check bin. They come back with a figure of B6,250. I said WHAT THE F.UCK! BURNOUT takes the idea of putting down what we owe and leaving and hands me B1,000. To this day we do not know what happened to that B1,000 but it disappeared with one of the STAFF that was crowding our area. I toss the IT that was sitting on my knee at this point and I think I scared the shit out of a couple as I stood up asking for the mamason (papasan?). I explain that I had 1 beer and 1 IT Drink and they all had the same. The bill was way out of control. Within a minute or two the bill was cut down to about B2,100 and we paid and got out of there quickly.
BURNOUT is a good guy. As Andrew Dice Clay once said, "Either you Suck Dick or You Don't suck Dick." In the case of some of these creatures that are post-op you might be licking dick too. I understand and respect BURNOUTS interest in these creatures. Hell, some of them look marvelous, however, there is so many true, sweet, soft, luscious ladies to choose from in the Land of Smiles. Why go to a steakhouse and order Tofu. Sure they can make it look like a steak, but it ain't a steak.
11:00pm
Then we are off to another bar where you had to play the Guess the Gender game again and I was getting a little ticked off not wanting to be in Patpong looking at the ladies and wondering if it was the real deal.
Soon we all head out of Patpong, I will probably never venture over there again. It is too crowded and the selection of bars we visited, albeit not a normal selection, were not that impressive.
We take a couple taxis to Nana and catch the end of the show at Angel Witch. We are in Angel Witch and there are several lovely ladies around and it is getting close to the witching hour. I am really really tired and am about to crash at this point. One of the street clothes ladies, not one of the ones that had BF'ed already, but the ones that hang out at Angel Witch takes a liking to me. I am tired and a little drunk at this point in the evening and I was finally glad to be touching 100% women again. I decide to BF this gal that was hanging on me. In the three trips to LOS, I had never paid a BF for someone I was going to shag. This was the first. I could tell she was not a stunner, but I knew she was 100% woman. BURNOUT successfully lowered my standards of what is available in the market. We adjourn from the Angel Witch and head to my room.
1:30am
I had a Shallow Hal experience because what I ended up with at my room was not anything I desired. I wouldn't even have paid for it in the States either. After she showered I went to take mine and one of my white towels was now almost completely brown. Talk about someone that caked on the makeup. What stamina I had left in my body quickly retreated and I was too tired to shag. Or, at least I had to turn the lights off and start dreaming of something I could have had.
(I am about to steal a line from GB about the Angel Witch but it fits here perfectly.)
I know why they call the place Angel Witch. It is full of a bunch of Angels and 1 Witch. Guess how lucky I was to have the only Witch in Angel Witch laying next to me. She was bought for LT so I suggested we sleep now and hit it in the morning. She is content on that. After about 45 minutes, she started to fondle the member and soon we were at it. It was a quick session and I asked if she wanted to go. She did and I helped her gather her stuff quickly.
3:30am
It was about 3:30am and I started to get dressed. She questioned me about wanting to sleep and I tell her that I am awake now and want to head down to the Grace and check out my friends. I didn't want to pick anything up; I just wanted to yell at BURNOUT for letting me take the dragon out of Angel Witch.
She walks with me the entire way and I begin to be concerned that she is going to follow me to the Grace Hotel. I ask her where she lives and she points down Sukhumvit. I wave down a taxi and hand her B100 and said see ya.
I get to the Grace and HAMMERS is stumbling around and I see BURNOUT and GOONER with his toy from the Beergarden earlier in the day. We crash in on a table in the middle of the room and the lady sitting at it seems a little put off by our presence. Her transaction returns a short while later and we talk like we've known each other forever.
Then the best thing that happened to me on this trip happens (well there is a tie with my Bob4You cast off later in the week). A girl comes over to me like so many do and tell me their friend likes me and wants to meet me. I tell BURNOUT that we should head over and see what is on offer. I find this lovely LADY and I will call her Na. NA was very attractive and a little shy. I fell in love with the moment I met her. She saw me the night before and I waved to her and I remember her all of a sudden. She caught my eye on my first night before Marlboro girl latched onto me. Her English is great and she has several friends around the bar and they check in with each other from time to time.
We eventually head over to the other side of the bar and take up some seats. GOONER and BURNOUT were making asses out of themselves and I couldn't believe what they were doing. They called it the "Sandwich." Basically, GOONER's beergarden girl will put her head in his lap and then BURNOUT will do her doggie style. This was done in the middle of Coffee Shop and she would always come up laughing. We were having a great time, although it was awkward watching my friends and have fun with their lovely creature. BURNOUT heads out with something and I can't remember when.
6:30am
It is getting late and GOONER and his lady, Na and I decided it is time to leave the Grace. GOONER talks me into a breakfast beer at the NANA before going to bed and I agree. It must have been 7am when we get there.
It is NA's birthday today and I think it would be a great idea to get a piece of cake and put a candle on it and sing Happy Birthday to her. She was very pleased with the gesture. NA is a Nana regular and the staff know her well. They want to throw her a party tonight in the lounge area at the Nana at 11pm tonight.
We finish our breakfast of champions and I head up to bed around 7:30am.
WHAT A LONG DAY and it wasn't over yet.
(What follows is a bunch of rambling from me. I don't know everything and don't mean to pretend to know everything. I sort of hit a wall on this trip and it interfered with the rest of my trip. My conscious somehow appeared and it was not easy to make disappear. Believe me I can be as shallow as the best of them and that is sometimes the best way to enjoy your holiday. Heck, I had only known her for 6 hours.)
7:30am
It is surprising that we are both still awake and not ready to sleep. On the way up I greet the morning maid staff and grab some fresh towels. We take showers and try to block the light coming through the window. We settle into bed and start talking. We talked about a lot of things. In no particular order we discussed the scene, punters, the circumstances, the options available and her 6-year-old daughter that is being raised by her father. Her father thinks she works at a factory in Bangkok and she thinks he would kill her if he knew how she was making a living.
I observed her the night before talking with her friends and they looked concerned at times and then when she got done talking, they were smiling. Basically her motto is to F.uck and Forget (F&F). That is basically what she tells her friends that have cold feet going off with customers. She prefers to go ST, earn some money and go about her business. She doesn't like what she does and she will kill her daughter if she steps foot in the scene. She wants to put money away to pay for her daughter's education so she can have a better life. It is strange I am having a conversation with a person that is basically saying she doesn't want to be here on one hand and quickly making me think I am the only concern she has in the world.
She talked about not wanting to do this much longer. She knows she will be judged by her past and she needs to get off Sukhumvit to get married. She said no one wants to marry someone who does what she does. She is serious about getting a better life for her daughter and will do whatever it takes to keep her out the life she is living.
During the evening I noticed her talking with her friends and we expanded on those discussions. She is sort of like the leader of her friends. They need money and they know where to get some quick. She tells them to F&F. She talked about her techniques to get in and get out as quick as possible. She laughs at the fact men falling asleep after sex and that is why she likes to work late as it is even easier to go to a short time hotel get business done quickly. She is a very tough lady and knows what she wants in life and demands that she is treated decently.
At the time, these conversations were thoughtless ramblings that were interesting at the time. While I liked asking, I didn't like hearing the answers. The old saying is better to keep your mouth shut and have someone think you are stupid then to open your mouth and remove all doubt. I would have rather had an idea about the scene then to have asked the questions and heard first hand. She was so sweet and articulate our conversation caused me to reflect on the scene several times the rest of my stay. When I leave this place, it doesn't end. This isn't a weekend festival where everyone goes back to their normal lives after. I am beginning to ramble which is what occurred the rest of my trip.
I enjoy my shallow fleshfest I call vacation in the Land of Smiles. I guess I find comfort hoping others that come after me treat the ladies with respect and dignity. Have fun with them, enjoy their company and remember you can go back to farangland. They will go back and do the SAME SAME as long as they can. Hopefully they can escape the life and live a fulfilling life
Then I rolled her over and we had some monkey love. I put it all behind me and went to sleep. :-)
I love this place.
10:30am
To be continued...
Chewie
---------------------------------------------------
Ommmmmm

Jai Guru