The Big APPLE -- Part 5

The Big APPLE -- Part 5
This past week, Sip took advantage of every opportunity to tell me that she loved me. This morning was no exception.
While we were in the shower Sip said, "Jai? I have to tell you something. Now I love you 100%!"
"You know, in my country when a lady says she loves a man 100% that means she wants to get married and make babies."
"Really? Maybe I like!"
Hmmmm... That sort of backfired on me...
Sip has been saying for days that a friend of hers told her about a special floating market. This was supposed to be a "real" floating market, not a show for the tourists. I had mixed feelings about it, but Antman, Chewie, and Sip all wanted to see it so I figured I'd go along.
It's time for breakfast with Chewie. Sip and I found Chewie and his date in the coffee shop, and Antman joined us a few moments later. A few moments after that, Chewie's second date showed up.
After breakfast, we joined up again in the lobby and started out for the day. I had absolutely no idea where we were going, so Sip had to be the tour guide today. We walked down to Sukhumvit at grabbed a couple of taxis; Antman, Sip and I were in the lead cab, and Chewie with his two dates were in the second.
Sip was busily explaining to the taxi driver where we wanted to go, and the taxi driver just said, "Ha roy baht."
Before Sip could tell me what he wanted, I said, "Screw that, turn on the meter."
"He no want meter. He want 500 baht."
"So? I want meter. Tell him to turn on the meter."
After moving about 20 feet, the Sukhumvit traffic came to a stop. Fine, this is where I bail.
Chewie didn't know what was going on, and had a pretty concerned look on his face as his taxi passed us. Sukhumvit was full of empty taxis, so it was no trouble grabbing the closest one. Sip explained to the new driver that we were traveling with another taxi, and he drove like a bat out of hell to catch up. That driver earned a good tip.
Where ever we were going, it was way the hell out there. But I enjoyed the ride; it was nice to see parts of Bangkok I haven't seen before. After a while the roads became smaller and smaller, and we ended up in some weird parking lot. Okay...
We got out and had a look around. One thing is for sure, there weren't any tourists here besides us. In fact, there weren't many Thais here either. I suggested we walk around a bit and see if we could figure out what was going on. That's about when Chewie's taxi pulled up.
As it turned out, this is where a floating market is held but not on the day we chose to visit. Now we were stranded out in the boonies without a taxi in sight. The girls all had cell phones, so we prolly weren't too stranded. And there were a few locals walking around.
Sip spotted an older lady, and ran after her. The lady explained things to Sip and mentioned she had a friend with a boat. (Don't they all?) Her friend could give us a klong tour of the area, and drop us off at Saphan Taksin. Perfect for us, we could take the Skytrain back. I don't know what the girls thought but Antman and Chewie were eager to go on the tour, and it was a nice save to the morning. It was also hot out (even this early in the morning), so the moving boat would keep us cool. Not a bad deal.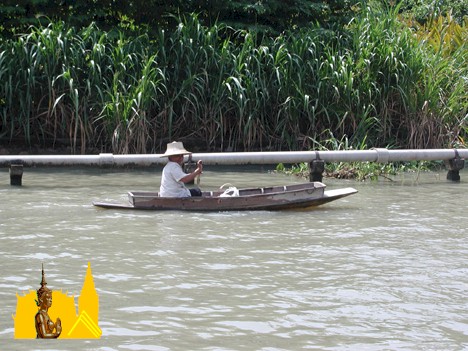 The boat pulled up, and we got in. Chewie had a bit of fun seeing how much he could rock the boat but I was a little concerned; the last place I wanted to end up was in the klong. Even though we were well outside the city, the klong water didn't look much cleaner.
The tour was great. The moving boat did keep us cool, and we even stopped a couple places for snacks and drinks.
At one point we stopped at an orchid nursery. It was interesting to walk around and see all the orchids at various stages of growth.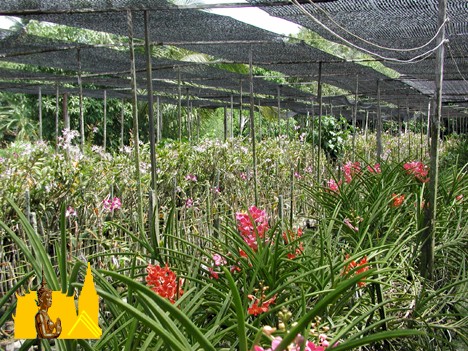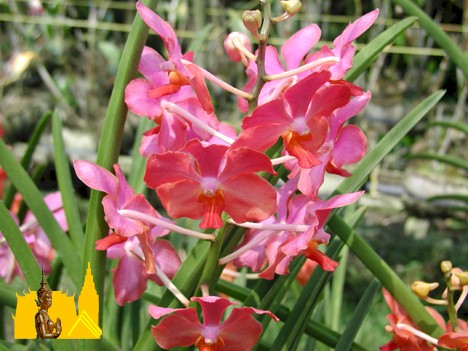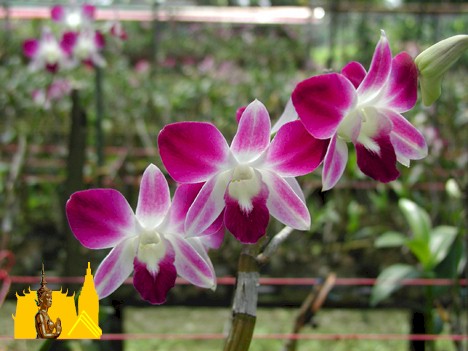 Chewie, being the gentleman he is, offered to buy each of the girls an orchid. The girls ran off excitedly and each chose their favorite plant. When they returned, the girls proudly showed each other their beautiful plants.
Then they started talking in Thai... What the hell could they be talking about? They sure were serious about something... Then they got out a pencil and paper, and started writing things down... Weird...
They told Chewie that they didn't want him to spend all that money on plants, so they would just get one large one and split it in three.
Chewie had a horrified look on his face, "Jai! We've just witnessed the birth of a bargirl grapevine. Now no matter what we do or where ever we go, everyone is going to know!"
I was thinking about busting his balls and saying he was the one that had to go and buy them all orchids, but I could think of a lot worse things than having to spend time with Sip in the future. And his two girls weren't that bad either... I wouldn't mind taking the older one on a test drive...
That's about when the heat started getting to me. "Come on guys, let's go!" If the heat is getting to me, it must be getting to Chewie and Antman, although I sure Antman has been getting more sleep. Anyway, I figured if we could get back on the boat we could get back in the breeze. Never get out of the boat...
The driver did a good job creating a breeze, but it was only a short ride to the next stop; the snake show. I wasn't in the mood for a snake show, and was happy to find that Antman and Chewie were also quite willing to pass on it. It isn't that I'm down on snake shows, I just felt too hot to be sitting outside watching the show. I'd rather keep moving.
We told the driver to take us to Sathorn pier, but he refused saying he needed more money. All three of the girls were absolutely no help trying to explain to the driver that we already paid to be taken to Sathorn.
That's prolly my biggest Thailand pet peeve. My experience in Indonesia is the girls there would chase the guys with a stick if they tried something like that. But I've learned to live with it in Thailand; things could be a lot worse.
The driver did say he would take us to the Grand Palace riverbus station, and that was good enough for us. We could catch the riverbus to Sathorn, and be back on the Skytrain in no time.
Chewie had a bit of a rough time climbing out of the longboat onto the pier. His hands were burning on the metal of the the pier, and at one point I was sure he was going in the river and taking the two guys trying to help him with him.
Even with the cool breeze on the riverbus, the heat and lack of sleep were starting to do me in. I was going to bonk if I didn't get some cold drinks and snacks soon.
I barely remember the transfer to the Skytrain, and I don't remember the walk back to the Nana at all. I was out of it. I remember telling everyone that Sip and I were going back to the room, but I needed to shark GBB because Hammers was holding a package for me.
Hammers and Gooner were relaxing with a couple girls at GBB when we found them. We joined them and started ordering drinks and snacks. The fresh fruit and cool drinks went a long way fixing me up.
Hammers and Gooner were scheduled to head home this afternoon. It seemed that every 15 minutes or so, we would go over the logistics of getting to the airport to make sure they were leaving at the latest possible moment and still be able to make their plane
.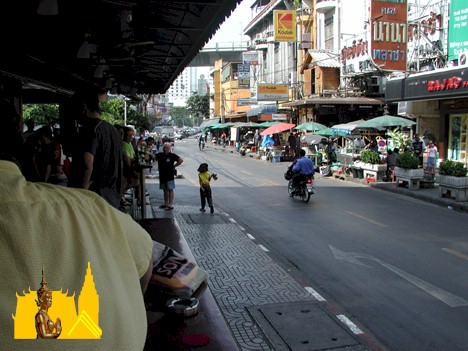 A young girl cam up to our table and tried to sell us some flowers, but no one was buying. It was a little sad; she should be in school, not on the streets. But she had a beautiful smile.
We enjoyed relaxing with Hammers and Gooner, but after an hour or two we left to give them a little time to say goodbye to their girls and get ready for the trip.
As soon as I got up to leave, the heat got to me again. I needed to get some sleep in a bad way. When we got up to the room, Sip said she wanted to go out again to eat some soi food. There was no way in hell I was going to do that, but I gave her some baht and told her I was going to sleep. I showed her where the doorbell to the room was so she would be certain to wake me up when she got back. I wished her a good time as I closed the door behind her.
This evening, Antman, Chewie, and I had plans to dine at Cabbages & Condoms; it's one of Antman's and my favorite restaurants, and Chewie had never been there before. But if I didn't recover, there was no way I was going to make it. I took a handful of ibuprofen, cranked up the air conditioner, and hit the sack. 90 more minutes of sleep was my only hope.
What the hell? I was awakened by the sound of a window sliding shut and the sight of shadows moving in the other room. I grabbed my tripod, extended the legs halfway, and started for the bathroom to meet my visitor.
I entered the bathroom to see Sip sitting on the pot.
"I ring bell! You no come!!"
"I didn't hear the bell. Did you come in through the window?"
"No. Maid see me by room and open for me."
"I heard a window."
"Room cold too much. I make better."
Well, at least it wasn't the stalker from the previous trip.
"I need some more sleep so I'm going back to bed."
"No problem for me. I watch TV!"
The last 30 minutes of sleep made all the difference in the world. When I awoke for dinner, Sip was almost finished getting ready. What a gal!
As we were getting ready, the phone rang. It was Chewie calling to say he was tired. "So? That makes two of us! Let's go!!"
Five minutes later the phone rang again. This time Chewie said his girl didn't want to go. "So? Give her a fistful of baht and a pat on the rear when you show her the door. If she doesn't want to join us, it's her loss."
A few moments later we met in the Nana lobby. It would be five for dinner; Antman, Chewie and his date, Sip, and myself.
Luckily there was a taxi in the Nana parking lot, so we didn't have far to walk. Chewie got in the front seat, and the four of us got in the back. It was a little crowded but the AC worked well, and it wasn't too painful having a pretty girl sitting on my lap and another at my elbow. There are worse ways to get around.
But we were riding pretty low. Too low. So low in fact, that the taxi bottomed out pretty bad when we pulled into Soi See. And every time we hit a bump in the road, we could hear the car's body hit the tires. The farther we went, the worse it got.
About a mile into the trip, the driver pulled over.
"He want us out" said Sip.
We were in the middle of nowhere, and there was no way I was going to let our ride go. I'm not saying the taxi wasn't overloaded; in fact, I'm sure just Chewie and myself exceeded the load carrying capacity of the car. But the next taxi would be just as overloaded.
My idea was to split up. Antman and I were the only ones that knew where the restaurant was, so Antman and Chewie should take one taxi and I'll make sure the girls are okay. He he! Not a bad deal for me; riding through Bangkok with two pretty girls...
The driver made a wrong turn into some gridlock which wasted a big chunk of time, but we finally did get there and no one starved to death on the way.
We were shown to a wonderful table on the balcony and all ordered some juice to refresh ourselves after the wild ride. Kiwi juice sounds like a good idea, but it just isn't.
We ordered a lot of food, but didn't seem to have a problem finishing it off. Sip took good care of everyone making sure they had enough to eat. When everyone was finished, she had their plates taken away and ordered a special entree for herself. We all had a good laugh over that one!
Even though we all had eaten our fill, we had enough room for khao niew mamung. I think if everyone knew how tasty sticky rice with mango was, they would never leave Thailand without a ration.
When we got to TLR, the party was already in full swing. Antman played a little pool with his favorite TLR girl, Sip stayed in the Chill Out room with Bob4You's girl, and I just talked with the guys and drank too much.
Sip wanted to take Bob4You's girl to Angels disco to dance. That's fine with me, but that's not how I wanted to spend my last night in Bangkok.
Antman and I said good-bye to everyone and headed off to Nana. The plan was we would toss stuff in our suitcases and make it to Angelwitch to see the Isaan girls one last time. Sip and Bob4You's girl said they would be at Angels, and we could pick them up there after the show. I wonder if Bob4You was in on that...
We shook the TLR guv's hand one last time, and thanked GB64 for all the great times.
From there it was over the pedestrian bridge, and into a taxi for the ride to Nana. I don't think it took us 5 minutes to pack, and we were headed to NEP to catch the show.
We found some good seats at Angelwitch, and ordered some beers. For a few hours, the pressure would be off; we had nothing to do but enjoy the time until we left for the airport at 4AM.
Antman and I enjoyed the show while we talked. I tried to instill a little courage in him so he would go after that girl at Mandarin, but I don't think it worked much.
I noticed Chewie and NYSaint stuck their heads in the door, but they left without coming in. What's up whit that? They're going to miss the show!! About the time I was getting up to go get the guys, NYSaint came back to have a talk with us.
Chewie and NYSaint were trying to keep Sip occupied so I could sow some wild oats my last night in Bangkok. Those are the actions of true friends! But I really didn't need any time away from Sip. I enjoyed being with her, I just didn't want to spend the evening in the disco.
As soon as I found out what was going on, I went out to find Sip. Sip was a little upset. I think she felt like she might be getting the run-around. But we made up quickly, and decided to go back to the room to enjoy our last evening together in peace.
---------------------------------------------------
Ommmmmm

Jai Guru