The Big APPLE -- Part 3

The Big APPLE -- Part 3
Another night without much sleep. But this morning it was Sip who woke me up early.
"Jai? I want talk you. I like you 100%, but I no love you 100%. I love you 80% and have 20% in bank for you. If you love me 100%, I take 20% from bank and I love you 100%. Understand?"
"Yes, I think so. But why all this talk about love? In Phuket you say you no love man. You only want yourself. Man always steal your money."
"Jai? You good man. You no steal money. I need big help. I no want work in bar. Work in bar no good for me. I want go school. I very smart girl. I teach myself many thing, but I want learn beauty school so I open beauty shop. I want learn cutting hair and make-up. Maybe other things for beauty shop too."
"What can I do to help you?"
"I need big money. Big money for school. Beauty school is 4 month. I need big money beauty school 4 month."
"How much big money?"
And she told me. And it was indeed big money for a Thai. The fact is, what she wanted was big money for most people except perhaps Bill Gates. Well, maybe that's a little of an exaggeration, but I think it's more than most people pass out on a whim.
I told her I would think about it, and maybe have more questions. "No problem for me," she said.
As she explained to me that beauty school tuition also included the cost of buying all of her tools-of-the-trade, such as scissors and hair dryers, and so on; I started to think many things.
I started to think that I don't want to be one of those guys that send money to bargirls every month. Hell, I only know Sip a matter of weeks. So what if she spent her own money to fly up to see me, maybe she's just investing it for a larger payoff.
But Sip is getting older. Maybe she understands that her days in the go-go business are numbered. Maybe she really does want to get out of the business.
Sip's sister went to beauty school and works in a shop in Korat. They have a plan that when Sip finishes school, Sip will buy a shop in Korat and her sister will work with her.
I've got to admit it sounds like she spent a little time thinking about it.
At some point in the conversation, Sip showed me the workbook she used to teach herself English. It wasn't an English workbook, it was a spiral-bound notebook of lined pages that she used to write down English words, their definition in English, and also the Thai translation. Sip had scores of pages that were all filled with words. The words in the book didn't seem to be part of any lesson; just words that she heard at random and wanted to know what they meant.
As she paged through the book, I saw that she had progressed to writing sentences. She would write a sentence once, and then copy it over and over again for pages at a time. And still later in the book I found some letters she may have written to farangs. Customer farangs. There was a little tug at my stomach when I read that.
Then I started thinking that I pay a lot of money in taxes. And I believe that precious little of the money I pay really ends up helping people because of the bloated bureaucracy that must also be supported.
I started thinking that she isn't asking for that much really; it worked out to be about 10 percent of my monthly take-home. And it's only for 4 months. Not having that money for 4 months won't have much of a negative impact on my life. But Sip being able to go to school for 4 months could have quite a positive impact on her's.
I started thinking that I might pay for her school, but I wouldn't tell her yet. I wanted to think some more, and maybe ask more questions.
With a slap on her rear, we got up to shower and get ready for breakfast. This would be Sip's first visit to the Grand Palace, and Antman, Chewie, and Swede talked last night about joining us today.
Antman made it for breakfast, but Chewie and Swede were nowhere to be found.
We ate a quick breakfast with Sip bubbling excitedly about her king the whole time -- she was pretty happy about going to the Grand Palace. Then it was up to the room to brush our teeth.
When we got to the room, the maids were inside cleaning while the "Do Not Disturb" sign still hung cheerfully on the outside of the door. TIT, what's the use... Well, I prefer to tip the maids in person instead of leaving it on a pillow, so I gave some baht to Sip and told her to tip the maids. Sip seemed very proud to receive wais from the maids. And the maids must have known the money came from me because they gave me wais on my way out too.
We grabbed a few bottles of frozen water and were out the door. That's a trick that works pretty well for me. Before I go to sleep at night, I throw a few bottles of water in the freezer so they'll freeze overnight. To ensure I stay hydrated, I sip water all day. Having a couple bottles of frozen water with me means I don't have to worry about getting stuck without being able to find water. Cold water is usually available, but the further off the beaten track one goes, the less easy it is to find sometimes. Plus the cold bottles can keep one's back cool when carried in a backpack.
We picked up Antman on our way out and made our way to the Skytrain. I hadn't noticed it when we left, but Sip was wearing a very thick top and it would be very hot today. There was no way she was going to last in this heat, even if she drinks lots of water. Maybe we can find something a little more suitable for her along the trip.
Sip tries to act cool when exposed to new things, but the Skytrain had her eyes as big as saucers. I got her a multi-pass card because I expected we might use the Skytrain a few times this trip. Sip needed a little help with the ticket the first time through the gates, but then she was an expert and took every opportunity to help anyone that looked like they might be having trouble. She is a joy to watch.
It was good to finally get to the Sathorn riverbus station -- the breeze by the river made it feel like it was 10 degrees cooler. Still, Sip was heating up in that thick top. This was going to be a problem. Antman and I had a quick conference and decided to look at the souvenir shops on the way to the Grand Palace entrance. We thought there might be a good chance to find a cooler top for Sip. Antman remembered that there are sarongs at the entrance for people not dressed appropriately, but I just knew there is no way Sip would be caught dead wearing "community" clothing.
We found a souvenir shop that had quite a few nice tops, but Sip only wanted a simple t-shirt. Data point to remember: The Thai price for souvenir t-shirts is 80 baht. She prolly could have got it cheaper if she haggled a little but what the hell, the farang was paying... Also at the souvenir shop, I picked up a disposable camera for Sip. I thought it would be nice if she could take some pictures of her sightseeing and have something to bring back memories.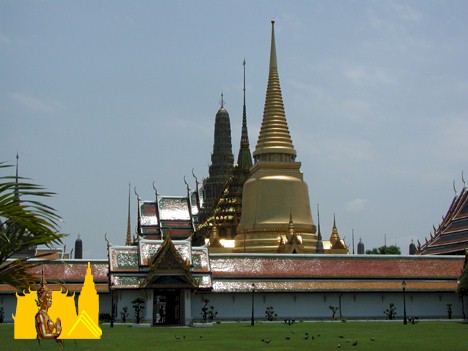 It was pretty hot in the Grand Palace, and getting hotter with every moment. The palace grounds were not far from the river, but there was no breeze at all, and Antman and I were going through the water we brought pretty quickly.
All throughout the palace grounds, red carpet was run with "Do Not Step" signs on it. Sip said the carpet was out because her king was coming. People were starting to find places to sit and wait for their king's appearance.
"When does the king come?"
"I don't know"
"Why don't you ask one of the people?"
Sip ran off and sat next to one of the people already waiting for the king. I took the opportunity to sit in some shade.
After talking with her new found friends, Sip came back and said, "Jai? I want to see my king."
"When does the king come?" Deja Vu all over again...
"5"
"Sip, I can't stay here until 5. It's too hot!"
"We go and come back. Okay?"
"I can't come back at 5. I have to meet my friends before the dance contest." Ouch -- a touchy subject which I'll expound upon later...
Sip started to look sad so I said, "Sip, you stay here and see your king, then you come to The Living Room or Sheba's. Okay?" Ah, that brought the smile back.
"Yes, yes! Very good!!"
I gave Sip some money so she could buy water and some food for her new friends, and also enough so she could take taxis back to Sukhumvit and Soi Cowboy.
Antman and I said our farewells to Sip, and headed back to Sukhumvit. In front of World Coffee we met Mark33001 and a friend of his. They joined us for a cold drink inside World Coffee as I checked my email and posted a short status message on the forum.
Antman and I high-tailed it back to our rooms and took a shower. Then we met at the Nana coffee shop for a quick bite to eat.
Earlier in the day, Sip had asked what we were going to do tonight. I told her that there was a big dance contest at Sheba's and the prize was 10,000 baht. When Sip heard that, she became furious, "Why you no tell me contest. I dance good. I win 10,000 baht. Why you no tell me?" I did my best to tell her it was a special contest for bars only, and as a member of the APPLE Gang she would be my special guest. She accepted that story suspiciously, but the dance contest was an obvious sore spot with here every time she heard the words.
Antman and I made it to TLR around 6 PM, and I got busy collecting the rest of the pledge money for the DC. As I mentioned earlier, I was happy to keep lists for the APPLE Gang but I was a little worried about being responsible for the money. After all, I only knew a few of the guys but those I trusted and would have bet anything that the would show and honor their pledge.
The APPLE Gang
Dance Contest
Honor Roll
Antman
Bob4you
Jai Guru
The Living Room
DaGringo1
Hammers11
Gooner
Shotover
Chewie1104
Jmacia90
rchapstick
Grumpy
Burnout
Up2youNotme
As we got closer to cracking the nut I was able to relax a little as everyone had honored their pledge, and my work would soon be done. On the other hand, the work was just beginning for Farangman and Noozy.
As 7 PM grew closer, more and more APPLE Gangers were rolling in to TLR. It was easy to tell they belonged to the APPLE Gang because they were wearing their APPLE shirts or stickers. Shotz of tequila and apple schnapps were being passed around freely. It wasn't even 7 PM, and my head was starting to swim.
It's 7 o'clock and I want to rock,
I want to get a belly full of beer.
Antman is drunker than a barrel full of monkeys,
With a bargirl nibbling on each ear...
At the stroke of 7, Frangman, Loot Doot, and Noozy hit the road to collect the girls. I took that as my signal to grab Antman and take a taxi to Soi Cowboy to get a good seat as Sheba's. I shook a few hands and slapped a few backs on my way out and suggested to the newbies that they may want to hit the road now if they want a good seat. DCs can fill up quickly, and I wanted a good seat for this one.
We jumped down the stairs from TLR, worked our way around and through the street stalls, and stepped into Sukhumvit to hail a taxi. Our driver spoke English pretty well and when he heard we were headed to Soi Cowboy, kept us entertained with stories of the "many beautiful women" there. That earned him a respectable tip.
We were some of the first in Sheba's that night. I sat Antman in a ring-side center seat, and took my own seat in the first tier. It didn't take long for a service girl to take our order, and then the bargirl sharking began.
It was still pretty slow when a girl asked if she could sit next to me. I told her I had a lady that was coming so she would have to tell my girlfriend I was a good man. Song agreed and seemed surprised when I bought her a ladydrink.
Antman was prepped to find and barfine the best looking girl in the bar as soon as he got there, but as usual he was scared stiff - literally! He couldn't even move his head to look at the girls, let alone trying to barfine them. I heckled him a little but it was clear he wasn't going to bust a move. I told Song we had to find Antman two ladies. I figured it was time for him to go for the gusto. Antman had BFed two girls before but one ended up being a katoey and didn't perform (or so he said), so that didn't count. I grabbed two girls that were passing by, and Song told them to sit with Antman. He didn't have a clue what was going on but after he bought them a ladydrink, he had two friends for the evening.
Apple Gangers slowly started to roll in; Swede sat to Antman's left, Chewie to the left of Swede, and Bob4you to the left of Chewie. A little later Flashermac sat to Antman's right. What a distinguished front row! Hammers and Gooner brought a couple of the TRL girls and took seats in the first tier. But Hammers didn't sit still long and he could usually be found up and running around the club.
The contest started late (as usual), but it wasn't too late this time. And the house dancers did a pretty good job keeping everyone entertained. One of the house dancers took a special interest in Bob4you, and they quickly became special friends.
Antman and I were headed to New Orleans immediately after Bangkok, and we had a hotel with balconies right on Bourbon Street. This would be Antman's first trip to the Quarter, so I told him a few old war stories. Even though beads are readily available in souvenir shops in the Quarter, a few days before we left for Bangkok, Antman began contacting bead manufacturers all over the US to see if he could buy direct and save. What a frugal guy... I guess he didn't think carrying a large quantity of Mardi Gras beads as he circumnavigated the globe as a negative.
Well, he decided to bring the beads to the dance contest. It got him quite a bit of attention from the house dancers; in fact, I've seen piranhas in a feeding frenzy act more reserved. Girls all over the bar were festooned in red, white, and blue beads. Somebody got the bright idea to raise a girl's arms over her head, and slide a necklace of beads down to act as a belly chain.
Antman cleverly saved the gold beads for last. When the girls saw that he had gold beads, they really went nutz. Being the nice guy that he is, Antman tossed me a handful of beads to pass out. I gave a couple strands to Song, and saved the rest for Sip.
Ah, the dance contest. I just don't know what can be written about it. Those that were lucky enough to be there know what happened. Those that have been to previous contests know what goes on. And those that have never been to a contest just wouldn't believe it.
Sheba's is one of those two-story bars that has an upper dance floor made of glass. But Sheba's is a little different because the middle third of the dance floor is actually open. The contestants made good use of the downstairs stage. When one of the dancers dropped and shattered a beer bottle, the girls hopped up on the ring and continued dancing without missing a beat.
I didn't know Hammers fancied brown ale, but he had a special one that night.
Chewie was the contestant Magneto that evening, with no routine being complete without a special stop at Chewie's spot.
Hammers took his judging responsibilities seriously, and kept moving the entire night to ensure he always had the best view of the contestants.
The Sheba girls wowed the crowd by starting their routine on the upstairs stage and dancing their way down to the main stage. They used the poles to slide their way down, and when their routine was over they climbed the poles back up to the upper floor. Now that's using the whole stage!
One group of girls brought out cans of whipped cream to spice up their act. Not a bad idea, but they should have kept the cans away from Chewie. The next thing I knew, Chewie grabbed a can of whipped cream and a girl and made himself a Chewie sundae. I guess he missed dessert.
At a break between competing bars, one of the TLR girls got on stage and used her special talents to sell a few Nanapong calendars. I almost bought a calendar myself, and I already have one!
Every once in a while, Antman would spin around on his stool with a BG on each knee and yell out, "Look at me, Ma. I'm on top of the world!" Funny if one is into in film noir. But disturbing if one knows of the "special" relationship Antman has with Ant Mom...
That's about when Sip walked in. There was a little space to my left, and that's all Sip needed to make herself comfortable. She didn't say anything about the BG to my right. When Song's drink was gone, I asked her if she wanted another. When she said yes, I told her not to forget to tell Sip I was a good guy. With that she leaned across me and struck up a conversation with Sip. It was just like they were old friends. What ever Song said earned me a few points with Sip who slid a little closer to me, and just smiled up at me with those bright eyes of hers.
But after watching a few of the rounds, Sip got upset because she couldn't enter the contest. She swore she danced better than these girls and could teach them a thing or two. And I believed her, but I told her it was not possible. That didn't make her feel much better.
Father T from Modesto uttered one of my favorite quotes of the evening - "God bless the Buri Ram girls; they're dangerous, but fun!"
As always, the contest ended too soon. I could watch it all night long... Nanapong picked 3 of the top APPLE contributors to get up on stage and award the prizes. Hammers awarded third prize to Kahn of Voo Doo, and Antman awarded second prize to Nong of Hollywood. Bob4you had the honor of awarding first prize to On of Sheba's. In the tradition of Indy races and roller derby, Bob4you took On on a victory lap -- or dance in this case. Somehow On ended up on the floor, and Bob4you on top of her. But it was all good clean fun.
Sip wanted to talk with Song, so we changed places and that gave me a chance to spend a little time with DaGringo. It was much too short, but I left feeling like I now had a brother in Scotland.
And Man disappeared with his two barfines, and wasn't feeling much pain.
Sheba's was winding down, and I wanted to hit the road. I was getting a little hungry and thought it might be fun to have a late snack at Woodstock. We snuck out of Soi Cowboy the long way avoiding Tilac.
We found Burnout and Gooner in one of the Asoke bar beers, and stopped to have a quick word and let them know we were headed to NEP. My plan was to have a snack, hit a few bars, and end up at Angels before closing.
Sip and I crossed Sukhumvit, and jumped in a taxi for the ride to NEP. It was nice to sit in that taxi for a while; I felt insulated from all the craziness going on outside.
Woodstock sucked. The food was horrible, and the service girls disappeared. Sip played a little pool while I ate, and then came over to entertain me with some stories as I finished my beer.
Sip told me she had a very good time staying to see her king and she got some fantastic close-up pictures of him, but she left the camera in the taxi. Could Sip be related to Stef?
We headed over to Angelwitch to see what was going on and have a beer. Sip was wearing her gold beads as we walked around. All of the other girls must have thought they were real gold, and Sip got some amazing double-takes. Especially from the girls in front of Casanova.
Sip was bored with the dancers at Angelwitch and wanted to talk. I didn't mind so much because I was getting a little bored my self, and Sip is usually entertaining.
"Jai? I want go bar."
"What bar?"
"Bar with stair."
"Bar with stair... Bar with stair... Mandarin?"
"Yes! I want go Mandarin!!"
"No problem. Let's go."
Walking around the second floor of NEP, Sip pulled on my shirt sleeve and asked, "Jai? I want you do something for me."
"Yeah? Like what?" It's always something...
"I want you barfine girl for me. I make love with girl, and you watch. Okay?"
Well let me think a moment.... OF COURSE IT'S OKAY!!!
Sip wanted that cute girl that I had tried to get Antman to BF yesterday. I do like Sip's taste in women.
"Tonight is going to be a good night," I thought. But, hey! That's the reason I came here.
---------------------------------------------------
Ommmmmm

Jai Guru