Strange Guy In Paradise
-- Part 11

Strange Guy In Paradise -- Part 11
You got to open your eyes in the morning,
Nine o'clock comin' without any warnin'
And you gotta get ready to go.

You say you went out late last evenin'
Did a lot of drinkin', come home stinkin',
And you went and fell asleep on the floor.
Woke up later than usual again. Iím beginning to act like Iím on vacation or something.
Today is my day to act like a tour guide and escort Song to some of Bangkokís temples. We invited Ricoman1 to join us, but he was templed out from his package tour.
One of the things I like to do is toss a couple bottles of water in the freezer before I go to sleep. When I leave in the morning, I take the frozen bottle with me, and Iíll have frosty cold water for hours.
We hopped in a taxi in front of the Nana Hotel, but the driver said he didnít want to drive to Wat Arun; too much traffic. I wonder if I could get away with that at my job. ďThe serverís too slow, to hell with the reportÖ.Ē But it really isnít too much of a problem; we just get out of the cab and walk down to the Nana Skytrain station. We have to switch lines at Siam Center, and continue to Taksin Bridge. From there we can take a riverbus up to Wat Pho, and a ferry to Wat Arun. I donít remember how much the river bus was, but it was very inexpensive. I think the ferry was like 2 baht each.
There is a farang entrance fee for Wat Arun, but not for Song.
Before I left for my trip, I purchased some of those single use cameras. My idea was that I would give them to bar girls and see what kind of pictures came out. Somehow I never got around to doing that, but since I had them I gave one to Song so she could take pictures of the temples. I told her we would get the pictures developed when we got back to the hotel.
Song was very appreciative to have the camera and enjoyed taking pictures.
From Wat Arun, we took the ferry across the river and walked to the Grand Palace. Another place where Song made a little joke that Thais didnít have to pay. It was the same at the Grand Palace and Wat Pho; I paid an entrance fee, and Song discreetly walked in without needing a ticket.
I think for this part of the report Iíll just let the pictures do the talking.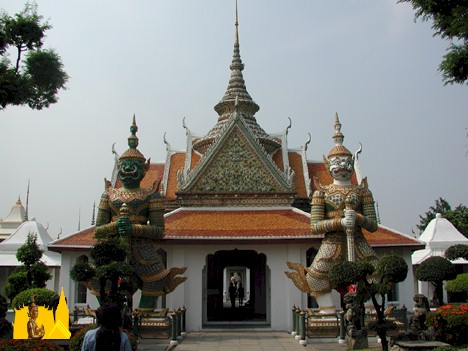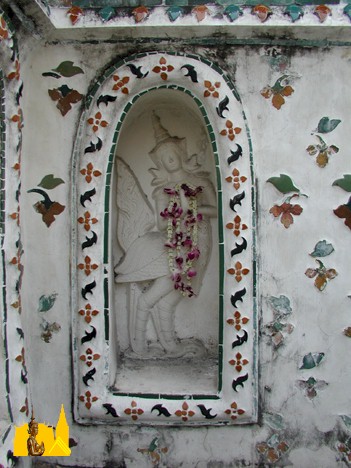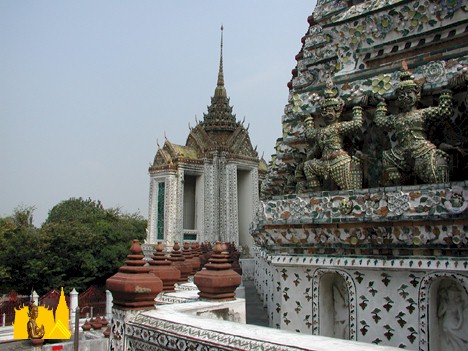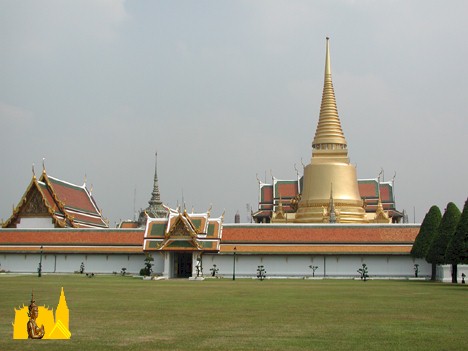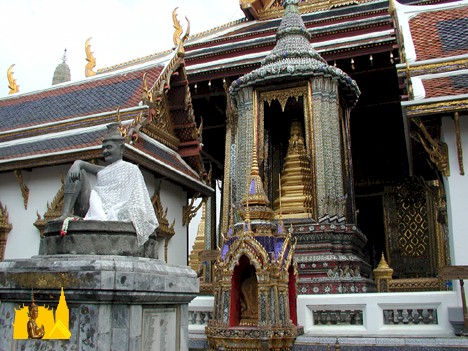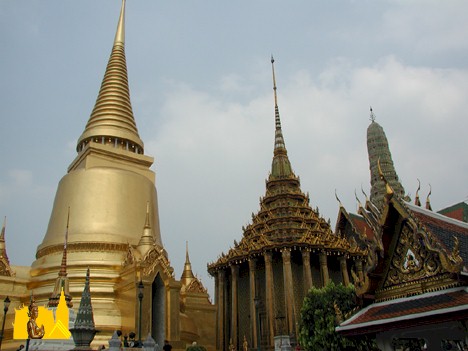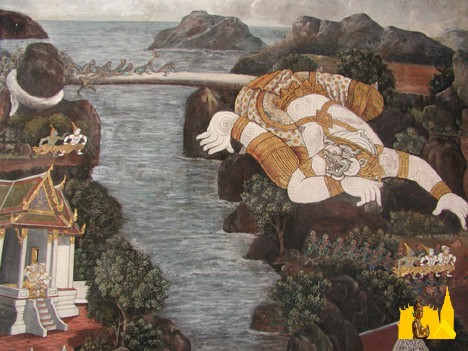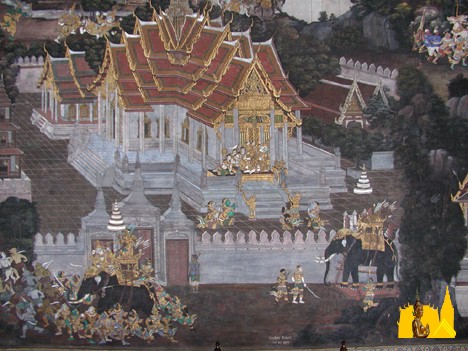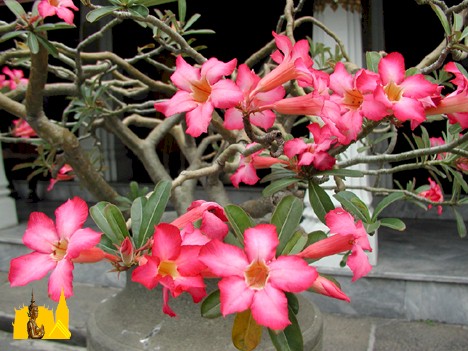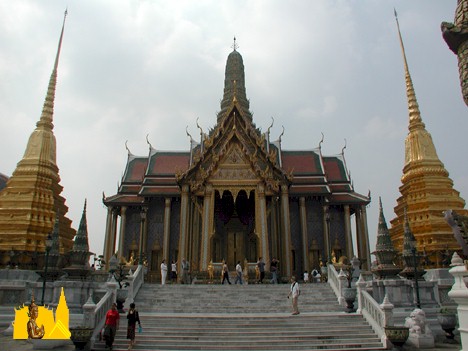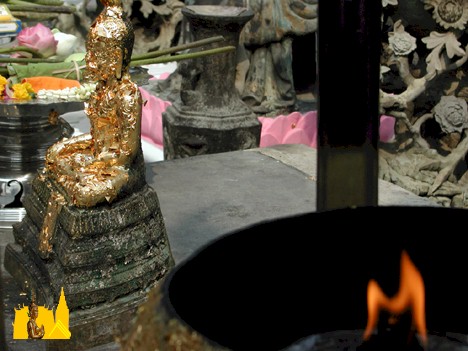 This is the shrine where Song and I made our offering for George.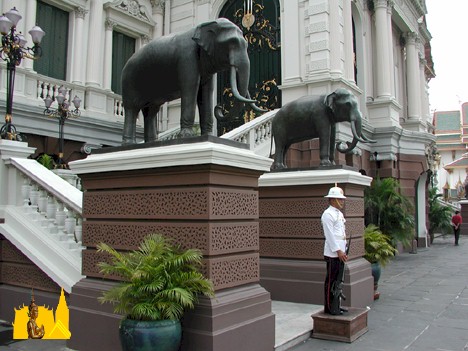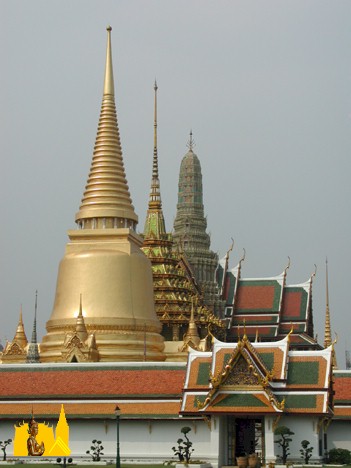 Somewhere in Wat Pho I realized the heat was starting to get to me. I must have fallen behind on my water intake. Itís a good time for some fresh squeezed lime juice and spring rolls so itís off to the Jim Thompson House.
Song thought the house was beautiful and took some pictures of the garden, but did not want to go inside. She said she was tired and wanted to go to the room to nap. No problem. Maybe weíll see monkey boy again!!
Before entering the hotel, we stopped at the Kodak shop to have Song's pictures developed.
At some time during the afternoon, Ricoman1 and I got a hold of each other on the telephone. We planned to meet at Big Dogs at 9PM.
I wanted to take Song to a nice restaurant so I decided to take her to Cabbages and Condoms. On the way, we stopped at the Kodak shop to pick up Song's pictures.
The outside tables at Cabbages and Condoms were crowded but the hostess managed to find us one. Again Song wanted to choose the food and did a superb job. It was fun to look through Song's photos as we ate. I had wondered if she ever used a camera before, but her pictures were quite good. Even though I stuffed myself, there was some room left for sticky rice and mango. If you havenít tried it, you must!
The food was fantastic, but the service was poor this night. The food was presented well, but then the staff just disappeared. It took forever to get the check and change back.
When we finally got out of the restaurant, it was a lot later than I expected it would be. There 4 or 5 tuk-tuks in front so I asked how much to Nana Hotel. ď100 bahtĒ was the answer. I countered with a 20 baht, and he with a 40 baht. Close enough for me, so we climbed in.
It wasnít the slowest trip down Sukhumvit, but it certainly wasnít the quickest. We finally made it to Big Dogs at about 9:40 and missed Ricoman1. I hate it when that happens. We stayed at the bar for a while and had a few drinks. You never know, he might pass by. But didnít that night.
---------------------------------------------------
Ommmmmm

Jai Guru