Strange Guy In Paradise -- Part 7

Strange Guy In Paradise – Part 7
I was awakened by the sound of some animal crowing.
I think it was an animal. I think it was crowing. The truth is that I have absolutely no idea what it was. It sounded more like a rooster attempting to crow as it was shaken by the neck by a rabid dog. A horrible sound indeed.
Shuffling to the window, I was surprised to see jet skis and para-sailors at 7:30 in the morning. Who are those people?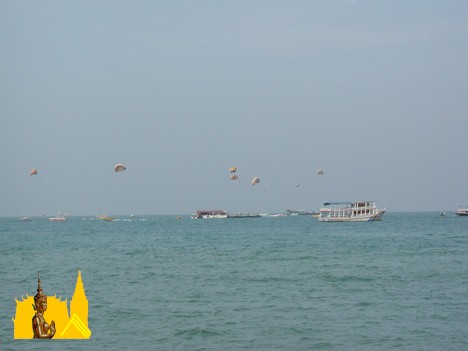 Slipping back into bed, I am struck by the sight of the soft morning sun illuminating Song's lovely face. I could get used to living like this.
40 winks later I am startled to be shaken awake by Song. Is the room on fire? Are we being attacked? The moment my eyes open she says, "I go shower now" and hops out of bed. When she's ready to go, she's ready to go! As it turns out, this is how she's going to wake me each and every time. Reaching for the remote, I turn on CNN to see what's new.
A nice thing about the Hard Rock Hotel is that the rooms have a pair of robes hanging in the closet. With only a little effort, I was able to get Song to wear a robe instead of that confounding towel.
When it's my turn to enter the shower, I smile as I notice it looked like Song had fun trying all the different soaps, moisturizers, and various goops the bathroom is stocked with. I hope she's having fun. I understand they're in it for the money, but they do give so much it's nice if we can give a little back.
As I shut down the shower and start to towel off, I can hear Song singing in the other room as she gets dressed. It is obviously a Thai tune, and very pleasant.
The breakfast at the Hard Rock Hotel is great. In addition to the standard buffet fare of fried rice, Thai noodles, scrambled eggs, and sweet watermelon. They also offer a pastry buffet, fresh fruit area, desert area, and an omelet station. And the whole thing is included in the price of the room. Song has a danish, coffee, and a glass of orange juice. I have three helpings of everything else. They also offer fried Thai potatoes -- pretty good.
We go back to the room to brush our teeth, and Song tells me she must go home to change here clothes. She asks if I go with her. I say, "Up to you." OK. She doesn't live far from the hotel so we walk there. There are a lot of dogs running around wearing t-shirts. What's up with that?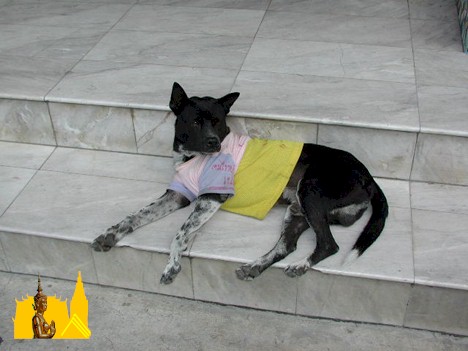 It is very neat and clean. It strikes me that maybe this isn't an apartment building at all, but perhaps an office building that decided to convert. The layout seems wrong for living but good for an office. Then again, this is my first Thai BG apartment building. Maybe it's my western prejudice.
Song changes her clothes and comes out looking like a Japanese punk girl, Udon Thani style. This is not good. She is a sweet girl, but I don't know if we'll be comfortable at the hotel dressed like this. I'm sure I won't. The idea to ask her to change was quickly nixed, as I didn't want her to feel insulted. I'll have to think of something.
But she is dressed well for a trip to the top of the hill and a visit to Big Buddha. We jump aboard a baht bus to rattle and groan up the hill. There would be a nice view of Pattaya from the top of the hill, but things are a bit overgrown. T hey are also building a new temple that kills the view from the existing lookout point.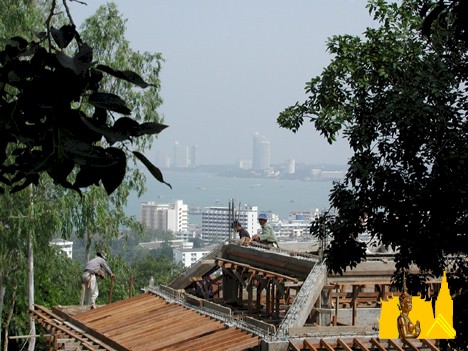 We climb the steps to the giant Buddha where Song stops and offers a wai. I ask Song if she wants to make merit, and she nods her head yes. The smallest bill I have is 100 Baht, which is handed to Song. The note is greeted with a wai, and then I get a big hug and a sniff before she turns to go into the temple.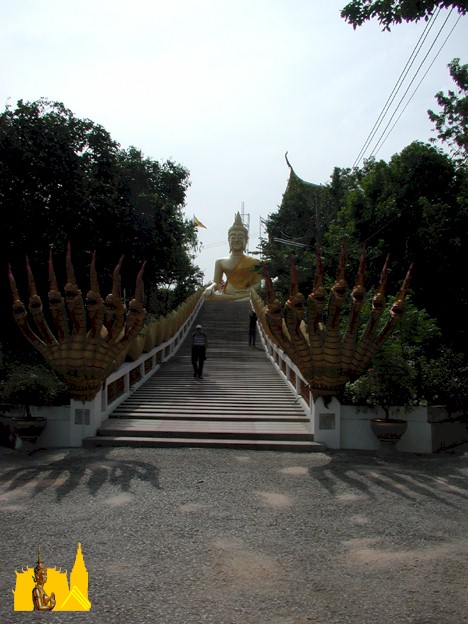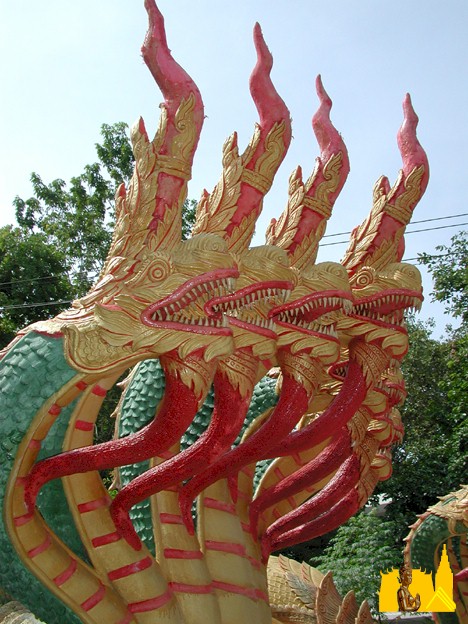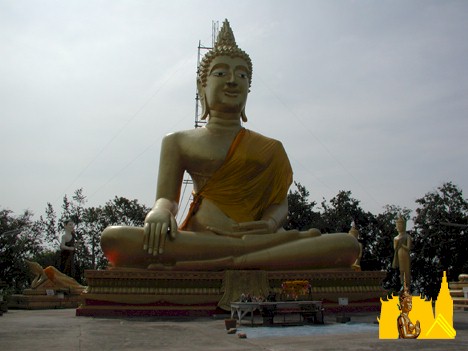 This is when Song starts treating me differently; from this point on she starts to take care of me. She was nice enough before, but from this point on she picks out my food, bickers with shopkeepers and taxi drivers on my behalf, and so many other little things it would be hard to list. But it does indeed feel different; it feels great.
On the way back from the Giant Buddha, I get the great idea to stop at Starbucks. I thought Song might like a Caramel Frappucinno; I know I would. The lovely girls behind the counter expertly make the drinks as Song finds us a seat on the rooftop overlooking Beach Road. It only takes a minute or two until I join her. I proudly set her Frappucinno piled high with whipped cream in front of her and encourage her to have a sip. Song takes a sip, makes a face, and asks, "Why you think I like this?" It is the same all around the world; the girls can cut us to the quick with just one sentence. I admit I don't know why, and just suggested it is sweet like her. I think that went over her head.
The thought occurs to me that we can do a little clothes shopping on the way back to the hotel. There are many little stalls that offer sarongs, tops, and wrap-around pants. As we walk down Beach Road a very nice floral pattern catches my eye. I ask her if she likes and she replies, "Up to you." We go back and forth a little, and then she understands we're there to buy clothes. She finds two ensembles she likes and I buy both. Of course her moon shoes won't work with her new wardrobe so we stop to buy some shoes. She picks out a nice pair of black heels that will go very well with the new clothes.
Last night on the way back to the hotel, I told Song the hotel had a very nice pool and we could spend some time lounging poolside. She said she didn't have a bathing suit, so we stopped at one of the beachwear stores to do a little shopping. I pointed to a couple 'sexy lady' bikinis, but Song wrinkled up her nose and said her "body no good." She picked out a nice black one piece, and that was good enough for me.
Back at the hotel we slipped into our swimwear, and Song wrapped a sarong skirt around her. She looked fantastic. We also discovered the pants were a little too long.
Song asked if it was OK if she exchanged the pants while I sat at the pool. At first I didn't care for the idea, but it did make sense. I was concerned the guards might not let her back in to the hotel, so I printed my surname and room number on a post-it note and handed it to her. Song thought the florescent post-it note was funny. As I walked her out of the hotel, I also showed Song where I would be sitting so there shouldn't be any problems.
Once she was gone, I was able to type a little at the Palm and then I got serious about relaxing. It was a beautiful day in Pattaya; not too hot, and not too humid. We were on the outskirts of a depression heading north, and I think that was helping to keep the temperatures moderate – although, it was a little windy at times.
As I was sipping my drink, I was treated to the sight of a beautiful Thai sea nymph with a perfect body rising out of the water. It was like a dream come true. Unfortunately, she was followed by a fat-@ssed farang women wearing a thong. What was that woman thinking? There are just some women that shouldn't wear thongs, and that was one of them.
Trying to look anywhere but in the direction of that fat @ss, I notice Song is bounding her way in my direction. She looks happy. Sitting down in a pool chair next to mine, Song emptied the contents of her shopping bag on the table and began to show me what she got in exchange for the clothes I originally purchased. Basically it looked like she was able to get two articles of clothing for each one I bought. Good for her! At first I was a little put off because it looked like the colors didn't match exactly, but her happiness was infectious. I didn't want to say anything that might make that lovely smile go away.
We ordered some more drinks and spring rolls, and had a picnic poolside. When the small feast was finished, we went up to the room for a nap.
A while later we awoke to the sound of a live band playing at the poolside stage. We ran down to watch the band and have more drinks.
The band loved to play. The band loved playing so much that when it was time for them to take a break they stayed on the stage and played along with the in-house recorded music... They also played a lot of Asian style Beatle covers.
We headed up to the room for another nap when the band finished for the afternoon. Just as the elevator doors were about to close, into the elevator shot a hand that was attached to the lovely lead singer of the pool band. I told her the band was good and I really liked her cover of "I'm Just A Girl." She seemed genuinely pleased to receive a compliment, and invited us to see her tonight at the Hard Rock Cafe.
A little sleep and a shower and we're off. Song is wearing one of her new ensembles. Song is very happy with the new clothes. I ask if we go pay bar now and get a confusing answer, but at the end there is indeed an "up to you." I interpret the answer as she wants to go to her bar later so she can make the maximum impression on her friends. No problem.
We talk a little about which restaurant to go to. I have two choices, but Song is not much help in the decision process as everything is up to me.
We jump on a Baht buss and go to Dee Prom. Dee Phrom is a few blocks inland from Beach Road. I wouldn't be surprised if most of the people visiting Pattaya never make it in that far inland, but it's well worth the trip. In fact, the Banana Bud Salad is worth the trip to Thailand alone!
I was the only farang in the place. The food was fantastic and was served to me with great care from Song. She picked only the most choice morsels to put on my plate, and made sure I didn't get too mut pet.
The sticky rice with mango for dessert was tempting, but I was stuffed. Song wanted to go pay bar, so we were off.
Although I don't speak the language, I could tell by the way the girls were fussing over Song, they really liked Song's new clothes. Song paraded around the bar, and her friends would stop her to make a little adjustment here, or tighten a bow there… It was nice to see Song enjoying herself.
Song ran off to pay bar and fill out her timecard. When she came back, she sat down next to me, and I bought her a Breezer.
A girl was walking around the bar with a handful of red envelopes; it was a lottery of some kind. Pay the girl 100B, pick an envelope, and win a prize. I paid the 100B and allowed Song to do the honor. We won a stay in the go-go bar's penthouse! Song didn't look too happy. I got the feeling that she didn't want to be known to be having wild monkey sex on the premises. The card that came with the prize showed a picture of the room and I must admit that even though it had a go-go stage in the room, the room wasn't quite up to the Hard Rock's quality.
One of Song's friends heard I won the big prize and wanted to try out the room. Song said, "No problem, you go with friend me." And with that her friend started pulling me by the arm to get me out of my seat. "No way!! I'm no butterfly!!!" I think the friend was happy Song wasn't with a butterfly; then again she really wanted to try out that room. Or was it my Tom Cruise good looks? I put the card in my pocket figuring it would make a nice souvenir.
So here I am sitting at a table with Song and just a few of her closest friends. Of course I bought her friends a drink – I couldn't let them go thirsty.
A tall Norwegian comes over and starts chatting up Song. At first I wonder what's going on, but they seem to know each other so it's OK. After a few moments he turns to me and apologizes for talking to my woman before me. He said he had tried to take Song out of the bar a few times, but she does not go with customers. He wanted to know why she went with me. I really didn't have an answer, except maybe it was my Tom Cruise good looks.
One other thing before we leave the bar: You might recall I met Song on the veranda, which means I have never seen Song dance in the bar. Quite a few of the girls were really impressed with that fact. Girls would come up and ask if that was true. When I said it was true, they would flash Song an OK sign. I started to wonder if Song looked at me differently because I hadn't seen her dance in the bar. Maybe I've just had too many beers. All these girls and all this booze can really do a number on a guy's head.
Song wants to look for another friend in a bar beer. No problem for me, I quite like getting the guided tour of Pattaya. We jump into a baht bus, and Song takes me to a huge beer bar complex in the north part of town.
Some of these beer bar complexes in Pattaya are pretty cool. They start with a huge lot and cram as many beer bars as then can into it, with only 3 to 6 feet between each bar. On top of that, each bar has their own PA system cranked up to 11, blasting music. A few bars even have live bands.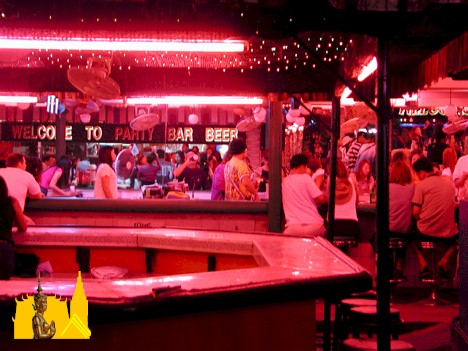 Can you spot the live band?
If you don't like the music being played at the bar you're at, you can just listen to the music being played next door. Some of the bars are so close together; all you have to do is spin around on your stool to visit the bar next door.
It's hard to describe the amount of energy in this place – it's absolutely electric. Music is pounding, lights are flashing, and girls are reaching out to drag you into their bar. It's great!
The bar we're going to is way in the back, so I get to see quite a few bars as we pass. Of course, scores of girls beckon me to favor their bar with an appearance, but sadly I must press on….
We find the bar and have a seat. There are about 5 or 6 girls working in the bar, and the 3 or 4 that are Song's friends run over to say hello. I order drinks for our little party of 5 or 6, and the girls jump into action – they run off to different corners of the bar to assemble our order. As they tore off, I wondered how each one knew where to go. Is one a beer girl, and the other a Breezer girl? In no time at all they were all back, and we were clinking bottles and chok dii'ing each other. One reached under the counter, and the next thing I knew we were all playing games. Song's friends were all sweethearts.
The thought occurred to me while I was sipping my beer and watching the girls take turns rolling the dice, that I have fallen in to a whole new world. In the past, I looked for and found mostly hard and fast girls. They were fine for the old slap and tickle, but could be described as a little mercenary at times. This new world is filled with really sweet girls. Maybe it's all an act. If so, it's all very convincing.
Around 1:30 the girls start to straighten up the bar. That's my cue to check bin and run; I don't want to be looking for a baht bus along with everyone else in the complex. I stuff some baht in the cup, nudge Song to hit the road, and give her friends a little tip. It was a fun night.
Song steps into the street and gives the baht bus the finger. It stops and we climb aboard. As I sit in the back relaxing in the cool evening air, I'm reminded of one of my favorite poems:
It's good to be a young man and live the life you please,
For a young man is the king of every kingdom that he sees.
And that's exactly how I felt that night.
---------------------------------------------------
Ommmmmm

Jai Guru