Strange Guy In Paradise -- Part 6

Strange Guy In Paradise – Part 6
I think it's about 9AM, and I need to change some money.
Different people have differing opinions, but I like the safety deposit box setup at the Nana Hotel. It's one of those old style safes where all the boxes are double-locked and visible to the lobby (so there's less chance of monkey business). I hand the woman behind the counter my safety deposit box key and ID, and she goes to retrieve my box. As she slides the box in front of me; an Australian walks up to the desk, tosses his room key on the counter, and says he has to check out.
She replies, "I'm sorry sir. Check out time is 2PM."
Shocked, he says, "No, I have to check out now!"
Co-workers are starting to gather behind her. Pointing at the posted check out time she said, "See? It say check out time 2PM. Please come back 2PM"
Growing more irate, the Australian bellows, "You don't understand, I have a plane to catch and I must check out now!!" With that, all the Thai's break out in laughter and the Australian realizes he's been had – Thai style. It was a beauty to watch unfold.
The plan today is to check out of the Nana and catch a bus to Pattaya. Over the last few days I have met some great guys and upon hearing that I'm headed to Pattaya they asked how; bus or taxi. "Bus," is my answer.
"AC, bus?"
"No, I'm thinking about taking the local bus."
Usually at this point they are staring back at me opened mouth and in disbelief, and ask, "Are you nuts?"
Hmmm… I didn't think so…. As I would relate my idea for a great adventure, they would just shake their heads.
I found 4 ways to get to Pattaya. I could hire a car (1800-2000B), negotiate a taxi (1200-1500B), take an AC bus (250B), or hop on a local bus (90B).
Taking the local bus would be fun, I thought. I would get to be with the Thai people and see places and things I might not see on the express AC bus. And that's exactly what everyone warned me about.
OK, so I changed my plans. I just couldn't imagine dragging my suitcase down to the Ekami station and trying to keep track of it on public transportation. The previous day, I went to the Nana travel desk and reserved a spot on the AC bus. I liked the idea they would pick me up at the hotel.
Thinking there's enough time to scoot down to World Coffee and check the Internet, I start off. The Loxinfo card continues to work like a champ -- Thanks again MikeM33607. It's starting to get a little low on minutes so when I'm done I ask the guys at the counter if I can add minutes. They say "the computer is finished" but I could buy a new one. I'm getting the idea that whenever something is broken, or they can't figure out how to work it – "it is finished." There should be enough time for one more session and decide to try again later.
I walk out the front door and turn left to go back to Nana Hotel. Passing the shops I notice there's a foot massage place. Last night after the main event, Gow started to massage my feet. That felt pretty good. A few of the guys had been recommending foot massages and the little episode last night tipped the scales. Hell, I've got enough time.
Entering the lobby, I noticed a girl behind a counter. I told her I would like a foot massage, and she showed me to a room upstairs. Most normal people prolly don't get foot massages this early in the morning – the massage girls were surprised to see me. In fact, I think I interrupted their breakfast.
As my girl was preparing things (and me) for the foot massage, the other girls were switching the TV back and forth between Thai MTV and what looked like Thai soap operas. One of the girls asked me if I liked Britney Spears. "She's very popular," I said. All the girls nodded and said they liked her too.
I recall reading in a thread one one of the forums that someone had said people either like a foot massage, or hate it. The thought did occur to me that; although a foot massage sounds like a good idea, I could get quite irritated having someone mess with my feet for an hour. Then again, watching a beautiful masseuse could make it bearable.
I ended up liking the massage, buy I prolly wouldn't go back to the same place as they like to inflict a little too much pain for me. I think the foot massage cost about 150B for one hour. At the end of the massage the girl lathered on different kinds of moisturizers and emollients that I could have prolly done without.
Checking the time as I leave the massage shop, I see I'll have to crank it up a notch if I want to make the bus to Pattaya. I shoot back to the Nana and quickly pack. As the Nana cashier hands my copy of the credit card slip to me, I notice a mini-bus pull in to the Nana parking lot.
The way the AC bus works is that passengers are picked up at their hotels in a mini-bus, taken to a large AC bus terminal somewhere (past Klong Toey I think) where different mini-bus passengers are consolidated on large tour busses for the trip to Pattaya. In Pattaya, the bus stops at a small terminal where the passengers are put in smaller groups to board mini-buses for the trip to their hotels.
The Nana Hotel was the last stop on the driver's list. Once I'm inside we hit the road.
The trip to the terminal was uneventful; save for one old sad man who couldn't stop talking. He reminded me of my Father before he passed away. Well, this old man was intent on burning the candle at both ends until the Reaper came. Good for him.
I think we waited at the terminal for about 45 minutes before the big bus came. There wasn't much to do but stay away from the old man, and stay out of the heat. One nice thing is that there is a little mini-mart at the terminal so one can buy water and snacks. I buy some wasabi-peas and cold water and make myself comfortable at an outside table. I also set up my Palm for a little while to try and get caught up on things.
The big bus does come, and everyone tries to be the first on board. The Thai woman checking the tickets won't have any of that, and makes it clear we will board when she says so. She checks everyone's tickets, and notes I'm staying at the Hard Rock Hotel. Cool, I get to board first.
I take a window seat, and put my carry-on on the seat next to me.
The bus driver looks like a little miniature Thai version of Mr. Buster Bloodvessel, the ex-driver in Magical Mystery Tour -- I ponder what I'm in for.
We passed a local bus on the way to Pattaya and it didn't look like the bus full of sweaty people crammed 3 or 4 to a row were enjoying the adventure at all -- I think I made the right choice.
Then again, about three quarters of the way the bus started taking on speed. Could we be going downhill? Looks flat to me. Mr. Bloodvessel was starting to tailgate. More than a few times he had to make some very hard slowdowns. He was also starting to weave in and out of traffic when he could; and sometimes when he couldn't, he forced smaller vehicles onto the shoulder. As cars ahead would attempt to enter the highway or change into our lane, Mr. Bloodvessel would threaten them with a blast of the horn. It was an enjoyable ride up to this point, but now Mr. Bloodvessel was driving the bus as if it were a tuk-tuk.
I noticed when we boarded the tour bus at the AC bus terminal there were already 8 -10 Thais on board. "No problem," I thought; "Thais need holidays too." But as we got closer to Pattaya, Mr. Bloodvessel exited the highway and began stopping at various barren dusty patches alongside the road to let the Thai passengers off. Is this normal for the AC bus? Was he trying to make up time earlier for this little side trip?
Finally the bus pulled into the Pattaya station. I would love to say that as I got off the bus, the salt sea air filled my lungs. But instead I was greeted by a similar smell as in BKK. It doesn't exactly smell like burning garbage or cremating bodies, but more like a mixture of burning peat and coal. I suppose anything could be possible.
I expected a snafu at the station but was happy to see that the bus operators actually put some thought into the transfer. They herded us off to our mini-buses, and loaded us and our luggage in reverse order of our exit. That is; Flipper Lodge people and bags in first because they would be the last to exit, and Hard Rock Hotel people (that's me!) in last because they would be the first to exit.
The girl handling things at the station was very impressed I was staying at the Hard Rock -- she made sure to tell all her co-workers. We had a just a short drive (I think - it was hard to tell because I was pretty excited), and then made a turn into a small parking lot with a guard station. We approach the guard station and the gate lifted, allowing us to enter a longer driveway through a lush tropical garden. There's more than a few oohs and ahs on the bus, tempered with an occasional "This place must charge a fortune!" As the mini bus pulls into the hotel entrance circle, I notice the hotel front doors open and out come three hotel employees. The driver wrenched my bag out of the mini-bus, as I was greeted by a waitress with a welcome drink, a bellboy who disappeared with my bag, and a personal assistant there to guide me through the check-in process.
The first thing the personal assistant does is hand me a paper and ask for my autograph. Guys, this is pretty cool.
As I actually enter the hotel, I notice it is a very nice place. If you're into the Hard Rock scene or rock-n-roll memorabilia, stop by and have a look. It's also nice to see that the Beatles are well represented here. I'm a huge Beatle fan and notice they have Beatle stuff everywhere! The artwork behind the reception counter is made up of many great rock-n-roll titles, but most of them are Beatle songs.
The check-in process is painless. Every time I have to sign something, they ask for my autograph. How cool is that?
My personal assistant sidles next to me and says she will show me to the room. There is a guard in the elevator lobby who when he notices us approaching, salutes me. Nice touch. We enter the elevator and with a few quick button pushes we're off. When we stop on my floor and the elevator doors open, a giant mural of the Beatles crossing Abbey Road greets me. Very nice.
I can't tell you how the rest of the rooms are decorated, but the Travel Fairies were on my side this time as I drew the Lennon/McCartney room. Again, very nice. The tub in the shower tub is about 3 feet deep! I think I'm going to enjoy my stay here.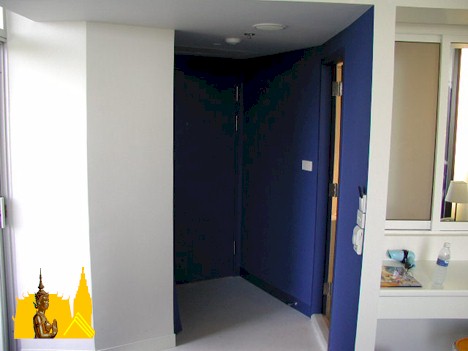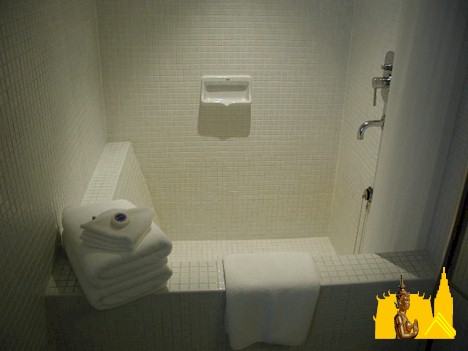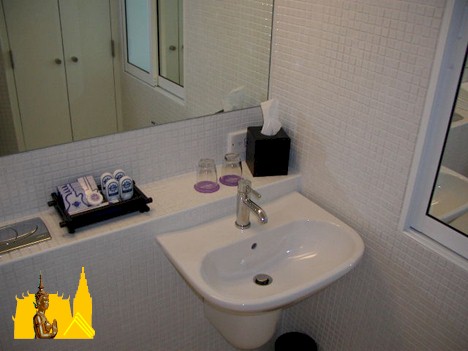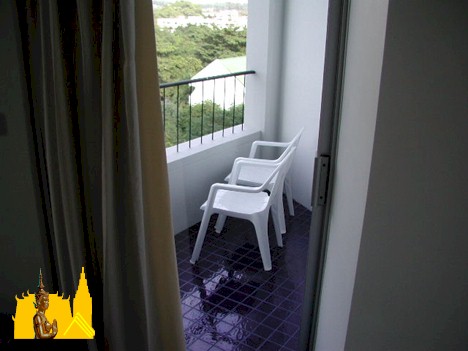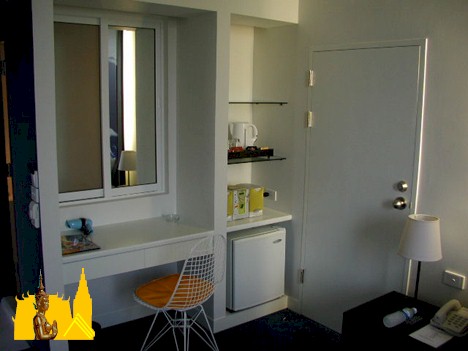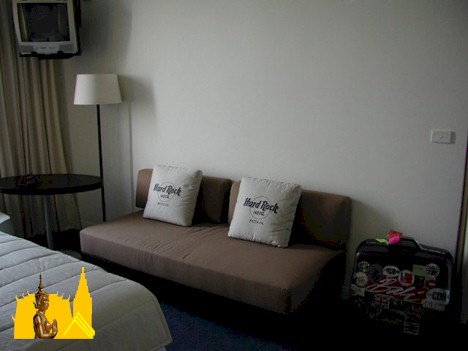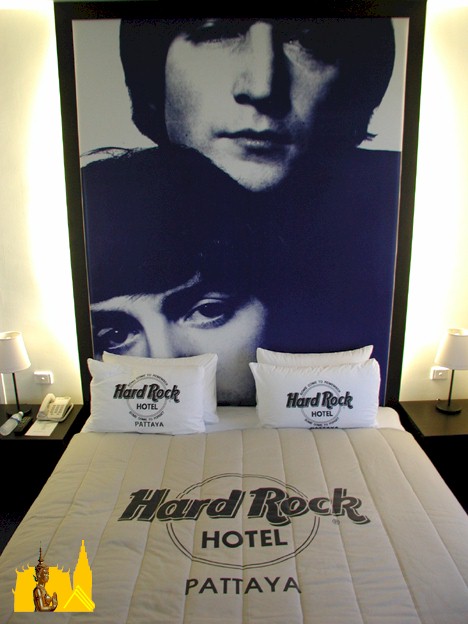 I walk around the hotel taking pics for a short while and I notice they have a business center and E-lounge. Kewl. I'm going to like it here just fine. You know what? I wouldn't be surprised if I was the only guest here!! There are people walking around, but they are all employees!!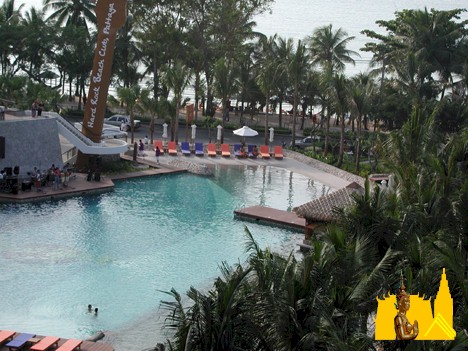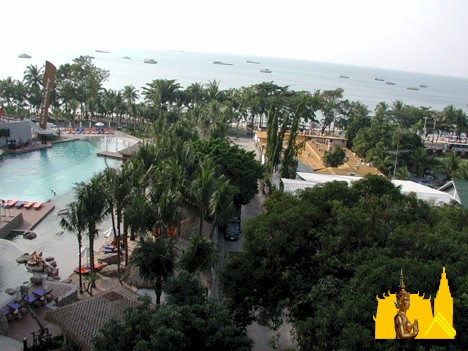 Outside they have a f*ck-off huge pool with an in pool bar, waterslides from the upper pools to lower pool, Jacuzzis and hot pool with waterfalls to the main pool, sand beaches at the pool, and a stage with a live band on the far side of the pool. Cabanas, chairs, tables, all kinds of stuff. I don't usually spend time at hotel pools but I figured I might get wet this trip and brought some trunks. I'm glad I did.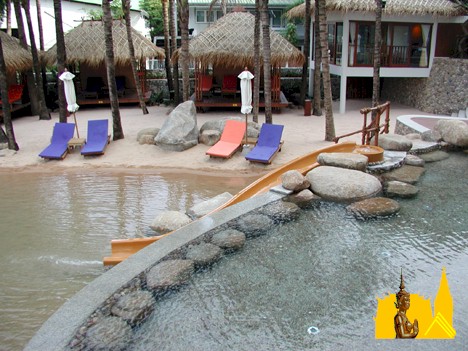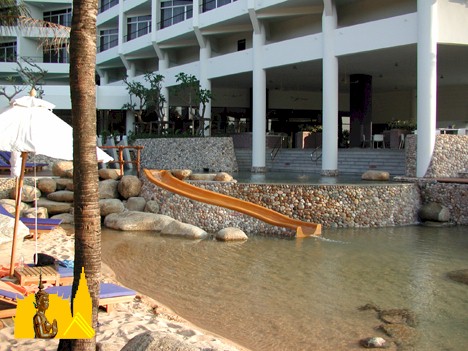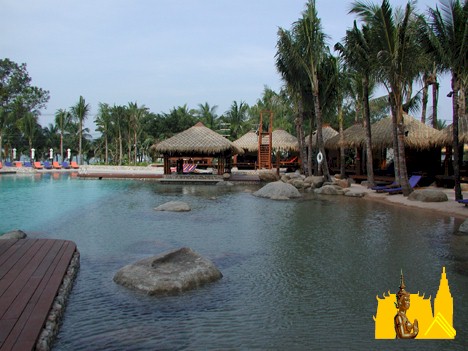 I stopped off at the Hard Rock store to grab some stuff for my collector friends back home, and decided to head off down Beach Road to scout out the place. I guess it was later than I thought; although still high in the sky, Pattaya was preparing to offer me a beautiful sunset.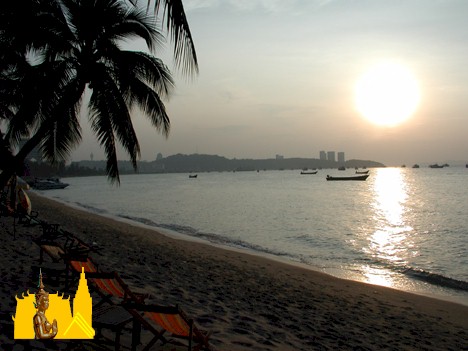 I walked and walked and passed a small restaurant named Alt Heidelberg. I prolly wouldn't have given it a second look (I prefer to eat German food in Germany and Thai food in Thailand), but the older hello girl was absolutely charming. What got me through the door though, was the grunkohl on the menu. Pinkle und kohl mit gurkin salat. Who could pass that up? OK, it wasn't the best grunkohl I've ever had, but it was better than I would have expected in Thailand.
After dinner, I continued my walk down Beach Road. As I started down Walking Street it was nice to see familiar bars from the Internet and forums. Towards the end, another charming older Asian woman invited me into her bar (Shang-ri-la I think) for a drink. It caught my eye because of the weird decorations so I promised I would be back. I turned around, walked back to Beach Road and turned right when I got to it. Then I walked to the next light and crossed the street.
OK, now I'm lost. I'm seeing things Mama never told me about. I keep walking and I'm out of that area. A few more blocks and there's a little side street full of neon. This looks like it could be fun.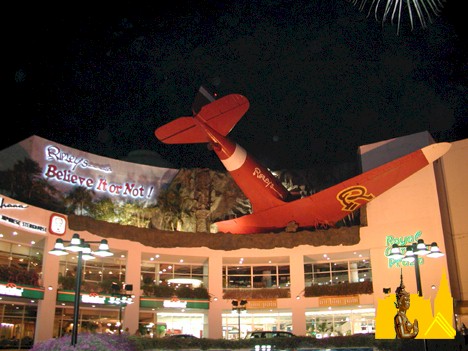 How did the sun go down so fast? I must have been enjoying my walk.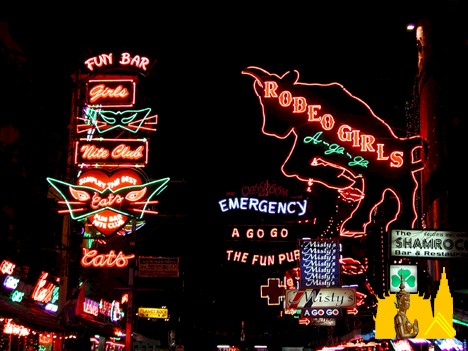 It looks like every bar has 3 or 4 hello girls trying to get my business.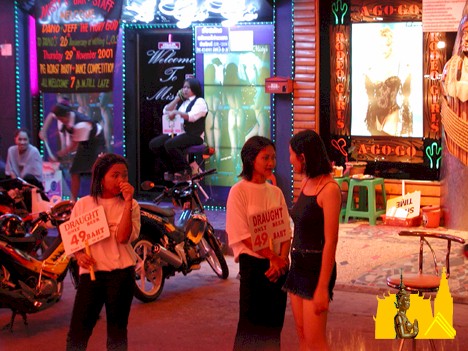 Some of the bars have a few seats outside. About half way down the street there's Cat AGo-Go. I like it because it has a few outdoor seats on a raised porch. Of course the girls that work there don't like the idea I'm not going inside. They say they have sexy ladies dancing, but I'm content to sit on the veranda sipping my beer. The word gets spread around inside that there's a ba bah bo bo farang sitting outside. Song, one of the dancers, covers herself with a sarong and comes out to spend time with me. She speaks English reasonable well and is pretty cute. Her smile lights up like a big Christmas tree when I offer to buy her a drink. I don't remember how much a ladydrink costs, but it looks like they're fruit juice in a champagne glass with an orchid floating in it. It looks like a nice touch for the girls.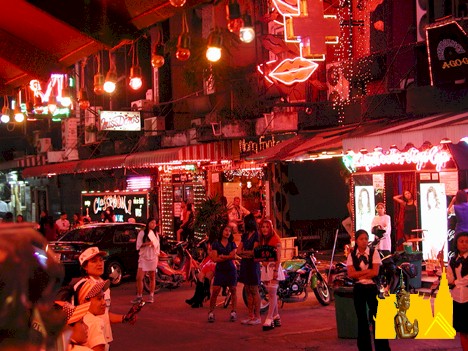 I'm really starting to enjoy Song's company, and it's starting to annoy me that she must leave periodically to dance. I throw caution to the wind and decide to pay bar. She is surprised and grateful, and runs off to change. She comes out dressed in a conservative top and pants -- she looks nice. My antenna goes up when she orders a Breezer as I don't want another episode like Neung's. I'll have to keep track of how much she's drinking.
I found out another reason the girls don't like where I'm sitting is that's where they eat their dinner. Dancers wrapped in sarongs sitting down to eat bowls of rice, noodles, and soup surrounded me. There was even a platter of durian! I motioned to Song, "What's that?"
"It good, you try," she says.
OK, I haven't tried it before but trying durian this trip was on my things to do list. The smell is indeed quite strong, but durian actually tastes good. Durian is one more thing to add to my list of things that taste better than they smell.
I see what must be a 300-pound hairy man, wearing a t-shirt and a kilt walking down the middle of the street. I point to him and say, "ladyboy farang!" Song searches franticly for what I'm pointing at, and erupts in a big smile and laughter when she sees him. "Ladyboy farang ladyboy farang!" she calls to her co-workers as she hops up and down pointing at the poor guy. Her co-workers were just as amused to witness the scene.
So we're both sitting on the veranda of Cats AGo-Go enjoying the sites and sounds of the streets when all of a sudden the lights flicker once, then again, then they go right out. Not just the lights in the bar, but the lights on the entire street!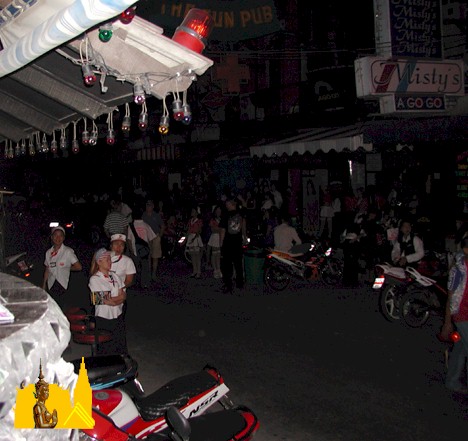 There's a great wail of the scores of hello girls as darkness envelops the street. Everyone is taking great delight in all of the confusion. The lights going off was a great reason to celebrate. Every once in a while I light my camera's flash. With each flash, the girls in the street let out with a great cheer. I wonder how many other times I've had such great fun sitting in the dark sipping my beer; precious few I'm sure. 15 or 20 minutes later someone must have paid the bill or plugged the street back in, as the lights came back on with a pop. The lights coming back on is another great reason to celebrate, and the street erupts in a giant cheer. This place is great!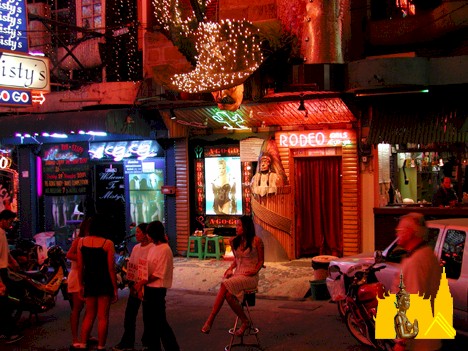 The sultry mamasan from the Rodeo Bar
We finish our drinks at the same time and I suggest we go for a walk. I would like to go Shang-ri-la's on Walking Street, and also find the Freelancer Bar. FLB will be having their 3rd anniversary in a few days, so it might be fun to stop by.
Shang-ri-la, although it looks like fun, isn't.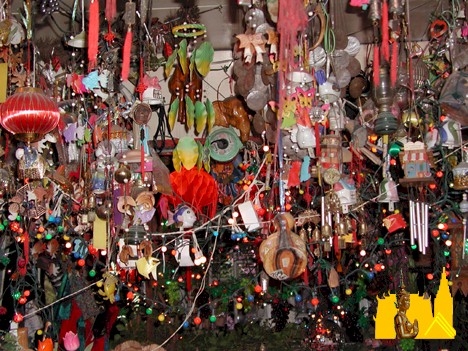 They played really bad Asian covers of old Country and Western songs. And if that wasn't enough, the woman that runs the place lets cats roam freely. A few moments after sitting down I realize why it's a bad idea to let cats roam freely – the place smells like cat piss. I take one sip of my beer, stuff some baht in the cup, grab Song's hand, and we're back on the street.
A few doors down we find another bar, grab a seat, and order more drinks. No cats, so no worries.
Song tells me her life story. She is 34 (really looks 18 or so to me), and is from Korat.
What is it about Korat? I think Song is the third or fourth great girl I met this trip that said they were from Korat. What do they feed the girls up there? Could that really be true? Are there that many great girls up there, or am I just lucky? I'm thinking Korat may deserve a trip. In Indonesia, many girls say they're from Bali but they're really not. They say it because they think foreign men like Bali girls.
Song has one baby (the father now dead), lived in BKK for 5 years where she worked in a factory, learned massage from a Wat Pho teacher, moved outside BKK and worked for another 5 years in a factory, lived in Pattaya for one year where she worked as a hair stylist and massage girl. A new owner purchased the salon, and the new katoey manager fired her because Song wouldn't go with customers.
Uh, oh…. I just BFed a cute looking go-go girl that got fired from her previous job for not going with customers. Visions of causing serious structural damage to the hotel room disappeared from my head.
I continued to listen to Song talk as I pondered what to do. She was a sweet girl and all, but I was expecting a little more from my vacation. Should I cut my losses and run? Was it my imagination, or was she getting a little friendlier after she heard I was staying at the Hard Rock? Sheesh….
Song got a job in a beer bar after getting fired by the katoey, but an old friend of Song's told her she could make more money in a go-go bar. She is required to work 8 hours every night, but she always shows up 3 hours early to take advantage of the optional overtime. Song said she got paid 31B per hour, but I couldn't determine if that was the base pay or overtime pay. It could also be that there is no overtime uplift, just the opportunity to work more hours for the same wage. Song also takes in wash. She is trying to save as much money as she can so she can open a styling salon.
Aw, hell. I'm getting old, and it's getting late. I decide to leave it up to her, and ask Song if she would like to go to the hotel. Her eyes widen in excitement, and she eagerly nods yes. This time I don't think it's my Tom Cruise looks, but the lure of the Hard Rock Hotel that has her interested.
As we walk to the street, I notice one of my toes is starting to feel funny. I'm starting to think I should have washed the moisturizers off my feet at the foot massage place. I'm getting a blister. Great, just what I need.
I make the mistake of hiring a taxi instead of taking the baht bus. As the taxi enters the driveway, I notice Song's eyes are fixed on the hotel – she is obviously blown away by it. Hey, I was too when I first pulled in. Entering the hotel, I get a kick that her head is bouncing around trying to look everywhere at once. She falls a step or two behind, but scoots up next to me and leans into me with her shoulder so she doesn't have to look where she is going.
The Hard Rock has electronic room keys so there's no need to stop at the front desk. We turn the corner to the elevator lobby where the guard snaps off a smart salute, enter the elevator, push a button, and we're off. When we step out of the elevator, I introduce Song to George, Paul, Ringo, and John, and show her around Soi Abbey Road.
Unlocking the door, I hold it open to allow Song to enter first. Song steps to the center of the room and drinks it all in. It's easy to se she is thrilled. I walk past her and open the curtains, and she runs over to place her face against the glass so she can see the view of the pool at night and of the ocean.
This is my first trip to Pattaya so I can't tell you what the rooms are like in other hotels, but I've got a feeling they're not quite like the rooms at the Hard Rock Hotel.
A flower is a funny thing; if left to bloom naturally it can be very beautiful, but if one tries to force it open they are usually left with a mess.
I wonder if Song will bloom for me.
---------------------------------------------------
Ommmmmm

Jai Guru