Strange Guy In Paradise -- Part 4

Strange Guy In Paradise – Part 4
Neung made it to breakfast, so it's LT. I think she is starting to grow on me. Before we started to breakfast, I asked Neung if she would like to go to Pattaya with me. She said yes, but she would have to think about it. What kind of answer is that? Fair enough. I can't always run off at short notice either.
I know, I know, it's a bit like taking sand to the beach but I was growing accustomed to this sand.
We found MikeM33607 at the Nana Hotel breakfast buffet, and with a little chair and table jockeying, joined him.
We talked about what we should do that day, and I was surprised to learn that Neung hasn't been to the Golden Mount at Wat Saket. Neung has lived in BKK for over 5 years, and really didn't even know where it was. But it was Neung's birthday, and she was very excited to be going to a special Wat.
As it turned out, the taxi driver didn't know where it was either. Luckily I had my Groovy map ( http://www.groovymap.com ) that showed where the Mount was located and included some information in Thai script. Studying the map for 2 seconds, the taxi started with a lurch and we were off.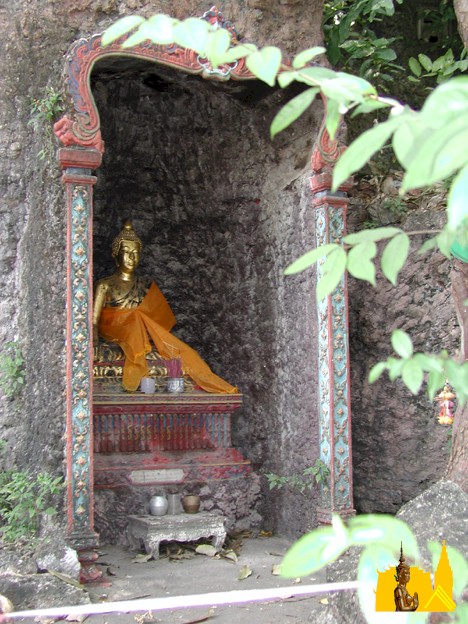 They say there are 318 steps to the top of the Golden Mount; and one day I shall count them, but not today. About a third of the way there is a small shrine on the side. Neung wanted to make merit so I gave her a little baht to put in the box. She carefully selected some incense and held them in her waied hands as she said a short prayer. She then lit the incense and placed them in the incense urn. When she turned around she had such a big lovely smile on her face, I made a mental note to help her make merit any time she wanted. That smile was a delight to see, and worth every baht.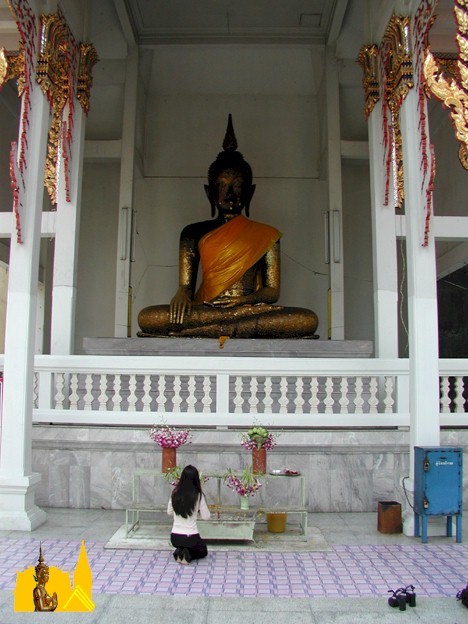 Two-thirds of the way up are the bells. I don't remember the story behind the bells, but the custom I've observed is people walk by with their arm outstretched grabbing the clanger and ringing each of the 8 or so bells on their way up the Mount. Of course each of us had to ring the bells as we passed – I felt sorry for the neighbors.
At the top, there are more shrines where merit can be made. But Neung wanted to use her own money for this one. She purchased one of the merit kits (flower bulb, incense, candle, and gold rubbing paper) and a bottle of lamp oil. Song was poetry to watch. She held the bottle of oil in her waied hands as she said a short prayer to herself, and then gracefully poured the oil into the eternal flame. And again with each item of the merit kit, she would say a short prayer to herself before making her offering. I can't tell you how many times I watched her do that, but I can tell you I never got tired of watching her.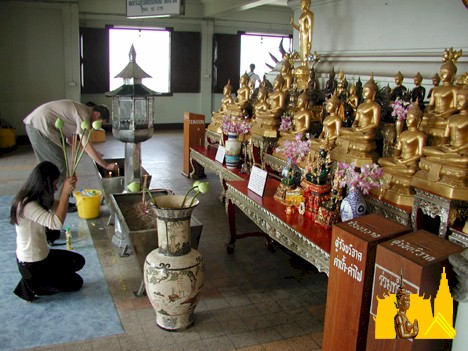 Neung took my hand and led me deep inside the Golden Mount to make merit at a special Buddha.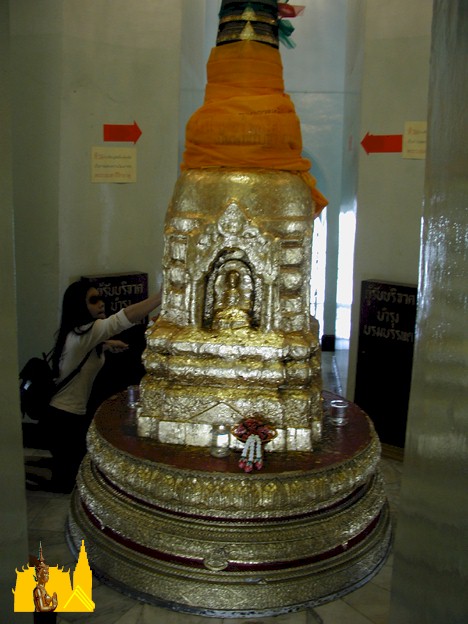 Now it was time to go to the tippy-top. I understand the mount was made with 10,000 logs and was one of the highest points in BKK for hundreds of years. Still today it is a good place to see some unique views of BKK.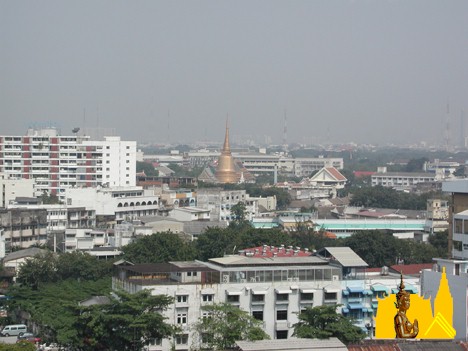 MikeM33607 hadn't seen it yet, and Neung really wanted to release some birds so we jumped in a tuk-tuk and were off to Lak Mueng. We all got merit kits, but I gave mine to Neung so she could make double merit and I could take some pics. Lak Mueng had many more worshipers making offerings, but Neung stood out in the crowd. She moved just a little slower and more gracefully than the average person there. Every move was made with great consideration.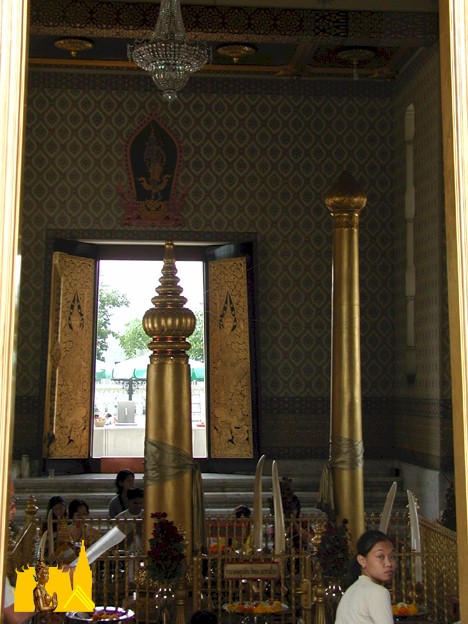 The City Pillar at Lak Mueng
Even when we released the birds, they knew to fly out as Song held the cage in her waied hands. MikeM33607 and I couldn't shake the cages hard enough to get the birds out. Poor MikeM33607 ended up with one of the bird keepers clapping behind him as a final effort. We may have looked like a couple of dopes, but there were smiles and laughter all around.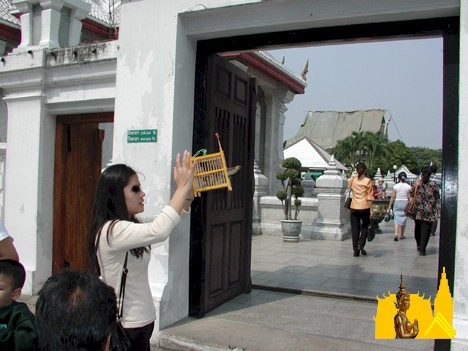 Can you see the bird leaving the cage?
We jumped in a tuk-tuk to go to Starbucks at Siam Center for a cold Caramel Frappuccino and would decide there if we should go on to the weekend market at Mo Chit or take a tour of Jim Thompson's house. The tuk-tuk ride was speedy, that is until we got to National Stadium where the traffic stopped us cold.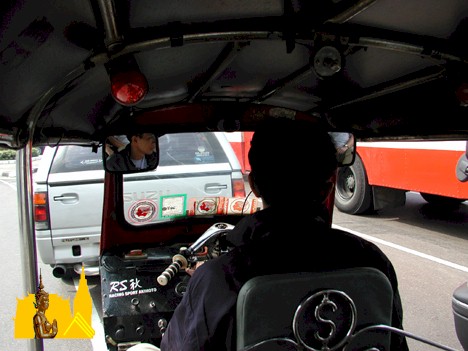 I noticed there was a Scout Jamboree being held at the National Stadium. Having been a Scout I thought that was cool, but wondered how BKK would have affected me had I discovered it at 13 or 14.
After about 5-10 minutes all the vehicles around us began to turn off their engines. That was nice of them, but I figured it meant we wouldn't be going anywhere soon. National Stadium? That sounds familiar. I poked my head out of the tuk-tuk, looked up, and sure enough -- saved by the Skytrain station! To hell with the traffic, we're going to bail out of the tuk-tuk and take the Skytrain to Siam Center. Of course a taxi cab was stopped too close for us to be able to exit the tuk-tuk, so I knocked on the window and was able to convince the taxi driver through hand gestures to pull up all little. After paying the tuk-tuk driver, we stumbled up the curb with me running head first into the sign for the Jim Thompson House! I remembered that the House has a nice little outside cafe where we could enjoy some fresh limejuice and snacks. That sure beats Starbucks!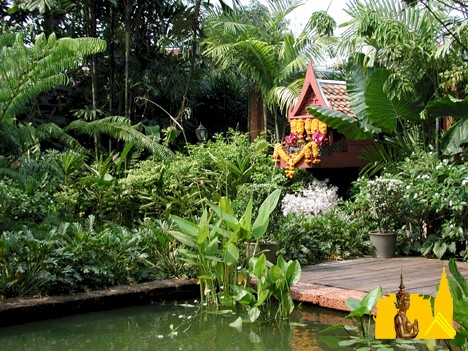 While MikeM33607 and Neung enjoyed fresh squeezed juice and spring rolls, I picked up some tickets for the House tour. As I've been in the house before, my plan was to let them take the tour as I wandered through the garden taking photos. Neung looked scared as I handed her the ticket. "No can go," she said. "I Thai, I not allowed." Could that be true? I showed her the brochure that came with the ticket was written in Thai script, so it must be OK; but "up to you." She examined the brochure for a moment, watched the people returning from the tour, and decided it would be OK.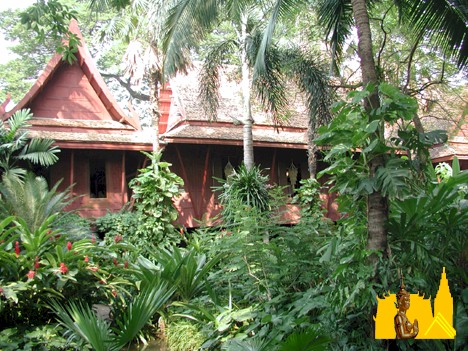 They began the tour, and I began taking photos. It was great fun.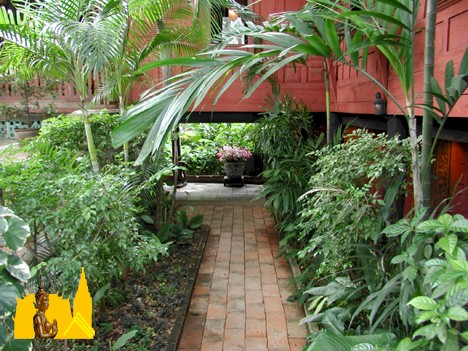 When it was all over, we all volunteered that we were beat. We wanted to go back to the hotel for a little rest. We were prolly at the house for around 90 minutes, but it didn't look like the traffic had moved much. I suggested we hit the Skytrain. You can't beat the Skytrain if it happens to be going where you're headed. There are no traffic worries, and you travel in air-conditioned comfort. Watching all the girls in the tight fitting short skirts doesn't hurt, either.
A quick shower and into the sack, but no rest yet for the wicked. Damn these Tom Cruise good looks of mine! We awake a few hours later and talk about what we should do. We wanted to go to dinner, but should we pay bar first? Neung said she wanted to go home to change clothes, she expected she would be at the bar by 7PM. Made sense to me. I told her I would meet her at the bar and pay fine.
Neung took good care of me, and she was really starting to grow on me. It was so nice to be spending time with a sweet girl instead of the hard and fast go-go girls I usually pick. While Neung was in the shower, I put a generous amount of Baht in her purse. When she got out of the shower, Neung noticed the Bhat and counted it. She didn't say anything, but the look on her face told me she was disappointed. I wonder what she was thinking. I thought the amount was generous; is she used to getting more? I walked her to the door where she gave me a sniff, and I said I would see her at the bar.
I still had time for 40 winks before I was to meet MikeM33607 for dinner at Cabbages and Condoms. A few moments before we were supposed to meet in the Nana lobby, I ran to NEP to bar fine Neung. "Neung not here," said the Mamasan. No problem, I might have been a little early, or she may have been a little late. I have no idea where her room is; maybe it takes a while to get back and forth in the BKK traffic. She may also be packing a bag for the trip to Pattaya – that would be nice.
MikeM33607 and I got off the Skytrain at the Asoke station and easily made the short walk down Soi 12 to Cabbages and Condoms. It was just a little humid so we thought it would be nice to eat inside where it was air-conditioned. We ordered way too much, but somehow managed to eat most of it.
Not just a worthy cause, Cabbages and Condoms ( http://207.5.19.165 ) is a fine restaurant. The food was ordered "mai pet" and was delicious. I give the place 5 stars! My only complaint is that they brought the food in no particular order – as many Asian restaurants do. I would have preferred they brought the appetizers out first, but considering the big picture it wasn't that much of a hardship.
We were stuffed when we left and thought it might be nice to walk it off on a stroll down Soi Cowboy. We stopped in Long Gun where we were surprised to see who must be the oldest go-go dancer in BKK. Does anyone know her story?
All the girls were smitten with MikeM33607. They would all flash their eyes and him from the stage, and when they finished dancing they would come and sit in front of him. He must have had other plans, because somehow he got out of the place with out BFing any of them.
Back on the street, MikeM33607 suggested going back to the Painter bars. A girl at Napoleon's had captured his fancy, and he wanted to BF her. She was indeed a very attractive girl. MikeM33607 was considering a night on the town with his little friend, but I wanted to get back to NEP to BF Neung. After picking up his friend, we hailed a cab back to Soi See and said our goodbyes in front of NEP.
MikeM33607 was a good guy to run around town with; he had a hearty laugh and was quick with a pun. It would be great to meet up with him again to tip a few.
With a bounce in my step I went straight to Playskool. Ducking through the curtains, my eyes went to work getting used to the darkness as I looked for a seat. Sitting down I ordered a drink and asked for Neung. The drink came, but no Neung. "Mamasan say she no here." Well that sucks. I was looking forward to seeing her again. At first I jumped to the conclusion someone else beat me to the barfine. A few thoughts later, I remembered she did have a little to drink last night (maybe too much again), really didn't get much sleep, and she did say it was her birthday. Thus I chose to believe she was prolly healing or celebrating.
I went back to a bar where I've had great luck before, and thought to have a beer and watch the dancers. I was surprised when two girls walked up and asked me to BF them even before saying hello. That's a new record for me! "You barfine me and sister me, we let you do everything." "F*cky, s*cky, and you do she buh."
I get to do everything, huh? I always expect to do everything. Even when I don't get to do everything, I expect I will.
What's buh? I must have thought that out loud because the quiet one turned around, raised her skirt a smidge, and waved her little tush in my direction. OK, I get the picture. I ask you, who could say no to that? Not me, that's for sure. I take out 1kB and hand it to the talker to pay bar. The both look at each other and scamper off to change.
Back at the room the Quiet One heads for the shower as the Talker and I start to undress. A short time later, the Quiet One exits the bathroom with a towel welded around her as the Talker leads me by the hand into the shower. We have a pleasant time in the shower with the Talker making sure I'm squeaky clean. We exit the bathroom to find the Quiet One in the sack.
When we hop in bed, the Quiet One heads south, while the Talker heads north. After a few moments the Talker asks, "How much you pay?" It seems like a strange time to discuss business, but I tell her what a ST was worth to me. She crinkled her cute little nose and said, "No, no good." I said if they were good girls, I would give them a tip. I must admit I lowballed them anyway expecting they would want more. The Talker was happy to hear that, and they both increased their efforts.
Today's story has a happy ending with the two girls gamboling down the hall, as I switch off the light and roll over to enjoy a night's sleep.
---------------------------------------------------
Ommmmmm

Jai Guru