Strange Guy In Paradise -- Part 1

Strange Guy In Paradise -- Part 1
November 2001
Some may find these reports a bit boring. Thereíll be no stories of tongues up anyoneís @sses, or being assaulted at Edenís by a pair of girls with strap-ons. If that is what the reader is looking for, I suggest they forget about reading the rest of the series.
Secondly, I would like to thank all that have gone before me and posted on the forums. I've been reading various forums for a long time, and it has helped keep the BKK Blues away. Then again, sometimes it just made them worse. Even though this isn't my first trip, I have learned a lot from the boards. I'm looking forward to putting some faces to the names, and buying a few beers.
Packing -- I am fortunate that I have a job that requires me to travel quite a bit, so you can imagine I have packing down to a fine art. It starts by opening my suitcase and tossing it on the bed. Then I flop down on the bed next to it and say, "I don't want to go" over and over again. Every so often I'll add an "I hate to pack" just to break up the monotony. After a few hours of that I'm pooped and go to sleep hoping the travel fairies will pay a visit and pack my bags for me. They never do (some one please remind me to make an offering at the NEP shrine). I always awake disappointed and in a panic. At this point I'm usually behind schedule so I just pick up an armful of clothes and toss them into the suitcase. Oh well, it will all work out when I get there.
But this trip is different as I'm packed a good 24 hours before my flight is scheduled to leave! Could this be a good omen, or is it a bad omen foretelling the airline will lose my bag?
Check-in -- The plan was to get to SFO early to allow for the added security and Thanksgiving traffic -- I figured 5 hours early should give me enough time. The truth is I didnít have much choice as thatís when my ride could drop me there.
As I sat in the new International terminal at SFO and waited for the NWA counter to open. I had to smile as I watched the fog role in over the San Bruno hills; I wonít miss the fog for a while. It's starting to hit me that I'm really on my way back to the Land of Smiles.
The counter did open, and only a half hour after they said it would. No worries, I have lots of time.
I've complained for years about the lack of security at US airports. I was hoping to see greatly improved security after 9/11, but was disappointed. I think the US airports still have a way to go. I was not impressed with my pre-check-in interview; in fact, I was confused. They should not be using people that don't speak English well as airport security screeners.
Money Changer -- I usually like to change some money before take-off so there is a little something in my pocket when I touch down. It seems SFO raised the rent and chased BoA out of the airport. Travelex is the new money changer at SFO and gave me the worst rate I've ever had; only 4000THB for 111USD. I would have been less pissed if the moneychanger in front of NEP ripped me off for 500THB. I hope Travelex makes the best of it because it will be the last business Travelex ever gets from me. Even the front desk at the Nana Hotel has a better rate! Travelex sucks. Travelx sucks. Travelex sucks.
I'm getting the growlies. SFO has a nice little sushi bar in their food court which makes for a great snacky-snack before take-off, but at 9AM I don't think I'm ready for sushi so settle on a wood fired personal pizza instead. I have to laugh as I pass the Chinese and Japanese food shops and the cashiers call out their hellos. Could they be ex-bargirls? There would be a lot more of that where I'm headed. Woo-hoo!! Travelex sucks.
The flight was scheduled to leave at 12:30 out of San Francisco. There was a fueling problem so we left a little late, but the captain promised to make the time up in flight. I expected a few empty seats, but this flight was less than half full. Iíve got a whole row to myself; so later Iíll wrap a seat belt around me and lay down to get some rest. The cabin crew is really doing a great job trying to make everyone happy. So far, this is one of the best NWA flights I've ever had.
Considering the discounts airlines are giving, I should think more people would be flying. It looks like I'll have to do my patriotic duty and buy another ticket to Thailand as soon as I get back home. Travelex sucks.
We arrived at Narita on time, and the transfer was uneventful.
The flight from Narita to BKK was packed. A few of the flight attendants were Thai, and it was nice to hear that lovely "kaah" again. I can't imagine ever getting tired of that.
About halfway to BKK, a Japanese gentleman decided it would be a great idea to enjoy a cigarette in the lavatory. Needless to say it caused a little in-flight entertainment. I will say I was disappointed that NWA did not press charges.
Touched down in BKK at exactly 10:45PM. My seat was close to the door and I was one of the first off the plane.
Stepping from the plane to the landing stairs is a difficult one to describe; it's much more that just a step. All at once it hits me; I see Bangkok, I smell Bangkok, I feel Bangkok. I'm back again!
The bus fills up and we're off to Passport Control. I'm off the bus, sprint up the escalator and head for the Passport check. That's weird; I'm the only one here? That's cool, no line!! I hand over my passport with a Sawadii Krap, and pick it up with a Kap Kuhn Krap. I'm the first one down the stairs and I'm waiting at the luggage carousel. And waiting, and waiting. There seems to be some problem with the equipment, and we're told it will be a little while before the bags get here. A little while? How long is that? I've got places to go, and things to do!!
The luggage carousel a.k.a. the great equalizer. One could be the first off the plane, and the last out of the airport because of the confounded luggage carousel. I fly a lot and often First Class with my bags marked for special consideration, but I've never had my bags roll out first. I've even been the only passenger on the plane and still my bags didn't come out first. I'm hoping this time will be different, but it's not.
But they do come out eventually, and I'm off to the taxi stand. With a quick, "Nana Hotel, Sukumvit Soi See," I'm sitting in the back of the taxi and we're off. Damn, I'm really here. Not bad; touched down at 10:45 and sitting in the taxi at 11:30. I've done worse.
Arrived at the Nana Hotel. Taxi fare was 143THB plus airport fee and tip. I was worried because my room is on the 3rd floor, but they said it's a new room so I agreed. And it is a new room. I'm happy to report that there were no bugs in my room, and no cigarette burns in the carpet. I think they've even improved the TV selection by offering CNN, BBC, ITN, MTV, DW, HBO, and a couple of sports channels. Nice for the price, but I can hear the disco. Oh well, right now I just don't care. A fast sh*t, shower, and shave and I should be out the door. Damn, I forgot my razor. No worries, I can buy one at a mini-mart.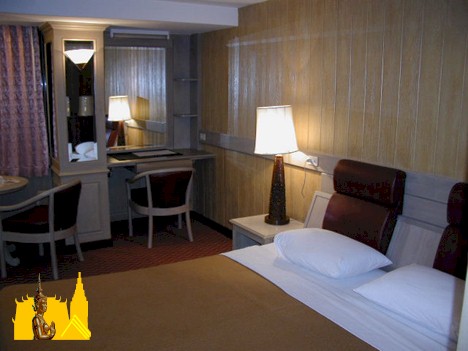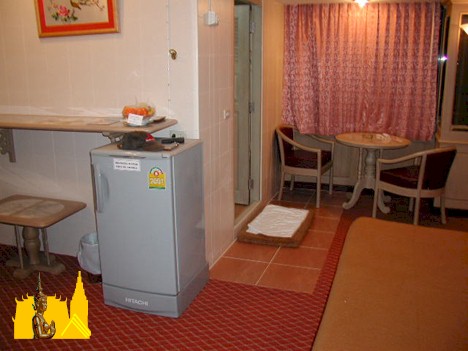 It's hard to tell, but that's a complementary fruit basket
on the shelf above the refrigerator.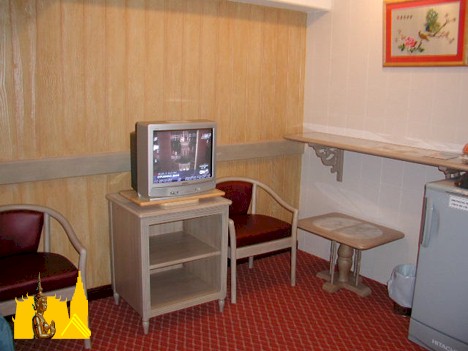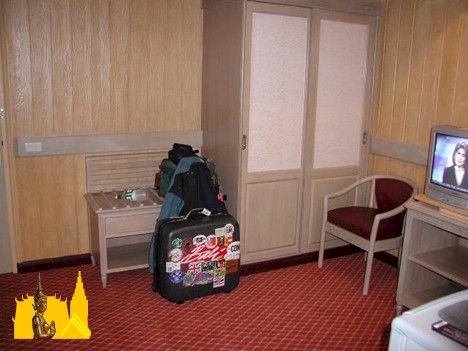 That suitcase has been more places than most people I know.
But if you think that is a lot of stickers, you should see my other suitcase!
As I exit the elevator on the ground floor, all I see is lovely smiles and little waves. Obviously they're mistaking me for Tom Cruise again. I toss my key in the box and I'm out the front door. I'm getting the growlies again so I head off to Woodstock for a burg. As I cross the street and start to enter NEP, I'm surprised at the touts trying to get me to go to a massage parlor. It must be a tough way to make a living. I like a massage as much as the next guy, but I shouldn't think people entering NEP are interested in massages; at least at the moment. As usual I forget to wai the shrine -- little wonder the packing fairies don't help me once in a while.
I ride the escalator to the second floor and am helped off by two energetic hello girls from the Rock Hard. I enjoyed the Rock Hard in Phuket so I am agreeable, but when I ask if they have food they say, "Go to Woodstock, but come here after." They looked a little disappointed, and I'm sure I did too. I'll put the Rock Hard on my list.
OK, turn left, being careful to sidestep the drunks weaving down the walkway, just a few more steps, and I swing open Woodstock's front door. I walk in and feel at home with AC/DC on the stereo and a girl playing pool. A girl at the front door leads me to a seat at the bar and hands me a menu. I order a burg and a Kloster.
I always order a burg at Woodstock, and I donít know why. Many posters on the board say Woodstock burgers are the best, but I donít care for the spices they add to the meat. The regular burg isnít spicy; it just tastes different Ė like allspice. Tradition, I suppose.
I think to myself, "it's good to be back" as I spin around in my chair to watch the girl play pool. She's not bad, much better than I am. I guess I won't be putting my pool shark moves on her! She makes some good shots, and blows some easy ones. I always wonder about that. When she misses, there is great wailing and laughter. It looks like they're having fun.
When my burg arrives, I decide it might be nice to eat it outside. I ask and they say it's OK. So a gal picks up my plate and I'm moved to the balcony. It's like a carnival outside; strains of music drifting in and out from different bars, laughter and screams from 3 floors of girls, and neon everywhere.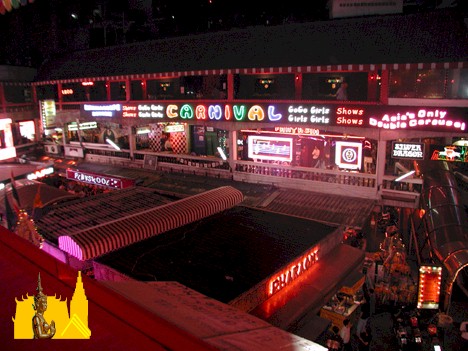 I seem to have caught the attention of a couple katoeys. Damn these Tom Cruise looks of mine. Can't I ever enjoy a burg in peace? The pair seems to be moving my way one chair at a time. I never actually saw them switch chairs, but I swear they're getting closer. This is not the way I want my evening to turn out. I finish the rest of my burg in one giant bite, slam the rest of my Kloster, put some baht in the check bin, and hand the cup to a Woodstock girl. The tip was nice, but not enough to upset Stickman.
I head down to a beer bar on the ground floor to look for a girl from my last trip. Mamasan says she remembers me (how many Tom Cruise look-alikes could she get in her little bar), but sadly the girl isnít there. Damn, I should have married her when I had the chance. Oh well, there are more fish in the sea.
But not for me tonight. With a belly full of food and beer, I stumble back towards the Nana Hotel. If I can't have the girl Iíve been dreaming about for the last few months, I'm quite happy to sleep alone tonight.
Then again, maybe a massage would be a good idea....
Travelx sucks.
---------------------------------------------------
Ommmmmm

Jai Guru