The Right Place
In The Wrong Town
-- Part 1

The Right Place In The Wrong Town
~ or ~
Big Boy And Baby Bear Do Hannover
If one travels the world on business, sooner or later they're bound to find themselves in Hannover, Germany; City of Fairs. Hannover is a major industrial, commercial, and transshipment center, also serving as a vital rail and road junction in northern Germany. Manufactured goods include iron and steel, tires, machinery, and motor vehicles. The city is the site of a noted annual industrial fair (Cebit held at Hannover's Messe), the world's largest, held every April. Hanover is the seat of technical, medical, and veterinary universities and several museums. The city has numerous parks and gardens, including the site of Expo 2000, Germany's first international exposition.
Prostitution is legal in Germany, and luckily for some of us there seems to be quite a few houses stocked with Thai girls.
~
There's a young colleague I work with that is interested in a trip to Thailand. His nickname is Baby Bear or just The Boy. He's read with great interest a number of trip reports and is looking forward to his first trip to the Kingdom coming this November. As fate would have it, we found ourselves in Hannover on business, and I figured it would be a good time to introduce him to a few Thai girls.
After sufficiently lubricating ourselves at the Brauhaus Ernst August, we took a stroll over to Reitwall. Talk about a kid in a candy shop!! The poor boy couldn't decide which girl he wanted to try first.
Our plan was to stay in Hannover for a week or two, so I suggested he grab the first girl that tickled his fancy and then work his way through all of them. After all, there's only a couple hundred Thai girls there. But he wanted to see every Thai girl in Hannover before making his selection for the evening. Sheesh... I must say I got a lot of exercise leading him up and down the stairs through all the Thai houses in Hannover.
Up Reitwall and down Scholvinstrasse we went until we get to one house called just Thai.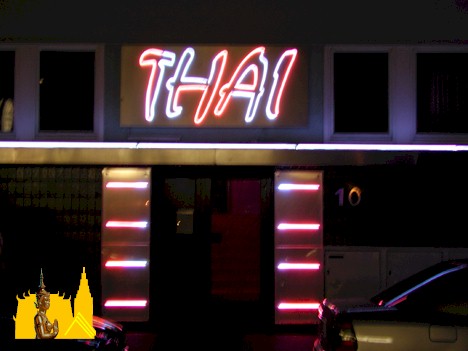 Lots of katoeys in this house
"Let's go in here," said The Boy. "I don't know, dude. I think that's a katoey house," I replied. "Katoey? What's that?" Standing in the middle of Scholvinstrasse I took a few moments to relate what little I knew of katoeys. "Are they all katoeys in there?" he asked. "I don't know." I'll admit I can't always tell with the good ones. The boy responded with a sharp "I could tell!" A newbie's famous last words....
The "girl" that greeted us as we entered the building was indeed striking. Unfortunately she responded to my "Sawadii Krap" with that weird nasal quack that's a dead give away.
As we made our way to the top floor, my mental calculator said they were all katoeys. Actually, I could only clock 90% of them but I figured if there are that many there then they all must be katoeys. Not that there's anything wrong with that.
On our way out, the boy noticed a girl he hadn't seen on his way in.
The Boy: "She's beautiful."
Strange Guy: "Yup."
TB: "What do you think?"
SG: "What do *I* think?!?! I think you ought to go back to that first one you liked."
TB: "But I like *this* one."
SG: "You've liked at least one on every floor of every house we've been in."
TB: "But I *really* like this one!"
SG: "I don't know, dude. I think this is a katoey house."
TB: "There's no way she's a guy...."
SG: "I don't know, dude. Sometimes it's hard to tell."
TB: "*I* can tell!"
At this point I was starting to resign myself with the fact that there was a good chance The Boy was going to end up with a katoey for the night. I tried to talk him out of it but in the end it was "up to him." Who am I to blow against the wind?
"Well, I'm going for it," he said. "Well, have fun and don't stay out all night." I replied. "Remember you've got to meet me for breakfast at 7AM." The last time I saw him that night, he was stepping into the girl's room and she was closing the door behind them. The last house on the street (or the first depending on how you look at it) is called Bangkok.
As I entered the house, a lovely looking Thai girl entered from a hallway to my left and started up the stairs just a step or two in front of me. "Sawadii Krap." "Sawadii Kaah." I do love the way they say that. As we climbed our way up the stairs I noticed there weren't a lot of girls available in this house. The girl said something to me in German, but I had absolutely no idea what she meant. "Do you speak English," I asked. She gave me a signal that meant "a little." As I talked more to her in English, she loosened up a little. Up and up the stairs we climbed. As I would reach each floor I would look down the hallways, but there didn't seem to be much action in the house that night.
Oh, what the hell.... I could do worse than this lovely creature climbing the stairs in front of me. I asked her if she gave Thai massages -- that's a great way to work out the kinks after a long flight. "Yes, I gib massage gute." "I want long time massage." "No ploblem, 40 Euro 40 minute massage." As we come to the top of the stairs and the door to her room, the deal is sealed.
Her room was a little larger than the average room I've seen. It had a bathroom with shower, and walk-in closet. Entering the room, I noticed a Spirit House mounted in the corner near the ceiling. I walked over to the front of the Spirit House and gave it a little wai. I turned to see my new friend was smiling from ear to ear. I think I scored some points with the wai. She picked up a candy dish, and put a small candy on the front porch of the Spirit House. She then turned and offered a candy to me. Actually, it was a Fisherman's Friend. I've found there are a lot of Thai girls in Germany that are hooked on Fisherman's Friends.
On another wall hung a picture of Rama Gow. I pointed to the picture and told her it was very nice and her smile intensified (if that was possible).
The massage was pretty good. It wasn't the best I've ever had, but it was pretty good. During the massage I would encourage her when she was doing good, and also told her what I didn't care for. She told me that she had taken massage lessons, but she really wanted to take lessons at Wat Po. I told her that her massage was better than Wat Po because there are many men giving massages at Wat Po, and she is suay mak mak. With that she punched me in the arm. Damn!! She must be from Korat!!! I should have known..... If she punches me in the arm again, I'm going to paddle her. Hey, that would be hot!
After the massage, she suggested boom-boom would be a good idea. Oh, what the hell..... If she really wants it that bad, I might as well toss her a bone..... After all, how many Tom Cruise look-alikes could there be in Hannover. I should think the Germans are more the David Hasslehof type....
After the smoke cleared, we spent a while talking in a weird mix of Thai, German, and English with her lightly massaging what ever body part of mine was within her reach. Then she asked me if I was spending the night. Interesting idea... I hadn't thought of that. But I told her I couldn't stay because I had to be at work early in the morning. While I was getting dressed I noticed the time and was surprised that I had spent well over 3 hours there. She provided a pretty good service so I gave her a nice tip. Without counting the money, she gave me a wai and stuffed the money in a drawer.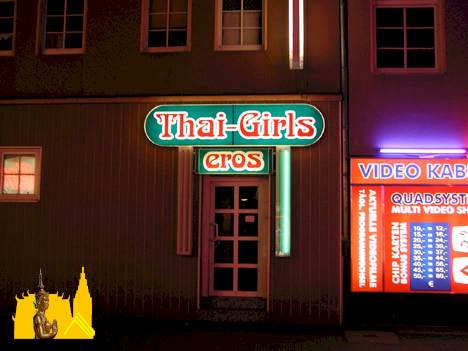 The next morning I asked The Boy how it went. "She had an enormous clit!" he said.
"What?" I asked almost choking in disbelief. "Remember that girl last night; she had an enormous clit. Don't Asian girls have enormous clits?" he asked.
Strange Guy: "I don't know, dude. I never heard that one before. Maybe it was a guy."
The Boy: "Naw, I'm pretty sure it was a girl."
SG: "Pretty sure?"
TB: "Yeah, I think it was a girl."
SG: "Think? You don't sound very convinced. How long were you in for?"
TB: "About half an hour. She gave a pretty good BJ. That's all I could last."
SG: "That's a bad sign..... What was the damage?"
TB: "One fifty."
SG: "One fifty? One fifty what?"
TB: "One hundred and fifty Euros."
SG: "150 Euros for 30 minutes? Dude, that's a lot of money for 30 minutes. Why did you pay so much?"
TB: "That's what she wanted."
SG: "So? Is that what you wanted to pay? You're supposed to negotiate!"
TB: "I was happy so why argue about the price."
SG: "Well, if you're happy with the price....."
TB: "How much did you pay?"
SG: "40 Euros."
TB: "For how long?"
SG: "Three and a half hours."
TB: "No way."
SG: "Way, dude. There's a trick to it. Make friends with them."
TB: "I have a plan for tonight."
SG: "Oh, yeah? What's your plan?"
TB: "Let me give it a try, and I'll tell you if it works."
SG: "Fair enough. It couldn't be worse than last night!"
That was prolly a mistake; I should have given him a few more pointers. But it was time to go to work.
After a long grueling day at the office, we enjoyed a dinner of hocksen mit bratkatoffle at the Bavarium. The Bavarium serves beer by the liter. The first round takes a while to make it to the table, but the nice thing is one doesn't' have to order another round every 15 minutes.
On our way to Reitwall, we ducked into the Brauhaus Ernst August for a quick snort of Brauerschluck. As we were both going to try the same girls again, we decided we would split up on Scholvinstrasse. The Boy would be on his own with his plan.
When I got to my girl's room, the door was closed. Oh well, there are more fish in the sea. Back on the street again, I found a house named Thai Eros. I found a girl that responded nicely to my Sawadii Krap on the second floor, but she wasn't enough to stop me from going to the top. I didn't find anything better, so I stopped off to talk with her on my way down. I told her I wanted Long Time, and she said 30 Euro. It must be bargain night.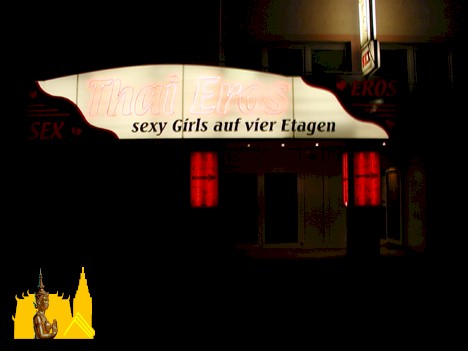 Sexy girls on four floors!
The moment we got into bed, her cell phone started to ring. I hate it when that happens. Of course she hopped out to answer it. She talked for a little while in Thai and came back to bed. Right smack dab in the middle of getting jiggy with it, her room door opened and in walked a katoey. Business must have been slow because as I was slamin away, they both decided to sell me a three-way. I told them I wasn't a butterfly and didn't want a three-way. The truth is, I really didn't want to take a walk on the wild side with a katoey. Not that there's anything wrong with it. The katoey didn't want to take "no" for an answer, and sat down on the bed next to us and began to show us just how real his breasts were. I thanked him for the show, but politely declined the offer. And with that the katoey shot up off the bed, started screaming that I was a Cheap Charlie, and stormed out of the room stomping his high heels as he went. I had to laugh at everything that went on, and with me barely missing a stroke. There should be some sort of award for that. I gotta admit the katoey was attractive, and it's kind of weird calling it a he, or a she for that matter. Not that there's anything wrong with it.
When I left, I was 100% satisfied but not really fulfilled. It just wasn't as much fun as the previous night, and although I did get the job done, the interruption put me off a little. As I was about to leave the house, I noticed a girl I hadn't seen on the way in. She was pretty cute, but I didn't think I would be up for another tussle so soon. So I asked for a massage -- I figured it might help me sleep. She wanted boom-boom but I told her I had just done it upstairs and wanted a massage only. That got her to start asking who I was with upstairs and whole line of questioning that I didn't want to get involved in. I noticed a picture of the King on the wall and used it to change the subject. Once I got her back on track she was okay, but she wasn't as good as yesterday's girl. But it was better than not getting a massage at all.....
On my way to breakfast the next morning, I was looking forward to hearing how The Boy's plan went.
Strange Guy: "So, how'd you do"
The Boy: "Not good. The plan didn't work"
SG: "Didn't work?"
TB: "Didn't work."
SG: "So what'd you do?"
TB: "I figured that she would like a present, so I stopped off at Leonidas' and bought her a box of truffles."
SG: "Did she like them?"
TB: "Yeah, she loved them. But she still wanted 150 Euros."
SG: "Did you try to get the price down?"
TB: "Naw, I didn't want to piss her off?"
SG: "Piss her off? Did you spend the night?"
TB: "No, I wasn't even there 15 minutes. And I didn't finish either."
SG: "Dude.... What happened?"
TB: "After we got started, someone started pounding on the door saying they were going to close. So I had to get out of there.
SG: "Close? What are you talking about? I left you there at 10PM. They don't close until 4 or 5!"
TB: "When I got there she was busy, so I just walked around until she was out front again. I figure that was a quarter of 2. I gave her the candy, and she was kinda surprised to get it. But they still kicked me out at two."
SG: "That's nutz. Did you get your money back?"
TB: "No."
SG: "Dude.... 300 Euros in two days? That's a lot of money".
TB: "Are you sure Asian girls don't have enormous clits?"
And that's how The Boy was introduced to Thai girls. He's planning on joining me for the November pilgrimage to Bangkok and beyond. If you guys get a chance to meet him, I think you'll like him -- he's a nice guy. But please don't introduce him to any more girls with enormous clits. Not that there's anything wrong with it....
The Center of Hannover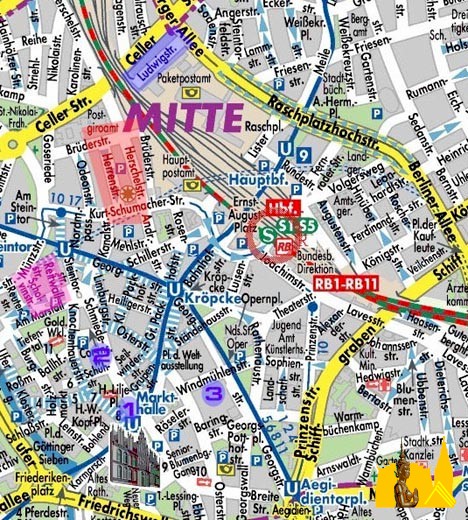 Blue rectangle = Girls in the windows
Red rectangle = Streetwalkers
Purple rectangle = Girls in houses
1 = Hotel am Leineschloss
2 = Brauhaus Ernst August
3 = Bavarium
The Business In Hannover
The action in Hannover is split into 3 main areas; Herschelstrasse, Ludwigstrasse, and Reitwall.
Herschelstrasse's (and Herrenstrasse's) claim to fame is the streetwalker. Girls are usually available from dusk until dawn. One can have a look just by driving down Herrenstrasse or Herschelstrasse. It is also possible to take the grand tour on foot, but the area is known for drug use so be careful where you step.
I once had an office with a private parking area on Herrenstrasse. One evening the gate wasn't locked properly, and when I arrived the next day I was met by a hazmat team in full dress, sweeping up burnt beer cans and used syringes. It must have been quite a party. My office was on the third floor with a view of Herschelstrasse. Some evenings when we were working late, my colleagues and I would place bets to see which girl would get picked up next.
I understand that all the girls working on the street are supposed to be licensed and are periodically checked by the local Polizei. I've never gone with any of the streetwalkers, but my feeling is that they're on the bottom of the sexworker pecking order.
More towards the top of the pecking order are the girls working on Ludwigstrasse. The girls here advertise their wears in large windows looking out on Ludwigstrasse. There are basically three types of girls working on Lugwigstrasse; Arian examples so perfect you would swear they were airbrushed, girls from Africa, and grannies. It's hard for me to believe there's a market for grannies (I mean doesn't Old Kwai live in England?), but if you're into grannies, just keep heading down Ludwigstrasse and hang a right at the end. You can't miss them.
My favorite area is Reitwall. The Reitwall area is comprised of some peep shows, video cabin shops, movie houses, show bars, a karaoke or two, and the houses (for lack of a better word). The peep shows and video cabins are like everywhere else in the world I suppose, except once an hour they usually have performance by a transsexual and by a live pair. The Germans seem to make a big deal of these special shows; what ever floats your boat.
I don't go to the movies houses, but I understand there is a bit of gay cruising going on (not that there's anything wrong with that). Some movie houses have dancers between loops, and presumably are better policed. There is a karaoke bar on Scholvinstrasse that advertises Thai girls, but I haven't been there either. I have heard some nice things about it, so it's on my list of things to check out.
The show bars can be fun, but some of the girls will ruin a good time by trying to drag the punters upstairs.

The Houses
Now we come to the fun part; the houses. The houses are like large apartment buildings with 4 - 6 floors of rooms. All rooms have a sink, and many have a toilet and shower. If the girls are available for business their door will be open, and you can usually find them lounging on the bed or in the doorway trying to attract customers.
Generally if the house is stocked with German girls, things are pretty quiet. But the houses stocked with Thai girls can be lively places; with girls running from room to room, or loudly carrying on conversations in Thai with girls a few rooms away. Another thing one may notice is the inescapable odor of Thai food being cooked in the rooms; some girls may have hot-plates in their rooms.
Most of the rooms I've seen have been pretty bare; a bed, sink, closet, maybe a television or radio. Thai girls will often have a picture of the King and Spirit House in their rooms. If the girls have been there for more than a few days, they'll prolly have a cell phone too.
There are ten or so Thai houses on Reitwall and Scholvinstrasse. The way they work is that the punters walk around having a look at all the girls. Remember that the houses can be 6 floors tall so there is quite a bit of stair climbing involved. In fact, the houses are all much taller than they are wide so there really is a lot of stair climbing involved. Some houses have elevators, but I've never seen anyone use them.
Of course the girls will try to grab the punter's attention. The girls may be dressed in their finest clothes, or in next to nothing at all! It all depends on their individual marketing techniques. Some girls are eager to land a punter, and some girls are very quiet. There's something for everyone! Some girls may even have signs outside their rooms saying they offer Thai massages.
Hotels And Restaurants
Hotels are, as a rule, not guest friendly. The punter goes to the girl's room, not the other way around. And I have no idea what you do with a streetwalker, but I don't think you'll be able to sneak her into a hotel.
I stay at the Hotel am Leineschloss (see map). It's located in the old part of the city, and it's just a short walking distance to some great restaurants, pubs, and Reitwall.
If you're in the mood for some German food, try the Brauhaus Ernst August and the Bavarium. They're both reasonably priced and great places to tip a few.
There is a number if Thai restaurants in Hannover, but I haven't found a really good one yet. But I'll keep looking. If one becomes friendly with the girls, it is possible to take them out of the house. That might be a good way to find a good Thai restaurant.
Things To Do
Hannover's Tourist Office is located next to the Haupbahnhof (train station). They have small books with maps and lists of things to do. That's a great way to start out.
BTW, there's a wat located near the Messe.
What Works For Me
First off, your mileage may vary. But if these hints can help, have at it. I like to say "Sawadii Krap" to the girls as make my way through the houses. I've found girls that don't respond with a "Sawadii Kaah" are not going to be fun. If the girls respond in a lively way, they're prolly worth a try.
My experience is the business is split up between Short Times, Medium Times, and Long Times. ST is generally 20 minutes, LT is an hour or so, and MT is somewhere in between.
If the punter can jump on the girl and finish in 15 or 20 minutes, they might be able to get away with a ST. My experience is that the girls just use the introductory rate of the ST (20 Euros) as a way to get the punter in the room and then they will start selling the MT.
MTs are not much better as the girl will take the punter up to the Moment of Truth and then try to sell a LT. Why bother? I'm in it for the fun, so I know I'll be going LT. It's just so much more relaxing to get the business BS out of the way and have the girl concentrating on me instead of how to squeeze more money out of me.
Once in the room, I always make a point of giving the Spirit House a little wai -- the girls really like it if the punters notice tHouse. Additionally, the punter will score extra credit if they point out the picture of the King and happen to mention his name.
If she's pretty (or even if she's not), tell her! If she's giving a good massage, tell her! And if you can, do it in Thai. It doesn't cost anything to give her a few compliments, but she'll pay you back big time.
It's hard to imagine a place more different to their beloved home, than Hannover, Germany. That's why I think that paying a little respect to the Spirit House and the King works so well -- it shows the girl that the punter is a "good guy." Believe me, it will pay off in the long run.
Coming soon, "The Continuing Adventures of Big Boy And Baby Bear" to a forum near you!
---------------------------------------------------
Ommmmmm

Jai Guru