A Farang
For All Seasons -- Part 5

A Farang For All Seasons -- Part 5
Ring-ring…
Ring-ring…
Ring-ring…
Ring-ring…
"Hello?"
"You up?"
"No."
"You going to breakfast?"
"No."
"Really?"
"Who is this?"
CLICK!
Damn… I wonder who that was. It didn't sound like MikeM, and Antman was too tangled up with Wifey to spend time with the boys…
Anyway, the call woke me up enough that I got up for breakfast. A pat or two on Sips fine rear got her up to join me.
Sip asked me if I had fun last night, and I told her I was too mao. Sip nodded her head in agreement. Maybe I dodged a bullet.
The Hard Rock Hotel puts out quite a spread for breakfast, but the truth is that I prefer the breakfast at the Nana Hotel. Sure, the HRH offers a lot of stuff, but it's mostly stuff I'm not interested in.
"Jai? What we do today?"
"Not a damn thing."
I reserved the Nanacabana for our stay, and I planned to camp out there all day every day.
When we finished breakfast, we went back up to the room to brush our teeth and change into our swimwear.
I couldn't help but notice Sip lost a little weight since the last trip, and she looked good.
There's a desk just outside the hotel, where guests can get towels for the pool, We grabbed a big bunch of towels to lay out in our cabana, and made our way to set up housekeeping in the Nanacabana for the day.
MikeM and Lady joined us a short while later, and we all relaxed together in the Nanacabana. Every so often, one of us would venture into the pool to cool off a little. It was a pretty nice way to spend the day.
But there was trouble in paradise today; not only were storm clouds building off the coast, Sip told me that she and Lady didn't like Wifey. In fact, Lady didn't go to the disco last night because she didn't want to be alone with Wifey.
"But Wifey seems like a nice girl. Why don't you like her?"
"Wifey not nice girl. Wifey bad girl. Wifey take Antman away from friends."
"No, no, no. That's not Wifey's fault. That's what Antman does. Remember Phuket? He ting tong. Wifey is good girl, okay?"
"No problem for me. I get along wit everybody. But Lady no like Wifey."
I had all the faith in the world that Sip really could get along with anybody; that's just the kind of girl she is but I really didn't want any trouble with girls. I started wondering if we should ask Antman to take a taxi back to Bangkok instead of having him join us on the bus, but stopped myself from worrying about things that haven't happened yet. If something happens, it happens and we'll deal with it then.
About then we started feeling peckish. We ordered way too much food as usual, and when it was a delivered, MikeM and I were surprised to see that the girls (prolly Sip, because that's the kind of girl she is) ordered a huge boat of giant crab legs! WTF!! I don't know what that costs in Thailand, but it would have cost a small fortune back home.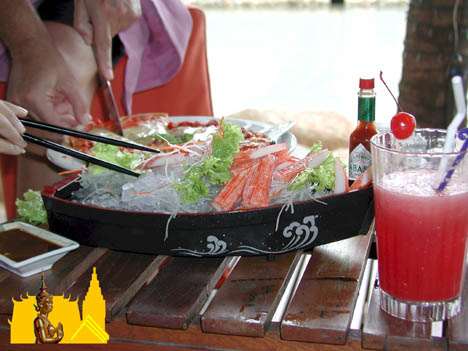 The crab legs didn't cost much, and watching the girls enjoy themselves took the sting away.
We took another swim, and then Sip and I hit the room to clean the pipes.
After the smoke cleared, Sip washed a few of her panties in the sink.
"Why do you wash these? Next time give them to the maid, okay?"
"No problem for me. I like to wash."
When she finished washing them, she put them on hangers and proceeded to hang them around the room. WTF? My room now looks like the aftermath of a panty factory explosion. And I didn't think they were placed for optimum drying.
This room at the Hard Rock Hotel had its air conditioner mounted near the ceiling. While Sip went back into the bathroom, I grabbed a few hangers of panties and hung them from the vents of the air conditioner so they could dry faster in the dry air of the air conditioner.
Returning to the room it only took Sip a moment to see her panties hanging from the air conditioner, and she started jumping up and down and screeching like a monkey on a hotplate!
"No! No!! NO!!! No put there!!! No put panty above head!!! My head is my Buddha!!!"
Poor girl… I was laughing so hard it was difficult to reach up and grab the hangers; I'm sure she thought I was stalling… But the panties were soon down, and everything back to normal, such as it was…
We got comfortable on the bed and talked a little more. We talked about the beauty shop and the baby shop. And we talked about opening a bar in her hometown; Sip had some interesting observations, and having a bar was indeed something that I could see myself doing.
Then it was time for immigration talk. Sip said that she had two nephews that she would like to take to America so they could go to school. She said they belonged to her sister with the brain tumor, so they would be her responsibility soon.
Sip is quite a girl, and it sounded to me like her entire family had been her responsibility for a long time now…
The girls wanted to do some shopping, so MikeM and I agreed to take them to the mall. I gave Sip 1,000 baht and a pat on the rump, and she and Lady promptly lost us in the mall. That's okay; MikeM and I found lots of interesting things to keep us occupied.
We finally caught up with them shopping for bras. Sip had some pretty impressive jutters and needed all the help she could get. Sip also wanted to buy some contact lenses, but she insisted on using her own money for that.
After we were all shopped out, we went back to the hotel to get ready for dinner and a night out.
When she finished dressing Sip asked me to take her picture. That's when it struck me; Sip really should be a model.
Antman was late, as usual. And MikeM used the time to ask the people at the HRH which was the best seafood restaurant in Pattaya.
When MikeM returned he said we were off to 91 on Walking Street. Now we didn't know if 91 was the address or the name of the place, but that's what we were looking for. Of course when we didn't find it right away, Sip wanted to drag us into every seafood place we saw.
We kept walking and finally found a place called Nang Nual. We decided that must be the place. We got a table over the water, and enjoyed the cool breeze. T he food was top-shelf, and we decided we would be eating there again soon.
Another interesting thing was the bill at Nang Nual was only a fraction of what we paid at Lobster Pot, but at Lobster Pot everyone at our table but me ordered the Rock Lobster which could have accounted for that...
I couldn't really blame the girls for not being interested in an evening prowling the go-gos, so we took them to see the show at the Polo Lounge. The Polo Lounge was a big hit last November with the highpoint of the evening being my head under some go-go girls miniskirt while BigNasty busied herself under the table. Sip like to have her fun, but she wasn't much for doing the deed in public.
This time I got to pay a little more attention to the show at the Polo Lounge, and it was good. They had various dance skits, a painting show, and even a fire show. The shows included a little audience participation, so it was good to have a ringside seat.
When the lounge started filling up with Asian package tours, it was time for us to leave. Throwing caution to the wind, we picked the Hard Rock disco as our next stop. The nice thing about the Hard Rock disco was that it was close to our hotel if we wanted to bail, but the risk was the last time we went there it was packed with katoeys.
The Hard Rock disco solved their katoey infestation but it was replaced with an infestation of Japanese tourists, which is just as bad.
We had fun singing and dancing at our table but a couple of the drunken Japanese tourists didn't understand that not every girl in Thailand was available, and started to hassle Sip. They pretended to not understand English even after propositioning Sip in English, but I did get the feeling they understood what I was saying when I told they where they could park their Toyotas. Sensing that things were bound to get worse before they would get better, I tossed Sip over my shoulder and carried her out of the bar.
Sip loved to be picked up, so that was a real high point for her.
Once in the fresh air, Sip said she was hungry. Again? Sheesh… She must have a hollow leg…
"We can order Room Service up in the room."
"No want Room Service. Want eat market."
"Market? You want to go to the market?"
"Yes. Market good. You see."
With that she started off to Beach Road to give a passing baht bus the finger. The baht bus took us to a big outside market area near Hollywood Disco. I guessed this is prolly where Antman and the girls ended up last night.
Sip ordered a couple bowls of noodles, but I was still stuffed from dinner. No problem for Sip; she ate them both.
But it was fun to watch the people walking up and down the street. And it looked like a pretty good place to score a couple of hot freelancers for late-night take-out.
It was a bit of a walk from the market to Second Road, but it was fun to go through all the stalls and watch all the people.
At Second Road we hopped a baht bus for the ride to HRH.
Sip thought it a good night to soak in the tub, so we filled the Japanese style tub with warm water and bubbles, and had a good time.
That was a great way to end the day.
---------------------------------------------------
Ommmmmm

Jai Guru